NFL Nation:

Roydell Williams
April, 13, 2011
4/13/11
2:40
PM ET
The National Football Post's Joe Fortenbaugh has a nice piece reviewing AFC South
draft trends
.
Here's a nugget on each team with a thought from me:
Fortenbaugh:
"Since 2001, the Colts have drafted only three offensive tackles. To put that in perspective, take note that over the last 10 years the team has spent the same amount of selections on kickers and punters (3)."
[+] Enlarge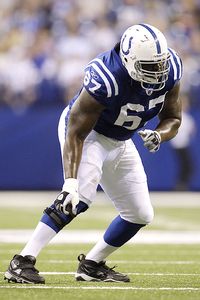 AP Photo/Darron CummingsThe Colts spent a 2007 second-round pick on Tony Ugoh but cut him last season.
Kuharsky:
It's significant and it's time to make a substantial investment. But when a team has a left tackle who plays for nine years and goes to three Pro Bowls (
Tarik Glenn
) and gets steady play from its right tackle for eight years (though
Ryan Diem
slipped last season) there isn't cause for huge expenditures at the spot. They failed in a second-round attempt (
Tony Ugoh
in 2007) to replace Glenn.
Fortenbaugh:
"Since 2001, the Jaguars have drafted nine defensive ends, but only two (
Derrick Harvey
,
Quentin Groves
) have been selected within the top 100 picks."
Kuharsky:
Jaguars GM Gene Smith worked to offset that by bringing in free agent
Aaron Kampman
last offseason. And now it appears quite possible Smith will spend the 16th overall pick on a defensive end to complete the makeover of the line that included their top four picks from 2010.
Fortenbaugh:
"Since Gary Kubiak took over as head coach in 2006, the Texans have drafted exactly 19 offensive players and 19 defensive players."
Kuharsky:
It's nice to populate the roster in a balanced fashion. But if Houston does as it should and looks to fill a load of defensive holes in this draft, these numbers will tip to the defensive side.
Fortenbaugh:
"Since 2005, the Titans have selected an average of 2.0 wide receivers per draft. Tennessee has landed at least one wideout in each of the past six drafts and has selected as many as three wide receivers two times in the last six years."
Kuharsky:
The all-star receiver roster of those past six drafts:
Courtney Roby
,
Brandon Jones
,
Roydell Williams
,
Jonathan Orr
,
Paul Williams
,
Chris Davis
, Joel Filani,
Lavelle Hawkins
,
Kenny Britt
,
Dominique Edison
, Damien Williams and
Marc Mariani
. The lone Pro Bowl appearance was Mariani last year -- as a return man.
May, 5, 2009
5/05/09
8:24
AM ET
Posted by ESPN.com's Paul Kuharsky
Pete Prisco's post-draft power rankings: Colts three, Titans seven, Texans 12, Jaguars 24.
Houston Texans
Indianapolis Colts
Jacksonville Jaguars
Tennessee Titans
February, 18, 2009
2/18/09
8:55
PM ET
Posted by ESPN.com's Paul Kuharsky
They are easy matches for mock drafters.
Give the Colts the best defensive tackle you can find at 27. Insert the top remaining wide receiver next to the Titans' line at 30.
But presuming those picks is a mistake on both counts, unless you are banking on those teams breaking from their staunch recent histories.
Indianapolis looks to draft the best player available early on, and after a couple top interior linemen go early, team president Bill Polian said defensive tackle value doesn't usually re-emerge until the later rounds.
And the Titans, who once passed on Randy Moss, haven't touched a receiver in the first round since they took Kevin Dyson ahead of Moss in 1998, giving off a vibe since that it's just too unpredictable a position to value so highly.
| | |
| --- | --- |
| | |
| | Matthew Sharpe/Getty Images |
| | The Colts would be bucking a trend by picking Ole Miss DT Peria Jerry in the first round. |
Indianapolis suffered on the interior defensive line last season, not because it had planned poorly, but because of two surprises: Quinn Pitcock, a fourth rounder out of Ohio State in 2007, decided to quit football before training camp last year. Ed Johnson, who'd been an impact player as an undrafted free agent in 2007, was on a zero tolerance policy, got in some trouble after one game in 2008 and was let go.
The Colts will add multiple interior linemen between now and training camp, but they will likely come with a pick or two later in the draft, and inevitably, with a potential diamond in the rough they don't even need to spend a pick on. Besides Pitcock, Polian hasn't drafted a defensive tackle since 2002, when Larry Triplett was a second rounder and David Pugh a sixth rounder. In 11 years, Polian's drafted five players at the position, only Triplett higher than the fourth round.
"I've always approached the draft as take the best player no matter what the position is," Polian said. "Don't worry about filling a need, you can do that later in the draft. Take the best player in the first two rounds, whoever he is."
So it's fair to say through much of his tenure he hasn't seen a lot of defensive tackles of value available with his highest picks?
"Yeah, that's probably correct," he said. "They go in the first 15 usually, then you see them resurface in the latter rounds -- five, six, seven."
September, 24, 2008
9/24/08
10:32
AM ET
Posted by ESPN.com's Paul Kuharsky
A look around before diving into Wednesday. Questions? Comments? Requests? Hit the mailbag.
And look for our AFC South chat Thursday at 3:00 p.m. ET.
Houston Texans
Indianapolis Colts
Jacksonville Jaguars
Tennessee Titans
Posted by ESPN.com's Paul Kuharsky
Biggest surprise: A lot of us fell asleep on defensive tackle Antonio Johnson, no one more than me. I presumed he'd be a better fourth tackle than what they had last year and anything else they had now. Apparently not. The fifth-round pick from 2007 missed his whole rookie year with a blown out knee, but once he got back he didn't show enough. Roydell Williams had 55 catches last year, but his issue was the ankle injury he's coming back from. It's not a surprise that safety Calvin Lowry isn't good enough to be on the team but it still a mild surprise the team cut him.
No-brainers: Quarterback Ingle Martin and kicker John Vaughn were likeable locals, but everyone knew there wasn't a spot for them since the Titans would only keep two quarterbacks and since Rob Bironas is expected to be ready after missing a lot of time with a groin issue. Expect Martin back on the practice squad.
What's next: The Titans have four safeties, but Vincent Fuller plays as the nickel back, so it's a spot that could be addressed through a waiver claim or veteran signing. Chris Davis might be on the 53 only long enough for the Titans to bring in another receiver. Kevin Vickerson beat out Johnson, but will he survive once waiver claims and free agents are sorted out? If LenDale White and Chris Johnson are healthy, look for Chris Henry to be inactive a lot.
August, 8, 2008
8/08/08
7:05
AM ET
Posted by ESPN.com's Paul Kuharsky
I got such a good question during my chat on Monday that I asked for it to be sent to the mailbag, where I could give it more thorough consideration:
Tom in Chicagoland writes: Which veteran player on each team is in the most danger of getting cut? Could the Reynaldo Hill Experience finally end with the Titans? I mentioned Hill primarily because (1) I don't think he's very good, and (2) I believe he's in the last year of his rookie deal, so whether or not they'll keep him around is based solely on how productive he'll be in 2008, not his 2008 production and cost plus his expected 2009 production and cost (which is why I think Chris Henry is bulletproof, no matter what some Titan fans think). I think you're right he'll be around, but I still think he fits the profile of a guy who might be cut, plus I wanted to mention a player who might be on the bubble.
Paul Kuharsky: Well, the main reason Chris Henry is safe, I believe, isn't because of his cost but because there is no one on the roster to really challenge him for his spot. If LenDale White and Chris Johnson get the bulk of the running back work and if Henry makes minimal progress, I feel certain there will be a competent challenger next year.
It's a great question, Tom. After taking a hard look at the rosters and asking around, here's your list. Since we've seen one of these teams play one preseason game, things are obviously subject to big change.
(I'm going in reverse alphabetical order, just because I am feeling crazy.)
Tennessee Titans
Fullback/ tight end Casey Cramer: No, he's not a big name, but he is heading into a fourth year. He's been a valuable guy in a limited role. He's versatile and good on special teams. But the Titans may not be able to afford such a luxury any more. They are probably going to carry four tight ends -- Alge Crumpler, Bo Scaife, Craig Stevens and Dwayne Blakely -- as well as fullback Ahmard Hall. Blakely is the only one who's not an absolute lock. Last year they finished with three tight ends and three fullbacks, but one of the fullbacks was a long snapper who wouldn't have ever been lined up in the backfield. If Hall is hurt, they'll just go to two-tight end sets that much more often.
Others: Receiver Roydell Williams is way behind and will have to play through pain after ankle surgery last year -- something many question whether he can do. But he did tie for the team lead in receptions last year and probably sticks. Same for Hill, who'd have to fall behind seventh-round rookie Cary Williams to be in any sort of jeopardy.
Jacksonville Jaguars
Wide receiver Matt Jones: Many thought his arrest on drug charges before camp would be the end of him, but the team stuck with him going into camp. With Jerry Porter and Reggie Williams recovering from surgeries, Jones is getting a lot of time to show he can be a consistent contributor. But if everyone is healthy, he probably wouldn't be in the top five and would be wrestling with players like D'Juan Woods and John Broussard for the sixth spot.
Others: Tight end George Wrighster isn't back from a knee injury yet. He's 27 and fighting a field of younger guys.
Indianapolis Colts
Running back Kenton Keith: This is not an old roster, and there are no graybeards sputtering out. Keith is 28, and had four years of experience in the CFL before making the Colts last year, when was the team's second-leading rusher with 533 yards and a 4.4-yard average. But he had just 13 catches. Dominic Rhodes has returned after a year in Oakland and Mike Hart may be a more well-rounded back with more upside even if his measurables aren't great. The Colts could go with a running back lineup of Joseph Addai, Rhodes, Hart and Clifton Dawson, a good special teamer who's a pretty good pass protector.
Others: I don't see any, do you?

Houston Texans
Defensive end N.D. Kalu: He'll be 33 on Aug. 3 and though he's an excellent locker room guy and a great effort player, he could lose out. Roosevelt Colvin was brought in for a similar third-down pass rushing role and the team likes two younger ends who've been good early in camp, Earl Cochran and Tim Bulman.
Others: Guard Fred Weary has been slow to return from a broken leg suffered late last season and the transition into Alex Gibbs' blocking scheme that emphasizes agility has been difficult. DeMarcus Faggins was bad last season, but has worked hard to redeem himself. He's missed time recently with a hamstring issue and could lose out to Derrick Roberson.

NFL SCOREBOARD
Thursday, 8/21
Friday, 8/22
Saturday, 8/23
Sunday, 8/24