June, 1, 2011
6/01/11
11:00
AM ET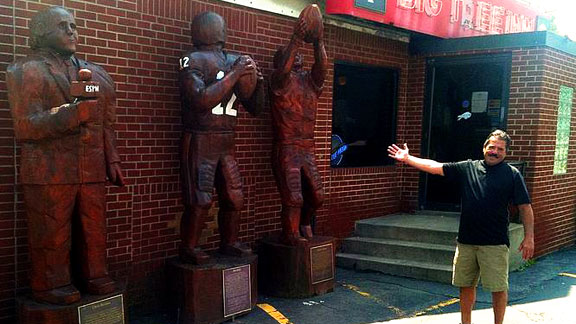 Tim Graham/ESPN.comOwner Dan DeMarco of the Big Tree Inn in Orchard Park, N.Y. The wooden statues, from left, are Chris Berman, Jim Kelly and Andre Reed.
The NFL lockout has put players and owners in limbo. The ripple effects are also felt by people whose lives or businesses touch their teams. Here are their stories:
ORCHARD PARK, N.Y. -- The Big Tree Inn has been a
Buffalo Bills
institution for decades.
The beloved watering hole and wing joint is about 600 yards of Abbott Road sidewalk away from Gate 4 at Ralph Wilson Stadium. Signed jerseys from
Jim Kelly
,
Thurman Thomas
,
Andre Reed
,
Kent Hull
,
Bruce Smith
and
Darryl Talley
adorn the walls of the modest 1,600-square-foot space.
Ruben Brown
, the perennial Pro Bowl guard, has his own corner.
The Big Tree Inn is a gathering spot for fans and a rite of passage for the players who pass through during the week -- and after home games -- to hang out with hardcore patrons. Wise visiting players place to-go orders for the bus ride to the airport or the outbound flight.
Reed called the Big Tree "a hallowed place" that when he walks through the door gives him the same feeling others might get when they walk into Fenway Park or Yankee Stadium.
"That was the first place I walked into as a so-called Bills rookie at that time," Reed said. "Every time you walk in there, you get a sense of what the Bills are all about."
You can imagine how much a Ralph Wilson Stadium neighborhood restaurant with 12 employees would rely on NFL games to remain profitable. With the lockout threatening to wipe out exhibitions and maybe even regular-season dates, Big Tree Inn owners Dan DeMarco and Brian Duffek are nervous.
"We're just praying," Duffek said on a quiet Tuesday afternoon at the bar. "If this is the crowd we have on a Sunday in October, we've got a big problem."
The Big Tree is as much of the game-day routine for many Bills fans as putting on a parka. Duffek said home games account for about 30 percent of the Big Tree's annual revenues. The till already had been shorted by games the Bills outsourced to Toronto through 2012.
In addition to the business' bottom line, bartenders could lose out on hundreds of dollars in tips each day. Hours likely would be cut for the whole staff.
"Everybody says 'There's only eight or nine home games,' but people don't realize that a home-game crowd starts showing up on Thursdays and pour into Mondays," DeMarco said from behind the bar. "People flock in from out of town and fill the motels around here. They give us four or five days of business every home game."
DeMarco joked about his regular crew of "season-ticket holders" who prefer to watch the home games at his place rather than in person.
A large wood carving of Reed stands outside the entrance alongside versions of Kelly and ESPN's Chris Berman. Bottles of Reed's Over the Middle Sauce are stationed around the bar.
"It's been cemented in my life," Reed said. "When we became a team in the late 1980s and early 1990s, the Big Tree was a huge part of that.
"The camaraderie was always evident when we showed up there and, over some beers and some wings, would talk about our team and what our goals were. Every Friday we went to the Big Tree, talked about the week's practice and could be ourselves away from the coaches and the stadium. A lot of tension was released there. A lot of things were gotten off our chests in that place. Any time I go back up there, it's a lot of memories."
There are a lot of ghosts wafting around the Big Tree, but Sundays could make the place look like a ghost town if the lockout endures.
January, 13, 2011
1/13/11
1:41
PM ET
Time for another edition of "Speed Dial," where I call a few folks from my Rolodex to get their takes on a particular subject.
Today's question: In light of what
New York Jets
cornerback
Antonio Cromartie
recently said about
New England Patriots
quarterback
Tom Brady
, is there a
line that can be crossed when it comes to trash talking
?
Ruben Brown,
Buffalo Bills
guard (1995-2003):
"Beauty is in the eye of the beholder. If it's said to a player who will respond, then, yes, there is a line. But when it's a pro like Tom Brady, this is just going to roll like water off a duck's back. He'll say 'There's another crazy guy, talking smack.'

"You're totally wasting your time. It's like trying to call Peyton Manning out. Tom Brady and the elite, elite players, there's no real need to trash talk. Would he say that to Ray Lewis? No, because Ray would knock his block off. Those guys' work speaks for itself. What has Cromartie done compared to Tom Brady? Cromartie's not a Tom Brady, so Tom doesn't have to worry about him.

"I don't know if he really hates Tom or he's just getting himself pumped up for the game. I know plenty of times I've been psyched up for a game. You get tired of hearing the same questions over and over and you just lash out and say 'Screw that guy. I'm sick of hearing about him.' "
Ken O'Brien, New York Jets quarterback (1984-92):
"I think there definitely is a line and things that should not be said. I just think, regardless of the parties involved, that it's a common-sense thing. It comes down to the way you would want to be treated and the way you're raised. Just because you get asked a question, there's no need to sensationalize. In that situation, I think if you had time to think about it, you wouldn't want to say that.

"I don't even look at it in terms of being professional or affecting competition. It's not going to affect the outcome, and knowing Tom a little I'll bet he didn't think about it for two seconds. I look at it as how you represent yourself to people. I just think there's no place for that. Life's way too short. Talk about things that are positive, and you'll serve yourself a lot better."
Sam Madison,
Miami Dolphins
cornerback (1997-2005):
"It's the heat of the moment, and right now you're talking about the playoffs. You see the way their leader, Rex Ryan, is treating the situation. His players are taking the same approach their coach is dishing out. That's something that's brewing in the locker room among those guys, and [Cromartie] just had the nerve to say it.

"But when you get into it with one of the best quarterbacks in the league, you have to be ready to back it up. It gives Tom Brady more bulletin-board material. But all year, when wasn't there bulletin-board material coming from that Jets regime? It's just the way everybody's building up for a big football game."
April, 27, 2010
4/27/10
1:00
PM ET
»
NFC Big Question
:
East
|
West
|
North
|
South
»
AFC
:
East
|
West
|
North
|
South
Did the Jets make a wise decision in cutting Alan Faneca?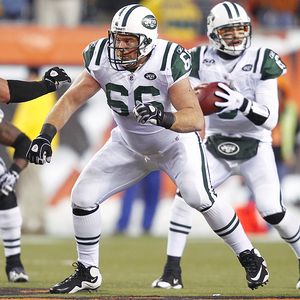 Joe Robbins/Getty ImagesIs a 33-year old Alan Faneca still better than a 22-year old prospect?
The Jets released nine-time Pro Bowl guard Alan Faneca over the weekend. I reached out to another nine-time Pro Bowl guard,
Ruben Brown
, formerly of the
Buffalo Bills
, to get his thoughts on the move.
Based on what you've seen from Faneca, did the Jets make the right call?
Ruben Brown:
I've been watching Alan. He's reached that stage in his career where that's all people can say about you, that you're slipping. He's risen to be one of the best to play the game in this era, and once you reach the top, what else can they say about you? You're going down.
But GMs and scouts don't always understand offensive-line play. The top notch guys -- premier guys like Alan Faneca,
Kevin Mawae
,
Olin Kreutz
-- they can play as long as they feel like playing because of their knowledge of the game.
The Jets drafted Vladimir Ducasse out of UMass in the second round. Plus, Faneca was going to make $7.5 million in base salary. I'm sure the contract played a little more into it than just a player slipping.
RB:
That probably played all into it. But can a 24-year-old kid dominate Alan Faneca to the point you put him on the bench? I don't think so.
Faneca is 33 years old. Can you explain why you believe an offensive lineman can play at an advanced age while other positions can't?
RB:
As a running back, your speed's always got to be up. As an O-lineman, it's so much about balance and strength and technique you can play when you're older. When you're a receiver or running back you have to run as fast as these young kids are running.
Alan Faneca lost a step, but his one step he lost still leaves him better than all the other guys waiting in the wings. Until you find a guy doing what he was doing when he was 26, 27, 28, then you don't get rid of him. It's not like he's going to drop off and be a CFL player.
What does losing a guy like Faneca do to the chemistry of the guys he's leaving?
RB:
Most offensive lines that are good are tight. They hang out together. They talk. Their families socialize together [Faneca and Jets center
Nick Mangold
were out to dinner with better halves
when Rex Ryan called to inform Faneca he was being cut
].
It's a blow to lose a brother, but offensive linemen know the axe is going to fall. Cuts are made in that room more than others it seems. You knew the axe is coming for you sooner or later. But you've got to go on. Hopefully, somebody else steps up with the Jets.
June, 26, 2009
6/26/09
9:45
AM ET
Posted by ESPN.com's Tim Graham
To get in the spirit of ESPN.com's all-decade week, I asked readers on Monday to select their AFC East team for the 20-aughts.
Although some insisted on submitting ballots that included a 4-4-4 defensive scheme and somebody kept signing on under different usernames to stuff the box for guard Adam Levitre (I think "they" meant Buffalo Bills rookie Andy Levitre), the results were sound.
Here are your picks along with my own.
| | |
| --- | --- |
| | |
| | Al Pereira/NFL |
| | The Jets' Curtis Martin eclipsed 1,000 yards rushing in five seasons this decade. |
OFFENSE
Quarterback: Tom Brady.
Of note: One vote came in for anybody other than the two-time Super Bowl MVP. Chad Pennington was the recipient.
My pick: Brady.
Running back: Curtis Martin.
Of note: There have been some stellar rushing seasons in the AFC East, but not much longevity. Martin's closest competition was Ricky Williams. Beyond that, nobody received more than two mentions. Thurman Thomas, who had 28 carries this decade, got a vote.
My pick: Martin.
Fullback: Tony Richardson.
Of note: Richardson's career credentials are remarkable. He has blocked for five 1,000-yard rushers. But last year was his first in the AFC East.
My pick: Larry Centers. He spent only three seasons in the AFC East, but he had 80 catches for the Bills in 2001, earning him Pro Bowl honors.
Receivers: Randy Moss, Laveranues Coles.
Of note: The only thing worse than Richardson getting votes after one year would be Terrell Owens after zero. Thankfully, nobody made that mistake. Moss and Coles were clearly ahead of the field, with Lee Evans coming in third and Chris Chambers fourth.
My picks: Moss, Eric Moulds.
Tight end: Randy McMichael.
Of note: Aside from Brady, no player was more unanimous at his position than McMichael.
My pick: McMichael.
Tackles: Vernon Carey, Matt Light.
Of note: Only four tackles were nominated, with Light edging out Jason Peters by one vote. Kareem McKenzie was a distant fourth.
My picks: Light, Peters.
Guards: Logan Mankins, Stephen Neal.
Of note: Ruben Brown, a nine-time Pro Bowler at left guard, received only six votes.
My picks: Brown, Mankins. If Neal can learn right guard without playing a down in college, then Brown can learn how to play there on my team.
Center: Kevin Mawae.
Of note: Nick Mangold came in second with half as many votes as Mawae, a player many readers felt should have been on the NFL's all-decade offense instead of Olin Kreutz.
My pick: Mawae.
DEFENSE

Defensive ends: Jason Taylor, Richard Seymour.
Of note: Not even close.
My picks: Taylor, Seymour.
Defensive tackles: Vince Wilfork, Pat Williams.
Of note: Williams edged out Kris Jenkins, who's coming off his lone season in the AFC East.
My picks: Wilfork, Ted Washington. Washington was a Pro Bowler for the Bills in 2000 and won a Super Bowl with the Patriots in 2003.
Linebackers: Zach Thomas, Mike Vrabel, Tedy Bruschi.
Of note: Thomas was omitted from the NFL all-decade defense, but he received the most votes of any AFC East linebacker. Joey Porter finished fourth, four votes behind Bruschi.
My picks: Thomas, Vrabel, Takeo Spikes. Many folks overlook Spikes because his teams never had success.
Cornerbacks:
Ty Law
,
Asante Samuel
.
Of note: Aside from Brady, nobody received more votes at his position than Law.
My picks: Law, Patrick Surtain. While Samuel was a Pro Bowler i
n 2007, he started only three seasons for the Patriots. Surtain went to three Pro Bowls and was named All-Pro once this decade.
Safeties: Rodney Harrison, Brock Marion.
Of note: Marion edged Lawyer Milloy by a single vote.
My picks: Lawyer Milloy, Marion. Harrison had one All-Pro season with New England. Milloy was a two-time Pro Bowler and had productive seasons for the Patriots and Bills.
SPECIAL TEAMS
Kicker: Adam Vinatieri.
Of note: Some clown voted for Olindo Mare.
My pick: Vinatieri.
Punter: Brian Moorman.
Of note: Tom Tupa received a couple votes, but Moorman was the obvious selection.
My pick: Moorman.
Kick returner: Terrence McGee.
Of note: Leon Washington might have been impacted by readers splitting their votes for him between punt and kickoff returner.
My pick: Washington. He ran back three kicks in 2007, led the NFL in all-purpose yards last year and still might be getting better.
Punt returner: Roscoe Parrish.
Of note: He led the NFL in punt return yardage the past two years.
My pick: Parrish.

June, 23, 2009
6/23/09
11:23
AM ET
Posted by ESPN.com's Tim Graham
A month ago, Randy Moss declared himself "the best wide receiver of all-time, hands down" and scoffed than anybody would dare think otherwise.
| | |
| --- | --- |
| | |
| | US Presswire |
| | Receivers Terrell Owens and Randy Moss may both end up in Canton one day, but neither cracked ESPN.com's all-decade team. |
Keep him away from computers for a while.
ESPN.com unveiled it's all decade-offense, and Moss wasn't on it. Neither was Buffalo Bills receiver Terrell Owens.
The selections at receiver -- with input from NFL general managers, scouts, coaches and players -- were Marvin Harrison and Torry Holt instead. As AFC West blogger Bill Williamson explained in the story, criteria included stats, championships and Pro Bowls. ESPN.com's all-decade defense was announced Monday.
Moss, of course, is missing a Super Bowl ring. But he was a four-time Pro Bowler this decade. He has averaged 77 catches for 1,164 yards and 12 touchdowns the past nine years.
"I don't really like to judge people or other athletes," Moss told me in a telephone interview. "I know what I'm able to do on the field, but the things I'm able to do to dictate how a defense plays the game, I don't think there's no other receiver but myself and Jerry Rice to be able to do that."
In the same interview, Moss also struck a more modest tone when talking about his elusive title.
"I don't really know where I rank at, but as long as I get a Super Bowl ring before I leave this game, I think my life and my goal would be complete in the NFL," Moss said.
Owens can say the same. Owens, like Moss, has played in one Super Bowl and lost but owns some gaudy career numbers. Both are headed for the Pro Football Hall of Fame.
Do you think there are other AFC East omissions?
Curtis Martin and Ricky Williams might come to mind, but there's no way either should supplant LaDainian Tomlinson.
One obvious name to consider is center Kevin Mawae. In his six seasons this decade with the Jets, he was selected for five Pro Bowls. Selected instead was Chicago Bears center Olin Kreutz.
Buffalo guard Ruben Brown, a perennial Pro Bowler who played four seasons with Kreutz in Chicago, told me one entertaining night at the Big Tree Inn in Orchard Park, N.Y., that Kreutz could be the greatest center in NFL history.
October, 15, 2008
10/15/08
2:29
PM ET
Posted by ESPN.com's Tim Graham
The New England Patriots went into this season a guaranteed playoff team. Sure, there were the obligatory Super Bowl hangover references, but nobody truly believed them.
One game into the season they were reclassified slightly. Maybe they weren't favorites to win it all without Tom Brady, but they still were a surefire postseason club.
2005 Standings Entering Week 7
Team
W-L
Bills
3-3
Patriots
3-3
Dolphins
2-3
Jets
2-4
2005 Final Standings
Patriots
10-6*
Dolphins
9-7
Bills
5-11
Jets
4-12
*made playoffs
After all, they didn't have to dominate to reach the playoffs. They merely had to finish among the top six teams in the AFC.
That's going to be tricky because there are doubts they'll finish in the top half of their division. Maybe not among the top three.
The AFC East is that competitive.
The first-place Buffalo Bills and the last-place Miami Dolphins are separated by two games. Then sandwiched between are the New York Jets and Patriots at 3-2.
How refreshingly competitive. The past two seasons the Patriots bolted to a forceful start and at least one of the other four teams did a face plant out of the blocks, creating a sizable gap in the standings.
Since the NFL realigned in 2002 and moved the Indianapolis Colts out of the division, the only time the AFC East standings have been this tight heading into Week 7 was in 2005, but none of the four teams had a winning record. The Bills and Patriots were 3-3. The Dolphins were 2-3. The Jets were in last place at 2-4.
This season, however, three AFC East teams are above .500, and the revitalized Dolphins are two plays away from being tied with the 4-1 Bills.
Givens no longer reside here.
2002 Standings Entering Week 7
Team
W-L
Dolphins
5-1
Bills
3-3
Patriots
3-3
Jets
1-4
2002 Final Standings
Jets
9-7*
Patriots
9-7
Dolphins
9-7
Bills
8-8
*made playoffs
"You could look ahead a year or two at the AFC East and see the toughest division in all of football," said former Dolphins linebacker Kim Bokamper. "It's good for competition, and no matter what players say, if you got the weak sister in there -- back in my day it was Buffalo -- you always were chalking up two wins. You don't have that anymore."
The Patriots, Jets and Dolphins all are 1-1 against each other.
Here's a breakdown of how the AFC East stacks up after six games:
Buffalo Bills (4-1)
The Bills might be the NFL's most balanced team. They don't rely on any one facet of their roster to bail out the others. A glance at the depth chart doesn't turn up an abundance of Pro Bowlers, but try to find a glaring weakness.
"Buffalo is the team to beat," Bokamper said. "With a healthy Trent Edwards, they are as good as any team in the AFC."
Edwards staying healthy is a real concern. He suffered a concussion in Week 5, and the Bills' offensive line has been playing on its heels at times.
The O-line still is dealing with the aftermath of left tackle Jason Peters' prolonged holdout. He missed voluntary offseason workouts, mandatory mini-camp and all of training camp before reporting without a new contract. Right tackle Langston Walker was moved to Peters' spot, further fiddling with the continuity.