March, 4, 2010
3/04/10
8:26
AM ET

Buffalo Bills
Potential unrestricted free agents:
DE
Ryan Denney
, LB
Chris Draft
, DB
Todd Johnson
, G
Seth McKinney
, WR
Terrell Owens
, WR
Josh Reed
, S
Bryan Scott
, G
Kendall Simmons
, LB
Josh Stamer
.
Potential restricted free agents:
LB
Keith Ellison
, QB
Gibran Hamdan
, G
Richie Incognito
, TE
Joe Klopfenstein
, TE
Derek Schouman
, T
Jonathan Scott
, S
George Wilson
, CB
Ashton Youboty
.
Franchise player:
None.
What to expect:
The Bills are in a rebuilding mode and shouldn't be in too much of a hurry to sign their free agents. In fact, they took the unusual step of publicly announcing they wouldn't offer Owens, Reed or Denney contracts. The most attractive players are Incognito and Wilson. Most of the rest were bit players and injury replacements.

Miami Dolphins
Potential unrestricted free agents:
NT
Jason Ferguson
, CB
Nate Jones
, QB
Chad Pennington
, OLB
Jason Taylor
.
Potential restricted free agents:
RB
Ronnie Brown
, TE
Anthony Fasano
, OLB
Quentin Moses
.
Franchise player:
None.
What to expect:
The Dolphins have a tough decision to make on Ferguson. He'll turn 36 during the 2010 season and is coming off a serious quadriceps injury. Without him, however, the Dolphins have a massive void in their 3-4 defense at a position that's difficult to replace. Pennington, Jones and Taylor all could be gone.

New England Patriots
Potential unrestricted free agents:
OLB
Tully Banta-Cain
, CB
Leigh Bodden
, OLB
Derrick Burgess
, RB
Kevin Faulk
, DE
Jarvis Green
, P
Chris Hanson
, G
Stephen Neal
, ILB
Junior Seau
, TE
Benjamin Watson
.
Potential restricted free agents:
K
Stephen Gostkowski
, G
Logan Mankins
, OLB
Pierre Woods
.
Franchise player:
NT
Vince Wilfork
.
What to expect:
Several starters are about to go up for bids, and the Patriots can't keep them all. Expect Faulk to be re-signed without much fuss. Neal, Bodden and Banta-Cain comprise a group they'd have trouble replacing. All three could fetch offers the Patriots would rather not match. Don't count on Watson coming back.

New York Jets
Potential unrestricted free agents:
LS
James Dearth
, DE
Marques Douglas
, K
Jay Feely
, LB
Ryan Fowler
, TE
Ben Hartsock
, LB
Larry Izzo
, FB
Tony Richardson
.
Potential restricted free agents:
QB
Kellen Clemens
, CB
Drew Coleman
, WR
Braylon Edwards
, DT
Howard Green
, T
Wayne Hunter
, WR
Brad Smith
, S
Eric Smith
, RB
Leon Washington
.
Franchise player:
None.
What to expect:
As a "final eight" team, the Jets have to window shop until one of their UFAs sign elsewhere. General manager Mike Tannenbaum is creative. Don't be surprised if the Jets use trades to upgrade. The key restricted free agent to monitor will be Washington, who received a second-round tender. His agent has been tweeting alarms the Pro Bowler could sign an offer sheet and dare the Jets to match.
March, 1, 2010
3/01/10
4:59
PM ET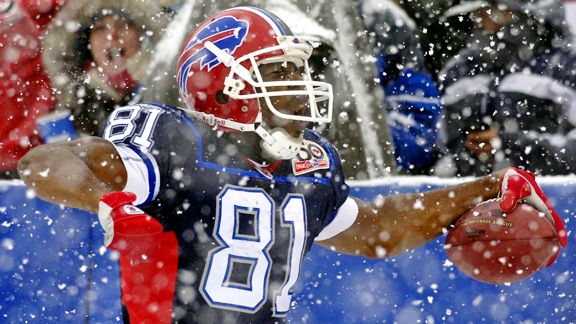 AP Photo/Don HeupelHe came, he played, it snowed and now Terrell Owens is leaving Buffalo after one year.
The
Buffalo Bills
have higher standards than VH-1.
Despite abysmal ratings, the cable network renewed "The T.O. Show" for a second season in 2010.
The Bills weren't so inspired. Their reality show simply wasn't compelling enough to bring Owens back. A whirlwind affair is over after one year.
Saturday night the Bills
publicly disassociated themselves with Owens
, receiver
Josh Reed
and defensive end
Ryan Denney
. In a news release, Bills general manager Buddy Nix said the team would not offer them contracts and allow them to become unrestricted free agents Friday.
You won't find any outrage in Buffalo that Owens won't be wearing a Bills uniform this year. Bills fans didn't come to loathe him at all, but somehow a polarizing figure came to town and engendered shoulder shrugs and vague feelings of
meh.
Before it reached that level of apathy, the one-year relationship was a marketing success.
Owens and the Bills used each other. They were a perfect fit, a team desperate to capture their disenfranchised fans' imaginations and a character in need of an image makeover.
Owens came to Buffalo because it was the only place that would take him, and he knew he needed to seize the opportunity to cleanse himself, to show the rest of the NFL he could be in a locker room without detonating its chemistry.
He's a future Hall of Famer who should've generated more attention than he did when the
Dallas Cowboys
cut him. Perhaps that was a wake-up call. He couldn't afford to depart Buffalo with another quarterback controversy similar to the ones he left behind in San Francisco, Philadelphia and Dallas.
His mission: Show up, play football, be a good soldier and hope the football community notices he served his time with good behavior.
The Bills, meanwhile, needed something -- anything -- to stimulate their followers. The fans were disgusted with how 2008 ended. They started the season 5-1, then collapsed, failing to reach the playoffs a ninth straight season. Head coach Dick Jauron not only was retained, but the club insulted anyone paying attention by refusing to acknowledge what was known, that they'd given him a contract extension before the implosion.
So intense was the furor in Buffalo that some wondered if Bills owner Ralph Wilson would get booed during his induction speech at the Pro Football Hall of Fame.
Owens was identified as the solution. He sold tickets. He sold jerseys. The mere fact the Bills would make
such an organizationally deviant acquisition
put fans in a euphoric state.
Owens arrived with the type of fanfare Buffalo will look back upon with at least a little embarrassment.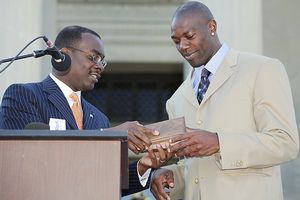 AP Photo/David DupreyThere was a lot of fanfare for Owens in Buffalo, including a key to the city presentation.
He touched down at Buffalo Niagara International Airport to find cheerleaders, chanters and other assorted zealots certain he was the savior. One fan dressed up as a popcorn box, a reference to his showstopper promise to "Get your popcorn ready."
The moment was staged for his VH-1 show, but the feelings expressed were genuine. Bills fans were smitten, drunk in love with a personality who might make their team relevant again. The next day, Buffalo
Mayor Byron Brown presented him with a key to the city
, an honor Wilson has never received.
Pageantry pretty much was all Owens brought to Buffalo, and the front office acted as though that's what it was most interested in anyway.
Whatever daring the Bills showed in signing Owens was offset by their inept evaluation of personnel. They traded Pro Bowl left tackle
Jason Peters
, fired offensive coordinator Turk Schonert 10 days before the regular-season opener and released right tackle
Langston Walker
and running back
Dominic Rhodes
.
After the season began, they scrapped the no-huddle offense they'd spent the entire offseason installing, fired Jauron and revoked
Trent Edwards
' job as starting quarterback.
Not even counting the new Bills regime, Owens played under two head coaches and two offensive coordinators and with three starting quarterbacks -- in the span of nine months.
The Bills sold out every home game with his help. And while Owens showed flashes with little teammate support, he rarely made enough of an impact on the field.
He posted his lowest receptions-per-game average since his rookie campaign with San Francisco in 1996. He finished with 55 catches for 829 yards and five touchdowns.
The theory was that if Owens didn't have a big year, his presence would allow underrated receiver
Lee Evans
to excel on the other side of the field. Evans had 44 catches for 612 yards (both career-lows) and seven touchdowns. Evans' career average entering last season was 6.4 touchdowns.
In Week 3 against the
New Orleans Saints
, Owens' receptions streak ended at 185 games. It seemed like an appropriate time for Owens to lash out against the Bills, new offensive coordinator Alex Van Pelt or Edwards, who'd become known locally as Captain Checkdown.
But Owens admirably
held himself together and set a media tone
for the rest of the season. He was disappointingly uninteresting, but he kept his nose clean. He was adamant about remaining as bland and politically correct as possible. It was part of his cleansing, after all.
Owens' employment options will be limited. He'll turn 37 before the next season is over.
But the way he carried himself in Buffalo and the excuses he'll have at the ready -- thanks to Buffalo's dysfunction and hindrances outside his control such as a slew of injuries on the offensive line -- might give him more possibilities if he's willing to play for a discount.
From the Bills' standpoint, they extracted all they could from Owens' aura. Besides, they cleared the way for younger receivers.
James Hardy
, a second-round draft choice in 2008, has only three receptions. He missed almost all of last season while coming back from a knee injury, but he's ready to go. The Bills think highly of
Steve Johnson
, a seventh-round pick who has been lost in the shuffle.
For Owens, it's time to move on.
The Bills got what they wanted. So did he.
The only ones left unfulfilled were the fans, their excitement turned to yawns.
February, 27, 2010
2/27/10
7:57
PM ET
INDIANAPOLIS -- Teams usually don't disseminate news releases to announce they
won't
re-sign a free agent, yet the
Buffalo Bills
want you to know they won't offer contracts to receivers
Terrell Owens
and
Josh Reed
and defensive end
Ryan Denney
.
[+] Enlarge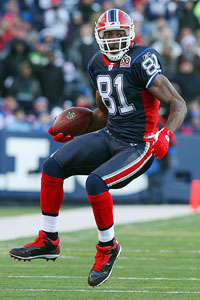 Luc Leclerc/US PresswireTerrell Owens caught 55 passes for 829 yards and five TDs for the Bills in 2009.
"We wanted to inform all three players ahead of the start of the free agency period so they could begin making their plans," Bills general manager Buddy Nix said in a statement. "We just felt that was the right thing to do. All three have represented our organization with class and we thank them for their dedication and hard work."
There was no mention of Buffalo's other unrestricted free agents: guards
Seth McKinney
and
Kendall Simmons
, linebacker
Chris Draft
and safety
Bryan Scott
.
Owens played one season with the Bills. He had a team-high 55 receptions for 829 yards and five touchdowns.
Baltimore Ravens
coach John Harbaugh suggested he would be interested in bringing Owens aboard.
"I've always said I've got a lot of respect for T.O., and I know Ozzie [Ravens GM Ozzie Newsome] does, too," Harbaugh said at the NFL scouting combine. "He had a good year last year, we watched him on tape and he was very effective."
When pressed on his interest in Owens, Harbaugh added "You cornered me. You got me. We're interested in T.O. We're interested in all the guys that can make our team better."
Reed spent eight seasons with the Bills. The slot receiver caught 27 passes for 291 yards and one touchdown last year. He had his best season in 2008, when he made 56 catches for a career-high 597 yards and a touchdown despite missing three games.
Denney also played eight years in Buffalo, collecting 23.5 sacks mostly as a backup. Of his 31 career starts, 24 of them came in two seasons -- 2003 and 2008.
October, 3, 2009
10/03/09
1:00
PM ET
| | |
| --- | --- |
| | |
| | AP Photo/David Duprey |
| | Many NFL players, like the Bills' Donte Whitner, show their support for breast cancer awareness by wearing pink. |

Posted by ESPN.com's Tim Graham
The moment his father called a family meeting,
Ryan Denney
knew something was wrong.
The Denney clan had gathered in their hometown of Thornton, Colo., for a happy occasion in March 2008. Brett Denney, a defensive end for Brigham Young University and little brother to
Buffalo Bills
defensive end Ryan Denney and
Miami Dolphins
long-snapper
John Denney
, was getting married.
The wedding was Saturday. The meeting was called for Sunday morning at their parents' home.
"I had a bad feeling," Ryan Denney said.
There, in the living room, patriarch Craig Denney delivered the sobering news to his children. Their mother had breast cancer. Two lumps had been found. Both were malignant.
"People were tearing up. It was quiet," Ryan Denney said recently in front of his stall in the Bills' locker room. "You need a minute to take it all in.
"Then our first reaction was 'What can we do to try and fight it? What are the options?' Fortunately, it was early enough that there was a good plan of attack."
Surgeons removed the lumps and some lymph nodes. She endured four months of radiation. But Sheri Denney survived.
"It's a touchy subject," Ryan Denney said, "but for us it's been very positive."
So often, breast cancer isn't discovered soon enough. Reminders to get mammograms are critical.
The NFL will use its influence -- and acquiesce some of its manliness -- to support National Breast Cancer Awareness Month in a highly visible way during this weekend's games.
As part of a campaign called "A Crucial Catch: Annual Screening Saves Lives," players will wear pink in an effort to drive home the importance of yearly mammograms for women 40 and older.
Players will wear pink cleats, pink wristbands, pink gloves, pink ball caps. Captain patches will be pink. So will the towels quarterbacks tuck into their waistbands. Coins used before the games will be pink. The padding around the goal posts will be pink.
"I'm more than comfortable with my manhood to wear pink shoes," Dolphins outside linebacker
Joey Porter
said. "I know we're going to auction them off and send the money from the proceeds of that. So whatever I can do to help in that situation is good. And I think it's a good cause."
New York Jets
quarterback
Mark Sanchez
is expected to wear pink cleats and throw spirals into receiver
Jerricho Cotchery
's pink gloves.
New England Patriots
running backs
Laurence Maroney
and
Fred Taylor
also have signed up for the pink gloves.
Others expected to wear pink cleats this weekend are quarterbacks
Brett Favre
and
Drew Brees
, receiver
Chad Ochocinco
and defensive end
Osi Umenyiora
.
"I think it's a great statement by the league and by the players and all of us that are putting our support behind something that hopefully can be better for everybody going forward," Patriots coach Bill Belichick said.
"I don't think I'll be in a pink hoodie, though, no."
Bills safety
Donte Whitner
won't be on the field Sunday because of a thumb injury, but he has clamped onto a pink mouthpiece since training camp. He does so to honor his grandmother, Rosetta, who died from lung cancer in March.
NBCAM.org, the Web site for National Breast Cancer Awareness Month, states an estimated 40,170 women will die from breast cancer this year, but there are about 2.5 million breast cancer survivors in the U.S.
The objective of "A Critical Catch" is to raise awareness and urge regular checkups. The flashes of pink amid all the testosterone-clouded action certainly will stand out.
"The NFL is a national stage," Ryan Denney said. "A lot of people will tune into the game, mostly men. But maybe those are the guys that need to be made aware if they have a wife, a mother, a loved one that they can ask 'Hey, mom, have you been checked out lately?' "
NBCAM.org cites two of the most common reasons women don't get checked are because their doctors don't mention it or because it simply never dawned on them.
Sheri Denney learned she had cancer because a friend badgered her into going along to a mammogram screening.
The fear that cancer might be discovered often causes women to procrastinate on getting a mammogram or to avoid one completely.
"That was one of the reasons my mom was hesitant to go get tested: The only thing you're going to find out is that you have a problem," Ryan Denney said. "So if you don't get tested, you don't have a problem.
"You hate to think that in six months or two years down the road she gets sick and goes in to the hospital. Then it's maybe too late."
September, 27, 2009
9/27/09
5:06
PM ET

Posted by ESPN.com's Tim Graham
ORCHARD PARK, N.Y. -- The
Buffalo Bills
just pulled off a sensational fake field goal for a touchdown.
Brian Moorman
(a punter) pulled back the hold, rolled left and threw to a wide-open
Ryan Denney
(a defensive end), who caught the ball along the sideline and rumbled in for a 25-yard play to tie the score at 7-7.
And that's not the first time they've hooked up.
Moorman threw it to Denney for a 19-yard touchdown in last year's opener against the
Seattle Seahawks
.
Moorman's career passing stats are 3-of-7 for 68 yards, two touchdowns and no interceptions for a 117.9 rating.
Although punters often get ridiculed for their limitations, Moorman is one of the NFL's better all-around athletes. The two-time Pro Bowler was inducted into the NCAA Division II Track & Field Hall of Fame in 2006 after a highly decorated hurdling career at Pittsburg State in Kansas.
He has rushed 11 times for 54 yards on fakes over the years.
November, 9, 2008
11/09/08
1:03
PM ET
Posted by ESPN.com's Tim Graham
FOXBOROUGH, Mass. -- The Buffalo Bills haven't beaten the New England Patriots since opening day of 2003.
But, beyond years, how long has it been? So long that only seven of the players on Buffalo's 53-man roster were on the team back then.
Two of those seven -- receiver Josh Reed and Aaron Schobel -- are inactive today because of injuries. Defensive end Ryan Denney will be the Bills' lone starter Sunday afternoon in Gillette Stadium to also have started the last time they beat the Patriots.
The other holdovers are defensive end Chris Kelsay, cornerback Terrence McGee (inactive in 2003), kicker Rian Lindell and punter Brian Moorman.
A few who joined the Bills via free agency have beaten the Patriots with other teams, the most notable linebacker Kawika Mitchell, who helped the New York Giants beat them in the Super Bowl.
The Patriots will have four starters who also started the last time the Bills beat them: tackle Matt Light, defensive end Richard Seymour and linebackers Tedy Bruschi and Mike Vrabel. If not for injuries, quarterback Tom Brady and safety Rodney Harrison also would be the same.
The Bills haven't won a game in Gillette Stadium and have dropped 14 of the past 15 meetings overall.
September, 20, 2008
9/20/08
10:17
AM ET
| | |
| --- | --- |
| | |
| | Rich Kane-US PRESSWIRE |
| | Will the Bills regret hastily placing LB Angelo Crowell, last year's leading tackler, on injured reserve? |
Posted by ESPN.com's Tim Graham
ORCHARD PARK, N.Y. -- Almost forgotten amid the buzz surrounding the Buffalo Bills is whatever became of Angelo Crowell.
In a bizarre sequence of events, the veteran linebacker elected to have knee surgery three days before the season opener. The Bills, incensed at the timing and fuming over left tackle Jason Peters' holdout, placed Crowell on injured reserve.
Just like that, the Bills scratched last year's leading tackler for the season. They did so even though Crowell's recovery would have lasted five weeks at the longest. He could have played 11 games and the postseason.
The Bills' decision screamed of vindictiveness from emotions already inflamed by Peters' absence. Crowell was on the final year of his contract. Letting him rot will curtail his value on the free-agent market.
But who did the Bills really punish, the player or themselves?
"I'm advising Angelo to take the high road and not respond to some inaccurate comments coming out about him," Crowell's agent, Todd France, told me Friday night.
The matter essentially was brushed aside by other news. The next day, Peters agreed to report to the Bills, ending a prolonged saga that hovered over the team for weeks. Then the Bills beat the Seattle Seahawks on the same afternoon the AFC East broke wide open with New England Patriots quarterback Tom Brady's buckled knee.
Crowell became an afterthought. The Bills moved his locker stall from a place of prominence to a corner location befitting practice squad players, and everybody went about their business in Orchard Park.
"No one is going to quit on me," Bills owner Ralph Wilson told Buffalo News columnist Jerry Sullivan after the Seahawks victory.
Crowell won't need the locker. He went home the day the Bills ended his season. He hasn't been back since and doesn't intend to return.
Noted sports surgeon Dr. James Andrews this week performed the operation on Crowell's left knee, which had been bothering Crowell since last season. Crowell is rehabbing in Pensacola, Fla.
France said the procedure was more intensive than the one Crowell would have undergone to get him back on the field sooner. But when the Bills ended Crowell's season, he decided he might as well get the works.
While Andrews isn't the type of doctor who would cut on an athlete for no reason, the Bills claimed Crowell didn't need the surgery. The Bills felt blindsided by his decision even though he struggled through training camp and played only one preseason game.
Adding to the odd situation, though, was the fact Crowell practiced the day before he revealed his intention to have surgery and was not listed on the injury report.
"No player wants to be out any amount of time or have surgery in any season, much less his free-agency year," France said. "At this point, he's dealing with it as best he can. He's trying to stay positive and get 100 percent healthy for next season."
The Bills could have waited to see how Crowell's knee responded to the surgery. They could have kept him on the roster while he recovered, which is what they did last year with backup defensive end Ryan Denney, who broke his foot in preseason and missed the first seven games.
Instead, they banished him to the corner.
Tackles aren't an official NFL stat, which is why there's a discrepancy between the Bills' number for Crowell (140) and NFL.com's (126). Either way, he led the team last year. He also recorded two sacks, an interception and a forced fumble.
Keith Ellison is a decent replacement and won't hurt the Bills' defense by being on the field, but for a team that hasn't made the playoffs a franchise-record eight straight seasons, why throw away a top player so hastily?
The only way Crowell would not have made the Bills a better defense down the homestretch would have been unforeseen complications.
The Bills have an unblemished record. But that doesn't mean that haven't already made a major mistake.
September, 9, 2008
9/09/08
1:14
PM ET
Posted by ESPN.com's Tim Graham
New England Patriots
Buffalo Bills
Miami Dolphins
New York Jets

September, 3, 2008
9/03/08
9:30
AM ET
Posted by ESPN.com's Tim Graham
New England Patriots
Buffalo Bills
Miami Dolphins
New York Jets