August, 11, 2012
8/11/12
12:00
PM ET
ALLEN PARK, Mich. -- The
Detroit Lions
improved in each of their first three seasons under general manager Martin Mayhew and coach Jim Schwartz, progressing from 2-14 to 6-10 to last season's 10-6 playoff campaign. So as they moved through training camp this summer, it was fair to ask: What's next?

"Every team wants to be a champion," receiver
Nate Burleson
said. "But now we just have to prove we can be consistently [good]. That's the most important thing. We're not that team yet that everybody looks at year in and year out and says we're going to be a contender. We don't have the consistency yet to give off that perception to people outside this facility.
"We don't want to be the team that falls back and be the team that makes mistakes. We don't want to be that successful team that ends up shooting ourselves in the foot halfway through the season."
A few days at training camp revealed the Lions are once again a genuine playoff contender, one whose structure is so routine that coaches had the entire scheme installed in three days. Discussion of an embarrassing offseason has faded, leaving the Lions to focus their attention elsewhere.
Mathematically speaking, the next step for this franchise would be its first-ever NFC North title. But the Lions instead have spent the summer working to shore up the flaws that got them bounced from the 2011 postseason.
"Our goal is to make the playoffs," quarterback
Matthew Stafford
said. "Once you get in the playoffs, you've got a chance to be in it and go win it. You've seen that it doesn't matter whether you win your division or not. It's good to be fighting tooth and nail and trying to find a way to get in. Once you get in, anything can happen. We want to go back to the playoffs and do something when we get there."
THREE HOT ISSUES
[+] Enlarge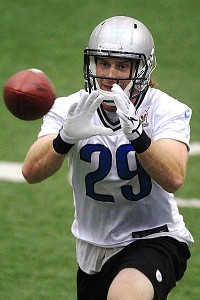 Carlos Osorio/AP PhotoEarly in the preseason, it appears John Wendling will be the Lions' starting safety.
1. Secondary holes:
The Lions had one of the NFL's worst pass defenses over the final six weeks of last season, partially because of injuries to cornerback
Chris Houston
and safety
Louis Delmas
. Houston has returned healthy, but
Delmas had surgery
last week on his left knee and might miss the preseason.
Meanwhile, safety
Amari Spievey
's camp performance has been uneven enough to allow veteran
John Wendling
to supplant him as a starter. The Lions are also working to find a replacement starter for released cornerback
Aaron Berry
, and the most optimistic turn of camp
has been the emergence
of rookie
Dwight Bentley
.
In all, the project to repair one of the Lions' primary 2011 weaknesses remains a work in progress.
"It really doesn't matter what they look like in practice," Schwartz said. "It's how they play in games. These next … preseason games will go a long way toward determining how we feel about those guys and how they practice every day and things like that, not what they've done in the past. We've got some quality guys back there."
2. On-field judgment:
The Lions' issues with penalties last season have been well-documented, and players said Schwartz has been much
more vocal during practice to discourage such easily preventable mistakes
. At one point last week, right tackle
Gosder Cherilus
was removed from a team drill after jumping offsides.
"If you do have penalties, you're going to get it," Houston said. "He's going to yell at you."
Meanwhile, it was worth noting that rookie linebacker
Tahir Whitehead
kept his composure when veteran center
Dominic Raiola
whacked his helmet after getting tripped. Several defensive players surrounded Whitehead to prevent any escalation, but Schwartz was pleased with Whitehead's response and how quickly order was restored.
"I think that that's a good step, particularly a rookie like Tahir," Schwartz said, "to be able to show restraint and keep focus even when guys were competing. The biggest thing is not letting those things get a hold of you, and I thought that Tahir did a very good job in that situation."
We're not going to declare the Lions a changed team based on one instance where cooler heads prevailed. But camp usually is when the tenor of a team is set. And even if you don't buy that theory, consider it this way: A focused camp where players are concentrating on their assignments is preferable to one where fighting and other chaos breaks the routine.
3. Health at running back:
After months of discussion about the potential of a full-strength backfield, the Lions have yet to get
Jahvid Best
and
Mikel Leshoure
on the practice field together. Best remains on the physically unable to perform (PUP) list, still not cleared to practice, and Leshoure has missed most of camp because of a strained hamstring.
Leshoure is expected to return to practice next week, but for now the Lions' most likely Week 1 starter is veteran
Kevin Smith
. In many ways, Smith is an ideal option when a team's top two running backs are sidelined. He keeps himself in excellent condition and once again showed in camp that he is well-versed in the Lions' offense.
REASON FOR OPTIMISM
In this era of NFL passing efficiency, any team with a quarterback like Stafford, a receiver like
Calvin Johnson
and a cast of complementary players at tight end (
Brandon Pettigrew
and
Tony Scheffler
) and receiver (Nate Burleson and
Titus Young
), will be competitive. Just as significant to the Lions' hopes, however, is the consistency of their program.
[+] Enlarge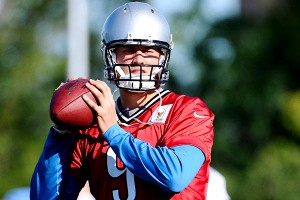 Tim Fuller/US PresswireQB Matthew Stafford & Co. have developed some consistency that should benefit the Lions this year.
Like Schwartz, offensive coordinator Scott Linehan and defensive coordinator Gunther Cunningham are both entering their fourth seasons with the Lions. Special teams coordinator Danny Crossman joined the team in 2010. That means the Lionshave to teach their scheme only to the handful of newcomers they welcomed onto their roster and can spend more of training camp focused on higher matters.
"It's tough for a rookie probably to jump in," Stafford said, "but the whole playbook is in about three or four days. We have a lot of returning starters who know what to do, and it's on the rookies to pick it up along the way."
Schwartz noted that there are always new wrinkles to work on and adjustments to make, but added: "Our first day of training camp, if we had to go play a game, we probably would have been able to call an entire game on offense, defense and special teams. It gives you a little more leeway. You don't have to start over and you don't have to put things in."
REASON FOR PESSIMISSM
The Lions are a good, playoff-caliber team that plays in what might be the NFL's toughest division. Nothing I saw at training camp pointed to anything other than continued progress toward elite status. The Lions' biggest problem is they will fight for a playoff-caliber record in a division that contains two similar teams, the Packers and Bears.
The Lions are 2-10 over the past three seasons against the Packers and Bears. Conventional wisdom suggests they will have to beat out at least one of those teams in the NFC North standings to earn a second-consecutive playoff berth.
OBSERVATION DECK
It seems odd to move through a training camp snapshot without mentioning the player who had one of the best seasons for a receiver in NFL history last year. Johnson looked, well, like Johnson -- a man among boys. Earlier this summer, Burleson said he thought Johnson looked stronger and faster than ever. When I dipped into a media scrum surrounding Burleson's locker last week, he was suggesting that Johnson could outrun Olympic gold medalist Usain Bolt if he trained as a sprinter rather than a football player. I'm not sure if Burleson was joking or not.
We're almost numb to seeing Johnson make inhuman catches, but we're still getting used to the third portion of the Lions' trio of top receivers. Young, by all accounts, has had an excellent camp. Thursday, I watched him meet a low throw in textbook fashion, snatching it just before it hit the ground with both hands. By grabbing the ball and not diving, Young stayed on his feet and used sideline footwork to earn a first down. "He's always been a very skilled player," Schwartz said. "Very good hands. He's an important player in our offense. … He's a guy that missed all of training camp last year. He had very, very few practices. So this is really his first training camp. We are seeing good signs from him, but also continued development. It's not just flashes. It's been a lot more consistency."
The Lions are still working through options to find the best place for second-year defensive tackle Nick Fairley, who is spending time at both defensive tackle and at defensive end in a new "Grey" scheme. Fairley is fully healthy for the first time since breaking his foot last August. When I asked Schwartz if he's seen the player the team thought it had when he was drafted, he said: "I don't want to read too much into practice. He's running well. He's strong. He's still developing in our scheme. This is a very important preseason to evaluate him. Last year even when he was playing with us, he was never 100 percent. He is now, and this will be a good preseason for him to show that."
We have often joked in our SportsNation chats about the relative lack of recognition Stafford received after a 5,038-yard, 41-touchdown season. So I laughed when asking Stafford if he had allowed himself a moment to feel good about a 5,000-yard season, he said: "I mean, it means nothing at all. Shoot, I don't even think half the league even knew it happened. It doesn't matter to me."
Familiarity with Linehan's offense provides at least one advantage: Players are more likely to know multiple positions, allowing them to rotate more often and minimize defensive adjustments. "At this point," Burleson said, "we know the offense and we know each other's positions. Now we can make it even that much more difficult to guard us by the moving [Johnson] around, moving myself around, moving Titus around, so you can't look at the depth chart and know where we're going to line up day in and day out."
Rookie first-round pick Riley Reiff got some first-team work at left tackle, where he will probably replace Jeff Backus one day. But there are no indications that Cherilus is in danger of losing his job, giving the Lions a better backup option than most teams have if a starting left tackle or right tackle is injured.
The Lions are hosting a punting competition for the second consecutive season, but no favorite has emerged. Ryan Donahue, who opened last season as the Lions' punter, is competing against the player who replaced him after a quadriceps injury, Ben Graham.
November, 13, 2011
11/13/11
3:07
PM ET
CHICAGO -- The
Detroit Lions
will have a new punter for Sunday's game against the
Chicago Bears
.
Ryan Donahue
was deactivated before the game because of his strained right quadriceps. As expected, newcomer
Robert Malone
will punt and hold for place-kicker
Jason Hanson
, who returned from the bye week with stitches in his left knee after an accident.
Watching Hanson in pregame warmups has been interesting. Amid windy conditions, Malone bobbled one snap, just after Hanson had hit the right upright from 47 yards. On the next kick, Hanson badly pulled a 52-yarder left of the uprights. After changing sides, Hanson slipped during an attempt from about 30 yards. Hanson, who has one of the strongest legs in the NFL, was significantly short from 49 yards at that end.
Meanwhile, Bears kick returner/receiver
Devin Hester
(ankle) is active for this game. The Bears made one notable change to their starting lineup, announcing that
Anthony Adams
will start at nose tackle.
November, 11, 2011
11/11/11
12:02
PM ET
We'll flesh these situations out once we hear from the respective coaches, so for now let's just update you on two important developments Friday morning in the NFC North:
The Detroit Lions signed punter Robert Malone, an indication that incumbent Ryan Donahue might not be ready for Sunday's game at the Chicago Bears. Donahue strained his right quadriceps while practicing field-goal kicking this week. Malone punted in 12 games for the Tampa Bay Buccaneers last season. Without hearing from coach Jim Schwartz yet, we can't say for sure that Malone will kick Sunday or if the Lions just wanted to have an established Plan B if Donahue needs the week off. Offensive lineman Jason Fox was placed on injured reserve to create Malone's roster spot.
The Chicago Bears announced that rookie offensive lineman Gabe Carimi will undergo an arthroscopic debridement surgery on his knee Friday. Typically, those procedures involve shaving cartilage. Carimi hasn't practiced in more than a week after suffering a setback in his return from a dislocated knee cap. You would think Friday's procedure would add at least a couple more weeks to his recovery.
We'll have more Friday afternoon on these and other injury situations around the NFC North.
November, 10, 2011
11/10/11
3:00
PM ET
Let's update the still-unsettled state of the
Detroit Lions
' kicking game.

Place-kicker
Jason Hanson
tested out his injured left knee during practice Thursday after sitting out Wednesday's workout. Hanson returned from the bye week with stitches in his left knee and still isn't certain whether he'll be able to kick Sunday against the
Chicago Bears
.
Hanson wouldn't reveal how he suffered the injury but it appears to have resulted from an accident during the Lions' bye. Asked about a report that it involved an ATV, Hanson told Detroit-area reporters: "I'm not even sure what classifies as an all-terrain vehicle, but I was not out riding a four-wheeler and goofing around when this happened. But I was with my kids, and all the other details of what happened, I don't feel like sharing."
The Lions worked out free agent place-kickers
Shayne Graham
and
Rhys Lloyd
, but as of Thursday afternoon hadn't signed either. Presumably, they'll test Hanson out Friday before and possibly wait until Saturday to decide whether he'll be available for Sunday's game.
Meanwhile, three punters --
Matt Dodge
,
Robert Malone
and
Glenn Pakulak
-- worked out Thursday, according to Dave Birkett of the Detroit Free Press. Current punter
Ryan Donahue
strained the quadriceps muscle in his kicking leg Wednesday while practicing as an emergency place-kicker. His status remains uncertain as well.
September, 3, 2011
9/03/11
8:28
PM ET
Check
here
for a complete list of the
Detroit Lions
' roster moves.

Surprise move:
I don't know if it qualified as a surprise, but it was
sure jarring to hear
earlier Saturday that veteran punter
Nick Harris
was ousted. Harris has been the Lions' punter since 2003 and hadn't appeared to be in decline. But rookie
Ryan Donahue
is 10 years younger than Harris and had an equally strong training camp. Age doesn't always apply to punters as it does to players at other positions, but the Lions must believe Donahue can be their punter for years to come. Meanwhile, the Lions activated cornerback
Alphonso Smith
from the non-football injury list, meaning they believe he will be ready to play before the sixth week of the season.
No-brainers:
You don't always see a six-year veteran as a team's No. 6 receiver, but
Maurice Stovall
proved he will be a valuable special teams player as well as a possible red zone threat. He beat out 2009 third-round draft pick
Derrick Williams
, whose potential never materialized and who was still dropping passes with regularity during the preseason. In training camp, it was clear that veteran
Nate Vasher
was behind younger cornerbacks
Aaron Berry
and
Brandon McDonald
. Both Berry and McDonald remain on the roster. Vasher was cut.
What's next:
Lions general manager Martin Mayhew is usually good for a couple of trades and veteran acquisitions during Labor Day weekend. You wonder if the Lions want to fortify their running back depth, which currently includes little-used
Aaron Brown
and an injured
Maurice Morris
.
Chester Taylor
is a Detroit-area native. Just saying.
September, 3, 2011
9/03/11
2:35
PM ET
Barring a last-minute change this weekend, the
Chicago Bears
won't be the only NFC North team with a new punter in 2011.

Dave Birkett of the Detroit Free Press
is reporting the
Detroit Lions
will release veteran
Nick Harris
and install rookie
Ryan Donahue
in that role. Harris, 33, has been the Lions' punter since 2003.
Donahue was one of the nation's top college punters last season at Iowa, and the Lions' pursuit of him this spring indicated they planned a serious challenge to Harris this summer. Both punters finished the preseason with identical 34.4-yard net averages, but you could tell the Lions were serious about Donahue when he began holding for place-kicker
Jason Hanson
in preseason games.
As you recall, the Bears decided against re-signing veteran punter
Brad Maynard
and
instead acquired
former
Jacksonville Jaguars
punter
Adam Podlesh
.
September, 1, 2011
9/01/11
11:30
PM ET
The best thing we can say about Week 4 of the preseason is that it's over, at least here in the NFC North. The next time one of our teams is on the field, it will be for real. In between, roster cutdowns from 8o to 53 will take place. The deadline is Saturday evening.
A quick rundown of Thursday evening's activity, which featured four fun but meaningless victories:
Chicago Bears 24, Cleveland Browns 14
Final preseason record:
2-2

Of interest:
Only a handful of Bears starters played. One of them, defensive tackle
Henry Melton
, registered an encouraging sack of Browns quarterback
Seneca Wallace
in the first quarter. ... It was interesting, but probably not newsworthy, that
Chris Spencer
started at center alongside the rest of the Bears' first-team offensive line. Just a night off for veteran
Roberto Garza
. ... Backup quarterback
Caleb Hanie
took a step in the right direction, completing 7 of 10 passes for 83 yards and dropping a perfect pass into the far corner of the end zone for a 19-yard touchdown to receiver
Johnny Knox
. ... Tailback
Chester Taylor
started but managed 27 yards on 10 carries in what was presumably a showcase stint. But an injury to tailback
Khahlil Bell
might change the Bears' plans for Taylor, depending on its severity.
Detroit Lions 16, Buffalo Bills 6

Final preseason record:
4-0
Of interest:
Most starters played one series. ... Quarterback
Matthew Stafford
threw a 39-yard pass to receiver
Calvin Johnson
on the game's first play, allowing Stafford to finish the preseason with this line: 25 completions, 33 attempts, 395 yards, five touchdowns and a 154.7 passer rating. ... Receiver
Maurice Stovall
produced a nice final argument for a roster spot, downing a punt at the Bills' 8-yard line and catching a 16-yard touchdown pass from
Shaun Hill
in the first quarter. ... Running back
Jerome Harrison
was untouched until the end of his 47-yard run in the first quarter. ... Rookie punter
Ryan Donahue
got the first punt of the night, for whatever that's worth, and averaged 44.0 yards on four punts. Veteran
Nick Harris
averaged 51.5 yards on two punts.
Green Bay Packers 20, Kansas City Chiefs 19

Final preseason record:
3-1
Of interest:
Some starters, including quarterback
Aaron Rodgers
, played one series. Rodgers' final pass of the preseason was an 8-yard touchdown to tight end
Tom Crabtree
. Rodgers finished the preseason with 37 completions in 47 attempts for 395 yards and four touchdowns for a 130.1 passer rating. ... Tailback
Ryan Grant
's 23-yard run to start the game came after strong blocks from tight end
Andrew Quarless
and right tackle
Bryan Bulaga
. ... Linebacker
Vic So'Oto
has put on a late charge for a roster spot. Thursday night, he had 1.5 sacks, a forced fumble and a 33-yard interception return for a touchdown. ... Not that it's a big concern, but quarterback
Matt Flynn
had one of the ugliest lines you'll see: two completions in 10 attempts for 12 yards and an interception, good for a 0.0 passer rating.
Minnesota Vikings 28, Houston Texans 0
Final preseason record:
2-2

Of interest:
Nearly every starter sat out this game. Rookie quarterback
Christian Ponder
put on an unexpected display of his scrambling ability, running for 61 yards on eight carries, before leaving midway through the third quarter. Some were nice improvisational plays. A few were necessary when blitzers came free. And a few came after the point when he should have thrown the ball. All in all, however, Ponder left the Vikings with a positive impression after completing 10 of 16 passes for 83 yards, including a 5-yard touchdown to tight end
Kyle Rudolph
. ... With their top three running backs sidelined, the Vikings gave a workout to rookie
Caleb King
, whom they signed last month after no one selected him in the supplemental draft. King finished with 62 yards on 19 carries, including two touchdown runs.
September, 1, 2011
9/01/11
4:10
PM ET
Welcome to preseason Week 4, where most players you know and love will take up residence on the sideline. All four NFC North teams are in action Thursday night. I've tossed out a few talking points below and will have some postgame thoughts either late tonight or, more likely, first thing Friday morning.

Chicago Bears
Opponent:
Cleveland Browns
Location:
Soldier Field
Key
issues:
Backup quarterback
Caleb Hanie
has a 55.9 passer rating this preseason, having thrown two interceptions and no touchdowns in 53 attempts. His job isn't threatened, but the Bears would like to see him finish summer on a higher note. ... Do the Bears have any pass-rushing depth other than tackle/end
Amobi Okoye
? This game should provide give us some definitive answers.

Detroit Lions
Opponent:
Buffalo Bills
Location:
Ralph Wilson Stadium
Key issues:
The Lions have built significant momentum this summer and, frankly, escaping unscathed Thursday night should be their only goal. They should take a long look at their running back depth, determine a winner in their punting derby between
Nick Harris
and
Ryan Donahue
, and get back to Detroit.

Green Bay Packers
Opponent:
Kansas City Chiefs
Location:
Lambeau Field
Key issues:
The Packers need to decide how many receivers and tight ends they'll keep and then make decisions accordingly. Will receiver
Chastin West
make the team? How about receiver/punt blocker
Tori Gurley
? Also, third-string quarterback
Graham Harrell
should get a long opportunity to lock down a roster spot.

Minnesota Vikings
Opponent:
Houston Texans
Location:
Metrodome
Key issues:
Rookie quarterback
Christian Ponder
will start. Will he earn the No. 2 job behind
Donovan McNabb
? Or will it be
Joe Webb
? We'll also get a look at the Vikings' depth, or lack thereof, behind tailback
Adrian Peterson
. It's interesting to note they tried to claim former Lions fullback/running back
Jerome Felton
. Meanwhile, second-year defensive end
Everson Griffen
will get a look at linebacker as the team looks for depth behind its starters.