April, 22, 2011
4/22/11
1:37
PM ET
The
New England Patriots
have the reigning league MVP and unanimous All-Pro selection at quarterback.
Do they need to find his replacement?
Boston Herald reporter Ian R. Rapoport has been exploring that question the past couple days and trying to determine what Bill Belichick has in mind for a
Tom Brady
exit plan.
The Patriots' recent visits with Arkansas quarterback
Ryan Mallett
and Washington quarterback
Jake Locker
have stimulated speculation. Brady will be 34 years old before the next season begins.
The Patriots have the flexibility to draft a quarterback because they own two picks in each of the first three rounds.
"You have a constant vigil to try to maintain continuity at that position because it is the premier position," Bill Parcells said. "It's vital. [
Peyton Manning
and Brady] seem to be very durable players.
"But anytime you get into your mid-30s, you have to start thinking about it because you go out there one Sunday and it can be over pretty quickly."
Belichick told Rapoport that
interviewing quarterbacks is part of pre-draft research
.
"You need to know the whole board," Belichick said. "That's part of what has helped us in making trades and maneuvering on draft day, understanding what we think is the value on the board as it relates to us and our perception of what it is in the league. It's just doing your homework."
Some might say it's still too soon to draft Brady's eventual replacement. He's at the top of his game, just signed a monster contract extension and can play another five years.
"The time is right if there's the right talent," former 49ers president Carmen Policy said. "Now's the time to start watching and looking for it. I don't care how good a player he is. The older you get, the more subject you are to injury. So it's time."
The Patriots could use a premium draft asset on a quarterback, invest years in his development and never have the chance to use him before he becomes a free agent. Of course, the Patriots could use him as insurance for a few years and then trade him like they did with
Matt Cassel
.
February, 28, 2011
2/28/11
11:00
AM ET
The NFL combine was in full throttle over the weekend. Here are some things we picked up as it pertains to the AFC North:
[+] Enlarge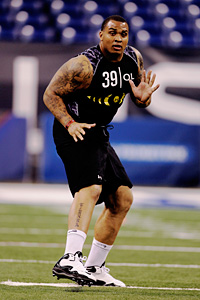 AP Photo/Darron CummingsThe Steelers and Ravens have shown interest in Florida offensive lineman Mike Pouncey.
Florida offensive lineman Mike Pouncey confirmed my initial thoughts entering the combine. Pouncey showed the same quickness, good feet and athleticism this weekend that he showed all season for the Gators. But something under the radar I was impressed with was Pouncey's natural enthusiasm. Not only did Pouncey look good in drills, but he was genuinely enjoying himself more than most prospects. Getting to know Pittsburgh Steelers center Maurkice Pouncey last season, the twin brother also has an upbeat mentality and is enthusiastic about football. Small things like that count in my book. I'm not surprised at all that both the Steelers and Baltimore Ravens have shown interest in Mike Pouncey. Those are two teams that not only look for talented players, but those who genuinely love the game.
The quarterbacks can really run this year. I don't know how many of them can throw at the NFL level, which is a major concern, but extending plays with their feet won't be an issue for this year's class. Top quarterback prospects like Missouri's Blaine Gabbert, Auburn's Cam Newton and Washington's Jake Locker all looked very athletic, and so did lower-profile quarterbacks such as Nevada's Colin Kaepernick. The Cincinnati Bengals are the only AFC North team in the market for a quarterback potentially in the first two rounds after starter Carson Palmer demanded to be traded and threatened to retire.
Speaking of quarterbacks, I think Arkansas' Ryan Mallett likely cemented his place outside of the first round, which might be a good thing for the Bengals. He threw the ball very well and has a cannon for an arm. But he also skipped some combine drills and has off-the-field concerns. When asked to clarify his issues at the combine, Mallet was defensive with the media, which was not the right way to handle it. Mallet said he would do so with teams and not with the public. Teams likely know those issues by now and at some point they may leak to the media anyway. But the Bengals have a track record of drafting talented players who fall down the draft board because of character issues. So Mallet could be a target for them in the second round. With Gabbert not throwing, Mallet was the best pure passer this weekend, in my opinion.
I still like the top two receivers in the draft: Georgia's A.J. Green and Alabama's Julio Jones. I'm convinced you can't go wrong with either player. Jones probably closed the gap on Green in the combine with this freakish athleticism. Jones' 40 time (4.39) and measurables were a little better than Green's (4.48), who remains more polished. Jones needs to work on his consistency catching the football. "The gauntlet" drill exposed him a bit and that could be the difference. I also liked Kentucky receiver Randall Cobb, who ran a 4.45, stood out in his workouts. The Browns, Bengals and Ravens could all look for receivers in the first or second rounds.
The Ravens' strong interest in Oregon inside linebacker Casey Matthews is interesting. For all the great things general manager Ozzie Newsome and his staff have done with the Ravens, they have yet to find a successor to middle linebacker Ray Lewis, who turns 36 in May. But it looks like Baltimore is putting a strong effort into finding that player in this year's draft. Matthews is getting a lot of attention because of the success of brother, Clay, with the Green Bay Packers. But Casey is projected to be a third-rounder.
January, 27, 2011
1/27/11
12:00
PM ET
For years the
Cincinnati Bengals
have overlooked drafting an eventual replacement for franchise quarterback
Carson Palmer
.
But in previous seasons that was more of a luxury. This year drafting Palmer's replacement is an absolute necessity.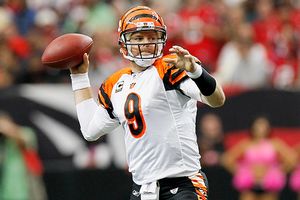 Kevin C. Cox/Getty ImagesThe Bengals must draft a quarterback to replace Carson Palmer this year.
Palmer, who is signed through 2014, recently turned the Bengals' draft plans upside down
by demanding a trade and threatening retirement.
This is a situation that needs to be taken very serious by the organization. The Bengals would be unwise not to consider drafting a quarterback in the first or second round.
Perhaps the Bengals can try to find "Palmer insurance" in free agency. But there won't be many options for a team like Cincinnati, which is not an attractive landing spot for free agents and typically searches for bargain-basement players.
You can try that route at cornerback (
Adam Jones
) and running back (
Cedric Benson
). But trying to find a cheap alternative as your starting quarterback is a recipe for disaster.
We've said for months that it's
time to blow up the Bengals
. This roster won just four games last season and it's hard to envision the team doing much better in 2011 without significant changes -- especially in this brutal division led by the AFC champion
Pittsburgh Steelers
. Palmer obviously sees that from the inside and he wants out.
Cincinnati has other needs. So using the No. 4 overall pick on Missouri quarterback Blaine Gabbert, Washington's Jake Locker or Auburn's
Cam Newton
may not be the first option. But if the Bengals pass on a quarterback in the first round, they better consider someone like Arkansas' Ryan Mallet in the second round in case they have to start the season with a rookie quarterback.
How will the Palmer saga end? Who knows?
But the Bengals likely will have plenty of uncertainty at quarterback entering April's NFL draft, which is the best time to find Palmer's immediate or eventual replacement.
NFL SCOREBOARD
Thursday, 10/23
Sunday, 10/26
Monday, 10/27