May, 2, 2014
May 2
7:20
PM ET
Michael Vick
called his first audible, announcing on Twitter late Friday afternoon that he has decided to wear No. 1, which previously belonged to punter
Ryan Quigley
.
This came one day after the
New York Jets
made it "official," announcing Vick would wear No. 8. He apparently didn't think eight was good enough. His beloved No. 7, of course, is worn by
Geno Smith
.
Now it's time to put this overblown story to bed. To quote Forrest Gump, "That's all I have to say about that."
December, 15, 2013
12/15/13
10:00
PM ET
By
Joe Menzer
| Special to ESPN.com
CHARLOTTE, N.C. -- Momentum seemed to swing in favor of the
New York Jets
heading into the fourth quarter Sunday at Bank of America Stadium.
Then, it flipped on the Jets in the instant that Carolina's
Jason Williams
burst through the Jets' line untouched and blocked a
Ryan Quigley
punt just over three minutes into the fourth quarter. The block gave the Panthers the ball at the Jets' 14-yard line, setting up a 1-yard touchdown run by
Mike Tolbert
four plays later that turned a narrow 16-13 Panthers' lead into a comfortable 23-13 advantage.
The Jets never recovered as the Panthers went on to win,
30-20
.
[+] Enlarge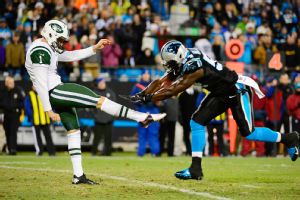 Bob Donnan/USA TODAY SportsRyan Quigley had his punt blocked in the fourth quarter, quickly changing the Jets' momentum.
"They just made a good call. We had gone into a certain formation that they adjusted to, and he just got a good jump off the ball," Jets long-snapper
Tanner Purdum
said of Williams.
Coach Rex Ryan admitted the Jets got caught in a vulnerable formation, going with an extra gunner -- Ryan referred to it as "a flyer" -- on the outside that permitted the Panthers, by NFL rule, to place a rusher over center. Having been burned in the past by Carolina punt returner
Ted Ginn
, Ryan put an extra coverage man in play to prevent a big return by Ginn -- who in 2009, while with Miami, returned a pair of kickoffs for touchdowns against the Jets, from 101 and 100 yards, no less.
"We were trying to take advantage of our speed," Ryan said. "Obviously they have one of the premier returners in the game in Ted Ginn. But when you do that, you obviously cover up the center. The guy had a good rush on us. That's exactly what happened."
A dejected Purdum insisted there wasn't much he could have done to stop Williams in that situation.
"There was nothing we could have done differently in that formation. Not that I know of," Purdum admitted.
Quigley tried to shift some of the blame onto himself.
"It's on me. When it comes down to it, you've got to get the ball off faster," Quigley said.
But then he said Williams was upon him so fast that it would have been very difficult. He also pointed out the Jets had not previously had a punt blocked all season.
"We've been using different formations all year. We've been mixing it up, and obviously we've run that formation this season, so they might have seen it," Quigley said. "And obviously whatever they did, it worked. ... It's just unfortunate that it happened at that point in the game, where it switched the momentum.
"Anytime that happens, it's tough. That was a very tough spot for us to put our defense in."
Quigley said mishaps on special teams are always magnified, and understandably so.
"I was out there four times tonight, and you've got to be perfect all four times," he said.
November, 29, 2013
11/29/13
12:20
PM ET
FLORHAM PARK, N.J. -- With Dolphins wide receiver
Mike Wallace
fresh off a 127-yard performance, the health of Jets cornerback
Antonio Cromartie
is in sharp focus.
Cromartie
He didn't practice Wednesday or Thursday with a hip injury, but Cromartie was on the field Friday in a uniform and helmet. He was able to run as he went through positional drills with the defensive backs. He didn't appear too hampered by the recurring hip injury that has bothered him all season.
When team drills began however, Cromartie moved over to the stationary bike.
Jets coach Rex Ryan has said Cromartie's availability for the Miami game could be a game-time decision.
Safety
Antonio Allen
was missing from the portion of practice that reporters are allowed to watch. Allen has not been on the injury report this week.
Nick Mangold
(wrist) was limited both days and appeared to take snaps at center Friday.
Caleb Schlauderaff
had been doing that earlier in the week. Mangold said Wednesday that he would play and said the wrist injury is just cumulative wear and tear.
Punter
Ryan Quigley
also spent time on the stationary bike, but to be fair, it was a pretty cold day and the Jets practiced outside.
Jeremy Kerley
(elbow) was out there with the wide receivers. The wide receiver has been limited all week after missing the last two games.
September, 16, 2013
9/16/13
1:20
PM ET
FLORHAM PARK, N.J. -- The
New York Jets
have switched punters, just two weeks into the 2013 season.

The team released
Robert Malone
on Monday, and signed Ryan Quigley. Malone, the incumbent, won the job over Quigley during training camp. But in the first two games of the year, Malone averaged just 37.1 net yards on 16 punts, ranking him 28th in the NFL.
The four-year vet averaged 38.5 net yards on 84 punts last season, his first with the Jets, ranking him 24th.
"With Robert, it's just the consistency. That's the thing that bothered us," head coach Rex Ryan said. "With Quigley, it was a tight competition before, but we did think he gives us a little more consistency."
Quigley, 23, was an undrafted free agent out of Boston College in 2012. He had a brief stint with the
Chicago Bears
last year, but will be making his NFL regular-season debut Sunday against the
Buffalo Bills
.
The Jets made a couple other roster moves Monday as well, signing linebacker
Scott Solomon
, signing linebacker
Danny Lansanah
to the practice squad, and releasing wide receiver Rahsaan Vaughn from the practice squad.
Solomon, who played in 13 games for the
Tennessee Titans
as a rookie last year, was just cut by the Jets last week. The Jets had an open spot on the active roster after placing quarterback
Mark Sanchez
on short-term injured reserve.
Lansanah was also cut by the Jets last week. Vaughn had joined the team late in training camp.
September, 9, 2012
9/09/12
11:52
AM ET
August, 31, 2012
8/31/12
8:56
PM ET

Most significant move
: The most significant move of the final cut-down, and the entire offseason, is how aggressive the Bears were in trying to upgrade special teams. In free agency, they signed
Eric Weems
to help
Devin Hester
with returns. They kept undrafted safety
Jeremy Jones
to help on special teams, then traded fullback
Tyler Clutts
to Houston to acquire cornerback
Sherrick McManis
. They also kept linebacker
Patrick Trahan
to help out on special teams. Figuring the team will have a better offense, the Bears wanted to shore up special teams to keep their offense in good field position.
Onward and upward
: With only three draft choices making the 53-man roster -- third-round pick
Brandon Hardin
ended up on injured reserve -- the Bears need to see if they can slide released draft choices
Isaiah Frey
(sixth round) or
Greg McCoy
(seventh round) to the practice squad. The Bears may only keep one on the practice squad because both are cornerbacks. They also hope to get undrafted tackle
James Brown
through waivers to get him on the practice squad. The Bears kept the predicted eight offensive linemen on the active roster, so they need a tackle (Brown,
A.J. Greene
or
Cory Brandon
) and an inside prospect to fill out the practice squad.
What's next
: The Bears aren't standing pat. They ended up adding 16 new players to the roster and are in the process of signing defensive tackle
Amobi Okoye
as a backup. It wouldn't be surprising if they look at
Antonio Dixon
, a defensive tackle released by the
Philadelphia Eagles
. A decision still has to be made on a punter.
Adam Podlesh
suffered a hip flexor injury, so the Bears kept undrafted punter
Ryan Quigley
on the active roster. It's not out of the question for them to look for another punter who was released.

NFL SCOREBOARD
Thursday, 12/18
Saturday, 12/20
Sunday, 12/21
Monday, 12/22
WEEKLY LEADERS