January, 27, 2014
Jan 27
6:15
PM ET
One area that may undergo some change in 2014 for the
San Francisco 49ers
is the offensive line, particularly center.
It is the one position on the line where the team may have a new starter.
Jonathan Goodwin
, who has been the 49ers' starting center for the past three seasons, is 35 and he is a free agent.
Goodwin
There is a chance the 49ers could re-sign Goodwin -- though some wonder if he could have interest in playing for Arizona where his brother, Harold, is the offensive coordinator -- for a short-term deal. The 49ers, however, may look at this as an opportunity to develop a youngster.
Daniel Kilgore
,
Joe Looney
and
Ryan Seymour
are all interior lineman who could have futures. With Goodwin a free agent and guard
Mike Iupati
possibility entering his final season with the club, the development of all three are important.
The 49ers also could draft a center this year. A premium usually isn't put on the position in the draft, so the 49ers could potentially get a top center prospect in the second or third round. They have two picks in each round and could get a third third-rounder as a compensatory pick.
ESPN analyst Matt Williamson said he thought the 49ers' offensive line took a step back in 2013 and thinking toward the future may be smart.
"If he wants to take a one-year deal at a very team friendly rate, I say bring him back," Williamson said. "But I would draft a guy either way reasonably high, which shouldn't be that big of a deal for a team that doesn't have a lot of huge needs."
Because the 49ers are deep and have so many draft picks, this may be the perfect time to make some moves geared for the future on the offensive line.
December, 13, 2013
12/13/13
6:00
AM ET
SANTA CLARA, Calif. --
Ryan Seymour
was on the Candlestick Park sidelines on Sunday.
When he walked back to the Seattle Seahawks' locker room, he never imagined he'd be back for the Candlestick Park finale Dec. 23 when the 49ers host Atlanta.
"Crazy business," Seymour said from the 49ers' locker room Thursday.
As a member of the Seattle practice squad, the guard accompanied the team to San Francisco last weekend. Sunday, after the 49ers' 19-17 victory, Seymour flew back to Seattle after the game. Early Monday morning, the 49ers began the process of signing him to their 53-man practice.
"I flew back to Seattle with the team," Seymour said. "And 24 hours later, I made the same flight back."
As he gets used to being a 49er, Seymour said he is well aware of all of the recent roster poaching the two teams have done.
"I just look at this as an opportunity with a good franchise," Seymour said. "I'm looking forward to it."
September, 3, 2013
9/03/13
10:30
AM ET
Eighty-six of the first 88 players drafted in 2013 remain on 53-man rosters entering Week 1. The two exceptions play for NFC West teams.
The
Arizona Cardinals
'
Jonathan Cooper
, chosen seventh overall, suffered a season-ending leg injury during preseason. He is on injured reserve. The
San Francisco 49ers
'
Tank Carradine
, chosen 40th overall, remains on the reserve/non-football injury list while recovering from a knee injury.
Twenty-five of 39 NFC West choices this year remain on their original teams' 53-man rosters. That includes all seven picks for the
St. Louis Rams
and seven of nine for the Cardinals. The 49ers and
Seattle Seahawks
had a higher number of picks arranged lower within each round, and fewer open roster spots to accommodate them.
Injuries have left six picks from the division on various injured lists. Three of the Seahawks' top five picks will not help the team anytime soon. That includes Harper, defensive tackle
Jesse Williams
(injured reserve) and cornerback
Tharold Simon
(reserve/physically unable to perform).
Percy Harvin
, who cost Seattle its 2013 first-round choice, is also injured.
Five 2013 draft choices from the division landed on their original teams' practice squads. One of them, fourth-round choice Chris Harper, subsequently left his original team (Seattle Seahawks) to sign with the 49ers' 53-man roster.
Three picks from the St. Louis Rams and one from the 49ers are scheduled to start in Week 1. Cooper would have started for the Cardinals if healthy.
Harper wasn't the only NFC West draft choice to land on another team. The 49ers'
Marcus Cooper
, a seventh-round choice, wound up with Kansas City after the Chiefs claimed him off waivers.
August, 20, 2013
8/20/13
7:21
PM ET
RENTON, Wash. — Seattle guard
John Moffitt
was traded, then not traded, then traded again, all within 24 hours.
Moffitt was dealt to the
Cleveland Browns
on Monday afternoon for defensive lineman
Brian Sanford
, but Cleveland voided the deal Tuesday afternoon, reportedly due to health concerns over a previous Moffitt knee injury.
Moffitt has been on the field throughout training camp, played in both of Seattle's preseason games and said he was in better shape than any time in his career.
Less than 30 minutes after news broke of the trade being nixed, the Seahawks had traded Moffitt to Denver for Broncos defensive tackle
Sealver Siliga
.
[+] Enlarge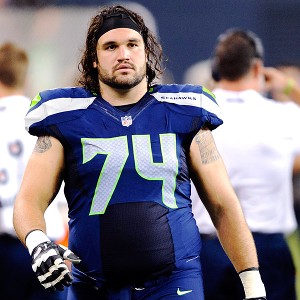 Steven Bisig/USA TODAY SportsAfter his trade to Cleveland was voided over a health issue, Seattle sent guard John Moffitt to Denver for defensive tackle Sealver Siliga.
Maybe both teams liked what they saw from those players in the Seahawks' 40-10 victory over Denver on Saturday night in Seattle.
Siliga, 6-foot-2 and 325 pounds, is in his second season out of Utah. He had two assisted tackles against the Seahawks.
Moffitt still will need to pass a physical with the Broncos, but assuming that gets done with no problems, Seattle's decision to trade Moffitt clears up some things:
1. Starting battles for the offensive line are over.
The only real contest up front was between
J.R. Sweezy
and Moffitt, but obviously Sweezy won out. The other OL starters are set:
Russell Okung
at left tackle,
Paul McQuistan
at left guard,
Max Unger
at center and
Breno Giacomini
at right tackle.
Moffitt has more experience than Sweezy and might be a better player from a technique standpoint, but Sweezy has a toughness to him and a hard edge that offensive line coach Tom Cable loves, which is why he wanted to see what he could do when the team moved Sweezy to offense last season.
Sweezy was a seventh-round draft choice last year as a defensive tackle from North Carolina State. He was moved to the offensive line, partially because of an arm injury to Moffitt in training camp last season. Sweezy struggled early on, but improved as the season progressed.
Moffitt hoped to win the starting job at training camp this year, but it didn't happen.
The only thing that could change the starting lineup on the O-line (other than an injury) is having
James Carpenter
back on the field and healthy. Carpenter was a first-round pick out of Alabama in 2011, but injuries have plagued his time in the NFL.
A foot injury has sidelined him so far in the preseason. If Carpenter is healthy and gets some time on the field soon, he could eventually return to a starting spot at guard, but that's a big if at this point.
2. As they've shown in the past, the Seahawks aren't afraid to move an early-round draft choice
if they feel other players, not as highly touted, are doing better jobs.
Moffitt was a third-round pick out of Wisconsin in 2010. He played well his rookie season and was viewed as a possible anchor at guard for the long term, but injuries slowed his progress.
He became expendable because the Seahawks are pleased with what they've seen from rookies
Ryan Seymour
(a seventh-round pick out of Vanderbilt),
Michael Bowie
(a seventh-round pick from Northeastern State in Oklahoma) and
Alvin Bailey
(a free agent from Arkansas).
Seymour now is listed as the backup to Sweezy. Bowie and Bailey are listed at tackle, but they also can play the guard spots.
May, 10, 2013
5/10/13
8:09
PM ET
RENTON, Wash. -- A few notes after watching the
Seattle Seahawks
' rookies practice on a clear, 75-degree day at team headquarters along the Lake Washington shoreline:
Veteran presence: Veterans were not allowed on the field, but Seahawks cornerback Richard Sherman showed up about 20 yards offshore -- on a personal watercraft. For a few minutes, photographers had their backs to practice while they snapped away, their cameras trained on the Seahawks' brashest player. Not that Sherman likes attracting attention. "Was that Sherm?" head coach Pete Carroll quipped, adding in jest that he thought he'd seen workaholic quarterback Russell Wilson peeking over the hill on the other side of the field, away from the water.

[+] Enlarge

AP Photo/Ted S. WarrenBarred from attending, veteran corner Richard Sherman watched Seahawks rookies from the water.

Lots of faces: Seattle had 67 rookies in camp, including 38 players attending on a tryout basis. There were 12 draft choices and 17 players signed as undrafted free agents. Printed rosters have seldom been so helpful.

Wilson's legacy: Carroll opened a morning staff meeting by showing video of Wilson struggling with some of the basics, including center exchanges, during the rookie camp last year. Wilson finished the season with a playoff victory and an appearance in the Pro Bowl. Carroll wanted to put into perspective the first day of rookie minicamp so his coaches wouldn't get down on a young player for struggling early.

Tight end stands out: The recently released tight end Darren Fells was among those trying out. He caught passes consistently, but fifth-round choice Luke Wilson was the tight end standing out most demonstrably. He beat safeties in coverage to make catches on the run and separated from defenders. Carroll singled out Wilson as impressing him. Carroll: "Luke stood out today. He has really good speed and it showed. Caught the ball really well. That was probably the brightest spot that you could really see a guy jump out on. That was a really good first impression."

Inside job: Third-round choice Jordan Hill and fifth-rounder Jesse Williams worked together at defensive tackle, sometimes with seventh-rounder Ty Powell lining up in what appeared to be the "Leo" position. Hill and Williams are roommates. Hill played at Penn State, Williams at Alabama. Both played in tradition-rich programs led by old-school coaches, at least until Bill O'Brien succeeded Joe Paterno at Penn State. Carroll's new-school approach comes through loud and clear in the music playing over speakers during practice. Hill said that "wasn't going on in my first three years" at Penn State. "I just enjoy, you get to be yourself," he said.

Scruggs update: Second-year defensive end Greg Scruggs underwent reconstructive knee surgery Thursday after suffering a non-contact injury while planting awkwardly during a training drill. It's too early to know whether Scruggs could factor at all during the 2013 season.

Not much to go on: Players wore helmets, jerseys and shorts for practice. No tackling or hitting was allowed. Coaches encouraged defenders to make a quick attempt at stripping the ball from runners before letting them proceed upfield. This was not football, in other words. However, coaches were able to see players move. Second-round running back Christine Michael stood out for his quickness, balance and for the primal scream he let out after running to the end zone on one play. Michael also stood out for his biceps. He practiced in a No. 33 jersey with no sleeves.

No vets around: Years ago, before the current labor agreement went into place, teams held mandatory camps for veterans and rookies at this time of year. Only rookies are allowed under the current agreement. That made it impossible to compare rookies to the players they'll challenge for roster spots and playing time.

Smith at center: Seventh-round pick Jared Smith worked at center. He could project at guard, too. The Seahawks are converting him from defensive tackle, a transition J.R. Sweezy made last year. Carroll singled out Smith's quickness. He also praised seventh-round guard Ryan Seymour for having good feet.

Harper's hands: Carroll liked what he saw from fourth-round receiver Chris Harper. Carroll: "He caught the ball beautifully. He really has great hands."
That's it from here. Every team in the NFC West is holding its rookie camp Friday through Sunday. I would expect each team's coaches to come away excited about new players. That's a good thing. Draft choices come as-is, without receipts. There are no refunds.
NFL SCOREBOARD
Sunday, 2/2
WEEKLY LEADERS