October, 26, 2014
10/26/14
2:53
PM ET
EAST RUTHERFORD, N.J. -- Somewhere, Leon Lett is shaking his head.
The former
Dallas Cowboys
defender -- known for his premature touchdown celebration against the
Buffalo Bills
in Super Bowl XXVII -- might have a few words of advice for current Bills receiver
Sammy Watkins
after the rookie's snafu in Sunday's game against the
New York Jets
.
[+] Enlarge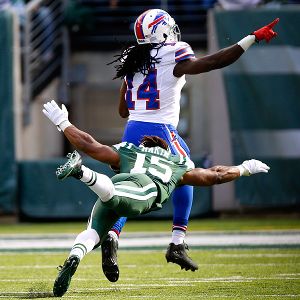 AP Photo/Kathy WillensBills WR Sammy Watkins' premature celebration cost him a touchdown when New York's Saalim Hakim tackled him at the 5-yard line.
The fourth-overall pick will make the highlight reels for the wrong reasons after he was stopped short of a touchdown on an 84-yard catch in the second quarter. Watkins, who thought he had a free pass to a touchdown, raised his arm in celebration as he neared the end zone and was tackled by
Saalim Hakim
at the 5-yard line.
Whoops.
Making matters worse, it
wasn't even a full-time defender
who chased down Watkins. Hakim, playing only his third defensive snap of the season in spot duty for a shaky Jets' secondary, is a return specialist and receiver.
Bills coach Doug Marrone pulled Watkins aside after the play. "I said, 'There were people on that sideline' -- meaning his teammates -- 'that were upset. We're playing our butts off and we don't have time for stuff like that,'" Marrone said. "Those are the things we have to work on -- winning and growing up."
Luckily for Watkins, fullback
Frank Summers
bailed him out two plays later with a 2-yard touchdown run, putting the Bills ahead,
21-7
.
Lesson learned, rook.
December, 19, 2013
12/19/13
6:15
PM ET
FLORHAM PARK, N.J. -- Out of playoff contention, the
New York Jets
are planning to use the final two games to evaluate certain young players. Reading between the lines, it could mean Rex Ryan feels secure and isn't worried about having to win the final two games to save his job.
Or it could mean nothing. It could mean general manager John Idzik is calling the shots. There are many ways to interpret it.
Bush
"We're going to utilize out entire defensive roster the next couple of weeks and we'll get a chance to evaluate some guys who haven't played as much," defensive coordinator Dennis Thurman said, mentioning safeties
Josh Bush
and
Jaiquawn Jarrett
among that group.
Thurman emphasized they're still trying to win the games. He acknowledged "it can be difficult" to balance it, adding, "But we have to try to do it. It's something that's important to us, to get a look at these guys on tape in game action against another team's first unit."
There was no official word on whether they will take the same approach on offense, but it wouldn't be surprising to see wide receiver
Saalim Hakim
, running back
Alex Green
and tight end
Zach Sudfeld
in expanded roles.
The Jets are starting five rookies on both sides of the ball, so it's not like the bench is filled with young players starved for playing time.
If Bush and Jarrett see more time, it would appear that future Hall of Famer
Ed Reed
would have a reduced role. Reed, 35, has played the vast majority of the defensive snaps since signing with the Jets last month.
Statistically, this has been a disappointing season for the defense, which ranks 12th in yards allowed. In eight seasons as a defensive coordinator (
Baltimore Ravens
) and head coach, Ryan's defense has ranked no lower than eighth -- and that was last season.
In the preseason, Ryan predicted a top-five finish.
"I just assumed that's where we'd always be," he said. "I'd just assumed we'd be there, but to me, it's just the wins and the losses. I think that's the disappointment. That's where the disappointment comes in."
August, 31, 2013
8/31/13
6:14
PM ET

Most significant move:
The fact the Saints didn't release or put
Jonathan Vilma
on injured reserve or the physically unable to perform list is a very strong sign that the veteran linebacker is expected to be healthy early in the season. That's very significant. Vilma may be nearing the end of his career, but he still is the emotional leader of this defense and his mere presence makes this unit stronger.
Going in a different direction:
Courtney Roby
had been a fixture on special teams since his arrival in 2008. But the Saints have some younger, more athletic guys, like
Rafael Bush
, they want to get involved on special teams. Roby's value also was hurt by the fact he brought little as a wide receiver. The team elected to keep
Andy Tanner
over Roby because Tanner has some upside as a receiver.
What's next:
After losing outside linebackers
Will Smith
and
Victor Butler
to injuries, the Saints could look at the waiver wire to add some more help for the pass rush.
Saints moves:
Released WR Courtney Roby, DE
Jay Richardson
, CB
Chris Carr
, S
Jim Leonhard
. Waived QB
Ryan Griffin
, WR
Preston Parker
, FB
Austin Johnson
, WR,
Saalim Hakim
, G
Elliott Mealer
, TE
Keavon Milton
, TE
Michael Higgins
, G
Andrew Tiller
, C
Jeremiah Warren
, LB
Ray Shipman
, LB
Rufus Johnson
, DT
Isaako Aaitui
, S
Jerico Nelson
, LB
Baraka Atkins
, T
Marcel Jones
, CB
Korey Lindsey
and CB
Jumal Rolle
. Placed C
Eric Olsen
on injured reserve.