August, 15, 2010
8/15/10
4:31
PM ET
Some bullet-point thoughts on the Colts'
37-17 preseason loss
to San Francisco on Sunday afternoon.
Impressive:
The starters on offense put together a smooth and efficient 89-yard touchdown drive on their first chance. Peyton Manning hit on 8 of 10 passes for 91 yards, and got to where people want him in these games -- to the sideline with a ball cap on.
The front-line defense, minus some key guys who were held out, made plays. Philip Wheeler forced a fumble right out of the gate. Robert Mathis pushed rookie tackle Anthony Davis around. Jerraud Powers pounced on a tipped ball for an interception, and scared Ted Ginn into a drop.
Rookie linebackers Pat Angerer and Kavell Conner were both very productive. Angerer had a couple sacks, and Conner was in on a lot of tackles. Barring injuries, there should not be room for them on defense. But they should be impact special teams guys.
Unimpressive:
Curtis Painter was incredibly ineffective. Even with protection issues, his performance makes it impossible to say he's improved on his rookie work. He was 9-for-19 for 64 yards with three interceptions. Yeesh. San Francisco third-stringer Nate Davis was more calm and collected than Painter and the Colts' third quarterback, Tom Brandstater.
Everyone was looking for a chance to assess new returners, but we'll have to wait at least until Game 2. Kickoff returns by Brandon James and Sam Giguere looked like the same old deal, and James only had a chance to field one punt.
Run defense in the second half against San Francisco's bulky rookie Anthony Dixon was insufficient. He will head back to the Bay Area feeling very good about himself after 21 carries for 100 yards and a touchdown.
Unfortunate:
Reserve safety and special teamer Jamie Silva went down with what looks to be a serious knee injury.
June, 4, 2010
6/04/10
5:55
PM ET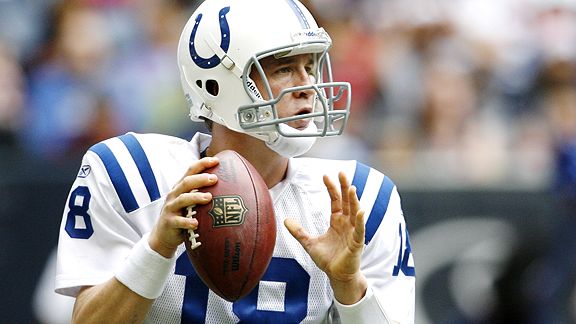 Aaron M. Sprecher/Icon SMIBad news for opposing defenses: Peyton Manning's relentless drive to improve his game means the four-time MVP could be even better in 2010.
INDIANAPOLIS -- His neck is
repaired
and he's been working with receivers since April. Now he's leading the
Indianapolis Colts
through minicamp paces, intent on a return to the Super Bowl and a better big-game result.
How does
Peyton Manning
, the league's first four-time MVP, get better for 2010?
Head coach Jim Caldwell has seen the process up close as a participant. He knows just the sort of meticulous deconstruction of the 2009 season Manning has done with quarterback coach
Frank Reich
in search of bullet points to concentrate on for 2010.
"He's a very unusual guy," Caldwell said. "Every year he kind of goes through this process where he and Frank will sit down and they'll take a look at what he was able to accomplish last year, he'll look at all his strengths and weaknesses. He'll review every single snap of every game he played. And not just glancing over it, but I'm talking about detail. They'll take notes of ever single throw, every single play call, every single check.
"And then from that he'll go through it and then make a determination on where he thought he could improve on that setting. He'll dissect his entire season that way and then he'll set new goals for himself in terms of what he thinks he can accomplish. And he seems to certainly keep moving forward, each and every year you see he gets better… I don't think there is any limitation on him, on what he can improve upon."
How long does it take? A week? A couple?
"Months," Caldwell said. "Plural."
That's not talk from Caldwell the rest of the NFL will be excited to hear, but it's hardly surprising. Saying Manning is meticulous is akin to saying Santa Claus is overweight. Still, we don't frequently get details of just how Manning goes about things, just like we don't get readings from a scale at the North Pole.
I asked Caldwell about avenues for Manning to improve upon after Manning spoke at the media center podium at team headquarters Friday. I certainly wish I were getting the scoop from Manning. But odds are Manning, who's super savvy with the media but not a big sharer with stuff that could ever qualify as state secrets, wouldn't have offered much up on it anyway.
[+] Enlarge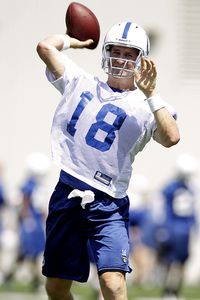 AP Photo/Michael ConroyPeyton Manning practiced Friday after surgery to alleviate a pinched nerve in his neck that's bothered him for four years.
A lot of offseason morning meetings start at 7 a.m., he said, while suggesting his timing with pass-catchers always will be a big point of emphasis in this offense.
"The main thing I try to work on is the timing with these new receivers, Brody [Eldridge] who's a new tight end here, Sam Giguere who's healthy and obviously try to get even more sound with Pierre [Garcon], [Austin] Collie," Manning said. "And everybody acts like this is the start. We've been here since April, we've been throwing. We've been working a lot on the field.
"I've had another good offseason with [Anthony] Gonzalez now that he's back. Getting the timing down with all these young receivers, the more I can get on the same page with them the more we have a better chance at success."
Clyde Christensen is the offensive coordinator now, with Tom Moore in a lesser role.
Manning has worked closely with Christensen in recent years. He's been the coach who has been in charge of third-down situations and red zone plays, two excellent areas for the Colts. While some players will need to adjust to the change in coordinators, the switch won't slow Manning down at all.
At minicamp practice, Manning looked like Manning.
In a breeze that was occasionally strong, the throws were crisp and precise whether the target was
Dallas Clark
or
Dudley Guice
. The quarterback's conversations with a coach or player to the side during breaks were accented with points and hand gestures about patterns and positioning.
I'd never expect that Manning would decide he's got it all under control.
But I do suspect it can get increasingly hard for very good players in any sport to find macro-issues to target this time of year. That's why it's so great when we learn that Kobe Bryant spent offseason time with Hakeem Olajuwon to become a better player in the post, and why details from Caldwell on Manning's determination to be more accurate can be pretty interesting.
Before 2008, Manning's tear-down of 2007 led him to a more intense focus on pass placement, according to Caldwell, who was the assistant working most closely with him then.
So what did that lead to?
"He works each and every drill in terms of placing the ball where he wants to place it and if he doesn't hit it right on the spot, he'll say, 'Hey, let's do that one again,'" Caldwell said. "He'll repeat it. And for most people, the initial pass would have been one that would have been highly acceptable.
"But for him, it maybe wasn't right on the pinpoint of the left shoulder. Or maybe it wasn't at the right ear. He's very, very precise in that regard, and I think that's what makes him unusual."
Anything Manning has discovered since then has also been layered into his private individual work with targets and sessions like today's.
Reggie Wayne
is absent in a contract protest. Upon his return, the group of Wayne, Garcon, Collie and Gonzalez gives the team a "chance to be as deep as ever" at the position, Manning said.
The draft class is supplemented by the return of Gonzalez and safety
Bob Sanders
from injury -- players Manning feels almost qualify as free-agent additions. Given those factors, the Colts seem like they'll be in position to improve as they try to defend their AFC title.
But Manning emphasizes they've got to do the things to make it so, not rely on how it all looks on paper.
Notes from his season breakdown are on paper, too. It's hard to imagine they won't come to life on fall Sundays.
"He's got such great presence of mind, such great will and determination that I think you will see him improve in almost every area," Caldwell said.
April, 24, 2010
4/24/10
7:20
AM ET
Golden Tate
,
Jordan Shipley
and
Javier Arenas
are gone. The Titans think they got their man in
Damian Williams
.
Colts faithful hoping Bill Polian would get in on the action for another prospect who can upgrade the return game are going to wind up disappointed.
While it seems like a focus on getting
Peyton Manning
and the offense better field position could add a dimension, Polian said after Friday's third round that he sees no dual threat remaining.
"I'm not so sure that there is one left that would be any more dynamic than what we have on the squad right now," he told Indianapolis reporters. "I'm not sure, off the top of my head, I don't think there is a dual return guy left. Obviously, that is an important skill set. There are some return guys down there, just none that I can turn to Coach (Jim Caldwell) and say, 'This guy's got the job.'"
If the Colts played next week, Polian said he envisioned Sam Giguere and
Jerraud Powers
handling the jobs. I'm presuming he meant Giguere for kickoffs -- he was second on the team in returns with five last year -- and Powers for punts. He indicated he didn't see
Austin Collie
as a possibility.
"Again, we're not focused on the return game," he said. "When you go to the Super Bowl, you're not hurting in that area. If you can get a dual return guy who can do both, one guy who can do both, it's helpful because it takes the stress off other positions. But if you can't, you can't. The world is not going to end because we don't have that."
The return game was one of three areas where some speculated the Colts might change a long-standing philosophy.
I expected a return man, and I expected some added size on the offensive line. Two veteran additions,
Adam Terry
and
Andy Alleman
, do bring more size to the pool of linemen. While a lineman or two could arrive Saturday, I'm no longer convinced they'll be much bigger than the guys already on the roster.
I didn't envision a fullback for short-yardage run situations to be added, and I feel safe sticking with that.
February, 7, 2010
2/07/10
5:24
PM ET
Inactives are out and the Colts include no surprises:
So much for Cloherty's long shot MVP hopes we examined
here
.
January, 24, 2010
1/24/10
2:05
PM ET
INDIANAPOLIS --
Jerraud Powers
is out with a foot injury suffered in last week's win over Baltimore and the Colts will turn to another rookie,
Jacob Lacey
, in his place.
Lacey's played extensively, and the Colts have plenty of confidence in him.
The issue, if one arises, would be with
Tim Jennings
as part of the nickel package. But the Jets may not have enough firepower in the passing game to take advantage.
The rest of the Colts inactives:
January, 16, 2010
1/16/10
7:06
PM ET
January, 16, 2010
1/16/10
7:06
PM ET
August, 1, 2009
8/01/09
1:17
PM ET
Posted by ESPN.com's Paul Kuharsky
The Texans have signed first-rounder Brian Cushing, reports John McClain.
Young cornerbacks are under pressure, says McClain.
So much counts on Matt Schaub avoiding injury, says Jordan Godwin.
Dan Orlovsky got yelled at on Day 1, says McClain.
Audio of Owen Daniels and three thoughts from Lance Zierlein.
A Day 1 camp report from Alan Burge.
A rundown of Jim Caldwell's pre-camp thoughts from Mike Chappell.
John Oehser asks if the Colts can win the Super Bowl.
Receiver Sam Giguere (fractured fibula), cornerback Marlin Jackson (knee), defensive tackle Antonio Johnson (knee), offensive lineman Charlie Johnson (shoulder), safety Bob Sanders and kicker Adam Vinatieri (hip) are the six Colts players who will begin camp on the PUP list, says Oehser.
Wayne Weaver is upbeat despite slow ticket sales, says Vito Stellino.
Eugene Monroe and Eben Britton remain unsigned.
Kenny Britt wasn't with the Titans for opening day of camp, writes Jim Wyatt.
Leroy Harris knows his role, say Gary Estwick and Wyatt.
Titans Radio's podcast review of opening day.
February, 27, 2009
2/27/09
1:49
PM ET
Posted by ESPN.com's Paul Kuharsky
Houston Texans
I can't believe this, but Oilers/Titans Hall of Fame offensive lineman Bruce Matthews is joining the Texans coaching staff. I would have bet a lot against that one. He must have gotten bored at home.
We knew Eugene Wilson had a new deal. The National Football Post has contract details.
The Sage Rosenfels to Minnesota trade is official.
Indianapolis Colts
The Colts are now thin at linebacker, writes Mike Chappell.
Indy announced it tendered exclusive rights free agents offensive lineman Dan Federkeil, who also was offered a tender as an exclusive rights free agent in addition to running back Lance Ball, linebacker Buster Davis and defensive tackle Daniel Muir.
The team also confirmed it's added the following players since the end of the 2008 season: Linebacker Rufus Alexander, defensive back Brannon Condren, punter Mike Dragosavich (waiver claim), defensive back Brandon Foster, wide receiver Sam Giguere, tackle Corey Hilliard, defensive back Travis Key, linebacker Michael Okwo, tight end Jamie Petrowski, wide receiver Taj Smith and defensive back Brandon Sumrall.
Jacksonville Jaguars
Tim Graham says choosing the Patriots over the Bills was easy for Fred Taylor.
Keeping Brad Meester was a good move, says Cole Pepper.
Tennessee Titans
David Climer would like the Titans to take a new approach at receiver.
The agent for receiver Nate Washington expects him to visit the Titans. Also interested: Lions, Buccaneers, Rams and Vikings. He's in Detroit Friday, according to Jim Wyatt.
Titans free agent receiver Brandon Jones will visit the 49ers, says Wyatt.
Defensive tackle Chris Canty is slated to visit the Titans Saturday after a stop in Washington.
The Titans have ratcheted up efforts to hold onto Chris Simms, says Terry McCormick.

NFL SCOREBOARD
Thursday, 8/21
Friday, 8/22
Saturday, 8/23
Sunday, 8/24
WEEKLY LEADERS