August, 2, 2014
Aug 2
3:20
PM ET
DAVIE, Fla. -- A daily review of the hot topics coming out of
Miami Dolphins
training camp:
Saturday was highlighted by the Dolphins' annual team scrimmage at Sun Life Stadium. It was a good day for Dolphins quarterback Ryan Tannehill, who threw for two touchdowns. Tannehill played mostly against the second-team defense during the scrimmage but looked sharp. His two touchdown throws were for 9 yards to running back Lamar Miller and 7 yards to tight end Dion Sims. Tannehill saved his best throws for the red zone, which will be key this season. "It felt good today," Tannehill said. "It's good to be in our stadium. It's good to be in front of some fans. Myself and the rest of the offense, we're growing day by day, getting better day by day. I feel myself becoming more in tune with the plays coming in, just having an idea exactly of what to do with the ball every play and that's exciting for me."
There were several very good plays by the defense in this scrimmage. The two that stood out most were Cortland Finnegan's deep-ball interception off Dolphins backup quarterback Pat Devlin and rookie linebacker Jordie Tripp's 70-plus yard fumble return for a touchdown. Tripp stripped rookie running back Damian Williams and recovered the ball in stride for the defensive touchdown.
Miller, Miami's incumbent starting running back, had a good day running the ball. He reeled off a pair of runs for 14 yards and 10 yards, showing good shiftiness. Miller also broke through several tacklers, which is something he didn't do enough of in his first year as a starter last season. "He's a guy that's got a lot of skill and talent, and good speed," Dolphins coach Joe Philbin said Saturday. "He does have elusiveness. I think that showed up today."
The first-team offensive line actually held up well. There were no sacks allowed from the starting five in the trenches that included left tackle Branden Albert, left guard Daryn Colledge, center Nate Garner, right guard Dallas Thomas and rookie right tackle Ja'Wuan James. Miami is still trying to find its right combination up front. But Saturday's performance was promising. "I think we got better today," Albert said. "We just did a good job, from the quarterbacks to the running backs."
There was one injury of note: Dolphins starting tight end Charles Clay went down early with an apparent right leg injury. The ailment didn't look serious, but Clay didn't return to the scrimmage.
After the scrimmage, the Dolphins announced their 2014 "Walk of Fame" members. The group includes former Dolphins cornerback Sam Madison, running back Tony Nathan, guard Ed Newman and defensive end Jeff Cross. The group will be inducted Sept. 21 before Miami's home game against the Kansas City Chiefs.
The Dolphins are off on Sunday. Miami will return to the practice field on Monday at 8 a.m. ET to continue training camp at the team's headquarters in Davie.
April, 21, 2011
4/21/11
4:09
PM ET
A few months back, Andre Reed got into the culinary business with his "Over the Middle" sauce.
Did he branch out Thursday by spilling the beans?
Reed has been chosen to represent the
Buffalo Bills
next week at the NFL draft in Radio City Music Hall. All 32 clubs will have a former star in attendance to announce the second-round picks.
The
New England Patriots
will have Hall of Fame outside linebacker Andre Tippett there. The
Miami Dolphins
and
New York Jets
don't own second-round picks, but cornerback Sam Madison and defensive lineman Marty Lyons will be in the rotation.
Reed tweeted a potential preview message to Florida State quarterback
Christian Ponder
:
@cponder7 Lookin forward to calling your name Draft Day!!!!!!!!!Bills brash like ur style.
Reed deleted the note and quickly
posted another tweet that toned down the excitement
.
@cponder7 Lookin forward to the possibility of calling your name Draft Day!!!!!!!!!Bills brash like ur style.
The Bills own the third and 34th picks in the draft. Mock draftniks project Ponder to be available early in the second round, but waiting might not the safest approach to getting a quarterback.
Some analysts wonder if there will be run on quarterbacks late in the first round. The Patriots hold the 33rd choice and will be fielding calls for it in the hours between the end of the first round and the start of the second round.
"It could be a record number," Bills general manager Buddy Nix said Tuesday about first-round quarterbacks. "There's so much need for a quarterback."
February, 27, 2011
2/27/11
8:42
AM ET
INDIANAPOLIS -- If money is the best way to measure the worth of a player, then nose tackle
Paul Soliai
is better than
Zach Thomas
,
Jason Taylor
,
Sam Madison
and Nick Buoniconti in
Miami Dolphins
history.
Soliai has signed his franchise tag. That means he's guaranteed about $12.5 million for next season, the average of the five highest-paid NFL defensive linemen.
No Dolphins defensive player has come close to making that much money for one season of work.
Soliai's agent,
David Canter, tweeted the signing Saturday night
.
Soliai is important to the Dolphins' defense because he's a solid 3-4 nose tackle, one of the more premium positions in the game.
But he hasn't been to so much as a Pro Bowl.
Dolphins outside linebacker
Cameron Wake
was a Pro Bowler and second-team All-Pro this past season. Defensive lineman
Randy Starks
was a Pro Bowler, too.
Strong safety
Yeremiah Bell
went to the Pro Bowl two seasons go. The Dolphins made
Karlos Dansby
the highest-paid inside linebacker at an average of about $8 million a year.
So you have to ask: Where does Soliai rank as the best defender on the Dolphins' current roster?
January, 13, 2011
1/13/11
1:41
PM ET
Time for another edition of "Speed Dial," where I call a few folks from my Rolodex to get their takes on a particular subject.
Today's question: In light of what
New York Jets
cornerback
Antonio Cromartie
recently said about
New England Patriots
quarterback
Tom Brady
, is there a
line that can be crossed when it comes to trash talking
?
Ruben Brown,
Buffalo Bills
guard (1995-2003):
"Beauty is in the eye of the beholder. If it's said to a player who will respond, then, yes, there is a line. But when it's a pro like Tom Brady, this is just going to roll like water off a duck's back. He'll say 'There's another crazy guy, talking smack.'

"You're totally wasting your time. It's like trying to call Peyton Manning out. Tom Brady and the elite, elite players, there's no real need to trash talk. Would he say that to Ray Lewis? No, because Ray would knock his block off. Those guys' work speaks for itself. What has Cromartie done compared to Tom Brady? Cromartie's not a Tom Brady, so Tom doesn't have to worry about him.

"I don't know if he really hates Tom or he's just getting himself pumped up for the game. I know plenty of times I've been psyched up for a game. You get tired of hearing the same questions over and over and you just lash out and say 'Screw that guy. I'm sick of hearing about him.' "
Ken O'Brien, New York Jets quarterback (1984-92):
"I think there definitely is a line and things that should not be said. I just think, regardless of the parties involved, that it's a common-sense thing. It comes down to the way you would want to be treated and the way you're raised. Just because you get asked a question, there's no need to sensationalize. In that situation, I think if you had time to think about it, you wouldn't want to say that.

"I don't even look at it in terms of being professional or affecting competition. It's not going to affect the outcome, and knowing Tom a little I'll bet he didn't think about it for two seconds. I look at it as how you represent yourself to people. I just think there's no place for that. Life's way too short. Talk about things that are positive, and you'll serve yourself a lot better."
Sam Madison,
Miami Dolphins
cornerback (1997-2005):
"It's the heat of the moment, and right now you're talking about the playoffs. You see the way their leader, Rex Ryan, is treating the situation. His players are taking the same approach their coach is dishing out. That's something that's brewing in the locker room among those guys, and [Cromartie] just had the nerve to say it.

"But when you get into it with one of the best quarterbacks in the league, you have to be ready to back it up. It gives Tom Brady more bulletin-board material. But all year, when wasn't there bulletin-board material coming from that Jets regime? It's just the way everybody's building up for a big football game."
March, 24, 2010
3/24/10
11:29
AM ET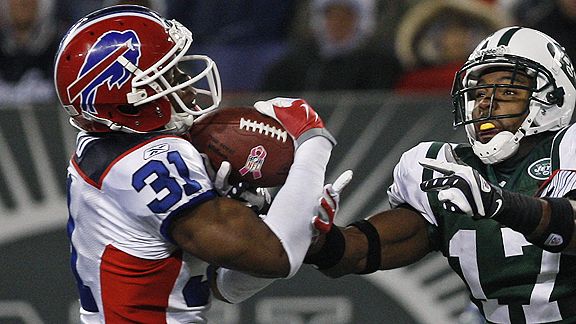 Ed Mulholland/US PresswireLed by rookie Jairus Byrd, the Buffalo secondary was one of the deepest in the league.
ORLANDO, Fla. -- The
Buffalo Bills
are an organization engulfed by uncertainty.
Who will be their quarterback?
What difference will new head coach Chan Gailey and rookie general manager Buddy Nix make?
Will Pro Bowl pass-rusher
Aaron Schobel
play or retire?
Can running back
Marshawn Lynch
bounce back?
How will they transition into their new 3-4 defense?
One area that cannot be questioned is the depth in Buffalo's secondary.
The Bills' defensive backfield isn't loaded with star power, but the quality of depth is remarkable.
The Bills ranked second in pass defense last year despite injuries pushing them to the limit. Ten defensive backs started for them.
Right cornerback
Leodis McKelvin
, the 11th overall pick from 2008, lasted only three games before getting hurt. Free safety
Donte Whitner
, the eighth overall pick from 2006, lost his job to rookie
Jairus Byrd
, who tied for the NFL interception lead and was selected for the Pro Bowl. Left cornerback
Terrence McGee
missed five games with a knee injury. Strong safety
Bryan Scott
started six games at linebacker.
Despite all that, the Bills allowed only 184.2 passing yards a game (second in the NFL) and 14 touchdowns (tied for second).
Now that's depth.
"I've gone to a lot of teams," Gailey said at the NFL owners meetings. "I don't know that I've ever gone to a team that the secondary -- I'm taking corner and safety position -- is as strong as we have right now overall.
"When I went to Dallas, when I went to Miami, when I went to Pittsburgh they were all good. But I'm not so sure that this isn't the strongest group."
Gailey isn't about to compare them player for player. After all, when he was head coach of the
Dallas Cowboys
he had cornerback Deion Sanders and safety Darren Woodson together.
"Those are two pretty good players," Gailey said. "We had a couple of other good players, but we were always trying to fill a hole."
Gailey joined the
Denver Broncos
as a defensive assistant the year safety Dennis Smith and cornerback Louis Wright went to the Pro Bowl. The Broncos later lined up Smith and Steve Atwater at safety while Gailey was there.
Gailey was on the
Pittsburgh Steelers
' offensive staff when they had future Hall of Famer
Rod Woodson
. As offensive coordinator of the
Miami Dolphins
, Gailey practiced against three repeat Pro Bowlers:
Sam Madison
,
Patrick Surtain
and
Brock Marion
.
No, the Bills aren't that good yet. Gailey isn't going to make like
New York Jets
coach Rex Ryan and proclaim they could reach legendary status. On Tuesday, Ryan said his star cornerbacks,
Darrelle Revis
and
Antonio Cromartie
,
remind him of the renowned Los Angeles Raiders tandem
of Mike Haynes and Lester Hayes.
What the Bills do have is a quality starter and backup at every spot. One of only three assistants Gailey retained from Dick Jauron's staff was defensive back coach George Catavolos.
"Even the backups at Buffalo, I'm talking about eight players, your top eight players," Gailey said, "this is as strong a group as I've ever been around."
The importance of depth in the secondary can't be emphasized enough.
As
Detroit Lions
head coach Jim Schwartz explained Wednesday morning, you can't have too many serviceable defensive backs.
"You're going to play more defensive backs than you are at other positions," said Schwartz, known as one of the NFL's brightest defensive minds. "You're not just going to play four. You're going to play five for half the game and you may even have a quarter of the game when you're playing six defensive backs.
"The other thing to look at is defensive backs get hurt at a higher rate than just about every other position on the field. Other positions have gotten bigger and bigger and bigger. Defensive backs have stayed the same, particularly corners. So with everybody else getting bigger and corners staying the same, it's not a matter of if somebody gets hurt and has to miss a game, it's a matter of when."
Five Buffalo defensive backs finished the season on injured reserve, including both of the opening-day starting cornerbacks, McGee and McKelvin.
Schwartz mentioned another important facet of defensive backfield depth.
"One person in the secondary that doesn't play well makes the whole secondary look bad," Schwartz said. "It's how the whole group plays, and if there's one weak link in that chain, then the whole group can look bad, and offenses are real good at finding that one guy and exploiting him."
Nobody can look at the Bills and call their secondary a weak link.
| | |
| --- | --- |
| | |
| | Jim Luzzi/Getty Images |
| | New York's Domenik Hixon is focused on continuing to get better as heads into his fourth year in the NFL. |
Posted by ESPN.com's Matt Mosley
Hope everyone had a wonderful Mother's Day. If you haven't purchased a card for your mother -- or the mother of your children -- it's not too late. Giants wide receiver Domenik Hixon spent the weekend with his mom in Columbus, Ohio. He heard that many of you sent him questions Friday, so he agreed to a 20-minute phone interview Saturday.
If you're someone who's interested in what players do in their downtime, you'll enjoy the first part of the interview. If you only care about football, just skip the part about motorcycles. Here's a large portion of the interview.
Beast: I understand you're a pretty huge Cavs fan.
Hixon: Yeah, when I was in college [at Akron], LeBron James' high school team played at our arena [The Jar]. We'd be having football meetings in the arena, and you'd see him come walking through. You could tell pretty early that he was on a different planet than the other kids. But I was rooting for the Cavs before he came along. Now, it's just a lot more fun because they're winning.
Beast: What do you do in the offseason to get away from football?
Hixon: I have an internship this offseason selling motorcycle parts and accessories for Pompton Plains (N.J.) Honda. My uncle and dad had a motorcycle they all rode, and it's something that I have a passion for.
Beast: Is Tom Coughlin aware of this passion?
Hixon: [Laughing] Actually the Giants helped me set up the internship. I'm not planning to ride motorcycles until I'm done with football.
Beast: So do you own one?
Hixon: Yes, a company called All Things Chrome helped me put one together. It's a Suzuki GSX-R with a 360 tired on it. Most of it's chrome and it's white and black with some silver. It's more of a show bike. I'm definitely a motorcycle enthusiast.
Beast: How much time do you spend at the dealership right now?
Hixon: After I workout, I usually head over there and hang out for a few hours. It's definitely something I'm interested in doing after football.
Beast: I know you grew up in Germany before playing high school football in the Columbus, Ohio area. What's your favorite food from back home?
Hixon: I love schnitzel. And I like it plain. Over here, I'm constantly in search of the best steak, though. Right now, my favorite is Del Friscos, but I'm open to recommendations.
Beast: What specific part of your game are you trying to improve this offseason?
Hixon: Overall, I'm trying to become stronger and faster. I'm simply trying to improve my craft. My speed is what sets me apart from some people, so I'm trying to increase that aspect of my game.
April, 25, 2009
4/25/09
5:40
PM ET
Posted by ESPN.com's Tim Graham
The father of Connecticut cornerback Darius Butler told the South Florida Sun-Sentinel that the Miami Dolphins have promised to select his son if he's still available at No. 25.
Sun-Sentinel reporter Zach Buchanan quotes Mitchell Butler III as saying "The Dolphins gave him a promise that they'll take him if he's around."
The Dolphins have a need at cornerback. They lost veteran Andre Goodman to the Denver Broncos and replaced him with Eric Green, who lost his starting job with the Arizona Cardinals last year.
Miami hasn't had promising youth at cornerback for years, churning through a series of free agents to man the position.
The last time the Dolphins had a top cornerback prospects to groom were Patrick Surtain and Sam Madison in the late 1990s.
Posted by ESPN.com's Matt Mosley
The top issues facing each team in the division:
Primary issue: Trying to repair what has become the most toxic locker room in the league. The problem is that owner Jerry Jones thinks cohesiveness is overrated and doesn't seem eager to address the problem. The closest thing he did to acknowledging the issue was his attempt to hire former NFL head coach Dan Reeves as a consultant. But the deal fell apart over a clause in the contract that Reeves wasn't comfortable with.
Solution: Like it or not, Terrell Owens is the most prominent (and divisive) voice in the locker room. Releasing him wouldn't solve everything, but it would certainly help. The best solution would be quarterback Tony Romo taking control of the locker room, but it's hard to tell if he's capable of that at this point.
| | |
| --- | --- |
| | |
| | Matthew Emmons/US Presswire |
| | One way or another, T.O. will play a major role in the future of the Cowboys. |
Secondary concern: Figuring out what went wrong with the offense. The numbers might not look awful, but they don't tell the whole story. T.O. couldn't get off the line of scrimmage and midseason acquisition Roy E. Williams didn't make any impact. Offensive coordinator Jason Garrett appeared to lose the confidence of his players late in the season. He could win them back by orchestrating a dynamic passing game. And the return of running back Felix Jones should help the offense.
Solution: Garrett has to take advantage of having three talented running backs. Marion Barber, Felix Jones and Tashard Choice could become the Cowboys' answer to the Giants' version of Earth, Wind and Fire. Garrett also has to stop worrying about keeping T.O. happy. The 10 games the Cowboys had with Williams were pretty much a wash. Garrett has to find a way to play to the receiver's strengths. Williams is supposed to be your No. 1 receiver for the next few years. Might as well see what he has to offer.
---
| | |
| --- | --- |
| | |
| | Paul Spinelli/Getty Images |
| | Donovan McNabb's turnaround this season earned him some renewed respect. |
Primary issue: Is there any doubt? Quarterback Donovan McNabb has been the primary issue since 2005. He's hoping to receive a contract extension after he helped engineer the team's improbable turnaround. Some people are calling it a "contract apology" for his November benching.
His pride was wounded, but you have to respect him for bouncing back and taking the team to the NFC title game. The Eagles need to make sure McNabb's happy heading into training camp -- and that's not an easy task.
Solution: Go ahead and give the man some money. Let him know how much you appreciate him with a nice signing bonus and offer him a little security. He wants to be told that the starting job is his for at least the next two seasons. I don't think Andy Reid will have any trouble telling him that. And it's not like Kevin Kolb's breathing down his neck.
Secondary concern: The Eagles have some aging free agents in safety Brian Dawkins and offensive tackles Tra Thomas and Jon Runyan. Fans will want to see Dawkins back on the roster, but there's a good chance we've seen the last of Runyan. He's one of Andy Reid's favorites, but microfracture surgery at age 35 doesn't sound promising. Thomas has a shot at being re-signed.
Solution: The Eagles have to build through the draft. They could use both of those first-rounders on offensive tackles. At some point, you may see a run on offensive tackles. The Eagles better be involved. They can't afford to enter '09 with no solutions at the tackle spots. They need to decide if Ole Miss left tackle Michael Oher's the real deal. He's a talented player, but he disappeared for stretches during his college career.
---
Primary concern: You have to find a receiver to replace Plaxico Burress. Sure, there's a chance Burress returns, but there's also a chance he ends up behind bars.
| | |
| --- | --- |
| | |
| | Al Bello/Getty Images |
| | The future of star receiver Plaxico Burress is unclear. |
The Giants have to proceed as if they won't have Burress in 2009. His level of immaturity is stunning -- even by NFL receiver standards. But he's an immensely talented player. Domenik Hixon is a nice third receiver, but he's not ready to replace Burress.
Solution: You have to take a long look at Cardinals wide receiver Anquan Boldin. His star faded a bit down the stretch this season because of his sideline meltdown during the NFC title game, but he could be a solid No. 1 receiver. Boldin's fearless -- as evidenced by returning soon after having his face rearranged against the Jets. I think he'd actually be a good fit for the Giants. Do I think Jerry Reese will package several draft picks for Boldin? Not really. I think it's more likely he goes after someone like North Carolina's Hakeem Nicks in the draft.
Secondary concern: The Giants could use some help at linebacker. Danny Clark's a little long in the tooth and Gerris Wilkinson has been a disappointment because of injuries. If the Giants could land Cardinals free-agent Karlos Dansby, it would be quite a coup.
Solution: With the return of Osi Umenyiora, the pass rush should get a much-needed boost. We'll have to see how much the loss of defensive coordinator Steve Spagnuolo hurts the team. If you can bring in someone like Dansby and then leave Mathias Kiwanuka at defensive end, the defense will be as strong as ever. Even with the releases of Sam Madison and Sammy Knight, the Giants have plenty of firepower in the secondary.
---
| | |
| --- | --- |
| | |
| | Larry French/Getty Images |
| | The Redskins will need more consistency from Jason Campbell. |
Primary concern:
Last year, Dan Snyder went out and hired Jim Zorn because he thought he had a shot at getting quarterback
Jason Campbell
to the next level. Campbell was superb in the first half of the season, but he fell back into some of his old habits down the stretch. His growth will be a key to the team's success and Zorn's future as a head coach.
Solution: The Redskins thought they were bringing in several weapons for Campbell when they took a tight end and two wide receivers in the second round of the 2008 draft. No one has emerged from that group, so Campbell's forced to rely on Pro Bowl tight end Chris Cooley and the same mighty mite receivers. The Redskins have to reload along the offensive line because they've gotten old there. If Campbell doesn't have enough time in the pocket, he'll never be successful.
Secondary concern: This team desperately needs to improve its pass rush.
| | |
| --- | --- |
| | |
| | NFL.com Video |
| | Check out highlights of the best moments from Clinton Portis in 2008. |
Greg Blache's group didn't play poorly, but defensive end
Jason Taylor
was a huge disappointment. He never felt comfortable in the defense and he was banged up for most of the year. And the solution isn't 36-year-old
Phillip Daniels
, although he could help the team.
Solution: The Redskins need to identify a talented young pass-rusher in the draft such as Brian Orakpo of Texas and latch onto him. If the Redskins don't improve both their offensive and defensive lines, they won't be a factor in the NFC East next season. Clinton Portis was brilliant in the first half of the season, but he didn't have anywhere to go down the stretch. The Redskins have to invest in the offensive and defensive lines. The club doesn't have many picks, so it needs to be smart on draft day.
November, 10, 2008
11/10/08
12:04
AM ET
Posted by ESPN.com's Matt Mosley


PHILADELPHIA, Pa. -- The New York Giants tried to keep the Eagles in the game Sunday but in the end they couldn't pull it off.
Giants quarterback Eli Manning served up an interception on the first drive of the game. The Eagles cashed in immediately, but the moment was fleeting.
The Giants overcame Manning's interception and a subsequent fumble by Brandon Jacobs in a 36-31 victory over the Eagles. The Giants dominated the line of scrimmage in the first half, rushing for 104 yards. Meanwhile, the Eagles didn't have any semblance of a running game -- unless you count the end-arounds to wide receiver DeSean Jackson that dried up in the second half.
But as horribly as their offense played , the Eagles were driving with two minutes left. On fourth-and-1, the Eagles gave it to running back Brian Westbrook, who was stopped at the line of scrimmage by linebacker Chase Blackburn.
The Giants improved to 8-1 with and have a two-game lead over the Redskins in the NFC East. The Eagles are now tied with the Cowboys in the division cellar at 5-4. But that record is even worse than it appears. With an 0-3 record in the division, the Eagles would be in trouble in tie-breaking scenarios. For now, though, that's wishful thinking. On a night when he needed to lead the team, Donovan McNabb shrunk to the occasion. At this point, it's safe to say he's the fourth-best quarterback in the NFC East.
His pass down the right sideline late in the first half was easily picked off by Giants cornerback Sam Madison, leading to a field goal that put New York up, 20-14. The Giants controlled the line of scrimmage and the clock. They just couldn't seem to finish off the Eagles.
The game hinged on a successful challenge by Giants head coach Tom Coughlin in the third quarter. The Giants had fallen behind, 24-20, when Eli Manning connected with tight end Kevin Boss for 17 yards. The officials ruled that Manning had crossed the line of scrimmage before delivering the pass. Coughlin challenged the call, and it was overturned.
The Giants took a 27-24 lead and held on the rest of the way.
August, 31, 2008
8/31/08
10:21
AM ET
Posted by ESPN.com's Matt Mosley
Biggest surprise: Can't say that I noticed any huge surprises. I know that GM Jerry Reese had high hopes for rookie quarterback Andre' Woodson when he took him in the sixth-round, but maybe they'll try to put him on the practice squad. Cutting that extra quarterback gives the Giants a little more flexibility. Honestly, I think Wallace Gilberry is the one who surprises me the most. When I stopped by training camp a couple of weeks ago in Albany, Gilberry's teammates were raving about him. Justin Tuck thought the kid had a chance to help the team immediately. I'm sure the Giants will try to add him to the their practice squad.
Wide receiver Brandon London had a spirited competition with Sinorice Moss for that last receiver spot. But remember that Moss is a former second-round draft pick. They say that stuff doesn't matter, but it sure seems like it does. In Moss' defense, he did have a nice camp, and unlike several teammates, remained healthy. Hated to see Digger Bujnoch get hurt late in the preseason. From what I've heard, he had a great chance of making the practice squad. Maybe the biggest news is that the Giants found a way to keep veteran cornerbacks Sam Madison and R.W. McQuarters on the roster.
No-brainers: The Giants have plenty of competition at safety, so there was no reason to keep Stuart Schweigert around. Schweigert has now been released by half the teams in the NFC East this preseason. He started out at Washington, but coaches said he wanted to do everything like he did with the Raiders. Some of you might recall that Geoffrey Pope played in a couple of playoff games last season, but now he'll probably end up on the practice squad. The Giants decided to go with age over a guy who could've helped them more on special teams.
What's next: The Giants will be scouring the waiver wire for help at defensive end, and they'll take a look at some linebackers. If the Eagles cut defensive end Jerome McDougle, who's had a nice preseason, the Giants might try to strike quickly. This team is stacked at running back right now. A team (like the Packers last year) should be looking at all these running backs. Somehow the Giants manage to keep four or five tailbacks every season. And again, that's where cutting that third quarterback can create some room.

NFL SCOREBOARD
Thursday, 8/28
WEEKLY LEADERS