NFL Nation:

Sam Rutigliano
May, 30, 2014
5/30/14
10:52
AM ET
At the end of one of former coach Butch Davis' seasons with the
Cleveland Browns
, several of his players complained that they wanted Davis to loosen some of his rules.
Primary among them was players wanted to be able to leave the team hotel on Saturdays to go to dinner or visit family and friends.
Earl Little and Robert Griffith said they were professionals and should be able to be trusted for a few hours away from the hotel.
[+] Enlarge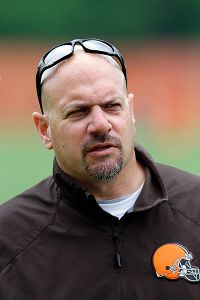 AP Photo/Mark Duncan"We're going to treat our guys like [men] until they prove that they need to be treated otherwise," Browns coach Mike Pettine said.
This, of course, led
Phil Dawson
to make his famous statement that the only thing he wanted changed was wins, and he'd practice naked if he was told to and it meant the Browns would win.
Davis' response, of course, was to "loosen" the rules the next season by telling the players they could indeed go out to dinner, but only to two restaurants he had selected, both within walking distance of the hotel.
It produced some rolled eyes.
This story came to mind during the entire
Johnny Manziel
-Vegas trip/non-story of last weekend. Because coach Mike Pettine made an important statement when he said the Browns would not micromanage players away from the building.
"Just like anybody else, he's a man," Pettine said, "and we're going to treat our guys like that until they prove that they need to be treated otherwise."
The interesting thing is the different ways coaches have of treating players like men. Davis no doubt felt his approach was the best way to keep control of players, who preferred another way.
Don Shula was known as a disciplinarian, but he let players have four or five hours to themselves on the road on Saturday. Some guys would meet friends and family and go out, others would stay in their rooms. That was the system Chris Palmer followed with the Browns before Davis changed it.
Way back when, Forrest Gregg (head coach from 1975-77) had curfews on Fridays and Saturdays before home games. Someone with the team would drive to players' homes and actually look for their cars, and if they didn't see them then they'd call the player at home.
It's not tough to imagine how that went over.
Sam Rutigliano followed Gregg and took the "treat them like men" mindset an extra step by eliminating curfews and allowing the players to stay at home on Saturday nights before games.
It worked well until one player continued his "Party With (Player)" night at a Cleveland establishment the evening before a Monday night game.
There are all kinds of ways for players to make it work.
Peyton Manning
and
Drew Brees
are quiet off the field, and they win. Bobby Layne played fairly well and had a very good time off the field. Joe Namath was renowned for his celebrity appearances at New York nightspots.
Manziel isn't Layne or Namath or anything close, as he's quick to admit. But he does bring celebrity elements to the Browns.
Experience seems to show that the system that works best is the one that has responsible players, guys who understand the sacrifices needed to win. They don't need a lot of rules because they "get it." The Browns seem to have a lot of those kinds of guys.
But experience also shows that Pettine makes good sense by saying he'll treat his players like men until they show they need to be treated otherwise. He'll expect them to know the system and rules and follow both. But he'll not overdo the rules off the field or away from the building. It's a logical approach.
Treat a player like a teenager and he'll probably act like a teenager.
But treat responsible players like men, and they'll probably act like men.
December, 4, 2010
12/04/10
2:00
PM ET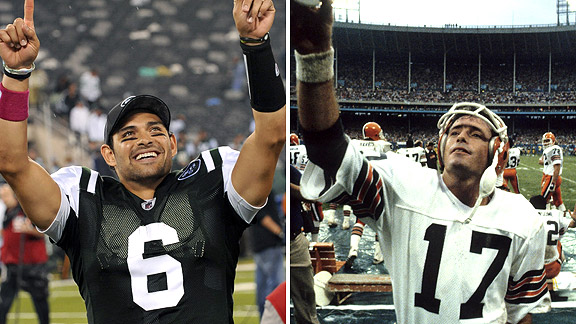 AP Photo/Getty ImagesMark Sanchez has shown the same uncanny ability to win games in the fourth quarter that Browns QB Brian Sipe had with the "Kardiac Kids" in 1980.
Dave Logan was hunkered down with some work notes two weeks ago, looked up at the television and traveled back 30 years.
The
Denver Broncos
' radio play-by-play man was preparing for their Monday night game against the
San Diego Chargers
in Week 11 and noticed old friend Gary Kubiak was about to score a big victory as head coach of the
Houston Texans
.
The Texans led the
New York Jets
by a point at the Meadowlands and had a first down at the two-minute warning because
Mark Sanchez
threw an interception. The Texans tacked on a field goal with 55 seconds left. That should've been that.
But then Logan watched Sanchez make "just a perfect throw" to
Braylon Edwards
down the right sideline for 42 yards. Logan remarked "There's just no way he's supposed to hit that route" based on the Texans' coverage. On the next play, Sanchez connected with
Santonio Holmes
in the left corner of the end zone to win.
"When they do stuff like that, it does remind me of a pretty good year," Logan said.
In 1980, Logan played wide receiver for a
Cleveland Browns
team known as the Kardiac Kids for their defibrillator finishes.
Win or lose, the Browns seemed to take it to the wire each week. Brian Sipe slung the ball around to five different targets who caught at least 50 passes. The Browns dropped their first two games, but won 11 of the remaining 14. Their three losses in that span were white knucklers that should've been victories.
The upstart Browns won the AFC Central after years of
Pittsburgh Steelers
dominance and back-to-back appearances by the Houston Oilers in the AFC Championship Game. The Browns lost in the divisional round of the playoffs that year, but that's not the part that Logan finds familiar when he considers the Jets.
The Jets have strung together an obnoxious number of stunning victories this year. They're riding a wave of confidence few teams get to experience.
"L-O-S-E is no longer in your vocabulary," said Sam Rutigliano, head coach of the 1980 Browns.
Invincibility becomes a weapon, and it might be necessary if the Jets are to stand up to the
New England Patriots
on Monday night in Gillette Stadium, where quarterback
Tom Brady
has won 25 straight games.
The Patriots have won with relative ease and seem to be in command of their opponents compared to the Jets' high-wire act of the past seven weeks.
[+] Enlarge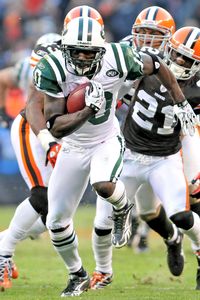 Jason Miller/US PresswireSantonio Holmes has come through several times in the clutch for the Jets this season.
The Jets routinely have trailed late or allowed a team to come back and tie the game.
Many look at what the Jets have done and call it blind luck. Regardless of how they're winning, however, the experience almost becomes a tangible, powerful asset.
"Now I know we have a chance no matter what," Sanchez said.
The Jets became the first team in NFL history to go into overtime on the road and win two weeks in a row. Tack on the miraculous Texans victory, and the Jets became the first team since the 2006
Tennessee Titans
to score their winning points inside the final 10 seconds of a game three straight times.
"When you win in that fashion you become really difficult to beat," Logan said. "Even if you get down in a game, you never feel like you're out. So you're still battling. You still have guys making plays.
"You get behind in a big game in the fourth quarter and you've never been there before, then maybe guys start to grip a little bit. But when you've had that kind of success like the Jets this year and we did in 1980, it's in the back of your minds that 'Listen, we've been here before. We know we're going to go down and score. How much time's left? Two minutes? OK. Where's the ball? Minus-30. OK, we got 70 yards in two minutes. No problem.' "
Logan called another one of the Jets' crazy victories. In Week 6, Sanchez threw a fourth-down desperation heave down the left sideline to Holmes. Broncos safety
Renaldo Hill
got his fingers accidentally tangled in Holmes' facemask near the goal line. Pass interference was called. One play later,
LaDainian Tomlinson
scored a touchdown. The Jets won by four points.
That was the start of the daredevil Jets dodging defeat.
"Don't think other teams around the league aren't aware of it, either," Logan said. "In tight games, late and the Jets have the ball with the chance to win, in the back of the other teams' minds, they're thinking 'Here it comes again.' "
Rutigliano was a Jets defensive assistant when Joe Namath was the quarterback. Rutigliano notices that Sanchez is developing the same ability Namath and Sipe (league MVP in 1980) had of turning teammates into believers.
"A quarterback is like a tea bag," Rutigliano said. "You don't know what you got until you put him in hot water.
"What's happening to Sanchez right now, the best quarterback coaches in the world can't teach him. He's learning it himself. Now he expects to win and is starting to empower people to play at a level they never thought they could play at."
Sanchez recently explained he'd never led a fourth-quarter comeback victory at any level until Denver. His teams at Mission Viejo High and USC were so dominant the opportunities were rare.
Now Sanchez has four fourth-quarter comebacks in his past six games.
"It's always been something that I've wanted," Sanchez said. "I know that that was kind of a knock coming out of college, that 'He's never had a come back in a game. They've been up. He hasn't played a lot of football.' To me, that was 'All right, give me a chance to come back. I'm going to win it, not making a miraculous play, but just making the plays we know how to make.' That's what we've done."
February, 27, 2010
2/27/10
12:58
PM ET
INDIANAPOLIS -- Case Western quarterback Dan Whalen stood outside the media entrance at Lucas Oil Stadium while the NFL combine's invited guests performed for teams inside.
Whalen, left off the list of combine invites, finished the 2009 season with 34 touchdown passes and eight interceptions to earn Division III first-team All-America honors from the American Football Coaches Association and D3Football.com.
Whalen, from Cleveland, stands 6-foot-1 and weighs 190 pounds. That's small by NFL standards. The competition level he faced at Case Western stands as another hurdle for Whalen to overcome. His agent, Ron Todd, annually
works the combine
to get the word out on the lesser-known prospects he represents.
Todd was distributing a media packet featuring quotes from former Browns coach Sam Rutigliano, among others, advocating Whalen as a prospect.
The rosters I maintain for every NFL team show 11 quarterbacks listed at 6-1 or shorter, counting players scheduled to become restricted and unrestricted free agents. Three are with the Saints and two with the Dolphins, an indication teams with links to Bill Parcells might be flexible.
The Saints' Drew Brees is listed at 6-0 and 209 pounds. Seattle's Seneca Wallace is 5-11.
February, 25, 2010
2/25/10
4:44
PM ET
By
Matt Mosley
| ESPN.com
INDIANAPOLIS -- Most NFL general managers and head coaches try to be in and out of the Lucas Oil Field media room as quickly as possible, but Browns president Mike Holmgren is the exception. The former Packers and Seahawks coach appeared out of nowhere earlier this afternoon, wearing the largest Browns parka I've seen since Sam Rutigliano prowled the sidelines at Cleveland Municipal Stadium.
Holmgren isn't scheduled to address reporters until Friday, so no one really knows why he was working the room. But knowing that he's one of the most interesting -- and patient -- guys in the NFL, I decided to pepper him with a few
Donovan McNabb
questions. Holmgren recently hired former Eagles general manager Tom Heckert to take over the same role in Cleveland. There's been speculation that the Browns might try to make a play for McNabb or even his backup,
Kevin Kolb
.
Of course, Holmgren can't field that type of question because it could be viewed as tampering. But I did ask him what he thought about the fact that a lot of Eagles fans are ready to see McNabb go.
"I'm astounded by that," Holmgren told me. "I'm like most of the folks around the league. With all that he's done for that team over the long haul...I guess part of it's that he hasn't been able to get over the hump [and win a Super Bowl]."
I asked Holmgren whether he thinks McNabb could play as long as
Brett Favre
or
Kurt Warner
, and he sort of hesitated.
"It's looking like, physically, he could play a long time," said Holmgren. "But he's a guy that when he loses the ability to move around, it'll probably be near the end."
I asked Holmgren whether Heckert was trying to convince him to start signing Eagles players.
"Heckert's driving me crazy," joked Holmgren.
It was obvious that Holmgren has a huge appreciation for McNabb's body of work. Does that mean he's willing to trade the No. 7 pick overall for McNabb? That seems pretty far-fetched to me. Heckert is a big fan of Kolb's but it's unlikely the Eagles would trade him at this point. Even if the Browns were willing to give up a second-round pick for Kolb, I still don't think the Eagles do it.