May, 6, 2014
May 6
9:30
AM ET
IRVING, Texas -- With the draft finally within site, unless there is some sort of rain delay, it's time for Five Wonders to return.
We'll keep them focused on the draft.
** I wonder if the Cowboys are in never-never land with the 16th pick when it comes to first-round defensive linemen. That's what an 8-8 finish will do for you. You're stuck right in the middle and have to do too much to move up significantly and won't get enough (some of the time) to move down big either. After
Jadeveon Clowney
and
Khalil Mack
, there is a drop-off on right defensive ends.
Anthony Barr
is a project and somebody I believe the Cowboys would pick at No. 16. Will he be there at No. 16? The rest of the options available, like a
Kony Ealy
,
Scott Crichton
,
Kareem Martin
or
Demarcus Lawrence
look more like second-round picks. That's why I think if the Cowboys move up it's only a couple of spots for a specific player. The more likely option is to move back where they'd have better choices at the right value. Now if only some team would be willing to move up.
** I wonder what the reaction of people who live in the best-player-available world would be if the Cowboys took North Carolina tight end
Eric Ebron
in the first round. If Ebron is there at No. 16 and is the best player, then the Cowboys must take him, right? If you live in the best-player-available world in which there is no gray area, then Ebron is your guy. Hooray. But after taking
Gavin Escobar
in the second round last year and seeing
Jason Witten
make another Pro Bowl in 2013, do the Cowboys need a first-round tight end? You might hate the word "need" but I don't. Need has become the four-letter word in draft circles. If they take Ebron, they are saying the Escobar pick was a mistake and Witten is on his final legs. Ebron is a terrific talent, but the Cowboys can't pick him. I do think, however, the Cowboys would take a tight end (more of a blocker than receiver) later on in the draft.
** I wonder how much scheme versatility will factor into the Cowboys' decision making Thursday-Saturday. The elephant in the room is that Jason Garrett must win now. He is in the final year of his contract. If he doesn't win, then Jerry Jones doesn't have to fire him. He just needs to pick a new coach. But let's say Jerry falls in love with a coach who has a 3-4 background or an offensive coach who wants to bring in a 3-4 coordinator. Can the Cowboys make the switch again? They felt they had the tools to move from a 3-4 to a 4-3 somewhat seamlessly and we saw how that worked in 2013. If the Cowboys picked
Aaron Donald
in the first round, then would he fit in a 3-4 scheme next year? He doesn't look like a 3-4 player. It is a fatalistic view to have going into a draft, but the Cowboys could find some defensive prospects that offer versatility in a 3-4 or 4-3, like Barr, Ealy, Lawrence and possibly
Ryan Shazier
.
**I wonder if third round is the area in which the Cowboys target an offensive lineman. Of the linemen not named
Zack Martin
who visited Valley Ranch before the draft, almost all of them are in that Rounds 3-4 neighborhood like
Gabe Jackson
,
Trai Turner
,
Jack Mewhort
and
Billy Turner
. To be clear, in just about every mock I've been asked to participate in, I have the Cowboys taking Martin at No. 16. If they go offense there, I think they need (there's that word again) to go defense with the second- and third-round picks, provided the grades match up. I'm breaking all ties in the defense's favor. I'll add this note: The last middle-round (Rounds 3-5) offensive lineman to pan out for the Cowboys was
Doug Free
(fourth round) back in 2007. And it took him well into his third season to get on the field. Since then the Cowboys have missed on
Robert Brewster
(third, 2009) and
David Arkin
(fourth, 2011). I'll give them partial credit for
Sam Young
(sixth, 2010) since he's still in the league. Their best middle-round offensive lineman in the last 10 years has been
Stephen Peterman
(third, 2004) and his playing time came with the
Detroit Lions
after he was cut.
**I wonder if the extra time in the draft has led teams to overanalyze things. The
New Orleans Saints
attempted to bust up the boredom by spending some time in Las Vegas. Some other teams took a week's break earlier in the process. The Cowboys altered their schedule some but not that much. Too often we hear teams talk about the importance of watching the players play and not putting as much stock into the combine or pro days. And every year there are guys that come out of nowhere, like Pitt quarterback
Tom Savage
, and small-school gems, like
Pierre Desir
. Maybe they will be great finds. Who knows really? The extra time served up plenty of interest, which the NFL craves, and allowed for more mock drafts than ever before, but did it really serve the teams well? We'll find out in a couple of years.
March, 6, 2014
Mar 6
2:00
PM ET
JACKSONVILLE, Fla. -- The Jaguars signed a trio of impending free agents on Thursday, including restricted free agent offensive tackle
Cameron Bradfield
, who started 11 games at left tackle last season.
The team also signed reserve offensive tackle
Sam Young
and reserve tight end
Clay Harbor
, both unrestricted free agents. Terms of the three contracts were not announced.
The 6-foot-4, 308-pound Bradfield played in a career-high 15 games last season and became the starter after
Luke Joeckel
suffered a fractured ankle in Week 5 against St. Louis. He's an experienced player (38 games, 25 starts) who can play both right and left tackle so he provides good depth.
The 6-foot-8, 316-pound Young played in four games for Buffalo before being released on Oct. 7. The Jaguars claimed him the next day and he played in 11 games, mainly on special teams.
Harbor caught 24 passes for 292 yards for two touchdowns and has 71 catches for 713 yards and six touchdowns in four seasons in the NFL (first three with Philadelphia). The Jaguars need at least another pass-catcher at the position and he can also line up as a receiver in a pinch.
February, 28, 2014
Feb 28
12:00
PM ET
Here is the fifth of a 10-part series breaking down the Jacksonville Jaguars' free-agency needs, position by position:
Offensive line
Who is on the roster:
OT
Cameron Bradfield
, G/C Mike Brewster, OT
Luke Joeckel
, C
Patrick Lewis
, OT
DeMarcus Love
, G
Jacques McClendon
, G
Stephane Milhim
, G
Drew Nowak
, G
Uche Nwaneri
, OT
Austin Pasztor
, G
Will Rackley
, and OT
Sam Young
.
Joeckel
Analysis:
Injuries hurt the unit early in the season and really impacted it late. The group struggled in the transition to a zone-blocking scheme early in the season as well, which is why the Jaguars finished the first eight games last in the NFL in rushing. Joeckel, whom the Jaguars took with the No. 2 overall pick, spent the first four weeks of the season at right tackle before moving to his natural spot at left tackle following the trade of
Eugene Monroe
. He played less than a quarter against St. Louis before suffering a fractured ankle, but he was handling
Robert Quinn
(who finished with 19.0 sacks) pretty well before he got hurt. His injury forced Bradfield and Pasztor into the lineup, and Pasztor played surprisingly well. The team is encouraged by his potential. The biggest issue is the interior of the line.
Brad Meester
retired, so the Jaguars need a center. Nwaneri was solid at right guard, but left guard was an issue because Rackley played hurt all season and the Jaguars could never generate much push in the middle of the line.
NFL free agents of interest:
C
Alex Mack
, C
Ryan Wendell
, C
Brian De La Puenta
, G
Jon Asamoah
, G
Geoff Schwartz
, and G
Rich Ohrnberger
.
Need meter: 9.
After quarterback and leo, the interior of the offensive line is the Jaguars' biggest need. GM David Caldwell has said the team would like to address that in free agency, and it would be a surprise if the Jaguars didn't sign at least two starters, including a center, within the first few weeks of free agency. It's unlikely the Jaguars would target the big names that are available, mainly because of cost, but if those players linger on the market and the price drops, the Jaguars would get involved. Even though Joeckel is talented and seemed to thrive in the very limited time he spent at left tackle, there are still questions about him, so the Jaguars might opt to add some experienced depth at tackle. Competition for roster spots on the line will be among the more interesting training camp battles.
October, 10, 2010
10/10/10
3:34
PM ET
By
Matt Mosley
| ESPN.com
ARLINGTON, Texas -- No huge surprises with the inactives for Cowboys-Titans this afternoon. Here's the list:
Dallas Cowboys:
Emergency QB
Stephen McGee
, S
Michael Hamlin
, FB
Chris Gronkowski
, LB
Brandon Williams
, C
Phil Costa
, T
Sam Young
, T
Robert Brewster
, DE
Sean Lissemore
Tennessee Titans:
QB
Rusty Smith
, WR
Justin Gage
, CB
Jason McCourty
, S
Robert Johnson
, LB
Rennie Curran
, G/C
Leroy Harris
, T
Mike Otto
, DT
Sen'Derrick Marks
Kenny Britt
will take over for Gage in the Titans' starting lineup. Britt had more targets last week, so it shouldn't be a huge adjustment for him. In fact, I think Britt might be the Titans' most dangerous receiver today. We'll keep you posted.
Lot of folks at Cowboys Stadium keeping one eye on the Texas Rangers, who are playing the Rays down the street. The Rangers are trailing 5-1 as we speak. Still have no clue why Ron Washington removed Darren O'Day after facing one hitter last night.
But I'll save that anger for the radio.
August, 16, 2010
8/16/10
9:17
AM ET
By
Matt Mosley
| ESPN.com
OXNARD, Calif. -- If not for offensive tackle
Marc Colombo
's injury at the end of practice Sunday afternoon, the day would've been all about tight end
Martellus Bennett
. The mercurial player with the balky ankle put on a show in front of a nice crowd, but the sight of Colombo being carted off the field with a knee injury
stole the headlines
. Some of the players on offense walked off the field dejectedly -- especially Colombo's fellow offensive linemen.
With
Alex Barron
recovering from an ankle sprain, the Cowboys are suddenly thin at the tackle spot. Rookie
Sam Young
, who's been impressive at times, replaced Colombo in Sunday's practice.
Robert Brewster
's also in the mix, but he's looked overmatched in two preseason games. Colombo's the emotional leader of this line, and the Cowboys need him to be ready for the opening game against the Redskins. But since we've already said a lot about the injury, let's take a look at what else happened once the Beast rolled into camp Sunday afternoon:
I was surprised at how sloppy the offense looked three weeks into training camp. I'm told the quarterbacks were fairly sharp Sunday morning, but Tony Romo and Jon Kitna both struggled in the afternoon. Offensive coordinator Jason Garrett responded by making his players stay after practice and walk through a series of plays. The offensive line gave up at least three faux sacks and there was a lot of confusion between the quarterbacks and receivers. Even the normally reliable Jason Witten-Romo combo was off. Bennett was the only player who really stood out on offense. Perhaps it's because he has fresh legs after so much time off during this camp. He was surrounded by reporters after practice, but he didn't seem as jovial as usual. Bennett seemed to be a little annoyed with the media, and there's no shame in that.
Linebacker Keith Brooking has been excellent in pass coverage throughout camp. He had a good chance at an interception when Kitna threw a weak pass across the middle in team drills, but the ball glanced off his hands. Brooking sat out OTAs this offseason following knee surgery and I think that's made him fresher in this camp.
Bennett made a beautiful adjustment to a ball that Romo threw behind him in 7-on-7 drills. He basically posted up a smaller defensive back and then snatched the ball with his hands instead of trying to cradle it, as he once did for Texas A&M on the rare occasions Dennis Franchione remembered he had a tight end.
Free-agent rookie Bryan McCann out of SMU has not backed down from any of the Cowboys' top receivers. On an out route to Miles Austin, McCann poked the ball away with his right hand. You can tell that secondary coach Dave Campo's really excited about McCann.
Tight end DajLeon Farr's only here because so many tight ends were injured, but he's making the most of his opportunity. He snagged a ball in team drills and showed a little speed after turning upfield.
Young was pulled out of team drills following a false start. But when All-Pro nose tackle Jay Ratliff was called for jumping offside, he remained in the lineup.
Roy Williams had a decent day. He made a nice catch on the sideline before cornerback Teddy Williams shoved him into a writer from the Associated Press. Teddy Williams may be one of the fastest players in the league, but I'm not sure there's a roster spot for him.
The Wildcat formation is going to need a little work. At the end of practice, Tashard Choice took the snap and handed the ball to Felix Jones, who lateraled the ball to Romo. The quarterback then delivered a short pass to Jones for a minimal gain. Even though the play was handled ineptly, the crowd seemed somewhat pleased that Garrett attempted to entertain them.
Cornerback Mike Jenkins closed hard on a Kitna pass, but he couldn't hold on for the interception.
Cornerback Cletis Gordon missed Thursday's game with a neck strain, but he's returned to practice with a vengeance. ESPNDallas.com's Tim MacMahon, who has seen every practice in camp, told me Gordon has nine interceptions since July 24. That's believed to be a new camp record dating back to the Bill Parcells era. My notes from those years are a little tough to read, but I believe Aaron Glenn had a 10-interception camp in 2003.
Safety Gerald Sensabaugh intercepted a Kitna pass when the quarterback mistook Patrick Crayton for an NBA center. Romo apparently had the flu. Not sure what Kitna's excuse was Sunday.
Terence Newman's having one of his best camps in years. He's deflecting a lot of passes and he just seems to be as technically sound as any defensive back on the roster. He's also doing a nice job of mentoring some of the young players. It's not easy to provide tips to folks who desperately want your job, but he doesn't seem to mind. Newman's been banged up in camp the past couple seasons, so he backed off his workouts a little bit this offseason.
I had a nice visit with outside linebacker Anthony Spencer after practice. His growing confidence on the field has carried over to his interviews. He used to be painfully shy, but now he's engaging and seems to enjoy talking about his craft. He learned a lot from watching Greg Ellis and DeMarcus Ware, but he's now doing some "really creative" things on his own. Spencer's also a little more menacing with an unruly beard. Doesn't appear to be a lot of maintenance involved.
Running backs coach Skip Peete spent a lot of time talking to me about the rotation Sunday afternoon. I'll roll out that conversation in a blog entry later today.
The only practice Monday is at 5:15 p.m. ET. And if you're scoring at home, that's 2:15 local time. Thanks for making us either your first or second stop this morning.
August, 15, 2010
8/15/10
10:25
PM ET
By
Matt Mosley
| ESPN.com
OXNARD, Calif. -- Cowboys offensive tackle
Marc Colombo
was
carted away from practice Sunday
evening when his right knee locked up on him toward the end of team drills. He will return to Dallas and undergo an MRI, but offensive line coach Hudson Houck told reporters that he didn't believe the injury was serious.

Colombo
"I think he'll be OK," said Houck. "I don't think it's any major problem. We don't want to miss him."
The injury took place toward the end of practice and Colombo was replaced by rookie
Sam Young
. Veteran offensive tackle
Alex Barron
is out with an ankle injury. If Colombo and Barron both miss Saturday's preseason game in San Diego, the Cowboys should probably think about sitting quarterback
Tony Romo
. He was sacked three times against the Raiders when the starting offensive linemen were on the field, although at least two of them were due to excellent coverage.
If the MRI reveals anything floating inside Colombo's knee, he'll likely undergo a scope, according to a league source. That's not something that should force him to miss any regular-season games, but it's something that should be watched since he's had knee problems in the past. Colombo told me at the start of training camp that he'd dropped 10 pounds and was in excellent shape. But he struggled against the Raiders on Thursday and will now have to work through this setback.
The fact that Colombo's returning to Dallas for the MRI has to cause a little extra concern.
August, 13, 2010
8/13/10
8:01
AM ET
By
Matt Mosley
| ESPN.com
ARLINGTON, Texas -- It's too bad we can't get those 60 minutes of our lives back. The Cowboys' first-team offense once again failed in the red zone, and the backups didn't do any better in a
17-9 loss to the Raiders
. With the Cowboys having played Sunday, it was obvious they didn't belong on the field Thursday night.
The defense certainly had its moments, but the story of the game (from my vantage point) is that
Tony Romo
was sacked three times and the running game was non-existent. Other than that, it was a wonderful night of football. The Cowboys have nine days before playing a preseason game in San Diego. Maybe we'll get a better feel for where this team is at that point. But in the interest of producing a blog entry before most of you arrive at work, here are a few observations from Thursday's contest:
[+] Enlarge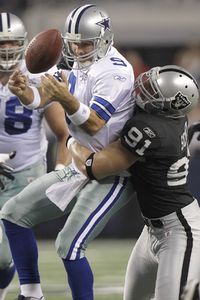 AP Photo/LM OteroTony Romo was sacked three times in Thursday's loss to Oakland.
The Cowboys were 0-for-4 in red zone efficiency, including a quick trip inside the 20 before Romo was sacked for a 9-yard loss. Dallas gave up six sacks in the game, three on Romo. The most disturbing to me was seeing Raiders defensive end Matt Shaughnessy beat Doug Free on a speed rush and then drag down Romo with one arm. Free was with Shaughnessy the whole time on the play, but he never delivered a solid punch. Shaughnessy's a nice second-year player out of Wisconsin, but he's not Trent Cole, Justin Tuck and Brian Orakpo. Free needs to clean things up before he meets any of those players. At least two of the three sacks on Romo were coverage sacks. He needs to do a better job of unloading the ball in those situations.

Linebackers Bradie James and Keith Brooking were both excellent in coverage in the first quarter. James was throwing his body all over the place and Brooking was superb in not letting anyone get separation from him. Brooking still moves really well. I hope Sean Lee is watching Brooking's every move right now. The rookie needs to get past this quadriceps injury and return to the practice field. Otherwise, he's not going to have a chance to earn time in sub packages. Bobby Carpenter was replacing Brooking in the nickel last season, but right now I wouldn't replace him with anyone.

Raiders safety Tyvon Branch was a mismatch for Jason Witten. The Pro Bowl tight end got plenty of separation and Romo hit him in stride for a big play on the first drive.

Miles Austin made a beautiful adjustment to a ball thrown slightly behind him in the first quarter for a 24-yard catch. Austin brought a lot of energy to the field Thursday and ran some excellent routes. On the twisting grab, he beat cornerback Chris Johnson. The Raiders are vulnerable on that side of the field.

Raiders defensive end Lamarr Houston had one of the sacks on Romo. He was able to sneak in the backside and crunch the quarterback. Romo didn't feel the pressure coming on the play. He just seemed content to stay in the pocket, and that wasn't helping matters. Of course, everyone in the stadium gasped when he took off running up the middle of the field on one play.

It was a good night for kicker David Buehler. He nailed a 42-yard field goal and then connected on two short ones. He also recorded three touchbacks. The 42-yarder was a good sign because that's a distance that plagued the team during a miserable stretch in '09. Buehler has all the confidence in the world. If he'll trust his leg, the distance will be there.

Cowboys cornerback Orlando Scandrick might be the best tackler of all the defensive backs. He does a really nice job of wrapping up and you don't see guys bounce off him. Scandrick decked wide receiver Louis Murphy early in the game. Then he absorbed a blow from James. The Cowboys were flying to the ball early.

The running game was awful, but I did see Marion Barber put a nice little move on cornerback Stanford Routt in the first quarter. He froze Routt with a little stutter-step. Barber stumbled after that and only gained 2 yards.

Romo and Austin have tremendous chemistry on the slant. On a third-down play, Austin got Johnson on his hip and then made a nice grab across the middle. Even when cornerbacks see it coming, they have an awful time getting inside position.

All the goodwill that Kevin Ogletree earned in the offseason is being wasted early in the preseason. He's not making contested catches and it just seems like there's a lack of concentration. I still think he'll make the roster as the fifth receiver, but he hasn't seized some of these extra repetitions that were created by Dez Bryant's absence.

Linebacker Victor Butler picked up a personal foul on a punt return. The officials will not have any tolerance this season for those blindside hits on defenseless players. There's just too much of a risk for head and neck injuries. Butler must have better awareness on that play.

In the first quarter, cornerback Terence Newman closed quickly to break up a Jason Campbell throw in the flat. Newman was in position to make the interception, but he opted for knocking down the ball with one arm. It was a very instinctive play and it caught Campbell by surprise.

Free-agent rookie Bryan McCann out of SMU had one really nice punt return (28 yards) late in the second quarter when he allowed Ogletree to set him up with a good block. McCann's also getting a lot of opportunities with the second-team defense. He was late on a Campbell throw to Murphy, but you can tell that he's not far away from making those plays. I get the sense that Wade Phillips is really pulling for McCann.

I was eager to see how former third-round draft pick Robert Brewster performed at left tackle against the Raiders. And once again, he turned in a dud. Not even the optimistic Phillips will be able to praise Brewster after Thursday's showing. His feet are stuck in neutral and there's absolutely no anchor. When you watch him, he's getting pushed directly toward the quarterback. He's most susceptible to an outside speed rush right now, and that's not a good sign. Brewster will keep getting chances, but I thought that was a poor showing. Brewster was also penalized for grabbing a defensive end as he raced past.

Butler does an excellent job getting pressure on the quarterback. He's so much more consistent this season in causing problems for the offensive line. And the other linebacker who caught my eye Thursday was Leon Williams. He's just a really tough player who brings some attitude to the field. Inside linebacker Jason Williams is still a work in progress, but he did race through and make a nice play against running back Michael Bush.

Safety Mike Hamlin suffered a neck strain and a concussion in the third quarter, according to ESPNDallas.com's Tim MacMahon. Some folks in the organization thought Hamlin might challenge Alan Ball for the starting role, but that hasn't happened so far in camp. The good news for the Cowboys is that Hamlin was the only player injured. That's a lot different situation than what took place against the Bengals.

Roy Williams and Romo weren't on the same page in the first quarter. On one play, Romo rolled right and wanted Williams to come back to him. Williams sort of posted up the cornerback along the sideline and hoped for the best. There wasn't any rhythm to his routes against the Raiders. By the way, Bryant gave Williams and the rest of the receivers some new shoes.

In one of the Cowboys' four trips inside the red zone, Jon Kitna rolled right and threw to Deon Anderson in the flat. It was a poorly conceived play on fourth-and-1. Linebacker Thomas Howard applied the pressure to Kitna.

I thought safety Danny McCray did a really nice job hustling over to break up a deep ball to Johnnie Lee Higgins. McCray's been a camp phenom, and I'm eager to see if he can keep it up in Oxnard, Calif., next week. The Beast will be on the ground in Oxnard beginning Sunday evening.

The Cowboys were 3-for-16 on third down. The lack of a running game put the Cowboys in third-and-long situations far too often. Losing in the preseason isn't a big issue, but this red zone issue is something that goes back to last season. The Cowboys need a touchdown from the first-team offense against the Chargers next Saturday.

Guard Pat McQuistan simply doesn't play with any power. Every time I watch him, he's getting thrown toward the quarterback. It's about time to move on without him. The Cowboys have invested a lot of time in him, but I don't think he'll ever be a starter. And he doesn't seem like a reliable backup. On the other hand, I like the backup center, Phil Costa. The guy will stand his ground and he seems to have a little attitude. Give me that guy over McQuistan any day. I also liked the way rookie Sam Young played.
NFL SCOREBOARD
Thursday, 11/27
Sunday, 11/30
Monday, 12/1
WEEKLY LEADERS