July, 28, 2014
Jul 28
1:55
PM ET
EAST RUTHERFORD, N.J. -- Look, I'm not saying he can and I'm not saying he can't. I have nothing but respect for
Eli Manning
's abilities and the things he can do. He can beat
Tom Brady
in the Super Bowl, and if you didn't believe that after the first time, he did it again for good measure. The
New York Giants
' quarterback is largely underrated and underappreciated, and he's perfectly capable of having a great season even though he's coming off his worst season.
However.
If Manning completes 70 percent of his passes this year in Ben McAdoo's new offense, as quarterbacks coach Danny Langsdorf said Monday
he'd challenged Manning to do
, then McAdoo, Langsdorf and anyone else who had a hand in it should have their choice of NFL head-coaching jobs next January. And they can ride unicorns with Santa Claus and the Easter Bunny to the interviews.
Start with the very short list of quarterbacks who've ever hit that number in a full NFL season. It's basically
Drew Brees
(twice, in 2009 and 2011), Joe Montana (1989) and Steve Young (1994). Langsdorf said the list he gave Manning also included Sammy Baugh, Ken Anderson and
Alex Smith
. But Baugh played only eight games in the 1945 season in which he hit the mark (the league played a 10-game season that year). Anderson's 1982 season was only nine games long due to a players strike. And Smith put up his 70.2 mark in 10 games in 2012 before losing his job to
Colin Kaepernick
.
So if Manning is to hit this goal over a full season, he'll be doing something only three other players -- two of whom are in the Hall of Fame, and one of whom surely will be -- have done. The fact that it's a nearly impossible achievement is the first and best reason to doubt it. Manning's career completion percentage is 58.5, and his career high for a single season is 62.9, set in 2010. He would have had to complete an additional 69 passes in 2013 to get to 70 percent from the dismal 57.5 at which he finished. That's 4.3 more completions per game. Even in 2010, he would have needed 39 more completions, or 2.4 per game. May not sound like a lot, but it is when you think about what it means.
Secondly, as much as we've written about the Giants' new offensive scheme, there are still legitimate concerns about whether they have the personnel to run it effectively. The offensive line isn't set yet. Their wide receiver group is littered with question marks after
Victor Cruz
. They do not have a reliable pass-catching tight end on the roster. And as much as they want to stress high-percentage plays and completion percentage, it's tough to imagine they'll throw to the running backs all season.
Which kind of leads me to my final point: Eli Manning, risk-taker. Manning's calling card as a quarterback has always been, to me, his fearlessness. He has the confidence to try any throw, no matter how risky, because (a) he believes he can make it, and (b) he has an uncommon ability to put mistakes behind him and not let them affect his performance as the game goes along.
It's inconceivable to think that McAdoo and Langsdorf could change this about Manning even if they wanted to, and it's inconceivable to believe they would want to. Manning's ability to deliver an uncanny throw in a huge spot is one of the few things you can point to right now in this Giants offense that might have a chance to set it apart from others in the league. Their challenge is to install an offense that's more efficient and less turnover-prone while still making use of what Manning does best. So there's still going to be plenty of downfield stuff, and that stuff will come with more risk.
Now, OK. I understand about coaching and motivation. If Langsdorf sets a goal of 70 percent and Manning aims for it but falls 5 percent short, he'd still obliterate his career high and improve on last year by 7.5 percent. The Giants would surely take that. But hearing Langsdorf say this Monday brought home the ideas of (a) how much different this offense is going to be than it has been for the past decade, and (b) how hard it's going to be for the Giants to be proficient in their new offense in its first season.
December, 2, 2011
12/02/11
1:30
PM ET
»
NFC Final Word
:
East
|
West
|
North
|
South
»
AFC
:
East
|
West
|
North
|
South
Five nuggets of knowledge about Week 13:
How Orton can help the Chiefs:
New Chiefs quarterback
Kyle Orton
may begin his Kansas City era Sunday at Chicago. He was claimed by the Chiefs (and the Bears and Cowboys too) last week after he was cut by Denver. He didn't play in Week 12. While the Chiefs are hoping to get production quickly from Orton, who played in five games with Denver this season, one area in which he might see quick success is on play-action plays. According to ESPN Stats & Information, Orton has completed 70.3 percent of passes thrown during play-action plays, seventh in the NFL. The Chiefs also have been good in this area -- the injured
Matt Cassel
was 10th. Orton will need some help from an often-unreliable Kansas City receiving crew, however. According to ESPN Stats & Information, the Chiefs lead the AFC West with 18 drops. Five receivers are tied for the AFC West lead with four drops each. Three play for Kansas City:
Dexter McCluster
,
Jon Baldwin
and
Dwayne Bowe
. The Chargers'
Mike Tolbert
and Denver's
Eddie Royal
are the other two players in the division with four drops.
Why Denver is winning:
The Broncos, who play at Minnesota on Sunday, are winning the way first-year coach John Fox won in Carolina – with a strong ground game and a strong defense. In the past four games, all victories, Denver joined the 1971
Miami Dolphins
as the only teams in NFL history to have one or fewer turnovers, 60 or fewer points allowed and 876 yards or more yards rushing over such a span. That's a sign of a team playing complete football. Hat tip to the Broncos' PR department for providing that stat.
Lechler's impact:
Can Oakland punter
Shane Lechler
dominate at Miami on Sunday as he did last week against Chicago? He averaged 54.6 gross yards on five punts, including an unforgettable 80-yard punt that neutralized Chicago star return man
Devin Hester
— an Raiders team record. According to ESPN Stats & Information, Lechler's big game against the Bears raised his season gross punting average to 51.47 yards per punt. If he can keep his average at that level for the rest of the season, he'd break Sammy Baugh's record of 51.4 yards per punt, set in 1940.
[+] Enlarge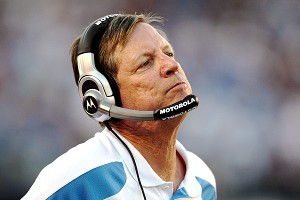 Donald Miralle/Getty ImagesWith his job in jeopardy, Norv Turner can't afford to lose to Jacksonville, led by interim coach Mel Tucker.
Turner can't be outcoached:
San Diego coach Norv Turner has virtually has no chance of remaining the team's coach after this season. The Chargers are 4-7 and have lost six in a row. They are three games behind in the AFC West and the AFC wild-card race. If the Chargers don't make the playoffs for the second consecutive season, Turner will very likely be fired -- which makes Monday night's game at Jacksonville a must-win. The Jaguars just fired coach Jack Del Rio; defensive coordinator Mel Tucker will take over as interim coach. If Tucker outshines Turner and the Jaguars beat the Chargers, Turner will be completely sunk. Turner has made several decisions in recent games that have been scrutinized. He needs to be on his game Monday if he has any hope of sticking around in San Diego.
Decker goes home:
Receiver
Eric Decker
is going back to his old collegiate field on a hot streak. Decker and the white-hot
Denver Broncos
-- who have won five of their past six games -- visit the
Minnesota Vikings
in a game played at the Metrodome. It used to be the home for both the Vikings and the Minnesota Golden Gophers before the latter opened their on-campus stadium. Decker started his college career playing in the dome for the University of Minnesota. He became one of the nation's best college players on that field, so the 2010 third-round pick and Minnesota native will be completely comfortable playing in front of many friends and family members.
October, 13, 2011
10/13/11
1:00
PM ET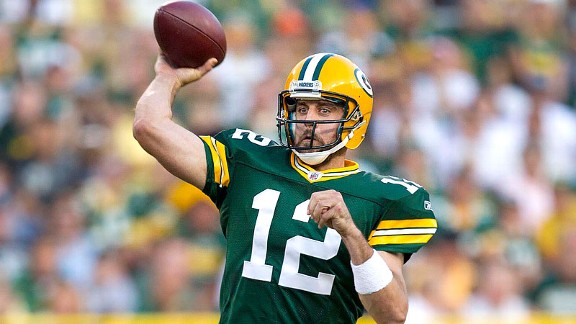 Jeff Hanisch/US PresswireGreen Bay quarterback Aaron Rodgers is completing 71.7 percent of his passes and averaging more than 344 yards per game this season.
There is little doubt this year about the NFL's top-performing quarterback.
Tim Tebow
's 79-yard season has taken the league by storm and set a new standard for what a second-year quarterback ...
Whoops. Sorry
.
No matter what metric you use, I think we can all agree that
Green Bay Packers
quarterback
Aaron Rodgers
has had the NFL's best start to the season. He has produced the
league's top passer rating
, is atop
the year's Total Quarterback Rating
and is a fixture in the No. 1 slot of
Mike Sando's MVP Watch
over on the NFC West blog.
Around here, we've pretty much run out of ways to tell you all that. But after fiddling around with the excellent
Pro Football Reference database
, I stumbled onto a slightly different angle. (If you prefer to watch me tell you about it, rather than read any further, check out this week's
NFC 411 video
below.)
Rodgers has the NFL's top completion percentage (71.7) and is tied for the best average yards per attempt (9.6). Generally speaking, those two categories shouldn't fit together.
Yards per attempt is one way to measure downfield passing proficiency. Of course, several components go into yardage totals, including receivers' open-field running ability and the tackling skills of opponents. But the primary ingredient is the quarterback's success at pushing the ball down the field on passes that are relatively difficult to complete.
As a result, it's extraordinarily difficult to achieve a high completion percentage when you're consistently throwing lower-percentage passes. Consider
Pittsburgh Steelers
quarterback
Ben Roethlisberger
, who last season had the NFL's No. 3 average per attempt (8.2) but its 15th-best completion percentage (61.7).
On the other hand, a high completion percentage can be associated with passes that are easier to complete. Checkdowns and other short passes result in a lower average per attempt. Case in point:
New Orleans Saints
quarterback
Drew Brees
had the NFL's highest completion percentage (68.1) last season, but his 7.0-yard average per attempt tied for No. 16 overall.
That disparity should give you some context for what Rodgers has done this season. He's completing a higher percentage of his passes than any other quarterback even while piling up big yardage numbers with what should be lower-percentage throws downfield. He has been more efficient and proficient than any other NFL quarterback, an exceedingly tough combination to achieve.
How tough? Since 1960, only three quarterbacks have posted a completion percentage of 70 or higher and an average yards per attempt of 9.0 or higher in the first five games of the season. The details are in the first chart accompanying this post.
In the entire history of the NFL, only two quarterbacks have ever finished a season (defined as 400 or more throws) with similar numbers. Both of them, Sammy Baugh and
Joe Montana
, are in the Pro Football Hall of Fame. The second chart shows the top five combined performances in these two categories.
I hope you're with me on how rare and special that type of season is. NFL passing statistics tend to fall off as the weather turns, so we don't know whether Rodgers can or will maintain this pace. But he has a chance at putting together the kind of special season that surpasses what passer rating, QBR and even an MVP award could explain.
February, 3, 2010
2/03/10
11:17
AM ET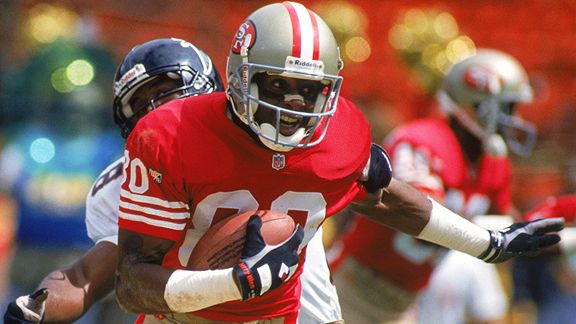 George Rose/Getty ImagesWide receiver Jerry Rice retired with his name all over the National Football League record book.
MIAMI -- Anyone advocating Jerry Rice as the greatest player in NFL history can bury the opposition in statistics.
Rice averaged 1,145 yards receiving and more than 10 total touchdowns per season -- for 20 NFL seasons.
Rice caught 69 touchdown passes -- more than the career totals for Art Monk, Michael Irvin, Charlie Joiner, John Stallworth and numerous other Hall of Fame receivers -- during a five-season span ending in 1993. Rice then caught 28 touchdown passes over the next two seasons, more than half the career total for Hall of Famer Lynn Swann.
He retired holding NFL records for:
Touchdowns (208), receiving TDs (197), receiving TDs in a season (22), consecutive games with a TD reception (13), TDs in Super Bowls (8), receiving TDs in a single Super Bowl (3) and postseason TDs (22).

Receptions (1,549), consecutive games with a reception (274), receptions in Super Bowls (33) and postseason receptions (151).

Receiving yards (22,895), receiving yards in a season (1,848), receiving yards in Super Bowls (589), receiving yards in a Super Bowl (215), postseason receiving yards (2,245) and seasons with at least 1,000 yards receiving (14).
Rice, whose selection to the Pro Football Hall of Fame is a formality Saturday, probably enjoyed the greatest NFL career. He was probably the greatest wide receiver despite some arguments for Don Hutson. But was he the greatest player, period?
"Oh, yeah," Hall of Fame defensive back Rod Woodson said almost reflexively during Super Bowl media day.
Woodson, perhaps mindful of history as a member of the NFL's 75th Anniversary team, then showed he could still backpedal a bit.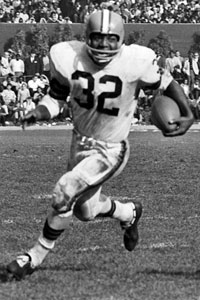 Getty ImagesWhen talking about the greatest players ever, Jim Brown needs to be in the conversation.
"I mean, he is definitely up there," he said. "I don't think one player is the greatest player ever, but he is in that water-cooler conversation. Now, if you say greatest receiver, absolutely. But the greatest player, to make him the most dominant player ever in NFL history or just say pro football history, that is a profound statement. But I can say that he will be in that argument time in and time out."
The conversation might include Otto Graham, Jim Brown, Sammy Baugh, Lawrence Taylor, Joe Montana, Johnny Unitas, Hutson, Walter Payton and Barry Sanders among players no longer active. And that list is probably shortchanging defensive greats such as Deacon Jones and Dick Butkus.
But
Ray Lewis
, arguably the greatest defensive player of the current era, didn't hesitate in singling out Rice.
"I don't know what argument you are going to make why he is not," Lewis said.
And that might be what separates Rice from the rest. There really isn't a great case against him. No one played at such a high level for as long with such grace.
"Jerry Rice doesn't
rank
in the all-time greats," said Saints safety
Darren Sharper
, a five-time Pro Bowl choice and member of the 2000s All-Decade team. "He
is
the greatest receiver and maybe the greatest football player of all time."
Maybe?
"I can't comment on eras that I didn't perform in," retired cornerback Deion Sanders said, "but the era I performed in, Jerry Rice is the best football player to play in that era."
On what grounds beyond the numbers?
"Work ethic, precision, routes, physical toughness, awareness, that hunger," Sanders said. "Jerry stayed hungry until the day he retired."
Posted by ESPN.com's Tim Graham
The latest Pro Football Hall of Fame class was chosen Saturday. It was the 47th election, and for the 46th time, a full-time kicker or punter wasn't in the group.
They simply don't rate.
That's why Rick Sang founded the American Football Kicking Hall of Fame last year.
"The most impacting statement is that in 90 years of pro football, there's only one kicker inducted," Sang said. "You think about that. It's a major void.
| | |
| --- | --- |
| | |
| | Malcolm Emmons-US PRESSWIRE |
| | Jan Stenerud is the only kicker on the Hall of Fame. |
"The American Football Kicking Hall of Fame was about being proactive and not complaining about what the NFL wasn't doing. Their names aren't even coming up. There's so many guys you have to think about 'Who are they?'
"We just don't want them to be forgotten."
While part-time kickers such as Sammy Baugh, George Blanda and Lou Groza are enshrined in Canton, Jan Stenerud is the only pure leg-swinger to be honored.
The Kicking Hall of Fame inducted its second class two weeks ago. Added to the inaugural class of Baugh, Blanda, Groza and Jim Thorpe were Ray Guy, Pete Gogolak and Ben Agajanian.
"You make fun of kickers for not getting their uniforms dirty, or you say 'They don't hardly play.' And then you turn around and induct an owner," said Sang, also the director of ProKicker.com and a member of the Greater Augusta Sports Council in Georgia.
"It's a team sport, and if you're the best at your position and you impacted the game you deserve to be recognized."
Not acknowledging kickers isn't limited to Canton. Three AFC East teams fete their finest -- the Buffalo Bills have a Wall of Fame, the Miami Dolphins have an Honor Roll, the New England constructed the Hall at Patriot Place -- and none salute a kicker.
With Sang's cause in mind, here are the greatest kickers and punters in each AFC East club's history:
December, 19, 2008
12/19/08
1:30
AM ET
Posted by ESPN.com's Paul Kuharsky
JACKSONVILLE, Fla. -- His wristband said SB, but on a night when Peyton Manning was Super Bowl quality, it meant something else.
"A little SB 33 in tribute to Sammy Baugh," Manning said, referring to the Hall of Famer who passed away this week. "...We did a photo shoot together for Sports Illustrated. They kind of took a player of the old century and a player of the new century, and I had to go to Rotan, Texas, to his home to do the picture. We spent about eight hours together and talked a lot of football.
"It was really a special day in my life, I got a great picture of it. So I was thinking about that day today and thinking about what he did, a real pioneer as a quarterback. Thinking about Sammy Baugh, I was slingin' it tonight, we were slinging it tonight. And I hope Sammy got a smile out of that game tonight."
Perhaps only Manning could put forth such a precise performance in a game that clinched a playoff spot, then frame it so nicely, just like that SI picture.
It's no surprise when he's magical, but still. Seventeen completions in a row to open the game? They fell perfectly into waiting arms, dropped at just the right angle through tight windows, zipped inches past extended fingertips of defenders and a few floated to wide open targets.
Manning's final line: 29 of 34 for 364 yards, three touchdowns, no interceptions, no sacks, a 140.7 rating and some suggestions the best quarterback playing right now -- the quarterback who was all out of sync and uncomfortable early this season after missing all of the preseason following two knee surgeries -- has never been any sharper.
"I'm not sure I've ever seen him have a better performance under the circumstances that he had tonight," Colts president Bill Polian said, lining up the NFL Network for a shot. "It's too bad the vast majority of America couldn't see it. If they did, there would be no question about who the MVP is. He was virtually by himself tonight. We ran for [1.8 a carry], Joseph Addai is hurt, Marvin Harrison is not here. I think we got one stop in our first [five] possessions defensively. It's hard to be perfect. He was perfect."
December, 18, 2008
12/18/08
10:49
AM ET
Posted by ESPN.com's Matt Mosley
| | |
| --- | --- |
| | |
| | Bruce Bennett Studios/Getty Images |
| | Sammy Baugh was a member of the Pro Football Hall of Fame's inaugural class. |
The only problem with living to age 94 is that most of your friends aren't around to talk about you anymore. But legendary former Horned Frogs and Redskins quarterback Sammy Baugh never cared much for adulation. He died Wednesday near his beloved ranch in Rotan, Texas, and he leaves behind some wonderful memories.
My friend and mentor Frank Luksa, a legend in his own right, delivered a touching tribute to Baugh this morning. Redskins fans may have heard rumors of Baugh's exploits, but Luksa pulls back the curtain on how the league was viewed in those days. Baugh was scared to death that his teammates would find out he was making $8,000 to play quarterback.
"It scared the livin' hell out of me because I thought someone would find out how much I was making," Baugh said. "It really gave me a strange feeling to know I was so overpaid when we had guys doing their job as well as I did and making less than $200 a game.

"We won the [NFL] championship that year, and Cliff Battles led the league in rushing. The next year, he asked for a $250 raise up to $3,000 a year, and Marshall wouldn't give it to him, so he quit.

"If I'd known what they were doing, I would have given him the $250 myself because after that first year, I was making $12,000."
You can still find Baugh in the NFL record books. He won six passing titles and four punting crowns while playing for the Redskins from 1937-52. He also tied an NFL record with four interceptions in a game (He played safety in addition to quarterback and punter). Baugh was the last living member of the original Hall of Fame class.
Our thoughts and prayers go out to the Baugh family today.