July, 31, 2014
Jul 31
4:59
PM ET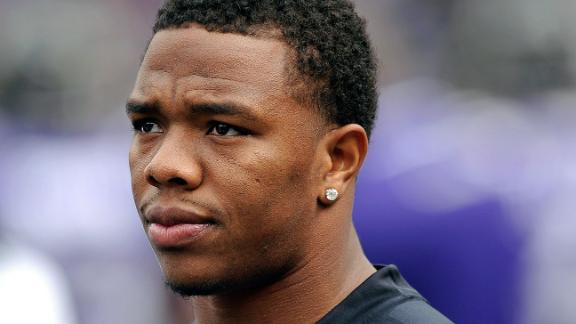 OWINGS MILLS, Md. -- In stark contrast to
Ray Rice
's awkward news conference in May, the
Baltimore Ravens
running back showed Thursday that he finally understood the weight of his actions from the alleged altercation with his then-fiancée in February.
He delivered the correct message, one the NFL failed to do last week with the two-game suspension, by not only apologizing to his wife, Janay Palmer, but also expressing a desire to become an advocate for domestic-violence causes.
Rice was compelling in his contrition, calling it the biggest mistake of his life. He stood in front of the microphone alone, without his wife standing by his side, and took full responsibility for the incident. Perhaps more importantly, Rice actually said the words "domestic violence," which weren't heard in his statement two months ago.
"My actions were inexcusable," Rice said. "That's something I have to live with the rest of my life."
Before anyone pats Rice on the back, this is what he should have said the first time when he broke his silence in May. Instead, Rice nervously fumbled through notes on his phone and apologized to team officials and his sponsors. That debacle of a news conference came across as damage control to his image.
His 17-minute news conference Thursday hit the right tones. He apologized to all women affected by domestic violence. He accepted the blame for losing the respect of fans. Rice came across as genuinely sorry.
"I let my wife down, I let my daughter down, I let my wife's parents down, I let the whole Baltimore community down," Rice said.
Rice's biggest misstep was not talking about what happened in the elevator. He was asked twice about it and declined to answer both times. His stance against domestic violence would have resonated stronger if he had explained his transgressions.
"I'll be honest: Like I said, I own my actions," Rice said. "I just don't want to keep reliving the incident. It doesn't bring any good to me. I'm just trying to move forward from it. I don't condone it. I take full responsibility for my actions. What happened that night is something that I'm going to pay for the rest of my life."
The only way Rice can move forward from this incident and show he's truly sincere is through his actions. It's not by his words. It's not by a hefty donation, which is merely a gesture. It's by proving this will remain a "one-time incident" and by supporting domestic-violence causes.
Thursday represented a small step forward for Rice. But it was an important one.
February, 20, 2013
2/20/13
12:00
PM ET
A look at the NFC West's best and worst from the past five NFL drafts, one team at a time.

Seattle Seahawks
Best choice:
Russell Wilson
, QB, 2012 third round. Wilson went from springtime curiosity to surprise opening-day starter to Pro Bowl quarterback in eight months. Seattle has hit big on some other draft choices during the Pete Carroll-John Schneider era, but Wilson stands apart from the rest. No rookie in the 36-year history of the organization has impacted the team as dramatically as Wilson did in 2012. That is a bold statement, but one that required about 30 seconds of verification. Wilson is the first QB draft choice in Seahawks history to succeed with the team. None of the other 15 came close (Mike Teel, David Greene,
Seneca Wallace
, Jeff Kelly, Josh Booty, Brock Huard, Rick Mirer, Dan McGwire, John Gromos, Sammy Garza, David Norrie, John Conner, Sam Adkins, Steve Myer and Chris Rowland). The 26 touchdown passes Wilson threw during the regular season exceed the Seattle career totals for every one of those other 15 drafted QBs except Mirer, who had 41 touchdowns over four seasons with the team.
Worst choice:
Aaron Curry
, LB, 2009 first round. The Seahawks thought they were making the surest choice of the 2009 draft when they made Curry the fourth overall choice. Instead, a franchise that had used top-10 picks for defensive stars Cortez Kennedy and Kenny Easley got an all-time bust. Curry had 5.5 sacks, 12 passes defensed and four forced fumbles while starting 28 of 30 games for the Seahawks over two seasons. Something wasn't right, however, and by Curry's third season, the team had seen enough. Seattle essentially bought out Curry's expensive rookie contract to facilitate a trade to Oakland.
Lawrence Jackson
was a distant second for this distinction.
Verdict pending:
James Carpenter
, OL, 2011 first round. Wilson's selection in 2012 offsets lingering regrets from the Seahawks' decision to draft Carpenter over
Andy Dalton
a year earlier. Still, Seattle cannot feel good about how Carpenter's career has unfolded. Carpenter was struggling in pass protection at right tackle before a severe knee injury convinced Seattle that Carpenter's future would be at left guard, next to tackle
Russell Okung
. The conversion did not go well last season because the knee injury continued to limit Carpenter's mobility. The coming season appears pivotal for Carpenter.
Related:
2011 draft rewind
.