NFL Nation:

Sanders Commings
May, 27, 2014
5/27/14
3:10
PM ET
KANSAS CITY, Mo. -- Some quick observations on the
Kansas City Chiefs
' first full-squad offseason practice:
May, 23, 2014
5/23/14
10:00
AM ET
»
NFC Wrap:
East
|
West
|
North
|
South
»
AFC:
East
|
West
|
North
|
South
»
Grades

With free agency and the draft in the rearview mirror and training camp just a couple of months away, we assess the
Kansas City Chiefs
' offseason moves.
Best move:
It wasn't a popular move for the Chiefs to allow five of last season's regulars to depart in the opening moments of free agency and another a few days later, but the Chiefs did the right thing in each case. The players are more valuable to their new teams, and Kansas City would have had to overpay to keep them. The Chiefs had also built enough depth to withstand the losses.
[+] Enlarge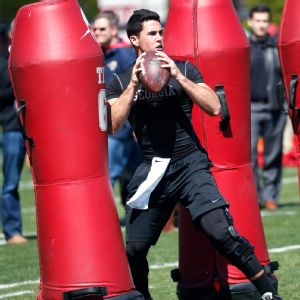 AP Photo/John BazemoreAaron Murray's selection by the Chiefs is surprising, but Andy Reid has been known to develop QBs.
Riskiest move:
The Chiefs failed to add a proven wide receiver, a decision they could easily come to regret later. They had one of the NFL's least productive groups of wide receivers last season and then lost slot receiver
Dexter McCluster
to free agency. They have hopes for improvement from young
A.J. Jenkins
and acquired CFL veteran
Weston Dressler
and speedy rookie
De'Anthony Thomas
, but their needs would have been better served by adding a player with proven production.
Most surprising move:
The drafting of Georgia quarterback
Aaron Murray
was a reasonable gamble because it happened in the fifth round, but the Chiefs looked to be set at the position without him. They have their starter in
Alex Smith
, a veteran backup in
Chase Daniel
and a developmental prospect in
Tyler Bray
. But Murray appears to have the skills to succeed in the offense of coach Andy Reid, who has shown a nice touch in developing quarterbacks. The addition of Murray sets up an interesting training camp battle at the position.
Progress from young players:
It's clear the Chiefs are counting on improvement from a group that includes three of last season's draft picks. Foremost is tackle
Eric Fisher
, who moves to the left side after a rocky rookie season on the right. Tight end
Travis Kelce
missed all of last season with a knee ailment after showing impressive receiving skills in the offseason and training camp.
Sanders Commings
also missed most of his rookie season with an injury but could wind up starting at free safety.
April, 7, 2014
4/07/14
12:40
PM ET
The notion of building a team though the NFL draft and using free agency as a mere supplemental tool is a proven one. The NFL teams that have been successful over long periods during the free-agency era have generally used this method.

But it puts a lot of pressure on a team to get things right each year through the draft. It doesn't have to get one or more eventual Pro Bowlers every year, but the teams that do in this way certainly can't afford to whiff in the draft, any draft.
Judging from their words and this year's actions, the
Kansas City Chiefs
plan on being one of those teams. That's fine, but they had better use their six draft picks to maximum an advantage.
ESPN.com's Jeffri Chadiha takes it a step further in his latest column,
suggesting no NFL team needs to get it right in this year's draft more than the Chiefs
. Chadiha writes that if the Chiefs don't find more difference-makers, they're primed to slide backward next season after winning 11 games and making the playoffs last year.
It's impossible to argue with that. Given the way the Chiefs wobbled the last half of last season, it was obvious they would need an upgrade at some key spots for this year. Not only has that yet to happen, but the Chiefs have watched as many of their competitors, including division rivals Denver and Oakland, loaded up.
But with just six picks and only one in the top 86, immediate expectations for this year's draft should be minimal. Because of that, last year's draft is more important to 2014 success for the Chiefs than this year's crop of rookies.
As Chadiha noted, last year's draft picks were disappointing as a group. The Chiefs' rookie of the year was
Marcus Cooper
, a cornerback they pulled off waivers at the beginning of the regular season, and not one of their own eight selections.
For the Chiefs to go anywhere in 2014, their 2013 rookies have to get better. Tackle
Eric Fisher
needs to play a lot more like the first overall pick in the draft. What running back
Knile Davis
gave them late last season, he needs to give all season. Tight end
Travis Kelce
and defensive back
Sanders Commings
have to overcome the injuries that ruined their rookie seasons and be the players the Chiefs envisioned when they drafted them.
If this happens, then the 2014 Chiefs can prosper without much immediate help from their rookies. If not, it might not matter how the Chiefs fare in this year's draft.
March, 11, 2014
3/11/14
8:00
AM ET
The free-agent signing period begins Tuesday, and as of now the Chiefs have yet to re-sign any of their significant free agents. The parade appears to be lining up at the exit door. Left tackle
Branden Albert
is at the front, as he reportedly has already agreed on a contract with the
Miami Dolphins
. Receiver/punt returner
Dexter McCluster
, offensive linemen
Jon Asamoah
and
Geoff Schwartz
and linebacker
Akeem Jordan
could be right behind him.
The Chiefs have attempted to re-sign defensive end
Tyson Jackson
, and that could still happen. But the Chiefs didn't appear confident in that happening. They had arranged a free-agent meeting with defensive end
Red Bryant
before he signed last week with the
Jacksonville Jaguars
.
Free safety
Kendrick Lewis
has been a longtime starter and is also a potential unrestricted free agent. But the Chiefs may be ready to move on from him.
The Chiefs have some money to spend in free agency and draft picks to use on potential replacements. In some cases they've already prepared for the eventuality of losing some of these free agents. They drafted tackle
Eric Fisher
in the first round last year knowing this day with Albert would probably come this year. They signed
Weston Dressler
of the Canadian Football League hoping he could be the next McCluster. Last year they drafted linebacker
Nico Johnson
and defensive back
Sanders Commings
, and they are possible replacements for Jordan and Lewis.
That doesn't mean this isn't an meaningful day for the Chiefs. With the exception of Jordan and Schwartz, who were signed to one-year, free-agent contracts last year, these players didn't join the Chiefs as stopgap players but as those they could build around. Albert and Jackson are former first-round draft picks. McCluster was drafted in the second round, Asamoah in the third, Lewis in the fifth.
More importantly, many should be heading into their prime seasons. Albert will turn 30 in November but plays a position where he could retain his skills for the life of the new contract he will sign. Jackson is 27; McCluster, Asamoah and Lewis are 25.
If they're all out the door at a single time, that's a hefty blow to the Chiefs. They made plenty of progress in the past year, going from two wins in 2012 to 11 victories and the playoffs in 2013. Continuing on that track will be difficult enough but perhaps impossible if they lose this entire group of players.
If the Chiefs fall back to the pack in 2014, they may look back on this day as a big reason why.
March, 7, 2014
3/07/14
11:00
AM ET
»
AFC Free-Agency Primer
:
East
|
West
|
North
|
South
»
NFC
:
East
|
West
|
North
|
South
Key free agents:
T
Branden Albert
, G
Jon Asamoah
, DE
Tyson Jackson
, LB
Akeem Jordan
, FS
Kendrick Lewis
, WR/PR
Dexter McCluster
, G
Geoff Schwartz

Where they stand:
The Chiefs need help at wide receiver but may prefer to do their shopping at this position through the draft after having made a sizable financial commitment to
Dwayne Bowe
last year. The Chiefs have the depth at tackle to withstand the likely loss of Albert, but they'll need to do some shopping if Asamoah and Schwartz, who split time as the starter at right guard last season, depart. On defense, the Chiefs could use another big body for their defensive line, particularly if Jackson leaves as a free agent. A replacement who can be an upgrade over Lewis is another priority.
Sanders Commings
, a rookie last season, could potentially fill that spot. Whether the Chiefs actively pursue a veteran there could depend on how they feel about Commings' ability to handle the position.
What to expect:
The Chiefs should have about $9.6 million in salary-cap space, which is one of the lowest totals in the league and probably won't allow them to win many bidding wars. Even if the Chiefs had the cap room and were so inclined, this isn't a great crop of free-agent wide receivers. Seattle's
Golden Tate
might make sense for the Chiefs, but only if the price doesn't get out of hand. The Chiefs could look to division rival Denver for guard
Zane Beadles
if they need a starter to replace Asamoah and Schwartz. Seattle's
Red Bryant
could be a fit at defensive end if the Chiefs don't re-sign Jackson. Buffalo's
Jairus Byrd
is exactly what Kansas City is looking for at free safety, but he will likely be out of its price range. If the Chiefs go safety shopping, they might go for a lower-priced option, like Miami's
Chris Clemons
.
February, 27, 2014
2/27/14
7:30
AM ET
The series on potential
Kansas City Chiefs
free agents continues with a look at a long-time starter in the secondary.
FS Kendrick Lewis
Four NFL seasons, four with the Chiefs. Will be 26 when next season begins.
Lewis
Chiefs career:
Lewis has started all but three of the 53 games in which he's played for the Chiefs. A fifth-round pick in 2010, he joined the Chiefs at the same time as
Eric Berry
and when they had a need at safety. Lewis played well as a rookie, but that was the best season of his NFL career. Lewis was always average at best against the run, but his pass coverage sharply declined over the course of his career. Lewis started off last season playing well, but his game hit a wall in the middle of the season and it never recovered. A shoulder injury caused him to miss seven games in 2012, and though he had surgery at the end of that season, he never quite seemed the same player after that.
Argument for keeping Lewis:
This is a difficult one. He has experience, certainly more than
Sanders Commings
or any rookie the Chiefs might draft to play free safety. He's still young and could get back to what he was earlier in his career. But that also could be wishful thinking.
Argument for letting Lewis go:
The Chiefs allowed one long pass play after another last season, and though Lewis wasn't solely to blame, he had a big hand in that. His range simply doesn't appear to be what it was earlier in his career. That was evident on the long
Andrew Luck
-to-
T.Y. Hilton
touchdown pass that beat the Chiefs in the playoffs last season. It's impossible to believe the Chiefs wouldn't be better off with Commings or a rookie at free safety. They would be getting a younger and probably more productive player at a lesser cost.
What should happen:
This might be the easiest call for the Chiefs with regard to any of their six regulars who are free agents. Pro Football Focus recently ranked the top 10 free-agent safeties and Lewis isn't on their list. That, among plenty of others, is a sign the Chiefs need to upgrade at free safety.
November, 18, 2013
11/18/13
1:15
PM ET
KANSAS CITY, Mo. -- An examination of four hot issues from the Chiefs' 27-17 loss to the Broncos:
Offensive line shuffling:
The Chiefs finished the game with substitutes playing on the right side of the offensive line due to injuries to starting guard
Jon Asamoah
(calf) and right tackle
Eric Fisher
(shoulder). The Chiefs don't lose a lot in terms of production with the backups (guard
Geoff Schwartz
, tackle
Donald Stephenson
) in the lineup, but if Asamoah and Fisher don't play Sunday against the
San Diego Chargers
at Arrowhead Stadium, it hurts the Chiefs in terms of continuity. One area of possible growth for the offense over the final four games is improvement on the line. The chances for that decrease if the Chiefs have new bodies at two different positions.
Fisher
Smith
Scoring woes:
The Chiefs scored their first second-half offensive touchdown in four games on Sunday, but that happened within the last five minutes, with the Broncos holding a comfortable lead and willing to allow a long, time-consuming drive. Kansas City's second-quarter offensive touchdown was its first in seven quarters. This is a problem the Chiefs will have to learn to live with. They've struggled to score touchdowns all season when the defense and special teams are chipping in with scores of their own. The Chiefs scored just two touchdowns on four trips inside the Denver 20. One time the Chiefs had to settle for a field goal after having a first down at the Denver 2. Another time the Chiefs came away with no points at all after losing a fumble.
Big deficit:
The Chiefs don't make many big plays on offense, and it wasn't certain how they would respond to falling behind by double digits because before Sunday night, they had never faced that situation this season. Predictably, it didn't go well. Quarterback
Alex Smith
completed fewer than half of his pass attempts, and in the second half the Chiefs had just one completion of more than 21 yards.
Commings plays:
Rookie defensive back
Sanders Commings
played for the first time this season. Commings got in a few snaps at cornerback in place of
Marcus Cooper
after Cooper had allowed a couple of long passes. Look for Commings to get more playing time as the season wears on. He was challenging for playing time when he broke his collarbone during the first training camp practice in July.
October, 23, 2013
10/23/13
4:15
PM ET
KANSAS CITY, Mo. -- The
Kansas City Chiefs
had each of their 53 players available for practice Wednesday, an unusual occurrence this time of the season. The Chiefs also had everybody available to them for practice last Friday and for last Sunday's game against the
Houston Texans
.

They're fortunate, to be sure. But to say injury luck has been a factor in their 7-0 record is stretching things. They've had lengthy injury reports this season, and key players such as running back
Jamaal Charles
and free safety
Kendrick Lewis
have missed large chunks of practice time.
Cornerback
Brandon Flowers
missed two games and tight end
Anthony Fasano
has missed four.
Dustin Colquitt
has been punting on a bum knee. Two players the Chiefs were counting on, tight ends
Tony Moeaki
and
Travis Kelce
, were done for the season without taking a regular-season snap.
Rookie defensive back
Sanders Commings
broke his collarbone on the first day of training camp and only last week returned to practice.
So while the Chiefs are in good shape for now and haven't been hit as hard as many other teams, they've hardly escaped unscathed.
"We've been fortunate," coach Andy Reid said. "That's really what it is. The guys are back now and playing with us. We had our share. The guys that stepped in did a nice job, which helped.
"Some of it is chance. Sometimes you get those things. It happens. Sometimes they come in waves. That's how it works."
October, 16, 2013
10/16/13
6:00
PM ET
KANSAS CITY, Mo. -- Rookie defensive back
Sanders Commings
, who has been on the
Kansas City Chiefs
' injured-reserve list all season, practiced for the first time on Wednesday.

The promotion of Commings, a fifth-round draft pick from Georgia, to the active roster, appears inevitable, with the only question being the timing of the move. Commings was a nickel safety for the Chiefs during offseason practice and would have challenged for playing time had he not broken his collarbone during the first practice at training camp.
The Chiefs are deep in the secondary, with the emergence of rookie cornerback
Marcus Cooper
and veteran safeties
Quintin Demps
and
Husain Abdullah
, but the return of Commings would provide even more security at the back end of their defense.
Starting tight end
Anthony Fasano
, who has missed the last four games because of knee and ankle injuries, returned to practice on a limited basis and said that barring a setback he would play Sunday against the
Houston Texans
at Arrowhead Stadium.
The only player who did not practice was starting free safety
Kendrick Lewis
(ankle). The only other player who was limited in practice was cornerback
Brandon Flowers
(knee).
The Chiefs listed nine players as full practice participants: tackle
Branden Albert
(knee/elbow), nose tackle
Dontari Poe
(ankle), guard
Jeff Allen
(groin/hand), guard
Jon Asamoah
(knee), wide receiver
Donnie Avery
(shoulder), tight end
Kevin Brock
(shoulder), fullback
Anthony Sherman
(knee), punter
Dustin Colquitt
(knee) and linebacker
Dezman Moses
(toe).
July, 23, 2013
7/23/13
7:30
PM ET
Running back
Peyton Hillis
signed with Tampa Bay
on Tuesday. The 27-year-old spent last season with the Chiefs, but the new Kansas City regime had no interest in bringing him back. The Chiefs took running back
Knile Davis
(from Hillis' alma mater, Arkansas) in the third round as a backup for star
Jamaal Charles
.
The previous regime brought Hillis to Kansas City on a one-year deal, with the idea of him being a dynamic backup to Charles. Hillis, a former standout in Cleveland, had 309 yards on 85 carries last season.
Meanwhile, the Chiefs suffered a blow on the first day of rookie training camp. The Kansas City Star reported that the team's fifth-round pick, defensive back
Sanders Commings
, fractured his left collarbone and will likely miss all of camp. He has a chance to help this season, but this is surely a setback. Commings had a strong offseason session.
In other AFC West notes:
The Raiders cut cornerback
Coye Francies
and linebacker
Travis Goethel
-- Francies because of a failure to disclose a physical condition. Both were backups last year. Goethel was once considered a promising prospect, but injuries derailed his Raiders career. He will most be remembered in Oakland for a disastrous night as a long-snapper in the opening loss to San Diego last season, after standout
Jon Condo
was hurt.
Buffalo cut pass-rusher
Mark Anderson
. He was injured last season. He had 10 sacks for the Patriots in 2011. Oakland needs a pass-rusher badly; perhaps it could show some interest in Anderson.
ESPN.com columnist Jeffri Chadiha thinks
the Broncos can handle a four-game NFL suspension of star linebacker
Von Miller
.
June, 21, 2013
6/21/13
12:00
PM ET
»
NFC Eight in the Box:
East
|
West
|
North
|
South
»
AFC:
East
|
West
|
North
|
South
How does each AFC West team look in the secondary, and what still needs to be done?

Denver Broncos:
The Broncos are set in the secondary. Denver added key pieces throughout the roster as it girds for a Super Bowl run. It signed
Dominique Rodgers-Cromartie
-- who joins a strong group of cornerbacks -- and former San Diego standout
Quentin Jammer
, who will be moved from corner to safety and play sort of a roaming role. Denver believes
Champ Bailey
, who turns 35 Saturday, can still play at a high level. Helping Bailey and Rodgers-Cromartie are the underrated
Chris Harris
and
Tony Carter
. The team also has third-round pick
Kayvon Webster
and 2012 fourth-round pick
Omar Bolden
. That's a pretty deep group. Right now, the starting safeties are
Rahim Moore
and
Mike Adams
. But in addition to Jammer, Denver has
David Bruton
, who was getting first-team work in the offseason, and
Quinton Carter
. As with the cornerbacks, this is a deep group. Overall, the entire unit gives Denver great flexibility for different packages and in case of injury.

Kansas City Chiefs:
The Chiefs boast one of the best secondaries in the NFL. It starts with the cornerbacks, who form arguably the top unit in the league. The new Chiefs regime went to work in free agency, adding
Dunta Robinson
and
Sean Smith
, two of the better cornerbacks available. Combine Robinson and Smith with incumbent
Brandon Flowers
-- known around the scouting community as one of the NFL's better corners -- and it's a powerful group. Expect all three to be on the field often. The Chiefs aren't too shabby at safety, either. They have
Eric Berry
, one of the best in the game, who came on strong at the end of last season after missing virtually all of 2011 with a torn anterior cruciate ligament.
Kendrick Lewis
is injury-prone but solid; any team where a player like Lewis is the weak link in the secondary is in pretty nice shape. The Chiefs also expect fifth-round pick
Sanders Commings
to play a big role, likely at safety.

Oakland Raiders:
Last season, Oakland had perhaps the worst secondary situation in the NFL, especially at cornerback. That is no longer the case: The rebuilding Raiders are significantly better there in 2013. Oakland added
Mike Jenkins
and
Tracy Porter
via free agency and
D.J. Hayden
with the No. 12 overall pick in the draft; they figure to be the Raiders' top three cornerbacks, with Hayden and Jenkins the starters. Hayden, though, must show he can stay healthy after a life-threatening heart surgery last November. He missed the past few weeks of the offseason program after undergoing a procedure to repair scar tissue in his stomach, a side effect of the heart surgery. The team expects him back for training camp in late July. Jenkins and Porter fell out of favor in recent seasons and are not upper-level cornerbacks -- but they are professionals and will help. The safeties have a chance to be strong.
Tyvon Branch
is a very solid player, and Oakland's shining moment of the offseason was when it brought back
Charles Woodson
. Yes, he turns 37 in October, because he can still help this team. This unit may not be elite, but it will be competitive and not hamper Oakland's defense.

San Diego Chargers:
This is probably the thinnest group in the AFC West -- but it is top-heavy. Safety
Eric Weddle
is an elite player and a tremendous anchor for this unit. San Diego let 2012 starters Jammer and
Antoine Cason
walk via free agency without a fight -- but did a nice job in bringing aboard former Jaguars cornerback
Derek Cox
, a scout favorite. Young
Shareece Wright
has a chance to start at the other cornerback spot. Opposite Weddle could be 2012 third-round pick
Brandon Taylor
, if he recovers from a torn ACL, or
Darrell Stuckey
.
Marcus Gilchrist
could also be in the mix. This unit has a chance to be competitive as the season goes on and has some interesting youth. For now, though, there are probably more questions about it than any of the division's other secondaries.
April, 27, 2013
4/27/13
9:00
PM ET
Here are some random draft thoughts:
The Chargers added another interesting young cornerback -- Cal's Steve Williams in the fifth round. He has a chance to quickly climb the depth chart.
Denver added yet another interesting receiving weapon when they took Georgia's Tavarres King in the fifth round. He averaged more than 19 yards per catch for his career.
I like the two tight ends Oakland took in the sixth round, Colorado's Nick Kasa and Tennessee's Mychal Rivera. This is a two tight end league, so it makes sense. These picks put some pressure on David Ausberry. He has yet to develop. He better do it now or the youngsters will take his job.
The Raiders took a promising Division II pass-rusher in David Bass of Missouri Western in the seventh round. He has natural pass-rush skills. Yet, he is a long-term project.
Oakland general manager Reggie McKenzie did a nice job wheeling and dealing. He turned seven picks into 10. That is important for a team that is totally rebuilding. All 10 players have a legitimate chance to make Oakland's roster.
For what it's worth, Kansas City coach Andy Reid said the Chiefs were not going to take USC quarterback with the second pick of the fourth round. The Eagles moved up ahead of the Chiefs and took Matt Barkley with the first pick of the day. Barkley said he heard the Chiefs were interested in him. Kansas City did not take a quarterback.
Reid said fourth-round pick Nico Johnson will compete with free-agent newcomer Akeem Jordan for an starting inside linebacker spot. My money is on Johnson. Big-league player.
The Packers are reportedly interested in trading running back James Starks. Oakland could use another running back. It did take Central Florida's Latavius Murray in the sixth round.
With the Vikings drafting a punter, perhaps Chris Kluwe will become free at some point and perhaps Oakland could show interest. It only has unproven Marquette King in the aftermath of longtime star Shane Lechler signing with Houston.
Reid said fifth-round pick Sanders Commings will play free safety and seventh-rounder Mike Catapano will play outside linebacker. The Princeton product has strong pass-rush skills.
New Denver pass-rusher Shaun Phillips -- the former Charger who signed Saturday -- said he is fine playing defensive end in a 4-3. He was a linebacker in the Chargers' 3-4. Regardless of the spot, Philips' position will be as a pass-rusher and he will be moved around.