June, 30, 2011
6/30/11
1:00
PM ET
»
Best of NFC
:
East
|
West
|
North
|
South
»
AFC
:
East
|
West
|
North
|
South
As part of Best of the NFL Week on ESPN.com, here are six bests for the NFC North:
[+] Enlarge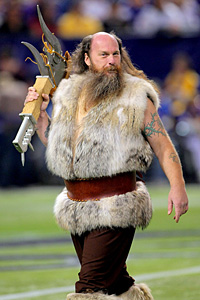 Doug Pensinger/Getty ImagesRagnar is the Minnesota Vikings' game-day mascot.
Best mascot, Ragnar:
Every now and then, a kid feels compelled to tug the beard of the "Santa Claus" sitting atop his chair at the local mall. I imagine the same urge strikes some football fans when they encounter Ragnar, the real-life Viking who serves as the
Minnesota Vikings
' game-day mascot. Joseph Juranitch has a real beard and has his own
Viking-style life history to share
. You might be surprised that he was born in the middle of Packers territory (Milwaukee), but you probably wouldn't be shocked to know he claims to hold the world record for shaving a beard with an axe (eight minutes, 43 seconds).
Best team facility, Allen Park:
It might be cool to show up for work every week at Lambeau Field, but the
Detroit Lions
' Allen Park facility is a
sparkling and first-class building
with most every amenity imaginable. (And I'm not just saying that because the press room includes a stocked kitchenette.) Opened in 2002 at the price of $36 million, it is smartly organized and features a cool two-story hallway that separates the locker room from the weight room. For those interested, it was also ahead of its time in terms of renewable resources, including bamboo floors in the lobby and rubber floors elsewhere.
Best throwback uniforms to hate, Packers:
Throwback jerseys generally get the benefit of the doubt, but I don't think I'm alone in hoping that the Packers never, ever, never, ever, never wear the
1929 uniforms
they threw on for last season's game against the
San Francisco 49ers
. Brown pants, a different shade of brown helmets, along with blue jerseys and numbers centered in a circle on the front aren't my idea of a good time. Occasionally, progress is a good thing.
Best non-meddling owner:
I've been critical of Vikings owner Zygi Wilf's
communication skills
, but I would have to imagine he's among the top five owners in the NFL to work for. Since buying the team in 2005, Wilf has given his football people almost everything they've asked him for. He has busted his player payroll budget on a number of occasions, going back to his minority investors to ask for cash infusions, and to my knowledge has never imposed his personal views on a football decision. Wilf is involved but doesn't meddle, the best combination imaginable.
Best training camp site, Green Bay Packers:
Most people imagine ideal NFL training camps in a small college town away from the hustle and bustle of the team's big-city roots. The Packers have all that and more at their year-round facility surrounding Lambeau Field. (Players live in dormitories at nearby St. Norbert College.) Players face a long walk from the locker room to their practice field, so the tradition of kids lending out their bicycles and carrying helmets lives on. The ensuing scramble is one of the NFL's most endearing training camp scenes. The Packers have upgraded their facility to include bleachers and concessions, eliminating the need for fans to stand on a sidewalk outside a chain-link fence, but the Packers' training camp remains the most unique of experiences.
Best rivalry, Packers-Bears:
A few years ago, I got in trouble for suggesting that the Packers-Vikings rivalry had surpassed Packers-Bears in intensity in recent years. I still think there was more animosity between the actual teams themselves during the Mike Tice/Brad Childress and Mike Sherman/Mike McCarthy eras. But from a fan standpoint, which is really all that matters, there is no substituting Packers-Bears. We found that out last January in the weeks leading up to
the Epicenter of Humanity
, a.k.a. the NFC Championship Game.
August, 3, 2010
8/03/10
1:45
PM ET
ALLEN PARK, Mich. -- Regular blog readers are no doubt loving the fact that a
Brett Favre
story has surfaced during my annual trip to
Detroit Lions
camp for the second consecutive year. But while ignoring my near-constantly ringing cell phone, I stole a few minutes Tuesday afternoon with Lions quarterback
Matthew Stafford
-- who had an interesting response to initial reports that Favre won't play for the Vikings this season.
"I grew up watching him," Stafford said. "He's unbelievable. I kind of want him to come back because I want to play against him again. He got me twice last year. I want to see if I can get him before he gets out of here."
Stafford, still a relative youngster in the NFL, offered a straight answer to the question. But early reaction around the NFC North has been filled with the same kind of skepticism that
we expressed earlier
. My ESPNChicago.com colleague Jeff Dickerson
checked in with this reaction
from Bears linebacker
Lance Briggs
and tight end
Desmond Clark
:
Briggs: "I won't believe it until I see Tarvaris Jackson starting against us. If he's starting, we'll go from there. Either way, we still got a job to do."

Clark: "Right now, I don't believe any news that comes out about Favre until it's made official. If he does retire, Minnesota is still a good team. Of course, they're better with Brett Favre, but you look at all the parts they have there, they could still be a championship team without Brett Favre. They have a great running game. Their receivers stepped up last year, especially Sidney Rice. You look at their defense, they still have all the parts. They still may be looked at as the favorites in the conference without Brett Favre. I don't think it drops them down the rung too much."
In Green Bay, linebacker
Nick Barnett
said: (via
Chris Jenkins of the Associated Press
: "It's like believing in Santa Claus. You get gifts, but you ain't seen Santa Claus. So we don't know."
Barnett added (via the
Milwaukee Journal Sentinel
): "We were going to do the same thing without him coming back or not. But do I believe it? I don't even know if I care enough to believe it or not to be honest. It's his career, he's got to do what he's got to do. But it doesn't change nothing for us. We're going to have the same goal whether it's Tarvaris, Jeffrey Dahmer or Norman Bates quarterbacking. We're still trying to do the same thing."
I can't imagine why he would think that.