NFL Nation:

Scott McCurley
June, 7, 2014
6/07/14
8:00
AM ET
Each week, I will ask for questions via Twitter with the hashtag #PackersMail and then will deliver the answers over the weekend.
February, 10, 2014
2/10/14
4:45
PM ET
GREEN BAY, Wis. -- There are alterations coming to the Green Bay Packers' defense but nothing dramatic like a switch from the 3-4 as their base scheme.
Despite changes to the structure of defensive coordinator Dom Capers' coaching staff that seemingly could have made it easy to transition to a 4-3 scheme, the Packers are not headed in that direction.
"Our defense is going to change some," Packers coach Mike McCarthy said Monday. "You don't ever stay the same. I'll set the vision for the defense. Dom Capers and the defensive staff will carry it out."
[+] Enlarge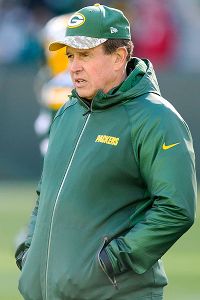 Jeff Hanisch/USA TODAY SportsDom Capers' defense struggled at times last season amid a rash of injuries to key players.
The biggest change -- so far -- is how the linebackers will be coached. Last week, McCarthy announced that assistant head coach Winston Moss, who previously coached inside linebackers, will add outside linebackers to his duties following the resignation of Kevin Greene.
Under that coaching structure, it would have made it possible for McCarthy to integrate more 4-3 principles into the defense.
While not all of the defensive changes have been hammered out, that will not be one of them.
"The only thing that I've been instructed is basically the structure's going to stay the same as far as the 3-4," Moss said. "If anything changes there, then that has not been made available to me so I'm moving forward that we'll be structurally the same. Obviously my approach will just naturally bring some different philosophies and different approaches from the standpoint that I like to have a sense of those guys just doing a lot of things well."
The Packers slipped to 25
th
in the NFL in yards allowed last season, down from 11th in 2012, and reverted to the form of 2011, when it finished last in the league. In Capers' first two seasons as the Packers' defensive coordinator, his units ranked second and fifth.
Injuries to key defensive players -- most notably outside linebackers
Clay Matthews
and
Nick Perry
and cornerback
Casey Hayward
-- prevented Capers from using some of the myriad packages and concepts in his playbook last season.
From the sound of it, McCarthy wants to get back to being more versatile on defense.
"We were not as multiple maybe this year as we've been in prior years really because of the stress of injuries on that unit so we want to get back to some of the things that we did very well in the past and make sure we're carrying enough packages to utilize all of our players," McCarthy said. "We obviously need to get better on defense, and I think these moves that we've made on defense will definitely put us on that path."
McCarthy said Capers, who has run a 3-4 system his entire NFL coaching career, has previously utilized one coach to oversee both the inside and outside linebackers even though he has never done so in Green Bay. Plus, Moss will have an assistant, Scott McCurley, who was promoted from defensive quality control coach.
While the responsibilities of the inside and outside linebackers differ significantly in Capers' scheme, the voice in front of the position meeting room will be the same.
"You know, Winston, he's really going to be the leader of the group," McCurley said. "I think the players have a huge amount of respect for Winston's leadership, and what he brings to the table there, and from there, I'm there to assist him, whether it be inside guys or outside guys."
February, 2, 2011
2/02/11
3:51
PM ET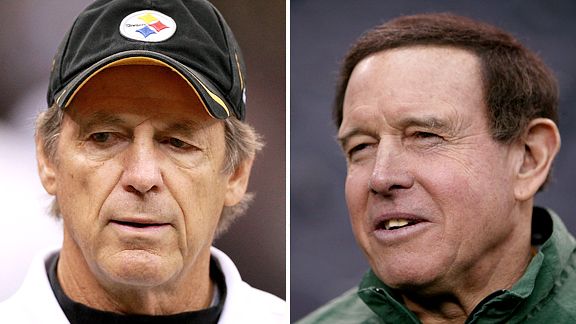 US Presswire/Getty ImagesTwo of the NFL's most-experienced defensive coordinators -- Pittsburgh's Dick LeBeau, left, and Green Bay's Dom Capers -- will square off Sunday in Super Bowl XLV.
IRVING, Texas -- On a bitterly cold day two years ago, Mike McCarthy pulled up to Green Bay's Austin Straubel Airport to meet a candidate for his open defensive coordinator job. Dom Capers stood waiting with two bags. One was an overnight suitcase. The other, in McCarthy's words, was "a humongous bag of books."
"Let's just say he's old school," McCarthy said.
Within those spiral-bound books were Capers' football life and the symbol of everything he's about. Some were nearly 20 years old, including the original 3-4 defensive scheme that he and longtime collaborator Dick LeBeau wrote in longhand when both were with the
Pittsburgh Steelers
in 1992. They contain philosophical tomes, terminology and as many as 21 diagrams per page. Those who have original copies say the margins are littered with edits in LeBeau's or Capers' handwriting.
Super Bowl XLV will feature two of the most innovative defensive coordinators in NFL history. Neither uses a computer for much more than ambient light in a dark office. In a victory for old-schoolers everywhere, they have surrounded themselves with technology-savvy assistants who, in Capers words, "take care of the computer stuff for me" while they handle the important and irreplaceable tasks of critical thinking and planning.
"It's kind of funny," Capers said. "The young guys now are computer gurus, so they come to a job interview with a computer. But Dom still comes in with a bag full of notebooks. You do something a certain way and you know how you like to do it, and that's the way I learn and prepare to call a game. I need it in terms I understand."
(For clarity's sake, yes, Capers referred to himself in the third person in the preceding quote.)
You might expect such reluctance from LeBeau, who at 73 is the NFL's oldest defensive coordinator. Capers, on the other hand, is still spry at 60. But he long ago passed on the computer age that has overtaken the NFL, and to this day still hand-writes every game plan and compiles his own postgame statistics by manual arithmetic.
Technologically stuck sometime in 1982, Capers refers to "computer printouts" and doesn't care to distinguish the difference between a USB card -- which players now store their playbooks and game film on -- and what he calls a "computer chip."
"I'm always teasing him," Packers defensive line coach Mike Trgovac said. "He works up these stats and everything after the game. He's hand-drawing them himself and working them all out. I always tell him, 'Hey, the computer can figure that all out in two minutes.' But he's just got his way to do it. You can punch that into the computer in one second. But he's not going to do it. He's not going to change the way he does it, because it works."
Capers' current "computer guy" is Packers quality control coach Scott McCurley, 30. Every Monday, McCurley walks into Capers' office and sets up a series folders on his computer desktop. One might contain files of game video, another might have a practice schedule.
"Then he can double-click on whatever he wants and is off and going," McCurley said.
To be clear, we aren't attempting to paint Capers as a bumbling or washed-up figurehead. In speaking to people about him this week, it was a joy to discover the value of a timeless scheme that had enough staying power that it drove two teams to the Super Bowl 18 years after it was devised.
Yes, in 1992, new Steelers coach Bill Cowher hired Capers as his defensive coordinator and LeBeau as his secondary coach. Marvin Lewis was the linebackers coach. Together, they literally wrote the scheme that both teams will play in Sunday's game.
"I think history has proven that we had some good ideas," LeBeau said.
Depending on who you ask, the notebooks that comprise the scheme add up to anywhere from 750-900 pages. Packers safeties coach Darren Perry, whom the Steelers drafted in 1992, has an original copy.
"It's my bible," Perry said. "You know you have an original when you see their handwriting. Nothing in it is typed out. ... If it's a new book you can tell it's typed. If you get an original, it's handwritten."
There have been revisions and tweaks, most of which are based on the reports Capers hand-writes after every game. But at the same time, Capers gives his assistants the latitude to present and teach the scheme on their own terms.
"We've had numerous talks about updating our installation schedules," Trgovac said. "You have to know your players, and these guys grew up playing Madden football. They're not used to 'X' and 'O's' on a sheet of paper. They need those kinds of graphics to understand. As coaches, you have to keep up with these players, what they do and how they learn. Dom does a good job of surrounding himself with guys to do that."
When you see the Packers' defense jog onto the field Sunday, rest assured they will be guided neither by statistical tendencies nor computer "readouts." Their game plan will be the work of a man who literally wrote the book on this system, a man who sat at a desk last week with a pen and an bag of multicolored highlighters and wrote down his plan to help win a Super Bowl championship. Based solely on his own knowledge, instincts and a file of reports from every game he has coached, Capers will almost certainly make a call or two that the NFL has never seen.
Occasionally, he'll pull linebacker
Desmond Bishop
aside with an idea.
"He'll write down something in what looks like chicken scratch," Bishop said. "But it's amazing how he can point to something that you never, ever would have seen on your own. That's how locked in he is with this defense."
It's all there for the reading, quite literally in black and white. No readouts. No computer chips. Just a man, his brain a pen and paper. How novel.
February, 3, 2009
2/03/09
7:42
AM ET
Posted by ESPN.com's Kevin Seifert
There have been no announcements, but Judd Zulgad of the Star Tribune reports Minnesota has a new special teams coordinator.
Brian Murphy, who spent the past three seasons as the Vikings' assistant special teams coach, has been promoted to replace the departed Paul Ferraro. Murphy spent 14 seasons as a college coach, the last six at Wisconsin. He did not cross paths with Minnesota coach Brad Childress at Wisconsin but was recommended by former Badgers coach Barry Alvarez.
Ferraro left the team last month to join St. Louis as its linebackers coach. The Vikings gave up an NFL-record seven touchdowns on special teams last season. It was the only significant change to the Vikings' coaching staff this offseason.
Continuing around the NFC North on this chilly Tuesday morning: