NFL Nation:

Scott McKillop
May, 11, 2013
5/11/13
12:03
PM ET
Aaron Curry
's recent
signing
with the
New York Giants
invites a look back at the 2009 NFC West draft class, painful as it might be in some cases.
Four of the 29 players NFC West teams selected in that draft remain with their original teams:
Michael Crabtree
in San Francisco,
James Laurinaitis
in St. Louis,
Max Unger
in Seattle and
Rashad Johnson
in Arizona.
Unger is the only one of the 29 to earn Pro Bowl honors. Unger and Laurinaitis are the only ones to receive long-term contract extensions from their original teams.
NFC West teams have fired the head coaches and general managers associated with those 2009 selections.
Reasons for those firings went far beyond the 2009 draft, of course. Still, the massive turnover since that draft reflects poorly on what was, by most accounts, a weak class across the league. It also shows how frequently personnel turns over in the NFL. The league has 21 new head coaches and 19 new general managers since the 2009 season concluded.
Curry was widely considered the "safest" choice in that 2009 draft as a fearsome linebacker from Wake Forest. Seattle would trade him to Oakland for seventh- and fifth-round picks before Curry had finished his third season.
Jason Smith
, chosen second overall by St. Louis in 2009, supposedly had a mean streak and was a natural leader. The Rams would trade him to the
New York Jets
for
Wayne Hunter
after three disappointing seasons.
Beanie Wells
came to the Cardinals in the first round of that 2009 draft pretty much as advertised: highly talented, but not very durable. The Cardinals released him this offseason, and Wells remains unsigned amid questions about his knee.
2009 was also the year Arizona sought to upgrade its pass-rush by selecting Cody Brown in the second round. The 49ers tried to improve their depth at running back by using a third-round choice for
Glen Coffee
. Brown would never play in an NFL game. Coffee would retire after one season.
The chart shows how many regular-season NFL starts each 2009 NFC West draft choice has made, regardless of team.
April, 26, 2011
4/26/11
8:21
PM ET
Drafting Texas A&M linebacker
Von Miller
fifth overall would help the
Arizona Cardinals
catch up with their division rivals in at least one category.
Since 2005, linebackers drafted by Arizona have combined to start only 16 games for the team, with 2010 second-round choice
Daryl Washington
starting 11 of them.
Cody Brown
(2009),
Buster Davis
(2007) and
Darryl Blackstock
(2005) combined to start two games for the team, both by Blackstock, despite entering the NFL as second- or third-round selections. Only Brown remains in the NFL.
The
Seattle Seahawks
have gotten 145 starts from second- and third-round linebackers during the same span. Overall, linebackers drafted by NFC West teams since 2005 have combined to start 423 games for their original teams: 180 for Seattle, 173 for San Francisco, 54 for St. Louis and 16 for Arizona.
Washington showed last season he's likely to help Arizona close the gap. The 49ers could lose 57-game starter
Manny Lawson
in free agency. Seattle could move on without 61-game starter
Leroy Hill
while teammate
Lofa Tatupu
, a three-time Pro Bowl choice with 84 starts, is coming off surgeries on both knees.
With that in mind, I'll continue our
position-by-position series
on relatively recent NFC West draft choices with a look at linebackers.
Italics identify what teams might have been thinking as they entered various stages of the draft.
In the charts, I've used the term "not active" to describe, in most cases, players who weren't on regular-season rosters recently, including
Jon Alston
, recently cut by Tampa Bay.
Some players described as "starters" or "backups" could see their roles change pending free agency, roster changes and other dynamics.
We'd better find perennial Pro Bowlers in this range ...
Feeling safe drafting linebackers in this range ...
Not really sure what we're getting here ...
More questions than answers, but worth a shot ...
Not too late to find special-teams contributors, and possibly more ...
September, 8, 2010
9/08/10
2:21
PM ET
Roster turnover is a leading topic for discussion in Seattle following the release of
T.J. Houshmandzadeh
in particular.
I've addressed the subject in depth across the division -- first
May 26
and again
July 30
-- and it's worth another look now that teams have reduced to 53 players for the regular season.
This time, I'm going to break down the changes by position, listing players no longer on the active roster at each main position group (with new players in parenthesis). Departures outnumber replacements because some players finished last season on injured reserve, meaning they were not part of the 53-man roster.
Some players no longer on the active roster remain with the team (they could be suspended, deemed physically unable to perform or part of the practice squad).
St. Louis Rams (34 off roster)

Defensive back:
Eric Bassey
,
Quincy Butler
,
Danny Gorrer
,
Clinton Hart
, Cordelius Parks,
David Roach
,
Jonathan Wade
(added
Kevin Dockery
,
Jerome Murphy
,
Darian Stewart
)
Defensive line:
Victor Adeyanju
,
Adam Carriker
,
Leger Douzable
,
Leonard Little
,
LaJuan Ramsey
,
James Wyche
(added
Jermelle Cudjo
,
Fred Robbins
,
George Selvie
,
Eugene Sims
)
Linebacker:
K.C. Asiodu
,
Paris Lenon
(added
Na'il Diggs
,
Josh Hull
)
Offensive line:
Roger Allen
,
Alex Barron
,
Ryan McKee
,
Mark Setterstrom
,
Phillip Trautwein
,
Eric Young
(added
Renardo Foster
,
Hank Fraley
,
Rodger Saffold
)
Quarterback:
Kyle Boller
,
Marc Bulger
,
Keith Null
,
Mike Reilly
(added
Sam Bradford
,
A.J. Feeley
,
Thaddeus Lewis
)
Running back:
Samkon Gado
,
Chris Ogbonnaya
(added
Keith Toston
)
Special teams:
Ryan Neill
Tight end:
Randy McMichael
(added
Mike Hoomanawanui
,
Fendi Onobun
)
Wide receiver:
Donnie Avery
,
Keenan Burton
,
Brooks Foster
,
Jordan Kent
,
Ruvell Martin
(added
Mark Clayton
,
Dominique Curry
,
Mardy Gilyard
)
---
Seattle Seahawks (33 off roster)

Defensive back:
Jamar Adams
,
Deon Grant
,
Ken Lucas
,
Josh Wilson
(added
Kam Chancellor
,
Kennard Cox
,
Nate Ness
,
Earl Thomas
,
Walter Thurmond
)
Defensive line:
Lawrence Jackson
,
Patrick Kerney
,
Cory Redding
,
Nick Reed
,
Darryl Tapp
,
Craig Terrill
(added
Kentwan Balmer
,
Raheem Brock
,
Chris Clemons
,
Dexter Davis
,
Junior Siavii
,
E.J. Wilson
)
Linebacker:
Leroy Hill
,
Lance Laury
,
D.D. Lewis
(added
Matt McCoy
; note that Hill is suspended for the first regular-season game)
Offensive line:
Trevor Canfield
,
Brandon Frye
,
Walter Jones
,
Damion McIntosh
,
Rob Sims
,
Steve Vallos
,
Ray Willis
,
Mansfield Wrotto
(added
Stacy Andrews
,
Evan Dietrich-Smith
,
Ben Hamilton
,
Russell Okung
,
Chester Pitts
,
Tyler Polumbus
)
Quarterback:
Mike Teel
,
Seneca Wallace
(added
Charlie Whitehurst
)
Running back:
Justin Griffith
,
Louis Rankin
,
Tyler Roehl
,
Owen Schmitt
(added
Quinton Ganther
,
Michael Robinson
,
Leon Washington
)
Special teams:
Kevin Houser
,
Jeff Robinson
(added
Clint Gresham
)
Tight end:
John Owens
(added
Chris Baker
,
Anthony McCoy
)
Wide receiver:
Nate Burleson
, T.J. Houshmandzadeh (added
Golden Tate
,
Mike Williams
)
---
Arizona Cardinals (24 off roster)

Defensive backs:
Ralph Brown
,
Bryant McFadden
,
Antrel Rolle
(added
A.J. Jefferson
,
Trumaine McBride
,
Brandon McDonald
,
Kerry Rhodes
)
Defensive line:
Jason Banks
(added
Dan Williams
)
Linebacker:
Monty Beisel
,
Bertrand Berry
,
Cody Brown
,
Karlos Dansby
,
Gerald Hayes
,
Chike Okeafor
,
Pago Togafau
(added
Paris Lenon
,
Cyril Obiozor
,
Joey Porter
,
Daryl Washington
; Hayes can return from the physically unable to perform list after six games)
Offensive line:
Mike Gandy
,
Herman Johnson
,
Reggie Wells
(added
Alan Faneca
,
Rex Hadnot
)
Quarterback:
Matt Leinart
,
Brian St. Pierre
,
Kurt Warner
(added
Derek Anderson
,
Max Hall
,
John Skelton
)
Running back:
Justin Green
,
Dan Kreider
(added
Jerome Johnson
)
Special teams:
Neil Rackers
(added
Jay Feely
)
Tight end:
Anthony Becht
(added
Jim Dray
)
Wide receiver:
Anquan Boldin
,
Sean Morey
,
Jerheme Urban
(added
Andre Roberts
,
Stephen Williams
)
---
San Francisco 49ers (24 off roster)

Defensive backs:
Dre' Bly
,
Walt Harris
,
Marcus Hudson
,
Mark Roman
(added
Phillip Adams
,
Tramaine Brock
,
William James
,
Taylor Mays
)
Defensive line:
Kentwan Balmer, Derek Walker
Linebacker:
Scott McKillop
,
Jeff Ulbrich
,
Matt Wilhelm
(added
NaVorro Bowman
,
Travis LaBoy
)
Offensive line:
Tony Pashos
,
Chris Patrick
,
Cody Wallace
(added
Alex Boone
,
Anthony Davis
,
Mike Iupati
)
Quarterback:
Nate Davis
,
Shaun Hill
(added
David Carr
,
Troy Smith
)
Running back:
Thomas Clayton,
Glen Coffee
,
Brit Miller
, Michael Robinson (added
Anthony Dixon
,
Brian Westbrook
)
Special teams:
Shane Andrus
,
Ricky Schmitt
Wide receiver:
Arnaz Battle
,
Isaac Bruce
,
Jason Hill
,
Brandon Jones
(added
Ted Ginn Jr.
,
Kyle Williams
,
Dominique Zeigler
)
---
The first chart shows how many players are back -- at least for now -- from Week 17 rosters and injured reserve lists. Seattle has the fewest number back with 26.
The second chart shows how many players each team has shed since Week 17 last season. This counts players who were on injured reserve. Teams with lots of players on injured reserve had more players to lose.
July, 29, 2010
7/29/10
1:50
PM ET
Jesper from Denmark continues to see his NFC West blog legacy grow.
What began as
his critical look
at the
St. Louis Rams
has turned into a four-part series. We're back with a look at the
San Francisco 49ers
after
covering
the
Seattle Seahawks
on Wednesday.
Thanks to all who reached out and volunteered to engage me in conversation.
Facebook
friend Aaron was the first to come through with his thoughts, so here we go ...
Quarterback
[+] Enlarge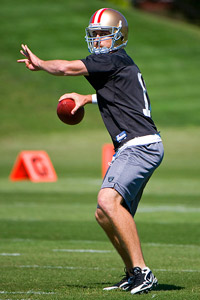 Kyle Terada/US PresswireAlex Smith threw for 2,350 yards and 18 touchdowns last season.
Aaron:
Alex Smith
is coming off of his best statistical season and for the first time in his career is going to have a true No. 1 receiver in
Michael Crabtree
, a Pro Bowl target in
Vernon Davis
and the same offensive coordinator. There are still questions about whether he can put the team on his back and win, but if he can show some of what he did against Seattle back in 2007, then there is a chance he could start climbing the QB ranks.
David Carr
has more arm strength than
Shaun Hill
and might finally be over his shell-shocking in Houston.
Nate Davis
has the tools as a No. 3 quarterback who can develop. Verdict: improved just because Alex will be more comfortable and farther ahead in the playbook than a year before.
Sando:
I'd rather have Hill than Carr as a backup if I were the 49ers. He won games as the 49ers' starter, knew the offense and had the respect of teammates. I also understood the thinking in going with a more physically talented player. The 49ers wanted someone with more long-term starting potential. The 49ers should be better at quarterback as Smith becomes more experienced in the system.
Running back
Aaron:
Frank Gore
is Frank Gore; I love him he does everything you want a back to do. He has the power you don't expect out of someone his size. His ankles are what worry me, though. Two years in a row, he has had to miss games because of them.
Glen Coffee
and
Anthony Dixon
have not earned any of my trust. It almost feels like they are slower less powerful versions of Gore, with worse vision. Verdict: same or slightly better because the offensive line should improve.
Sando:
Coffee should be improved in his second season. As a rookie, he was thrown into the lineup before he was ready and struggled behind a floundering line. As with quarterback, I think the situation has improved more than the talent has improved. The 49ers have had an offseason to set up their offense in a way that suits Gore and Smith together. They essentially had two offenses last season, one for Gore and one for Smith. There's still reason to wonder whether a back best suited for running out of the I-formation can produce consistently playing with a quarterback most comfortable with spread-type formations. But the 49ers have had plenty of time to remedy the situation. Gore should be in better position as a result.
Wide receiver
Aaron:
Crabtree gets a full offseason to get the playbook and develop chemistry with Smith. He looked like a pro when he came in and now he truly gets to show his stuff. I see a possible Pro Bowler.
Josh Morgan
is a solid No. 2 who can show flashes of breaking away. Ted Ginn Jr. -- if he catches the ball -- can be a game-changer from the slot or out wide. Even if he's just a decoy, Ginn will help with what I feel is the one weakness on offense -- speed.
Jason Hill
, I love, and I wish he could stay healthy and get a good chance. I feel he'd be a better No. 2. In the games he's played in, he's produced. The rest of the guys are playing for the No. 5 spot on the team. I'm not so sure
Brandon Jones
will make it or is worth what we spent on him. Verdict: better.
Mike Sando:
The 49ers haven't had the personnel at this position recently to justify putting three wide receivers on the field during early downs at the expense of
Delanie Walker
or
Moran Norris
. Their three-receiver stuff was reserved mostly for third downs last season. This is one area where the 49ers need to diversify. Ginn is the key variable. The threat of what he can do could matter as much as what he actually does. The speed factor could upgrade this largely inexperienced group. The 49ers' wide receivers have 26 career touchdowns. Only the Rams' wideouts have fewer (13) among division teams. That isn't necessarily bad, but it's a reminder that this group must prove itself.
Isaac Bruce
's retirement opens a roster spot for a player who might develop. Crabtree should improve with a full offseason of practice.
October, 7, 2009
10/07/09
12:08
PM ET
NFC Rookie Surprise: East | West | North | South AFC: East | West | North | South

Posted by ESPN.com's Mike Sando

| | |
| --- | --- |
| | |
| | Kyle Terada/US Presswire |
| | San Francisco 49ers linebacker Scott McKillop is the only rookie in the NFC West to score a touchdown. |
Few unheralded rookies in the NFC West have made significant contributions to their teams in the first four weeks of the regular season.
Scott McKillop
, a fifth-round choice from Pitt, scored a touchdown on special teams Sunday to earn NFC West honors as the rookie surprise among players drafted after the first two rounds or not drafted at all.
"He came up big getting the ball in the end zone and scoring a touchdown," coach Mike Singletary said.
Singletary praised McKillop among several 49ers players, including
Patrick Willis
, for their efforts during a 35-0 victory over the Rams in Week 4. The team would like McKillop to eventually develop as a successor to
Takeo Spikes
at inside linebacker. Whether or not that happens, McKillop has already done something no other rookie in the NFC West has accomplished: score a touchdown.
The Rams and 49ers were scoreless deep into the second quarter when
Andy Lee
's punt struck the Rams'
Quincy Butler
in the leg at the St. Louis 20. Butler kicked the ball toward the end zone, where a hustling McKillop pounced on it. The touchdown gave the 49ers a 7-0 lead heading into halftime. The score remained 7-0 until the 49ers broke open the game during the second half of the third quarter.
Rookie Watch
Scouts Inc. is keeping a weekly watch on the league's top rookies.
Rookie Watch
I considered 49ers running back
Glen Coffee
as a potential surprise rookie, but he was a third-round choice, so expectations were higher, and Coffee hasn't been especially impressive or surprising since replacing an injured
Frank Gore
in the starting lineup.
May, 6, 2009
5/06/09
8:57
AM ET
Posted by ESPN.com's Mike Sando

Bill Coats of the St. Louis Post-Dispatch checks in with Jacob Bell as the Rams guard tries to maintain his weight and bounce back from a tough first season in St. Louis.
Also from Coats: He predicts a 7-9 record for the Rams. Coats during a chat: "I, too, think the Rams have more talent than has been shown the last couple of years, and [Steve] Spagnuolo just might be the right guy to exploit that. However ... it's not easy to overcome a losing culture. If things start heading downhill early [injuries, distractions, losses], it could get ugly again."
More from Coats: The Rams have signed veteran receiver Tim Carter.

Doug Farrar of The League came away impressed after watching Aaron Curry's third practice with the Seahawks. Farrar: "Though these were basically non-contact drills with the most basic formations, Curry showed flashes of excellence in several roles. He was precise and exceedingly quick when he took a false step forward at the line and backpedaled in a zone blitz look five yards back. His side-to-side speed and agility is amazing enough on film, but it really hits home when you're watching him outstride the defenders around him at his size -- he's half a head taller and definitely bulkier than [Lofa] Tatupu and [Leroy] Hill."
John Morgan of Field Gulls breaks down one of Max Unger's plays at Oregon. Unger worked at left guard with the backup offensive line in the Seahawks' post-draft camp. Morgan: "Unger uses guile and football skills to turn his good raw power into sometimes startling functional power."
Also from Morgan: Another play involving Unger.

Scott McKillop of the 49ers provides a rookie diary for 49ers.com. McKillop: "One thing that really stood out to me from our workouts was the conditioning circuit we did both days. By far, it was up there with some of the hardest conditioning workouts I've ever done. I had done stuff like that previously, but I'd never had conditioning and then practice. It's definitely something that signals that we've all gone up another level. We're all professionals now, so you have to take yourself to another level and do stuff you've never done before."
Lowell Cohn of the Santa Rosa Press-Democrat says Alex Smith is down to his final chance with the 49ers, and Smith knows it. Cohn: "Before Saturday's practice, I sat in a room with Smith. He is relentlessly polite, thoughtful and intelligent, and he tried to explain where he's been and where he needs to go. His voice was louder than it has been. In the past he had a soft, conciliatory voice and maybe that was no good. Quarterbacks can't be soft or conciliatory in their work. They are demanding. He started with a long opening statement that evolved into an unburdening, a purging."
Matt Barrows of the Sacramento Bee checks in with Jimmy Williams, who says he has lost 15 pounds, putting him at 225. The goal is 218 by training camp.

Paola Boivin of the Arizona Republic says the Cardinals face challenges staying atop the division and sustaining the success they enjoyed last season.
Bob Young of the Arizona Republic thinks the Cardinals' relationship with Anquan Boldin will worsen as the offseason continues.
Also from Young: Thoughts on Chuck Cecil as the one-time Cardinals safety heads into the College Football Hall of Fame.
May, 4, 2009
5/04/09
9:15
AM ET
Posted by ESPN.com's Mike Sando

Jim Thomas of the St. Louis Post-Dispatch says the Rams' decision to draft James Laurinaitis over Rey Maualuga in the second round could be a defining one for general manager Billy Devaney. Thomas: "These are the types of decisions that can shape franchises and put their stamp on coaching and general manager tenures. For those reasons and more, no Rams draft pick, not even No. 2 overall pick Jason Smith at offensive tackle, will be under as much scrutiny during his rookie season as Laurinaitis."
Bill Coats of the St. Louis Post-Dispatch provides several notes from the Rams' minicamp. I liked Marc Bulger's quote about getting to know center Jason Brown. Bulger: "We're getting there. It's just a feel thing ... you know, literally." Any levity from Bulger is a good thing for the Rams because it suggests he's having fun after a couple of tough seasons.
Bernie Miklasz of the St. Louis Post-Dispatch says the Rams' perceived emphasis on helping Bulger persists even though the team has probably done more to help Steven Jackson. Of course, anything that helps Jackson also helps Bulger.

Kent Somers of the Arizona Republic says the Cardinals' 2008 draft class -- notably defensive end Calais Campbell -- needs to step forward. Good quote from the 6-foot-8 Campbell, who is working on technique: "I've got to be consistent and show them I'm an every-down player. Being 6-8 definitely can be a problem if you don't play with great technique. If you get high and an offensive lineman gets under you, you're going for a train ride."
Also from Somers: Speed isn't a problem for rookie cornerback Gregory Toler.
Bob McManaman of the Arizona Republic says former Rams backup Anthony Becht hopes to become the Cardinals' starting tight end. Coach Ken Whisenhunt: "There's going to be a lot of competition with that group this year, I'm sure of it. We like what we have. I liked what we had last year, too, but we were dealing with a lot of injuries there. It'll be interesting to see how things develop moving forward." Becht's ties to Whisenhunt from their days together with the Jets should help him, to a point. Jerame Tuman also had ties to Whisenhunt.

Ed Thompson of Scout.com caught up with Seahawks rookie Deon Butler before the former Penn State receiver participated in the team's post-draft camp. Butler hadn't made a pre-draft visit to the Seahawks. He had no idea the team was interested in him. Former Penn State teammate Aaron Maybin, who did visit the Seahawks, put in a good word for Butler. The Seahawks liked Maybin, but in drafting Aaron Curry with the fourth overall choice, Seattle selected another player who did not visit team headquarters before the draft.
Rob Staton of Seahawks Draft Blog thinks Aaron Curry has a good chance at becoming defensive rookie of the year in 2009. Staton: "The last six defensive rookies of the year were all linebackers."
Eric D. Williams of the Tacoma News Tribune says Matt Hasselbeck is moving well at Seahawks practices. Hasselbeck surprised and then outran defensive end Darryl Tapp on a bootleg.
Danny O'Neil of the Seattle Times says Hasselbeck and T.J. Houshmandzadeh are working well together. Receiver Courtney Taylor also stood out.

Daniel Brown of the San Jose Mercury News says 49ers rookie linebacker Scott McKillop reminds him of Derek Smith. Brown also touches on the quarterback situation and other rookies. Brown: "Based on his strong play from last season, I think Shaun Hill has the upper hand in the quarterback competition. And he looked crisp on Saturday, betraying his reputation as a shaky practice player."
May, 1, 2009
5/01/09
10:10
AM ET
Posted by ESPN.com's Mike Sando

Darren Urban of azcardinals.com says Anquan Boldin showed up at the Cardinals' facility for a physical examination Thursday. Perhaps that means Boldin will participate in the post-draft camp. Darnell Dockett also showed up. The Cardinals' success in the playoffs undermines players' leverage in these situations, I think. Urban: "Now, whether Boldin practices, we'll have to see. He came down with a sore hamstring at last year's minicamp -- about the time his contract issues first reached a boil. There might be some maladies for those seeking new contracts. Again, we will see. At least the drama of a missing guy will be avoided, and I would assume Boldin -- and to a lesser extent, Dockett -- will be tops on the media's interview list after practice." Holding out would not make much sense.
Kent Somers of the Arizona Republic reports from Chris "Beanie" Wells' introductory news conference at Cardinals headquarters. Quarterback Kurt Warner stunned Wells by sending a text mesage Saturday welcoming the running back to Arizona. Wells: "I was in shock. Kurt Warner was sending me a text message. I remember a few years ago, I was maybe in the sixth and seventh grade, we were watching the St. Louis-Tennessee Titans Super Bowl, and watching him."

Bryan Burwell of the St. Louis Post-Dispatch checks in with Rams quarterback Marc Bulger on the eve of minicamp. Bulger: "Every year, winning cures all. Earlier in my career we were winning and my biggest attribute was that I was steady, low-key, and my teammates knew how much I wanted to win and everything was great. Then all of a sudden, you lose a few years and that's my greatest weakness."
Also from Thomas: "Assuming everyone is on hand today, and this minicamp is still 'voluntary' for the vets, there will be 87 players on the field this morning. Of that group, 47 have one season or less experience on an NFL regular-season roster. Only six of the 87 players are age 30 or older, headed by 34-year-old defensive end Leonard Little."
VanRam of Turf Show Times
addresses key questions facing the Rams. He thinks Bulger will bounce back this season.

Taylor Price of 49ers.com passes along comments from 49ers rookies as they arrived for post-draft minicamp. Michael Crabtree wasn't sure when he would be cleared to practice after recovering from offseason foot surgery, but he should be ready by training camp.
John Crumpacker of the San Francisco Chronicle expects Crabtree, Glen Coffee and Scott McKillop to contribute immediately as rookies. Crumpacker: "Coffee will back up Frank Gore, McKillop will do the same at inside linebacker behind Takeo Spikes, and Pascoe figures to see playing time initially as a blocking tight end."
Matt Maiocco of the Santa Rosa Press-Democrat says where he thinks the 49ers' rookie free agents fit in. Maiocco on running back Kory Sheets: "Sheets has a real chance to win a roster spot. His primary competition will be Thomas Clayton, the team's leading rusher during the past two exhibition seasons. If Sheets proves his worth, it's possible the 49ers could employ three backs, similar to what the N.Y. Giants had with Jacobs, Ward and Bradshaw."
Also from Maiocco: checking in with the 49ers' draft picks. Coffee appears bigger than his listed weight of 209 pounds.
More from Maiocco: The 49ers haven't spoken to the Panthers about a deal for Julius Peppers, but such a move would be logical.
Matt Barrows of the Sacramento Bee says 49ers rookie Nate Davis compares himself to Donovan McNabb.
Daniel Brown of the San Jose Mercury News says Crabtree nearly gave up football for basketbal while in high school. The 49ers are happy Crabtree's father asked the youngster to reconsider.
Also from Brown: Current stories about Crabtree sound strikingly familiar to what people wrote about J.J. Stokes more than a decade ago, including this passage from Clark Judge's story in the Mercury News: "Though [George] Seifert compared Stokes to Dallas All-Pro wide receiver Michael Irvin, the move was reminiscent of the 49ers' 1985 draft-day deal for wide receiver Jerry Rice. Like then, the 49ers are coming off a Super Bowl season. Like then, they have two veteran wide receivers -- Rice and Taylor instead of Dwight Clark and Freddie Solomon. Like then, they struck after two wide receivers -- Michael Westbrook and Joey Galloway instead of Eddie Brown and Al Toon -- disappeared early."

Eric D. Williams of the Tacoma News Tribune quotes Seahawks coach Jim Mora on why it's important for Leroy Hill to attend minicamps. As Mora told KJR radio in Seattle: "A majority of what we're doing on defense terminology-wise and assignment-wise will be different than what Leroy has done his first four years here. So, he is missing valuable time when he's not here in order for him to be a productive football player for us on the field next fall. To ask a guy to come in, in a new scheme, a week before the first regular-season game -- which happens a lot of times with these franchise guys -- and be productive is a pipe dream. It just doesn't happen very often."
John Morgan of Field Gulls sketches out how he thinks the Seahawks might use Hill in conjunction with Lofa Tatupu and Aaron Curry.
Michael Steffes of Seahawk Addicts quotes Mora on how Hill could be used, based on what Mora told KJR: "Leroy will play the &#3
9;Will', which is the weak inside linebacker position. Aaron will play 'Sam', which is the strong outside linebacker position. The way we structure our defense is that they are both typically off the line of scrimmage, playing behind defensive linemen and using their athletic ability to run. There is not a whole lot of differences in what they do. Some small subtle differences, but you'll see three fast, physical, athletic, linebackers working together, and it will be exciting to see."
April, 29, 2009
4/29/09
10:00
AM ET
Posted by ESPN.com's Mike Sando

Jim Thomas of the St. Louis Post-Dispatch emphatically shoots down rumors that the Rams tried to trade Marc Bulger. Moving him was never a remotely realistic option based on salary-cap implications and Bulger's recent struggles. Thomas also wonders whether the Rams would have drafted Jason Smith second overall if they could have known Eben Britton would be available in the second round. He also thinks St. Louis should hold a parade if the Rams win six games in 2009.
VanRam of Turf Show Times examines whether the Rams should have used the second overall choice for an offensive tackle. I think the Rams' hands were nearly tied on this one. They had to emerge from this draft with a starting tackle and they couldn't guarantee that would happen without taking one at the top of the draft. The investments in Bulger and Steven Jackson are too great for the Rams to take chances with their line. If only the team could have found an impact receiver at some point along the way. In retrospect, imagine if the Rams had drafted Michael Crabtree second overall and Britton in the second round. Just a thought.

Matt Barrows of the Sacramento Bee looks at where each of the 49ers' draft choices might fit for the 2009 season. Crabtree becomes the "X" receiver, or split end. The 49ers hope fifth-rounder Scott McKillop eventually succeeds Takeo Spikes in the "Ted" linebacker role. Bear Pascoe projects as Billy Bajema's replacement. Barrows thinks seventh-round defensive lineman Ricky Jean-Francois could be a steal.
Niners scout Ethan Waugh runs through the 49ers' draft choices, with a couple of interesting notes on quarterback Nate Davis. Waugh: "Davis has two techniques that make him unique. First, he typically throws the ball without using the laces. He's actually not the first quarterback I've seen do that. With the proliferation of the spread offense in college and high school football, some quarterbacks are taught to catch the shotgun snap and throw the ball quickly without adjusting it in their hands. Additionally, like Kurt Warner and Ben Roethlisberger, he prefers to wear gloves -- he might not need them in sunny California, but as long as he throws completions, it shouldn't be an issue."
Matt Maiocco of the Santa Rosa Press-Democrat offers a few post-draft thoughts on the 49ers. He wonders how Crabtree's addition will affect the situation at receiver after the team paid $5.4 million in guaranteed money to Brandon Jones. It's a good problem to have. The 49ers never counted on Crabtree being available. They couldn't worry about Jones or Josh Morgan or anyone else when selecting arguably the most talented player in the draft.

Kent Somers of the Arizona Republic says Cardinals coaches considered Travis LaBoy expendable after selecting Cody Brown and Will Davis in the draft. Somers: "The Cardinals were about $1.2 million under the salary before make the moves. They will need the additional space if they are to accomplish their goals of re-signing strong safety Adrian Wilson, inside linebacker Karlos Dansby and receiver Anquan Boldin." Releasing Edgerrin James and Rod Hood created salary-cap room for 2009. Releasing LaBoy produced a short-term cap loss.
Also from Somers: The Cardinals' older pass-rushers had better stay healthy in 2009.
Darren Urban of azcardinals.com thought Matt Ware or Aaron Francisco might be in more imminent danger of release than Hood, but Hood's salary made him vulnerable.
Also from Urban: The Cardinals have no plans to release Chike Okeafor despite a relatively high salary for 2009.

Michael Steffes of Seahawk Addicts lists the Bucs, Falcons, Redskins, Jaguars and Eagles as potential suitors for formerly franchised Seattle linebacker Leroy Hill. So far, so quiet. Most teams are busy gearing up for their post-draft camps. Some teams are also releasing veterans, not adding them, after addressing needs in the draft.
Chris Sullivan of Seahawk Addicts grades the Seahawks' draft choices from 2008. Tyler Schmitt and Brandon Coutu get 'F' grades through no fault of their own.

NFL SCOREBOARD
Thursday, 9/18
Sunday, 9/21
Monday, 9/22
WEEKLY LEADERS