NFL Nation:

scouting combine
February, 21, 2013
2/21/13
1:00
PM ET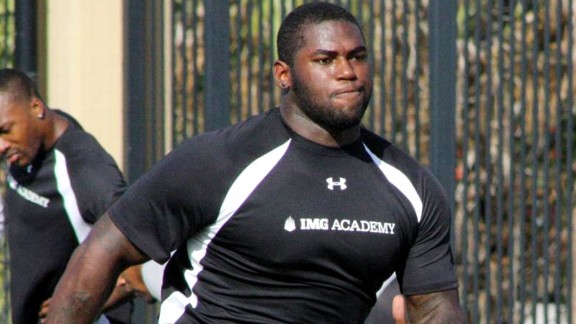 Courtesy of IMG AcademySharrif Floyd, who endured a tough childhood in Philadelphia, is likely to be a first-round pick in April.
BRADENTON, Fla. -- On a sun-splashed Florida afternoon,
Sharrif Floyd
sat and chatted about where he's been and where he's going. It's a remarkable story, one that should fill Floyd with a sense of accomplishment.
But that's not the case.
"Someone told me recently to look in the mirror and reflect on everything," Floyd said. "But I'm not ready yet. It's not time to reflect."
The time is coming, and Floyd knows it. The University of Florida defensive tackle is expected to be a first-round pick in April's NFL draft, and that means he'll get a contract worth millions of dollars. It's so close that Floyd can see it, but he doesn't want to jinx anything. He said he's treating this week's scouting combine as a way to seal his future.
If he does what he's supposed to do in Indianapolis over the coming days, he'll hear his name called in the first round in April. Only then will he pause to reflect.
Only then will he stop to think about how far he's come from his early life in North Philadelphia. Sitting on the posh campus of IMG Academy, where he spent the past six weeks getting ready for the combine, was about as far from North Philadelphia as Floyd could get.
"I grew up in a bad neighborhood," Floyd said. "I didn't have much coming up. My father was in and out of jail. Going to elementary school, I wore the same pair of clothes every day and I was picked on all the time. I wanted to drop out of elementary school."
Aside from sports, nothing came easy. Things weren't easy on the home front.
"I think it's fair to say I was abused growing up," Floyd said. "Pretty much every day or every other day. Extension cords, belts, broomsticks, bamboo sticks, whatever."
Floyd said that came from the man he grew up thinking was his father, but there's another cruel twist involved.
"I found out when I was 16 that he wasn't my real father," Floyd said. "Once I found that out, I moved out. Bounced around and stayed with my grandmother, stayed with my guidance counselor and stayed with some of the other football players. I got it together, hung in there, and I've gotten to where I need to be."
Floyd didn't want to name the man he thought was his father and said he's put distance on that period of his life.
"I don't wake up thinking about it," Floyd said. "But I do use it to remind myself to just work hard, because that's how I got out of a bad situation and I want to stay in a good situation. Once I got into football, I got a lot of good guidance and support."
The best advice of all might have come from Floyd's middle school basketball coach, Michael Edwards, who told him his future might be in football. Floyd didn't start playing football until the eighth grade. But once he started, he didn't stop.
At George Washington High School, Floyd became one of the biggest recruits in Philadelphia history. Still, life wasn't easy. Floyd was chosen for the U.S. Army All-American Combine in 2009, but he couldn't afford the cost of the travel to San Antonio. Other students at his high school made brownies and sold them to make sure Floyd could go.
Floyd landed a scholarship to Florida and immediately earned a starting job. He moved to defensive end as a sophomore and back to defensive tackle last season. Floyd decided to pass up his final season at Florida to enter the draft.
That appears to be a smart move, because most draft experts and scouts rank Floyd as one of the top two or three defensive tackles in the draft. Most projections have him going in the middle of the first round. Coincidentally, the
Carolina Panthers
and
New Orleans Saints
, who both have major needs at defensive tackle, are sitting right in the middle of the first round.
"Sharrif is a guy that has all the tools," said IMG Academy director of football operations Chris Weinke, a former NFL quarterback. "He's going to be a guy that can go in and cause some havoc early on. His quickness for a big man is unmatched. The combination of power and speed with that guy really separates himself at that position. I see him being a real force in the NFL."
Maybe he'll be a force with the Panthers. Or maybe the Saints. Or maybe with some other NFL team.
It doesn't matter to Floyd. He said he doesn't have a particular dream scenario of what team he would like to go to. He just wants to be a first-round pick.
"Right now, I'm still grinding and focused on my goals," Floyd said. "Once this next goal is accomplished, you'll probably see a little bit of excitement and a little bit of tears out of me, and I'll reflect on where I came from. But I'm not there yet."
February, 20, 2013
2/20/13
9:00
AM ET
BRADENTON, Fla. -- When he came to the United States from his native Estonia in 2008,
Margus Hunt
viewed America as the land of opportunity.
"My goal and vision was to be in the Olympics in 2012," Hunt said.
That didn't happen. Instead, Hunt will be going to the National Football League in 2013, which may be an even more amazing accomplishment than if he had gone to the Olympics.
[+] Enlarge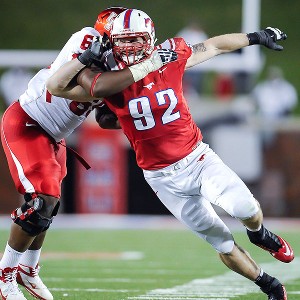 Jerome Miron-USA TODAY SportsMargus Hunt, a defensive end out of SMU, is headed to the NFL scouting combine this week.
The defensive end from SMU is being touted as a possible first-round pick in the April draft (he might even be a consideration for the
Atlanta Falcons
at No. 30 overall). IMG Academy director of football operations director
Chris Weinke
, who has been helping Hunt prepare for the scouting combine, said he expects his pupil to open some NFL eyes in Indianapolis.
"He's a unique individual," Weinke said. "He's a physical specimen. He's going to test out as well as anyone tests out over there. He hasn't played the game a ton. What I see from him is huge upside because of lack of experience. But he's got the mentality that he's going to do whatever it takes. He just needs to get into a system and continue to gain some experience and I think he's going to be around for a long time."
Just getting drafted would be quite a story for a guy that never played high school football and didn't start playing until the 2009 season at SMU.
"Growing up, I vaguely knew what the game was about," Hunt said. "I kind of knew there was a game out there like that, but that's about all I knew."
Part of that was because American football doesn't get a lot of attention in Estonia. But part of it was because Hunt's passion was track and field. Hunt won all sorts of junior championships in the shot put, discus and hammer throw and he thought his path to the Olympics would run through Dallas.
SMU had dropped its men's track program, but coach Dave Wollard was attempting to get it started again. Hunt enrolled at SMU on a part-time basis in 2008 and began working out privately with Wollard.
"After a while, nothing happened, so we had to find a different alternative," Hunt said. "My first option was to go to a different college altogether and work something out. But I really didn't want to leave SMU. The football coaches had always seen me in the weight room and were always bugging me about trying out for the football team. Eventually, coach (June) Jones agreed to let me have a tryout."
Jones must have seen plenty of potential in that tryout because he turned around and gave Hunt a football scholarship. That move paid off nicely for the Mustangs.
Hunt, 6-foot-8 and 277 pounds, recorded 31 tackles, eight sacks, 11.5 tackles for a loss, forced two fumbles and blocked three kicks in his final season.
The one knock is Hunt doesn't have a lot of football experience. But Weinke said that shouldn't be viewed as a negative.
"I've seen him develop a lot since he got here," Weinke said. "He's gotten a lot better technique wise. He's still not a finished product and that's what should be exciting to teams that are looking at him because there still is so much upside."
February, 23, 2012
2/23/12
11:21
AM ET
Most of the NFL world is in Indianapolis for the scouting combine. We'll be keeping tabs on things up there from a distance.
Tampa Bay coach Greg Schiano and Carolina coach Ron Rivera are scheduled to speak to the media later this afternoon. We'll bring you highlights of what they have to say. This will be only the second time Schiano has spoken to the media since his hiring. Now that he's had some time to get settled in, we may get updates on the future of
Ronde Barber
and some official word on where Schiano stands on filling out his staff of assistant coaches.
No word yet if New Orleans coach Sean Payton or Atlanta coach Mike Smith will meet with the media. As we wait for things to develop in Indianapolis, let's take a look at
another mock draft
. This one is from Charlie Campbell.
He has the Bucs taking LSU cornerback
Morris Claiborne
at No. 5. Just about every mock I've seen has the Bucs taking either Claiborne or Alabama running back
Trent Richardson
. I can see the Bucs going either way if all things are equal between those two players.
At No. 9, Campbell has Carolina taking LSU defensive tackle
Michael Brockers
. That's the trendy pick for the Panthers right now. But let's see if the combine workouts change anything.
The Saints and Falcons don't have first-round picks, but Campbell's draft goes four rounds deep. With the 55
th
overall pick, he has the Falcons selecting Virginia defensive end
Cam Johnson
. That makes a lot of sense on the heels of the news that
John Abraham
isn't
likely to re-sign
with Atlanta.
Campbell also has the Saints taking a defensive lineman at No. 59. He has them taking Michigan defensive tackle
Mike Martin
. I think the Saints also could be looking for a defensive end here, but Martin makes sense because he can generate some pressure from the middle of the defensive line.
February, 16, 2012
2/16/12
1:00
PM ET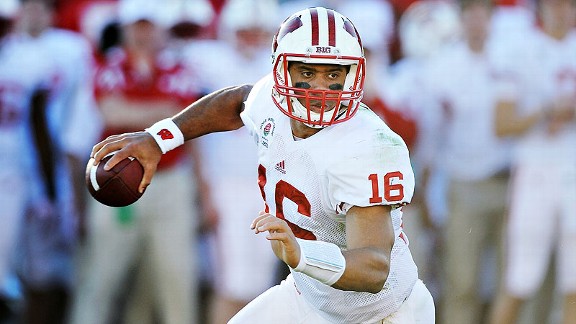 Harry How/Getty ImagesRussell Wilson had a fantastic season at Wisconsin, throwing 33 TD passes and just four picks.
BRADENTON, Fla. -- What you are about to hear is the answer that any NFL coach or front-office employee is going to get at next week's scouting combine when they ask Wisconsin quarterback
Russell Wilson
about his height.
"The height issue is not a factor,'' Wilson said. "There is no issue.''
Wilson said those words from a golf cart Tuesday at IMG Madden Football Academy where he's been prepping for the combine since January, except for a brief vacation to get married. There was no anger in Wilson's voice as he responded to a question he knows he'll hear frequently in Indianapolis. If anything, as he continued, his answer sounded more like a matter of fact.
"That's the way I look at it, to be honest with you,'' Wilson said. "I started over 50 games in college and did well. I played behind the fourth-biggest offensive line in the entire country and that's including the NFL. I think that's really important. The fact that those guys average 6-foot-5 and 325 pounds, shows I can play behind them and be very efficient and effective.''
The more you listen to Wilson state the facts, look at the facts for yourself and talk to those around him, the more you want to believe the NFL should be able to look beyond the fact he's 5-foot-11. He's won a lot of games at two different major colleges, completed better than 72 percent of his passes last season, has all sorts of physical skills and an intellect that jumps out at you as soon as he starts talking or the moment you start watching his film.
Still, the mocks and draft projections from just about every media outlet are saying Wilson probably will be a mid-round pick.
"If he was 6-5, he'd probably be the No. 1 pick in the draft,'' said former NFL quarterback
Chris Weinke
, who now runs the football program at IMG and worked with No. 1 overall pick
Cam Newton
last year. "Listen, Russell's a smart guy. He knows what the talking heads are saying. He doesn't let it bother him. He really doesn't. What I've seen from him is huge improvement just in small mechanical things.
"He's been told his whole life that because he's a little smaller, he's got to stand up to throw the football. Well, what he's learning now is he doesn't have to do that. He can drive the football with his legs and still keep an erect torso. Back when I was a kid, the coaches always said you had to stand tall in the pocket. That's not true or not correct because then you're not driving the football with your legs.''
[+] Enlarge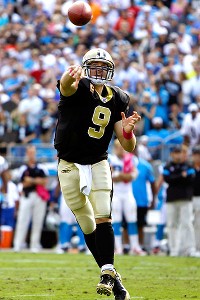 Bob Donnan/US PresswireAs a shorter quarterback who has succeeded in the NFL, Drew Brees has been something of a role model for Wilson.
Weinke's point sounds very valid. He says the game has changed and believes NFL people realize it. Weinke said two quarterbacks that have changed the game reside right here in the NFC South.
"Luckily for these guys under 6-feet,
Drew Brees
has had success,'' Weinke said. "The NFL is a copycat league and whoever has success, people are going to try to mirror that. Cam Newton had success as a big quarterback so that puts
Robert Griffin III
in a great position. Drew Brees has won a Super Bowl and has thrown for over 5,000 yards in a season. Guess what Russell Wilson? That's good for you.''
Wilson realizes Brees' success could make NFL people willing to overlook age-old stereotypes about height. That's why Wilson has kept a close eye on the New Orleans quarterback.
"I watch a lot of film on him,'' Wilson said. "I'm trying to get to his level, obviously. He's a great individual. I've read his book "Coming Back Stronger'' several times and I look up to him for the way he handles his business on the field, but, more importantly, off the field. Chris and I have talked a lot about Drew and how Drew is a tremendous competitor and relentless. That's the way I believe I am personally. We've also talked a lot about how Drew has great feet and how hard he's worked at that and that's one of the things I'm working on here.''
It's kind of ironic that back in 2001, Weinke and Brees worked out together in an earlier version of IMG's combine training. Brees would end up going to San Diego in the second round and Weinke to Carolina in the fourth.
"Drew, not only was he a good athlete, he had great feet,'' Weinke said. "His feet have gotten even better over the years. He knew how to manipulate the discrepancies he had inside by moving his feet, finding holes to throw through and then throwing the ball over guys. I see Russell as that type of guy.''
The physical comparisons are natural because Brees and Wilson are roughly the same size. But the argument that might convince NFL types that Wilson can be the second coming of Brees goes way beyond size. Chances are you know the basics on Brees -- great all-around athlete, intense competitor, mind like a computer and natural leadership skills.
The more you look at Wilson, the more you see signs he possesses those same traits. After a redshirt season at NC State, Wilson started in 2008 and was named to the All-ACC first-team. He followed that with two solid seasons while also starting a career as a minor-league baseball player in the Colorado Rockies' system.
[+] Enlarge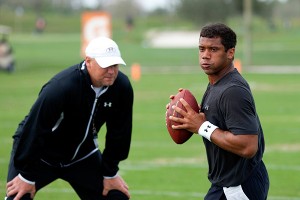 IMG Madden Football AcademyRussell Wilson has been working on his mechanics with IMG Football Academy director Chris Weinke.
But Wilson and coach Tom O'Brien clashed about how the quarterback's time was divided between baseball and football before his final year of eligibility. Wilson was released from his scholarship and was playing second base for Colorado's Class A team in Asheville, N.C. last summer when he made a unique decision. Using an NCAA rule that allowed him to transfer and play football immediately as a graduate student, Wilson gave up baseball and headed for Wisconsin.
"People ask me 'would you ever go back to baseball?''' Wilson said. "People have to understand my focus is completely on football and has been since the moment I decided to go to Wisconsin. I took a huge, huge risk. I had to leave playing professional baseball and go to a new school and new situation with only a month to learn the entire playbook. I got there July 1 and my whole goal was to learn the entire playbook by July 21.''
This is where Wilson pauses a bit and sounds like he's getting ready to confess something bad.
"A lot of people don't know this, but I went into Camp Randall (Stadium) on my own late at night almost every night last summer and got on the 50-yard line and went through all the footwork of each play,'' Wilson said. "I was basically installing the offense on my own each day and night for those three weeks. I might have broken curfew a few times. But that's what I wanted, just to be by myself on the field, so I could have the image and the vision of 90,000 people being in front of me and just understanding what I'm doing.''
The imagery worked. Wilson had a magnificent season. He passed for 3,175 yards with 33 touchdowns (second in Big 10 history to Brees' 39 in 1998) and just four interceptions in a season in which Wisconsin won the inaugural Big 10 Championship Game.
"I have no regrets at all,'' Wilson said. "I think it's going to only help me in the NFL. I played in a West Coast offense at NC State and had to transfer to great new team in Wisconsin and learn a whole new system, a vertical, play-action-style offense. I think the fact I learned it so quickly is a great thing for NFL teams to notice. But, also, it was a great learning tool for me.''
Wilson's body of work is on four years' worth of film. He'll put his physical skills on display at the combine. He'll show his intellect and competitive spirit in the meetings with team officials.
Maybe, just maybe, they'll look at and listen to all of that and be convinced that Wilson is right. When you look at all he has to offer, height is not an issue.
February, 17, 2009
2/17/09
8:27
AM ET
Posted by ESPN.com's Paul Kuharsky
Houston Texans
Indianapolis Colts
Jacksonville Jaguars
Tennessee Titans
NFL SCOREBOARD
Thursday, 9/4
Sunday, 9/7
Monday, 9/8