July, 29, 2013
7/29/13
6:00
PM ET
MIAMI -- The
Miami Dolphins
will hold their annual training camp scrimmage at Sun Life Stadium Monday at 7 p.m. ET. This is the first chance for the 2013 Dolphins to play under the lights in their home stadium.
Expect the intensity to be increased from practice. Miami will be going over real-game scenarios in this scrimmage in preparation for its first preseason game Aug. 4 against the
Dallas Cowboys
.
Here are five things to watch:
[+] Enlarge

Robert Mayer/USA TODAY SportsThe Dolphins may experiment with the roster some by moving Mike Pouncey to right guard during training camp to offset injuries on the line.

Stability on offensive line: This has been the weakest unit so far in Miami's training camp. There were already concerns about this group entering the preseason. But starting guard John Jerry's injury has resulted in further instability. The Dolphins are trying out multiple combinations to fill in for Jerry's absence. One combo actually included moving stud center Mike Pouncey to right guard, which I think is an awful idea and weakens the center position. Monday's scrimmage will be a good showcase to see if Miami's offensive line can figure things out.
Ryan Tannehill: As usual, all eyes at Sun Life Stadium will be on Miami's starting quarterback. Tannehill started training camp slowly, but he's really heated up in the past several days. Let's see if he can carry that momentum into this scrimmage and also into next Sunday's first preseason game against Dallas. Tannehill is developing an increasing rapport with his new targets: Mike Wallace, Brandon Gibson and Dustin Keller. Most importantly, he's taking care of the football. Tannehill hasn't thrown an interception in four straight practices.
Dion Jordan: Miami's No. 3 overall pick got his first action in 11-on-11 drills Sunday, and he's expected to play Monday night. The Dolphins have brought Jordan along slowly after his shoulder surgery in February. Jordan has showed strong flashes of athleticism and pass-rushing ability. His play in this scrimmage could dictate how soon Jordan will be ready to participate in preseason games.
Cornerback play: Miami was 27th against the pass last season but looks improved at cornerback. Brent Grimes has been one of the top performers in camp so far, and Dimitri Patterson and Richard Marshall have staged a good competition for the No. 2 corner slot. This is a good opportunity for players to begin carving out roles in the secondary, particularly for young corners like rookie Will Davis, R.J. Stanford and Nolan Carroll.
Running backs: There haven't been a lot of big plays so far from the running backs. Some of that is due to Miami's run defense, which is stout. Tailbacks Lamar Miller, Daniel Thomas and Mike Gillislee appear to be the top three options for the Dolphins at this stage. Miller, the starter, appears to be the best of the three. But there haven't been a lot of running lanes. This is another byproduct of the Dolphins' instability on the offensive line. This unit is regularly getting hammered by Miami's defensive line, which is very deep.
I will have a full report in the AFC East blog from Miami's scrimmage late tonight. But if Dolphins fans cannot wait that long and want immediate analysis,
follow my Twitter account
for live updates and observations as they happen.
August, 9, 2012
8/09/12
9:30
AM ET
MIAMI -- The AFC East blog is back in its South Florida headquarters after an 11-day road trip visiting training camps around the division.
I have now visited all four camps in the past two weeks. You can check out our "Camp Confidential" segments for three AFC East teams
here
,
here
and
here
. The
New England Patriots
' report is coming up later on Thursday.
With tons of notes still left in my pad, I decided to do the first annual "Walker Awards" for 2012 training camp.
Enjoy.

Most impressive team:
Patriots
Analysis:
To be frank, you can just see the difference in talent between the Patriots and everyone else in the division. No other team has a quarterback like
Tom Brady
. No other team has
Rob Gronkowski
at tight end or a receiver like
Wes Welker
. No teams' practices are as crisp and workmanlike as coach Bill Belichick's. The football culture in New England is just better, and you can see it and feel it in its training camp. The Patriots are confident. They know what success feels like and prepare for it every day. It would be shocking if New England doesn't win another division title based on what I've seen in camp. It's clear the Patriots deserve to be the favorites.
Most impressive quarterback:
Tom Brady, Patriots
Analysis:
No surprise here. Brady is the only legit franchise quarterback in the division.
Even though he struggled
in practice on Tuesday, the other two practices were what I expected. There is a big difference when you watch other AFC East quarterbacks like
Matt Moore
,
Ryan Fitzpatrick
and
Mark Sanchez
practice compared to Brady. It's the biggest reason New England sits comfortably at the top of the division.

Most impressive running back
:
C.J. Spiller
,
Buffalo Bills
Analysis:
I was really impressed by what I saw from Spiller during my visit to Pittsford, N.Y., last week. Spiller looks like a player who is demanding more carries with his play. He has to wait his turn behind starter
Fred Jackson
, but Buffalo's coaching staff would be silly to let Spiller rot on the bench this year and not put the ball in his hands. If Jackson proves to be 100 percent healthy, the Bills could have one of the best one-two punches at running back in the league. The question is, how do you keep both players happy?
Most impressive rookie:
Stephon Gilmore
, CB, Bills
Analysis:
This was a close race between Gilmore and Patriots rookie linebacker
Dont'a Hightower
. I was really impressed with both rookies in training camp. But Gilmore made fewer mistakes than Hightower during my time at both camps. Gilmore is playing like a five-year veteran. He is challenging No. 1 Bills receiver
Steve Johnson
nearly every day in practice, and that can only speed up his development. Gilmore is physical, he moves well and he's fearless. He may already be Buffalo's No. 1 corner and he hasn't played a game in the NFL.

Most disappointing player:
Vontae Davis
, CB, Dolphins
Analysis:
While we're on the subject of corners, the most disappointing player during my tour of training camp has been Davis. He has the physical tools to be a No. 1 corner. Davis was heading in that direction toward the end of the 2011 season. But Davis,
as outline by HBO's "Hard Knocks
," showed up to camp out of shape. The former first-round pick has been getting beat too much and Miami's coaching staff moved him out of the starting lineup for
Richard Marshall
. Davis has always been plagued by immaturity. With a new coaching staff, he needs to grow up fast or it is going to be a long year.
Most comeback potential:
Chad Johnson
, WR, Dolphins
Analysis:
Johnson looks like a man on a mission. The receiver is showing flashes of the old Johnson we saw with the
Cincinnati Bengals
. He is coming off his career-worst season with just 15 receptions last year in New England. Johnson admits he
was humbled and exposed
, but now he's motivated. That's a good thing for Miami, which needs all the help at receiver it can get.

Most baffling player:
Antonio Cromartie
, CB,
New York Jets
Analysis:
It's been a bizarre training camp for New York's starting cornerback. First, Cromartie causes controversy by saying he's the second-best receiver on the team. Then, Cromartie injuries No. 1 receiver
Santonio Holmes
' ribs with a big hit in a scrimmage, forcing Holmes to miss at least one preseason game. Finally, Cromartie gets into it with tight end
Dustin Keller
this week and causes head coach Rex Ryan to stop practice. It's only August and Cromartie has a string of incidents piling up. He just needs to concentrate on playing his best football from here on out.
Most overhyped player:
Tim Tebow
, QB, Jets
Analysis:
Yes, Tebow is polarizing. Fans either love him or hate him. But strictly from a football standpoint, Tebow was not impressive enough in practices to merit the immense coverage he gets in the media. Tebow is far from lighting it up in training camp. Sanchez is outplaying Tebow and erasing any doubts that Tebow should be the starter in Week 1.
In last week's scrimmage
that I attended, Tebow was 0-for-3 with two fumbled snaps. The offense looks shaky with him under center. Tebow will be able to help the Jets' ground-and-pound offense with his running ability and contribute on special teams. But the huge hype of outplaying Sanchez and making a strong push for the starting quarterback job in training camp hasn't materialized.
August, 7, 2012
8/07/12
7:12
PM ET
FOXBOROUGH, Mass. --
Jimmy Graham
or
Rob Gronkowski
? Take your pick.
One is a 6-foot-9 former basketball player who can go up and catch the highest of passes. The other is a 6-foot-6, 265-pound beast with very strong hands and a knack for running through defenders. Both are elite and it's hard to go wrong with either player.
The NFL's two best tight ends shared the practice field Tuesday, as the
New England Patriots
hosted the
New Orleans Saints
for a joint scrimmage. There has been a ton of debate this offseason over who is better. According to a recent player survey
by the NFL Network
, Graham edged Gronkowski in the voting.
[+] Enlarge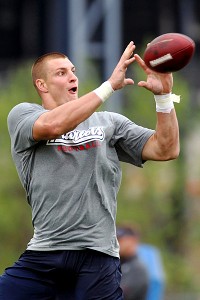 Stew Milne/US PRESSWIRERob Gronkowski, above, is sharing the practice field with the Saints Jimmy Graham this week.
But both tight ends showed in Tuesday's practice why they can make a strong case for the No. 1 spot. Gronkowski caught two red zone touchdowns in 7-on-7 drills, and Graham also caught a touchdown in the same drill and did his trademark slam dunk between the goalposts.
Graham was asked the highly-debatable question after the joint practice, and, naturally, picked himself.
"Of course I would," said a confident Graham, who caught 99 passes for 1,310 yards and 11 touchdowns last season. "I'm young and the thing about me is I've been playing three years and I know I'm getting better. I'm focused on getting better. I know my weaknesses and I know where I need to improve."
Gronkowski said he wasn't thinking about a one-on-one competition with Graham this week. The Patriots will practice against the Saints twice before playing in Thursday's preseason game at Gillette Stadium.
"There's really no competition [going on]," said Gronkowski, who caught 90 passes for 1,327 yards and 17 touchdowns in 2011. "He's a great player, and that's why every team has a position of tight end. He's a great guy that you can put the film on and seeing what he's doing to get open. He's doing a great job at it and you can learn from other tight ends in the league."
Gronkowski said he trained with Graham two years ago in Florida before the NFL combine. At the time, both players had major question marks that hurt their draft stock. Gronkowski had a back injury that dropped him to the second round to New England. Graham was a basketball player at the University of Miami with just one year of collegiate football experience. He dropped to the third round. Drafting these tight ends turned out to be the smartest moves each team has made in recent years.
Both tight ends are very close by comparison. The Graham supporters would say he's more athletic and can get vertical better than Gronkowski. The Gronkowski supporters would say he's a significantly better run-blocker than Graham and a more complete tight end. "Gronk" also catches more touchdowns.
Even watching both players practice up close together on Tuesday, it's a really difficult choice.
"It's two totally different animals. I hate to call them animals, but it is what it is," Saints safety
Roman Harper
said laughing.
Harper continued to break down each player.
"I think Jimmy is just more of a strider, he's going to be faster than Gronk, but he's more of a strider and he comes out of the break and he's just like, 'Drew throw it up It's more of a rebound, I'm going to get it.' So he's going to be more athletic," Harper said. "Then you've got Gronk, who is just a big guy and he's a big target, and he's going [to give] a little body action, and of course Tom [Brady] was putting it right on him. Gronk makes his money after the catch. If you look at him, that's where he makes all of his money."
Don't forget about the Patriots' second tight end:
Aaron Hernandez
. He's also a top-five player at the position. Hernandez caught 79 receptions for 910 yards and seven touchdowns.
The offensive talent in Foxborough this week is immense, especially when you have three of the top five tight ends sharing the same practice field. Graham said he surely will pick up a few pointers from his tight-end peers before leaving Foxborough.
"I watch a lot of film on Hernandez and Gronkowski," Graham said. "The way [Gronkowski] uses his body, and the way Hernandez is a technician in his routes. I try to take as much as I can from the both of them and apply it to my game."
August, 7, 2012
8/07/12
5:31
PM ET
FOXBOROUGH, Mass. – The first of two scrimmages between the
New England Patriots
and
New Orleans Saints
is in the books. It was a good opportunity for both teams to practice against someone else leading into Thursday's preseason game at Gillette Stadium.


Here are several observations:
August, 4, 2012
8/04/12
8:42
PM ET

CORTLAND, N.Y. -- It was clear who was the people's choice at quarterback during the
New York Jets
' scrimmage Saturday night. You can hear fans yelling "Tebow! Tebow! Tebow!" at different points of the night from the crowd of 9,200.
But Jets starting quarterback
Mark Sanchez
looked unfazed by Tebow's big reception and huge cheers. Instead, Sanchez did the talking with his arm.
Sanchez had a very good outing, completing 11-of-16 passes and a touchdown in New York's first team-wide scrimmage. Sanchez was decisive and accurate. One of his five incompletions was a drop by receiver
Santonio Holmes
, who injured his ribs during the scrimmage.
The performance creates separation and some breathing room for Sanchez, who can definitely use it. Sanchez clearly looked like the better quarterback on this day, as the Jets prepare for next week's preseason opener against the
Cincinnati Bengals
.
"It was good for us to get moving again and see things full speed. ... It was more like a game and we keep inching closer to that," said Sanchez, who felt good about his performance.
Meanwhile, Tebow struggled. He was 0-for-3 with two bobbled snaps. Tebow did put together a couple of nice runs. But overall New York's offense looked shaky when Tebow was under center. To be fair, Tebow played with the second-team offense, while Sanchez played for the first team.
But Tebow didn't show much during this scrimmage to worry Sanchez. He didn't complete a pass, although his first deep ball was a good one that just missed backup receiver
Dexter Jackson
.
Still, no player received more cheers on the night than Tebow. After Sanchez's first drive ended and Tebow's second-team offense entered the game, Tebow received the loudest ovation of the night.
"It felt great," Tebow said after the scrimmage. "You have a lot of great, passionate fans out here."
Sanchez is not the people's champ, but he was by far the better quarterback in this scrimmage. Sanchez needs more outings like Saturday's to prevent a quarterback controversy and keep Tebow Nation at bay.

NFL SCOREBOARD
Thursday, 12/18
Saturday, 12/20
Sunday, 12/21
Monday, 12/22