NFL Nation:

Seahawks Camp 2012
August, 13, 2012
8/13/12
11:01
AM ET
RENTON, Wash. --
Terrell Owens
' arrival at
Seattle Seahawks
training camp commanded national headlines.
It commanded the Seahawks' attention as well, not just on the field but in the meeting room, where coach Pete Carroll made Owens the leading man in
an entertaining prank
.

But when the Seahawks' first exhibition game kicked off Saturday night against Tennessee, the focus returned to where it needed to be: quarterback. For while Owens might not even earn a roster spot, let alone an important role on the team, the situation behind center will determine whether Seattle breaks from its recent 7-9 form.
The way
Matt Flynn
and
Russell Wilson
played against the Titans showed Seattle has a chance to do just that. It was only one game, and one whose outcome was meaningless. But it affirmed some of the evidence collected to this point.
Flynn, non-descript through organized team activities and minicamps, had responded favorably when Carroll gave him the first-team practice reps last week. He was sharp in practice and efficient while completing his first eight passes against the Titans. Flynn's lone interception resulted from a rookie running back failing to sell the play fake, allowing linebacker
Colin McCarthy
to drop into coverage without concern for the run.
Wilson, sensational for a rookie during the offseason program, hadn't stood out as much in camp. But when the lights went on Saturday night, he looked like the best player on the field. Wilson showed the pocket presence needed to move just the right distance at just the right times, extending plays. He scored on a 32-yard bootleg and threw a 39-yard touchdown pass from the pocket. Only an ill-advised interception over the middle prevented a full Wilson lovefest from breaking out. But it's early, and Wilson is just getting started.
Seattle has seen enough to think one of its new quarterbacks can provide an upgrade from
Tarvaris Jackson
, who remains on the roster as insurance.
THREE HOT ISSUES
1. Owens or Edwards?
The Seahawks want a receiver with dominant size to fill the role
Mike Williams
played during the 2010 season. Owens is one candidate.
Braylon Edwards
is another. Second-year pro
Kris Durham
might still emerge as third, but he has struggled to gain traction in camp to this point.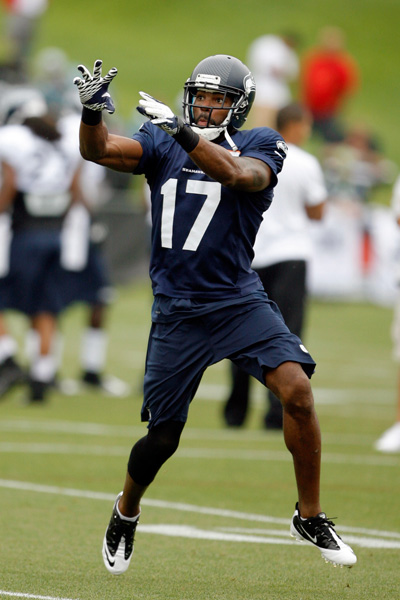 Joe Nicholson/US PresswireBraylon Edwards, on his fourth team in the past four seasons, has been impressive in camp.
Edwards has stepped up his game markedly following Owens' arrival, no coincidence. He has to realize the Seahawks aren't going to keep two veteran receivers with no value on special teams. Owens has the bigger name and better credentials, but Edwards has the inside track for a roster spot if both play well. That is because Edwards is nine years younger and could conceivably project as a factor beyond this season. It's also because Owens has been a higher-maintenance player.
Edwards was scrapping like an undrafted free agent during the game against Tennessee. He was a willing blocker -- too willing at one point, drawing a penalty. He rewarded Wilson's trust by making a strong play on the ball for that 39-yard touchdown reception. Owens will get his chance in the coming weeks. This competition is only beginning.
2. What to do with Jackson.
Carroll has shown sensitivity for Jackson after the veteran quarterback played through a torn pectoral muscle last season. The grit Jackson showed won respect in the locker room. As much as the team wanted to look at Flynn and Wilson this summer, Carroll gave Jackson an equal portion of the reps through the first week of training camp.
Carrying a three-man race through the exhibition schedule would have been impractical. That is why Flynn and Wilson took the meaningful reps in practice last week. It's why Flynn and Wilson took all the snaps during the exhibition opener. Jackson represents the known. He's the baseline for a team seeking improvement at the position. Jackson, for all his toughness, wasn't effective enough when it counted last season (no touchdowns, six interceptions and nine sacks in the final two minutes of halves).
Jackson is scheduled to earn $4 million in salary for the 2012 season. Flynn and Wilson are going to be on the roster. They will most likely fill the top two spots. The team still likes developmental quarterback
Josh Portis
. Something has to give, and logic says it'll be Jackson.
3. Health concerns at tight end.
The Seahawks envision running quite a few personnel groupings with two tight ends. Assistant head coach/offensive line Tom Cable values H-back types. The expectation this season was for
Zach Miller
and
Kellen Winslow
to provide Seattle with a diverse duo at the position. That still might happen, but with Miller now suffering from his fourth concussion in less than three calendar years, there are suddenly renewed health questions at tight end.
Winslow's chronic knee problems limit how frequently he can practice. While Winslow hasn't missed a game to injury over the past three seasons, he is 29 years old and doesn't figure to gain durability from this point forward, especially in light of his knee issues.
REASON FOR OPTIMISM
The Seahawks have upgraded at quarterback and in their ability to rush the passer. Those were the two areas most responsible for holding them back in the recent past. They're also more settled on the offensive line.
How much Seattle has upgraded at quarterback remains unknown, but even if Jackson were to somehow emerge as the starter in a sort of worst-case scenario, at least he would be healthy. The Seahawks aren't asking their quarterbacks to carry the team. They want efficient play from the position. The early returns suggest Flynn can provide that, and that Wilson might be able to provide more.
Newly acquired defensive tackle
Jason Jones
has already improved the pass rush. Rookie first-round choice
Bruce Irvin
has been the most difficult player to block in one-on-one pass-rush drills. He has the speed to beat tackles to the outside. He's got better power than anticipated for a player weighing less than 250 pounds. The combination of Jones, Irvin and leading sacker
Chris Clemons
will be tough at home in particular.
Seattle's defense already ranked among the NFL's top 10 in points allowed, yards allowed and yards allowed per play. This was a mostly young defense on the rise even before Jones and Irvin arrived to address the pass rush.
REASON FOR PESSIMISM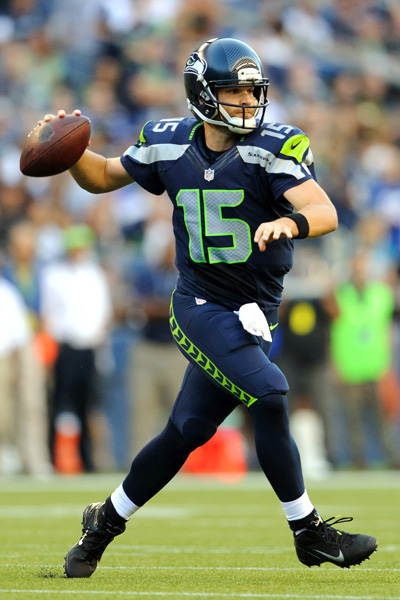 Steven Bisig/US PresswireMatt Flynn was 11-for-13 against the Titans on Saturday night, but he is still largely untested in the regular season.
There's faith involved in projecting how well unproven quarterbacks will perform.
A year ago, division-rival Arizona was convinced
Kevin Kolb
would fix its problems at the position. At the very least, the Cardinals would become average at quarterback, it seemed. Surely that would be enough to make them a playoff contender once again.
Flynn might be better than Kolb, but what if he's not? What if it becomes clear a month or two into the season that Flynn, with only two career regular-season starts, isn't ready to manage an NFL offense from week to week? That's not such a stretch.
Wilson has appeal as an alternative, but how far can a team with a 5-foot-10 rookie quarterback go in an NFC featuring
Aaron Rodgers
,
Eli Manning
,
Matthew Stafford
,
Drew Brees
,
Tony Romo
,
Matt Ryan
,
Michael Vick
,
Jay Cutler
and
Cam Newton
?
Sure, the Seahawks have a powerful ground game and a potentially dominant defense, but the NFL is a quarterback-driven league, right? The five most recent Super Bowls featured Eli Manning,
Tom Brady
,
Ben Roethlisberger
, Rodgers, Brees,
Peyton Manning
and
Kurt Warner
as the starting quarterbacks. None was trying to decide between a player with two starts (Flynn) and a rookie third-round choice (Wilson).
Even if Flynn or Wilson emerges as viable this season, Seattle could realistically have the third-best quarterback in the division this season.
OBSERVATION DECK
The red non-contact jersey Sidney Rice wears in practice invites questions about his availability coming off two offseason shoulder surgeries. Rice seems to be moving and catching well, however. My read is that the team is being cautious, and there are no pressing concerns.

Rice needs to do a better job of protecting himself. He tends to land awkwardly, exposing himself to unnecessary contact. The plan was for the shoulder surgeries to enable more aggressive weight lifting, allowing Rice to strengthen his lithe frame. While the shoulders are a concern, Rice also suffered two concussions last season.

Seattle continues to show an uncanny ability to find important roles for obscure defensive players. Defensive end Red Bryant became a success story after converting from defensive tackle over the past couple of seasons. Clinton McDonald, a former college linebacker acquired from Cincinnati in the Kelly Jennings trade, is now a factor. McDonald stands ahead of Bryant, Brandon Mebane and Alan Branch as the fourth defensive lineman in the nickel package. McDonald is backing up Mebane in the base defense.

Bryant's outgoing personality makes him a natural leader on defense. Mebane, his quieter teammate on the line, emerged in that area last season, after the team released veteran linebacker Lofa Tatupu. Leroy Hill: "A lot of times in the huddle, Mebane is the one talking. It's odd because he never did that role, but last year he stepped up and people fell in behind him. ... People listen to what he's got to say."

Left guard John Moffitt could miss the next few weeks after requiring elbow surgery. My initial take was that his replacement, Deuce Lutui, would provide an upgrade. That could be true in pass protection especially. One question, however, is whether Lutui fits the profile for Cable's zone blocking scheme. Moffitt appears to be a better fit that way. He might be best suited for center, actually, but the team is set there with Max Unger, who recently signed a long-term extension.

Seattle has apparently hit on two seventh-round choices this year. Greg Scruggs has a chance to stick on the defensive line. J.R. Sweezy has improbably made a quick conversion from college defensive lineman to NFL guard. Seattle gave him time with its starting line against Tennessee in the preseason opener. Sweezy played surprisingly well. He projects as a good run-blocker for Cable's scheme. Rishaw Johnson is another obscure offensive lineman to watch along those lines.

We've made it this far without mentioning Marshawn Lynch, the offensive player Seattle relied upon most heavily last season. Rookie Robert Turbin has gotten more attention as the projected backup. The Seahawks haven't heard whether Lynch will face a suspension in relation to his pending DUI case. Teams wouldn't have to fear the ground game nearly as much if Lynch missed time.

Speaking of middle linebacker, rookie Bobby Wagner remains the favorite to start, in my view. He has outstanding speed and strong hands for taking on blocks when necessary. Veteran fullback Michael Robinson even compared Wagner to a young Patrick Willis. Wagner's preseason debut was a bit of an adventure, however. He overran a few plays and didn't stand out.

The offensive line should be fine as long as left tackle Russell Okung remains healthy. Okung was looking good early in camp one year ago, only to suffer an ankle injury during an Aug. 11 preseason game against San Diego. The torn pectoral he suffered late last season counts as a fluke. Philadelphia's Trent Cole, frustrated by Okung's edgy style, unleashed a judo move on him. The longer Okung can go without landing on the injury report, the better Seattle can feel about his long-term prospects.

Cornerback Walter Thurmond and offensive lineman James Carpenter could make an impact later in the season. Both are coming off serious injuries. Neither will factor early in the season. Playing Carpenter at left guard has long-term appeal. He and Okung would form a massive combination on the left side. Carpenter is still limping around with a heavy brace on his surgically repaired knee, however.

Carroll's extreme commitment to competition shows up in his willingness to play young players at key positions, including middle linebacker and even quarterback. The effect is felt throughout the roster. Lutui: "Rookies, first-year guys, he puts them in. I've never seen that on any level. That pushes the older guys. Everybody is not comfortable. Everybody is not complacent. It doesn't matter if you have a new contract. Everybody is on an edge. You know have to better yourself. And that is good to see."
August, 12, 2012
8/12/12
8:33
AM ET
When NFL data showed an increase in reported concussions from 2008 to 2010, then-
Oakland Raiders
tight end
Zach Miller
was among those calling the findings progress.
"Guys are more open to reporting them, and they know more about the effects and how dangerous they can be in the long term,"
Miller said in 2010
. "Guys are making smarter decisions."
Miller had suffered two concussions in 2009, so the issue was personal for him. Miller has subsequently suffered two more concussions, both with Seattle. The latest,
suffered Saturday night
in the Seahawks' season opener, made it four concussions in 34 months for the 26-year-old Miller. This one was
not believed to be severe
, but with repeated concussions carrying
long-term implications
for some, Miller's history raises concerns.
August, 11, 2012
8/11/12
11:43
PM ET
SEATTLE -- A few quarterback-related thoughts after watching
Matt Flynn
and the
Seattle Seahawks
take a
10-3
halftime lead against the
Tennessee Titans
in an exhibition opener at CenturyLink Field:
Flynn was very much the Pete Carroll game manager early. He completed his first eight passes, all shorter ones. His most impressive play came on a throw for a 14-yard gain on a rollout to his left with a defender bearing down. Flynn knew he was going to get hit. He threw accurately across his body. Flynn also took two sacks when he had time to get rid of the ball. That included one in the red zone. Flynn also failed to see middle linebacker Colin McCarthy drop into underneath coverage, leading to an interception. Flynn started better than he finished. He completed 11 of 13 passes for 71 yards.
The door is open for rookie Russell Wilson to make a stronger impression in the second half. The final two quarters of exhibitions can become free-for-alls. That could set up favorably for Wilson. It'll be interesting to see whether Wilson plays within the offense, or if the circumstances lead to more improvisation. He has a very good arm.
The second half is about to start. Back with "three things revisited" following the game.
August, 11, 2012
8/11/12
9:45
PM ET
SEATTLE -- A few NFC West thoughts from CenturyLink Field as the
Seattle Seahawks
prepare to open their 2012 exhibition season against the
Tennessee Titans
:
Skies are clear and the temperature is about 80 degrees. It's a perfect night for summer football.
The Seahawks are wearing their new uniforms: dark blue pants with bright green piping, dark blue tops with bright green numbers and bright green markings, dark blue helmets. It's a lot of blue. Does the green glow in the dark? I know the big guys prefer the dark pants to the light gray ones. They're ... slimming.
Both teams have a No. 8 in uniform: Matt Hasselbeck for the Titans, Jermaine Kearse for the Seahawks. Strange.
Teams generally don't like to travel great distances for preseason games, but this trip is a homecoming for so many Titans, especially in the front office.
The Seahawks distributed a list showing the following players not expected to play in this game: Terrell Owens, Sidney Rice, Walter Thurmond, Allen Bradford, Jameson Konz, Matt McCoy, Barrett Ruud, John Moffitt, James Carpenter, Kellen Winslow, Ricardo Lockette, Doug Baldwin and Alan Branch. Some of those players are in uniform and warming up on the field, notably Rice and Winslow.
The Titans listed three players as unlikely to play: Terrence Wheatley, Brandon Barden and Dave Ball.
I'll be heading to San Francisco for a few days with the 49ers beginning Sunday. Looks like they won't have leading sacker Aldon Smith for the short term. The team re-signed outside linebacker Kenny Rowe, who went to camp with the 49ers a year ago. Safety Mark LeGree, a Seahawks draft choice who also spent time with Arizona, was released to make room on the roster. Smith has a bruised hip.
The Cardinals brought back veteran fullback Reagan Maui'a to help get them through camp. Jared Crank suffered a neck injury.
The St. Louis Rams kick off their preseason against Indianapolis at 1:30 p.m. ET Sunday. It's an odd time, but it could give me a chance to watch the Rams before heading to Candlestick Park for the 49ers' fan-oriented session later in the day.
Enjoy your Saturday night. I'll be back with notes after the game, and probably sooner as well.
July, 31, 2012
7/31/12
3:55
PM ET
Two seasons ago,
Braylon Edwards
averaged 17.1 yards per reception with 904 yards and seven touchdowns for the
New York Jets
.
The figures were 12.1 yards per reception, 181 yards and zero touchdowns with the
San Francisco 49ers
last season.
What might he offer the
Seattle Seahawks
, who signed Edwards to a one-year deal Tuesday and welcomed him to practice right away?
There is no way to answer that question with any certainty. We need to see whether Edwards is in good shape, how the other receivers in Seattle develop, which quarterback becomes the starter, how Edwards meshes with that quarterback, etc. At this point, we don't even know whether Edwards will earn a spot on the 53-man roster.
I do not think Edwards, 29, suddenly forgot how to play football last season.
A few factors could help explain his statistical decline from 2010 to 2011. Edwards was playing for a new team in a new offense with very little prep time (the 49ers signed him last Aug. 4). Injuries clearly slowed Edwards during his time with the 49ers. He underwent knee surgery and also had a bad shoulder.
The chart below, courtesy of ESPN Stats & Information, shows Edwards ranking last among primary 49ers receivers and tight ends in yards per target (minimum 15 targets).
Edwards didn't fit with the 49ers, for whatever reason. Now we'll find out whether Edwards can bounce back in Seattle.
July, 29, 2012
7/29/12
12:54
PM ET
Highlights and interpretations from coach Pete Carroll's news conference following the
Seattle Seahawks
' first practice of training camp Saturday:
The Seahawks are holding their second camp practice Sunday at 10 a.m. PT.
July, 28, 2012
7/28/12
5:10
PM ET
Naming the starting wide receivers for the
Arizona Cardinals
,
St. Louis Rams
and
Seattle Seahawks
requires more than familiarity with the NFC West.
Baldwin
It also requires time.
Four starting jobs appear legitimately unsettled as training camps get going. Teams won't have answers for weeks in most cases. This assumes the
Michael Crabtree
and
Randy Moss
will be the
San Francisco 49ers
' starters. Rookie
Michael Floyd
figures to start for Arizona, but first he'll have to win earn the job. And the Rams have two starting spots open.
In Seattle, where
Sidney Rice
stands as the only established starter when healthy, the depth chart carries a few possibilities. The team opened training camp Saturday with quite a few questions -- "options" would be a more optimistic word -- at the position.
Doug Baldwin
, who led NFC West receivers and tight ends in
third-down conversion rate
as a rookie last season, excelled from the slot in particular. He's a candidate to start on the outside this season.
Golden Tate
, back at practice Saturday when camp opened after resting a hand injury in minicamps, could also factor.
Ricardo Lockette
is one to watch. He has good size (6-foot-2, 211 pounds) and blazing speed.
The incumbent starter,
Mike Williams
, struggled with injuries last season before his release earlier this month.
Rice practiced Saturday wearing a red jersey making him off-limits to contact from teammates, a precaution as Rice returns from surgery on both shoulders.
The hyper-competitive Baldwin wants to push for a starting job without campaigning for one. He made 42 of his team-high 51 receptions last season from the slot. The team targeted him 14 times from elsewhere on the field, according to ESPN Stats & Information.
"I was able to have some success as a slot receiver, but ultimately I feel capable of doing so much more," Baldwin said during a phone interview Saturday. "I'm not bound to the slot position. But at the same time, I don't want to step on anybody's toes. I don't want to be that guy. I'm not a selfish player. Wherever coaches want me, I'll play."
Baldwin and quarterback
Matt Flynn
practiced together between June minicamps and training camp. The two had an early connection when Baldwin agreed to give up his No. 15 jersey for Flynn upon the quarterback's signing in free agency.
Baldwin is wearing No. 89. Will he stand No. 2 among Seattle wideouts?
"We just finished our first practice at camp," Baldwin said. "Let that play out. Like coach says, the cream rises to the crop. Gotta make plays."
NFL SCOREBOARD
Thursday, 11/27
Sunday, 11/30
Monday, 12/1