NFL Nation:

Seahawks-Cardinals 111509
November, 15, 2009
11/15/09
11:20
PM ET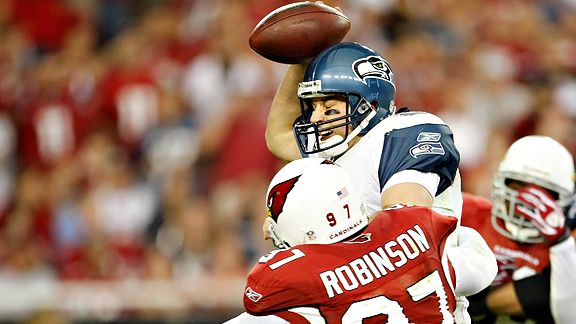 Jeff Gross/Getty ImagesMatt Hasselbeck was 26-of-52 for 315 yards and a TD. He was picked off twice late in the game.
GLENDALE, Ariz. -- Football in the NFC West was fun again Sunday.
Two teams with top-tier quarterbacks traded punches, sometimes literally, and the best team won.
Arizona's
31-20 victory
at University of Phoenix Stadium had the feel of a last stand for the
Seattle Seahawks
and an early NFC West coronation for the Cardinals.
"They gave us a helluva dogfight," Cardinals defensive tackle
Darnell Dockett
said.
Seattle built a 14-0 lead by arming quarterback
Matt Hasselbeck
with an enterprising plan and a healthier offensive line. Seattle's
Justin Forsett
rushed for 123 yards. The Seahawks landed their best shot squarely, but they couldn't do any lasting damage, a harsh reminder of where they stand in relation to the defending and likely future division champs.
It felt to me as though
Kurt Warner
looked at his watch midway through the second quarter, stifled a yawn and then took over the game almost at will.
"I don't think we wanted [the deficit] to get much bigger than that," Warner said after passing for 340 yards and two touchdowns, "but I don't think there was any panic at that point in time."
And with rookie running back
Beanie Wells
growing into a more prominent role -- he had 85 yards and two touchdowns -- the Cardinals made progress toward fielding the type of offense that can compete and win come playoff time.
Arizona takes a 6-3 overall record and 4-0 road record to St. Louis in Week 11. The Seahawks take a 3-6 record to Minneapolis. The
San Francisco 49ers
, though still in the race, will have a hard time overcoming their two-game deficit in the standings -- particularly with Warner playing so well.
Five more observations after Arizona defeated Seattle for the fourth consecutive time and sixth time in seven meetings:
1. It's the quarterbacks
[+] Enlarge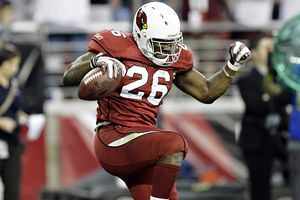 AP Photo/Paul ConnorsBeanie Wells made the most of his 16 carries, rushing for 85 yards and two TDs.
Hasselbeck's final numbers suffered from two interceptions he threw while trying to rally Seattle in the final 6 minutes, but he and Warner made this game so much more fun to watch than, say, the Bears-49ers game Thursday night.
"We really set out and did everything that we talked about doing," Hasselbeck said. "We just missed some opportunities in the red zone."
Warner averaged 8.9 yards per attempt against Seattle even though the Seahawks surprised him with their scheme.
"The one thing that really surprised me is that they didn't bring very much pressure," Warner said. "That was something that was different to me from a coach [Jim] Mora team. He likes to change it up and he likes to bring a variety of pressures, and that's one thing we didn't see."
Seattle dropped eight defenders into coverage, sometimes using veteran safety
Lawyer Milloy
as a linebacker. The Seahawks badly needed defensive end
Patrick Kerney
to win one-on-one matchups against the Cardinals' tackles, something Kerney did routinely when this rivalry wasn't so lopsided. It didn't happen.
2. Fines could be forthcoming
Any game featuring 934 yards, 51 first downs and 26 called penalties is going to be wild.
Both teams took questionable shots at the quarterbacks, and the Seahawks lost running back
Julius Jones
to a broken rib.
Dockett appeared to tackle Hasselbeck out of bounds early in the game, though he avoided a penalty. Hasselbeck also accused Dockett of elbowing him in the throat after a sack. Dockett denied the charge.
Seahawks safety
Deon Grant
shoved Wells after the ninth play of the Cardinals' 13-play touchdown drive to open the third quarter. Wells responded with a roundhouse punch/slap to the helmet, drawing a 15-yard penalty.
Seattle's
Cory Redding
made a hit on Warner count by laying on the quarterback as if attempting to grind him into the turf. Officials later flagged Cardinals nose tackle
Bryan Robinson
for a personal foul.
In the end, though, there was respect.
"To come back with all the injuries and adversity and missing some of his line, to go out there and compete, I take my hat off to him," Dockett said of Hasselbeck.
3. Seattle did make progress, but ...
The Seahawks had all 53 players healthy enough to play for the second week in a row. And with
Sean Locklear
back in the lineup at left tackle, the offensive line was as good as it could be without
Walter Jones
, who remains on injured reserve.
"It doesn't feel like it right now," Mora said, "but I think when we look back at this, we'll see that we did improve as a football team."
T.J. Houshmandzadeh
caught nine passes for 165 yards. The diminutive Forsett hid behind his linemen and gave the Cardinals problems all game. Hasselbeck pushed the offensive tempo effectively throughout, helping Seattle amass 472 yards and 29 first downs while converting 40 percent of its third downs.
I'm torn, though, on what to make of it.
All of those things were true, but the Seahawks still weren't all that close to winning, even with the fast start.
Rookie fourth overall draft choice
Aaron Curry
did not stand out. Kerney could not dominate a matchup that once prevented the Cardinals from functioning offensively. The Cardinals' offensive linemen sometimes moved Seattle nose tackle
Colin Cole
off the ball to clear running lanes. Arizona overwhelmed the Seahawks' protection with all-out blitzes.
And with Minnesota on the schedule, it's a stretch to think the Seahawks will build upon this effort right away.
4. An angry Boldin isn't always a bad thing for Arizona.
Anquan Boldin
was furious last week when the Cardinals named him inactive at the last possible moment, allegedly without informing him properly. He played with obvious passion Sunday, reaching the ball ahead for extra yardage and avoiding the fumbles that sometimes result from such tactics.
Boldin hurt the Seahawks with eight receptions for 105 yards. The Cardinals have won five of the last six games Boldin has missed, but they needed him Sunday. Boldin's 37-yard catch-and-run in the fourth quarter helped put away Seattle.
5. Nate Burleson should hold off on the predictions.
Seattle's leading receiver entered Week 10
predicting a Seahawks victory
.
Burleson finished the game Sunday with zero catches. Cardinals cornerback
Dominique Rodgers-Cromartie
dominated their matchup. And when the Seahawks needed a reception in the fourth quarter, Burleson and Hasselbeck weren't on the same page, resulting in an incomplete pass even though Burleson was open.
Houshmandzadeh had more room to talk after averaging 18.3 yards per reception.
"I don't see nobody on our schedule that can beat us, in my eyes, not if we play the way we should play," Houshmandzadeh said.
The Vikings must be trembling.
November, 15, 2009
11/15/09
7:56
PM ET
GLENDALE, Ariz. -- Nothing has come easy for the Cardinals at home this season. The trend continued against Seattle, but the outcome was all that mattered.


A season sweep of the Seahawks all but eliminated Seattle as a realistic challenger within the division.
The game raised questions about the Cardinals' run defense. It demonstrated their tendencies toward undisciplined play. But it also revealed a clear talent differential favoring the Cardinals even though the Seahawks hadn't been this healthy for months.
The Seahawks will now take a 3-6 record into Minneapolis after their best in Week 10 wasn't good enough against Arizona. That's a difficult position for Seattle and I will not be surprised if the Seahawks fall flat against the Vikings. They will have to fight through the realization that the season is likely lost.
Arizona takes a 6-3 overall record and 4-0 road record into St. Louis, where Kurt Warner will presumably treat fans to a brand of offense the Rams generally have not enjoyed since he left. Warner needed time to warm up Sunday, but he finished with 76 percent completions for 340 yards and two touchdowns. He makes the Cardinals a contender.
The Seahawks' inability to win one-on-one pass-rush battles against average offensive tackles was striking. It was arguably the difference in the game.
November, 15, 2009
11/15/09
7:33
PM ET
GLENDALE, Ariz. -- For as well as the Seahawks have played against Arizona, the Cardinals were still pretty much unstoppable.
Kurt Warner
has completed nearly 80 percent of his passes for 333 yards, two touchdowns and a 123.7 rating. The Cardinals have 458 yards.
The Seahawks did not need a moral victory in this game. They needed a victory. Barring a comeback from a 31-20 deficit with 4:53 remaining, Seattle will take a 3-6 record to Minnesota.
November, 15, 2009
11/15/09
3:21
PM ET
GLENDALE, Ariz. -- The Seahawks' decision to name fullback
Owen Schmitt
inactive against Arizona reflects a couple of things for Seattle.
Return specialist
Louis Rankin
gives the Seahawks a fourth active running back. Another special-teams player, receiver
Ben Obomanu
, is also active after an injury sidelined him last week.
The Seahawks might also be evolving to more of a one-back, three-receiver offense without a fullback. That was the case against Detroit in Week 9.
Safety
Jamar Adams
, guard
Mike Gibson
, guard
Mansfield Wrotto
, defensive tackle
Red Bryant
, tight end
Cameron Morrah
and defensive end
Derek Walker
are also inactive for Seattle.

NFL SCOREBOARD
Thursday, 9/18
Sunday, 9/21
Monday, 9/22
WEEKLY LEADERS