NFL Nation:

Sealver Siliga
December, 8, 2013
12/08/13
2:35
PM ET
FOXBOROUGH, Mass. -- Sharing some halftime thoughts as the
New England Patriots
trail the Browns
6-0
:

Uninspiring performance from Patriots:
Dropped passes. Missed blocking assignments. Substitution issues on the sideline with the coaching staff and players that lead to 12-men-on-the-field penalties and general confusion. Simply put, it's been uninspiring football from the Patriots. At the same time, credit also goes to the Browns in some areas (e.g.
D'Qwell Jackson
's range on an interception of a throw that was forced), who certainly haven't quit after last week's loss to the Jaguars.
Not as much about adjustments as execution:
Unlike last week, when the Patriots altered their offensive plan at halftime, this game doesn't strike us as much about being adjustment-based. It's more about execution. There are opportunities there if they can make the plays. The Patriots looked like one of the NFL's worst teams in the first half.
Charting Ridley's usage:
The Patriots have eased running back
Stevan Ridley
back into the mix after he was a healthy scratch last week because of ball-security issues. He played five snaps in the first half.
Siliga's presence highlights focus on interior rush defense:
One of the areas prioritized defensively during the week of practice was the Browns' inside running game. Along those lines, the Patriots started nose tackle
Sealver Siliga
(6-2, 325) over
Joe Vellano
(6-2, 300), electing for more bulk and power (and choosing Siliga over veteran
Isaac Sopoaga
to provide it). That was a notable personnel shift, and the results have been good. The inside running game, outside of the first few plays of the game, hasn't been a big factor.
Closer look at cornerback usage:
The Patriots started
Aqib Talib
and
Logan Ryan
at cornerback in the base defense, with Talib shadowing receiver
Josh Gordon
all over the field. When the Browns go to a three-receiver package, the Patriots are taking Ryan off the field and adding cornerbacks
Alfonzo Dennard
and
Kyle Arrington
as the fourth and fifth defensive backs. Something different, with Talib and Ryan two of the bright spots in a half with few of them.
Patriots open the half with ball:
After winning the opening toss and deferring the choice to the second half, the Patriots will receive the opening kickoff of the half.
August, 24, 2013
8/24/13
11:36
AM ET
Penalties, lots of penalties, haven't kept the
Seattle Seahawks
from winning in the preseason.
Seattle now has an unimaginable 34 penalties for 354 yards in the first three games, but the Seahawks won each of them. That includes a
17-10 victory
Friday night at Green Bay when the Seahawks were flagged 14 times for 182 yards.
[+] Enlarge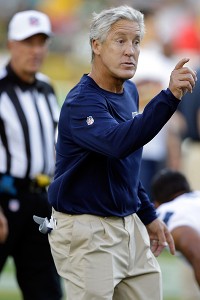 AP Photo/Tom LynnPete Carroll's Seahawks were penalized 14 times for 182 yards on Friday against Green Bay.
It looks worse when you realize coach Pete Carroll made the penalty problems his main point of emphasis entering the Green Bay game. Instead of getting better, it got worse.
"There were a lot of distractions in the game with 180 yards of penalties,'' Carroll said. "It's hard to deal with, and we are focused on cleaning that up. You never want to give your opponent anything, and we gave them 180 yards. That's makes it difficult to win."
The Seahawks won anyway. Here are a few observations from the game:
1. The defense does it again:
Seattle's defense has allowed only 30 points in the first three preseason games, and only three touchdowns, one in each game.
Tony McDaniel
looked good in his first start at defensive tackle, stuffing the middle and posting two tackles along with one pass defensed.
Sealver Siliga
, the defensive tackle Seattle acquired last week when guard
John Moffitt
was traded to Denver, had a strong first game with the Seahawks. Siliga had two tackles, including a sack.
2. Wow Mayowa:
The man on defense who continues to stand out is rookie free agent
Benson Mayowa
, a defensive end from Idaho. Mayowa's quickness makes it seem like he's everywhere on the field. He had four tackles Friday night, including one tackle behind the line. Mayowa had a quarterback hit and a fumble recovery.
Maybe his most impressive play Friday came when Green Bay had a 31-yard gain. Running back
Alex Green
got around the left end and was off to the races down the sideline, but Mayowa ran him down from behind.
Mayowa (6-3, 255) was a longshot to make the team when training camp started. Now he appears to be a lock. He has 10 tackles in three games and 2.5 sacks. He also has five quarterback pressures.
3. Big-play Williams:
Lanky receiver
Stephen Williams
, another man fighting for a roster spot, now has three long touchdown receptions in the first three games, one in each game.
Williams (6-5, 210) had a 42-yard touchdown catch Friday, pulling the ball away from the defender at the goal line on a pass from
Brady Quinn
. Williams came close to another long touchdown Friday on a play that could have been called interference on Green Bay defender
Brandon Smith
.
With
Percy Harvin
out until at least late November, it seems unimaginable now that Seattle wouldn't keep Williams as a deep threat with the height to out-leap defenders for the ball.
4. One tough Aggie:
Christine Michael
, Seattle's second-round draft choice from Texas A&M, had his best game of the preseason, rushing for 97 yards on 11 carries. Michael (5-10, 220) has shown a knack for breaking tackles and hitting the hole quickly at the line of scrimmage.
Seattle rushed for 166 yards on 27 carries (a 6.1-yard average) against the Packers.
6. The penalty culprits:
The running game looked strong despite a bad night for the Seahawks' offensive line. It allowed four sacks and was penalized five times for holding. Starting right
J.R. Sweezy
was penalized three times in the first half -- two for holding and once for a personal foul.
The bottom line is the Seahawks managed to get the job done despite all the miscues and yellow flags. But that isn't likely to continue in the regular season unless the team cleans up its act.
August, 21, 2013
8/21/13
4:58
PM ET
RENTON, Wash. -- The Seahawks continue to stockpile defensive lineman, adding two more in the past two days. Seattle now has 11 defensive lineman who were not with the team one year ago.

The
John Moffitt
trade, which took two tries (first to Cleveland, that was voided, then to Denver the next day) resulted in Seattle acquiring Broncos defensive tackle
Sealver Siliga
.
The Seahawks also added defensive tackle
Dewayne Cherrington
, a rookie free agent from Mississippi, after releasing kicker Carson Wiggs on Monday.
Siliga, 6-2 and 325 pounds, is in his second season out of Utah. He had two assisted tackles against the Seahawks in the preseason game Saturday night at Seattle. Siliga already was at practice Wednesday.
"A true pro in the way he worked,'' defensive coordinator Dan Quinn said of Siliga. "You could see his strength right away."
Cherrington (6-3, 335) played college football at Richmond. Cherrington was not drafted, but signed with New England as a free agent before being released last week.
Both Siliga and Cherrington are longshots to make the 53-man roster, but the Seahawks coaches are trying to make sure they don't come up short with the players on the defensive front.
The others who are new this year include
Cliff Avril
,
Tony McDaniel
,
Michael Bennett
,
O'Brien Schofield
,
Martin Parker
and
Michael Brooks
(veteran players who were signed and brought in), draft choices
Jordan Hill
and
Jesse Williams
, and rookie free agent
Benson Mayowa
.
Obviously, some of these men will be gone when cuts are made to get down to the 53-man roster (and eight possible practice squad players) before the regular season begins.
But a few of the newcomers have stood out, especially Mayowa and Schofield. Mayowa, a rush end from Idaho, has 2.5 sacks and four quarterback pressures in the first two preseason games.
Schofield, a fourth-year player from Wisconsin, has a sack, a forced fumble and a fumble recovery. Schofield knocked the ball out of quarterback
Brock Osweiler
's hands and recovered it in the backfield in the Denver game last weekend.
"We started him at linebacker and then moved him back to Leo (rush defensive end)," Quinn said of Schofield, who played three seasons for the
Arizona Cardinals
. "He's doing well."
Hill, a third-round pick from Penn State, also has looked strong at defensive tackle. He's in the running for the starting spot at the 3-technique defensive tackle, a spot vacated when Seattle lost
Alan Branch
to free agency in the offseason. Quinn said no decision had been made there, but McDaniel and
Jaye Howard
probably have the best chance of earning the first-team spot.
Avril and Bennent, two proven pass-rushers, and McDaniel, a defensive tackle in his eighth season, were the biggest off-season acquisitions on defense. Bennett has played both tackle and defensive end. Avril has yet to get in a game, and missed most of training camp with a hamstring injury. He also missed mini-camp and OTAs with a foot injury, but the Seahawks are counting on him to be a major contributor this season.
It was clear after the 2012 season that the Seattle coaches wanted to upgrade the defensive front and improve their rush. With defensive end
Chris Clemons
still recovering from off-season ACL surgery and defensive end/outside linebacker
Bruce Irvin
suspended for the first four games, the Seahawks are trying to ensure they have enough quality depth to make an improvement in that area.
August, 20, 2013
8/20/13
9:03
PM ET
ENGLEWOOD, Colo. -- An obviously uber-fit 35-year-old
Paris Lenon
looked slightly shocked at the question Tuesday when, fresh off a newly-minted contract with the Broncos, he was asked how he's kept himself in shape in recent weeks and months.
"Well, I work out a lot," Lenon said. "I train a lot ... I feel good."
The Broncos obviously agreed. They worked out Lenon in the morning to potentially help their depth chart at linebacker, then signed him just before practice and he was back on the field as soon as they could fit him for shoulder pads.
[+] Enlarge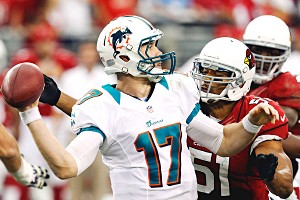 AP Photo/Ross D. FranklinParis Lenon (51) had 103 tackles, 2 sacks and an interception with the Cardinals last season.
With
Von Miller
now suspended six games for violating the league's substance-abuse policy and
Stewart Bradley
set for wrist surgery, the Broncos tabbed Lenon as a potential reinforcement. Entering his 12th year, the veteran has been both productive and durable in his career, having played in 16 games in 10 seasons and 15 games in the other. He has started 16 games in six of the past seven seasons as well. He topped 100 tackles in four of the past seven years, including 2012 in Arizona.
At 240 pounds the Broncos will give Lenon a look at the middle linebacker position in their 4-3 -- he has played on the inside of a 3-4 defense -- but he could also get a look at one of the outside spots. With Miller now out until Week 7 and if Bradley takes several weeks to recover from his surgery the Broncos are down two starters at the position.
At the moment the Broncos have moved
Wesley Woodyard
into the middle with
Danny Trevathan
on the weak side and
Nate Irving
expected to fill in at Miller's strong side spot in the base defense.
"What's important for me right now is getting the playbook and really learning it,'' Lenon said. "That's No. 1. It's hard to go out there and do anything when you don't know what you're doing. The No. 1 objective is to learn what they do.''
Center/guard Ryan Lilja, who had knee and toe surgeries earlier in the offseason, has been held out of practice the last two days with a knee issue and Chris Kuper is still working his way back from offseason ankle surgery as well as treatment for an infection in the joint. And the Broncos felt enough uncertainty there to make a trade Tuesday. Even as Von Miller's suspension was being handed down, the Broncos sent defensive tackle Sealver Siliga to the Seahawks in exchange for guard/center John Moffitt. Both teams got an up-close look at the respective players this past Saturday when Moffitt played 21 snaps on offense for Seattle in the Seahawks' 40-10 preseason win over Denver. Siliga played 30 snaps on defense for the Broncos in the game. It is an indication the Broncos have enough concerns about Lilja and Kuper over the long haul to have traded a player they've invested the ast two years developing. Siliga was going to have a difficult time making the Broncos' final 53, but he did spent the 2011 season on the Broncos' practice squad and spent last season on the team's roster -- he was a game day inactive in 15 regular-season games and the playoff loss to Baltimore. Moffitt was a third-round pick in the 2011 draft by the Seahawks. Seattle had tried to trade Moffitt to the Browns earlier Tuesday, but the deal was voided when the Browns had concerns about a knee injury Moffitt had suffered as a rookie in '11. "We had an opportunity to get a good football player, a guy that was a third-round pick,'' Broncos coach John Fox said. "A guy that we are familiar with. (He) played in a good college offense. He's got some versatility. He's played primarily guard but he has had some center versatility in his past. He's a guy our scouting people liked -- both pro and college and we think it helps our football team.''
With Champ Bailey expected to miss the remainder of the preseason with a left foot injury, the Broncos continued to work through the combinations in the secondary in Tuesday's practice. Dominique Rodgers-Cromartie, who worked some at Bailey's left cornerback spot Monday, was back at his right cornerback spot Tuesday. Chris Harris worked at the left corner with the starters in the base defense.
Guard Louis Vasquez, who was treated for a knee injury after the preseason loss in Seattle, was back in the lineup Tuesday after being held out of Monday's workout.
Fox said Tuesday the Broncos were considering moving Woodyard into the middle linebacker spot even before Bradley's injury. When asked after practice if Woodyard had been moved because Bradley injured his left wrist, Fox said; "That was going to be a move we made regardless.''
August, 20, 2013
8/20/13
7:21
PM ET
RENTON, Wash. — Seattle guard
John Moffitt
was traded, then not traded, then traded again, all within 24 hours.
Moffitt was dealt to the
Cleveland Browns
on Monday afternoon for defensive lineman
Brian Sanford
, but Cleveland voided the deal Tuesday afternoon, reportedly due to health concerns over a previous Moffitt knee injury.
Moffitt has been on the field throughout training camp, played in both of Seattle's preseason games and said he was in better shape than any time in his career.
Less than 30 minutes after news broke of the trade being nixed, the Seahawks had traded Moffitt to Denver for Broncos defensive tackle
Sealver Siliga
.
[+] Enlarge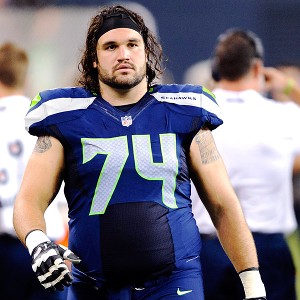 Steven Bisig/USA TODAY SportsAfter his trade to Cleveland was voided over a health issue, Seattle sent guard John Moffitt to Denver for defensive tackle Sealver Siliga.
Maybe both teams liked what they saw from those players in the Seahawks' 40-10 victory over Denver on Saturday night in Seattle.
Siliga, 6-foot-2 and 325 pounds, is in his second season out of Utah. He had two assisted tackles against the Seahawks.
Moffitt still will need to pass a physical with the Broncos, but assuming that gets done with no problems, Seattle's decision to trade Moffitt clears up some things:
1. Starting battles for the offensive line are over.
The only real contest up front was between
J.R. Sweezy
and Moffitt, but obviously Sweezy won out. The other OL starters are set:
Russell Okung
at left tackle,
Paul McQuistan
at left guard,
Max Unger
at center and
Breno Giacomini
at right tackle.
Moffitt has more experience than Sweezy and might be a better player from a technique standpoint, but Sweezy has a toughness to him and a hard edge that offensive line coach Tom Cable loves, which is why he wanted to see what he could do when the team moved Sweezy to offense last season.
Sweezy was a seventh-round draft choice last year as a defensive tackle from North Carolina State. He was moved to the offensive line, partially because of an arm injury to Moffitt in training camp last season. Sweezy struggled early on, but improved as the season progressed.
Moffitt hoped to win the starting job at training camp this year, but it didn't happen.
The only thing that could change the starting lineup on the O-line (other than an injury) is having
James Carpenter
back on the field and healthy. Carpenter was a first-round pick out of Alabama in 2011, but injuries have plagued his time in the NFL.
A foot injury has sidelined him so far in the preseason. If Carpenter is healthy and gets some time on the field soon, he could eventually return to a starting spot at guard, but that's a big if at this point.
2. As they've shown in the past, the Seahawks aren't afraid to move an early-round draft choice
if they feel other players, not as highly touted, are doing better jobs.
Moffitt was a third-round pick out of Wisconsin in 2010. He played well his rookie season and was viewed as a possible anchor at guard for the long term, but injuries slowed his progress.
He became expendable because the Seahawks are pleased with what they've seen from rookies
Ryan Seymour
(a seventh-round pick out of Vanderbilt),
Michael Bowie
(a seventh-round pick from Northeastern State in Oklahoma) and
Alvin Bailey
(a free agent from Arkansas).
Seymour now is listed as the backup to Sweezy. Bowie and Bailey are listed at tackle, but they also can play the guard spots.
January, 12, 2013
1/12/13
3:51
PM ET
DENVER -- There are no surprises on Denver's inactive list for Saturday's AFC divisional playoff game against Baltimore.
Here are Denver's inactives:
Tracy Porter
,
Andre Caldwell
,
C.J. Davis
,
Chris Gronkowski
,
Caleb Hanie
,
Sealver Siliga
and
Julius Thomas
. Porter is the most important injured player of the group. He has a concussion. Denver is remarkably healthy going into this game.
Here are Baltimore's inactive:
Deonte Thompson
,
David Reed
,
Ramon Harewood
,
Chris Johnson
,
Bryan Hall
,
Omar Brown
and
Adrian Hamilton
.
As expected, it is quite chilly here. But the skies are clearing up, and it is not as gloomy as it was a couple of hours ago when it was snowing lightly. The field is in good condition.
I think here is a chance the game will be played in dry conditions, although there are reports that the wind-chill factor might be near zero late in the game.
July, 29, 2012
7/29/12
12:00
PM ET
ENGLEWOOD, Colo. -- A veteran Denver Bronco was relaxing after the first training camp practice of a monumental season for the franchise.
He shook his head.
"When was the last time we had something like
this
here?" he asked. "This is something."

This
is No. 18.
This
is
Peyton Manning
.
Everything has changed for the Broncos.
With one phone call from Manning to Denver leader John Elway in March, the landscape of the organization changed. The Broncos are no longer a league curiosity caused by
Tim Tebow
-mania. They are now relevant because Manning, who missed last season with a neck injury, is
the
story in the NFL.
The Broncos, though, aren't consumed by being a popular story. They are focused on the impact Manning, at age 36, will have on the team. In public and in private, the Broncos are not worried about Manning's health. They are simply in awe that he is on their side.
The organization feels it's time to make a major push because of Manning.
"It's very similar to the Super Bowl year we had in New Orleans," said new Denver cornerback
Tracy Porter
, a former Saint. "We have extremely high expectations on this team, starting with Peyton, all the way down to the last guy on the roster. Our expectations are not just to hopefully get to the playoffs. Our expectations are to get back to New Orleans to play for the Super Bowl and win the Super Bowl. "
THREE HOT ISSUES:
1. Manning's health:
The Broncos operate as if Manning will be ready for the Sept. 9 opener against visiting Pittsburgh, but they won't know if he will be fully healthy until he takes a few hits. Again, all indications are that Manning should be fine. He is throwing well, he hasn't suffered a setback and he is practicing at a strong tempo. He is on pace to be ready for the season.
[+] Enlarge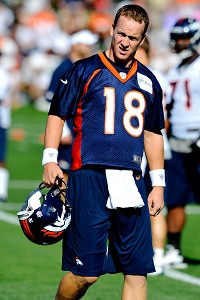 Ron Chenoy/US PRESSWIREThe Broncos won't know exactly what they have with Peyton Manning until he starts taking some hits.
2. Defensive readiness:
The Broncos' defense is still a work in progress. It went from No. 32 to No. 20 in the NFL last season under the guidance of head coach John Fox and defensive coordinator Dennis Allen. Allen parlayed the success into the Raiders' head coaching job. Former Jacksonville head coach Jack Del Rio, Fox's defensive coordinator in Carolina in 2002, stepped in to replace Allen. The Fox-Del Rio pairing is strong, but this unit must continue to improve. It will have to play the first six games of the season without weakside linebacker
D.J. Williams
because of an NFL suspension, and pass-rusher
Elvis Dumervil
could face a short suspension for a recent gun arrest. So, the team will have to get a lot of players ready during camp as the Broncos try to continue the upward defensive swing.
3. Young receivers:
Third-year receivers
Demaryius Thomas
and
Eric Decker
will be in the spotlight throughout camp. Both are talented players who have a lot of promise. Playing with Manning should hasten their learning curve. But there is not a quarterback in the NFL who is as particular about his receivers as Manning, and both must adjust to Manning's game. The early word is that both players are earning Manning's trust.
REASON FOR OPTIMISM
The Broncos have a terrific head coach in Fox, whose presence and impact should not be discounted. He is an upper-echelon coach who has a firm grip on this program. His players love him and the overall spirit of the franchise is probably as high as it has been since the back-to-back Super Bowl-winning years in the late 1990s. Fox did a wonderful job last season turning a 4-12 weakling into an 8-8 team that won a playoff game. In Fox's second season in Carolina, he led the team to the Super Bowl. Will it happen again in Denver? We'll see, but his players fully believe in him, and that's a huge head start.
REASON FOR PESSIMISM
We do not yet know if the Broncos are loaded enough with talent to make a long playoff run. There are a lot of questions.
Will the team be able to run the ball enough to help Manning now that the Broncos aren't using the Tebow-led option? Are the youngsters on the offensive line ready to protect Manning? Will they be good enough at defensive tackle and safety?
This team is far from a finished product and it faces a brutal schedule. Still, expectations are high because of Manning. But the truth is, Denver must build itself around Manning very quickly -- the chief challenge of training camp.
OBSERVATION DECK:
Players rave about Del Rio. They love his toughness and the fact that he is a former NFL player. Many players said Del Rio understands what they are going through and they feel they are on the same page with him already. The word around Denver's camp is that the Fox-Del Rio relationship has taken off where it left off in Carolina.

[+] Enlarge

AP Photo/Eric BakkeNew Broncos defensive coordinator Jack Del Rio held the same position for John Fox in Carolina.

Watch for rookie running back Ronnie Hillman, a third-round pick, to get plenty of chances to prove himself. Denver sees him as an explosive threat as a runner and as a receiver out of the backfield.

Former Chicago quarterback Caleb Hanie has the inside track to be Manning's backup. Still, Adam Weber or rookie Brock Osweiler could pull off the surprise and beat him out.

The Broncos are high on undrafted rookie linebacker Steven Johnson. The Kansas product could get some looks at middle linebacker in the preseason.

The Broncos will look at a lot of punt return options. Having Decker do it may be risky. I think it is an area Denver will look to upgrade on the waiver wire.

While guard Chris Kuper is slowly coming back from a severe ankle injury suffered in Week 17 in 2011, the Broncos expect him to continue to make progress.

Running back Knowshon Moreno, the No. 12 overall pick in 2009, is back after suffering a torn ACL last season. Still, he has an uphill battle to impress this staff.

Keep an eye on fourth-round pick Omar Bolden, a cornerback. He was highly rated out of Arizona State, but he missed all of last season with a knee injury. He looks like a keeper.

The Broncos rave about linebacker Von Miller, the 2011 NFL rookie of the year. The pass-rusher is working diligently to improve his overall game. Coaches and teammates laud Miller for his desire to improve.

The Broncos would like to see middle linebacker Joe Mays shore up his tackling in camp. He is a solid player, but he whiffed too many times last season.

The Broncos love what they see in Porter. Because of his talent, experience and confidence, Porter should be able to handle the pressure of playing opposite Champ Bailey, according to the Broncos. Second-year safety Rahim Moore opened with the first- team defense. He will compete with fellow second-year safety Quinton Carter.

Veteran defensive tackle Ty Warren was working with the first-team defense. Before Warren re-committed to the team in June, Sealver Siliga worked with the first team. Mitch Unrein got some work with the first-team defensive line early in camp as Denver looked for the right rotation.

Defensive lineman Ben Garland is making an impression. He is athletic and has great feet and could make the team.
July, 26, 2012
7/26/12
12:15
PM ET
ENGLEWOOD, Colo. – It appears
Denver Broncos
fans are over the loss of
Tim Tebow
.

Manning-mania is bubbling over in the Rockies.
The Denver Broncos opened training camp Thursday morning to a fan reception never seen before in these parts. An estimated 4,000-plus attended the opening day of practice to welcome
Peyton Manning
to Denver in his first public appearance in a Broncos helmet. The word is that late-arriving fans were having a difficult time getting into the practice.
The main parking lot adjacent to the practice field was full well before practice begin and people were forced to park a mile away from the facility.
The previous record for training camp at the team's facility was just over 3,000. Yes, even Tebow-mania couldn't attract this type of crowd.
Manning received a huge reception when he hit the practice field and his every completion spurred wild applause. Several fans were wearing Manning Denver jerseys; some were wearing Manning Indianapolis jerseys.
Meanwhile, in other Denver camp news, second year safety
Rahim Moore
opened with the first team defense. He will compete with fellow second-team safety
Quinton Carter
. Also, veteran defensive tackle
Ty Warren
was working with the first-team defense. Prior to Warren re-committing to the team in June,
Sealver Siliga
worked with the first team.
NFL SCOREBOARD
Sunday, 2/2
WEEKLY LEADERS