July, 31, 2014
Jul 31
4:59
PM ET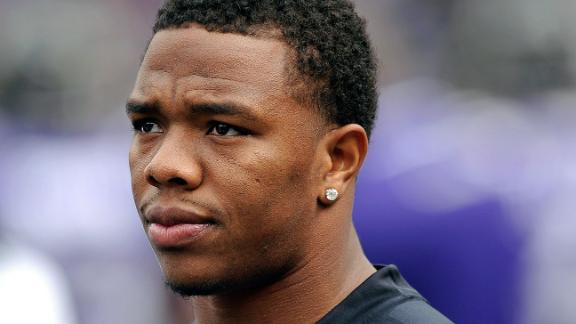 OWINGS MILLS, Md. -- In stark contrast to
Ray Rice
's awkward news conference in May, the
Baltimore Ravens
running back showed Thursday that he finally understood the weight of his actions from the alleged altercation with his then-fiancée in February.
He delivered the correct message, one the NFL failed to do last week with the two-game suspension, by not only apologizing to his wife, Janay Palmer, but also expressing a desire to become an advocate for domestic-violence causes.
Rice was compelling in his contrition, calling it the biggest mistake of his life. He stood in front of the microphone alone, without his wife standing by his side, and took full responsibility for the incident. Perhaps more importantly, Rice actually said the words "domestic violence," which weren't heard in his statement two months ago.
"My actions were inexcusable," Rice said. "That's something I have to live with the rest of my life."
Before anyone pats Rice on the back, this is what he should have said the first time when he broke his silence in May. Instead, Rice nervously fumbled through notes on his phone and apologized to team officials and his sponsors. That debacle of a news conference came across as damage control to his image.
His 17-minute news conference Thursday hit the right tones. He apologized to all women affected by domestic violence. He accepted the blame for losing the respect of fans. Rice came across as genuinely sorry.
"I let my wife down, I let my daughter down, I let my wife's parents down, I let the whole Baltimore community down," Rice said.
Rice's biggest misstep was not talking about what happened in the elevator. He was asked twice about it and declined to answer both times. His stance against domestic violence would have resonated stronger if he had explained his transgressions.
"I'll be honest: Like I said, I own my actions," Rice said. "I just don't want to keep reliving the incident. It doesn't bring any good to me. I'm just trying to move forward from it. I don't condone it. I take full responsibility for my actions. What happened that night is something that I'm going to pay for the rest of my life."
The only way Rice can move forward from this incident and show he's truly sincere is through his actions. It's not by his words. It's not by a hefty donation, which is merely a gesture. It's by proving this will remain a "one-time incident" and by supporting domestic-violence causes.
Thursday represented a small step forward for Rice. But it was an important one.
August, 31, 2013
8/31/13
6:41
PM ET

Most significant move:
The fact the Bucs didn't put guard
Carl Nicks
on injured reserve or the physically unable to perform list is a strong sign that the veteran should be able to return early in the season. Nicks has been battling a staph infection. If Nicks can get healthy, Tampa Bay has the potential to have one of the league's top offensive lines.
Paying the kickers:
Although it appears as though
Rian Lindell
will be the kicker on opening day, the Bucs apparently will be paying three kickers this season. Technically, teams don't have to pay players on the non-football-injury list. But the team reportedly will pay
Lawrence Tynes
, who is dealing with a staph infection, his $840,000 base salary. That's probably a smart move because there could be legal implications if Tynes isn't paid. The Bucs also are believed to be paying the $2.3 million base salary of
Connor Barth
, who was injured in a charity basketball game during the offseason. Lindell is scheduled to make $940,000 in base salary and he has a $65,000 roster bonus.
What's next:
With
Tom Crabtree
dealing with a high-ankle sprain that could keep him out of some regular-season action, the Buccaneers might look to the waiver wire to see if there is a pass-catching tight end they can pair with
Luke Stocker
.
Buccaneers moves:
Waived S
Sean Baker
, CB
Deveron Carr
, T
Jace Daniels
, LB
Dom DeCicco
, LS
Andrew DePaola
, K
Derek Dimke
, WR
David Douglas
, LB Ka'lial Glaud, S
Cody Grimm
, P
Chas Henry
, DT
Lazarius Levingston
, DT
Matthew Masifilo
, DT Andre Neblett, TE
Danny Noble
, WR
Chris Owusu
, T
Mike Remmers
, CB
Mason Robinson
and C/G
Cody Wallace
. Terminated the contracts of G
Roger Allen
, DT
Gary Gibson
and WR
Jordan Norwood
. Placed K
Lawrence Tynes
on non-football injury llist.
August, 29, 2012
8/29/12
10:08
PM ET
Tampa Bay's
30-3 loss
to the
Washington Redskins
on Wednesday night didn't make for great viewing.
Blame much of it on Tampa Bay coach Greg Schiano. But, more importantly give Schiano lots of credit for making one of his best decisions since taking over the Buccaneers in January.


The Tampa Bay starters did not play. Instead, they stood on the sidelines after going through a full practice at Georgetown University earlier in the day.
It's not unusual for an NFL coach to use his starters lightly or sit some of them in the final preseason game. But Schiano took this to an extreme. He even sat long-snapper
Andrew Economos
and a few guys that are likely to be key backups.
There's absolutely nothing wrong with that. After watching Pro Bowl guard
Davin Joseph
go down with a season-ending knee injury last week, Schiano wasn't taking any chances. He wants his starters healthy for the regular-season opener, which comes Sept. 9 against Carolina.
That game is going to be a lot more important -- and, hopefully more entertaining -- than the preseason finale.
Some quick observations from Wednesday night's game:
The Bucs still are trying to figure out how they're going to replace Joseph. Jamon Meredith started at right guard, but I don't know if that means he'll be there for the Carolina game. Meredith surrendered a sack and was called for two penalties in the first half. The Bucs are experimenting with their options at that spot. Ted Larsen, who got the start at center, and Derek Hardman, also are possibilities from the current roster. But the Bucs also could scan the waiver wire for help in the coming days. After watching all the backup offensive linemen, I'd suggest the waiver wire might be the way to go.
Defensive tackle Wallace Gilberry might have helped his chances of landing a roster spot. He batted down a pass at the line of scrimmage early in the game. The Bucs are expected to use Gerald McCoy and Roy Miller as their starters. Amobi Okoye is expected to be part of the backup rotation, but he's missed a lot of time with an injury. Gilberry likely is in the mix with Gary Gibson and Frank Okam to be part of the rotation.
I remember a preseason or two back in the 1990s when third-stringer quarterback Scott Milanovich was the most popular quarterback in Tampa Bay. After watching Brett Ratliff get the start and play the entire game, I don't think starter Josh Freeman or backup Dan Orlovsky have anything to worry about. In fact, I think there is at least a chance the Bucs could follow the path a lot of other teams have taken in recent years and go with only two quarterbacks on the regular-season roster. In fairness to Ratliff, he got no help from his offensive line.
Broadcaster and former Buc John Lynch might have stirred up some speculation when he said the Bucs should try to sign tight end Chris Cooley, who recently was released by the Redskins. Usually, I try to shoot down speculation about the Bucs signing guys in their 30s because that really doesn't fit the profile of a team that's doing most of its building through the draft. But I'm with Lynch on this one. I think the Bucs could use a little more depth to go with Dallas Clark and Luke Stocker. If Cooley's healthy, he might be worth a shot. I think he'd be a better lockerroom fit than Jeremy Shockey, who still remains unsigned. General manager Mark Dominik said during a fourth-quarter interview with the broadcast team that there had been contact with Cooley's agent, but said the team is now aggressively pursuing the veteran tight end.
Rookie safety Sean Baker still might be a long shot to make the 53-man roster. But he intercepted two passes and recovered a fumble Wednesday night. That might help Baker land a spot on the practice squad.
Nice to see Bucs' co-chairman Joel Glazer hugging Raheem Morris before the game. Morris coached the Bucs the last three seasons and is now Washington's defensive backs coach. Morris had a good relationship with ownership, but it was obvious to all that a move had to be made as the Bucs lost their final 10 games of last season. I'm just guessing here, but I doubt any members of the Glazer family were exchanging hugs with Washington general manager Bruce Allen, who once held the same role in Tampa Bay.