NFL Nation:

Sean Canfield
August, 30, 2012
8/30/12
10:14
PM ET
Some quick observations from the Saints'
10-6 loss
to the
Tennessee Titans
in Thursday night's preseason finale:
Assistant head coach Joe Vitt went almost exclusively with backups, which isn't at all surprising when you consider the Saints were playing their fifth preseason game, including the Hall of Fame Game. The Saints started third-string quarterback Sean Canfield. He is a long way from being Drew Brees and even backup Chase Daniel, but Canfield looked better than I've ever seen him in practice and previous preseason games. Canfield did turn the ball over a couple of times, but I think he at least made a case for the Saints to keep him around.
I think a lot of people thought third-round defensive tackle Akiem Hicks would be a project because he played his college football in Canada. I think a lot of people might have sold Hicks short. He continues to impress. He sacked Jake Locker in the first quarter. It's pretty obvious Hicks has earned a spot in the rotation behind starters Brodrick Bunkley and Sedrick Ellis. You could even look a year ahead and perhaps picture Hicks as a starter because Ellis' contract is up after this season and the Saints will have a tight salary-cap situation in 2013.
Receiver Joseph Morgan continues to look good. I think he probably holds the edge on rookie Nick Toon for the No. 4 receiver spot (I count Courtney Roby, a return man) as the fifth receiver. That makes you wonder if the Saints will keep six receivers on the roster. My guess is they will. Toon's a guy they were high on before his preseason got interrupted by an injury. Toon's healthy now and I don't think he's a guy you want to risk losing by releasing him and hoping to get him back on the practice squad.
The competition for the fourth running back spot remains close between Chris Ivory and Travaris Cadet. But I think Ivory might have gained a bit of ground in this game because Cadet lost a fumble.
A lot of people were stunned when safety Isa Abdul-Quddus made the team last year. I was one of them, but I'm starting to see why now. Quddus knocked a ball loose in the second quarter and Elbert Mack recovered the fumble. Quddus already has established a role as a special-teams player. But I think he's turning into a solid backup at safety, and somewhere in the future he could end up starting.
June, 13, 2012
6/13/12
1:47
PM ET
New Orleans head coach Joe Vitt just met with the media and explained why quarterback
Chase Daniel
didn't practice Wednesday and cleared up the mystery that surfaced when Daniel showed up at a charity event with his right (throwing) hand in some sort of brace.
Vitt said Daniel has a hairline fracture on his thumb. Vitt said the injury happened when Daniel hit the thumb on a helmet.
Daniel had been getting all of the first-team work this offseason because starter
Drew Brees
has been away from the team while trying to work out a long-term contract. Vitt said Daniel will be fine for training camp, but won't be allowed to throw for the next few weeks.
Sean Canfield
and recently signed
Luke McCown
ran the offense in Wednesday's session.
I don't think Daniel's situation adds any urgency to getting the Brees deal done. The Saints can finish their offseason program with Canfield and McCown. I'm still expecting Brees will get a new deal shortly before the July 16 deadline for franchise players to sign long-term contracts.
Vitt also announced that defensive end
Greg Romeus
recently suffered a torn ACL. The Saints had high hopes for Romeus, who sat out his rookie season after tearing his other ACL while still in college. Without Romeus, the chances of converted linebacker
Martez Wilson
and
Junior Galette
getting more playing time at defensive end will increase.
June, 7, 2012
6/07/12
1:00
PM ET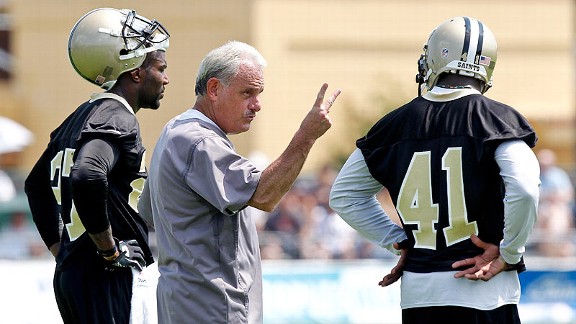 Derick E. Hingle/US PresswireWith Joe Vitt taking over for suspended coach Sean Payton, the Saints haven't lost their way.
METAIRIE, La. -- I've walked out to the practice field twice a day each of the past two days, looking for any signs that suggest the
New Orleans Saints
are a different team than they've been the last few years.
Other than a message for NFL commissioner Roger Goodell that can't be printed here, I saw no signs.
The practices really looked no different than any of the others I've seen since starting this job in 2008. As always, the humidity was awful, but nothing else was. This team is talented.
It's also run in a very organized manner. Yeah, I know coach Sean Payton is suspended for the season, but it's not as though former Tampa Bay coach Raheem Morris flew into town and handed the keys to the asylum to the inmates.
The Saints are being led through the offseason by assistant head coach Joe Vitt, who is the closest thing you'll find to Payton. Vitt has been Payton's right-hand man since the Saints began their modern era of prosperity in 2006.
"(Vitt is) not trying to fill coach Payton's shoes,'' safety
Malcolm Jenkins
said. "He's just playing his role, and he's doing a good job.''
In other words, Vitt is trying to keep things as normal as possible in what might be the most bizarre offseason an NFL team ever has faced.
Payton's not on the practice field as he pays the penalty for what the NFL says was a three-year bounty program run by the Saints. General manager Mickey Loomis is scheduled to begin an eight-game suspension at the start of the season. Linebacker
Jonathan Vilma
is supposed to be suspended for the entire season and defensive end
Will Smith
for the first four games. Vilma has been around the facility but isn't taking part in team drills as he recovers from a knee injury. He's appealing his suspension, as is Smith.
Defensive coordinator Gregg Williams is gone (he left for St. Louis immediately after the season, then drew an indefinite suspension for his role in the bounty program). That might be making things a bit quieter on the practice field, because replacement Steve Spagnuolo isn't nearly as boisterous as Williams. But you can still see talent and progress on the defensive side of the ball.
Oh, and there's one other little item -- franchise quarterback
Drew Brees
hasn't been around as he and the team try to work out a long-term contract. I'll acknowledge that I probably saw more incompletions from
Chase Daniel
,
Sean Canfield
and
Luke McCown
than I've seen in all the times I've seen Brees practice. But there still were moments where you could see Payton's offense shining through as big-time talents like tight end
Jimmy Graham
,
Darren Sproles
and
Marques Colston
made nice catches and big plays.
Not seeing Brees is a little weird. But does anyone really think the quarterback isn't going to be with this team by training camp?
Negotiations might go down to the wire, but I'm certain a deal will get worked out. Once Brees is back, the Saints will be just fine.
That's because, through all the controversy and drama, they've kept things the same.
[+] Enlarge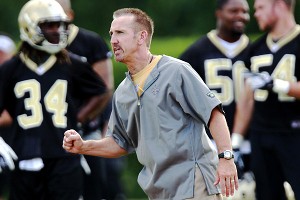 AP Photo/Gerald HerbertDefensive coordinator Steve Spagnuolo might not be quite the presence of predecessor Gregg Williams, but the Saints are getting his message.
"What's our other option?'' Jenkins said. "It's business as usual. We've got to accomplish a lot this time of year, no matter what, so that's all we can do.''
Spagnuolo is installing a new defense. Offensive coordinator Pete Carmichael is fine-tuning that side of the ball, and there's no doubt Payton left a few notes in his suggestion box before the start of his suspension. Even the special teams look like they're going about things in the same way.
"They'd better be,'' wide receiver
Lance Moore
said. "We're not feeling sorry for ourselves or anybody else. We're here and we still feel like we have a very good football team and we definitely can do some damage this year.''
Jenkins and Moore are precisely right when they say it's not even an option for the Saints to feel sorry for themselves.
There has been plenty of outside speculation that all the turmoil is going to cause the Saints to collapse completely. There's no doubt every opponent on the schedule would like to help that process along.
The Saints won a Super Bowl after the 2009 season, and they followed that up with two more winning seasons and two more playoff appearances. Along the way, they haven't made a lot of friends, but that's the nature of what is an extremely competitive business.
There are those who want to see the Saints fall and there are others who want to see them standing firmly. Consider
Curtis Lofton
to be in the latter group. He spent the last four seasons with the
Atlanta Falcons
, probably New Orleans' biggest rival. But Lofton signed with the Saints as a free agent and is expected to be their starting middle linebacker.
"We look at it now as everybody against us,'' Lofton said. "Everybody wants to see us do bad. That's just bringing us together as a unit. The Super Bowl is actually in New Orleans this season, so the goal for everyone is to go and win it for this team and this city. Let's go get it.''
The business-as-usual mantra is the best bet for the Saints to get where they want. With Vitt running the show, they're operating a proven system. Brees will be back, and that means the offense can score enough points for the Saints to beat anyone.
But there's another challenge on the horizon. Vitt also has to serve a six-game suspension, which kicks in just before the start of the regular season. All indications are that the Saints will then hand the head-coach role to offensive line coach Aaron Kromer, Carmichael or Spagnuolo.
Whichever one of those three takes over, it's pretty clear how the Saints will proceed. They'll continue doing things the same way they did with Vitt, which is exactly the same way they did things with Payton.
"I think it says a lot about these guys in the locker room and these coaches,'' Lofton said. "They've been winning a lot of games around here and they have high standards. Everyone's expectations are to live up to those standards and just keep everything rolling.''
Just in case there's any need for clarification, Lofton didn't mean the Saints will be rolling over. He meant they'll just keep rolling along.
June, 5, 2012
6/05/12
6:35
PM ET
METAIRIE, La. -- The
New Orleans Saints
went through two minicamp practices Tuesday. I'm working on several columns and other items for the future, but let me share some quick notes and observations from the first day of minicamp.
At times, quarterback Chase Daniel looked very good while working with the first team. Same for Sean Canfield, but it's pretty obvious these guys aren't quite on Drew Brees' level. I'm pretty sure Tuesday was the first time I've seen the Saints practice and witnessed back-to-back incompletions. That basically doesn't happen with Brees.
Assistant head coach Joe Vitt said it's too early to talk about defensive linemen because they're not hitting and they're not in pads. But it's pretty obvious Vitt is high on young defensive ends Greg Romeus, Junior Galette and Martez Wilson.
Vitt said he's not ready to say that Wilson's move from linebacker to defensive end is permanent. But Vitt said Wilson's past as a linebacker gives him an advantage on the other defensive ends as they sometimes are being asked to drop into pass coverage in the new defensive scheme.
Although the Saints had only five draft picks this year, Vitt said he views the class as having six members. Romeus had to sit out his rookie season with a knee injury and Vitt said he's being treated as a rookie.
Defensive coordinator Steve Spagnuolo expressed the same precaution about judging defensive linemen before full contact, but he sounded very high on defensive tackle Brodrick Bunkley, who joined the Saints during the offseason. Spagnuolo raved about Bunkley's fundamentals and attention to detail.
Tight end Jimmy Graham appears to have added some muscle in the offseason. I asked him about it and Graham said his weight is still 265, but said he's spent a little more time in the weight room and has added some muscle.
The Saints added a little secondary depth just before minicamp. They signed former Tampa Bay cornerback Elbert Mack.
The Saints lost guard Carl Nicks to Tampa Bay in free agency, but quickly replaced him with Ben Grubbs. Nicks may be the best guard in the NFL, but Grubbs isn't bad. In fact, he may be better than Nicks in some ways. "I think that he is probably a little better communicator on the line of scrimmage than Carl Nicks,'' Vitt said.
The Saints clearly are in the experimental stages at linebacker. They opened the morning session with Curtis Lofton, Scott Shanle and David Hawthorne working with the first team. In the afternoon session, they shook things up and had free-agent pickup Chris Chamberlain working with the first team in Shanle's spot.
Zach Strief worked with the first team at right tackle in the morning session, but Strief wasn't on the field in the afternoon. It wasn't clear if Strief was injured or if there was another reason for his absence. Rookie Marcel Jones worked with the first team in the afternoon. I'm not sure that bodes well for the future of Charles Brown, who Vitt previously said was competing for a starting job.
Left tackle Jermon Bushrod, who was rehabbing an injury through the early part of organized team activities, was back on the field and practicing with the first team Tuesday.
Former Saints receivers coach Curtis Johnson, now the head coach at Tulane, brought his staff out to watch practice. Vitt said Johnson offered a critique after the morning session.
I know a lot of New Orleans fans like to criticize strong safety Roman Harper's pass- coverage skills. But I did see Haprer coming through with a nice breakup on a deep pass in the morning session.
June, 5, 2012
6/05/12
2:16
PM ET
METAIRIE, La. -- It wasn't
Drew Brees
, but the
New Orleans Saints
had a third quarterback on the field as they opened a three-day minicamp Tuesday morning.
McCown
NFL veteran
Luke McCown
is going through the minicamp on a tryout basis and could be signed after the camp.
"With Drew's situation, I'm just looking for an opportunity right now,'' McCown said. "And this is a good team to be with. Their offense is similar to what I was in with (Jon) Gruden in Tampa Bay.''
In addition to playing for Tampa Bay, McCown also had stints with Cleveland and Jacksonville. McCown hasn't played a lot, but he's made nine NFL starts. That's nine more than
Chase Daniel
and
Sean Canfield
, the only two quarterbacks currently on the roster.
Brees is carrying the franchise tag and hasn't signed his tender. Brees and the team said the goal is a long-term deal. Assistant coach Joe Vitt has said all along that he's confident the situation will be resolved in a positive manner.
Vitt said that again Tuesday, and said he expects Brees to be with the Saints for the start of training camp. Vitt said he's not worried that Brees has missed time with the team.
"Nobody's going to come in in better shape than Drew,'' Vitt said.
September, 4, 2011
9/04/11
3:17
PM ET
Let's catch up on a few more transactions that have come out Sunday.
As expected, the Bucs didn't sit still at linebacker. They
reportedly have signed
Zac Diles
, who was released by St. Louis. Diles fits the profile of what the Bucs were looking for in a backup for rookie middle linebacker
Mason Foster
. They wanted someone with experience, but not an older player. Diles also played at Kansas State when Tampa Bay coach Raheem Morris was an assistant.
Diles made 30 career starts while with the
Houston Texans
. He can play the middle or strong-side linebacker. We don't know the flip side of this move yet. But the Bucs could be adding more players, and that would mean more releases.
In other news, the
New Orleans Saints
signed eight players to their practice squad
. Linebacker
Nate Bussey
, quarterback
Sean Canfield
, tight end Michael Higgins, cornerback
Terrail Lambert
, defensive tackle
Swanson Miller
, long snapper
Kyle Nelson
, center
Cecil Newton
and receiver
Andy Tanner
, who all spent time with the Saints this summer, were signed. Newton is the brother of
Carolina Panthers
quarterback
Cam Newton
.
November, 25, 2010
11/25/10
3:06
PM ET
ARLINGTON, Texas -- New Orleans running back
Reggie Bush
will make his return Thursday after missing eight games with a broken leg.
Bush is on the active list and is listed as the starter, although he's likely to share time with
Chris Ivory
in the backfield.
Inactives for the Saints Thursday are running back
Pierre Thomas
, safety
Matt Giordano
, safety
Darren Sharper
, running back
Ladell Betts
, tackle
Charles Brown
, tight end
Jeremy Shockey
and defensive end Junior Gallette.
Sean Canfield is the third quarterback.
September, 4, 2010
9/04/10
8:10
PM ET
Check
here
for a full list of New Orleans' roster moves.

Biggest surprise:
Right up until the final preseason game, it looked as if
Jonathan Casillas
was set to be the starter at weak-side linebacker. That's the position the Saints opened up when they let veteran
Scott Fujita
walk in free agency and it seemed like good news at the time. But the Saints just announced Casillas has been placed on the injured-reserve list and will miss the season with a foot injury. They also placed
Clint Ingram
, who was brought in to compete for that spot, on the physically-unable-to-perform list. That leaves them more than thin at linebacker.
Scott Shanle
will start on the strong side and
Jonathan Vilma
in the middle.
Stanley Arnoux
,
Marvin Mitchell
,
Jo-Lonn Dunbar
and
Anthony Waters
are the other linebackers on the roster and none of them are sure-fire starters. Dunbar got some first-team work on the weak side in the early part of camp, but is viewed more as a backup middle linebacker and special-teams player. Arnoux, who missed his rookie season with an injury, has the tools to play the weak side, but lacks experience. This looks like a situation in which the Saints will have to look for help from the outside. What's available on the waiver wire might not be enough. They might have to pursue a trade for a linebacker with realistic ability to start right away.
No-brainer:
Although he was an instant fan favorite, and a huge reason why New Orleans won the first Super Bowl in franchise history, the Saints have known for a long time -- barring a huge miracle -- that free safety
Darren Sharper
wouldn't be on the opening-day roster. He's 34 and the Saints didn't even re-sign him until Sharper checked the free-agent market and found he had very little value. He's also coming off knee surgery and couldn't get on the practice field the entire preseason. The Saints placed him on the physically-unable-to-perform list and there's hope he might be able to come back and provide some help in the second half of the season. But that might be nothing more than wishful thinking. The Saints called in last year's first-round pick
Malcolm Jenkins
, who spent his rookie season at cornerback, soon after the Super Bowl and told him he'd be moving to free safety. He's worked with the first team the entire offseason and he's not going to be coming out of the lineup unless he struggles mightily.
What's next:
It's kind of difficult to improve on the roster of a Super Bowl champion. But general manager Mickey Loomis and his staff will watch the waiver wire closely for more than outside linebackers. You still could see a move at defensive tackle, where depth is a slight issue. With only two quarterbacks on the 53-man roster, it's imperative the Saints carry one on the practice squad. The odds-on favorite for that is Sean Canfield, who was a seventh-round draft pick and went through the preseason with the Saints.
September, 3, 2010
9/03/10
4:58
PM ET
Although the
New Orleans Saints
haven't formally announced any roster moves today, it's become apparent that
Chase Daniel
has won the backup quarterback job.
Mike Triplett reports that the agent for
Patrick Ramsey
said the veteran has been cut
. Ramsey was signed as the heir apparent to veteran
Mark Brunell
to serve as the backup for
Drew Brees
. But Daniel, who spent part of his rookie season on the regular roster and practice squad, had such a strong preseason that he beat out Ramsey.
Under coach Sean Payton, the Saints often carry only two quarterbacks. Rookie Sean Canfield already was released, but remains a candidate to be signed to the practice squad next week.
Ramsey didn't play poorly in the preseason and could be on the radar for several other teams looking for experienced backups. I see one possible destination in the NFC South, and let me make this clear: this matchmaking is purely speculative on my part.
Although the
Tampa Bay Buccaneers
have been singing the praises of
Josh Johnson
, I really think they need a backup with some real experience behind starter
Josh Freeman
. Johnson isn't very experienced, and I'm not convinced he can be a solid backup.
If the depth chart at quarterback stays the way it is in Tampa Bay, the Bucs are in a world of trouble if anything happens to Freeman, who is recovering from a fractured thumb and expected to begin practicing soon. A guy like Ramsey wouldn't be a threat to Freeman, but he has some experience and talent, and he'd provide better insurance than Johnson.
June, 1, 2010
6/01/10
1:00
PM ET
»
NFC Big Question
:
East
|
West
|
North
|
South
»
AFC
:
East
|
West
|
North
|
South
Who will back up Drew Brees in New Orleans?
The
New Orleans Saints
are a team without a veteran backup behind quarterback
Drew Brees
-- at least for the moment.
[+] Enlarge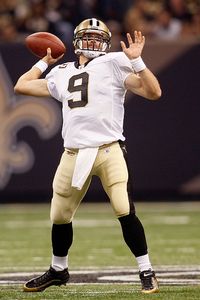 Chris Graythen/Getty ImagesThe Saints need to bring in an insurance policy for Drew Brees.
Brees has been durable and the offensive line played so well last year that he rarely was touched. Veteran backup
Mark Brunell
didn't look especially good when he got to play late last season and there are strong rumblings the
New York Jets
will sign him just before training camp.
I'm not ruling out a Brunell return to New Orleans. But, at the very least, I think it's safe to say the Saints will add a quarterback with some experience at some point. The only quarterbacks they have besides Brees are
Chase Daniel
and rookie
Sean Canfield
. The Saints like them both, but they're viewed as projects.
This is too good a team to leave in the hands of an untested quarterback if anything happens to Brees. Due to the "final eight" rules, the Saints are rather limited in their ability to sign true unrestricted free agents.
They've had
Patrick Ramsey
and
Josh McCown
in for visits and could do something with one of them later. The Saints did a nice job of keeping their championship roster together and put some good patches on some need areas.
They're pretty much set at every spot, except backup quarterback. They're not done there yet. Sometime in the coming weeks, the Saints have to bring in a backup with some experience who can handle the team in case anything happens to Brees.
May, 11, 2010
5/11/10
1:00
PM ET
»
NFC Big Question
:
East
|
West
|
North
|
South
»
AFC
:
East
|
West
|
North
|
South
Who will be Drew Brees' backup in New Orleans this year?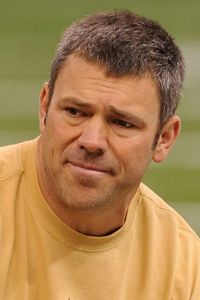 Al Messerschmidt/Getty ImagesThe Saints' backup quarterback last season, Mark Brunell, is still a free agent.
My guess is that quarterback isn't even on the roster yet. Yes, the Saints took a long look at several quarterbacks in their recent rookie camp. They brought in Syracuse's Greg Paulus and seventh-round pick
Sean Canfield
also took part. Paulus is a former Duke basketball player who played only one year of college football. At best, he's a developmental prospect. Maybe he spends some time on the practice squad.
Canfield also is a prospect. He was a seventh-round pick and it's unrealistic to expect him to start off as anything more than a No. 3 quarterback. But that role was held by
Chase Daniel
last season and it's hard to imagine anyone other than Daniel and Canfield competing for the No. 3 job this year.
Yes, the Saints like Daniel, but he's got no real experience. It's kind of a stretch to imagine the Saints just handing the No. 2 job to Daniel at this point.
They've got a Super Bowl championship team. Let's get hypothetical for a second and say Brees twists an ankle and has to miss a couple of games. Are the Saints ready to turn it over to Daniel? Or Canfield?
I seriously doubt it. This is a veteran team and just about anything less than another Super Bowl will be a disappointment. The Saints need an insurance policy behind Brees. They need someone with experience who could come in and lead them for a couple games.
You've got to believe something will happen on this front, especially when you look at how the Saints have collected depth just about everywhere else.
Mark Brunell
, last year's backup, is still available as a free agent and I still think he's the leading option. Yes, Brunell is old, but he already knows the system.
Even if the Saints think Brunell is too old, they've got to look at other guys with experience. The list of available free agents isn't all that impressive right now. But someone like
Marc Bulger
could make the Saints feel a lot more comfortable with their backup situation.
NFL SCOREBOARD
Thursday, 10/2
Sunday, 10/5
Monday, 10/6