March, 26, 2014
Mar 26
3:15
PM ET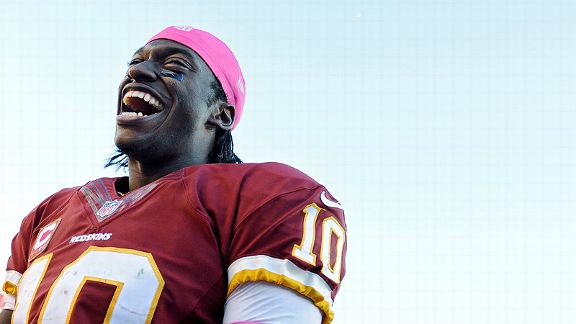 Patrick Smith/Getty ImagesQuarterback Robert Griffin III is smiling again under new Washington coach Jay Gruden.
ORLANDO, Fla. -- They notice a difference.
Robert Griffin III
is happier, something just about everyone who has seen him at Redskins Park has picked up on. It could be because he's not spending his time in Florida rehabbing his knee, as he was doing a year ago. Or that he knows the knee brace likely is a thing of the past.
Or it's the fresh start that he -- and everyone else, for that matter -- is getting. When the Redskins changed coaches, they also changed the outlook for Griffin. Regardless of who was to blame for the failed relationship between him and former coach Mike Shanahan, the bottom line is it didn't work. Enter Jay Gruden. Enter an excited young quarterback.
One Redskins employee described Griffin as "18 times happier." Others echo that sentiment. Whether a happy Griffin translates into a productive one will be answered in about six months. But there is little doubt the offseason has unfolded in a positive way for Griffin.
"Jay sees football through the eyes of the quarterback," Cincinnati Bengals coach Marvin Lewis said of his former offensive coordinator. "It gives him the opportunity for the quarterback to grow through him. That's really helpful. The offense and everything has to be quarterback-friendly, and that's important."
It's not just Gruden's arrival. It's Sean McVay being elevated to offensive coordinator. Like Gruden, McVay offers a more measured demeanor. It's also the hiring of Doug Williams as a personnel executive. Williams will not coach Griffin, but will act as a sounding board, as someone who played the position at a high level in the NFL and understands scrutiny. The two already have spoken.
"This kid came in here as a rookie and single-handedly raised the play of everybody on that football team," Williams said recently on SiriusXM NFL Radio. "At the end of the day, you can't put it all on his shoulders. You've got to have some people around him. And I think that's the course we're in now. This guy, man, he comes to the office, always smiling, always upbeat, and you can tell his leadership character and the things that he's got going for him that are gonna take him a long way."
[+] Enlarge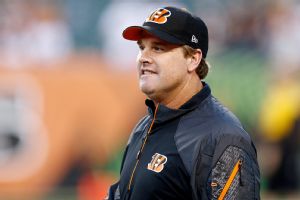 AP Photo/Joe RobbinsJay Gruden on developing the offense around Robert Griffin III: "I think it's gotta be a two-way street. It's gotta be something we're both interactive with."
Even Gruden sees how eager Griffin is to get going. But it's about more than just having a new coach; Griffin also wants to make up for a subpar season and to regain his rookie mojo. But Gruden wants to make sure Griffin, who is often at Redskins Park (though they can't yet discuss football together), doesn't burn out.
"He just needs to relax right now. Enjoy the offseason," Gruden said. "When it's time, it's time. We'll get plenty of time with him to work with his fundamentals, and just don't stress out over it right now. He's so anxious and wants to do so well all the time. He's such a perfectionist that he needs to settle down right now, enjoy the offseason, enjoy the players he's working out with right now, and have some fun."
Griffin had to mature; it's also important to note that he's still only 24. And, yes, maybe he needs to be treated differently than, say, backup
Kirk Cousins
. Is that right or wrong? Well, coaching is about knowing how to reach every player, especially one who plays the most important position and who can define the franchise for the next decade.
Shanahan had his way of doing things, and it earned him two Super Bowl titles. As a rookie, Griffin flourished under him: 20 touchdowns, 5 interceptions, 815 yards rushing and 3,200 yards throwing. But, fair or not, Griffin never trusted him, never fully bought what he was being sold. Doesn't matter who's at fault, but the reality is that it makes it tougher to grow, both as a player and as a team.
Gruden has never quite relinquished a quarterback's mindset. Heck, he says he's still bitter about never getting a shot in the NFL. But maintaining that mindset helps him relate well to those who play the position. In Cincinnati, Gruden and
Andy Dalton
shared a strong bond. If that develops here, perhaps he'll coax even more out of Griffin.
"There's the physical tools to the game and then there's the mental aspects, where you have to have confidence in everything you do," Gruden said. "The quarterback needs to know that the coach has the quarterback's best interests [at] heart. He has to understand that I want nothing more than for him to succeed. Obviously, he's got my future in his hands. And it kind of works both ways. It would be foolish for me to think I have all the power: 'You do exactly what I want. I don't care if you like it or not.' I think it's gotta be a two-way street. It's gotta be something we're both interactive with."
If there's a disagreement, Gruden stressed that he has the final call. It's hard to imagine anyone thinking otherwise. Gruden must be in control, and that concept must be accepted by Griffin. But if they develop a strong relationship, they can weather any storms. Last season, a storm turned into a tornado.
Griffin, now working out with teammates in Arizona, must smile at Gruden's words. It's a new day for him: a full offseason and a coach known for building strong ties. All that's left is to produce next season. If that happens, Griffin will give the entire organization reason to smile. Again.
March, 20, 2014
Mar 20
11:30
AM ET
Because I'm thinking too much about the offensive line and what the
Washington Redskins
are doing:
At coach Jay Gruden's introductory news conference, he talked about wanting to have versatility and variety in the offense. So he wanted to use the zone read (some) and he wanted to run power. Here's what he said:
"I like the power plays. I like the gap-blocking plays. So there's a little bit of everything. I don't think any offense in the NFL anymore is just, 'We are this.' I think we have to adhere to what we have offensively, talent-wise. We can do the read-option. We can do naked bootlegs. We can run outside zone. We can run bubble screens. We can run deep balls. We can do play-action deep things. I think the whole idea to be a successful offense is to be diverse and be good at a lot of different things and not just one."
So it's no surprise that when looking at offensive linemen in free agency, he's opted for players with a little more size. That doesn't mean the Redskins will abandon what they had done in the past. This offseason, offensive coordinator Sean McVay said, "The run game will be very similar." But it does mean that they want players who can perhaps be capable of doing more.

McGlynn

They hosted two linemen Wednesday: former Saints center Brian de la Puente and ex-Colts guard/center Mike McGlynn. De La Puente weighs 306 pounds (former center Will Montgomery weighs 304; Kory Lichtensteiger, who will move to center, weighs between 280-285 but is adding 10-15 pounds in the offseason. I'm anxious to see Lichtensteiger at center; I've long thought that would be his future home and agree with Chris Cooley that he would be good here).
McGlynn weighs 325 pounds. The problem here: he struggled big time at guard by all accounts last season. As much as everyone wants to hammer the Redskins' offensive line, few were worse than Indianapolis' -- especially in the interior. Where McGlynn started. But he started three games at center and, again, according to those who watched the team on a daily basis, he fared much better.
Here's what ESPN Colts reporter Mike Wells wrote about McGlynn: "McGlynn was in a tough position last season. He started 11 games at guard but he's weak at that position and was part of one of the worst interior offensive lines in the league with center Samson Satele and guard Hugh Thornton. ... Slide McGlynn to center, which happened three times because of injuries to Satele, and all is better for him because he plays the position better than Satele. ... Colts coach Chuck Pagano had an opportunity to keep McGlynn at center and bench Satele in the playoffs but he decided against it."
And here's what Stephen Holder, a Colts' beat reporter for the Indianapolis Star, wrote about McGlynn: "McGlynn was not a strong performer when used at guard this season, but he and the line overall played better when he was the starting center (he started three games). If the Colts offer a contract to McGlynn, expect it to be modest in value and look for McGlynn to have to compete for playing time and/or a roster spot."

De la Puente

De la Puente did not exactly play with a lot of power in New Orleans. I saw him get moved back in a couple games, but I also saw him be effective when on the move -- whether to block a linebacker or maintain leverage on a defensive lineman.
I think he was helped playing with Saints quarterback Drew Brees; the bulk of his throws (54 percent) were unloaded in less than three seconds. Robert Griffin III unloaded in that amount of time 45 percent of the time (according to ESPN Stats & Information).
But the point is it's not as if De la Puente would be a bad fit for some sort of outside zone-based scheme (if they sign him, that is). Actually, he's probably a good fit. Nor would his signing signal some shift to a strictly power-based run game. It does sound as if he was a smart center with the Saints, so that would be good.
Newly-signed guard Shawn Lauvao weighs 315 pounds, about the same size as Chris Chester (Josh LeRibeus is bigger, though his listed weight was 315 pounds last season). So if Lauvao and Chris Chester are the guards (not sure yet if that will be the case; if they sign someone else, then I'd imagine a current Redskins linemen could get released and Chester represents $2.7 million in cap savings) then that would give them a bigger tandem than the past couple years. But both are capable of running outside zone plays -- word out of Cleveland is that this style would fit Lauvao. And Chester is not a power blocker.
Point is, the Redskins still don't look like they're abandoning what they have done in recent years with the run game. But that doesn't mean it will look exactly the same, and other aspects will be emphasized because Gruden will want to incorporate some of his style. It is his offense after all. Some of the changes they're making, or trying to make, are as much about performance as scheme.
January, 28, 2014
Jan 28
3:30
PM ET
Tight end
Jordan Reed
, a third-round pick from Florida, could easily end up being the best pick from this draft. Right now his only competition would be second-round cornerback
David Amerson
. Even if Amerson plays well, it's easy to see that Reed could become one of the better players at his position because of his game-breaking ability. Here's the book on his rookie season:
Stats:
Reed caught 45 passes for 499 yards and three touchdowns in nine games. He missed the final six games because of a concussion.
[+] Enlarge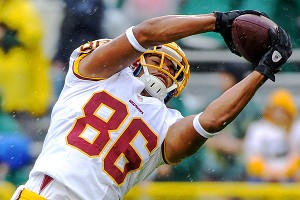 Benny Sieu/USA TODAY SportsRookie tight end Jordan Reed showed a lot of promise before a concussion ended his season.
Role:
Reed began the season as the No. 3 tight end, but surpassed starter
Fred Davis
as the primary pass-catcher within three games.
Highlight:
Reed caught nine passes for 143 yards and a game-winning three-yard touchdown grab in a 45-41 win against Chicago.
What I liked:
Just about everything, starting with his approach and his talent. Reed consistently stayed after practice to work on his game; after being drafted he hit the weights hard, and that helped him improve as a blocker. He understands what he must work on to improve. I list those things first because it's why the kid has a chance to be good for a long time. As for his game, there is a lot to like. Reed's athleticism was obvious in camp, and his ability to create separation is fantastic. There were times in games I saw him create five yards of space as he cut (against Chicago), just because of a hard plant the other way. He used footwork that he once used for basketball moves to separate from linebackers over the middle. He showed a knack for knowing when to sit in an area against zone coverage. Saw this against the Bears when the linebackers over the middle were less than seven yards apart. Rather than continue his route, he quickly sat and caught a pass. Reed became a trusted target because of his wide catch radius, as the coaches liked to say. Here's a better way: he's highly athletic and makes terrific adjustments on the ball. Sometimes they were so subtle that you forget it's hard for tight ends to make those grabs. On one out route, the ball was thrown inside, but Reed easily spun back the other way for the grab. There were many such examples, but it enabled
Robert Griffin III
to throw with more trust to Reed. Reed's blocking was better than anticipated after watching him in college, where he transitioned from quarterback. He did a good job blocking in space because of how he moved his feet -- it helped him a lot against Dallas linebacker
Sean Lee
on a screen. He typically did a nice job with his hands, though his blocking was definitely inconsistent. Reed plays with enthusiasm, though that was evident more so after his blocks than his big catches.
What I didn't like:
There wasn't anything I didn't like. But there were areas he must improve. His blocking needs to be more consistent. I saw improvement in this area. There were times early in the season when he would go to engage defenders, but lower his head too much when he blocked. I did not see that being an issue later in the season. But he must learn how to block for situations. At times he was beat not because he was overpowered, but because he failed to account for how his man was aligned compared to what he might have faced in other games. That didn't happen often, but it did occur. Durability will be a question until he plays an entire season. That's not to fault him for getting a concussion; it was bad enough to cause him to miss six games, so clearly there was a legitimate issue. But Reed knows that he entered the NFL with questions about his durability.
Projection:
He'll be a force at this position if he stays healthy. Reed had just started to become more of a downfield threat before he was hurt. The bulk of his passes before the Bears game in Week 7 were underneath routes, but he hurt Chicago on a couple downfield throws, burning the Bears secondary on some post-corners. That will increase in 2014. The Redskins averaged 37 fewer yards through the air with Reed absent the final six games. I don't know what Jay Gruden's plans are for him, but I do know that new offensive coordinator Sean McVay loves Reed and it's not hard for anyone to see the talent he has just by flipping on the film.
January, 18, 2014
Jan 18
1:30
PM ET
The Washington Redskins' offense has new coaches and ideas. That doesn't mean it will be dramatically different.

They might not look exactly the same under new coach Jay Gruden as they did under coach Mike Shanahan and offensive coordinator Kyle Shanahan. But they will carry over a lot of what they've done the past few years.
The Redskins obviously haven't had enough time to put together their playbook -- they'll start going heavy on it after the coaching staff is finalized (the goal, Gruden said, is to have that happen by early next week). But as they continue to discuss how the scheme will look, and the terminology that will be involved, it won't just be a duplicate of what Gruden did as the offensive coordinator in Cincinnati.
"I don't think it will change a lot," new Redskins offensive coordinator Sean McVay said. "The foundation and base principles will remain the same. Jay does a great job of adjusting to his players. He doesn't make the player adjust to his scheme."
That means bootlegs, or keepers, and the outside-zone run game that benefited running back
Alfred Morris
. He rushed for 2,888 yards in his first two seasons under Shanahan – the Redskins ranked third in yards per carry this season and second in 2012. He'll continue to be a big part of the offense.
"He'll be the same guy," McVay said. "The run game will be very similar."
McVay said he was excited after speaking with quarterback
Robert Griffin
III.
"Everyone knows what ability and talent he has," McVay said. "He's already had a bunch of success in this league. Everyone is excited about him and I'm confident he'll have a great year leading this team."
There is not yet a detailed plan for Griffin's offseason work. But, obviously, working on fundamentals will be a big part.
"With any player, especially at quarterback, I don't care if you're talking
Tom Brady
or
Peyton Manning
or
Drew Brees
," McVay said, "you want to make sure to continue to hammer down the fundamentals and it all starts with your feet. Everything starts with footwork."
January, 14, 2014
Jan 14
6:30
PM ET
It was expected and now it's done. The
Washington Redskins
have elevated Sean McVay to offensive coordinator for new coach Jay Gruden.

McVay signed his new contract, according to his agent, Bob LaMonte (who also represents Gruden). McVay and Gruden are tight, but general manager Bruce Allen wanted to keep McVay around regardless of who he hired as head coach. McVay, who was the Redskins' tight ends coach for the past three seasons, turns 28 on Jan. 24. But
players have praised him
the past couple seasons because of his knowledge of the offense and for the way he relates to players. McVay coached with Gruden for one season in Tampa Bay, and one in the United Football League.
Gruden has said he wants to call plays, so McVay's primary task could be to mostly help formulate the game plan and run meetings when Gruden is unavailable. There has been no official announcement about Gruden's new defensive coordinator, but it is widely expected to be Jim Haslett.
Also, ESPN980's Chris Russell reported that Cleveland's outside linebackers coach Brian Baker will be hired in the same capacity in Washington. Baker has coached since 1996 for seven different teams. Baker coached for three seasons with Haslett in St. Louis. If Baker indeed is hired, it would be only the second defensive position coach hired with ties to Haslett since he joined the Redskins in 2010.
January, 11, 2014
Jan 11
2:00
PM ET
ASHBURN, Va. -- When they had a question, Sean McVay had an answer. That sounds simple, but it's not. It's one thing for a position coach to know an offense; it's another to know what everyone must do – and their adjustments.

The Redskins' tight ends liked that McVay would know – and wouldn't hesitate.
"There's no indecision, 'This is what we do; this is how we do it,'"
Logan Paulsen
said. "There's no gray area in my life, which is fantastic. Making sure the player knows what he has to do puts us in a great position. ... You have certain coaches who don't like when you ask questions. They don't know the offense spot on."
That's why players would be happy if McVay is elevated to offensive coordinator for new coach Jay Gruden. Though Gruden said he will interview other candidates, McVay still is considered the likely new choice. He's young, only 27, but he also has impressed players because of his knowledge of the offense. Gruden said he will call the plays, so that could make it easier for a young coach such as McVay to ease into an expanded role.
"His ability to digest a game plan and give it to his players in a streamlined manner allows us to digest us efficiently making sure to emphasize details that are important," Paulsen said. "Every week he'd try to call plays without looking at the sheet. He knows what everyone has to do on the field. He approached it like an offensive coordinator. That's advantageous to a player. He knows every detail the same way Kyle [Shanahan] used to know the details. He has that big-picture mindset that helps out."
Former Redskins tight end Chris Cooley played one and a half seasons under McVay.
"He had the highest understanding of an offense of any position coach I've ever been around," Cooley said. "We'd go back and forth in meetings on scheme, why and how. There was always an answer. I love that in a coach.
"Two years ago I said if anyone becomes a head coach on this staff it would be Sean McVay."
Players at other positions echoed what Paulsen and Cooley said. The tight ends often worked with the linemen in practice because they needed to be in tandem with their blocking.
"The relationships he has with players and what he gets out of a player with both effort and production on the field by not being a screamer," Redskins guard
Kory Lichtensteiger
said. "He's a guy you can relate to. He has a lot of shared characteristics with hard-working players. Players can see if a guy knows what he's talking about and he goes about it the right way getting that type of effort out of his players."
January, 9, 2014
Jan 9
9:15
PM ET
ASHBURN, Va. -- Jay Gruden's familiarity with several coaches on the
Washington Redskins
' staff helped make the job attractive. But, while it's likely that his future coordinators already are in the building, he's still going to interview other coaches for those positions.
The leading candidates to be the coordinators are thought to be Sean McVay (offense) and Jim Haslett (defense). Both are holdovers from the previous regime -- and both have ties to Gruden, having coached with him in the United Football League. Gruden said later Thursday that he greatly respects both. Because Gruden said he will call plays, it would be a surprise if McVay, who turns 28 later this month, wasn't elevated from tight ends coach. Also, Gruden said he wants to stick with a 3-4 defense, which Haslett has coached for four seasons here and two others in Pittsburgh.
But he also wasn't ready to name his coordinators just yet.
"We'll go through the process," Gruden said. "There are a lot of great coaches out there."
The Redskins also retained secondary coach Raheem Morris, who worked with Gruden in Tampa Bay for four seasons. But Morris fired Gruden when he took over as head coach in 2009, though it would still be a surprise if he wasn't retained considering he's well-liked by general manager Bruce Allen. Washington also has holdovers in running-backs coach Bobby Turner, offensive-line coach Chris Foerster, defensive-line coach Jacob Burney and assistant special-teams coach Richard Hightower.
"I will interview a lot of coaches," Gruden said. "I'll look at each coach that has been retained by Bruce [Allen] and interview everybody. I know a lot of coaches here that can coach. There are also good football people across the country looking to work and work for the Redskins. I've had 350 texts from great coaches looking to coach. I don't think finding a great coach and coaching staff will be difficult as it will be finding the right ones."
It helps the Redskins that only two other teams have filled their coaching vacancies and four others remain.
"The good part about getting our coach now is, his phone is blowing up with people ready to coach who are available now," Allen said.
January, 9, 2014
Jan 9
1:45
PM ET
Robert Griffin
III was part of the lure, making the
Washington Redskins
' head-coaching job a little more attractive to Jay Gruden. One thought from his side: If he could turn
Andy Dalton
into a productive passer, what could he do with Griffin?
He's about to find out. And it will take both of them to make it work.
[+] Enlarge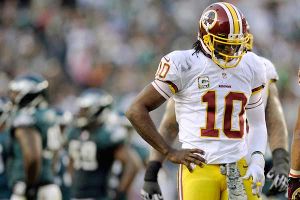 Michael Perez/AP PhotoRobert Griffin III gets to push the reset button early on in his Redskins career, but he must buy into what Jay Gruden will sell.
For Griffin, it's a fresh start, a break from a regime that, in the end, he did not embrace -- and wasn't sure if it embraced him. After he was benched, Redskins corner
DeAngelo Hall
said Wednesday night on Fox Sports, Griffin told teammates that he didn't think coach Mike Shanahan liked him. We don't need to rehash all those issues right now; suffice it to say trouble started brewing late last season, simmered in the offseason, and resurfaced during the summer and season. It could have worked had the Skins won. But a bad start and inconsistent play only made it worse.
Regardless, Griffin needed a change, potentially a refreshing one for him. Now he'll get a coach who some say does a good job selling what he wants done. Now he has two coaches with even-keel demeanors in Gruden and Sean McVay, assuming McVay will be the offensive coordinator, as we hear will happen. That matters. It also helps that McVay already knows Griffin and that Gruden was a successful college quarterback.
Will it work? Don't know. But these are reasons why it could.
For Griffin, he'll need to buy into what is being sold. Though he ran everything the previous staff asked him to, there was doubt as to whether he ever bought in. When that's the case, you can only improve so much. If Gruden gets him to buy in, Griffin could have a blast. But Griffin can't just assume his rookie success will return because the Shanahans are gone. He does have to buy in; he does have to mature as a professional. Of course he does; he's only 23.
Here's what Gruden's agent, Bob LaMonte, said that was one of the factors that convinced Gruden to take the job: "As he analyzed the four jobs, the quarterback he found the most intriguing would be [Griffin] because he has such big upside to him."
Let the love affair commence. Again. But Gruden must convince Griffin what he's doing is for the best.
"The biggest thing for him and Gruden is instilling confidence in the offense," said former Redskins tight end
Chris Cooley
, now part of their game-day broadcast . "That's what they have to do with Robert. If they make him feel confident as a player, then they'll love him. That's what he lacked more than anything. It was the continued doubt of what he could do and what he should do in this offense. They have to confidently say, you can be the best quarterback in the league.
"Everyone saw him struggle with that [this season]. He didn't trust himself."
Griffin will have plenty to prove after his reputation took a pounding this season. Is he a diva? Is he a leader? When you speak to players about him, they recognize that he has to mature, that he has to accept more blame for bad plays. There were definite concerns about whether he saw himself as entitled -- and that's why some feared what might happen if they hired his college coach, Art Briles.
But one player who expressed all of these fears also stressed this: "I like Robert."
I heard frustration about things, but not hostility. When you're 3-13, frustration erupts. It's certainly not something that can't be mended with a strong (and low-key) offseason, a lot of hard work and on-field success. Watch how fast the frustration then melts away.
Griffin was given a quick reset on his career. He'll be healthy entering next season. He'll have a new coach, a new chance to build the trust he lacked over the past year. This is what he needed and wanted. There's no more drama. Now he just has to produce.
January, 9, 2014
Jan 9
12:45
PM ET
This is the best hire the
Washington Redskins
could have made. That's what some who know Jay Gruden say. He's reserved and bright, they say. He's an excellent motivator, others say. His relationship with general manager Bruce Allen will soften any tension that could arise with owner Dan Snyder. Look what he did with
Andy Dalton
, they say.
"I would have hired him," one former general manager said.
This is not nearly the best hire the Washington Redskins could have made. That's what the skeptics say: There's nothing special about him; his last name paved the way. Look what he did with Andy Dalton in the playoffs, they say.
"I like him, but his offense wasn't more creative than any other coordinator out there," one NFL defensive coach said. "If his last name wasn't Gruden, we wouldn't be talking about him."
When it comes to the
Redskins' new coach
, there's a split opinion, and it makes this one of the more unusual hires they have made. Yes, he has a last name everyone knows. But it was his brother Jon Gruden's success that made it a big name, not Jay's own success. In the past, all but one of the coaches hired by owner Dan Snyder was a big name.
But when it came to this coaching search, there was no big name left to hire. Bill Cowher wasn't coming out of retirement. Nor was Jon Gruden. And no coach in this field had that wow factor the Redskins often gravitate toward (with the exception of Jim Zorn).
That doesn't mean it's a bad hire. We also don't know if it's a good one. There's a chance it could be excellent. But one coach said several days ago that Jay Gruden does an excellent job of getting players to buy into his system. If that's the case, it will be welcomed. While quarterback
Robert Griffin
III might have run the last system, it's clear he did not buy into it. Others did, but if Gruden can sell this to them, as well, that will be a good start.
His Bengals offense sputtered in the playoffs, averaging 11 points per game the past three years -- all one-and-done showings. That's not good. Nor is the fact that he was knocked for getting away from the run each time. But one thing I've learned over the years is not to judge a potential head coach by what his offense did when he was a coordinator.
Being a head coach incorporates so much more. It's about leadership and command of the room much more than system. It's about hiring the right people on your staff, and promoting tight ends coach Sean McVay to offensive coordinator will be viewed by many on the roster as the right move. We'll see where Gruden goes defensively, and that will be worth watching.
It was telling this morning that retired linebacker
London Fletcher
, knowing Jim Haslett was still around, tweeted this: "Defensive struggles where not solely on salary cap
#excuses
#blahblahblah
" and this: "I think [Raheem] Morris as DC would be great choice! Brings energy & excitement! Would feel pretty good about HC, DC, & OC then!"
I've seen too many Redskins hires under Snyder to fully know if this one will work. There are parts to like and wonder about. Marty Schottenheimer, Joe Gibbs and Mike Shanahan -- three of the all-time winningest coaches in NFL history -- all have failed to build consistent winners.
I know the opinions on Gruden from the people I spoke to throughout this search were as diverse as any.
But I also know of the candidates available, perhaps Gruden was the best fit. To have the familiarity he does with Allen and others on the staff will help. Gruden knows what he's getting into, not just with Snyder but with the market and the entire organization. The fact that a relationship already exists will matter; Gruden needs to trust whatever he's been told and to know how he must operate in regards to ownership. Here's a tip: Keep Snyder involved -- and that doesn't always mean allowing him to meddle -- and win. Then he will be happy.
It will also help the Redskins and Gruden to avoid the leaking of stories that hurt the franchise since early December -- and in past years. The organization needs to rebuild a trust, not only with certain players (Griffin), but with the fans. As tired as everyone at Redskins Park was about the leaks, it's probably quadruple for the fans, who thought that two decades of mediocre to bad football -- and needless drama under Snyder -- had finally ended after last year's playoff run. A low-key guy has to help here, right? You would think.
Gruden is also tight with the Redskins' director of football operations Paul Kelly, an understated but important aspect because of how closely the two must work.
There are a lot of reasons this has to work, for many people -- including Allen (who was at the forefront of this hire) and Griffin (who clashed with Mike Shanahan and Kyle Shanahan). It's their jobs, their reputations on the line here.
What I also know is that this hire will shape the franchise for a long time. That's obviously the case whenever you hire a coach. But it's even more true now because of Griffin. They have a young head coach; they have a young quarterback. It's boom-or-bust time.
January, 9, 2014
Jan 9
8:45
AM ET
The Washington Redskins always had Jay Gruden at or near the top of their list of coaching candidates. General manager Bruce Allen already knew Gruden from working with him in Tampa Bay, as did some Redskins coaches, including secondary coach Raheem Morris and tight ends coach Sean McVay. Defensive coordinator Jim Haslett worked one season with Gruden in the United Football League. So there is a familiarity, and he had an "impressive" interview, according to one source.

Gruden

Gruden was considered one of the hot candidates, maybe even the hot candidate, for the various head coach openings in the league. So once he started interviewing, it stood to reason that someone would sign him soon. In fact, his side expected a deal to be done with a team by Monday. One reason Mike McCoy landed in San Diego last year is because the Chargers had the first interview and wouldn't let him leave without a deal. This apparently was the guy the Redskins wanted, and it clearly looks as if they went with the full-court press.
Gruden met with Tennessee this week and had been scheduled to meet with Minnesota on Thursday, and Detroit this weekend.
It would make sense for McVay to become Gruden's offensive coordinator. He's highly thought of; they have worked together, and they share the same agent, Bob LaMonte. That doesn't always mean anything, but McVay is a smart coach and also would have been a logical candidate to make this jump had the previous staff stayed and, say, Kyle Shanahan had left. It's easy to see McVay climbing high on the coaching ladder. I don't know who would be the defensive coordinator yet, though I could see Morris being elevated to that role.
I know Jay Gruden's brother, Jon, is high on Redskins quarterback Kirk Cousins. During an interview I had with him before the Nov. 25 game against San Francisco, Jon Gruden brought up his name unprompted. Does that mean his brother is equally high on Cousins? Don't know. I do know he preferred Andy Dalton over Colin Kaepernick when they both came out of college. But Gruden said that was more because Dalton was much closer to being ready to play immediately. A number of teams liked Kaepernick, but believed he was more of a project.


What does it mean for Robert Griffin III? One person involved in the process said if Gruden could turn Dalton into a playoff quarterback, what could he do with Griffin? Also, Griffin was a consensus top-two pick, so we're not talking a direct comparison and that Gruden somehow does not like this style of quarterback. Most coaches like quarterbacks who have talent. Griffin remains the most talented one on the Redskins' roster.
December, 29, 2013
12/29/13
10:25
PM ET
1. If the Redskins asked me -- and for many, many years they have not -- I'd tell them to bump Bruce Allen to team president, hire a young general manager, let him hire the coach and proceed with building your organization. It's a strategy the Redskins have not tried under Dan Snyder. Allen is a negotiator/contract guy, not a talent evaluator. That's not a knock, it's who he is. But I'm not a fan of a head coach having all the power. You need to have checks and balances when it comes to acquiring talent; GMs have an eye on the future whereas coaches are worried about right now.
2. I don't know who the next coach will be, but it would be good for the organization to have a young guy with energy as a head coach, someone who wants to prove how good he is -- not how good he used to be. And someone who isn't just giving jobs to some of his buddies. That's not to say Mike Shanahan's staff was only filled by coaches like that. Nor is it always a bad thing. But there are definitely coaches you bring with you when you've coached that long. Even Joe Gibbs had coaches on his staff who were only in the NFL at that time because of their ties to him. Again: bring in some energy.
3. That is something the offensive staff had a little more of because they did have a younger group, from offensive coordinator Kyle Shanahan to several of his assistants. Of that group, I could see tight ends coach Sean McVay returning with a new regime. That's not a definite of course, but he is well regarded and, as WJFK's Grant Paulsen tweeted earlier, he has closer ties to general manager Bruce Allen. If anyone from the Gruden family comes, McVay almost definitely would stay. Not only do they have a connection, they share the same agent.
[+] Enlarge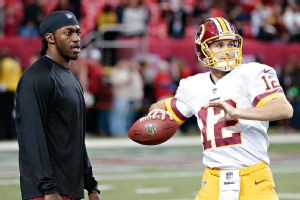 AP Photo/John BazemoreHaving two promising young quarterbacks under contract like Robert Griffin III and Kirk Cousins makes the Redskins' head-coaching job an attractive one.
4. The top two jobs available: Detroit followed by Houston and then the Redskins. That was also the ranking of one league source. The Redskins will be enticing because they have two young quarterbacks -- with
Robert Griffin III
still their future -- and lots of salary-cap space. But there's a history of losing here and there is a lot of work required to rebuild the defense. And owner Dan Snyder must keep his distance from quarterback Griffin. It's a look that could turn off some prospective coaches. That doesn't mean Snyder must ignore him, but it would definitely be a turnoff for some coaches if they appear to have a close relationship.
5. The Redskins' locker room was more noisy and filled with laughter than you would usually expect after a 14-point loss. But I can't say I blame them. Even before the game I was told that the players were rather loose and clearly ready for the season to be over compared to the coaches who understood the gravity of their situation and reacted accordingly. It's been a long season, but the locker room was a loose one. Was it too loose? At times I wondered, but it also was this loose last year and was one reason, perhaps, that they could overcome a 3-6 start. One note: Griffin sat in front of his locker with headphones on checking out his iPad.
6. Players will almost always publicly support a coach in the situation that Mike Shanahan is in. So you have to take that into account when you read players' quotes. But I thought more players privately said good things about him as well, more so than for other about-to-be-fired coaches that I've covered like a Jim Zorn. Still, for some they know a coaching change also means they could be out of a job. And whether or not they like him doesn't matter. The job is to build a winner, the Redskins didn't and the veterans especially understand that notion.
7. Linebacker
Brian Orakpo
says he wants to return. He also looked and sounded like a guy who's ready to test the free-agent market. If he re-signs, Orakpo would be playing for his third head coach since being drafted by Washington in 2009. Of course, if he goes elsewhere he'd also be playing for a new team, coach and, possibly, system. And money always plays a factor. So, too, will be whoever the next coach is in Washington and what defensive scheme they'll implement. "I would love to finish my career as a Redskin," Orakpo said. "We have unfinished business here. At the same time I want to have the best interests of myself as well. There aren't too many times you can be an unrestricted free agent. You have to take advantage of that."
8. A little housecleaning: Washington's last 2014 opponent was finalized Sunday. Based on Tampa Bay's last-place finish, the Bucs will play at Washington. The Redskins' other game based on a common finish already was determined; they will play at Minnesota.
9. Quarterback
Kirk Cousins
did not have a strong finish, playing against the best defense he's faced in his four NFL starts. The weather conditions didn't help and on too many shorter routes, receivers weren't winning. But if he had gone out and played well then it would have said a lot about him, that he could play well against a good defense in dreary conditions. But his throws were off target all day and he could have been intercepted several more times than he was -- and he was picked off twice. He was just inaccurate and forced some passes trying to make plays.
10. But the idea that he lowered his trade value assumes that he already had a certain value. I'm not sure that's the case. I think people speculated based on what they thought Cousins would continue to do (and most teams would have wanted to see more anyway before unloading a high pick). Cousins still needs time to develop and perhaps in time he could fetch something of substance. For now though he's looked like a fourth-round pick with upside. I wonder how many teams would have changed their opinion on him based on his four starts -- two good, two not so good. But he just didn't make enough plays the past two games after having a strong outing against Atlanta. Nobody will work harder; nobody will study more. It would have been good for the franchise if Cousins had played well, but it also will remove a potential storyline next summer. Griffin remains the future. I'd rather keep Cousins anyway than trading him this spring (even for a second-rounder). You can trade him next year, but he still acts as insurance if Griffin doesn't develop the way they'd like.

NFL SCOREBOARD
Sunday, 2/2
WEEKLY LEADERS