NFL Nation:

Seyi Ajirotutu
December, 29, 2013
12/29/13
9:00
AM ET
SAN DIEGO -- Though they've been mysterious about specific plans for Sunday's game against the
San Diego Chargers
, it's easy to know what to expect from the
Kansas City Chiefs
.


Players and coaches to a man have talked about how important it is for the Chiefs to beat the Chargers, but Andy Reid has talked about resting key players and trying to keep them fresh for next week's opening-round playoff match, a game that really is important.
If
Alex Smith
,
Jamaal Charles
and other star players are out of the lineup early in the game, that sends a stronger message about Kansas City's desire to win this game than anything they say.
Meanwhile, the Chargers may or may not be vying for a playoff berth by the time the game kicks off. If both Baltimore and Miami lose in early games Sunday, San Diego would get the final wild-card spot by beating the Chiefs. If either Baltimore or Miami win, the Chargers are eliminated and as far as the playoffs go will have the same motivation as the Chiefs, which is to say none.
The Chargers seem more motivated than Kansas City does regardless. The 8-7 Chargers have talked about the importance of finishing with a winning record and building momentum for next season. While those incentives aren't nearly as strong as playing for the playoffs, they are more than the Chiefs have going for them.
So the playing field definitely isn't a level one in this regard. Maybe the Chiefs will surprise with their effort but more likely they will be watching the clock and waiting for it to expire like a kid on an average school day.
The Chargers are an improved team since they came to Arrowhead Stadium and beat the Chiefs late last month. They had been allowing a lot of points and gave up 38 that day but since have progressed considerably on defense.
Outside linebackers
Melvin Ingram
and
Jarret Johnson
are finally healthy and playing well. The Chargers made a lineup change in the secondary, benching cornerback
Derek Cox
, and suddenly they're creating turnovers and getting opponents off the field on the third downs. San Diego is allowing just 16 points per game in the four games since they played against the Chiefs.
Offensively, the Chargers may be without running back
Ryan Mathews
and wide receiver
Eddie Royal
because of injuries. But it's hard to shake the memory of how easy things were for
Philip Rivers
and
Keenan Allen
against the Chiefs the last time. And they were playing reserves at the end of the game against the Chiefs. It was seldom used wide receiver
Seyi Ajirotutu
who caught the winning touchdown pass.
The Chiefs could rise up and play well, but it's not wise to expect that given the circumstances. They have bigger prizes to play for than Sunday's game and the result should reflect that.
Prediction: Chargers 31, Chiefs 17.
December, 19, 2013
12/19/13
6:00
PM ET
SAN DIEGO -- Blocking for
San Diego Chargers
running back
Ryan Mathews
is an offensive lineman's dream.
[+] Enlarge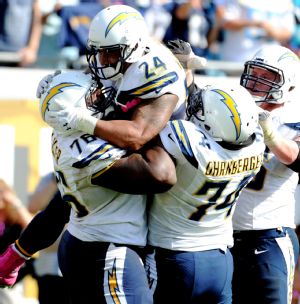 Melina Vastola/USA TODAY SportsRyan Mathews has emerged as a running back this season, to the delight of his linemen.
At least that's the way the team's longtime center
Nick Hardwick
describes it. Hardwick says opposing defenders shy away from contact when Mathews gets his legs churning.
"He is built like a block of granite," Hardwick said. "He is a pretty intense specimen, so when he gets going downhill, he is inflicting some pain on these linebackers and safeties."
Mathews' physical running style is something the rest of the offensive line feeds off of, according to rookie right tackle
D.J. Fluker
.
"I love blocking for Ryan," Fluker said. "Ryan just makes people look bad on the field. DB's don't want to hit him. They're scared of him because he's physical with them. It's great to see him have a great season. And it's been great to see someone go out there and give everything they have for their teammates."
In his fourth NFL season, Mathews has finally emerged from the immense shadow of being drafted as the replacement for
LaDainian Tomlinson
as the No. 12 overall selection in the 2010 draft.
The Fresno State product topped 1,000 rushing yards for the second time as a pro, rushing a career-high 236 times for 1,012 yards, averaging 4.3 yards per carry. Mathews has run for 415 yards after contact, which is No. 7 in the NFL.
"It's been good, really good," Mathews said after the Denver game last week, in which he ran for 127 yards. Mathews carried the ball 58 times in two games over four days.
"I'm sore, but that's what they are asking of me, so that's what I'm going to do. I'm just going to keep grinding, and doing whatever this team needs."
Added receiver
Seyi Ajirotutu
, who played with Mathews at Fresno State: "He's always been tough. But there's just something about this year that has been special. He's running hard, and everyone can see it. He just looks like a different back, and obviously he's running confident."
Mathews has stayed healthy, and is on track to play a full, 16-game season for the first time as a pro. And he's avoided putting the ball on the ground. Heading into the 2013 season, Mathews had fumbled 12 times, losing seven of them through three seasons. But this year, Mathews has fumbled just twice, losing one of them.
Mathews has five 100-yard rushing games this season, which is tied with Minnesota's
Adrian Peterson
and Philadelphia's
LeSean McCoy
for the most in the NFL.
But more than anything, at 26-years old Mathews has shown maturity. He's done a better job of taking care of his body, preparing himself for the rigors of an NFL season with a rigid regimen before the season started, one which included reporting to training camp at the appropriate weight on his 6-foot, 220-pound frame.
"He puts a lot of work in," fellow running back
Ronnie Brown
said. "There's a lot of stuff that's not seen. People give him a hard time. But he runs the ball hard. He prepares hard in the offseason. And he puts in the work that's necessary, and I don't think a lot of people see that, so it's not appreciated."
Chargers quarterback
Philip Rivers
said he first noticed a confident and decisive Mathews during offseason work by watching his feet. Rivers said Mathews benefitted from offensive coordinator Ken Whisenhunt streamlining the team's running playbook, focusing on a steady diet of inside and outside zone running plays.
"There have been less schematic things, which gives him a lot of reps at the run packages that we have," Rivers said. "He has been able to rep them over and over and over again, going all the way back to OTAs. As a runner, much like as a passer, if you run it five times you feel decent, but if we throw it 50 times over the offseason then you feel a lot better.
"It's the same way in the running game. If I run inside zone against every look they have 50 times throughout the offseason, I'm going to feel a heck of a lot better about it than if I get a lot of different ones. I think that is one thing I can see. I felt confidence in his feet, confidence in his vision grow over this whole offseason throughout training camp and all year long."
While Rivers has shown the ability to pick opponents apart through the air, Mathews provides the hammer in the run game, keeping defenses honest and closing out games by grinding out first downs to run the clock.
Once considered a good bet to leave town when his contract ends at the end of the 2014 season, Mathews has proved that he's a good fit long term for the Chargers.
December, 4, 2012
12/04/12
10:23
PM ET
A report out of Chicago claims that the Raiders are "in talks" to
bring back Jon Gruden as coach
.

OK, OK, Raider Nation, quiet down. I can hear your squeals of delight from here.
But hold off a bit. I don't want to discount any report, but I am not going to get too much into this until there is more. I want to acknowledge it, but until there is more steam, I think we have to say it is a long shot. But anything can happen and it is worth keeping an eye on.
But I think, many, many things would have to happen before something so dramatic would occur. Gruden has said he is committed to ESPN's "Monday Night Football." This is not the first report about Gruden's future and it very likely won't be the last.
In other AFC West news:
The Raiders' game against Denver on Thursday night will be televised locally.
Broncos linebacker
Wesley Woodyard
did not practice Tuesday with an ankle injury. He could be pressed to play Thursday at Oakland. He was hurt Sunday against Tampa Bay.
The Chargers placed receiver
Seyi Ajirotutu
(hand) and center
David Molk
(thumb) on injured reserve. In addition to center/guard
Colin Baxter
, San Diego signed guard/tackle
Stephen Schilling
to help its battered offensive line. Like Baxter, Schilling has played for the Chargers before.
Denver coach John Fox opened his press briefing Tuesday by expressing his condolences to Oakland coach Dennis Allen. His father, Grady Allen, died Tuesday. Allen was the Broncos' defensive coordinator last season.
November, 1, 2012
11/01/12
8:34
PM ET
The
San Diego Chargers
have just three healthy receivers Thursday night against Kansas City.


With
Eddie Royal
and
Robert Meachem
hurt,
Malcom Floyd
,
Danario Alexander
and
Seyi Ajirotutu
will be the Chargers' receivers; Alexander and Ajirotutu are new to the roster. This will be a challenge for struggling quarterback
Philip Rivers
.
San Diego defensive tackle
Antonio Garay
is playing for the first time this season. Linebacker
Larry English
, a first-round pick in 2009, is a healthy scratch for San Diego.
For Kansas City, defensive end
Glenn Dorsey
is back after dealing with a calf injury. Meanwhile,
Javier Arenas
will play cornerback in place of
Stanford Routt
, who suffered a hamstring injury in practice this week.
In other AFC West news:
Players are happy that the Raiders' offensive coaching staff is finally
incorporating some power-blocking schemes
to go along with the team's zone-blocking schemes. Oakland has had better ground success using the power-blocking schemes and I'm sure we will see more of it as the season goes on.
October, 31, 2012
10/31/12
5:10
PM ET
The San Diego Chargers' offense is facing another obstacle as it tries to get out of a slump.
Receiver
Eddie Royal
(hamstring) is doubtful and fellow receiver
Robert Meachem
(hamstring) is questionable to face visiting Kansas City on Thursday night. This isn't going to help an offense that has not scored a touchdown in the past six quarters.
Newly signed receivers
Danario Alexander
and
Seyi Ajirotutu
both should get a chance to see some action against the Chiefs.
For Kansas City, defensive end
Glenn Dorsey
(calf) and cornerback
Stanford Routt
(hamstring) are both questionable to play. They were both limited in practice Wednesday.
In other AFC West news:
Former San Diego kicker
Nate Kaeding
offers an interesting perspective on the team
in a radio interview
.
September, 4, 2011
9/04/11
2:51
PM ET
As expected, the
Carolina Panthers
are not sitting still a day after trimming their roster to 53 players.

The Panthers hit the waiver wire hard Sunday, claiming five players at positions of need.
The Panthers claimed wide receiver
Seyi Ajirotutu
from San Diego, defensive back
Stevie Brown
from Oakland, nose tackle
Marcus Harrison
from Chicago, defensive end
George Selvie
from St. Louis and defensive back
Josh Thomas
from Dallas.
To make room for them, the Panthers waived defensive end
Everette Brown
, guard
Bryant Browning
, receiver
David Clowney
and defensive end
Thomas Keiser
. The Panthers also released veteran safety
Kevin Payne
.
Stay tuned, because it's likely the Panthers are not done yet. They still have a big need at right guard after losing
Geoff Schwartz
and
Garry Williams
to season-ending injuries. They likely are in the market for a veteran at that position.
September, 3, 2011
9/03/11
7:24
PM ET
Check here
for a complete list of the
San Diego Chargers
' roster moves.

Surprise move:
There were some familiar names on the Chargers' cut list. Defensive end
Ogemdi Nwagbuo
was productive last year, and he was a popular member of the team. Receiver
Seyi Ajirotutu
also made some plays last season when the Chargers' receiving crew was depleted. There was also a thought that undrafted rookie quarterback
Scott Tolzien
would be kept after a strong summer. I'm sure the Chargers will try to put him on the practice squad.
No-brainers:
In the end, receiver/returner
Bryan Walters
and linebacker
Darryl Gamble
, an undrafted rookie, were too good to cut. Anyone who paid attention to San Diego in the preseason saw these two youngsters make play after play. Now, they have jobs. Expect them both to contribute on special teams this season.
What's next:
The Chargers
on Saturday signed
veteran linebacker
Na'il Diggs
. The 12-year veteran is a leader, and he could push for playing time at inside linebacker. San Diego will probably look at the waiver wire for help in the secondary, offensive line and receiver.
September, 2, 2011
9/02/11
8:30
AM ET
On a night many backups played extensively, second-year running back
Ryan Mathews
showed his team some flashes of why the Chargers gave up a truckload to trade up for him in the 2010 draft.


Mathews had a beautiful 56-yard touchdown run and he finished with 78 yards on five carries in a
20-17 loss to San Francisco
. He showed he is perhaps ready to take on a bigger role once the regular season starts next week against Minnesota.
Rookie running back
Jordan Todman
also was active as he had 46 yards rushing on 15 carries.
Third-string quarterback
Scott Tolzien
showed his potential as he completed 16 of 23 passes for 226 yards. The Chargers like him as a developmental player.
Receiver
Laurent Robinson
, who faces big odds of making the team, had six catches for 120 yards. Receiver
Seyi Ajirotutu
helped his cause with five catches for 41 yards.
The Chargers are worried about injuries
to rookie linebacker
Jonas Mouton
and
Andrew Gachkar
. It could affect who the team keeps at linebacker. Veteran
Stephen Cooper
-- who is playing with a torn biceps -- made his case to make the roster with seven tackles.
November, 7, 2010
11/07/10
4:56
PM ET
Thoughts on the Texans'
29-23
home loss to San Diego.


What it means:
Remember when the Texans jumped out to an early lead in the AFC South? It's ancient history now. At 4-4 after a harrowing loss to the Chargers, Houston's even with the Jaguars in last in the division behind the idle Titans (5-3) and awaiting the result of the Colts' game in Philadelphia that could get Indy to 6-2.
What I didn't like:
A late intentional grounding call against
Matt Schaub
seemed ridiculous and sunk the Texans' second-to-last drive.
Andre Johnson
need to catch the pass, but a drop at the end was a killer, as it ricocheted off his knee and resulted in an interception by
Paul Oliver
that effectively ended the game. Neither might have mattered if the Texans pass defense could have stopped
Seyi Ajirotutu
, whose four catches were good for 111 yards and two touchdowns.
What I liked:
They did better getting the ball to
Arian Foster
, who had 27 carries for 127 yards and two touchdown and four catches for 70 more. The 33:49 to 26:11 time-of-possession margin looked good, but it arrived in part because San Diego was making big plays.
Injury question:
Schaub appeared to suffer a chest or rib injury late in the third quarter. Did it affect his play from there?
What's next:
The Texans resume AFC South play with a trip to Jacksonville, where one team will be left under .500 when the day is over.
April, 26, 2010
4/26/10
7:41
PM ET
By
Matt Mosley
| ESPN.com
The good people at Scouts Inc.
released their list of the top-10 undrafted players
Sunday. You have to spend a dime or two to read the whole thing, but I'll tell you that new Cowboys quarterback
Matt Nichols
of Eastern Washington showed up at No. 10.
"He has the tools and mental aptitude to become a serviceable reserve with proper coaching and development," said Scouts Inc. of Nichols.
I've spent a portion of the day asking scouts about some of the undrafted players. It looks like the Chargers landed a couple of the top undrafted players with Troy defensive end
Brandon Lang
and Fresno State wide receiver
Seyi Ajirotutu
. I also had two different AFC scouts tell me that Fresno State running back
Lonyae Miller
was an excellent pickup by the
Dallas Cowboys
.
Miller backed up
Ryan Mathews
(12th overall to Chargers) last season
but he impressed scouts
at the Senior Bowl with nine carries for 44 yards. I'm told that Miller has a good chance of making the practice squad and that he has the potential to be a contributor down the road.

NFL SCOREBOARD
Sunday, 2/2
WEEKLY LEADERS