NFL Nation:

Shareece Wright
December, 10, 2013
Dec 10
6:45
PM ET
SAN DIEGO -- For the first time in many weeks, the
San Diego Chargers
had all 53 players on the active roster participate in practice Tuesday -- a good sign for a team facing the
Denver Broncos
, who are undefeated at home.
"The last couple weeks coming out of games we've been fairly healthy," San Diego coach
Mike McCoy
said. "Every game you're going to have some dings, but nothing serious. So it's been a good couple weeks for us."
Receiver
Eddie Royal
(toe), center
Nick Hardwick
(neck), cornerback
Shareece Wright
(foot) and defensive back
Johnny Patrick
(ankle) were limited in practice.
Receiver
Keenan Allen
(shoulder), tackle
D.J. Fluker
(ankle), defensive end
Lawrence Guy
(toe), linebacker
Jarret Johnson
(hand), defensive tackle
Sean Lissemore
(toe) and defensive end
Corey Liuget
(knee) were full participants.
Royal had not practiced since injuring his toe against Indianapolis on Oct. 14. Royal missed just one game over the past seven because of the injury, against Cincinnati. With less practice time, Royal said he put in more film study and mental reps to make sure he was prepared to play.
"I just had to study more than normal," Royal said. "Because when you're out there running the plays, you don't normally have to go home and look at it for hours. But now that you're not doing it, you want to make sure that you're detailed in what you're doing. There's a lot of little things that you have to pay attention to when you're not out there practicing every day."
November, 20, 2013
Nov 20
6:45
PM ET
SAN DIEGO – Maybe
San Diego Chargers
coach Mike McCoy should take note of how his opponent this week handled practice time during training camp.
The Chargers have struggled with poor tackling all season. McCoy said his team missed 12 tackles in the Chargers' loss to Miami on Sunday, allowing 92 yards after contact. He also lamented his defense's poor execution of the fundamentals, including repeatedly jumping offside.
San Diego's opponent this week, the
Kansas City Chiefs
, boasts one of the top-rated defenses in the NFL, and sits tied atop the AFC West standings with Denver at 9-1.
[+] Enlarge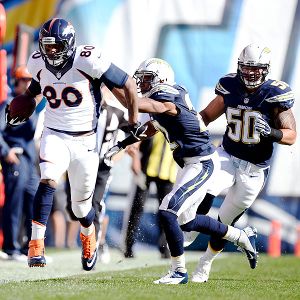 John Leyba/The Denver PostThe Chargers have struggled with poor tackling. Their opponent on Sunday, the Chiefs, has not had that problem.
Kansas City coach Andy Reid set the stage for how his team is playing this season by doing something unusual during training camp – live tackling for 10 to 15 minutes during team drills. Some NFL teams have live-tackling drills during the goal-line period, but few teams are willing to risk injuries with live tackling during the meat of practice time.
"We tackled to the ground in camp," Reid said. "We've always done that. And that's kind of how I was raised in the thing, and that's how we do it."
Reid offered sound reasoning behind his decision.
"In its simplest form, this game is about blocking and tackling," Reid said. "I don't think that part has changed, so it allowed us to work on it and try to get better at it."
Longtime Chiefs linebacker
Derrick Johnson
said Reid's approach during training camp was a wake-up call for a team that suffered through a disappointing 2-14 campaign last season.
"It was very physical," Johnson said. "I've never been to a training camp where certain periods were live. Since I've been here for nine years, we've had a few times where you go goal-line and you go live. But we were going live every other day, so it gets you in the best position to make plays when the real game comes."
Full tackling drills during the regular season are rare. Due to the collective bargaining agreement, the Chargers can hold only a limited amount of padded practices during the regular season. They also have suffered significant injuries to key players on defense.
On Wednesday, San Diego practiced in helmets, jerseys and shorts.
"We've had a tackling circuit on Wednesday every day this year," McCoy said. "So there's certain things you work on every day. And obviously, from last week's game we've got to clean some things up."
Chargers cornerback
Shareece Wright
said better tackling is about having the right mindset and all 11 players getting to the ball.
"It's being sure every time, and not assuming – not expecting a guy to go down because one guy is tackling him," Wright said. "It's just a mindset of everybody getting to the ball and just being furious out there to get the ball carrier down."
Injury update:
Tackle
King Dunlap
(neck), outside linebacker
Jarret Johnson
(hand), cornerback
Johnny Patrick
(concussion) and receiver
Eddie Royal
(toe) did not practice on Wednesday. Johnson had a soft cast on his left hand.
Receiver
Vincent Brown
(shoulder) was a limited participant. Safety
Jahleel Addae
(ankle), receiver
Keenan Allen
(knee), defensive end
Lawrence Guy
(toe), center
Nick Hardwick
(neck), running back
Ryan Mathews
(hamstring) and linebacker
Manti Te'o
(elbow) were full participants.
November, 11, 2013
Nov 11
12:15
AM ET
SAN DIEGO – Even though
Demaryius Thomas
finished with a game-high seven receptions for 108 yards and three touchdowns,
San Diego Chargers
cornerback
Shareece Wright
refused to be in awe of the talented Denver receiver's impressive performance.
Given another opportunity, Wright truly believes he can shut down the physical Thomas, who San Diego coach Mike McCoy calls one of the best receivers in the game.
"When I was able to play man on him, I did a pretty good job," Wright said, following the Chargers'
28-20 loss
. "And lining up against him, I can press him at the line. He's just strong, so he's going to finish a little stronger at the top of the routes. He's got some little tricks to his game, and now I know how to play him.
[+] Enlarge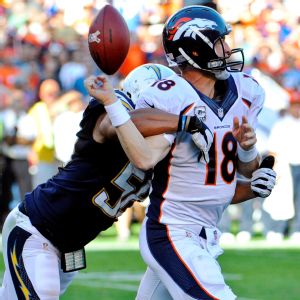 AP Photo/Denis PoroyTourek Williams forces a fumble from the Broncos' Peyton Manning. Williams is one of several young players the Chargers can build around.
"I'll be ready next time."
While not exactly a reflection of what happened, Wright's words are refreshing. Pro football is a young man's game. And for a San Diego squad that over the years leaned on veterans like
Philip Rivers
,
Antonio Gates
and
Eric Weddle
to lead the way, at some point young players like Wright have to emerge and have an impact in order for the Chargers to once again to be playoff contenders.
A third-round selection in the 2011 draft, Wright finally earned his opportunity to start this season after serving as a backup in his first two years. He's missed three games due to a hamstring injury, but during his time on the field Wright has flashed an ability to develop into a solid, NFL cover corner.
Another young player that made an impact for San Diego was pass-rusher
Tourek Williams
, a sixth-round selection in this year's draft. The Florida International product got his third start with
Jarret Johnson
inactive. And Williams made the most of it, chasing down
Peyton Manning
from behind for a strip sack in the third quarter, forcing a fumble that teammate
Donald Butler
recovered.
The momentum-changing play led to a 7-yard touchdown reception by
Danny Woodhead
, cutting Denver's lead to 28-13.
But Williams wasn't overly excited about the play, showing more concern that his team couldn't find a way to battle back for a victory.
"It feels good," Williams said. "But when you lose a game, I haven't even thought about that play since I left the field. So you've just got to play the game. The next time in that situation, we'll make the game-changing play and we'll finish."
Along with Williams, other players from San Diego's draft class this year have played well. Offensive tackle
D.J. Fluker
and receiver
Keenan Allen
deserve rookie of the year consideration. Middle linebacker
Manti Te'o
continues to improve with each game. And even someone like quarterback
Brad Sorensen
, a seventh-round selection out of Southern Utah, showed promise when he played in the preseason.
At 4-5 on the season, the Chargers are a team that is being developed for success down the road. But that doesn't mean young players like defensive lineman
Corey Liuget
are willing to except moral victories by playing elite teams like Denver tough on their home field.
"We don't care for moral victories," Liuget said. "Those don't get you where you want to be. We've just got to be prepared for the next one, and keep fighting and clawing."
And while the Chargers are building for the future, for guys like Weddle the future is now.
"We've got seven games left," Weddle said. "The whole season is right there in front of us. If you guys on the outside think the season is done, then don't come talk to me because we still have everything there."
November, 10, 2013
Nov 10
7:45
PM ET
SAN DIEGO -- A few thoughts on the
San Diego Chargers
'
28-20 loss
to the
Denver Broncos
.

What it means:
The Chargers (4-5) fall under the .500 mark for the first time since a Week 5 loss at Oakland. San Diego is 0-2 against the AFC West this season.
Comeback falls short:
Down 28-6 in the second half, the Chargers could have easily packed it in and mentally started getting ready for next week. They didn't. San Diego scratched its way back to 28-20 with just over 10 minutes left, but failed to get past midfield on the potential game-tying drive.
Demaryius Thomas thrives:
San Diego's smallish corners had trouble dealing with Denver's big-bodied receiver
Demaryius Thomas
, who finished with seven receptions for 108 yards, including three touchdowns. The Chargers' secondary has struggled with big receivers all year. Denver tight end
Julius Thomas
-- another big, fast player -- finished with three receptions for 96 yards and one touchdown.
Redemption for Mathews:
After gaining just 34 yards on seven carries last week,
Ryan Mathews
rebounded with a solid performance, finishing with 59 yards on 14 carries, including a 35-yard run. Mathews also had a 1-yard touchdown run on a goal-line play that San Diego would have been wise to use last week, when the Chargers failed to get the winning score from a yard out against Washington. The Chargers rushed for 131 yards as a team, but 113 of those yards came in the first half.
Cox benched again:
For a second straight game, San Diego's top free-agent addition, cornerback
Derek Cox
, was benched for poor play. Cox failed to get Denver tight end
Julius Thomas
out of bounds on his 74-yard reception for a score in the opening quarter, and received an earful from defensive coordinator John Pagano on the sideline after the play. Cox later returned to the game after fellow cornerback
Shareece Wright
suffered an apparent leg injury. Cox was benched in the second half of San Diego's overtime loss to Washington last week.
What's next:
The Chargers hit the road and travel to Miami for an afternoon game next Sunday.
October, 4, 2013
Oct 4
4:15
PM ET
SAN DIEGO -- A full participant in practice on Friday,
San Diego Chargers
cornerback
Shareece Wright
likely won't find out until game time if he'll play against Oakland on Sunday.
Wright
"It feels good to be able to run around again and participate in practice," Wright said. "Sitting on the sideline is not a good feeling at all, so it definitely feels good."
Wright will face an Oakland receiver group known for its speed, so the ability to open up and run full speed will be an important test during his pre-game workout with the team's training staff before the game.
"We'll see how these next couple days go -- the rest of [Friday] and [Saturday]," Wright said. "We'll see how I feel, and see if I can do a little workout before the game and open up.
"The key is just being able to hit top speed when I'm running, not feeling anything and making sure I don't re-injure it."
Wright missed the last two games with a lingering hamstring issue. San Diego coach
Mike McCoy
says like any other injury, the team's training staff wants his starting cornerback fully healthy to deal with the grind of an NFL game before he takes the field.
"We want to make sure they're ready to go before you put them out there and expose them, whether it hurts the football team because of the injury they can't go full speed, or they re-injure it and they'reset back longer," McCoy said. "So we've got to do what's right, not only for the football team, but what's right for the player."
Along with Wright, starting right guard
Jeromey Clary
was a full participant on Friday, and is listed as questionable on the team's injury report. McCoy seemed optimistic that Clary, who missed last week's game against Dallas with a clavicle injury, could play on Sunday.
"Yeah, I think he's had a good week from what he's done in practice and everything, and we'll see how it goes," McCoy said.
If Clary is available, that would give San Diego a projected starting line of
Michael Harris
at left tackle,
Johnnie Troutman
at left guard,
Nick Hardwick
at center, Clary at right guard and
D.J. Fluker
at right tackle – the Chargers' fourth different starting offensive line combination in five games.
Reserve offensive lineman
Rich Ohrnberger
(groin) returned to the practice field as a limited participant, and is listed as questionable for Sunday. Running back
Ryan Mathews
appears to have suffered a hamstring injury during practice. Mathews was listed as a limited participant, but is probable for the Oakland game.
Starting left tackle
King Dunlap
(concussion) and left guard
Chad Rinehart
did not practice at all this week. Dunlap has been ruled out, and Rinehart is doubtful.
Reserve cornerback
Johnny Patrick
(chest) also did not practice on Friday, and is listed as questionable. Patrick started the past two games with Wright out.
Linebacker Manti Te'o (foot), cornerback
Derek Cox
(knee) and center Nick Hardwick (not injury related) were full participants and listed as probable on San Diego's injury report.
September, 30, 2013
Sep 30
5:55
PM ET
SAN DIEGO -- Coach
Mike McCoy
confirmed that
San Diego Chargers
pass-rusher
Dwight Freeney
tore a quad muscle during Sunday's game against the
Dallas Cowboys
.
"He does have a torn quad, and we're exploring all of the options," McCoy said. "We're getting all of the medical advice, and [exploring] what is in his best interest moving forward."
He did not rule out the possibility of the team placing Freeney on the injured reserve with a designation to return. Under the injured reserve rules, Freeney will be ineligible for the next eight weeks. He can return to practice six weeks after being placed on the list and be eligible for the Dec. 8 game at home against the
New York Giants
.
McCoy said that
Larry English
would be the team's first option to fill in for Freeney. But he did not rule out going outside the organization to find pass rush help if the players on the roster are not getting the job done.
"Any time you lose a great player like Dwight Freeney it's a blow to your football team," McCoy said. "That's offense, defense or special teams. When you lose one of the great players of all time from your team out with an injury like that during a game, it's tough. But you give a lot of guys credit for stepping up."
Along with English, McCoy said rookie sixth round draft choice
Tourek Williams
played 10 snaps, and did a nice job.
McCoy still does not know the availability of the three starters along the offensive line that missed last week's game. Left tackle
King Dunlap
(concussion), left guard
Chad Rinehart
(toe) and right guard
Jeromey Clary
(clavicle) did not play against the Cowboys.
Rich Ohrnberger
injured his groin during the game while playing right guard, and had to give way to
Stephen Schilling
.
"With the injuries that these guys have, everyone's different," McCoy said. "All three of these guys who missed last week, the severity of their injuries are different -- they're completely different injuries. And we're going to get out there on Wednesday and see who's available."
McCoy did say that he os hopeful to get starting cornerback
Shareece Wright
back. Wright has missed the last two games with a hamstring issue. San Diego's other cornerback,
Derek Cox
, also could miss Sunday's game at Oakland. Cox left the Dallas game with a knee issue.
September, 10, 2013
Sep 10
2:36
AM ET
SAN DIEGO --
Observed in the locker room after the San Diego Chargers' 31-28 loss to the Houston Texans on Monday night
:
Rivers
Quiet, please
: Predictably, this was not a cheery place. It was very quiet. Few players talked among themselves. The Chargers were polite with media, but there weren't many who wanted to rehash the details of blowing a 28-7 third-quarter lead.
A 'sick' feeling
: As always, San Diego quarterback
Philip Rivers
stood to face the questions. The loss was bitter, he said, but he was dealing with it. "There was never a feeling of desperation," Rivers said. "We were in control. We stayed poised. ... We're sick, I'm sick, that we're not 1-0."
Falling short
: San Diego cornerback
Shareece Wright
bemoaned the fact that the Chargers' defense couldn't make many big plays in the second half.
Learning experience
: New San Diego pass-rusher
Dwight Freeney
called it a lesson. That said, Freeney is a newcomer. Many of these Chargers have been here before -- and watched a 24-0 halftime lead turn into a 35-24 loss to Denver last October.
August, 23, 2013
Aug 23
4:55
PM ET
The
San Diego Chargers
' signing of
Richard Marshall
on Friday was a move that smart teams make.

Sure, the Chargers have bigger needs at other positions, including receiver and offensive line. But this is an overall thin roster and they need help at cornerback, as well. When a solid player becomes available, he should be pursued. Kudos to new general manager Tom Telesco to secure Marshall, who was cut earlier this week by Miami.
He signed a one-year deal. Terms were not immediately available, but I am sure they are not detrimental to the team.
Marshall is not a defense-changing player, but he will help. Marshall, 28, could end up starting opposite free-agent pickup
Derek Cox
.
Shareece Wright
is slated to start, but he doesn't have the experience Marshall, who is known for being a strong leader, has. At the least, Marshall should be the nickel cornerback. This addition lengthens the Chargers' talent and depth at the position.
Marshall's signing in San Diego is fairly natural. He played for San Diego head coach Mike McCoy and secondary coach Ron Milus in Carolina and San Diego offensive coordinator Ken Whisenhunt in Arizona.
June, 21, 2013
Jun 21
12:00
PM ET
»
NFC Eight in the Box:
East
|
West
|
North
|
South
»
AFC:
East
|
West
|
North
|
South
How does each AFC West team look in the secondary, and what still needs to be done?

Denver Broncos:
The Broncos are set in the secondary. Denver added key pieces throughout the roster as it girds for a Super Bowl run. It signed
Dominique Rodgers-Cromartie
-- who joins a strong group of cornerbacks -- and former San Diego standout
Quentin Jammer
, who will be moved from corner to safety and play sort of a roaming role. Denver believes
Champ Bailey
, who turns 35 Saturday, can still play at a high level. Helping Bailey and Rodgers-Cromartie are the underrated
Chris Harris
and
Tony Carter
. The team also has third-round pick
Kayvon Webster
and 2012 fourth-round pick
Omar Bolden
. That's a pretty deep group. Right now, the starting safeties are
Rahim Moore
and
Mike Adams
. But in addition to Jammer, Denver has
David Bruton
, who was getting first-team work in the offseason, and
Quinton Carter
. As with the cornerbacks, this is a deep group. Overall, the entire unit gives Denver great flexibility for different packages and in case of injury.

Kansas City Chiefs:
The Chiefs boast one of the best secondaries in the NFL. It starts with the cornerbacks, who form arguably the top unit in the league. The new Chiefs regime went to work in free agency, adding
Dunta Robinson
and
Sean Smith
, two of the better cornerbacks available. Combine Robinson and Smith with incumbent
Brandon Flowers
-- known around the scouting community as one of the NFL's better corners -- and it's a powerful group. Expect all three to be on the field often. The Chiefs aren't too shabby at safety, either. They have
Eric Berry
, one of the best in the game, who came on strong at the end of last season after missing virtually all of 2011 with a torn anterior cruciate ligament.
Kendrick Lewis
is injury-prone but solid; any team where a player like Lewis is the weak link in the secondary is in pretty nice shape. The Chiefs also expect fifth-round pick
Sanders Commings
to play a big role, likely at safety.

Oakland Raiders:
Last season, Oakland had perhaps the worst secondary situation in the NFL, especially at cornerback. That is no longer the case: The rebuilding Raiders are significantly better there in 2013. Oakland added
Mike Jenkins
and
Tracy Porter
via free agency and
D.J. Hayden
with the No. 12 overall pick in the draft; they figure to be the Raiders' top three cornerbacks, with Hayden and Jenkins the starters. Hayden, though, must show he can stay healthy after a life-threatening heart surgery last November. He missed the past few weeks of the offseason program after undergoing a procedure to repair scar tissue in his stomach, a side effect of the heart surgery. The team expects him back for training camp in late July. Jenkins and Porter fell out of favor in recent seasons and are not upper-level cornerbacks -- but they are professionals and will help. The safeties have a chance to be strong.
Tyvon Branch
is a very solid player, and Oakland's shining moment of the offseason was when it brought back
Charles Woodson
. Yes, he turns 37 in October, because he can still help this team. This unit may not be elite, but it will be competitive and not hamper Oakland's defense.

San Diego Chargers:
This is probably the thinnest group in the AFC West -- but it is top-heavy. Safety
Eric Weddle
is an elite player and a tremendous anchor for this unit. San Diego let 2012 starters Jammer and
Antoine Cason
walk via free agency without a fight -- but did a nice job in bringing aboard former Jaguars cornerback
Derek Cox
, a scout favorite. Young
Shareece Wright
has a chance to start at the other cornerback spot. Opposite Weddle could be 2012 third-round pick
Brandon Taylor
, if he recovers from a torn ACL, or
Darrell Stuckey
.
Marcus Gilchrist
could also be in the mix. This unit has a chance to be competitive as the season goes on and has some interesting youth. For now, though, there are probably more questions about it than any of the division's other secondaries.
March, 23, 2013
Mar 23
1:00
PM ET
Free agency is 11 days old and the heavy lifting has been done. The
Denver Broncos
and
Kansas City Chiefs
were among the busiest teams in the NFL this offseason. Elsewhere in the AFC West, the
Oakland Raiders
and the
San Diego Chargers
have taken more measured approaches because of salary-cap constraints.
There are still bargains out there, and I expect both Oakland and San Diego to cherry-pick the remaining scraps in free agency to bolster their rosters. And then there's the draft, coming up in a little more than a month.
Let's do a late-March checkpoint for each team thus far:
Denver Broncos

Where are they strong?
Denver doesn't have many holes, and its offense got more potent with the addition of slot receiver
Wes Welker
. His signing was one of
the
stories of the offseason. He is a perfect addition and a new toy for quarterback
Peyton Manning
. Pair Welker with
Demaryius Thomas
and
Eric Decker
, and Denver has arguably the best group of receivers in the NFL. Denver added cornerback
Dominique Rodgers-Cromartie
, defensive tackle
Terrance Knighton
and middle linebacker
Stewart Bradley
to a defense that finished 2012 rated No. 2 overall in the NFL.
Where are they weak?
The Broncos could use a safety, some clarity at middle linebacker, perhaps another pass-rusher and a running back.
Biggest remaining question:
Where is Denver going to go with the No. 28 pick in the draft? The John Elway regime is known for taking the best available player. If there is a safety such as Texas'
Kenny Vaccaro
or a running back like Alabama's
Eddie Lacy
available, I can see Elway pouncing. Either could come in and play a major role.
Kansas City Chiefs

Where are they strong?
The new regime has done a nice job of beefing up, making the Chiefs better in a lot of spots. They were already good at linebacker; now they are strong in the secondary after adding cornerbacks
Sean Smith
and
Dunta Robinson
. Along with
Brandon Flowers
, this might be the best group of cornerbacks in the NFL. Throw in young safety
Eric Berry
and this is a powerhouse.
Where are they weak?
You never want to go too crazy about a team coming off a 2-14 season, but the Chiefs don't have a ton of holes. They have improved in key spots and don't have glaring holes. The biggest improvement, of course, was at quarterback, where
Alex Smith
takes over for
Matt Cassel
and
Brady Quinn
. Smith is not elite, not even close. Still, he is far from terrible. With that problem fixed, the Chiefs might look to get stronger on the offensive line and could also use another inside linebacker and another body on the defensive line. But that's average stuff. Pretty good for a 2-14 team.
Biggest remaining question:
Will the Chiefs trade left tackle
Branden Albert
? The franchised player could command a second-round pick in return. That would make up for the second-round pick Kansas City lost in the Smith trade. The Chiefs could be interested in such a move. If that deal happens, the team would probably take Texas A&M left tackle
Luke Joeckel
with the No. 1 pick and find an answer elsewhere for the hole at right tackle.
Oakland Raiders

Where are they strong?
This team has talent despite the exodus the last two offseasons. I think the most interesting group right now is the linebackers after the addition of free agents
Nick Roach
,
Kevin Burnett
and
Kaluka Maiava
. The Raiders also have second-year player
Miles Burris
, who started as a rookie. The front seven will vary, but the Raiders are expected to remain a 4-3 base defense -- so there is some versatility on this unit.
Where are they weak?
The Raiders have holes on both sides of the ball as they rebuild after years of wild spending by the previous regime. They need big help on the secondary and must continue to work on the defense as a whole. Tight end and offensive line are other positions of need.
Biggest remaining question:
Second-year general manager Reggie McKenzie has added some nice pieces at bargain rates in free agency after seeing several good players leave. Can McKenzie continue to find more help? This team still needs six to nine starters.
San Diego Chargers

Where are they strong?
This is a good team on defense. It was underrated last season, especially the front seven. The Chargers also have quarterback
Philip Rivers
. Yes, he has had some issues the last two years, but new coach Mike McCoy has often said the key is to build around Rivers.
Where are they weak?
OK, well, the Chargers have to continue to build around Rivers. The offensive line still needs two or three starters, and another skill-position weapon is a must. Cornerback
Derek Cox
was a good get, but the Chargers need
Shareece Wright
or
Marcus Gilchrist
to take the next step at cornerback. Another safety may be needed as well.
Biggest remaining question:
How are the offensive line holes going to get fixed? The team will probably draft a left tackle with the No. 11 pick, but this unit needs to get better or Rivers will have no chance to succeed.
March, 14, 2013
Mar 14
8:20
PM ET
Wes Welker
met the Denver media Thursday, and he made it clear he wanted the Broncos as much they wanted him.
Asked what John Elway, Denver's executive vice president of football operations, pitched to him, Welker said: "I was probably the one pitching to him, trying to make this happen. Finally, we were able to kind of get together and get a deal done … That I want to win. That above everything. We'd figure out the money part and all that stuff later, but that winning was a big thing for me."
Many league observers think the addition of Welker will make Denver a winner. Welker loves the idea of playing with fellow Denver receivers
Demaryius Thomas
and
Eric Decker
. The receivers give quarterback
Peyton Manning
a tremendous group to throw to.
"I think they were another big part of me wanting to come here, just their styles and watching them on film and how good of young receivers they are," Welker said. "I think it's a good starting point for all of us. They did a great job last year, and hopefully I can just come in and try and help out."
In other AFC West notes:
The Elvis Dumervil situation, which will be resolved by Friday, is about the only thing left for the Broncos at this point. If Dumervil is cut, forget the notion of Connor Barwin joining the Broncos. He signed with the Eagles. It had been reported Denver could pursue Barwin.
San Diego cornerback Antoine Cason could end up in Arizona or Jacksonville. If the Chargers don't sign another cornerback, Shareece Wright could start opposite Derek Cox.
August, 19, 2012
8/19/12
1:10
AM ET
A look at the Chargers'
28-20 home victory
over Dallas on Saturday night:
First, some bad, bad news:


Second-year receiver
Vincent Brown
suffered a broken left ankle. U-T San Diego reports that he will have surgery and will miss at least eight weeks. I wouldn't be surprised if the injury takes even more time to heal. What a shame.
Brown looked great this summer and was going to be the Chargers' No. 3 receiver. This injury means
Eddie Royal
, who has been hurt during camp, must step up to help this receiving crew.
OK, I know you will ask: Does Brown's injury mean the Chargers could be in on
Plaxico Burress
or
Chad Johnson
? Well, it would be unlike San Diego general manager A.J. Smith to add either player, but there is a hole at the position.
This is truly a bad loss for San Diego, which is without starting running back
Ryan Mathews
for a month or so after he suffered a shoulder injury last week. The Chargers have been ravaged by injuries the past three years and the 2012 season hasn't started any differently.
The Chargers worked on building depth this offseason; it is paying off in the preseason. The Chargers' backups led a comeback Saturday night and have looked good in both preseason games.
That is all well and fine, but San Diego's first-team offense was sloppy again. All 15 of
Philip Rivers
' passes were caught Saturday night. But two of them were caught by Cowboys.
Rivers has thrown three interceptions in two preseason games. He was picked off 20 times last season. Rivers has looked really good in the preseason, but interceptions just can't happen -- he must improve in this area.
Rookie defenders
Melvin Ingram
and
Kendall Reyes
continued to make an impact. These guys are going to be fun to watch.
Backup cornerback
Shareece Wright
had an interception with a long return. He has looked good this summer.

NFL SCOREBOARD
Sunday, 12/22
Monday, 12/23