February, 25, 2014
2/25/14
2:00
PM ET
Here is the second of a 10-part series breaking down the Jaguars' free-agency needs, position by position:
Running backs
Who's on the roster:
Delone Carter
,
Shaun Chapas
(FB),
Justin Forsett
,
Maurice Jones-Drew
,
Denard Robinson
,
Jordan Todman
and
Will Ta'ufo'ou
(FB).
Analysis
: Jones-Drew becomes an unrestricted free agent next month, but every other player is under contract through at least 2014. Jones-Drew fought through ankle, hamstring and knee issues to rush for 803 yards and five touchdowns. The running game, though, never really got going until the 11
th
game of the season. The Jaguars ran for at least 112 yards in games 11-14 but things dropped off the table after that: 105 yards in the last two games combined. Part of the yearlong issue was due to the offensive line's struggles, but the fact that the Jaguars rarely made any explosive plays in the run game was a big factor as well. The Jaguars had just four runs of 30 or more yards all season. Todman was solid as Jones-Drew's backup and ran for 109 yards in his only start, but he's not a featured back. Forsett was hurt in camp and never found his fit in the offense and likely will be released. Robinson never had a defined role until settling in at running back midway through the season and he has had ball-security issues. Carter and Chapas (practice squad) were signed late in the season.
NFL free agents of interest:
Ben Tate
,
Darren McFadden
,
Knowshon Moreno
,
James Starks
,
Anthony Dixon
and
LeGarrette Blount
.
Need meter: 7.
If Jones-Drew does not re-sign with the Jaguars -- and right now it appears he won't -- the team needs to sign a replacement via free agency. There are a lot of affordable options on the market because of the number of players available. Tate tops the list and should be the Jaguars' top target at this position, but if they're looking for a cheaper option then Starks, who has been a featured back in spurts with Green Bay, could be an option. Robinson is an intriguing player on the roster, though, because the staff is having him bulk up a bit to handle the pounding of playing running back. If he can solve his fumbling problems, he could be a surprise. Expect the team to draft at least one back as well.
October, 16, 2013
10/16/13
12:10
PM ET
ALLEN PARK, Mich. -- For the first time since last month,
Detroit Lions
wide receiver
Calvin Johnson
participated in a Tuesday practice.
Johnson also looked fine going through basic individual drills.
He wasn't the only major player there. Running back
Joique Bell
, who injured a rib in the fourth quarter Sunday, was at practice and didn't appear to have any extra protective padding on his chest.
Cornerback
Rashean Mathis
, who injured his groin Sunday, was also out there practicing. So was running back
Montell Owens
, who is now allowed to practice after being placed on injured reserve/designated to return before the season.
Running back
Theo Riddick
was also at practice, but with a winter beanie on his head instead of a helmet, he was not actually practicing. Other Lions not practicing were tight end
Tony Scheffler
(concussion), right tackle
Jason Fox
(knee), safety
Louis Delmas
(knee) and wide receiver
Nate Burleson
(forearm).
One other note -- the Lions brought wide receiver Patrick Edwards back to their practice squad and released running back
Shaun Chapas
. For the time being, Detroit now has three receivers on its practice squad.
August, 31, 2013
8/31/13
6:28
PM ET

Most significant move:
There were no surprises for the
Detroit Lions
and, really, there were few big decisions. We noted earlier that the team decided to preserve a roster spot for No. 3 quarterback
Kellen Moore
, so the most significant move they did make was placing rookie tight end
Michael Williams
on injured reserve. The Lions had substantial plans for Williams this season as the third tight end in the jumbo package that lineman
Riley Reiff
filled last season. They also hoped to develop his receiving skills as veterans
Brandon Pettigrew
and
Tony Scheffler
enter contract years. Williams had surgery last week to repair a hand injury, and though coach Jim Schwartz said the team had no long-term injuries, Williams is in fact lost for the season. (NFL teams can't start placing players on short-term injured reserve until next week.) As a result, rookie
Joseph Fauria
-- a much better receiver but less of a blocker than Williams -- is on the 53-man roster with Pettigrew and Scheffler.
The dominoes:
The Lions apparently chose veteran Michael Spurlock as their kick returner, necessitating the release of rookie
Steven Miller
, who could return on the practice squad. Spurlock is also a receiver, and for the now he is one of six on the roster, presumably because of
Ryan Broyles
' sore knees. The release of veteran
Matt Willis
means
Kris Durham
is the sixth receiver. You wonder if the Lions would change directions soon in that regard. The Lions sifted through their big group of veteran defensive backups by tapping
Rashean Mathis
as a swing cornerback/safety and
Rocky McIntosh
as a backup linebacker while releasing the rest.
John Wendling
and
Don Carey
are the backup safeties for now.
What's next:
According to multiple reports,
the Lions will place running back
Montell Owens
on short-term injured reserve. That can't happen until next week, so for now he is part of the 53-man roster. He must miss at least six weeks of the regular season. You would think the Lions will bring back a number of the players they cut Saturday for their practice squad, and it's worth remembering that they are No. 5 in priority for NFL waiver claims. Sunday could be a busy day.
List of players cut:
WR:
Corey Fuller
, Matt Willis. RB: Steven Miller,
Shaun Chapas
. OL:
Rodney Austin
,
Kevin Haslam
,
Darren Keyton
,
Jake Scott
. DL:
Andre Fluellen
,
Ogemdi Nwagbuo
,
Xavier Proctor
, Jimmy Sadler-McQueen. LB:
Brandon Hepburn
,
Jon Morgan
(waived/injured)
Chris White
. CB:
Ron Bartell
,
Chris Greenwood
. S:
Amari Spievey
,
Tyrell Johnson
,
Martavius Neloms
(waived/injured) P:
Blake Clingan
.
December, 14, 2012
12/14/12
4:28
PM ET
Let's get inside Friday's NFC North injury report:
Chicago Bears:
As expected, the Bears ruled out linebacker
Brian Urlacher
(hamstring), cornerback
Tim Jennings
(shoulder) and receiver
Earl Bennett
(concussion) from Sunday's game against the
Green Bay Packers
. The Bears could also be short along the defensive line because
Henry Melton
(chest) and
Shea McClellin
(knee) are both listed as doubtful while
Matt Toeaina
(knee) is questionable. Neither Melton nor McClellin practiced this week. Meanwhile, linebacker
Geno Hayes
(knee) and running back
Michael Bush
(ribs) are questionable. The Bears would probably use
Blake Costanzo
at strong-side linebacker if Hayes can't play.
Detroit Lions:
Two key players appear unlikely to be available for Sunday's game against the
Arizona Cardinals
. Tight end
Brandon Pettigrew
(ankle) and defensive lineman
Nick Fairley
(shoulder) both missed practice all week and are listed as doubtful. The Lions
could promote
tight end
Shaun Chapas
from the practice squad to provide depth Sunday. Meanwhile, safety
Louis Delmas
(knee) is questionable for the game.
Green Bay Packers:
The Packers ruled out four players from Sunday's game: Receiver
Jordy Nelson
(hamstring), running back
James Starks
(knee), defensive end
C.J. Wilson
(knee) and defensive back
Charles Woodson
(collarbone). Right guard
Josh Sitton
was added to the injury report because of a hip injury that flared up Thursday and prevented him from practicing Friday. He is listed as questionable, but the Packers are holding out hope he will play Sunday. Fellow guard
T.J. Lang
(ankle) is listed as probable for the game.
Minnesota Vikings:
All players are at least probable for Sunday's game against the
St. Louis Rams
except for cornerback
Antoine Winfield
, who sat out practice all week because of a knee injury. Coach Leslie Frazier, however, told reporters he thought Winfield would be ready to play.
June, 1, 2011
6/01/11
11:00
AM ET
The NFL lockout has put players and owners in limbo. The ripple effects are also felt by people whose lives or businesses touch their teams. Here are their stories:
IRVING, Texas -- When
Shaun Chapas
was picked by the Cowboys in the seventh round of the 2011 draft, he had certain visions of what the NFL life would be like.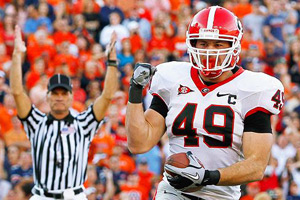 Kevin C. Cox/Getty ImagesWith no team-led camps, Cowboys seventh-rounder Shaun Chapas has bounced from high school to high school to keep working out.
Roughly a month after the Georgia fullback was selected, he is still waiting for that life to begin, thanks to the NFL lockout.
"I don't know any better because I haven't done it before," Chapas said. "It's kind of a different year. I'm looking forward to it getting going."
For the last three weeks, Chapas has been working out four days a week at The Factory in Atlanta with about a dozen other players either already in the NFL or in the same state of limbo as him. Seattle quarterback
Charlie Whitehurst
has taken Chapas and some wide receivers and tight ends, like
Ben Hartsock
of the
New York Jets
, to area high schools for on-field workouts.
They are already on their third high school in as many weeks.
"We've become nomads," Chapas said, "just having to beg high schools to let us work out."
Chapas exchanged email with
Tony Romo
about attending the Cowboys' player-run workouts in May, but said "the logistics of it made it difficult. We're going to wait a little on that."
As the 220th overall pick, Chapas is guaranteed of making the 53-man roster, although
Chris Gronkowski
is currently the Cowboys' only other fullback. In a normal offseason, Chapas would have had a rookie minicamp and at least two weeks of organized team activities by now to get him up to speed on the offense.
Because of the lockout, though, Chapas does not have a playbook and has relied mostly on what he learned during his visit with the Cowboys at the NFL scouting combine and the quick conversation he had with head coach Jason Garrett and running backs coach Skip Peete after he was picked.
His best hope of seeing the Cowboys' offense is to catch a re-run of a game on NFL Network.
"If I catch one, I'm definitely going to watch it," Chapas said.
He has already been to Cowboys Stadium for a game. His roommate at Georgia was Detroit quarterback
Matthew Stafford
. The Cowboys won, 35-19, on Nov. 21 but Stafford did not play because of a shoulder injury.
"I was with some of his buddies from high school and his parents asked me, 'Wouldn't it be great if you could play here?'" Chapas said. "I was thinking that would be awesome, but I wasn't really thinking about being a Cowboy at the time. But it sure crossed my mind."
Now that chance is tantalizingly close, but also so far away. For now, Chapas shows up for workouts at The Factory and hopes a high school will allow them to throw some passes.
"I'll talk to friends and they'll ask the same basic question: When are you going to Dallas?" Chapas said. "I have to tell them I really don't know because we're just waiting. I think it will get worked out, right?"