NFL Nation:

Shaun Draughn
August, 5, 2014
Aug 5
4:09
PM ET
BOURBONNAIS, Ill. -- A daily review of the hot topics coming out of
Chicago Bears
training camp:
While the Bears actively monitor the waiver wire and scan the list of available free-agent wide receivers in the aftermath of Marquess Wilson's fractured clavicle, Tuesday's practice allowed the team to try out several different receiver combinations. Minus Wilson and veteran Brandon Marshall (coaches' decision), the Bears trotted out a three-wide receiver set to begin 11-on-11 drills that featured Alshon Jeffery, Eric Weems and Chris Williams. Weems, a former Pro Bowl return man in Atlanta, figures to be a lock to make the team based on his familiarity with the offense and immense value on special teams, but the remaining roster spots are wide open. According to quarterback Jay Cutler: "Eric Weems has had a great camp, but so have a number of other guys. Right now it's too early to peg anybody. We'll just see how it plays out." Cutler later added the Bears expect Wilson back on the field in 2014 after he underwent surgery on Tuesday morning. But with no timetable set for Wilson's return, the Bears do need to find a reliable option in the slot to bridge the gap over the first couple weeks of the regular season, at the bare minimum.
Cornerback Isaiah Frey suffered a right hamstring injury at practice and had to be carted back to the locker room. The Bears' 2013 starting nickelback, Frey is facing an uphill battle to make the team with veterans Charles Tillman, Tim Jennings, Kelvin Hayden and Sherrick McManis, plus rookie first-round draft choice Kyle Fuller ahead of Frey on the depth chart. Frey told reporters he plans to vigorously attack the required rehabilitation program, but stressed the importance of resisting the urge to return too soon from a pulled hamstring injury, since those types of injuries tend to linger.
Starting right tackle Jordan Mills hurt his foot at the tail end of Tuesday's practice. Mills stayed and watched the final drill before walking off the field under his own power. Mills suffered a foot injury during pregame warm-ups in last year's regular-season finale versus the Green Bay Packers that required offseason surgery. The Bears did not reveal the severity of the injury, but Mills seemed to be in good spirits when he arrived at lunch later in the afternoon.
Adrian Wilson and Ryan Mundy again took first-team reps at safety.
Jennings (quadriceps) and guard Eben Britton (hamstring) were held out of practice, but linebacker Lance Briggs fully participated after a knee injury kept him off the field for final portion of Monday's session. Defensive end Jared Allen was excused from another practice due to personal reasons, while running back Shaun Draughn went through an entire practice following a couple of personal days away from the team.
The Bears' next scheduled practice is Wednesday at 9 a.m. CT.
April, 23, 2014
Apr 23
2:59
PM ET
The
Chicago Bears
signed running back
Shaun Draughn
to a one-year contract, the team announced.
Draughn
Draughn played in 20 games for the
Kansas City Chiefs
and
Baltimore Ravens
from 2011-13. His best season came in 2012 when he carried the ball 59 times for 233 yards and two touchdowns and caught 24 passes for 158 yards for the Chiefs.
Draughn also returned 23 kickoffs for 537 yards that same year in Kansas City.
Bears general manager Phil Emery served as the Chiefs' director of college scouting when Draughn entered the league in 2011 as an undrafted rookie free agent out of North Carolina. Draughn originally signed with the
Washington Redskins
before eventually making his way to Kansas City.
The 6-foot, 205 pound tailback appeared in just three games and ran the ball only four times for two yards for the Ravens last season.
The Bears were looking to add depth in the backfield in the offseason after the club released veteran running back
Michael Bush
on the eve of NFL free agency in March. The team could still decide to draft a running back in the late rounds to compete with the likes of Draughn and
Michael Ford
for the reserve roster spots behind two-time Pro Bowl starter
Matt Forte
.
December, 17, 2013
12/17/13
5:00
PM ET
INDIANAPOLIS – Lost in the news of linebacker
Pat Angerer
going on injured reserve because of a knee injury was that the
Indianapolis Colts
signed running back
Shaun Draughn
to take Angerer's spot on the roster.

The signing gives the indication that the stinger
Donald Brown
suffered against the
Houston Texans
last weekend could cause him to miss some time.
If that's the case,
Trent Richardson
, who rushed for 64 yards against the Texans, would move back into the starting lineup and
Tashard Choice
, whom the Colts signed last week after
Chris Rainey
was lost for the season, would likely back him up against Kansas City this weekend.
"Really don't have a choice," Colts coach Chuck Pagano said Monday when asked about putting Choice in the rotation. "I wouldn't have any regardless, but it's really all we have. He's going to have to. And I like what he did [Sunday] coming in and had the good return on the kickoff return and got some carries in the back. He's a smart guy, he's a tough guy, he's ran the ball before, so I have no problems."
Draughn has appeared in 20 games, rushing 63 times for 235 yards and two touchdowns while bouncing around with the Chiefs,
Washington Redskins
and
Baltimore Ravens
. He can also return kickoffs.
September, 23, 2013
9/23/13
6:30
PM ET
OWINGS MILLS, Md. --
Baltimore Ravens
coach John Harbaugh isn't sure whether running back
Ray Rice
will return to play Sunday. What Harbaugh does know is he's going to get more production out of his plodding running game.
Winners of two straight, the Ravens (2-1) are sitting atop the AFC North with the
Cincinnati Bengals
and are coming off a convincing 30-9 win over the
Houston Texans
. But the biggest improvement Harbaugh wants to see out of his team is opening running lanes and breaking long runs.
The Ravens are averaging 77.3 yards rushing, which ranks 25th in the NFL. Baltimore is gaining 2.6 yards per carry, and only the
Jacksonville Jaguars
(2.4) are averaging fewer.
[+] Enlarge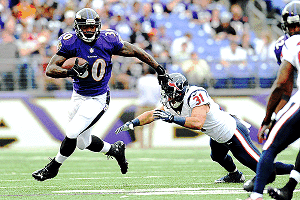 Evan Habeeb/USA TODAY SportsRavens coach John Harbaugh said he's confident that his running backs, including Bernard Pierce, will be more productive as the season progresses.
"Our run game is not where it needs to be," Harbaugh said. "I think one thing you've seen is that philosophically we're going to stick with it. It's something that we think is important. We're going to be able to run the ball here. It's just part of our DNA. It's part of who we are as a football team."
The Ravens return four starters from an offensive line that helped the team average 134.8 yards rushing in the playoffs. Through three weeks this year, the Ravens are averaging 44 percent less.
Without Rice on Sunday,
Bernard Pierce
and
Shaun Draughn
were held to no gain or were stopped behind the line nine times on 27 carries. Like Harbaugh said, it's not for a lack of trying. Their 88 rushing attempts rank 10th in the NFL.
"We have the people to do it," Harbaugh said. "We have some big, strong, tough offensive linemen. We have some really good backs. And we have a fullback who is the best blocking fullback in the league. So, the run game is something that has to happen for us."
Based on the numbers, the Ravens will have their best chance of getting the run game on track this Sunday. The
Buffalo Bills
have allowed 155 yards rushing per game, which is second worst in the league. The
New York Jets
'
Bilal Powell
, a fourth-round pick in 2011, ran for 149 yards against the Bills on Sunday.
Harbaugh said the Ravens' problem is more complicated than just knocking defensive linemen off the ball. He characterized the issue as getting everyone working more in sync.
"We do feel like we understand it and we're working on it," Harbaugh said. "There's no doubt in our mind that it can be corrected. We're not getting the production from the run game that we think we should. But we also feel like we're on our way to getting that done. We just have to go out there and do it."
Injuries have hit the Ravens' backfield. Rice missed his first game since 2008 with a hip injury, and Draughn has a high ankle sprain. Harbaugh said the team is in a "wait and see" mode as to whether Baltimore needs to add another running back this week, but it seemed like the Ravens were leaning against that.
Asked if there is a good chance that Rice will play Sunday, Harbaugh said, "I don't know about the good or the great or the whatever. He was close this week, to a degree. So was Chris [Canty, defensive lineman]. Those muscle things, you never know for sure. They were in the ballpark this week. We think that really puts them in the ballpark coming up."
September, 11, 2013
9/11/13
4:10
PM ET
In a move that was unexpected, the
Baltimore Ravens
placed wide receiver
Aaron Mellette
on injured reserve, opening up a roster spot for running back/returner
Shaun Draughn
.

It makes sense in one respect. Putting Mellette, a rookie seventh-round pick out of Elon, on IR ends his season, but it's one way to keep a developmental player. If you try to put him on the practice squad, you risk him getting picked up by another team.
Still, there was no indication that this move was coming or that Mellette was even injured. It was announced that Mellette has a knee injury. Mellette wasn't on the Ravens' Week 1 injury report (which means he had full practices) and he didn't play in the season opener. The Ravens did practice twice since Thursday's game, but coach John Harbaugh sounded optimistic about Mellette playing at some point this season after Monday's practice.
"He's playing well," Harbaugh said of Mellette. "There's nothing that he's doing that wouldn't make him a possibility to be active."
Mellette showed potential in the preseason, but he was surpassed on the depth chart by undrafted rookie
Marlon Brown
. The Ravens currently have six wide receivers on the roster, although only four are healthy: Brown,
Torrey Smith
,
Jacoby Jones
(injured, knee),
Brandon Stokley
,
Tandon Doss
and
Deonte Thompson
(injured, foot).
April, 13, 2013
4/13/13
1:00
PM ET
With the draft less than two weeks away, here's a look at the running back situation for each team in the division:

Denver Broncos:
They could add another body here, but the Broncos' running-back situation is serviceable and capable of developing into more if
Ronnie Hillman
takes a step forward in his second year. Hillman probably will never carry the full load, but he is Denver's best big-play option out of the backfield and could become a force in the passing game once
Peyton Manning
and company trust him with protection and route-running.
Willis McGahee
's role should remain intact for the most part, and he is effective moving the chains and churning out tough yardage.
Knowshon Moreno
looked like a draft bust, but you can't deny how well he played once given the chance last season -- very effective as both a runner and receiver. In fact, Moreno was probably the Broncos' best running back in 2012, although I still feel that McGahee is the superior ball carrier. Of course, every defense will fear Manning and the Denver passing game -- especially now that
Wes Welker
has been added. Plus, Denver improved its offensive line by signing
Louis Vasquez
. So overall, this is a pretty sound unit.

Kansas City Chiefs:
Jamaal Charles
is a great player who could even step up his production, especially as a receiver, in Andy Reid's offense. He is a big play waiting to happen, but also consistently churns out yardage even when his blocking isn't superb. Expect a huge year from Charles in 2013. That said, the Chiefs would be wise to address the No. 2 running back spot in the draft or late in free agency with a bigger back to complement Charles. Right now,
Shaun Draughn
and
Cyrus Gray
, both heading into their second full seasons, are the only backups of note. Draughn carried the ball 59 times and caught 24 passes in 2012; Gray only touched the ball nine times during his rookie season. Reid could further utilize Draughn's pass-catching skills, but he really was a liability in protection last season. The Chiefs need more from Draughn and Gray in 2013 and should find an improvement elsewhere.

Oakland Raiders:
This might be the strongest position on the Raiders' terrible roster, at least when
Darren McFadden
is actually healthy. But even when McFadden is on the shelf, which he so often is, the Raiders are not too badly off.
Marcel Reece
is just a heck of an all-around football player. A fullback in title, Reece is an outstanding receiver who caught 52 passes last year, a serviceable blocker and a solid runner. He is the type of player every team should want.
Mike Goodson
, who is talented but hard to rely on, is out. In is former Jaguar
Rashad Jennings
, who is bigger than Goodson and should fit the man blocking scheme Oakland will bring back. But Jennings also is tough to rely on due to his injury history -- and he really didn't play well last season when he was healthy. Still, Jennings has produced at this level and was a good signing considering McFadden's injury history. McFadden is only 25 years old, but he has never played more than 13 games in his five NFL seasons and appeared in only 19 over the past two seasons. And frankly, he was less than impressive when he did see the field in 2012, although next season's scheme change could really benefit him. Even with this uncertainty, the Raiders will probably address their multitude of other needs in the draft rather than taking a running back high.

San Diego Chargers:
The Chargers signed
Danny Woodhead
to go along with
Ryan Mathews
and
Ronnie Brown
as their primary running backs. Woodhead can act as a slot receiver and move all over the formation to create mismatches in the passing game as well as contribute with some carries. This is a fine addition, but Brown acted as the Chargers' third-down back last season. With the problems with San Diego's offensive line, checking down to Brown became a favorite decision for
Philip Rivers
. Few running backs have Mathews' talent, but his injury history and lack of reliability are troubling -- especially for a former first-round pick. The new coaching staff might not be as enamored with Mathews as the last, but it is easy to overlook the fact that Mathews was rather effective running the ball last year for a team that had blocking woes. He also gives the Chargers three backs who catch the ball well, although neither excels in protection. Woodhead, Brown and Mathews combined to catch a whopping 128 passes in 2012.
September, 14, 2012
9/14/12
4:44
PM ET

Denver second-year safety
Rahim Moore
was levied with the second big fine of his short career. Moore was fined $21,000 by the NFL for unnecessary roughness (specifically, on a pass play, he unnecessarily struck a defenseless player in the head and neck area) on a play Sunday night when he hit Pittsburgh receiver
Emmanuel Sanders
.
Last year, in the preseason, Moore was fined $20,000 for a hit against Buffalo. Many observers thought Moore's play slipped after that incident. It will be interesting to see if he is affected by this fine.
Meanwhile, Kansas City running back
Shaun Draughn
was fined $7,875 for unnecessary roughness (specifically, on a run play, he grabbed the opponent by the facemask) during a fight in the Chiefs' loss against Atlanta.
In other AFC West news:
ESPN.com columnist
Ashley Fox believes the Broncos are a contender.
August, 31, 2012
8/31/12
10:38
PM ET
Click
here
for the complete list of
Kansas City Chiefs
' roster moves.

Most significant move:
I found it interesting that defensive tackle
Amon Gordon
was cut. Gordon is solid, but far from special. But it could open a spot for
Shaun Smith
. Smith, who was recently cut by the Titans, tried out for the Chiefs on Tuesday. He played for Romeo Crennel in both Cleveland and in Kansas City. Smith could be added to a defensive-tackle group that includes first-round pick
Dontari Poe
,
Anthony Toribio
and
Jerrell Powe
. It was also significant that rookie defensive back
DeQuan Menzie
was put on injured reserve. The Chiefs have a lot of injuries in the secondary (they also cut veteran
Donald Washington
) and will need to do something. Young running backs
Cyrus Gray
,
Nate Eachus
and
Shaun Draughn
all made the team, giving Kansas City some intriguing youth in the backfield. Interestingly, the Chiefs kept five tailbacks, but no fullbacks. What does it mean? The will be doing a lot of multiple-tight-end and -receiver sets. It'd also be nice to see
Jamaal Charles
and
Peyton Hillis
share a backfield on occasion.
Onward and upward:
The Chiefs cut rookie receivers
Junior Hemingway
and
Josh Bellamy
. The Chiefs like both of those players, but they are deep at the position. Both should be headed to the practice squad. As expected, second-year quarterback
Ricky Stanzi
made the team. He will be the No. 3 quarterback and given another chance to develop. Defensive lineman
Jerome Long
, a draft pick, could also be headed to the practice squad.
What's next:
Whether or not the Chiefs sign Smith (doing so after Week 1 would avoid guaranteeing his 2012 contract), I think they could add to the defensive line. I think they certainly will look at help for the secondary because of injuries, and if the right linebacker becomes available, the Chiefs could add some depth. I also think the offensive line might be an area in which Kansas City looks for depth -- it has been trying to add a veteran all summer. One name to keep an eye on is former New England offensive lineman
Dan Koppen
. He has a history with Chiefs general manager Scott Pioli.
August, 10, 2012
8/10/12
10:22
PM ET
Looking back upon three things discussed
here
before the
Arizona Cardinals
' exhibition game Friday at Kansas City, a game the
Cardinals lost 27-17
:


1. QB competition.
John Skelton
started and generally looked better than
Kevin Kolb
, in my view, except for an across-the-body pass into coverage for an interception on third-and-14. Neither quarterback made a clear positive statement. Skelton completed 3 of 6 passes. Kolb completed 1-of-5. Skelton appeared unfazed by the rush, at one point coolly sidestepping a charging defender to find
Andre Roberts
. The running game struggled early, however, and the Cardinals found themselves in third-and-long situations too frequently. Kolb appeared sharp and accurate on his first couple throws, both back-shoulder types. He held onto the ball too long a couple times, including once when the Chiefs sacked him. "Five hitches, you gotta get rid of the ball," former NFL quarterback
Trent Green
said during the Chiefs' broadcast of the game.
Ryan Lindley
, the likely third quarterback, completed all four attempts working behind the first-team line late in the first half. He drove the Cardinals to a field goal after the team fell behind 17-0.
2. Stewart Bradley's progress.
The Chiefs blocked Bradley (and quite a few of his teammates) effectively while driving to touchdowns on their first two possessions. Bradley did stop
Peyton Hillis
for a 1-yard gain early, but he appeared unaware as Hillis rumbled through the line for a sizable gain to the Arizona 13-yard line. Hillis gained 41 yards on his first four carries and also had a 11-yard touchdown reception. One of the Chiefs' tight ends blocked Bradley to spring
Shaun Draughn
for a 4-yard touchdown. The entire defense had problems stopping Kansas City early. Bradley was in the spotlight here because he played well in the exhibition opener while trying to bounce back from a rough first season with Arizona.
3. Pass protection.
There were issues in protection, but these were not just protection issues. They were situational issues. The Cardinals, playing without their top running backs, struggled to run the ball early. The run blocking itself wasn't very good. Arizona found itself in third-and-long situations too many times. Offensive linemen have a hard enough time holding up in protection without trying to keep their quarterbacks upright on third-and-long. And when a quarterback holds onto the ball an extra second or two, the job becomes even tougher. An improved ground game would have helped the protection.
January, 1, 2012
1/01/12
12:06
PM ET
NFL.com
floats the name of Elliot Wolf as a possible candidate for the Oakland general manager job. Wolf is the son of former Green Bay and Oakland executive Ron Wolf. Also, Elliot Wolf works in Green Bay with another top Oakland candidate, Reggie McKenzie, a former Raiders linebacker. Expect the Raiders to begin the process of adding an executive after the season. That has been the plan since the Oct. 8 death of owner Al Davis.
The Chiefs put running back
Jackie Battle
on injured reserve and added Shaun Draughn from the practice squad. He is from North Carolina.
Norv Turner has the
support of his players
going into Sunday's season finale at Oakland. Still, don't expect the support to sway ownership. Turner is expected to be fired after the Chargers have failed to go to the playoffs for the past two seasons.
Perhaps a chain of events
will prevent
former Denver coach Josh McDaniels from being the offensive coordinator in Kansas City.

NFL SCOREBOARD
Thursday, 12/18
Saturday, 12/20
Sunday, 12/21
Monday, 12/22