December, 17, 2009
12/17/09
10:32
AM ET
By
Matt Mosley
| ESPN.com
I think fans in Washington had almost given up on the idea of Redskins executive vice president of football operations Vinny Cerrato leaving the team after all these years. And let's not for a minute pretend that this was his decision, although the club
is officially calling this a resignation
.
[+] Enlarge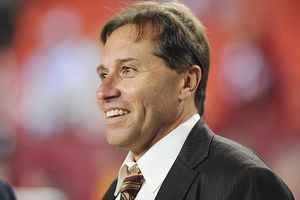 Al Messerschmidt/Getty ImagesVinny Cerrato was first hired by the Skins in 1999.
Cerrato and owner Dan Snyder have been the best of friends over the past decade. Marty Schottenheimer once ran Cerrato off for a season but Snyder quickly fired the coach and re-hired Cerrato to head up his personnel department. I thought Cerrato's best bet for keeping his job was for the club to make a run at Mike Shanahan, the man he once worked with in San Francisco.
But as I've suggested in this space and in numerous chats this season, the dynamic between Snyder and Cerrato had changed this season. With each loss, Snyder became increasingly frustrated with his right-hand man. On the surface, Cerrato's idea to bring in Sherm Lewis as the playcaller has actually helped the offense. But it was still an embarrassing situation once Lewis revealed to the organization that he'd been calling bingo at a senior citizens center. It emphasized how removed from football he'd been over the past five years and it gave critics even more ammunition with which to go after the Redskins organization.
Cerrato did some good things over the past decade. Obviously, it looks like linebacker
Brian Orakpo
is going to be a good player for a long time and Cerrato was the driving force behind signing All-Pro defensive tackle
Albert Haynesworth
in free agency. Unfortunately, though, Cerrato will be remembered for not addressing the offensive line over the years. It's an area that has failed the Redskins over the past decade, in part, because of inattention to it in the draft. Snyder's approach was to throw big money at free agents and largely ignore the importance of the draft. Cerrato was the man who carried out the plan.
I think Snyder probably saw the Browns pursuit of Mike Holmgren and realized that he couldn't waste any more time. I'm not saying he's going after Holmgren, but he knows he needs to start laying the groundwork for a new regime. That's probably why he went ahead and made the move with three games left.
"Of course, I am disappointed with this year's results, but I strongly believe that with outstanding draft picks and encouraging performance by our younger players, we have laid a strong foundation for the franchise," Cerrato said in the statement Thursday.
He mentioned Joe Gibbs, Greg Blache and Sherm Lewis as coaches he enjoyed working with but noticeably left off Jim Zorn. We'll be back with more analysis throughout the day.
December, 6, 2009
12/06/09
5:34
PM ET
By
Matt Mosley
| ESPN.com
Everyone will try to make kicker
Shaun Suisham
out to be the goat in
this loss
, but I'd prefer to put the loss on Jim Zorn. Isn't he the guy responsible for red zone play calls? With a 30-23 lead and the ball at the Saints' 4-yard line late in the fourth quarter, the Skins should have simply punched the ball in the end zone.


After all, the Saints were playing without four starters on defense. Instead, Zorn chose to play for the field goal, a 23-yard attempt that Suisham missed to the right. Is it inexcusable for an NFL kicker to miss that kick? You bet it is, but Zorn's refusal to coach like he has a 3-8 team is baffling to me.
I've seen him go conservative at the worst possible times in three consecutive losses. His players deserved to win this game, so why would you put it in the hands of a kicker who's been shaky the past couple of weeks? I just hated the play calling down there at the end. Blame it on whoever you want: Sherm Lewis, Sherm Smith, Chris Meidt, Zorn ... doesn't matter.
Quarterback
Jason Campbell
had one of the best afternoons of his career, but he won't find any solace in his 367 yards and three touchdowns. Second-year wide receiver
Devin Thomas
and tight end
Fred Davis
continue to shine. But again, there is no real upside to another heart-wrenching loss.
The Saints were begging for the loss -- and the Skins let them off the hook in the final minutes. With a 30-23 lead, the Redskins' secondary showed you why it is so overrated. Who cares about having good stats when you allow a 53-yard touchdown with just over a minute left. It looked like
LaRon Landry
let
Robert Meachem
race past him on the touchdown. Landry should've been playing 30 yards off the line of scrimmage at that point in the game.
If the Saints somehow pull off the perfect season, they'll have Zorn and the Redskins to thank.
December, 1, 2009
12/01/09
11:00
AM ET
By
Matt Mosley
| ESPN.com
»
NFC Stock Watch
:
East
|
West
|
North
|
South
»
AFC
:
East
|
West
|
North
|
South
Falling
1. Giants' running game:
Brandon Jacobs
' struggles this season are well-documented. He doesn't look like the same player.
Danny Ware
's getting more time because of an injury to
Ahmad Bradshaw
, but he had a big fumble in the loss to the Broncos. Believe it or not, the Giants are 10th in the league in rushing. But the fact that they've only had six runs of 20 yards or more says a lot. There's no explosiveness in this running game -- and this offensive line doesn't appear to be blowing open holes like it has in the past.
2. Eli Manning, Giants quarterback:
I'm not going to give him the injury excuse. If he says his right foot is fine and he's able to play on it, then we're going to continue holding him to a high standard. Sometimes a franchise quarterback needs to put his team on his back. Against the Broncos, Manning engineered a lifeless offense.
Osi Umenyiora
got so sick of watching the offense that he started shouting at players on the sideline. Manning needs to have his best game of the season against the Cowboys on Sunday. This is about as close to a must-win as a team can have at this juncture in the season.
3. Jim Zorn, Redskins head coach:
I realize that it's fashionable right now to praise Zorn for the way his team continues to fight. But I don't like the way he went conservative when the Eagles had first-and-goal at the Eagles' 10-yard line in the fourth quarter Sunday. Zorn can hear what the Skins' play-calling duo of Sherm Smith (runs) and Sherm Lewis (pass) are coming up with, so I assume he can set the tone for what the team is trying to accomplish. The Skins appeared to play for a field goal when a touchdown would've put them up 28-16. I wish someone would explain to me why a 3-8 team has played conservatively on offense in two division games they should've won. Zorn's still listed as head coach of this team, so that's who I'm going to criticize for Sunday's loss.
[+] Enlarge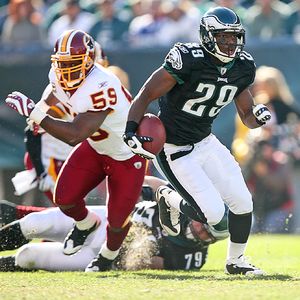 Hunter Martin/Getty ImagesLeSean McCoy has taken advantage of additional practice and game reps.
Rising
1. LeSean McCoy, Eagles running back:
After being frozen out of the game plan Nov. 15 in San Diego, McCoy has rushed for 175 yards and a touchdown over the past two games. He also had a huge second-effort play on the Eagles' game-tying two-point conversion against the Redskins on Sunday. With
Brian Westbrook
still out with a concussion, McCoy has taken advantage of the extra reps in practice. He's becoming more and more comfortable. Other than the fumble in Chicago, he's played really well the past two games. And he's the reason Andy Reid seems to have a lot more confidence in the running game right now.
2. Miles Austin, Cowboys wide receiver:
With one catch early in the game against the Raiders, Austin helped establish the tone for a lopsided win. The Raiders thought their physical corners could succeed against Austin in man coverage -- and he made them pay. The Packers and Redskins wisely stayed back and kept everything in front of them. Tight end
Jason Witten
's still the key to this passing game, but Austin's the big-play threat. With seven catches for 145 yards, he shredded the Raiders' secondary and continued his memorable season.
3. Asante Samuel, Eagles cornerback:
Samuel often gets criticized for shying away from contact, but it doesn't matter when he's picking off two passes per game. He's one of the best corners in the league at baiting quarterbacks into poor decisions. His two interceptions in the first half kept the Eagles in a game in which they were being outplayed. Samuel now has seven interceptions on the season and he has a really good chance to get into double digits.
November, 29, 2009
11/29/09
4:29
PM ET
By
Matt Mosley
| ESPN.com
Eagles coach Andy Reid should thank his lucky stars the Redskins' playcalling trio went conservative at the worst possible time Sunday. The Redskins outplayed a flat Eagles team for much of the afternoon, but they left the door cracked just long enough for Philly to escape with an important win.


With the win, the Eagles improved to 7-4 and remained only one game behind the Cowboys in the NFC East race. But with a 21-16 lead, the Redskins had the chance to knock out the Eagles when cornerback
Justin Tryon
intercepted
Donovan McNabb
late in the third quarter. The Skins had a first-and-goal situation at the Eagles' 10-yard line -- and then they went totally conservative.
Quarterback
Jason Campbell
had thrown two interceptions inside his own territory in the first half, so it basically looked like Jim Zorn and the other playcalling gurus lost faith in their quarterback. It's a shame, too, since he made some outstanding throws in the game. On third-and-goal, Campbell could've extended the play with his feet but he instead threw the ball out of the end zone. The Eagles settled for a short field goal to make it 24-16 and the Eagles' offense suddenly caught fire.
With wide receiver
DeSean Jackson
sidelined with an injury, McNabb started dialing up
Jason Avant
. The wide receiver had back-t0-back catches of 46 and 22 yards. He was brilliant against the Chargers two weeks ago -- and he came up big again in a huge spot.
David Akers
connected on a short field goal and the Eagles escaped with a 27-24 win.
The Eagles started the game with a botched onside kick attempt.
Joe Mays
ran into David Akers' kick and then Redskins running back
Quinton Ganther
picked it up and raced the other direction. The Redskins scored quickly on a Campbell touchdown to make it 7-0. The Redskins should've had the lead at halftime, but Campbell threw his second interception of the half to
Asante Samuel
, setting up a field goal by the Eagles.
The Eagles once again struggled in the red zone. They moved the ball well with
LeSean McCoy
in the running game, but playcaller Marty Mornhinweg refused to stick with McCoy. Sometimes you win games you don't deserve. That's the case for the Eagles this afternoon. But if they make the playoffs, this win will count just the same.
It's another gut-wrenching loss for the Redskins. But I'm tired of hearing everyone take up for Zorn. He's a big boy -- and he cost his team today by going conservative when he didn't need to. And yes, I think he still has more decision-making power than Sherm Lewis.
November, 27, 2009
11/27/09
4:00
PM ET
By
Matt Mosley
| ESPN.com
»
NFC Final Word
:
East
|
West
|
North
|
South
»
AFC
:
East
|
West
|
North
|
South
[+] Enlarge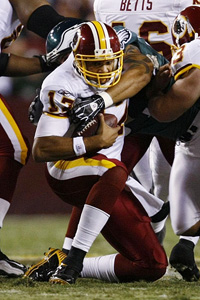 Win McNamee/Getty ImagesQuarterback Jason Campbell has had to adjust while playing behind a leaky line.
Three nuggets of knowledge about the Redskins-Eagles game in Week 12:
The Eagles need more from their pass rush against the Redskins on Sunday.
In the first game against the Skins, the Eagles sacked
Jason Campbell
six times and he was constantly under duress. The Eagles only have three sacks in the past two games and they need their front four to generate more pressure in order to help a banged-up secondary. Sack leader
Trent Cole
(8.5) needs to have a big game against Redskins left tackle
Levi Jones
. It's a matchup that should favor the relentless Cole. The Eagles have allowed five yards per carry over the past two games, but I have a hard time believing that
Rock Cartwright
is going to go off on them. I'd be more worried about him in the passing game.
The Eagles will have some favorable matchups on the outside.
I know the Redskins have the No. 1-ranked pass defense in the league. Skins fans remind me of this all the time -- even though I think those rankings can be misleading. I like to trust my eyes, which allowed me to see
Brandon Marshall
running free behind the Redskins' secondary two Sundays ago. And the fact that
DeAngelo Hall
could miss the game with a knee injury is a major issue. That means that
Fred Smoot
could end up on
DeSean Jackson
from time to time. That's a matchup the Eagles really, really like.
LaRon Landry
better be playing about 30 yards off the line of scrimmage and I'm sure fellow safety
Reed Doughty
will be in retreat mode, too. Jackson and
Jeremy Maclin
only need one play to knock you out, so the Redskins have to be on guard at all times.
What do the Skins have to lose?
I'd like to see Jim Zorn and his playcaller Sherm Lewis loosen up a little in this game. They bogged down in the red zone against the Cowboys last Sunday, in part, because they went conservative for no apparent reason. If you have a chance to take a shot at the end zone before settling for a field goal, then by all means. Believe it or not, this season has actually been good for quarterback Campbell's development. He'll never again play behind an offensive line this bad. In a few short weeks, he's learned how to unload the ball quickly and how to successfully identify hot routes. I thought he played perhaps his best game of the season in a 7-6 loss to the Cowboys. That might sound crazy, but his ability to keep getting up after repeated shots to the chin was pretty remarkable. Keep your eye on this Richard Bartel situation. The Redskins tried to quietly insert a third-string quarterback onto their roster. I think they'd love to take a look at him soon. Maybe not in a divisional game against the Eagles, but you may see the Grapevine, Texas, native out there at some point this season.
November, 22, 2009
11/22/09
8:50
PM ET
By
Matt Mosley
| ESPN.com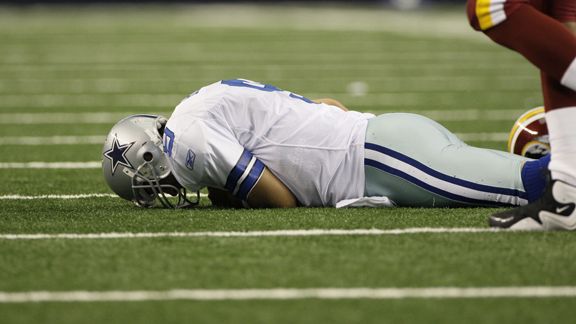 AP Photo/Tony GutierrezTony Romo played through back pain after a blow suffered while making a first-quarter tackle.
ARLINGTON, Texas -- After drawing criticism all week for his play calling in a loss to the
Green Bay Packers
, Cowboys offensive coordinator Jason Garrett produced a much more balanced approach against the
Washington Redskins
. And the results weren't a whole lot better.
This week, though, the defense bailed out the Cowboys long enough for the offense to finally show up in the fourth quarter in a
7-6
victory. On the surface, a 6-3 Cowboys team should've dominated a 3-6 team that is simply playing for pride at this point. But for the better part of four quarters, the Redskins were the best team on the field.
Garrett, a man who'd run the ball 41 percent of the time through the first nine games, answered his critics by calling 22 running plays against only 12 passes in the first half.
Marion Barber
and
Felix Jones
combined for 107 yards in the first half, but the Cowboys came up empty on the scoreboard. It didn't help that Barber fumbled on the Redskins' 16-yard line in the first quarter.
Redskins cornerback
DeAngelo Hall
scooped up the fumble, causing quarterback
Tony Romo
to become a defender. That's not a good scenario for the Cowboys. Romo made the tackle but he suffered a back injury in the process. He winced in pain with each warm-up throw on the sideline, but never missed a snap.
Romo spent the rest of the afternoon subjecting his receivers to devastating blows from Redskins safety
LaRon Landry
. The quarterback was losing the ball high, something that normally takes place with Rangers pitchers a couple of blocks down the street. Romo was 15-of-27 for 158 yards, one touchdown and one interception.
The Redskins were playing without All-Pro defensive tackle
Albert Haynesworth
and they quickly lost starting running back
Ladell Betts
to a knee injury. This wasn't supposed to be a fair fight, but it went to the wire because the Cowboys' offense that helped lead the team to a four-game winning streak has gone in the tank. The Cowboys can probably get away with just showing up against the
Oakland Raiders
on Thursday, but they won't beat teams such as the
New Orleans Saints
and
San Diego Chargers
playing like this on offense.
"This is also one of those kind of games you can look at and know you have to get better because if we play that type of football week in and week out, we won't be able to accomplish the goals we need or want," Romo said. "Saying that, it's mostly us on the offensive side of the ball. The defense played outstanding today, they gave us a chance to win the game."
When you hold a team to six points, I guess "outstanding" is an appropriate superlative, but the Redskins helped out the Cowboys with missed opportunities and baffling coaching moves. Linebackers
London Fletcher
and
Rocky McIntosh
both dropped easy interceptions in the first half that would've given the Redskins the ball inside Cowboys territory. And late in the first half, the Skins' lame-duck coach, Jim Zorn, went conservative for no apparent reason. The Redskins had a third-and-1 at the Cowboys' 21 with 15 seconds left in the first half. Instead of taking a shot at the end zone, Zorn sent the field-goal unit onto the field.
Shaun Suisham
hooked a 39-yard attempt and the Redskins only had a 3-0 lead at halftime.
It's hard to say that a quarterback played an excellent game in a 7-6 loss, but that's exactly what happened with
Jason Campbell
. He beat the Cowboys' blitz by finding his receivers on hot routes and somehow shook off outside linebacker
DeMarcus Ware
to extend plays. His efforts were undermined by a poor effort from Suisham, and a playcaller and head coach who took their feet off the Cowboys' throats at the worst possible moments.
Clinging to a 6-0 lead midway through the fourth quarter, the Redskins had a third-and-2 at the Cowboys' 30. They had hurt the Cowboys on third down all day with quick deliveries from Campbell, but they decided to send
Rock Cartwright
up the gut for a 2-yard loss. Perhaps for a moment, playcaller extraordinaire Sherm Lewis forgot the Skins had one of the worst offensive lines in the league.
Suisham was wide right on a 50-yard attempt, and the Cowboys had new life. Romo was 7-of-8 on the ensuing drive. And with 2:50 left in the game, he spun away from rookie-of-the-year candidate
Brian Orakpo
's sack attempt and fired a 10-yard touchdown pass back across the field to
Patrick Crayton
.
Cowboys defensive end
Stephen Bowen
tipped a Campbell pass at the line of scrimmage that was intercepted by
Anthony Spencer
and the Cowboys escaped. No one in the Cowboys' locker room apologized for the win -- and they shouldn't have to. But at some point this season -- preferably before December -- this offense needs to find an identity. Garrett reintroduced balance to the offense Sunday, but it didn't yield any more points than his pass-happy approach at Lambeau Field.
"We weren't consistent enough," Garrett said after the game. "But at the end of the day, we found a way to win the game."
With a huge assist from the Redskins, of course.
November, 15, 2009
11/15/09
4:21
PM ET
By
Matt Mosley
| ESPN.com


No, that is not a misprint. The Redskins survived two early touchdown catches by
Brandon Marshall
to pull off the huge upset. I'm sitting in the pressbox at Qualcomm Stadium in San Diego and Chargers fans are going crazy over the Skins' win over the Broncos. Obviously it helps the Chargers' cause.
But on this day, the Redskins are only concerned with restoring some of their dignity after a disastrous start. Quarterback
Jason Campbell
did an outstanding job of managing this game. He made plays when they presented themselves but he never tried to do too much. Campbell was 17-of-26 for 193 yards and a touchdown.
On several plays, he made perfect throws on the run. And
Antwaan Randle El
was the recipient of at least two of those plays. The Redskins allowed two huge plays in the first half, but the defense came back strong in the second half. They knocked Broncos starter
Kyle Orton
out with an ankle injury late in the first half. And his replacement,
Chris Simms
, never had a chance. Simms was awful in this game, but a lot of that had to do with the Redskins' constant pressure.
Andre Carter
and
Brian Orakpo
combined for three sacks. And
LaRon Landry
had a key interception in the fourth quarter to put the Skins in position to take the lead. Carter and Orakpo also combined for 13 tackles. Simms was 3-of-13 for 13 yards and one interception. It was a regrettable performance by a player who hasn't seen meaningful action in years.
The Redskins showed a lot of balance on offense. Coach Jim Zorn and playcaller Sherm Lewis never abandoned the run -- even when it wasn't there at times. As a result,
Ladell Betts
ended up with 26 carries for 114 yards and a touchdown. He ran through a
Brian Dawkins
tackle to put the Redskins on top, 24-17.
It was nice to see several players run over to hug Zorn after the game. Through this entire mess, they've never quit on their coach. And on Sunday, they rewarded him with a really impressive win.
November, 13, 2009
11/13/09
4:50
PM ET
By
Matt Mosley
| ESPN.com
»
NFC Final Word
:
East
|
West
|
North
|
South
»
AFC
:
East
|
West
|
North
|
South
Five nuggets of knowledge about Week 10:
[+] Enlarge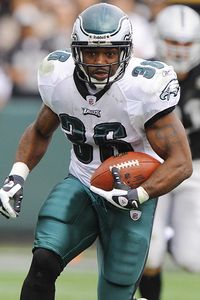 Kirby Lee/Image of Sport/US PresswireBrian Westbrook is healthy enough to play for the first time since Week 7.
The Eagles are going to be vulnerable at linebacker and cornerback against the Chargers.
The Eagles have been dealing with injuries all season, but the losses of
Ellis Hobbs
for the season and
Joselio Hanson
to a four-game suspension have put them in a real bind. Chargers quarterback
Philip Rivers
is a tough guy who will stand in the pocket and take punishment. And with
Vincent Jackson
and
Antonio Gates
running routes, he has plenty of options. Eagles defensive coordinator Sean McDermott would prefer to generate pressure from his front four, thus not exposing players such as cornerback
Dimitri Patterson
. Cornerback
Asante Samuel
loves to take chances on defense, but he needs to play under control against this offense. Just when you think Chargers coach Norv Turner is on the ropes, he gets his team going. That was a huge win over the Giants in the Meadowlands. We'll see if they can ride that momentum to a win over the Eagles. And by the way, keep your eye on
Chris Gocong
moving to middle linebacker. That's a completely different situation for him, and I think he could find himself covering Gates every now and then. That's not a good thing for the Eagles.
I think the Eagles will ride Brian Westbrook in this game.
Yes, I know this is a different team with
DeSean Jackson
and
Jeremy Maclin
, but the Chargers did a nice job taking away the deep ball against the Giants. Westbrook appears to be healthy heading into this game, and I think he could give the Chargers' linebackers trouble in space. I think Andy Reid needs to get Westbrook involved early so he can take a hit or two. He hasn't played since that violent collision with
London Fletcher
's knee. Once Westbrook feels some contact, I think he'll be ready to go. I see a breakout game coming for him. And if you know my track record on predictions, make sure you bench Westbrook on your fantasy team immediately.
The Redskins are catching the Broncos at a bad time.
After a brilliant start to the season, the Broncos have dropped two straight to the Ravens and Steelers. They can't afford a three-game losing streak. I think Josh McDaniels will take advantage of the Skins' issues in the secondary. With
Levi Jones
taking over at left tackle and
Chad Rinehart
possibly getting some valuable time at guard, Washington's offensive line will have a different look. I don't think it can be any worse. Mike Williams was struggling mightily before he was injured. Here's hoping that Jim Zorn and Sherm Lewis discussed ways in which
Jason Campbell
can get the ball away quicker. Don't waste time sending
Santana Moss
on double moves 40 yards downfield when there's no hope of getting the protection. And on defense, this is the game where you need
Albert Haynesworth
to earn his money. I know his legion of apologists has spoken, but it's time for him to take over a game. This would be a good place to start. The Redskins can't afford the turnovers that have plagued them all season. If they get a quick start and a heroic performance from the defense, the Redskins can hang around in this game. Am I predicting a win? C'mon!
The Cowboys must dominate the line of scrimmage on defense.
Outside linebacker
DeMarcus Ware
could have three or four sacks. The Packers' offensive line has been awful this season, but those 37 sacks are also a product of
Aaron Rodgers
holding onto the ball too long. He won't be able to get away with that Sunday. Packers left tackle
Chad Clifton
is back from an ankle injury, but it's not like he's completely healthy. He really struggles when pass-rushers try to make an inside charge. At this point, Clifton's just a guy. Someone named
T.J. Lang
is going to get the start at right tackle. This is a big, big problem for the Packers. And keep your eye on
Keith Brooking
and Ware in this game. This offensive line has allowed linebackers to come racing through the line of scrimmage in the running game.
I love this Charles Woodson vs. Jason Witten matchup.
It looks like the Packers will try to keep Woodson close to the line of scrimmage and let him press Witten. I think Witten's athletic enough to get releases on the long-armed Woodson, but we'll see if quarterback
Tony Romo
has enough time to get the ball to him downfield. I think it will be one of the best matchups on the field. Romo will be looking for Packers cornerback
Jarrett Bush
. The Cowboys think he's susceptible to double moves. That's why they hope he jumps on
Miles Austin
or even
Patrick Crayton
at times. If Bush gets burned a lot Sunday, remember that you read about it on Final Word, one of America's fastest growing features on the Internet.
October, 27, 2009
10/27/09
2:58
AM ET
| | |
| --- | --- |
| | |
| | Win McNamee/Getty Images |
| | Will Witherspoon made his presence felt in his first game with the Eagles, returning an interception for a touchdown. |
Posted by ESPN.com's Matt Mosley
LANDOVER, Md. -- If you're trying to kick start your season, the Redskins are the ideal opponent. On Monday night, the Eagles needed less than two minutes to bury a team that is gaining ground on Al Davis' Raiders for biggest laughingstock in the league.
It was the first game of a three-game stretch against NFC East opponents that could shape the Eagles' season. On Monday night, they were able to make enough big plays on both sides of the ball to cover up another ragged performance by the offense. On their fourth play from scrimmage, second-year wide receiver
DeSean Jackson
took the ball from
Donovan McNabb
on an end-around and sprinted 67 yards for a touchdown. The Skins' alleged speedster
DeAngelo Hall
watched helplessly as Jackson raced down the sideline.
For this Redskins team, a 7-0 deficit is pretty much insurmountable. The Eagles
won the game 27-17
but the final score suggests this was a competitive situation. Well, it wasn't.
Jackson Five plays
The Eagles were far too dependent on the big play -- DeSean Jackson specifically -- against the Redskins, which will not fly against the tougher teams on their schedule. Due to the big play, the Eagles did not run a play in the red zone.
Category
Jackson
All others
Plays
5*
51
Yards gained
136
125
Yards per play
27.2
2.5
TD
2
0
* Includes 2 incomplete passes thrown his way.
Jackson, who's emerged as one of the most exciting players in the league, added a 57-yard touchdown catch late in the second quarter to give the Eagles a 27-7 lead. On the touchdown, Jackson used a stop-and-go route to get at least 10 yards behind Redskins safety
Chris Horton
.
The bad news for the Eagles is that they have only one game remaining against the Redskins. In Week 8, the Eagles return home to face a Giants team trying to break a two-game losing streak. Then they host a Cowboys team that showed signs of life in a 37-21 win over the Falcons.
There's still no way to have an accurate read on the Eagles, but Monday's win helped them get rid of that awful stench from the Week 6 loss to the
Oakland Raiders
. This team appears to have several weapons on offense, but it learned the hard way that you actually have to act somewhat interested to beat an inferior opponent.
"We wanted to get rid of that feeling," said tight end
Brent Celek
. "I never want to have it again. Hopefully we got it out of the way. We just can't afford to have it happen again."
The worst moment for the Eagles occurred in the first quarter when Pro Bowl running back
Brian Westbrook
took an accidental knee to the head after a 5-yard run. He was on the ground for at least three minutes as players from both teams huddled around him in prayer.
"I hoped he was OK," Eagles coach Andy Reid said. "He wasn't moving at first. That worries you a little bit because you don't know exactly what happened. When a player isn't moving, that worries me."
Westbrook suffered a concussion on the play, but he was able to return to the sideline in the second half and Reid's hopeful that he'll return to the lineup soon. Without him, the Eagles' rushing game was stagnant. Rookie
LeSean McCoy
had 14 carries for 37 yards. It was so bad that Reid sounded thrilled that
Michael Vick
was able to take off on a 9-yard run out of the Wildcat formation. We were led to believe that opposing defenses would tremble with fear at the sight of Vick lining up for the direct snap, but so far the Eagles' Wildcat has provided only comic relief.
| | |
| --- | --- |
| | |
| | Win McNamee/Getty Images |
| | Redskins quarterback Jason Campbell was sacked six times. |
And speaking of comedy, Sherm Lewis made his play-calling debut with the Redskins. I'm hoping head coach Jim Zorn gave him the full play chart because Lewis fell in love with the same pattern to tight end
Chris Cooley
early in the game. The Redskins normally like to spread 17 points over several games, but don't let that explosive point total fool you. The offense was just as ineffective as always -- and the Eagles' defense had a lot to do with it.
Redskins quarterback
Jason Campbell
said he injured his right Achilles tendon early in the game -- and that made it impossible for him to run away from the Eagles' pressure. He was sacked six times and the Skins turned the ball over four times. Linebacker
Will Witherspoon
, acquired by the Eagles in a trade last Tuesday, returned an interception for a touchdown and forced a fumble in his debut.
The sheer joy of leaving a winless Rams team seemed to lift Witherspoon the entire game, although that's not exactly how he phrased it.
"There is some similarity to the scheme here," said Witherspoon of his time with the Rams. "And this locker room is great. They made sure I was prepared. For me, it's like starting the season again. The mindset was just to come in and play well. It's only going to get better from here."
Unfortunately for the Eagles, their real schedule's about to begin.
October, 26, 2009
10/26/09
11:56
PM ET
Posted by ESPN.com's Matt Mosley
LANDOVER, Md. -- The Redskins may have changed playcallers, but the results looked pretty much the same. Washington was no match for Philadelphia in a division game that felt like it was over in the first five minutes.


The Eagles were trying to get rid of that stench they had following a shameful performance against the Raiders last Sunday, and the Redskins were the perfect opponent. The Redskins' battered defense bit hard on a fake handoff early in the game -- and that's all the room
DeSean Jackson
needed as he took an end around 67 yards for a touchdown.
Jackson then removed all doubt with a 57-yard touchdown catch on which he beat the Redskins' secondary on a double move. The boobirds were out early Monday, and new playcaller Sherm Lewis stuck to the same script that has earned the Redskins a 2-5 record.
Make no mistake, the Redskins are one of the worst teams in the league. But still, the Eagles did what you have to do to an inferior opponent. Newly acquired linebacker
Will Witherspoon
led the way early with an interception return for a touchdown and a forced fumble. Then defensive end
Trent Cole
took over in the second half. He had two sacks and he made left tackle
Stephon Heyer
look awful.
There are only three players on the Redskins' offensive line who even belong in the NFL -- and that's the hand Lewis was dealt in his first coaching gig in almost five years. By the second half,
Clinton Portis
was having sideline meltdowns. He launched his helmet into the bench, which may have been the Skins' most aggressive act of the evening.
Eagles coach Andy Reid spent part of the second half tinkering with his much-maligned Wildcat formation. At this point, it's hard to determine why they went to the trouble of signing
Michael Vick
. But on this night, the Wildcat was simply a sideshow.
The biggest scare for the Eagles came in the first quarter when Pro Bowl running back
Brian Westbrook
took a knee to the head. He remained on the ground for about five minutes, but he was able to walk to the locker room -- and later returned to the sideline. The Eagles never really accomplished much in the running game after Jackson's long run, but it's not something they needed against the Redskins.
The Eagles' defense tormented Redskins quarterback
Jason Campbell
throughout the game, causing four turnovers and six sacks. This sets up a huge matchup between the Eagles and Giants at Lincoln Financial Field next Sunday.
The Giants are reeling after losing consecutive games, so the Eagles could at least share the division lead with a win. This wasn't much to look at, but the Eagles will certainly take it.
October, 26, 2009
10/26/09
10:32
PM ET
Posted by ESPN.com's Matt Mosley
LANDOVER, Md. -- I'll have a full halftime report at some point, but it's pretty safe to say that playcaller Sherm Lewis isn't off to a blazing start. He did call the plays that allowed the Skins to drive down and make it
27-10 at halftime
.
We just found out that Eagles wide receiver
DeSean Jackson
has a foot injury and he's gone to the locker room for x-rays. That's obviously a huge concern for the Eagles. I'd be a little surprised if Jackson returned in the second half. He's been listed as questionable by the Eagles. We'll keep you updated.
October, 26, 2009
10/26/09
8:43
PM ET
Posted by ESPN.com's Matt Mosley
LANDOVER, Md. -- Now for something completely different. Redskins executive vice president of football operations Vinny Cerrato told frequent Beast contributor Sal Paolantonio that he has confidence in new playcaller Sherm Lewis. I'm sure this endorsement has nothing to do with the fact that Cerrato's the one who made the curious move. Sal Pal asked Cerrato why he had so much confidence in the former bingo caller.
"I think his history, Sal,"
Cerrato said
. "The guy's got four Super Bowl rings, he's got 20-some years in this offense. He started with Bill Walsh, the originator of the offense. He's worked with Mike Holmgren; Jim [Zorn] worked a lot with Mike Holmgren. So he's got the experience. To me, Sal, it's like riding a bike. You don't ride a bike for a couple of years, you get back on, it's easy to ride a bike."
OK, I feel better about the Skins' chances.