NFL Nation:

Sherman Smith
January, 3, 2012
1/03/12
4:16
PM ET
We know Jeff Fisher is in play for Miami and St. Louis. Indianapolis Star columnist Bob Kravitz
told PFT
he believes Fisher is in the mix in Indianapolis too.
[+] Enlarge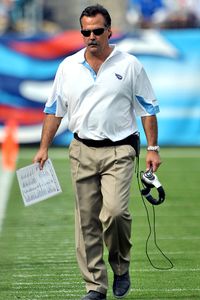 Jim Brown/US PresswireJeff Fisher is a candidate for the head coaching job in Miami and St. Louis, but could also be in play in Indianapolis.
Indications are Fisher will listen to everyone. But coaching code says you don't talk about a job that's not vacant, so I don't think he'd go beyond backchannel communication while Jim Caldwell remains in place.
At any rate, Fisher is the hot veteran coaching candidate and until he's coach somewhere, he still qualifies foremost as the Titans former head coach and falls under our purview. He said last week in an interview on Nashville's 104.5 The Zone that a GM and a quarterback were the two biggest factors for him as he explores job opportunities.
So some thoughts on his eventual re-emergence in the coaching ranks.
Power:
There can be a misperception he'd want general manager powers. He won't. He wants to work with a GM he gets along with and can build consensus with. Fisher will want control of his 53-man roster. And he won't want a situation where a GM is forcing free agents or draft picks on him that he and his staff don't want. But wanting a voice is a lot different from wanting to be a de facto GM. He believes in the value of a traditional coach-GM split and has no desire to work the scouting end of things as a fulltime GM.
General manager friends
: Fisher's got strong relationships with Rich McKay of the Falcons and Bill Polian, just let go by the Colts, as he served with both on the NFL's competition committee. McKay's in an administrative capacity now, but could he want back into football? He wouldn't come cheaply. Polian is probably too strong a personality. I have no feel for the relationship between Fisher and Chris Polian, who was also let go.
When the Titans replaced Floyd Reese in 2007 it was largely because Fisher and Reese's relationship had frayed. Among the replacement candidates Fisher helped interview before the Titans hired Mike Reinfeldt were: Ruston Webster (now with Reinfeldt in Tennessee), Reggie McKenzie (Green Bay's director of football administration), Ron Hill (NFL VP of football operations), Mike Ackerley (now a Texans scout) and Charles Bailey (former Jaguars pesonnel executive). The Titans wanted to talk to Randy Mueller, then with Miami, but didn't get permission. He's now with San Diego as "senior executive."
Maybe Fisher hit it off with one of those guys and would like to work with them. At years of league meetings and functions, he's likely formed friendships we don't know about with other, future-GM types.
If Fisher lands in a situation where he comes in hand in hand with a GM or in advance of a GM, he'll have a guy or two to put forward and be open to forming a new relationship if he hits it off with an existing GM or an owner's candidate.
Assistants:
His primary assistant coaches may be hard to predict.
His top defensive lieutenants from Tennessee are booked up. Gregg Williams is the coordinator in New Orleans and may be a head coaching candidate himself. If he was free, Fisher could pounce. Jim Schwartz is head coach in Detroit. (Brandon Fisher works on Schwartz's staff.) Chuck Cecil may be radioactive as he was a central figure in things coming apart for Fisher with the Titans. He could return to the league as a defensive backs coach, but Fisher would have to answer for a lot if he wanted to make Cecil coordinator. He'd certainly take recommendations from Williams and Schwartz about up-and-comers from the defensive staffs with their teams. Detroit linebacker coach Matt Burke was a young assistant on Fisher's staff who went with Schwartz for a promotion.
Fisher's top offensive friend and long-time coordinator, Mike Heimerdinger, died recently after a battle with cancer. Fisher could look to his former running backs coach Sherman Smith, who's now in the post with Seattle. But Smith's lone stint as an offensive coordinator didn't include play-calling duties under Jim Zorn in Washington. Titans quarterback coach Dowell Loggains is a bright young mind, but like Burke he may not be ready yet.
While Fisher spent time away from the game in a year off, he certainly has lists of coaches he would pursue and could get. But he'd be going with people he's not worked with before at a lot of spots -- like on the offensive line, where his former position coach, Mike Munchak, and his best line player, Bruce Matthews, are not available.
Markets:
He can be a star behind those shades. But don't think he'll take the bright lights of Miami over more low-key St. Louis or Indianapolis if he's choosing.
Fisher enjoyed the ability to be anonymous at times in Nashville and the willingness of the population to allow him a large degree of privacy. He's a Southern California guy who loves spending time at his Montana cabin.
He's not desperate for a beach, or television lights.
April, 15, 2010
4/15/10
3:09
PM ET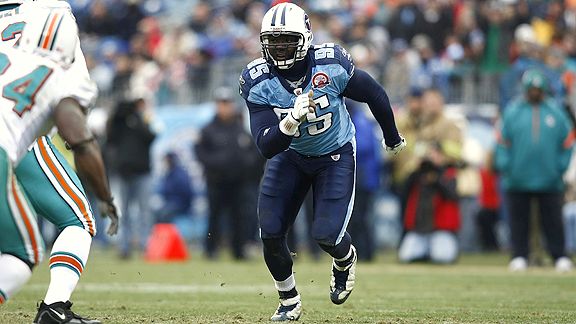 Joe Robbins/Getty ImagesTitans defensive end William Hayes was drafted in 2008 in part because defensive line coach Jim Washburn wanted him.
When players want to steer clear of trouble with the bosses, they are fond of saying "players play, coaches coach."
As the draft approaches, I wonder how often scouts mumble the variation: "Scouts scout, coaches coach."
Not long ago, the
Tennessee Titans
had a somewhat distinct division of power along those lines.
Former GM Floyd Reese respected Jeff Fisher's staff. But Reese believed it was his job to assess the talent and to provide it to be coached up.
There were exceptions, of course. Offensive line coach Mike Munchak was the primary force behind the selection of left tackle
Michael Roos
in 2005, for example.
The scouts I know respect the opinion of a position coach like Munchak.
How could they not appreciate the track record of a Hall of Fame player in developing quality linemen? Still, in a general scout-assistant matchup where the credentials are more even, scouts should hold the trump card, don't you agree?
One scout I spoke to this week pointed to nine months of work including all those live visits against four to six weeks of study done primarily with tape.
If a GM needs to lean one way or the other, this scout said he should lean with the scout. And on his team, he said that's usually the way it goes.
Most often, Reese was making the call with the support of his scouting staff. Position coach input was a relatively small ingredient.
And so, when some of Reese's players didn't match expectations, a semi-traditional tug of war commenced: Position coaches might gripe about the talent they were -- or were not -- given; the personnel department could grumble about how coaches were not bringing out a player's best.
Now the man who replaced Reese in 2007, Mike Reinfeldt, strives for harmony and consent and has drafted several players in part because of large endorsements from assistant coaches with mixed degrees of success.
Reinfeldt's counterparts in the AFC South seek to be consensus builders too, though Colts president Bill Polian and Jaguars general manager Gene Smith are more powerful than Reinfeldt and Texans GM Rick Smith when it comes to final decisions.
[+] Enlarge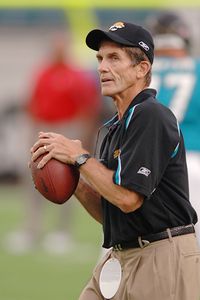 Jacksonville Jaguars for ESPN.comSteve Walters said he has coached on teams where assistants played a role in scouting.
Retired coach Steve Walters, who worked in New England and New Orleans before wrapping up his career with stops in Tennessee and Jacksonville overseeing receivers, said he agreed with that. Under Reese he rarely did much hands-on work with prospects. Assistants just weren't used that way much. Under James "Shack" Harris with the Jaguars, dumped after the 2008 season, Walters said he and the assistants played a bigger role in scouting.
I can see some value in a more old-school approach to how things should work. It was often unhealthy to have "Reese guys" and "Fisher guys" on the Oilers and Titans. But a position coach didn't have any more stake in Player A than he did in Player B and it felt like a system of checks and balances was in place.
Washburn helped turn late-round picks by Reese like
Robaire Smith
(sixth round, 2000) and
Carlos Hall
(seventh, 2002) into productive players. More recently, he's given his blessing to the team's choice of Jones and Hayes under Reinfeldt .
Might the hard-nosed Washburn, even subconsciously, be inclined to give Jones and Hayes a bit more leeway than a guy previously forced on him despite his protests? Might he, even subconsciously, be rooting for them a bit more, because he stuck his neck out for them?
My initial answer to those questions was that I expected he would, and that such things be detrimental. But in hashing it out with a scout and a former coach, I am no longer as staunch in my opinion.
I do still think it's an interesting question to consider.
My scout told me the additional accountability that comes with a position coach endorsement is a good thing. Maybe a coach would want to stick with such a player a snap, a series, a game or a season too long, but the cross-checking and co-sign from a GM and his scouts provides the necessary context and cover for such scenarios.
You can take the accountability idea in many different directions, though.
If there is a scouting-coaching split, it's easier to trace an evaluation mistake back to where it happened. On the consensus side, the saying goes that it's amazing how much can be accomplished if no one cares about who gets the credit. What about the blame?
Ultimately, an owner should want to know who is nailing assessments and who is botching them.
Walters said when an assistant feels he got what he asked for, he is conscious of having endorsed a guy.
"If you stand on the table for a guy and say, 'I really think this is the guy and these are the reasons why' and you can build a case for the guy, your opinion may push it over the top for a guy that you want," he said. "And if you get that guy you're certainly a little bit on the line for him because they're going to remember what you said.
"If they just say 'Here are your guys, like them or not,' whether you had any input into them or not…"
His voice trailed off and he left that one hanging.
I'd be inclined to finish it: "Well that's a different deal."
October, 26, 2009
10/26/09
8:21
PM ET
Posted by ESPN.com's Matt Mosley
LANDOVER, Md. -- I just watched a grown man race all of the way down the sideline at FedEx to snap a cellphone pic of the Redskins' new playcaller, Sherman Lewis. Folks across the country want to know more about Lewis' bingo-calling past, and that's why news outlets such as ESPN showed up at a senior citizens center in Novi, Mich., this week.
| | |
| --- | --- |
| | |
| | AP Photo/Pablo Martinez Monsivais |
| | Sherman Lewis just joined the Redskins organization a few weeks ago. |
An employee at the center granted an interview to 710 ESPN radio -- and the good folks at sportsradiointerviews.com
passed it along to us
.
Asked how much attention the center had been receiving in recent days, an employee named Rachel Zagalori said, "Oh my gosh! Yes, people are calling all the time and coming over and doing pictures and stories. And it's quite the story."
Yes Ms. Zagalori, this is quite a story. I'm going to pay close attention to "head coach" Jim Zorn on the sideline to see how he reacts to Lewis' play calling. Zorn's said all the right things this week, but you know there will come a time when he doesn't like one of Lewis' calls. Will he step in and change the call?
Just because offensive coordinator Sherman Smith is relaying plays to
Jason Campbell
doesn't mean that Zorn won't be listening to every word. This is one of the most bizarre things I've run across in the league. I think Campbell will be ready to call his own plays if there's a communication problem at any point.
Eli Manning
's considered an excellent game manager, but he still has problems with delay-of-game penalties. Imagine parachuting a guy in three weeks ago -- and then giving him play-calling duties.
I smell an Eagles blowout. They were awful last Sunday against the Raiders. I think you'll see them bounce back tonight.
October, 24, 2009
10/24/09
4:55
PM ET
| | |
| --- | --- |
| | |
| | AP Photo |
| | The Redskins recently stripped head coach Jim Zorn of play-calling duties and gave them to recently hired consultant Sherman Lewis. |
Posted by ESPN.com's Matt Mosley
Of the four NFC East teams, the Eagles got off to the worst start in training camp. They had prepared for beloved defensive coordinator Jim Johnson's death the best they could, but it was a painful thing to deal with nonetheless. Only days later, starting middle linebacker
Stewart Bradley
suffered a season-ending knee injury. The injuries kept coming and starting right tackle
Shawn Andrews
(back) never stepped on the field before being placed on injured reserve and sent to Los Angeles to be close to his doctor.
And on Monday night against the Redskins, the Eagles will try to replace Bradley for the third time when the newly acquired
Will Witherspoon
lines up at middle linebacker. On the surface, the Eagles don't appear to have a very stable roster. But then, everything's relative when you share a division with Dan Snyder's
Washington Redskins
.
Snyder's done the impossible: He's making Al Davis look level-headed. Snyder and executive vice president of football operations Vinny Cerrato have embarrassed themselves by toying with head coach Jim Zorn over the past few weeks. They refused to give the man a public endorsement (for the remainder of the season) until after they'd stripped him of play-calling duties. Only two weeks earlier, Cerrato brought in former Bill Walsh disciple Sherm Lewis as an offensive consultant. As ESPN.com's
Jeff Chadiha wrote Friday
, some players couldn't pick Lewis out of lineup.
Yet this is the man who will stare at Zorn's laminated play-calling chart in the press box and then inform another neutralized member of the staff, Sherman Smith, which play to relay to
Jason Campbell
. This has success written all over it.
According to the folks I've talked to with the Eagles this week, their biggest fear is Lewis going rogue and coming up with a completely different approach. Though coach Andy Reid would never admit this, the Eagles believe they'll destroy the Redskins if they stick to the normal script -- the one that's produced just over 13 points per game. Personally, I'd be shocked if Lewis starts freelancing Monday. And if the former bingo caller suddenly barks out "B 11," what's Smith supposed to do?
When I talked to Campbell this week, he said he was attempting to remain "open-minded" about Lewis calling the plays. Campbell's shown a great deal of grace in the face of Snyder and Cerrato's bumbling ways -- dating back to their dogged offseason pursuit of
Jay Cutler
and
Mark Sanchez
.
"We're all human," Campbell told me Tuesday. "Every now and then you have a moment where it gets to you."
Fortunately for Campbell, several teammates and ex-quarterbacks reached out to him after he was benched last Sunday. As we
first reported last Monday
, Campbell will get the start against the Eagles. Backup quarterback
Todd Collins
has been told to "be ready," which isn't exactly music to Campbell's ears. But there's at least one local legend who has Campbell's back.
"Joe [Theismann] reached out to me first thing," Campbell said. "I can just talk to him about a lot of things. He told me to go out Monday night and play freely. He said I've got to block everything out."
Campbell told me that he made the mistake of not trusting his offensive line against the Chiefs. He was playing behind a group that included two new starters and another teammate (
Stephon Heyer
) playing out of position at left tackle. Of course, Snyder and Cerrato's decision to ignore the offensive line both through the draft and free agency helped cause this problem, but that's a column for another day.
By the end of my conversation with Campbell, he'd actually talked himself into thinking the Skins could beat the Eagles on Monday.
"If we can get back to .500 at the midway point, there's a chance we could rally in the second half [of the season]," Campbell said. "When it rains, it pours. And right now, we need it to stop raining."
Unfortunately for Campbell, I don't see the dark clouds over FedEx beginning to clear.
»
NFC Final Word
:
East
|
West
|
North
|
South
»
AFC
:
East
|
West
|
North
|
South

Posted by ESPN.com's Matt Mosley
Five nuggets of knowledge about Sunday's games:
| | |
| --- | --- |
| | |
| | John Rieger/US Presswire |
| | Todd Haley's familiarity with the Cowboys organization could give him an advantage. |
Chiefs coach Todd Haley knows the Cowboys' personnel and would love to beat his former employer.
Haley still has a lot of friends in the Cowboys organization, but he knows what a win could do for his credibility. Haley and general manager Scott Pioli have done a lot of interesting things to try to change the culture with the Chiefs, but winning is the only thing that will truly do the trick. I thought Haley and his defensive coordinator, Clancy Pendergast, put a tremendous game plan together to help the Cardinals beat the Cowboys in '08. Haley told me Thursday that he's watched that game on film twice this week. The Cowboys should win the game, but don't discount how important Haley's knowledge of the Dallas personnel will be in this game.
The Giants are going to beat the Raiders with or without Eli Manning.
Who are we kidding? Coach Tom Coughlin's not going to let his team lose to a Tom Cable outfit.
Steve Smith
has been one of the best wide receivers in the league through four games -- and it will take more than the best cornerback in the game to slow him down. I talked to
Justin Tuck
on Thursday afternoon and he talked about how the Giants always seem to rally around injuries and other distractions. If Manning doesn't play, I think
David Carr
will be just fine. As long as he doesn't have any flashbacks of playing behind the Texans' offensive line, it shouldn't be much of a problem.
Can Jim Zorn find a way to lead his team to a win with all this turmoil going on?
Dan Snyder and Vinny Cerrato have made an
interesting
move in bringing in offensive consultant Sherman Lewis to help right the offensive ship. What they've done is embarrass a good man in the process. Bully for offensive coordinator Sherman Smith for saying what was on his mind once Lewis was hired. This franchise is stumbling all over itself right now. Would anyone be surprised if they lost to the Panthers on Sunday? Didn't think so.
The Beast is headed to Philly to watch Donovan McNabb and Michael Vick on the same field:
I'm eager to see how many snaps Eagles coach Andy Reid gives Vick in the shotgun. My best guess is eight or nine. And I think he'll see some snaps in the red zone. How will McNabb react? We're about to find out. If it's a blowout -- as I expect it to be -- then there won't be any problem. I think poor
Josh Johnson
's in for a long day. He'll be scrambling for his life -- and Eagles defensive end
Trent Cole
will have at least two sacks. Huge day coming for
Brent Celek
. Write that one down, folks. Clip and save.
Could Wade Phillips' job be in jeopardy if the Cowboys lose at Arrowhead?
Jerry Jones has never fired a coach during the season, but this would be a huge embarrassment. Jones said Friday that Phillips' job would not be in jeopardy if he lost to the Chiefs, but let's wait and see what happens. One of the problems is that you really don't have an interim guy who could handle things. It's not like Jason Garrett is inspiring a ton of confidence right now. I guess former head coach Dave Campo might get the nod -- and Garrett could remain as offensive coordinator. Have a head coach, defensive coordinator and offensive coordinator ever been fired at the same time during a season? I'll try to look that up for you guys. Have a tremendous weekend.
NFL SCOREBOARD
Thursday, 12/5
Sunday, 12/8
Monday, 12/9
WEEKLY LEADERS