March, 13, 2013
3/13/13
7:53
PM ET
NASHVILLE, Tenn. -- Every general manager says he got his first choice(s) when he signs people.
It's a lot more believable when it happens early in free agency, when he was choosing from a much bigger list.
The
Tennessee Titans
have traditionally sat back, let the market set itself, then reacted as members of the second phase of player acquisition.
Not this time.
General manager Ruston Webster and coach Mike Munchak introduced four players signed within a day of the start of free agency at a news conference Wednesday evening -- guard
Andy Levitre
, tight end
Delanie Walker
, defensive tackle
Sammie Lee Hill
and running back
Shonn Greene
.
A bit after that ended, Jim Wyatt of The Tennessean reported that the team had a deal with linebacker
Moise Fokou
as well.
The low-key Webster said he has been thrilled with the way things have played out.
"Coming off that 6-10 year, we needed to be aggressive," he said. "[Titans owner Bud] Adams gave his blessing and allowed us to be aggressive. It was actually fun to set a plan and just go do it. … We had a lot of meetings just setting this plan together, and these are the guys we targeted. To be able to go out, set your plan, go be aggressive and then get the guys that you targeted, that feels real good."
I'm going to guess all four of the guys at the news conference accepted contracts with the Titans in part because they offered the most money. But beyond money, guys love to feel loved. And Webster did a good job with that.
Levitre, Walker, Hill and Greene all indicated that the Titans were first to express interest, and didn't back down or disappear like some other teams might have.
"When I talked to coach on the phone, he sounded very sincere in everything he wanted me to do here," Greene said. "I just think it's a perfect fit, not to mention that they were the first people to reach out during free agency, and when you get that, you can't describe it. A lot of teams say this, that and the other, and then you don't hear from them. But Tennessee stuck with me, that was my main thing."
Tidbits from Munchak on his new guys:
He said a good guard such as Levitre generally plays his best around years five, six, seven and eight of his career; Levitre will be entering his fifth season.
Hill can cave the pocket in, and Munchak said based on first-hand experience as a guard, that is incredibly frustrating. That sort of push creates problems for interior linemen and making edge rushers more effective.
While Greene will clearly have a narrow role in an ideal game plan, Munchak emphasized he can play all three downs.
In Walker, Munchak said in a not-so-veiled shot at departed Jared Cook, the Titans get a tight end who can move around, shifting from the backfield to inline to the slot as needed.
December, 9, 2012
12/09/12
6:13
PM ET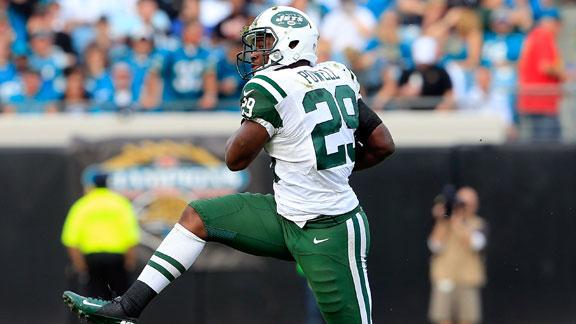 Thoughts on the
Jacksonville Jaguars
'
17-10 loss
to the
New York Jets
at EverBank Field:
What it means:
The Jaguars allowed Jets quarterback
Mark Sanchez
to end a stretch of 17 scoreless possessions he quarterbacked en route to a loss that dropped them to 2-11. They remain contenders for both a post-season front office shake up and for the first overall pick in the upcoming NFL draft.


What I didn't like:
The Jets are far better rushing the ball on offense than passing it, and the Jaguars allowed them to do just that.
Bilal Powell
turned 19 carries into 78 yards and a score and
Shonn Greene
took his 20 carries for 77 yards and a touchdown. That meant Sanchez only needed to manage things and he did well enough, completing 12 of 19 passes for 111 yards.
Chad Henne
had to throw it 43 times and while he made a of couple big fourth-down conversion throws in the Jaguars' last ditch drive, the last one resulted in a game-sealing interception when he threw it long and receiver
Kevin Elliott
broke off his route.
What could have been:
Derek Cox
forced a
Jeremy Kerley
fumble after a second-quarter, 7-yard gain and it appeared
Dwight Lowery
recovered it, got up and went 60 yards up the sideline for a touchdown. But the replay review showed Kerley touched Lowery while he was down. Instead of a touchdown, the Jaguars got four plays and then had to punt.
Impact play:
Jason Babin
produced a pass rusher's trifecta with a sack of Sanchez that forced a fumble that Babin recovered himself. It's just the sort of thing Jacksonville was looking for when it claimed Babin off waivers from Philadelphia a couple weeks ago.
One good sign:
The Jaguars gave up one 37-yard pass play. Beyond that, they really made the Jets drive the ball, as the second longest play was 14 yards. The Jaguars only got three plays over 20 yards themselves, nothing bigger than
Montell Owens
' pretty 36-yard touchdown run.
Big differential:
The Jets committed just one penalty for 15 yards while the Jaguars were flagged for seven that cost them 54 yards.
What's next:
The Jaguars travel south for a game at Miami.
January, 9, 2010
1/09/10
10:55
PM ET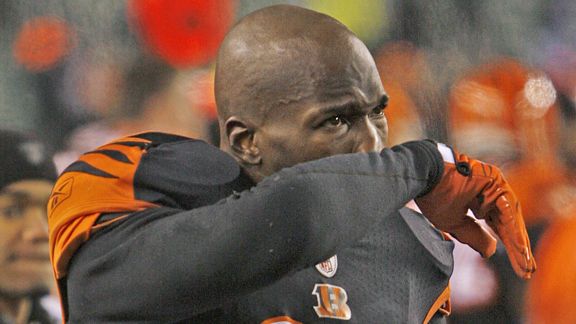 AP Photo/David KohlThe Jets limited Chad Ochocinco to just two receptions for 28 yards.
CINCINNATI -- The blank stare on
Carson Palmer
's face told the story Saturday night.
After posting 10 victories and convincingly taking the AFC North, the Bengals quarterback was in total disbelief that he was addressing the media following another late-season failure.
Welcome to the harsh reality of the NFL playoffs.
Cincinnati's season came to an abrupt end with a
24-14 loss
to the
New York Jets
(10-7). It was the second consecutive one-and-done postseason for the Bengals (10-7). Cincinnati also suffered a quick hook after winning the division in 2005.
But the Bengals felt this season would be different.
Cincinnati's locker room was more professional. Core players such as Palmer and receiver
Chad Ochocinco
were more experienced, and this team -- with a strong defense and running game -- appeared to be built to thrive this time of year.
"We had such big plans," a shocked Palmer said. "We had such great expectations for ourselves."
In an awkward playoff game, Cincinnati's season came crashing down in a rash of errors.
The Jets forced two Cincinnati turnovers (one interception, one fumble). Bengals kicker
Shayne Graham
missed two second-half field goals, and coach Marvin Lewis failed on two challenges that blew a pair of timeouts in the first half.
Add in several blown assignments on both sides of the ball, and it was a recipe for postseason disaster.
"Because of the quality of the team you face in the playoffs, missed opportunities, turnovers in the red zone, whatever it might be, they are very hard to overcome," Bengals offensive coordinator Bob Bratkowski said.
With a steady defense and solid running game led by rookie
Shonn Greene
(135 yards, one touchdown), the Jets shortened the game with each possession. New York dominated the field-position battle and eventually turned it into points, as the Jets scored 21 unanswered in the second and third quarters.
That was all the Jets needed on the road. Every time the Bengals tried to make a comeback, they would ruin it with self-inflicted mistakes.
[+] Enlarge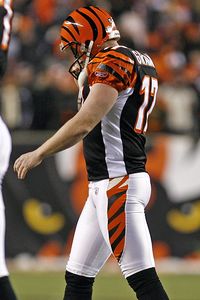 AP Photo/David Kohl Graham missed two field goals in Cincinnati's loss.
Graham's kicks in particular ended any hopes of a Bengals rally. He missed two fairly routine field goal attempts of 42 and 28 yards in the second half that kept the game out of reach. Graham was the team's designated franchise player this season.
"There isn't anything you can say about that," Lewis said. "When you miss the field goal, you miss the field goal. It is a shame, and it killed us. Unfortunately, in this case, it is mostly a one-man operation and that is the sad part of it."
The Bengals liked this matchup entering the game. But many of the advantages they thought they had did not pan out.
Rookie quarterback
Mark Sanchez
, who has been inconsistent all season, had a near-perfect game, completing 12 of 15 passes for 182 yards and a touchdown. He had a 139.4 passer rating.
Cincinnati also ran the ball well with tailback
Cedric Benson
, who had 169 rushing yards. But the Bengals fell to 6-1 this season when Benson has more than 100 rushing yards.
The general feeling in Cincinnati's locker room was the Bengals let a golden opportunity get away.
"There's only one team that feels good in the end, and it won't be us," Bengals linebacker
Brandon Johnson
said.
The playoff drought continues for the Bengals, who haven't won a postseason game since the 1990 season. But in many ways this was a landmark season for the franchise.
Cincinnati has a good, young nucleus of players and ran roughshod through the AFC North, going 6-0. The team also overcame a pair of tragedies in the passing of wide receiver
Chris Henry
and Vikki Zimmer, the wife of defensive coordinator Mike Zimmer.
The Bengals haven't had back-to-back winning seasons since 1975-76, so expect a lot of doubters next fall. But the players are confident this team is finally built for long-term success.
"How can you not like the foundation and the things that we've done?" Bengals linebacker
Dhani Jones
said. "We're one of the youngest football teams to make it to the playoffs and swept the division. We've done a lot of phenomenal things. It's just in the end, we didn't do that one phenomenal thing, and that's to continue."
The last time the Bengals were in this position, it took four years to bounce back from a playoff defeat to the
Pittsburgh Steelers
. It will be up to Cincinnati's leaders, such as Palmer and Jones, to make sure this organization continues to stay on the upswing.
It won't be easy. The Steelers and
Baltimore Ravens
are consistent threats in the division. The
Cleveland Browns
also finished the season with four straight wins and have newfound optimism with the arrival of team president Mike Holmgren.
The Bengals were good enough to make the playoffs this season. But their quick exit Saturday proved that they are far from an elite team.
"We definitely got a lot of work to do," Palmer said. "We definitely have a young team. I think someone said we were the third-youngest team in the league. In order for us to be where we expect to be, we got to improve."
NFL SCOREBOARD
Thursday, 10/2
Sunday, 10/5
Monday, 10/6