June, 10, 2013
Jun 10
12:00
PM ET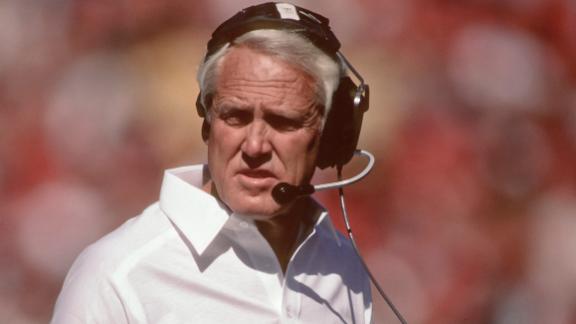 Bill Walsh checks in at No. 2
on ESPN's list of
Greatest Coaches in NFL History
, leaving the as-yet-unnamed Vince Lombardi as the obvious No. 1.
Walsh, of course, led the San Francisco 49ers to three of their five Super Bowl victories. He revived the franchise with a blueprint that became standard operating procedure across the league. He blazed trails in minority hiring and produced a coaching tree with branches still growing in the game today.
I highly recommend checking out
Seth Wickersham's piece on Walsh
from January. Wickersham focused on the coaching guide Walsh wrote.
"[Bill] Belichick once referred to it as football 'literature,' but it's more like a textbook -- 550 pages, 1.8 inches thick, 3.2 pounds, loaded with charts, graphs and bullet points," Wickersham explained. "For example, Walsh includes 57 keys to negotiating contracts ('The negotiator's need for food and sleep can affect his/her ability to function effectively'), 13 pages of sample practices and 108 in-game scenarios."
The video above features Walsh's own thoughts on characteristics great coaches possess. Unpredictability on and off the field is one of them.
The chart below shows won-lost-tied records and number of championships won for the top 20 coaches on ESPN's list, courtesy of Pro Football Reference. The winning percentages listed reflect victories plus one-half ties, divided by total games. For Walsh, that works out to 92.5 victories divided by 152 games, or .609.
May, 30, 2013
May 30
7:19
PM ET
Any ranking for the 20 greatest coaches in NFL history would leave off at least two of the
22 enshrined
in the Pro Football Hall of Fame.
The ballot I submitted for our "
Greatest Coaches
" project left off eight of them: Guy Chamberlin, Jimmy Conzelman, Weeb Ewbank, Ray Flaherty, Sid Gillman, Bud Grant, Greasy Neale and Hank Stram.
That seems outrageous. However, there were only 20 spots available, and many coaches appeared interchangeable to me outside the top 10 or 12. Current or recently retired head coaches such as Bill Belichick, Tom Coughlin, Mike Holmgren, Mike Shanahan, Tony Dungy, Bill Cowher and Marty Schottenheimer deserved consideration, in my view, but including them meant leaving out others. I also thought Chuck Knox should be in the discussion even though he's long retired and not a Hall of Famer.
Putting together a ballot was difficult. There's really no way to fully analyze the jobs head coaches have done. We must consider won-lost records over time, of course, but little separates some of the coaches further down the list. I figured most panelists would go with Lombardi in the No. 1 spot, but I'm not sure whether that was the case.
Herm Edwards revealed
his ballot

previously. We agreed on George Halas at No. 1. He put Lombardi second. I went with
Paul Brown
and
Curly Lambeau
after Halas, followed by Lombardi, Tom Landry, Bill Walsh, Don Shula, Joe Gibbs, Belichick and Chuck Noll to round out the top 10. The choices got tougher from there.
Edwards had Bud Grant, Dick Vermeil and Marty Schottenheimer in his top 20. He did not have Steve Owen, Holmgren or Cowher. I easily could have justified swapping out some of the coaches toward the bottom of my ballot for others not listed. Edwards and I both had Coughlin at No. 15. Our rankings for Lombardi, Landry, Walsh, Shula, Gibbs, Belichick, Madden and George Allen were within three spots one way or the other. I had Brown and Lambeau quite a bit higher than Edwards had them.
I tried to balance factors such as winning percentage, longevity, championships, team-building and impact on the game. The coaches I listed near the top of my ballot were strong in all those areas. There was room lower on my ballot for coaches whose achievements in some areas offset deficiencies in others.
Halas was a straightforward choice at No. 1 for me. He coached the Chicago Bears for 40 seasons, won six championships and had only six losing seasons. The Hall of Fame credits him as the first coach to use game films for preparation.
"Along with Ralph Jones, his coach from 1930 through 1932, and consultant Clark Shaughnessy, Halas perfected the T-formation attack with the man in motion,"
Halas' Hall of Fame bio
reads. "It was this destructive force that propelled the Bears to their stunning 73-0 NFL title win over Washington in the 1940 NFL Championship Game and sent every other league team scurrying to copy the Halas system."
Brown was my choice at No. 2 because he won seven titles, four of them before the Cleveland Browns joined the NFL in 1950, and he revolutionized strategy while planting a massive coaching tree. Lambeau edged Lombardi in the No. 3 spot on my ballot. He founded the franchise and won with a prolific passing game before it was popular. His teams won six titles during his 31 seasons as coach.
ESPN has revealed the coaches ranking 13th through 20th based on ballots submitted by Chris Berman, Jeffri Chadiha, John Clayton, Colin Cowherd, Mike Ditka, Gregg Easterbrook, Edwards, David Fleming, Ashley Fox, Greg Garber, Mike Golic, Suzy Kolber, Eric Mangini, Chris Mortensen, Sal Paolantonio, Bill Polian, Rick Reilly, Adam Schefter, Ed Werder, Seth Wickersham, Trey Wingo and me.
The eight coaches, beginning at No. 13: Jimmy Johnson, Coughlin, Grant, Stram, Levy, Gillman, Shanahan and Dungy.
Gillman was an interesting one. He spent 10 of his 18 seasons in the AFL and had a 1-5 record in postseason, but there is no denying
his impact on the passing game
. Like other coaches rounding out the top 20, his case for inclusion was strong, but open for debate.
December, 23, 2011
12/23/11
1:30
PM ET
»
NFC Final Word
:
East
|
West
|
North
|
South
»
AFC
:
East
|
West
|
North
|
South
Five nuggets of knowledge about Week 16:
Will the Denver Broncos' playoff hopes get buffaloed again?
Good thing there aren't many players from the 2008 Broncos team still in a Denver uniform. The situation is eerily similar. The Broncos are playing the
Buffalo Bills
in Week 16, just as they did three years ago. Like that game, Denver can clinch a playoff berth this week against a Buffalo team that has lost seven of eight. In '08, the Bills entered the Denver game having lost seven in a row. What happened in that Week 16 meeting in 2008? The Bills came back and won a close game, preventing the Broncos from being able to clinch a playoff berth. The Broncos couldn't get the job done and the 14-season run of former head coach Mike Shanahan era was suddenly over. Will the Bills' mess with another Denver playoff push this year?
[+] Enlarge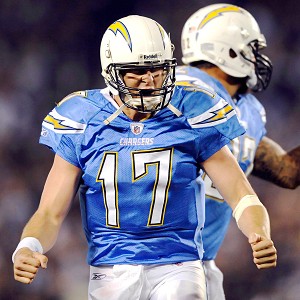 Christopher Hanewinckel/US PresswirePhilip Rivers will try to keep the Chargers' playoff hopes alive when they take on the Lions Saturday.
Last AFC West-NFC North game is meaningful:
The AFC West's matchup against the NFC North ends Saturday when the
San Diego Chargers
play at the
Detroit Lions
. Both teams are trying to keep playoff hopes alive with a victory. That may be a bad sign for San Diego. It is 1-3 against the NFC North this season, while Detroit is 3-0 against the AFC West. Overall, the AFC West is 8-7 against the NFC North this season. Last-place Kansas City has the best record against the division at 3-1, while Denver and the
Oakland Raiders
both went 2-2. The AFC West plays the NFC South next season.
Hue can't get his Haley revenge:
We are missing a fun Christmas Eve storyline because the
Kansas City Chiefs
fired coach Todd Haley last week. Oakland coach Hue Jackson had some words for Haley after a 28-0 Kansas City win in Oakland in October. After the game, Jackson wouldn't say what his problem with Haley was, but he did say the Raiders would get their second chance against the Chiefs. It was a chippy game the first time, with several players being fined for their actions. Expect tensions to be even higher this time around with both teams trying to keep playoff hopes alive.
WiIl Dareus get back at the Broncos?
Prior to the season, Buffalo rookie defensive lineman
Marcell Dareus
said he had the Bills' Christmas Eve game against Denver circled. Dareus was offended the Broncos didn't draft him with the No. 2 pick and said he wanted to show the Broncos what they missed. Dareus was one of a handful of defensive players the Broncos considered, but they ultimately opted for Texas A&M linebacker
Von Miller
. Dareus was scooped up by the Bills with the next pick and has been solid. The Alabama product has 38 tackles and 5.5 sacks so far. The Broncos, however, are not second-guessing their choice. Miller has 11.5 sacks and is a major building block for the franchise going forward. He is the favorite to win the NFL Defensive Rookie of the Year award.
Chargers' bosses working for jobs:
The Chargers have won three straight games to improve to 7-7. Their playoff hopes are still alive, but their odds are not great. Still, because the Chargers have made some noise, people are wondering if San Diego general manager A.J. Smith and coach Norv Turner will be retained even if the team's playoff push comes up short. While a second straight season missing the playoffs would be disappointing, both Smith and Turner have done good things during their stay in San Diego and this late surge is a reminder of it. Smith has led the Chargers to division titles in five of his eight years with San Diego, and he is five wins from becoming the most successful general manager in team history. Turner has the best regular-season winning percentage (48-30, .615) in team history, ahead of the likes of Sid Gillman, Don Coryell and Marty Schottenheimer.
August, 7, 2011
8/07/11
12:42
PM ET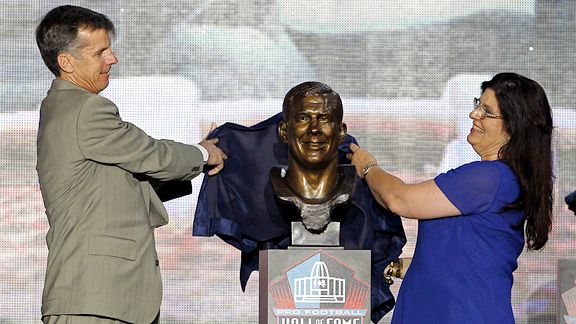 AP Photo/Ron SchwaneThe bust of former Ram Les Richter is unveiled by his son, Jon, and daughter, Anne, on Saturday.
The testimonials for
Marshall Faulk
have flowed freely surrounding his enshrinement in the Pro Football Hall of Fame.
Les Richter's legacy is tougher to access.
Both were Rams legends, Faulk in St. Louis and Richter during the team's days in Los Angeles.
Improbable as it sounds, Richter might have been the more versatile player. He went into the Hall of Fame for his prowess as a linebacker, but he also played on the offensive line, served as the team's deep snapper and spent his first three seasons doubling as the Rams' kicker. Like Faulk, Richter transcended the traditional confines of his position.
Former Rams linebacker and NFL coach
Jack Pardee summed up Richter well
:
"Before Sid Gillman started throwing the football around, the NFL was all run game, and most teams played a 5-2 front. Les was one of the first true middle linebackers who could defend the run and the pass. He was an All-Pro and was the best in the business for a number of years. You talk about smart, he was the valedictorian at Cal, and calling the signals on the field and making the adjustments, that all went along with kind of establishing a new position. Les was a new breed of middle linebacker, which was part lineman and part defensive back. He could really cover, and that was the difference between him and the group in front of him."
Richter died last year. His son, Jon, accepted on his father's behalf during Hall of Fame proceedings Saturday. The Rams have posted a tribute video featuring Jon's thoughts. I recommend
checking it out
, along with a
couple
stories
from the Los Angeles Times.
June, 1, 2011
6/01/11
8:56
PM ET
Andy Robustelli's passing
this week focused attention on the New York Giants teams he helped turn into champions.
Rightfully so.
[+] Enlarge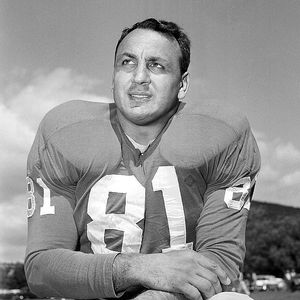 AP PhotoThe Los Angeles Rams went 8-3-1 with Andy Robustelli, but fell to 4-8 the next season when he went to the New York Giants.
I also
wondered
whatever would compel the Los Angeles Rams to trade such an outstanding player months after Robustelli helped them reach the 1955 championship game. The answer, that Robustelli wanted to be closer to his Connecticut roots, contrasted with current NFL norms. The world is much smaller in the age of easy communication and 6-hour flights between New York and Los Angeles.
Differences between then and now came into sharper focus Wednesday when I reached out to one of Robustelli's teammates on that 1955 Rams team.
Ron Waller, 78, went to the Pro Bowl as a rookie running back, although he was much more than that in an era of 33-man rosters and 12-game seasons.
Waller rushed for 716 yards and seven touchdowns, caught 24 passes, returned 14 punts and averaged better than 27 yards on his 17 kick returns. He went to camp as a running back, then left for three weeks to play defensive back under Curly Lambeau in the College All-Star Game (his team
beat the pros
). Upon returning to the Rams, Waller opened the season at receiver, only to switch back to running back when Elroy "Crazy Legs" Hirsch came out of retirement. Tom Fears was another Hall of Fame receiver on that team.
The smaller rosters of that era favored versatility over the specialization of the current NFL game.
Robustelli was one of the Rams' best defensive players back then. The defense fell off statistically once the Rams traded him to the Giants before the 1956 season.
"It was a great loss for us at that position," Waller said.
Blaming the Rams' slide from 8-3-1 with Robustelli in 1955 to 4-8 without him the next season, however convenient, would miss the bigger story. Quarterback Norm Van Brocklin
clashed
with coach Sid Gillman over which man would call the plays. Gillman benched Van Brocklin for most of the 1956 season. The Rams weren't the same.
"Van Brocklin, who has been known to run the same unsuccessful play three times simply to prove that it can work, does not take kindly to the strict sideline direction of the Paul Brown school of coaching,"
Tex Maule wrote
for Sports Illustrated in 1958, "and often Gillman's messages, via shuttling linemen, only irritated Van Brocklin."
Robustelli got out of Los Angeles at just the right time. He was 30 years old and would win six conference titles with the Giants by the time he played his final game at age 39.
Waller, much younger, didn't fare so well with Rams management. Attempts to parlay his early success into a better contract went nowhere.
"I went in to management -- we didn't have agents back in those days -- and told them I wanted $15,000 for my second-year contract," said Waller, who had earned $8,000 in salary with a $1,000 bonus as the 15th player chosen in the 1955 draft. "And the general manager, who was Pete Rozelle, believe it or not, said, 'Son, you gotta be in the league a long time before you ever make $15,000."

NFL SCOREBOARD
Thursday, 12/12
Sunday, 12/15
Monday, 12/16