June, 23, 2012
6/23/12
9:00
AM ET
ESPN recently published a list of the
25 greatest playoff performances
in NFL history.
The ballot I submitted featured five performances for franchises currently aligned in the NFC West. It included three performances for the San Francisco 49ers and three for the Washington Redskins. There were two from Kurt Warner, including one each from his years with St. Louis and Arizona. All 15 were for offensive players, a disparity I couldn't reconcile.
Several worthy performances just missed the cut. You'll find most of them accounted for in the top 25.
Keith Lincoln's 329-yard game (206 rushing, 123 receiving) ranked seventh on my ballot, 13 spots higher than it ranked in the top 25. This performance wasn't on my ballot initially because Lincoln played for the then-AFL San Diego Chargers. I gave it a prominent spot when told this performance was eligible because it appeared in the NFL record book.
All for now. Here's hoping this Saturday ranks among your top five this month.
November, 16, 2011
11/16/11
1:25
PM ET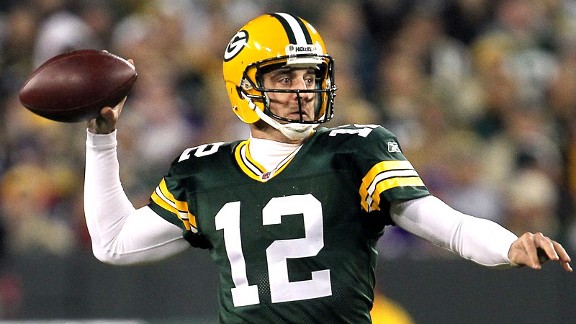 Jonathan Daniel/Getty ImagesAaron Rodgers continued his MVP-type season Monday with four TD passes against Minnesota.
LambeauOrWrigley
offered some perspective through the mailbag that I thought should be shared with the group. As you know, I'm always in favor of letting someone else do the heavy lifting around here.
As the
chart shows
,
Green Bay Packers
quarterback
Aaron Rodgers
has the second-highest career completion percentage in NFL history, based on a minimum of 1,000 attempts. If he continues at his current pace, Rodgers will leapfrog
Chad Pennington
and finish the 2011 season atop this list.
(That's provided
New Orleans Saints
quarterback
Drew Brees
, whose career completion percentage trails Rodgers' by .064 percent, doesn't exceed his current 2011 pace of 70.9 percent completions over his final six games.)
It's only fair to point out that accuracy has elevated substantially over the past decade in the NFL, a product both of West Coast offenses and rules changes that have favored the passing game. A
look at the extended list
reveals that 18 of the 20 most accurate quarterbacks in history have played within the past three seasons. Two Hall of Famers are the only exceptions:
Steve Young
and
Joe Montana
.
I know you're probably bored with it, but I keep going back to Rodgers' rare combination of high completion percentage and yards per attempt (YPA). According to the
always-fantastic database at pro-football-reference.com
, Rodgers has the third-highest average per attempt in NFL history (minimum 1,000 attempts). He is the only player among the top four on this list who played after 1960:
1. Otto Graham (8.98 YPA)
2. Sid Luckman (8.42)
4. Norm Van Brocklin (8.16)
YPA is one measure of downfield passing. It stands to reason that the more downfield (i.e. low percentage) passes a quarterback throws, the lower his completion percentage will be. Graham, Luckman and Van Brocklin all had career completion percentages less than 56 percent.
For those who don't appreciate the numbers, consider a more detailed way of saying that Rodgers is putting together one of the best and historically rare seasons -- and careers -- for a quarterback in the history of the NFL. Plus, who wouldn't want to find a way to get Aaron Rodgers, Steve Young, Joe Montana, Drew Brees, Otto Graham, Sid Luckman and Norm Van Brocklin into a single NFC North blog post? Thanks again to LambeauOrWrigley.
December, 17, 2010
12/17/10
12:16
PM ET
Tom Brady
is the NFL's version of Prince Caspian, the dashing hero with the cleft chin and flowing mane. He valiantly slays
New England Patriots
foes.
A deeper look at the stats shows Brady also can be Vlad the Impaler.
[+] Enlarge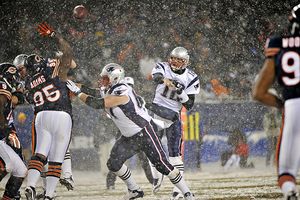 Rob Grabowski/US PresswireTom Brady continued to play against the Bears even though the Patriots already had a commanding lead.
Brady isn't bashful about getting medieval against overmatched opponents. Some would call it a killer instinct. Others might call it mercilessly running up the score.
Football Outsiders executive editor Bill Barnwell examined
how much Brady accumulates stats in out-of-hand games
. Brady rarely comes out in the fourth quarter and continues to throw when he feels it's necessary.
Barnwell found his research to be inconclusive. He determined 16.6 percent of Brady's attempts and 17.7 percent of his yardage came in garbage time (defined as up by at least 18 points any time in the second half or 14 points in the fourth quarter).
The league average for quarterbacks with a minimum 200 throws is 12.4 percent attempts and 12.2 percent yardage in garbage time. Barnwell noted other top NFL quarterbacks such as
Michael Vick
,
Peyton Manning
,
Aaron Rodgers
and
Philip Rivers
have gone below the league average numbers in these situations.
So there's a case to be made, just not a persuasive one based on that criteria.
The
most interesting numbers pertaining to Brady's production
with a commanding lead came from the "You Can't Play Here" blog via the top-notch Indianapolis Colts fan site
18to88.com
.
I asked for verification of the numbers from the Elias Sports Bureau, and with two minor tweaks, here are the official lists ...
Most career touchdowns ahead by at least 17 points:
Most career touchdowns while up at least 28 points:
Tom Brady 10

Sid Luckman 8

Norm Van Brocklin 8

Len Dawson 6

Craig Morton 6
Most career touchdowns while up at least 28 points in the fourth quarter:
Jacky Lee 5

Pete Beathard 4

Tom Brady 4

Craig Morton 4
Should numbers like these belittle Brady's accomplishments? I don't believe they should. He always has been judged more on his championships than his statistics anyway.
Besides, this is the NFL, and if teams have a problem with getting rolled, then they should find a way to stop it.
But the numbers certainly are worthy of debate. What do you think?
September, 27, 2010
9/27/10
4:37
PM ET
The
death of Pro Football Hall of Fame quarterback/kicker George Blanda
brings to mind the earliest part of his professional career with the Chicago Bears. Here's how the folks at the Hall of Fame Players Association encapsulated that part of Blanda's life:
At Kentucky, George had become a fine linebacker, an outstanding punter and place-kicker, and developing quarterback when George Halas drafted him as a 12th round pick for the Chicago Bears. Chicago already had some big name quarterbacks on its roster such as Sid Luckman, Johnny Lujack and Bobby Layne. Blanda signed with the Bears when Halas offered him a $6,000 contract and a $600 bonus.
"What could I do?" George remembers, "That's an awful lot of money for a 21 year-old kid who's never had anything in his life."
Widely recognized as one of the truly great competitors sports has known, Blanda was also a student of the game he played. In his first pre-season game for the Bears he took over in the third quarter of a 0-0 game and promptly threw a 40-yard TD strike to George McAfee on the first play and had a seven for seven day and a 34-0 win.
This performance was not, however, the sign of things to come. Except for the 1953 and 1954 seasons, Blanda was never a regular for the Bears. He was enjoying great success in 1954 when a shoulder injury kept him out of the last four season games. This was the only time in his stellar career that he had to miss a game due to injury. The Bears had kicking in mind for the 31-year-old Blanda, but George balked at the offer and retired (for the first time) in 1959.
Our thoughts are with Blanda's family.
November, 19, 2009
11/19/09
8:53
PM ET
Since joining the Texans in 2007,
Matt Schaub
is second in the NFL in yard per attempt at 7.98.
His YPA with the Texans would tie him with Steve Young for fifth-highest in league history, and his 66.6 completion percentage would be the highest among the top 10 in the category.
I asked Schaub what a big number in the category says about a quarterback, and here's his reply:
"I think as an offense it means guys are making plays down the field and they're getting open. Obviously, the offensive line is doing a heck of a job and the backs in protection, and allowing us to get down field and make some plays. It ties 11 guys together that are executing their job at a high level and guys are making plays."
The numbers come from the Texans.
I thought it a little narrow to keep of his statistics from three years as a backup in Atlanta, but he was in a different system with the Falcons that serves to reduce the number. His yards per attempt in the 38 games he played for them was 6.42, and combining from there and Houston his career number is 7.75 -- still quite strong.

NFL SCOREBOARD
Thursday, 9/4
Sunday, 9/7
Monday, 9/8