November, 8, 2013
Nov 8
3:30
PM ET
CHARLOTTE, N.C. -- That the
Carolina Panthers
have converted two defensive linemen to the offensive line -- including
Nate Chandler
, who will make his first NFL start at right guard Sunday at San Francisco -- doesn't sound like a recipe for success.
[+] Enlarge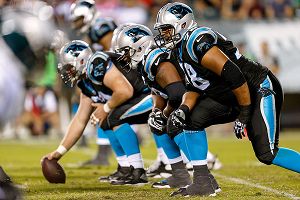 AP Photo/Brian GarfinkelThe Panthers' Nate Chandler, far right, turned heads in the offseason working on the offensive line.
Had you described this scenario to coach Ron Rivera before the season, "I would have been shocked."
But it's not as unusual as you might think. And Rivera has seen first-hand how it can work.
As a linebacker for the
Chicago Bears
from 1984-92, Rivera played with two defensive linemen --
Mark Bortz
and James "Big Cat" Williams -- who were converted into Pro Bowl offensive linemen.
Bortz was drafted in the eighth round as a defensive lineman but immediately switched to guard. He had 155 career starts and made two Pro Bowls.
Williams was drafted as a defensive tackle and spent his first couple of NFL seasons backing up William "The Refrigerator" Perry and
Steve McMichael
. He was moved to offensive tackle in 1991, and from 1994-2002 started 134 games. He was a Pro Bowl alternate in '98.
So Chandler and
Sione Fua
, who made the switch Tuesday after starting guard
Chris Scott
sprained a knee and backup
Jeff Byers
had season-ending Lisfranc surgery, shouldn't look at this as a last-ditch effort to stay in the league.
It also speaks to the feelings Rivera has for the players on his roster.
"They're the right kind of guys you want in the locker room," he said. "They're both very smart football players and talented young men. We want to make the most of their opportunity to play."
Chandler made the switch during offseason workouts after the Panthers used their first two draft picks on defensive tackles
Star Lotulelei
and
Kawann Short
. He basically was told if he wanted to stay on the team, moving to offense was his best chance.
Line coach John Matsko had his eye on Chandler since last year when the second-year player out of UCLA impressed working as a tackle on the scout team as an emergency fill-in.
Chandler now believes his future is on offense. Fua isn't totally convinced, keeping his locker in the middle of the defensive line where his white practice jersey stands out among their blue ones.
But both believe any member of the defensive line could make the switch if necessary.
"If anyone of these guys put their mind to it, they could do what I'm doing," Fua said.
This won't come as a shock. Defensive end
Greg Hardy
says he could start anywhere and be successful.
"Have you ever seen me fail?" he asked a teammate that doubted his sincerity.
Moving offensive linemen to the defensive front is another story. Defensive players bring an aggressive attitude that helps in their adjustment when swapping sides. Not all offensive linemen have that.
"My pass rush moves would be the worst you've ever seen," said veteran guard
Geoff Hangartner
, re-signed Tuesday to provide depth behind Chandler.
He then turned to Chandler and added, "Be honest, how many of us could really play defensive line?"
Chandler responded, "OK, there aren't as many offensive linemen that can play defensive line."
Rivera mentioned two that possibly could in tackle
Byron Bell
and center
Ryan Kalil
, but it's not something he wants to visit.
That most definitley wouldn't be a recipe for success.
April, 25, 2013
Apr 25
11:33
PM ET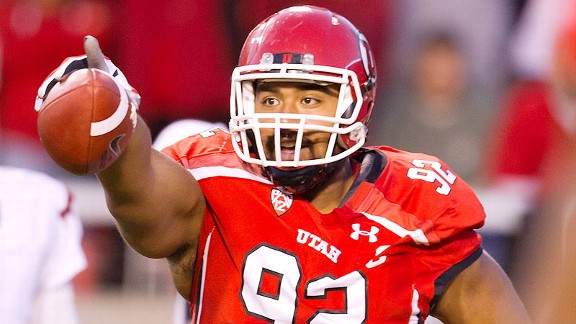 Russ Isabella/USA TODAY SportsCarolina drafted a defensive tackle, Star Lotulelei, in the first round for the first time in team history.
In the first draft of his tenure, Carolina Panthers general manager Dave Gettleman did something predecessor Marty Hurney never did.
Heck, Gettleman did something Bill Polian never did. He did something Dom Capers and George Seifert did in the brief windows when coaches held general-manager powers in Carolina.
Gettleman drafted a defensive tackle in the first round for the first time in franchise history. He drafted Utah's
Star Lotulelei
with the 14
th
overall pick.
It's not a fancy move, but I think this is a great start for Gettleman, who wasn't bluffing when he said at his pre-draft news conference that he believes the game starts up front and that he likes big defensive and offensive linemen.
In Lotulelei, Gettleman and the Panthers are getting a huge defensive tackle that once was being talked about as the potential No. 1 overall pick in this draft. Lotulelei had a bit of a health scare around the scouting combine, but reportedly later received a clean bill of health.
I don't know Gettleman well yet, but I know enough about him and his scouting staff that I'm sure the Panthers wouldn't have taken Lotulelei if they had any doubts about his health.
If they're right, the Panthers got a steal. If they're right, Carolina suddenly has a heck of a defense.
Think about it? Middle linebacker
Luke Kuechly
, last year's NFL Defensive Rookie of the Year, suddenly has someone to jam up the middle. That's going to allow Kuechly to roam freely. Same for outside linebackers
Jon Beason
and
Thomas Davis
.
And picture Lotulelei taking a little blocking attention away from defensive ends
Charles Johnson
and
Greg Hardy
, who each had double-digit sacks last season? Carolina's secondary still isn't loaded with talent, but the front seven might be able to compensate more for that now that Lotulelei is on the roster.
Carolina's defense suddenly is looking like a major strength. It might even be the best in the NFC South.
That's a pretty major statement for a defense that was horrible two years ago. Coach Ron Rivera's tenure got off to a rough start because of the defense in 2011 and coordinator Sean McDermott took a beating from fans.
Things started to improve last season, but there still was a gaping hole in the middle of the defense. The sad part is Hurney, who was promoted to general manager in 2002, might still have the job if he had used a first-round pick on a defensive tackle sometime after 2007.
It was after that season that
Kris Jenkins
, who had a brief stint as the best defensive tackle in the NFL, left the team. Jenkins (a second-round pick in 2001) had to go because there were chemistry issues between him and the coaching staff at the time.
But Hurney never devoted the resources to fully replace Jenkins. He did overspend for veteran
Ron Edwards
coming out of the 2011 lockout. Edwards promptly got hurt in that training camp and never really got healthy. Edwards never really contributed in Carolina and the Panthers released him in one of Gettleman's first personnel moves.
Hurney also tried to address the defensive tackle position by taking
Terrell McClain
and
Sione Fua
in the third round of the 2011 draft. But you don't get stud defensive tackles in the third round. You're rolling the dice and Hurney didn't get lucky with McClain and Fua. McClain no longer is with the team and Fua is best suited to be a backup.
There's only one way to get a dominant defensive tackle (and we're only going to briefly mention how Capers once gave up the farm to get
Sean Gilbert
in a trade that went wildly bad back in 1998). If you want success in the middle of the defensive line, you need to draft a defensive tackle in the first round.
The Panthers never had done that before. That means it's time to review the overall history of this franchise. Since coming into the league in 1995, the Panthers have had only four winning seasons.
Maybe that's largely because the people who ran the show in the past never saw the importance of plugging the middle of the defense with a big-time talent.
Maybe Gettleman just made a move that can help put this franchise on a path to consistent success.
September, 20, 2012
9/20/12
7:09
PM ET
July, 18, 2012
7/18/12
4:46
PM ET
Since last week's signing of New Orleans quarterback
Drew Brees
, it's been a pretty quiet few days around the NFC South. Well, that just changed.

The NFL just announced that Carolina defensive tackle
Andre Neblett
will be suspended without pay for the season's first four games for violating league policy on performance-enhancing substances.
Neblett made Carolina's roster as an undrafted free agent in 2010. He has appeared in 19 career games and got four starts last season when the Panthers were devastated by injuries at defensive tackle.
With
Ron Edwards
,
Sione Fua
and
Terrell McClain
all returning from injuries, Neblett would have gone to training camp with a chance to compete for a backup job. He still will go to training camp because his suspension doesn't start until the beginning of the regular season, but the Panthers could look at other candidates to replace him. Neblett will be eligible to return to Carolina's active roster Oct. 1, following a Sept. 30 game against Atlanta.
April, 28, 2012
4/28/12
6:15
PM ET
»
NFC draft analysis
:
East
|
West
|
North
|
South
»
AFC
:
East
|
West
|
North
|
South
The 2012 NFL draft won't be remembered as the flashiest in NFC South history. That honor belongs to the 2011 draft -- probably forever.
It's tough to top a draft in which quarterback
Cam Newton
went No. 1 to Carolina, Atlanta traded up for receiver
Julio Jones
and New Orleans traded back into the first round to get running back
Mark Ingram
. Aside from the
Tampa Bay Buccaneers'
pretty good splash, this year's NFC South draft wasn't filled with drama.
Instead, it was filled with very deliberate picks that addressed big needs all around the division.
BEST MOVE
No pick set the division's tone for this draft better than Carolina's selection of Boston College linebacker
Luke Kuechly
at No. 9 overall.
There's nothing really flashy about Kuechly, but the Panthers didn't need flash this time around. They got that with Newton, and he gave them a prolific offense. But that offense was only enough to carry the Panthers to a 6-10 record last season. Carolina couldn't play defense, and opponents have run all over the Panthers the last few seasons.
A lot of people thought the Panthers should go with a defensive tackle in the first round. But there were two reasons they didn't. They weren't enamored of any of the first-round prospects at that position. They also feel pretty good about what they already have at defensive tackle.
Ron Edwards
, a big free-agent pickup last year, is coming back from an injury that kept him out last season, and the Panthers think he can anchor their defensive line. They also used two third-round picks on defensive tackles
Terrell McClain
and
Sione Fua
last year.
The Panthers believe they have the personnel to clog up the middle. Kuechly should be able to come in and do what he does best. He can roam the field and be the kind of tackling machine he was in college. This guy had as few flaws as any player in the draft and is ready to make an instant impact. It remains to be seen whether Keuchly or
Jon Beason
will play the middle and which one will slide outside. It doesn't really matter. Either way, the Panthers now have a deep linebacker corps that should be able to stop just about any running game.
RISKIEST MOVE
You could say the Saints made a risky move by using their first draft pick on a player who didn't even play his college ball in the United States. They drafted Regina (Canada) defensive tackle
Akiem Hicks
with the No. 89 overall pick in the third round.
The fact Hicks didn't play against elite completion means there is obvious risk with this pick. But why not take a shot when you're this late in the third round? Hicks has tremendous upside, and he was good enough to be recruited to LSU before leaving for Canada. The Saints have a great history of discovering gems (
Jimmy Graham
,
Jahri Evans
and
Marques Colston
) later in the draft. They took a risk, but it might pay off.
[+] Enlarge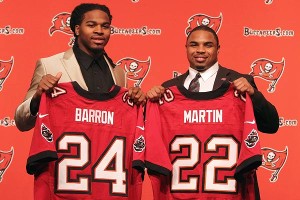 Kim Klement/US PresswireThe Bucs made headlines with their first-round draft picks, S Mark Barron and RB Doug Martin.
Hicks should at least have a chance at some playing time early on. The Saints don't have much behind
Brodrick Bunkley
and
Sedrick Ellis
at defensive tackle. Hicks could end up in the rotation very quickly, and the Saints could end up looking very smart for taking this risk.
MOST SURPRISING MOVE
The Bucs haven't been exciting in any way in quite some time. But they provided virtually all of the excitement within the division in this draft. General manager Mark Dominik shrewdly made some trades that gave the Bucs the ammunition to move up twice and come out of the draft with three instant starters.
Get over the fact that Dominik used the No. 7 overall pick on a safety, Alabama's
Mark Barron
. The Bucs weren't sold on LSU cornerback
Morris Claiborne
for reasons we don't know. They were sold on Barron, and safety might have been the weakest position on their roster heading into the draft. Trading down from No. 5 to No. 7 started a process in which Dominik was able to manipulate the draft with trades that gave him two other starters -- running back
Doug Martin
and outside linebacker
Lavonte David
.
The Bucs traded back into the first round to get Martin late Thursday night. They were without a second-round pick Friday night. But they saw David sitting there, they had the ammunition, and they pounced. No NFC South team needed more help from this draft than the Buccaneers, and Dominik made sure they got help that will matter right from the start.
FILE IT AWAY
Atlanta's selection of Wisconsin fullback
Bradie Ewing
in the fifth round might not seem like a big deal on the surface. For now, Ewing is probably nothing more than a special-teams player. But the Falcons also were looking a year or two down the road when they made this pick. Veteran fullback
Ovie Mughelli
is coming off a major injury, and he'll turn 32 in June. It was time to find someone to groom as Mughelli's eventual successor.
January, 4, 2012
1/04/12
1:00
PM ET
»
NFC Wrap-ups
:
East
|
West
|
North
|
South
»
AFC
:
East
|
West
|
North
|
South
Arrow indicates direction team is trending.

Final Power Ranking:
23
Preseason Power Ranking:
31
[+] Enlarge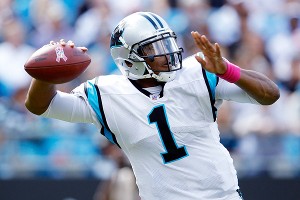 Bob Donnan/US PresswireQuarterback Cam Newton's rookie season probably exceeded even the Panthers' expectations.
Biggest surprise:
The critics said the Panthers were taking a huge gamble by drafting quarterback
Cam Newton
first overall in April. They said he wasn't an accurate passer and might take a long time to pick up an NFL offense after running a "simple'' one at Auburn. Throw in the fact that the Panthers had a new coach, a new offensive scheme and that the lockout prevented offseason workouts, and it's clear why the expectations for Newton at the start of the season weren't very high. But all that got tossed out the window as Newton came out and threw for more than 400 yards in each of his first two games. His accuracy and intangibles turned out to be better than even the Panthers dreamed. Newton got better as the season went on, and Carolina's offense became highly entertaining for the first time in franchise history.
Biggest disappointment:
The injuries on defense were stunning. New coach Ron Rivera came with a defensive background and inherited some talent on that side of the ball. The early expectation was that Carolina would be good on defense, but it would take the offense time to develop. It played out in the exact opposite way, as Carolina had a dismal season on defense. It started early in training camp when free-agent defensive tackle
Ron Edwards
, who was supposed to solve Carolina's problems against the running game, went down with a season-ending injury. It got even worse once the regular season started. Middle linebacker
Jon Beason
and outside linebacker
Thomas Davis
each went down early with season-ending injuries. The Panthers never recovered from that.
Biggest need:
Edwards is expected to make a full recovery, and it's the same story for rookie defensive tackles
Sione Fua
and
Terrell McClain
, who each had their seasons cut short by injury. But even with those three back, the Panthers can't afford to sit still when it comes to the middle of their defensive line. They haven't been able to stop the run in recent years, and that needs to change. At least one more big body, via the draft or free agency, is needed to make sure this problem doesn't persist. With Davis suffering his third ACL tear in two years, the Panthers also need to add an outside linebacker who can bring some speed as a run defender. If the Panthers can improve their defense, they could be playoff contenders next season.
Team MVP:
It's Newton in a landslide. Although he certainly wasn't perfect in a 6-10 season, he had one of the best seasons ever by a rookie quarterback. Newton became the first rookie to throw for 4,000 yards in a season, finishing with 4,051. He had 21 touchdown passes, becoming one of only five rookies in history to throw for 20 touchdowns in a season. Newton also ran for 14 touchdowns, the most ever by a quarterback. If Newton was that good as a rookie, imagine what he can do after having a full offseason to work with the coaches.
Best comeback:
There was speculation throughout the lockout that veteran wide receiver
Steve Smith
would leave the team. Smith later admitted even he wasn't sure he'd be back. But Smith, 32, was back, and he had one of the best seasons of his career. He had 79 catches for 1,394 yards and seven touchdowns. He quickly developed a chemistry with Newton, and looked as quick as he did earlier in his career. There's no doubt Smith was revitalized by Newton's arrival. The quarterback could end up adding years -- and some huge numbers -- to Smith's career.
September, 6, 2011
9/06/11
12:41
PM ET
We won't start our leaguewide Stock Watch feature until next week. But I'm going to go ahead and do one for the NFC South this week because we have more than enough to work with.
FALLING
[+] Enlarge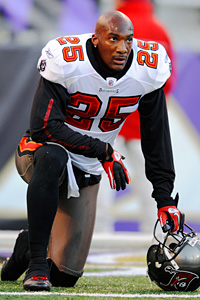 AP Photo/Gail BurtonAfter a turbulent offseason, Aqib Talib needs to step up on the field and stay low key off of it.
Aqib Talib, cornerback, Buccaneers.
We're starting his stock low because he had a turbulent offseason and he's going to be under the microscope. This guy can't afford a wrong move on or off the field. He's got to stay focused on football and get his career on a good path.
Mike Peterson, linebacker, Falcons.
All indications are the veteran has lost his starting job to
Stephen Nicholas
, who got a big contract to stay with the team. Peterson re-signed for the veteran minimum and Nicholas got first-team work throughout the preseason. But the good news is Peterson's the kind of guy who can handle a backup role and be a mentor. He also still might be able to step in and play a little bit, if needed.
John Kasay, kicker, Saints.
He starts off the season on the hot seat after missing a field goal and an extra point in his preseason debut with New Orleans. Released by Carolina earlier this summer, Kasay's a proven veteran who has made many big kicks throughout his career. He was signed to fill in while
Garrett Hartley
is out with a hip injury. But coach Sean Payton isn't the most patient guy in the world when it comes to kickers, so Kasay better get on track in a hurry.
RISING
Garrett Reynolds, guard, Falcons.
He won the starting job at right guard by beating out
Mike Johnson
. This is a chance for Reynolds to pave the way to a nice, long career. He'll be playing next to right tackle
Tyson Clabo
and that will help. Offensive line coach Paul Boudreau is a master at working with guys who were drafted late or not at all and turning them into reliable players.
Sione Fua and Terrell McClain, defensive tackles, Panthers.
Ready or not, the two rookies are going to play extensively. The Panthers tried to buy them some time by signing free agent
Ron Edwards
, but he got hurt. The Panthers tried a few other veterans, but they either couldn't play or were hurt. The Panthers are just going to have to throw McClain and Fua out there and hope they grow up in a hurry.
Julio Jones, receiver, Falcons.
We're going to start this rookie's stock very high because that's exactly what the Falcons have done in the preseason. They've showcased their first-round draft pick, throwing to him often and letting him run reverses. You generally like to save those things as surprises for the regular season. But my guess is the Falcons wanted to go ahead and make opposing defenses very aware of Jones because that may free things up for some other offensive players.
September, 3, 2011
9/03/11
7:48
PM ET
Check
here
for a complete list of the Carolina Panthers' roster moves.

Surprise move:
The Panthers waived fullback
Tony Fiammetta
, their starter last season and the man who had the misfortune to replace fan favorite
Brad Hoover
. Fiammetta didn't do a lot to endear himself to the old coaching staff and that didn't change after Ron Rivera took over.
The Panthers recently went out and signed
Jerome Felton
. Presumably, Felton will move right into the starting lineup. Being the lead blocker for
DeAngelo Williams
and
Jonathan Stewart
could make him look pretty good.
No-brainers:
The Panthers released defensive tackles
Nick Hayden
and
Corvey Irvin
, who had gotten a fair amount of playing time in recent years. That leaves them with only three defensive tackles, which was the weakest spot on the roster the last few years. There was no sense holding onto Hayden or Irvin because the Panthers already knew they weren't the answer. This is a position where the Panthers are far from done. Although they have high hopes for rookies
Terrell McClain
and
Sione Fua
, they'll take a look at who else around the league is available. It's a safe bet they'll sign a defensive tackle -- maybe two.
What's next:
In addition to defensive tackle, there's still work to do on this roster. General manager Marty Hurney was very aggressive coming out of the lockout. Look for him to jump back into that mode quickly. The Panthers need a starting right guard after placing
Garry Williams
on the injured-reserve list. They could also use help at cornerback and wide receiver.
August, 25, 2011
8/25/11
8:06
AM ET
Three things to watch for in Carolina's preseason game against the Cincinnati Bengals on Thursday. Kickoff is set for 7 p.m. ET:


1. Cam Newton versus Cam Newton.
Really, there is a way Newton still could lose out on being the opening-day starter at quarterback. He'd have to go into Cincinnati and throw four or five interceptions, mess up a few handoffs and look like he doesn't know the offense. Anything less than a truly horrible performance and Newton will get the nod. The Panthers know Newton is their future and their future begins Sept. 11 in Arizona.
2. Newton's chemistry with Steve Smith.
It looks as if Smith will play this week after missing the first two exhibitions with a hand injury. Newton and
Jimmy Clausen
struggled without him as the other Carolina receivers failed to get consistent separation from defensive backs. We know Newton and Smith worked out together some in the offseason and before the hand injury. Still, it would be nice to see Newton gets a chance to throw a few passes Smith's way in game conditions.
3. Rookie defensive tackles Sione Fua and Terrell McClain.
The Panthers have had trouble stopping the run the last couple seasons and
Reggie Bush
was able to run between the tackles in the last preseason game. The Panthers had hoped that signing veteran free-agent
Ron Edwards
would solve all this, but he suffered an injury that's expected to keep him out all season. Unless the Panthers find gold on the waiver wire, they might just turn the starting spots over to McClain and Fua. Both were picked in the third round and the Panthers might as well let them grow up together.
August, 11, 2011
8/11/11
6:36
PM ET
We knew this was probably coming, but it still is a harsh reminder that the
Carolina Panthers
lost one of their top free agents for the season.
Edwards
The team just officially announced defensive tackle
Ron Edwards
has been placed on the injured-reserve list. Edwards, who was signed from Kansas City and was expected to start immediately, suffered a torn triceps muscle early in camp.
The Panthers filled his roster spot by signing
DelJuan Robinson
. Unless Robinson does something really surprising, Carolina could be looking at starting two rookie defensive tackles.
Terrell McClain
and
Sione Fua
both were drafted in the third round and the initial plan was to pair McClain with Edwards in the starting lineup. The front office and coaching staff believe McClain can make a significant impact right away, but believe Fua might take a little more time to develop.
Fua's timetable could be moved up now. Robinson was a backup with the
Houston Texans
in 2008 and '09 and has made only three career starts. The other defensive tackles on Carolina's roster are
Corvey Irvin
,
Nick Hayden
,
Louis Ellis
,
Andre Neblett
and
Tommie Duhart
.
Irvin and Hayden have some experience and could be in the mix to start. But the team might decide to bring in another veteran later in the preseason.
August, 1, 2011
8/01/11
10:43
AM ET
SPARTANBURG, S.C. -- It took far longer than expected, but the
Carolina Panthers
just announced they have agreed to contract terms with third-round pick
Terrell McClain
.
A University of South Florida product, McClain was the 65th player taken in the draft. Although he's missed a few days of practice, McClain has a chance to start at a position that's been a glaring weakness the last couple of years. Even the missed practices aren't a huge deal since the Panthers won't practice in pads for the first time until later today.
McClain and
Sione Fua
both were drafted in the third round. The Panthers also added free-agent defensive tackle
Ron Edwards
from Kansas City and those three could end up being the top three defensive tackles.
July, 27, 2011
7/27/11
10:41
AM ET
Yes, John Fox is gone from Carolina. But it looks like the Panthers are going back to the philosophy they followed in his early years.
They're building around the defensive line. A day after agreeing to terms on a deal that will keep defensive end
Charles Johnson
with the team, the Panthers have addressed what's been a glaring weakness in recent years. They just went out and spent some decent money on a defensive tackle in free agency.
They've agreed to terms with former Kansas City defensive tackle
Ron Edwards
, according to Adam Schefter. He's agreed to a three-year deal worth $8.25 million.
Edwards is a pure run-stopper and that's something the Panthers need. He's never had more than four sacks in a season, but the Panthers can get those from Johnson and others. They're bringing in Edwards, 32, to help solidify the run defense.
He'll act as a bridge and give rookies
Terrell McClain
and
Sione Fua
some time to develop.
April, 29, 2011
4/29/11
10:38
PM ET
CHARLOTTE, N.C. -- The third round has ended, so let's take a quick look at what each of the three NFC South teams did in this round.

Carolina Panthers.
No. 65,
Terrell McClain
, defensive tackle, University of South Florida. This guy has a chance to step in and start immediately. Defensive tackle has been the weakest position on the defense for a couple of years. McClain is the kind of space eater that's been missing since
Kris Jenkins
and
Maake Kemoeatu
departed.
"The opportunity is there,'' McClain said. "I'm not going to back down from it. I'm going to be one of the hardest workers out there. I don't want to have any regrets.
No. 97,
Sione Fua
, defensive tackle, Stanford. The Panthers opened and closed the round by taking a defensive tackle. Can't argue with that because they need all the help they can get at the position. Like McClain, Fua can play nose tackle or the three-technique spot. Like McClain, he also will have a shot to get playing time right away.

Tampa Bay Buccaneers.
No. 84,
Mason Foster
, linebacker, Washington. After getting defensive ends
Adrian Clayborn
and
Da'Quan Bowers
in the first two rounds, the Bucs stuck with their plan to improve their front seven. Last year's linebacker corps of
Barrett Ruud
,
Quincy Black
and
Geno Hayes
really didn't produce the number of big plays the team would have liked. Foster is more of an interior linebacker and this could be a sign that the Bucs are preparing to lose Ruud in free agency.
According to Scouts Inc.'s Matt Williamson, Foster is more of a "thumper'' than Ruud. But he's not a three-down player and is not a great fit dropping into coverage over the deep middle.

New Orleans Saints
. No. 88,
Johnny Patrick
, defensive back, Louisville. An interesting pick by the Saints because they appear to be in great shape at cornerback. When healthy,
Jabari Greer
,
Tracy Porter
and
Patrick Robinson
can give the Saints as good a trio as any team in the league.
But general manager Mickey Loomis doesn't always focus on glaring needs when he sees a player he likes. Patrick was close to being a shutdown corner in his last season at Louisville. He's not known as a real physical guy, but he has the speed and athleticism to cover receivers and break up passes.

Atlanta Falcons.
No. 91,
Akeem Dent
, linebacker, Georgia. This one was something of a surprise. Dent is purely an inside linebacker. He's a two-down player who can play the run, but isn't going to be on the field in passing situations. There wasn't a glaring need for that kind of guy because the Falcons have a very solid middle linebacker in
Curtis Lofton
. There are greater needs on the outside.
Sean Weatherspoon
is set as one starter at outside linebacker. But the other spot is a question mark.
Mike Peterson
is aging and
Stephen Nicholas
probably will leave as a free agent.
NFL SCOREBOARD
Thursday, 12/5
Sunday, 12/8
Monday, 12/9
WEEKLY LEADERS