NFL Nation:

Sirius NFL Radio
May, 21, 2012
5/21/12
10:52
AM ET
It has been a slow process, but Greg Schiano is obviously cleaning house in Tampa Bay.
Veteran tight end
Kellen Winslow
told Sirius NFL Radio on Monday morning that he has been told by the Buccaneers that his services no longer are required. Winslow said team officials said they will try to trade him.
That might be difficult now that the rest of the world knows Winslow is on his way out of Tampa Bay. But the Bucs appear more than ready to move on from the tight end that joined them in 2009. Adam Schefter reports the Bucs worked out veteran tight end
Dallas Clark
last week, and appear to be the favorites to sign him.
Although bothered by a sore knee that forced him to miss a lot of practice time last season, Winslow, 28, appeared in all 16 games and caught 75 passes. But age and Winslow's knee probably weren't the main reasons why the Bucs have decided to move on. Winslow said he was told by the team that one reason he won't be back is because he hasn't been taking part in voluntary offseason workouts.
That seems to matter a lot to Schiano, and it should. He's trying to instill order in a team that had none last season. The Bucs previously released safety
Tanard Jackson
, and team officials said they weren't happy with how Jackson was approaching the offseason. Schiano came in saying everyone was getting a fresh start. That was true, but, in the cases of Jackson and Winslow, the Bucs have shown there's no room to slip up.
The way the Bucs dealt with Jackson and are dealing with Winslow sends a clear message to the rest of the roster that Schiano is running a tighter ship.
Back in February, I
speculated about the possibility
of the Bucs moving on without Winslow. They don't necessarily need salary-cap room, but releasing him would instantly free up $4.8 million.
April, 2, 2012
4/02/12
3:18
PM ET
NFL commissioner Roger Goodell said in
this interview
on Sirius NFL Radio that he's more than willing to hear any new information from New Orleans Saints coach Sean Payton and general manager Mickey Loomis when he meets with them about their appeals of suspensions Tuesday.
Payton has been suspended for the 2012 season and Loomis for the first eight games for their role in a bounty program, in which the league said players and coaches offered financial incentives to injure opponents. Goodell previously said he expects to make a decision on the appeal quickly.
"I've had an opportunity to sit with them several times,'' Goodell said in the interview with Adam Schein and Jim Miller. "I've listened to them. I've tried to understand their perspective on what's happened. They understand mine. If there is something I have not considered, I want to hear that, I want to understand it properly. Then, we'll make a decision based on that new information.''
But Goodell already has found the Saints guilty of some very serious charges. Barring a major new development, I wouldn't expect him to rescind or lessen the suspensions. The Saints also were fined $500,000 and stripped of two draft picks. Assistant head coach Joe Vitt is appealing his suspension for the first six games of the season. Former New Orleans defensive coordinator Gregg Williams was suspended indefinitely and has not appealed. Goodell stood firm when asked why he came down so hard on the Saints.
"I think (for) a couple of reasons,'' Goodell said. "One, this is a very important policy for us. Anyone that violates this policy where you're actually targeting players for injury is unacceptable under any terms. We're going to be very aggressive in enforcing that. A second is this has been going on for three years. (For) three years, we've been getting denials and they've continued to violate the policy and, again, that is unacceptable. It's something we're going to continue to enforce very aggressively with making sure our players are as safe as possible when they're on the field. Identifying a player to try to take them out for injury is not something we're going to allow.''
Goodell acknowledged that other teams have had incentive programs for such things as interceptions and sacks and clarified how what the Saints' bounty program was different.
"First, some of those payments are called non-contract bonus payments,'' Goodell said. "The problem with those payments is they escalate. They become difficult. As an example – the big hit. Well, is the big hit for taking somebody out or not taking somebody out? Is it for a legal hit or an illegal hit? We're eliminating all of those non-contract bonus payments because of the escalation payments. Bounty payments are specific to identifying an opposing player and taking them out. That means getting them off the field, whether it's a legal or illegal tactic. That's just unacceptable in our game and we are not going to allow that obviously.''
In related news, Goodell reportedly is
meeting with leaders
of the NFL Players Association on Monday. Goodell has not announced any disciplinary action for the 22 to 27 players the league has said were involved in the bounty program. Goodell has said he'll listen to recommendations from the union before making his decision on player discipline.
February, 2, 2012
2/02/12
1:41
PM ET
Mel Kiper usually does a great job of helping us look ahead to the draft. But, in this
Insider post
, he takes a look back.

Kiper has his rankings of the top 20 rookies in the 2011 season, and the NFC South plays a prominent role. In a development that shouldn't surprise anyone, Kiper ranked Carolina quarterback
Cam Newton
as the best rookie of 2011.
That had to be an easy call. Newton was the No. 1 overall pick in the draft, and he lived up to the hype. Heck, he went beyond the hype. He broke all sorts of records and was good immediately, even though he had no offseason dbecause of the lockout.

Kiper also has Atlanta wide receiver
Julio Jones
at No. 9. The Falcons took a lot of heat for trading up to get Jones. He turned in a solid first year, and easily would have gone over 1,000 receiving yards if he had stayed healthy all season.
The Falcons still are going to get some criticism for making the trade, especially since it left them without a first-round pick this year. But I think time will show this was a good move by the Falcons.
A couple hours ago, I heard veteran Atlanta tight end
Tony Gonzalez
talking about Jones on Sirius NFL Radio. Gonzalez called Jones "the most complete receiver'' he's ever been around. Gonzalez said that's because of the combination of size and speed Jones possesses. He admitted Jones isn't a finished product, but said Jones just needs a little more game experience before he really starts to shine.

The final NFC South player in Kiper's top 20 is Tampa Bay defensive end
Adrian Clayborn
at No. 16. I think Clayborn kind of got overshadowed by his team's collapse. But the rookie had a pretty nice season. He played the run well and produced 7.5 sacks. Kiper says that Clayborn could end up being a Pro Bowler. I don't think that's a stretch. If Tampa Bay can keep defensive tackles
Gerald McCoy
and
Brian Price
healthy, Clayborn has a real shot to produce double-digit sacks on a regular basis.
November, 3, 2011
11/03/11
1:00
PM ET
TAMPA, Fla. -- As you read this, keep in mind that
Donald Penn
talks big.
"My thing is, at the end of my career, I want to play 15 years and be a Hall of Famer and be one of the greats,'' the left tackle for the
Tampa Bay Buccaneers
said.
[+] Enlarge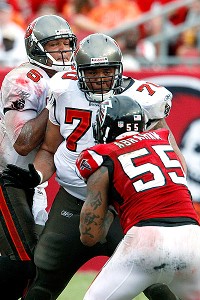 Cliff Welch/Icon SMI Donald Penn is making a name for himself in Tampa as the Bucs' starting left tackle.
That might sound like an extreme ambition for a guy who has been to precisely one Pro Bowl (last season).
"He loves to talk and talks about nothing all the time,'' said New Orleans defensive end
Will Smith
, who will line up against Penn on Sunday in the Mercedez-Benz Superdome. "He's a nice guy. I know him off the field. But on the field, he just loves to talk about anything. He loves to self-promote himself.''
In an interview with Sirius NFL Radio several weeks ago, Smith said Penn "talks as much as wide receivers,'' who are commonly known as big talkers. Smith said Penn can be anywhere from funny to entertaining to annoying on the field. The topics can change, but the talk never stops, said Smith, who has been playing against Penn for five seasons.
"He's made big strides as a player,'' Smith said. "But he's always been a talker.''
Penn doesn't deny any of that. He said he feeds off talking to opponents throughout a game.
"One of the things is, if you're going to talk you've got to back it up,'' Penn said. "I've been lucky enough to back it up.''
That may sound a little like the self-promotion Smith talked about. But the thing is Penn doesn't have to do all the promoting on his own these days.
"You can make an argument that Donald Penn is the best left tackle in football right now,'' former Pro Bowl tackle and current Westwood One Radio analyst
Tony Boselli
recently told The Tampa Tribune
. "He's athletic, he's powerful, he's a good run blocker and an even better pass blocker.''
"A very solid left tackle,'' said Matt Williamson of Scouts Inc. "They don't give him a lot of help and he doesn't really need it. People like to say you have to find a left tackle in the top 10 in the draft. But Penn is proof that you can get a good one outside of the top 10. Heck, the Bucs got him for nothing and that almost never happens with left tackles.''
It wouldn't be far off to say that Penn came out of nowhere. But the fact is he came out of Utah State. He had a shot at being drafted, but tore up his knee on the first play of the Hula Bowl in his final season. He showed up at the scouting combine, but was unable to work out.
"After that, I just fell off the map,'' Penn said.
He went through the 2006 draft without being chosen. He later signed with the
Minnesota Vikings
and landed on their practice squad. The Bucs signed Penn off Minnesota's practice squad later that season, thinking they were getting a guy who could be a career backup.
But it wasn't long before Penn talked – and worked – his way into a starting role. He began the 2007 season projected as a backup for veteran
Luke Petitgout
, who the Bucs had brought in from the
New York Giants
.
"I was always telling Petitgout I was going to take his job,'' Penn said.
Pretty soon, that's exactly what Penn did. Petitgout started four games in 2007 before getting injured. Penn started 12 games that season and hasn't missed a start since.
"Once I got that opportunity, I tried to do my best to not let it get taken away from me,'' Penn said. "You don't know when you're going to get an opportunity like that again.''
The talk of Penn as one of the league's best tackles didn't start right away. It's really just started to heat up in the last year or so. That coincides roughly with the timeline of when the Bucs made a big commitment to a guy who wasn't even drafted. At the start of training camp in 2010, the Bucs gave Penn a six-year, $48 million contract.
They paid him like a big-time left tackle. The contract might have changed the perception of Penn around the league, but he said he never viewed himself as anything less.
"I've always thought of myself in those terms,'' Penn said. "You need to think of yourself in those terms to be a great player. You have to have confidence. Thinking of yourself as the best, that's the most confidence you can have. I always knew I was good. I just needed a shot.''
Penn's become the most steady force on Tampa Bay's offensive line. In a season in which the 4-3 Bucs have been up and down, Penn has been perhaps the team's most consistent player.
In one three-game stretch, Penn had the task of blocking Atlanta's
John Abraham
, Minnesota's
Jared Allen
and Indianapolis'
Dwight Freeney
. He gave up only one sack (to Allen) and Penn's been getting a lot of praise from around the league.
"I'm going up against the best every week and I don't get nearly as much help as most tackles do,'' Penn said. "I appreciate finally getting the notoriety. Tampa is not a big media center, so you don't get as much attention. But I've been doing it for five years now and I've been doing it well. It feels good to finally get some recognition for it.''
But one Pro Bowl and a few nice comments don't add up to the Hall of Fame career Penn talks about and he knows that.
"That's my goal,'' Penn said. "I'm a long way away from it, but that's what I'm trying to reach. That's why I'm working so hard and playing so good because I want to get there. I want to be known as the best left tackle in the game when it's all said and done.''
Yeah, that's all down the road. But it no longer seems as impossible as it did when Penn was a practice-squad player. Maybe if he keeps talking big and playing the way he has recently, he just might meet his goal.
June, 15, 2010
6/15/10
1:00
PM ET
»
NFC Big Question
:
East
|
West
|
North
|
South
»
AFC
:
East
|
West
|
North
|
South
Will the New Orleans Saints be better in 2010 than they were in 2009?
[+] Enlarge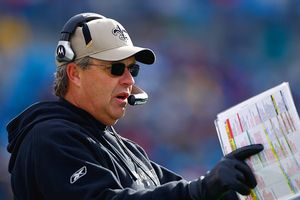 Scott Halleran/Getty ImagesIf Gregg Williams' defense improves, the Saints could have a repeat of last season's success.
We actually need to give credit to New Orleans defensive coordinator Gregg Williams for creating that question. While driving over the weekend, I caught a quick clip of Williams on Sirius NFL Radio and he was talking about how the Saints
could
be better this year.
He's got a point. Yeah, recent history hasn't been kind to Super Bowl champions as they head into the next season. We've already addressed many times how the Saints are going to be the big target on every opponents' schedule and about how things like legal issues and
Jeremy Shockey
fainting spells can be distractions. Those are all very valid points. Things like that have been the downfall for other teams and it could turn out the same way for the Saints.
But, for a change, let's play on Williams' statement and wonder why the Saints actually could be better. It's hard to repeat as a Super Bowl champion, but the way the Saints are set up, I don't think it's impossible. With
Drew Brees
in his prime, the offense isn't going to get any worse. In fact, I think the return of a healthy
Heath Evans
at fullback and positive contract resolutions with
Pierre Thomas
and
Jammal Brown
, the offense could be better.
The special teams already are very good. That brings us to the defense, which was the biggest question entering last season. All the Saints really lost on defense was linebacker
Scott Fujita
. He was a nice player, but the Saints have a lot of young legs to replace him.
With
Alex Brown
and
Jimmy Wilkerson
, they probably have upgraded on
Charles Grant
at defensive end. Their collection of defensive backs is as talented as any in the league. Williams knows this defense better than anyone else.
If he's saying the Saints could be better, it might be because he sees his defense getting even better.
March, 24, 2010
3/24/10
12:48
PM ET
ORLANDO, Fla. -- Some strong comments by New Orleans coach Sean Payton on the rule changes for overtime on Sirius NFL Radio this morning.

Payton
"Well, No. 1, I'm not a big fan of the rule that was just implemented," Payton said. "I'm going to have to probably spend a half hour explaining it to my wife or any fan that it's the regular season we're still in [sudden death] overtime, it's only in the postseason. In the postseason, now listen, if we score the first field goal then they get the ball back but if we score a touchdown the game's over."
Payton didn't stop with that.
"I hate it," Payton said. "I think the old system was an asset, not a liability. I think it was the most exiting overtime in our game. But I'm probably one of a few or one of a handful."
Payton definitely wasn't the only coach opposed to changing the overtime format. He spoke out against it before the rule change was voted on. Carolina coach John Fox also opposed the change.
But Carolina and New Orleans voted for the change. So did Tampa Bay and Atlanta. Only four teams voted against the change and the vote was done by team owners Tuesday afternoon when coaches and general managers were not in the room. Payton said he wasn't happy with the process.
"And not just the coaches now," Payton said. "The general managers were out eating lunch, golfing or whatever. That kind of got snuck in the back door interestingly at about 4 p.m."