August, 22, 2013
8/22/13
1:30
PM ET
When ESPN analyst Ron Jaworski watched the second half of the Super Bowl, he saw a
San Francisco 49ers
offense attack an "old and slow"
Ray Lewis
and
Ed Reed
. But, by upgrading the team's biggest weakness this offseason, Jaworski still believes the
Baltimore Ravens
are the team to beat in the AFC.
"Look at the offseason and the acquisitions they made," Jaworski said. "They get a
Michael Huff
, they get a
Matt Elam
, they get a
Chris Canty
and they get
Elvis Dumervil
. They've made changes to upgrade that defense. That alone still shows me they're the best team in the AFC."
That led to this response from Skip Bayless: "Ron Jaworski, you know how much I love you. But lord have mercy do I disagree with you on this one."
Click on the video right here to hear the rest of this debate
May, 16, 2013
5/16/13
6:40
PM ET
Seattle Seahawks
cornerback
Richard Sherman
's outstanding play warrants the kind of
in-depth study
Cian Fahey conducted analyzing Sherman's every snap from 2012.
It is Sherman's combativeness, outspokenness and good humor that make him one of the more compelling figures in the NFC West. But as Fahey concludes, Sherman's brain might be his most underrated asset.
A Stanford graduate's smarts should not be underrated, but Sherman makes focusing on style over substance so easy. He has, in his brief NFL career, dismissed receiver
A.J. Green
as
overrated
,
warned
quarterback
Peyton Manning
,
mocked
receiver
Michael Floyd
,
confronted
Tom Brady
, incited
Steve Smith
,
played Optimus Prime
to
Calvin Johnson
's Megatron,
baited
cornerback
Darrelle Revis
,
put down
receiver
Roddy White
,
dressed down
Skip Bayless,
watched practice
from a jetski and, perhaps most hilariously,
claimed to have hired
as a charity softball umpire one of the replacement officials notorious for his role in Seattle's controversial victory over Green Bay last season.
Sherman feeds off the attention, obviously. He has positioned himself prominently in any debate over which cornerback is best in the NFL, overshadowing a far more highly-drafted cornerback from his own division,
Patrick Peterson
, who goes about his business with only
occasional references
to his own prowess.
The analysis from Fahey affirms Sherman's status as a top cornerback while acknowledging that Revis, when healthy, faced more challenging assignments. Fahey concludes by pointing to Sherman's grasp of the rulebook, noting that the cornerback shoves down opponents once the quarterback leaves the pocket.
"This may seem like a cheap move to the uninformed, but it is the smartest way to stop receivers from making big plays against you," Fahey writes. "The quickness of thought to recognize the scenario and his understanding of the rules is something that not every player possesses, even at this level.
"Sherman finished last season with 64 tackles, one sack, three forced fumbles and eight interceptions. ... He is clearly an elite talent at the cornerback position who can play in a variety of schemes and scenarios against any type of opposition."
March, 7, 2013
3/07/13
6:15
PM ET
Seattle Seahawks
cornerback
Richard Sherman
has been making the media rounds recently to promote charitable causes important to him, including the "Students With A Goal" campaign featured
on the team's website
recently.
The media tour turned into a media beatdown Thursday when Sherman, known for his playful trash talk, turned serious in verbally attacking ESPN's Skip Bayless on "First Take."
Sherman was answering a question from co-host Stephen A. Smith when he went after Bayless, who had expressed the opinion that Sherman was not in the same class as
Darrelle Revis
as a top cornerback. At one point, Sherman used the words ignorant, pompous and egotistical to describe Bayless. He promised to "crush" Bayless "in front of everybody" because he's tired of the "ignorant pollution" Bayless puts forth on the show.
"I believe my numbers speak for themselves," Sherman told Smith. "My tape speaks for itself. My tape is my resume. That is what I leave it up to. You can say whatever you want. Skip can say whatever he wants. But Skip, whenever you refer to me, whenever you speak to me, whenever you address me, address me as 'All-Pro Stanford graduate' because those are some accomplishments you'll never -- you can aspire to, you'll never accomplish."
Sherman was just getting started.
"You have never accomplished anything," he continued, focusing on Bayless. "So, but, um, those things are on my resume, those are what I've done, it's my second year in the NFL going into my third. I mean, you tell me who's wrong."
Bayless: "OK, I'll accept that. I think I've accomplished more in my field than you have in yours, though you're just getting started."
Sherman: "So, I'm at the top of my field. I'm All-Pro. I'm one of the best 22 players in the NFL. You're going to brush it off, but I don't think you're the best 22 anything. In sports, in media, in anything."
Bayless: "That's debatable."
Sherman: "You think more of yourself than you actually can prove."
Bayless: "OK, do you think you are better than Darrelle Revis is right now?"
Sherman: "In my 24 years of life, I'm better at life than you."
Bayless: "OK, all right, that's fair, all right."
Sherman: "Let's get down to brass tacks."
Bayless: "Let's not get personal here. I just want to know --"
Sherman: "It's not personal. It's resume."
Bayless: "Do you think you're better than Darrelle Revis is right now?"
Sherman: "I'm better than you. I have nothing to say about him. That is pretty much done. My numbers speak for themselves."
October, 24, 2012
10/24/12
2:42
PM ET
Hall of Fame quarterback
Warren Moon
said there's a
troubling racial undertone
to the criticism of Carolina quarterback
Cam Newton
.
"I heard somebody compare him to
Vince Young
,'' Moon told Yahoo! Sports. "It's the same old crap -- it's always a comparison of one black to another black. I get tired of it.''
Moon also said it's wrong to suggest the second-year quarterback is a bust.
"I think a lot of this is because so many people want to say, 'I told you so' about him but couldn't because he was so good last year," Moon said. "I think people are overreacting. How can he be a bust? He just had one of the great years a rookie has ever had, and now he can't play? Come on."
Take a look and listen as Stephen A. Smith and Skip Bayless discuss Moon's comments.
July, 31, 2012
7/31/12
2:00
PM ET
ESPN analyst Stephen A. Smith has been one of
Tim Tebow
's harshest critics. Smith and "First Take" colleague Skip Bayless have been playing "bad cop" and "good cop" on the Tebow phenomenon for months and months.
But Smith seems to be
coming around on Tebow
– sort of.
"Up here in the land of nowhere, where all things green and white seem to revolve around a backup quarterback with rock-star appeal, the only thing newsworthy is that Tim Tebow appears to deserve it. His cordiality and decency are beyond comprehension. Apparently, so is the veneer of his soul. So much so that you find yourself wishing he played any position other than quarterback -- simply so he would never have to throw the football. Except, Tim Tebow has had to throw the football. Quite often, as the New York Jets entered their fourth day of training camp. And while doing so -- despite evidence that he knows how to win football games and is clearly in possession of an "it" factor few have been blessed with -- all the former Florida All-American has done is force anyone with two eyes to echo unflattering sentiments in unison, no matter how much it pains them to do so: Tebow simply cannot throw the football."
Everyone has an opinion Tebow. Mine happen to be more in line with Smith: Tebow is a solid, all-around football player, but you don't want him as your starting quarterback.
There are many who disagree with that assessment. But for now this is
Mark Sanchez
's team unless he struggles. Then, it could be Tebow time.
March, 19, 2012
3/19/12
12:10
PM ET
Skip Bayless was crowing even more than usual, reveling in his contention from the beginning that the
San Francisco 49ers
should pursue
Peyton Manning
.
The "First Take" video should get your blood pumping a little on a Monday morning. It becomes a free-for-all after Bayless makes a couple of initial points.
But with Manning choosing the
Denver Broncos
on Monday --
the news is now coming in from ESPN's Chris Mortensen and Adam Schefter
-- this discussion feels so five minutes ago.
One interesting point from Bayless: the likelihood that someone above 49ers coach Jim Harbaugh decided the team could not justify standing pat while Manning went elsewhere. We all know Harbaugh wanted to bring back
Alex Smith
. I also think we shouldn't mistake public support for unconditional support, and that the team's initial inability to re-sign Smith showed it wasn't willing to make him its undisputed long-term starter.
Harbaugh will have to lead the charge in making things right with Smith, assuming the 49ers still want to bring him back. More on that to come.
Editor's note: The video referenced in the post is no longer available.
November, 18, 2011
11/18/11
1:32
PM ET
»
NFC Final Word
:
East
|
West
|
North
|
South
»
AFC
:
East
|
West
|
North
|
South
Five nuggets of knowledge on Week 11:
Pursuing perfection:
Traditionally, talk of a 16-0 season ramps up once a team gets to 10 victories. The
Green Bay Packers
will reach that milestone Sunday if they defeat the
Tampa Bay Buccaneers
, losers of three consecutive games. The Packers also started 10-0 in 1962, a year they finished 13-1 and won the NFL title. Since the 1970 merger, 13 teams have started 10-0. Nine advanced to the Super Bowl and six of those teams won the title. It's worth noting that a victory Sunday would mean the Packers are 16-0 in their past 16 games, dating back to Week 16 of 2010 and including the playoffs.
[+] Enlarge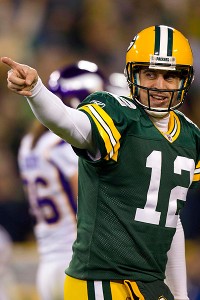 Jeff Hanisch/US PresswireIn two career starts against Tampa Bay, both losses, Aaron Rodgers has thrown six interceptions.
Rodgers revenge?
Packers quarterback
Aaron Rodgers
has lost both career starts to the Bucs. He threw twice as many interceptions (six) in those two games as he has in all nine games of 2011 combined (three). Both games were played at Raymond James Stadium, but you would be fooling yourself if you didn't think Rodgers would use those performances as motivation this week. And I'm guessing Rodgers will find room for another chip on his shoulder after ESPN analyst Skip Bayless called him
"thin-skinned"
and questioned
whether he will be a clutch player
late this season. (Bayless was responding to Rodgers' criticism of him
during this week's ESPN 540 radio show
.)
Into the Bears' den:
San Diego Chargers
quarterback
Philip Rivers
had committed an NFL-high 19 turnovers this season, including 15 interceptions and four lost fumbles. No other player has higher than 10 at this point. Suffice it to say, the
Chicago Bears
aren't a good matchup for a turnover machine. After forcing six turnovers last Sunday against the
Detroit Lions
, the Bears are tied for No. 2 in the NFL with 20 takeaways this season. They'll miss ball hawk nickel back
D.J. Moore
, but recent history suggests Rivers will give them multiple opportunities to make plays Sunday at Soldier Field.
The truth shall…:
The Lions blamed wind gusts for quarterback
Matthew Stafford
's inaccuracy last week,
downplaying the role of his fractured right index finger
. We should get a better idea of the injury's impact when the Lions host the
Carolina Panthers
at Ford Field, an indoor stadium free of all weather concerns. Stafford, who completed 52.3 percent of his passes and threw four interceptions against the Bears, continued to wear gloves in practice this week to help grip the ball. That alone speaks to the severity of the injury. Rare is a quarterback who prefers to wear gloves if they aren't absolutely necessary.
Something must give:
The
Minnesota Vikings
have been outscored in the second half more than every other NFL team this season (155-56). The
Oakland Raiders
aren't that far behind, ranking third after giving up 148 points in the second half so far this season and scoring 84 points. What does that tell us about Sunday's matchup between the teams at the Metrodome? The Raiders have done a better job surviving second-half comeback attempts. They're 5-4 and the Vikings are 2-7.

NFL SCOREBOARD
Thursday, 12/18
Saturday, 12/20
Sunday, 12/21
Monday, 12/22
WEEKLY LEADERS