NFL Nation:

Solomon Wilcots
December, 11, 2010
12/11/10
12:54
PM ET
A couple of former players turned analysts are suspicious about
Miami Dolphins
receiver
Brandon Marshall
's bad hamstring.
Steve Tasker
and
Qadry Ismail
told Palm Beach Post reporter Brian Biggane that
Marshall's injury seemed rather fishy to them
. Marshall left the Week 11 game against the
Chicago Bears
in the second quarter. He has missed the past two games and is questionable for Sunday's rematch with the
New York Jets
at the Meadowlands.
[+] Enlarge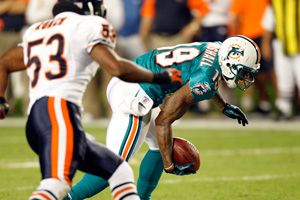 AP Photo/Paul SpinelliBrandon Marshall hasn't played since injuring his hamstring against the Bears in Week 11.
"When a guy pulls a hamstring at this point of the season, that tells me one thing and that is that he's not in shape," Tasker, a seven-time Pro Bowler and Hall of Fame semifinalist, told Biggane. "I could see it maybe very early in a game if he hadn't warmed up properly. But this happened well into [the Bears game], and he'd already been involved quite a bit. It was really a surprise to me."
This wasn't the first time a respected former player questioned Marshall's conditioning. NFL Network analysts
Sterling Sharpe
, Solomon Wilcots and Mike Mayock were
critical of Marshall's laziness in the waning moments
of a Week 3 home loss to the Jets.
Ismail suggested Marshall was quitting on the Dolphins. Ismail, a two-time 1,000-yard receiver who won a Super Bowl with the
Baltimore Ravens
, made a mental note of Marshall being worked on by trainers before the Bears game.
"It was like, 'I'm glad he's taking care of his body. It puts him in a better position to win,' " Ismail said. "But after that it caught me off guard to see him get hurt. And it's been surprising to me that it's taken him this long to come back from it. When guys do things differently, like he does, they normally come back a lot faster than that.
"I'll be curious to see how motivated he plays [Sunday against the Jets]. In other words, I'm not expecting too much."
Marshall's season has been a serious disappointment. The Dolphins made him the NFL's highest-paid receiver after acquiring him from the
Denver Broncos
for two second-round draft picks.
He has decent reception numbers but just one touchdown catch. In his past two games he has been flagged for chucking a ball into the stands and for throwing one at former Broncos teammate
Jay Cutler
on the Bears' sideline.
Marshall claimed he was keeping his lack of production in perspective.
"The great players around the league want to be put in position to help the team," Marshall said Thursday. "But sometimes, like Coach [Tony] Sparano taught me and is trying to teach me still, some days it's a shot glass and some days it's a wheel barrow.
"You got to understand that, and you just got to try to be mentally tough, and it's a struggle when you're used to catching a bunch of balls or being so involved. But we got to do what's best for the team and hopefully get a couple wins here and have some things fall into place for us and get in that postseason."
October, 3, 2010
10/03/10
12:29
AM ET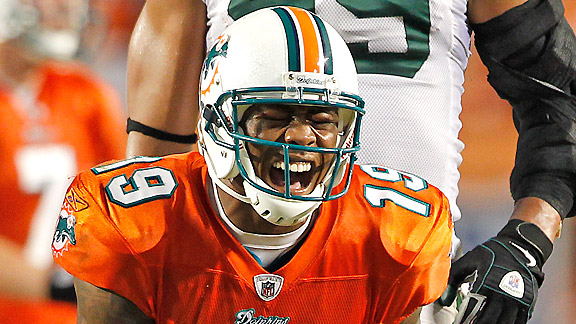 Joel Auerbach/Getty ImagesBrandon "The Beast" Marshall gets so intense before games, coordinator Dan Henning is working with him to dial it back so he conserves evergy.
Before a game,
Miami Dolphins
receiver
Brandon Marshall
becomes an animal.
Marshall loves being known as "The Beast," a persona developed over three straight seasons of 100-plus catches. He has dubbed the section that overlooks the players' tunnel in Sun Life Stadium's west end zone "Beast Alley" and expends considerable energy exhorting fans to reach full froth with him.
"He's a high-anxiety, high-energy guy," Dolphins offensive coordinator Dan Henning said. "You ought to see him before the game. He's like a caged tiger. I mean, literally like a caged tiger."
Rather than throw raw meat at Marshall, the Dolphins have been flinging tanned cowhide in his direction. At any point from opening kickoff until the game clock expires, he's hungry.
In one of the NFL's bigger offseason moves, the Dolphins acquired Marshall to unlock all sorts of new offensive possibilities.
After a relatively tame first two games, the Dolphins finally unleashed their manimal last week, and there's no reason to think he'll be subdued Monday night against the
New England Patriots
at Sun Life Stadium (ESPN, 8:30 p.m. ET).
"The guy is a monster,"
Buffalo Bills
cornerback
Terrence McGee
said before he faced Marshall on opening day. "He's one of the best receivers in the league, so you've definitely got to expect they're going to throw him the ball. That's what they brought him there for."
Marshall showed in Week 3 why the Dolphins traded a pair of second-round draft choices to the
Denver Broncos
and then signed him to a beastly four-year, $47.5 million extension.
With quarterback
Chad Henne
throwing for a career-high 363 yards, Marshall had 10 catches for 166 yards and his first Dolphins touchdown in a home loss to the
New York Jets
. The yardage tied for the second most of Marshall's career.
Marshall also ran twice for 3 yards and made his first Wildcat cameos. Dolphins running back
Ronnie Brown
tried to throw deep to him once.
"He's definitely a go-to player for them," Patriots coach Bill Belichick said of the 6-foot-4, 230-pound Marshall. "They get the ball to him in a lot of different situations.
"He's big. He's like a tight end. He's huge for a receiver. He can go up and get the ball. He's a strong runner with the ball in his hands and good after the catch. He's got good speed, good quickness, good receiving skills. He's a tough guy to match up against."
The best way to negate The Beast might be when he tuckers himself out.
One of the hot topics in South Florida the past week was Marshall's energy level against the Jets in the sweltering heat. Henning revealed Marshall was so drained in the first half Sunday night that he went to the locker room early to receive intravenous fluids.
NFL Network analysts Sterling Sharpe, Solomon Wilcots and Mike Mayock faulted Marshall's lack of effort on the final set of downs with the Dolphins desperate for a touchdown. Marshall got them to the Jets' 11-yard line with a 30-yard catch and run
but then disappeared over the next four downs
.
"He's on the field, and he's wound up really tight before the game," Henning said. "So we're working on that, to try to get him to be patient and utilize all that energy in the game and not expend it too soon."
Said Marshall: "I'm just so passionate, and I guess when we get on that football field a lot of emotions come out, and I just turn into a different person. I think that's what helps me be successful in my young career."
It might be tough to get Marshall settled down for the Patriots because their secondary likely is causing him to drool.
[+] Enlarge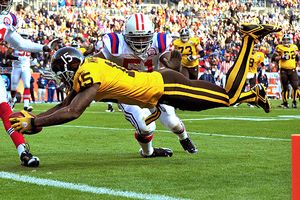 Ron Chenoy/US PresswireBrandon Marshall had eight catches, including two for touchdowns, in the Broncos' 20-17 win over the Patriots last season.
Conditions are right for Marshall and Henne to have another gigantic game.
For the Denver Broncos last year, Marshall had eight receptions for 64 yards and both touchdowns in a 20-17 overtime victory over the Patriots, whose secondary was more stable then compared to now.
The Patriots' pass defense has been lenient so far and chaotic in terms of personnel. Veteran cornerback
Leigh Bodden
and safety
Brandon McGowan
were placed on injured reserve, ending their seasons before they began. Pro Bowl safety
Brandon Meriweather
lost his starting job in Week 2. Cornerback
Darius Butler
lost his last week.
Belichick said limiting Marshall's infamous yards after the catch is "a top priority."
The Patriots' defense has allowed an NFL-high seven touchdown passes. It has surrendered at least two in each game. Quarterbacks have completed 69.4 percent of their attempts, are averaging 260.3 yards and have a 101.3 passer rating against New England.
You can expect Marshall's appetite to be voracious, whether it's Henne throwing the ball or even Brown.
"Oh, absolutely," Marshall said. "I want the ball every play. What receiver doesn't?"
September, 30, 2010
9/30/10
7:00
PM ET
To have an opinion on
Brandon Marshall
, you better be a coach or a Hall of Famer.
Nobody else is qualified, apparently.
[+] Enlarge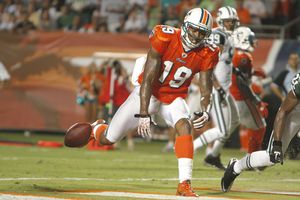 AP Photo/J Pat CarterBrandon Marshall had 10 receptions for 166 yards and a touchdown Sunday against the Jets.
On the latest edition of the NFL Network's "Playbook," analysts
Sterling Sharpe
, Mike Mayock and Solomon Wilcots
criticized Marshall for fading at the end
of Sunday night's 31-23 home loss to the
New York Jets
.
Marshall responded Thursday by essentially saying the analysts are not qualified to scrutinize him.
"Those guys are players, former players," Marshall said. "They never coached. So they need to continue to do what they do best and stop worrying about other things that they don't know anything about."
Marshall later added: "What those guys are saying, that's just them trying to sound good and sound like they know what they're talking about. ... I don't honestly think those guys were elite players, including Sterling Sharpe. I got to turn on the film and see what he was able to do. I know he's done some good things, but from my understanding he's not a Hall of Fame guy."
Marshall had 10 receptions for 166 yards and a touchdown Sunday night.
"The guy played probably 60-something plays the other night," Dolphins coach Tony Sparano said, "and if I remember correctly with about four plays left in the game caught one and ran it down. So he looked OK to me then."
Mayock used the Telestrator to point out a seeming lack of effort on the final set of downs after Marshall made a 30-yard catch and run. I
selected that play as the AFC East's decisive moment
because Jets safety
Brodney Pool
might have saved the game with his tackle at the Jets' 11-yard line.
Chad Henne
threw an incomplete pass to Marshall on first down, scrambled because of coverage on second down, dumped to
Ronnie Brown
for 5 yards on third down and ended the game with an interception.
Mayock said Marshall was jogging and didn't step up "in money time" throughout that sequence. Wilcots said "a playmaker, a true gamer has to be in great condition to be able to close out games."
"Brandon, you have to give us more," Sharpe said. "Bill Parcells has a great saying that I stole, working with him in TV: 'Don't complain. Don't explain.' You are the guy down in South Florida. If they're going to throw the ball, you are the first option. What Mike just showed us, I'm going to give you a pass on that. That was one game this year. You're getting used to the Florida heat.
"Brandon Marshall, from now on, you, my friend, are going to have to bring it."
Mayock and Wilcots are former NFL safeties. Sharpe was an All-Pro three times and a Pro Bowler five times in seven NFL seasons.
Sharpe likely would have been a Hall of Famer had a neck injury not forced him to retire at 29 amid concerns of paralysis or possibly death because of loose vertebrae. Sharpe left as the
Green Bay Packers
' all-time receiving leader.
Marshall would be fortunate to have a career that successful and blessed to retire on his terms rather than be forced to leave the game because of a serious injury.
Marshall hasn't been selected for an All-Pro team yet, but he could make a few if he stays healthy. He also could be a Hall of Famer someday -- and thereby become certified to render an opinion on another receiver.