NFL Nation:

Sonny Jurgensen
January, 7, 2014
1/07/14
1:15
PM ET
It's not the sort of award anyone wants to win -- and it's certainly not one they want to repeat. But it does serve as recognition for how a player responds to adversity. And that's why
Robert Griffin III
was named the
Washington Redskins
' Ed Block Courage Award winner.
Griffin
The award honors how RG III overcame his knee injury, returning to start the season opener eight months after surgery to reconstruct the ACL and LCL in his right knee. Griffin completed 60.1 percent of his passes for 3,203 yards, 16 touchdowns and 12 interceptions in 13 games. He was inconsistent all season, but did not miss any time until being benched for the final three games. He's one of only five Redskins quarterbacks to throw for more than 3,000 yards in consecutive seasons, joining Sonny Jurgensen, Joe Theismann,
Mark Rypien
and
Jason Campbell
.
"Robert's commitment this offseason helped him fully recover from a major knee surgery," Redskins head athletic trainer Larry Hess said in a release. "His passion and dedication toward his profession motivated him throughout this process and made working with him enjoyable. He is well deserving of this award."
Griffin said in a release: "It's an honor to be selected by my teammates to receive this award. I received a tremendous amount of support throughout the rehab process from my teammates, the doctors, the trainers and everyone involved in the organization. This award is not only a testament to how hard I worked to return, but also a testament to the support system I've had around me for the last 12 months. I'm grateful for their hard work and support and look forward to preparing for the 2014 season."
Guard
Kory Lichtensteiger
won the award last season and
Stephen Bowen
won it in 2011. It's named for the former longtime trainer of the Baltimore Colts.
September, 5, 2012
9/05/12
1:00
PM ET
We do "Final Word" on Fridays, when we offer our famous "five nuggets of knowledge" about the division's games that week. I'm going to do that Friday, have no fear, but by then only two of the NFC East's four teams will have yet to play their Week 1 games. So, with the
Dallas Cowboys
and the
New York Giants
set to kick off the NFL season Wednesday night in New Jersey, I thought I'd offer five nuggets of knowledge about tonight's game, with the help of ESPN Stats & Information:
The worth of Witten.
Over the past three years, according to Stats & Info's "next level" numbers, Cowboys quarterback
Tony Romo
has completed 73.5 percent of his passes to tight end
Jason Witten
. During that same time period, the only higher percentage among quarterback-tight end combos was the 75.3 percent that
Peyton Manning
completed to
Dallas Clark
in Indianapolis. Witten is doubtful for tonight's game with a spleen injury.
[+] Enlarge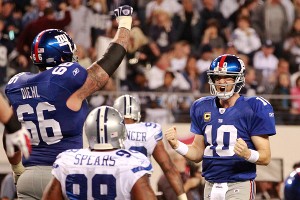 Tim Heitman/US PresswireEli Manning has feasted on Cowboys defenses, throwing 31 touchdown passes in 15 career games against Dallas.
Breaking the Boys.
Giants quarterback
Eli Manning
has 31 career touchdown passes in 15 career regular-season games against the Cowboys. That's his highest total against any opponent, and only three quarterbacks in NFL history have thrown more touchdown passes against the Cowboys: Jim Hart (35 in 24 games), Phil Simms (34 in 23) and Sonny Jurgensen (33 in 22).
Wednesday wonder.
According to the Elias Sports Bureau, there has not been an NFL game played on a Wednesday since Sept. 22, 1948, when the Rams beat the Lions 44-7. The NFL's kickoff game has been held on Thursday nights in recent years, but this year's was moved to Wednesday so as not to conflict with President Barack Obama's acceptance speech Thursday night at the Democratic National Convention. On a personal note, after tonight, I will have covered an NFL game on every day of the week other than Friday. Yes, I was at the Tuesday night game between the Vikings and the Eagles in Philadelphia two years ago.
Beginner's luck?
The Cowboys and the Giants have played five times in season openers, and the Cowboys are 5-0 in those games (by a combined score of 194-72, by the way!). The last time they met in a season opener was 2007. The Cowboys won that game 45-35 and went on to finish 13-3 and win the NFC East. But they would lose a home playoff game that season to the 10-6 Giants, who went on to win the Super Bowl.
Keep 'em in coverage.
Don't expect the Cowboys to blitz much tonight. Dallas sent five or more pass-rushers on just 34.5 percent of its opponents' pass plays in 2011, and their numbers when they did so ranked near the bottom of the league. While they've upgraded at cornerback with
Brandon Carr
and
Morris Claiborne
, that doesn't necessarily mean they should be more aggressive in this game against Manning. The Giants quarterback threw 18 touchdown passes last year when teams sent five or more pass-rushers at him -- the most of any quarterback in the league against the blitz.
May, 10, 2011
5/10/11
1:00
PM ET
What key event significantly changed the fortunes of the Redskins --for better or worse? Give us your take and we'll give you our definitive moment on May 27.

The Redskins have been so dysfunctional for most of the past decade that it's easy to forget why their fans have been so frustrated. Remember, this used to be one of the most reliable franchises in all of pro football. The Redskins were defined by shrewd personnel decisions, such as the deal that brought quarterback Sonny Jurgensen to town in 1964. They were blessed with one legendary coach who was known for his vibrant, infectious nature (George Allen) and another so cerebral that he looked like he was teaching a calculus course from the sideline on game days (Joe Gibbs).

Then Daniel Snyder bought the team in 1999 and everything changed. This isn't to say that Snyder doesn't want to win as much as his predecessors. It's just that he hasn't quite discovered what it took to create the history that his fan base fondly remembers.

What those people know all too well is that there was a time when it didn't matter who wore the uniform; the team just won year in and year out. There was an undeniable style to the Redskins, a certain business-like approach that set them apart from everybody else and resulted in memorable championship runs. This is still a team that won three Super Bowls under Gibbs with three different quarterbacks, and that accomplishment says plenty about this organization's consistency. That dependability helped make Washington one of the most valued franchises in all of professional sports. It's also the biggest reason that supporters still expect so much from it.

What is your Redskins defining moment? If you vote Other, give us your suggestion in the comments area below.
February, 5, 2011
2/05/11
8:30
PM ET
By
Matt Mosley
| ESPN.com
DALLAS -- The Redskins had a pretty good feeling that linebacker Chris Hanburger would be voted into the Hall of Fame, so they gathered some quotes from his former teammates. And by the way, the footage of Hanburger clotheslining running backs and quarterbacks was pretty remarkable. Folks in the audience were gasping as he clotheslined Cowboys quarterback Don Meredith in the late 1960s.

Here are a few quotes on Hanburger:

Larry Brown, former running back: "He should have been inducted long before now based on him being to the Pro Bowl nine times. That's a significant accomplishment. He was very quiet and that was kind of hard for him to do. I thought in most situations, he allowed his performance to speak for him."

Sonny Jurgensen, quarterback: "He was serious. He played the position differently. He took full advantage of his quickness and his great anticipation. He had great anticipation, reading snap counts and figuring out what the offense was doing. He was really a great linebacker. Every game you would get 100 percent from him."

Brig Owens, defensive back: "He was a great player, very fast and he was one of those rare linebackers who had a lot of speed. He wasn't your typical large linebacker, but the way he played the game, you expected him to be there on every play. He was a student of the game, a great teammate and a friend."
July, 28, 2010
7/28/10
9:12
PM ET
Of all the reasons
Brett Favre
might cite for playing one more season, I think we've found the most interesting. Jason Vida of ESPN's Stats & Information points out that Favre certainly won't want to be known as the best quarterback in the history of the NFL to throw an interception on the final pass of his career.

Favre
As you might have heard,
New Orleans Saints
cornerback
Tracy Porter
intercepted Favre at the end of regulation in the NFC Championship Game, and the Vikings did not get a possession in overtime. If that turns out to be the last pass of Favre's career, he would immediately jump to the top of a well-researched list Vida recently sent my way.
So check it out as we continue to count down the minutes until the start of training camp:
10.
Kordell Stewart
(Dec. 28, 2003)
9.
Jake Plummer
(Dec. 31, 2006)
8.
Scott Mitchell
(Nov. 25, 2001)
7.
Jim Harbaugh
(Nov. 12, 2000)
6.
Trent Green
(Nov. 23, 2008)
5.
Phil Simms
(Jan. 15, 1994)
4.
Drew Bledsoe
(Oct. 23, 2006)
3. Ken Stabler (Oct. 21, 1984)
2. George Blanda (Dec. 21, 1975)
1. Sonny Jurgensen (Dec. 22, 1974)
December, 25, 2009
12/25/09
4:04
PM ET
»
NFC Final Word
:
East
|
West
|
North
|
South
»
AFC
:
East
|
West
|
North
|
South
Five nuggets of knowledge about Week 16: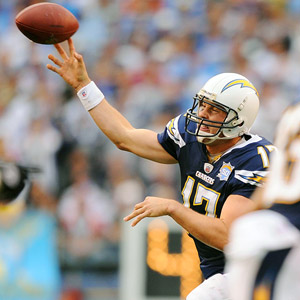 Christopher Hanewinckel/US PresswirePhilip Rivers may find increased success with short passes underneath against the Titans.
Chargers quarterback Philip Rivers throws deep well
, but shorter stuff might be more effective Friday night at Tennessee. The Titans and the Lions allow the highest completion percentage on balls thrown 10 yards or less -- 74.5. Much of that is by design. Jeff Fisher and his team are willing to give up small gains. But break a tackle against a defense with two young linebackers (
Gerald McRath
and
Colin Allred
) subbing for
Keith Bulluck
and
David Thornton
, and a short gain could be a long one. One aside: The Titans lost their first two home games this season by a cumulative score of 65-40. They've won their past five at LP Field by a combined score of 165-78.
Dallas Clark's next 100-yard receiving game
will be the eighth of his career, which will match Hall of Fame Colt John Mackey's total. Clark's got the most tight end TDs in the NFL since 2007 with 27, leading
Antonio Gates
by four.
Peyton Manning
and Clark have connected on 41 touchdowns. They trail only two duos in history: Sonny Jurgensen and Jerry Smith of the Redskins (43) and
Drew Bledsoe
and
Ben Coates
of the Patriots (45).
Matt Schaub can thank his sure-handed wide receivers
for the career year he's having. Among wide receivers who have been targeted on at least 45 passes this season, nobody has caught a higher percentage than
David Anderson
(80.4), while teammate
Kevin Walter
is third on the list at 77.4. The Texans are third in the league with an on-target/drop percentage of 5.3, according to ESPN Stats & Information. It's also a testament to Schaub's accuracy.
The Jaguars' interior line play hasn't been great
this season in protecting
David Garrard
from the rush, but it must be doing something right when
Maurice Jones-Drew
gets the ball. He should get a good deal of carries up the middle at Gillette Stadium Sunday. Stats & Info says Jones leads the NFL in rushes and yards up the middle this season. New England's interior run defense has been suspect this season. MJD has 202 of his 278 carries up the middle this season for 834 yards and seven touchdowns. The Patriots allow 4.3 yards per carry up the middle, and that number's been 5.9 in their past two games.
The Jets blitz a bunch.
Manning doesn't flinch when teams send extra rushers. According to Stats & Info, the Jets send at least five players after the quarterback on 55.7 pct of passing plays, by far the highest percentage of any team in the league. But Manning is completing 70 percent of his passes against the blitz this season and has a passer rating of 106.8 against five or more rushers. Jets' opponents have completed 49.6 percent of their passes against blitzes, while Manning's hit on 69.9.