NFL Nation:

Spencer Johnson
October, 30, 2011
10/30/11
10:48
PM ET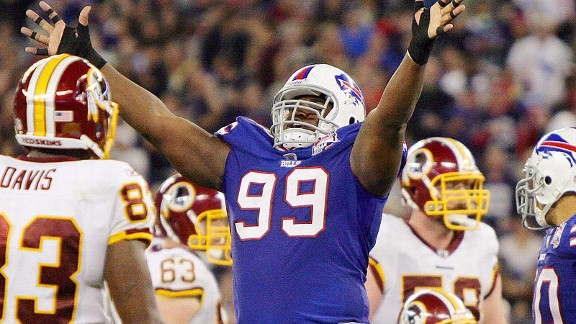 Luc Leclerc/US PresswireMarcell Dareus and the Bills' D knocked John Beck around -- sacking Washington's QB nine times.
TORONTO -- We are entering the month of November and guess who's in first place in the AFC East?
Yes, ladies and gentlemen, it is the surprising
Buffalo Bills
(5-2).
Not only that, the offensive-minded Bills are starting to get improved play from their much-maligned defense near the midpoint of the season. That is a scary proposition.
What also is scary is the way the Bills played on Sunday. The Bills exploded out of their bye week, pummeling the
Washington Redskins
23-0
in one of their most complete games of the season. Buffalo is back in first place via the head-to-head tiebreaker over the
New England Patriots
(5-2), who lost to the
Pittsburgh Steelers
.
The Bills went against every defensive trend it had this season against Washington (3-4).
Buffalo was the 31st-ranked defense entering Week 8, but held Washington to 178 yards. The Bills allowed 24.5 points in the first six games, but pitched a shutout for the first time since Dec. 17, 2006. Buffalo was last in the NFL with four sacks but astoundingly had nine against Redskins quarterback
John Beck
. It was the second-most sacks for Buffalo in franchise history.
It's safe to assume the offense will be there for the Bills. Buffalo has scored at least 20 points in every game this season. But how scary can the Bills be if their defense plays this well in the second half of the season?
"We can be unstoppable," Bills defensive lineman
Spencer Johnson
(one sack, one blocked field goal) said. "Everybody knows what our offense is capable of. We showed what we can do as a defense when we prepare and play together."
Bills first-round pick
Marcell Dareus
, who had his best game as a pro with four tackles and 2.5 sacks, also felt confident about the direction of the defense.
"I think the sky is the limit," Dareus said. "A lot of people questioned us stopping the run, playing flat and [not] playing a whole game. I think this is the first complete game our team has played. I think it's only the beginning."
The overall feeling in Buffalo's locker room was that the defense knew it had this kind of performance in them. The Bills didn't feel they were nearly as bad as their defensive numbers suggested.
Buffalo's ability to disrupt Beck with ease led to a snowball effect for Washington.
The Redskins' banged-up offensive line was dominated at the line of scrimmage. Washington couldn't get the running game going (26 yards) and couldn't protect Beck long enough to make plays downfield. Beck was sacked nine times by eight Buffalo defenders.
Some weeks Buffalo had been close to getting sacks but couldn't finish. This week the Bills made the most of their opportunities.
"That would be the biggest understatement of the year -- that was amazing to go get nine sacks against that team," Bills coach Chan Gailey said. "They really worked hard at it during the bye week. ... I'll be honest with you, I didn't expect that."
Now, we have an interesting three-team race in the AFC East. The Bills (5-2), Patriots (5-2) and
New York Jets
(4-3) are all one game apart in the division. The AFC East is wide open and only two of these division teams most likely will make the playoffs.
Each team has its flaws. The Jets' weak link has been their inconsistency on offense, while New England and Buffalo have been up-and-down on defense.
That's why it was huge for Buffalo to put forth this defensive performance. The Bills at least put on film what they potentially can be on defense. It also provides much-needed momentum.
"As a group it feels like we are finally getting to the point where we're together," Dareus said. "We've been trying to find that mold, that right fit at safety, corner, D-linemen up front. It's that good combination where we can really go out there and stop the run and get after the quarterback."
Beating a struggling Washington team was key for Buffalo. The Bills did themselves a great service by padding their record before a tough upcoming stretch.
The Bills will play three road games in November. But next week's home game against the Jets might be the biggest to date.
New York, which has won two in a row, also is playing great football. The Jets had two weeks to prepare. Therefore, expect coach Rex Ryan and Co. to throw everything they have at the Bills.
The first-place Bills put themselves in position to control their own destiny. Playing the Jets twice in November could turn out to be elimination games for one of them.
"New week is huge," Bills safety
George Wilson
said. "We're going back into the division, what we call 'two-fors.' By beating our division opponent, you essentially go up on them two games. So we have to continue to challenge, to be able to win our division so we're not having to depend on anybody."
March, 4, 2011
3/04/11
1:26
PM ET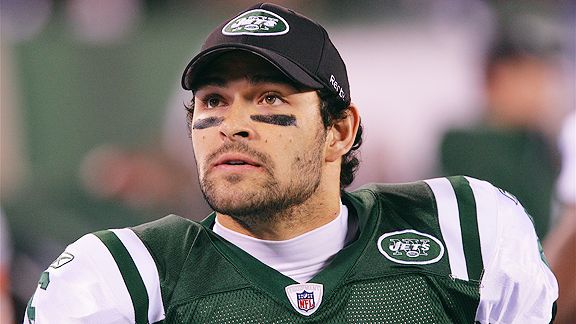 Richard A. Brightly/Icon SMIMark Sanchez is set to earn $14.75 million in base salary next season, the most in the AFC East.
Sports labor squabbles often are described as billionaires arguing with millionaires over money.
While that's a catchy rhyme that sums up fan frustration, the phrase is not entirely true.
Inspired by a blog entry from the
minister of all things AFC South, Paul Kuharsky
, I looked at NFL Players Association files to count up the number of AFC East players scheduled for $1 million base salaries in 2011.
Granted, up-front bonuses and incentives can make base salaries misleading. But base salaries are the only figures that create a common ground, player for player.
You'll see a vast majority of NFL players make much less than $1 million a year. Although many will make seven figures before they walk away from the game, careers are short and treacherous. They'll never see that kind of cash again for the rest of their lives.
That's why they're fighting for every dollar now.
Of the 226 players under contract in the AFC East, only 62 of them (27.4 percent) will make base salaries of $1 million or more.
The NFLPA hasn't acknowledged any franchise tags that have been signed. Those players are marked with an asterisk and not factored into the totals.

Buffalo Bills
Base salaries of $1 million or more:
19
Players under contract:
54
Percentage of roster making $1 million or more:
35.2

Miami Dolphins
Base salaries of $1 million or more:
15
Players under contract:
55
Percentage of roster making $1 million or more:
27.3

New England Patriots
Base salaries of $1 million or more:
14
Players under contract:
60
Percentage of roster making $1 million or more:
23.3

New York Jets
Base salaries of $1 million or more:
14
Players under contract:
57
Percentage of roster making $1 million or more:
24.6
November, 28, 2010
11/28/10
1:00
PM ET
ORCHARD PARK, N.Y. --
Aaron Maybin
will wear shoulder pads on Sunday.
Maybin, the struggling
Buffalo Bills
outside linebacker, doesn't appear on the inactive list for Sunday's game against the
Pittsburgh Steelers
in Ralph Wilson Stadium. The 11th pick in last year's draft has been a healthy scratch the five previous games.
These players have been deactivated:
Pittsburgh Steelers
Buffalo Bills
November, 7, 2010
11/07/10
4:45
PM ET
TORONTO -- The
Chicago Bears
' supposedly stout defense took somewhat of a thrashing in the club's
22-19 triumph
over the winless
Buffalo Bills
on Sunday, raising concerns about how the unit will perform in the coming weeks.
But let's not lose sight of the fact it was the defense -- namely
Chris Harris
' game-sealing interception, and a pick by
Tim Jennings
that allowed Chicago to take the lead -- that actually saved the Bears from losing their fourth game in five outings.


Before getting too deep into all of that, though, here's our quick reaction to the game:
Body-language examination
:
Jay Cutler
appeared to cough-up the game in the fourth quarter when
Spencer Johnson
dropped him for a 7-yard sack and fumble that Buffalo turned into a 19-14 lead with 10:27 left to play.
Cutler slammed his helmet to the ground in front of the bench after walking to the sideline after the play. But the quarterback immediately asked the coaches for printouts of pictures of the defense from that drive as he talked to backup quarterbacks
Todd Collins
and
Caleb Hanie
.
So instead of detaching from the contest, Cutler immersed himself, which allowed him to make up for the mistake two drives later.
Operating off a drive set up by a Jennings interception with 9:03 left to play, Cutler drove the Bears 23 yards in six plays to take the lead at 20-19 on his 2-yard touchdown pass to
Earl Bennett
. Cutler added to the lead by converting the two-point conversion on a shovel pass to
Matt Forte
.
Cutler has showed the propensity in the past to let mistakes affect him so drastically, which diminishes his impact on any potential comeback attempt. Cutler didn't let that happen against the Bills, and the Bears benefited.
Harris resurgence
: Defensive tackle
Tommie Harris
says he's been happier lately about the way he's performing.
He's finally showing it.
A seven-year veteran, Harris posted a sack for the first time since Dec. 13 of last season, when he dropped
Ryan Fitzpatrick
in the fourth quarter. After starting the first two games, Harris was inactive in Week 3, and his playing time had gradually decreased prior to the last two weeks.
Idonije blocks streak
: Playing in his home country, Bears defensive end
Israel Idonije
blocked
Rian Lindell
's extra point in the third quarter Sunday, snuffing out the kicker's streak of consecutive PATs, which was the NFL's longest to start a career.
Lindell had connected on 321 consecutive extra points prior to Idonije's block with 3:03 remaining in the third quarter.
Run-pass ratio improves
: The Bears dominated time of possession in the first half 17:52 to 12:08 by finally delivering on their promise to insert more balance. The Bears weren't exactly productive with the running game, considering they gained 44 yards on 15 attempts in the first half.
Still, the mix of runs with play-action passes kept Buffalo off balance, likely paving the way for
Greg Olsen
's 4-yard touchdown pass from Cutler in the second quarter.
The Bears called runs on their first four plays from scrimmage, and finished the first quarter with a run-pass ratio of 9 to 16.
Major Wright sighting
: Having missed five games because of a severely pulled hamstring, Wright saw his first action since Week 2, when he entered the contest with 12:06 left in the second quarter.
Wright replaced Chris Harris for one 10-play series, but didn't register any statistics. Wright didn't return in the second half.
Blown shot
: If there's an opportunity, look for the Bears to find a way to blow it. The club demonstrated that in the second quarter when it squandered a chance to take a 14-0 lead by committing three penalties in four plays from the red zone.
Just after the two-minute warning with Chicago holding possession at the Buffalo 14, right guard
Roberto Garza
committed a false-start penalty. On the very next play, Cutler was called for a false start when
Olin Kreutz
failed to snap the ball in a timely manner, causing the officials to back up the Bears to the Bills' 24.
Three plays prior, officials called the Bears for an illegal shift.
Making matters worse was the fact that
Robbie Gould
-- the third-most accurate kicker in NFL history -- pushed his 42-yard field goal attempt at the end of the drive wide right, forcing the Bears to walk away empty handed.
Buffalo tied the score on the ensuing drive with a 14-yard scoring strike from Fitzpatrick to
Roscoe Parrish
.
What's next
: Chicago returns home to host the
Minnesota Vikings
Nov. 14 at Soldier Field.
March, 23, 2010
3/23/10
10:56
PM ET
ORLANDO, Fla. -- Up until this week, the
Buffalo Bills
' front office didn't have much to say. In a couple of news conferences, new general manager Buddy Nix and Chan Gailey couldn't provide much of a roster analysis, repeatedly citing their "evaluation process" to learn what material they have to work with.
Now their ideas are starting to emerge.
Gailey gabbed between bites of muffin at an AFC coaches breakfast Tuesday morning. The get-together was part of the NFL owners meetings at the Ritz-Carlton Orlando Grande Lakes.
I've already posted on some of Gailey's thoughts, including his
interest in drafting a scatback
and his
thoughts on University of Florida quarterback
Tim Tebow
.
But here are a few more for ravenous Bills fans hungry for information on how their team's front office views the team:
Preference to have quarterback situation settled before draft:
Gailey said he would like for the Bills' quarterback ambiguity to gain definition.
"That would be ideal," Gailey said. "You'd like to have everything settled before you went into the draft. The problem comes if you don't solve an issue before the draft. Then you have to try and solve it in the draft. Then if you don't solve it before the draft or in the draft, now your back's to the wall and everybody knows it. That's a bind you get into. Now they can hold you up."
No update on Schobel:
Gailey said he's still waiting to learn whether two-time Pro Bowl pass-rusher
Aaron Schobel
will return to the Bills or retire.
"The biggest thing for him is his family," Gailey said. "He's been moving his kids back and forth. He wants to get them a little bit more established I think. Now, if he does that, then does he want to be gone for that long? That's a tough call, to be honest with you.
"I can see his dilemma. I'd love for him to play, but I understand being a husband and a daddy, too."
Defensive front seven:
Gailey declined to name starters or designate a nose tackle, but he sketched out who will play where in the new 3-4 defense. On the defensive line, he listed
Dwan Edwards
,
Spencer Johnson
,
Marcus Stroud
,
Kyle Williams
. At inside linebacker, he named
Andra Davis
,
Paul Posluszny
and
Kawika Mitchell
. At outside linebacker, he named
Chris Ellis
,
Chris Kelsay
,
Aaron Maybin
and Schobel.
Intrigued by Bell at left tackle:
Many looked at
Demetrius Bell
's season at left tackle and saw a train wreck. Gailey was shocked at how well Bell performed relative to how raw he was coming out of Northwestern State. But it sounded like Gailey viewed Bell as more of a work in progress than a genuine NFL left tackle.
"I was shocked at how well he played because I watched him just like everybody else did and said 'That guy is a loooong way away' when he was coming out and being drafted," Gailey said. "I was impressed with how he played last year. Everything's relative. I was impressed because of where he was compared to where I thought he would be, not because he's a seasoned pro, ready to take on the world and be an All-Pro player. But I was impressed with how far he'd come."
When asked how Bell looks as a reliable left tackle, Gailey's response was tempered.
"Got a lot of work to do, but has a lot of ability and a chance to get there," he said.
October, 31, 2009
10/31/09
1:48
PM ET
Posted by ESPN.com's Tim Graham
Indianapolis Star reporter Phil Richards wrote a piece this week about the
spike in roughing the passer calls
thanks to the so-called
Tom Brady
rule.
There has been a lot of whining from defensive players and pundits. They've mocked the rule as one step closer to two-hand touch.
After Brady theatrically gestured to an official, who threw the flag on
Baltimore Ravens
linebacker
Terrell Suggs
for roughing, Brady's old teammate, Rodney Harrison, jokingly
told Brady to take his skirt off
and play like a man.
Richards noted there have been 38 roughing the passer calls so far this year, a pace that projects a 36.2 percent increase over last year's total.
The NFL doesn't differentiate a "Brady rule" penalty from any other roughing the passer call. So it's difficult to tell which flags were thrown specifically for the new rule, which protects quarterbacks from defender's lunging helmet -- or shoulder-first at a quarterback's legs (defenders are allowed to use their arms and wrap in that area).
AFC East players have been responsible for six of the 38 calls.
The Patriots lead the way, and are third in the NFL, with three roughing the passer penalties. Nose tackle
Vince Wilfork
and linebacker
Adalius Thomas
were called for it on opening night on
Buffalo Bills
quarterback
Trent Edwards
.
Ty Warren
was charged in Week 5 on
Denver Broncos
thrower
Kyle Orton
.
Buffalo has been whistled twice: linebacker
Kawika Mitchell
in Week 2 and defensive lineman
Spencer Johnson
last Sunday.
Miami Dolphins
defensive end
Kendall Langford
has his team's only roughing call. His came in Week 4.
The
New York Jets
have not been called for roughing the passer, which is noteworthy given how often they blitz.
August, 23, 2009
8/23/09
10:12
AM ET
Posted by ESPN.com's Tim Graham
A few thoughts on the Buffalo Bills' shoddy performance Saturday night in a 31-21 loss to the Green Bay Packers at Lambeau Field:
Bills fans have to love the comments from head coach Dick Jauron. Yes, I'm being sarcastic.
"It was a disappointing night," Jauron said. "The good news is that it's preseason. We knew we had a long way to go, and this should show us that we have a long way to go. We've got to get back to work on Monday."
But why do the Bills have such a long way to go? They opened camp a week earlier than the rest of the league and have played an extra exhibition because they were in the Hall of Fame Game.
In the first half, the Bills donated four turnovers, allowed three sacks and had five plays for negative yardage. For the game, they committed 12 penalties for 123 yards.
The Bills' first-teamers should look sharper than their opponents right now. They do not. Reserves and players who won't make the team scored all of Buffalo's points in the second half.
Trent Edwards doesn't look any more comfortable than he did last year. Edwards is entering his third NFL season and second as Buffalo's starting quarterback, but he doesn't seem to be developing the kind of pocket presence you'd like to see from a franchise quarterback.
He threw an interception to end the first drive (the ball was deflected to Packers linebacker Brady Poppinga, but that's because Lee Evans was covered), was sacked twice and lost a fumble to end the second drive.
The first-team offensive line had a rough night. On five series, Edwards was sacked three times. Center Geoff Hangartner was whistled for a false start. Left tackle Langston Walker was penalized for holding.
Terrell Owens was missed. The Bills won't normally face blanket corners like Pro Bowlers Al Harris and Charles Woodson, but Owens certainly would have made things easier for Edwards. Owens' bum toe better not be bothering him when the regular season begins.
Despite a shaky camp, Ryan Fitzpatrick put together another strong exhibition performance. Fitzpatrick completed 12 of 16 passes for 112 yards and a touchdown with one interception. His past two games combined: 25-of-32 for 255 yards.
Xavier Omon is making sure he gets one of those 53 roster spots. The second-year back is projected to make the opening-day roster, especially with Marshawn Lynch suspended for the first three games. But Omon is running hard. He had five carries for only 6 yards, but he scored a touchdown and ripped off a 52-yard catch and run.
Two things that stood out to me on defense: 1) I know that linebacker Keith Ellison is listed at 6-foot and 229 pounds, but he really looked more like a defensive back out there. 2) The second-team defensive line outplayed the first-teamers -- relatively speaking. They were playing the Packers' backups, but ends Chris Ellis and Copeland Bryan and tackles John McCargo and Spencer Johnson played with conviction.
July, 27, 2009
7/27/09
6:21
PM ET
| | |
| --- | --- |
| | |
| | Rick Stewart/Getty Images |
| | John McCargo hasn't played up to expectations so far in his NFL career. |
Posted by ESPN.com's Tim Graham
PITTSFORD, N.Y. -- John McCargo hears the criticism. He tries to ignore it, but he's human. He admits it's difficult.
The Buffalo Bills defensive tackle isn't 26 years old yet. He has been called a bum, a slug, a bust. His old position coach chided him. His team gave up on him.
"When people say things, it doesn't make me mad because it's the truth," McCargo said after signing autographs at Buffalo Bills training camp on Sunday afternoon.
"I haven't played well since I've been in the league. I know that. It's not like I'm afraid to admit the truth. It's hard when you get picked in the first round, and you haven't done what you're supposed to do."
McCargo is entering a crossroads season. He intends to make this one count.
"All the naysayers and whatever, I want to show them that I am a football player, and I'm an athlete, and I didn't get picked where I did for no reason," McCargo said. "If you want to say I have a chip, sure, I do. But most of it's just me. I put the pressure on myself."
| | |
| --- | --- |
| | |
| | Luc Leclerc/US PRESSWIRE |
| | John McCargo has just 2.5 sacks in his injury-plagued three-year NFL career. |
McCargo was the 26th selection of the 2006 draft. What's more, the Bills traded up to get him. They desperately dealt their No. 42 and No. 73 picks to the Chicago Bears to nab a defensive tackle because the top two already were off the board and their scouts saw a big drop off after McCargo.
Three years later, McCargo's stat line includes 28 games, zero starts and 2.5 sacks.
Buffalo's former defensive line coach, Bill Kollar, publicly questioned his desire last year. McCargo was scratched from the season opener. The Buffalo News charted McCargo for an average of 11 snaps a game, a distant fourth among their defensive tackles.
Oh, and the Bills traded him away last year. They unloaded him to the Indianapolis Colts for a fourth-round draft choice. The Colts, however, noticed McCargo had a bulging disk and voided the trade.
So McCargo slinked back to Buffalo. Eventually, the ordeal turned into an awakening.
"It definitely was an awkward situation with that," McCargo said. "It was kind of hard to brush off, but it's cool. It's all part of the business.
"Once I started looking at football like it is, a business, a lot of stuff was able to roll off my shoulders more. That's why I look at it like this: If you do what you're supposed to be doing, you'll be here; if not, you won't. If I don't do what I'm supposed to do, that's on me."
Bills head coach Dick Jauron said he viewed the voided trade with Indianapolis as an opportunity for a new beginning.
September, 12, 2008
9/12/08
2:04
PM ET
Posted by ESPN.com's Tim Graham
Buffalo Bills
Miami Dolphins
New England Patriots
New York Jets
Posted by ESPN.com's Tim Graham
Biggest surprise: The Buffalo Bills haven't had a go-to TE for years, but they must be confident Robert Royal is ready to claim that role. Royal is the only healthy TE on the roster after the Bills released Courtney Anderson and Tim Massaquoi. Anderson has 28 starts over his five NFL seasons, while Massaquoi played in four games without a catch last year for the Bills. Royal did have an impressive preseason, but behind him are Derek Schouman (knee) and fourth-round pick Derek Fine (recent thumb surgery), both of whom are out indefinitely.
No-brainers: DT Jason Jefferson spent three seasons as a Bills reserve, but he wasn't going to make the roster after they acquired Marcus Stroud and Spencer Johnson. His only hope was an injury or some other cataclysmic event, but Stroud has been a monster and Johnson has been solid, too.
The Bills also had to give up on 2007 fourth-round draft pick Dwayne Wright because he couldn't stop fumbling and was beaten out by Xavier Omon, a perceived project player who was drafted in the sixth round and earmarked for the practice squad.
What's next: The Bills were thin on the offensive line, and they released five blockers. The return of Pro Bowl holdout LT Jason Peters would help rectify that, but if there has been no progress made in his contract dispute, they might be interested in Cincinnati Bengals castoff Willie Anderson (if he's a better fit at LT he could allow Langston Walker to move back to RT) or perhaps more depth.