NFL Nation:

Spencer Larsen
February, 12, 2014
2/12/14
11:00
AM ET
Let's continue our rankings of Tampa Bay's potential free agents with Nos. 11 through 15.
11. Danny Gorrer, cornerback.
Injuries sidelined him for a good chunk of the season. The Bucs will be looking to upgrade their depth at cornerback.
12. Daniel Te'o-Nesheim, defensive end.
He was a favorite of the previous regime, largely because he didn't make a lot of mistakes. But Te'o-Nesheim has no upside and the Bucs need to get better at defensive end.
13. Dan Orlovsky, quarterback.
If the Bucs are fully committed to going with
Mike Glennon
as their starter, it would make some sense to bring Orlovsky back. He provides some solid value as a veteran mentor. But it's likely the Bucs will try to bring in someone to compete with Orlovsky.
14. Nate Byham, tight end.
Byham suffered a season-ending injury and didn't contribute much. The Bucs are likely to try to upgrade at tight end and that could leave Byham looking for work.
15. Spencer Larsen, fullback.
He played a very small role last season and was not much of a factor.
August, 13, 2013
8/13/13
12:00
PM ET
TAMPA, Fla. -- There's a perception out there that the
Tampa Bay Buccaneers
can't wait to let quarterback
Josh Freeman
walk away after this season.

Trace it to coach Greg Schiano's hesitance to firmly endorse Freeman at the end of last season or chalk it up to the quarterback's lack of consistency or look at the fact that the Bucs are letting Freeman go into the last year of his contract without an extension. But nothing could be further from the truth.
"I have a lot of confidence in Josh," general manager Mark Dominik said. "I know Coach has a lot of confidence. That position is
the
position in the National Football League. Win or lose, regardless of if you get too much blame or not enough kudos when you do win and people take it for granted, the more time you have to evaluate that player at that position, the more of a chance you have to be correct. I think Josh is looking at it with a confidence and saying he believes in himself and there were some parts of last year he wasn't happy with, but there were good parts last year. We've talked to Josh and his agent, and we feel like we're at a good spot. Everybody feels comfortable with where we're at."
Even though they used a third-round draft pick on
Mike Glennon
, the Bucs desperately want Freeman to succeed. If he plays well, that probably means the team will be in the playoffs for the first time since the 2007 season. That would give Dominik and Schiano job security.
It also would give Freeman job security, because the Bucs probably would turn around and reward him with a big contract before free agency starts. That would fit the team's plan of building from within. (If things go as expected, 18 of Tampa Bay's 22 starters this year will have come through the draft, off the practice squad or through free agency.)
But it will all come down to Freeman's performance. He needs to avoid slumps like the three-game stretch late last season when he threw 10 interceptions. He needs to play the way he did when the Bucs got off to a 6-4 start.
"He knows it," Dominik said. "We know it. But I think the thing that's kind of been lost is some of the great things he did last year. Some of the big games where he played really well and showed he can do it. I think what he's doing in camp right now is playing really smart with the football. You can't underestimate the second year in a system. Continuity is so important. If you keep it together, that gives you a chance to have more success."
If Freeman plays well the Bucs will wrap him up, and they'll have continuity at quarterback. If consistency continues to be an issue, the Bucs will have to start from scratch next year and Freeman will be playing for another team.
THREE HOT ISSUES
[+] Enlarge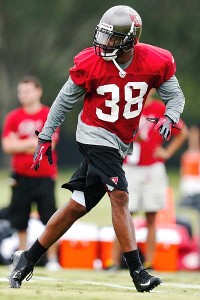 Mike Carlson/AP PhotoVeteran Dashon Goldson, who was signed as a free agent this offseason, should provide some depth at safety for the Bucs.
1. Secondary matters.
The Bucs poured a ton of resources into their secondary in the offseason. They traded for cornerback
Darrelle Revis
, signed safety
Dashon Goldson
as a free agent and used a second-round draft pick on cornerback
Johnthan Banks
. Those are the types of things you have to do when you're coming off a season in which your pass defense ranked last in the league.
That should be enough to bring about some dramatic changes. All indications are that Revis is healthy and, if he is, he's the best cornerback in the league. Banks could start immediately and, if he doesn't, will be the third cornerback. Goldson's arrival at free safety means strong safety
Mark Barron
, last year's top draft pick, should be able to concentrate on playing more in the box -- where he's at his best.
The Bucs believe in building from within. But they went outside to patch up the team's biggest weakness.
2. The pass rush.
This goes hand in hand with the secondary. If the defensive backfield really is going to shine, it's going to need some help from the pass rush.
The Bucs let defensive end
Michael Bennett
, last year's leading sacker, walk away in free agency. But that was a calculated move. The Bucs believed Bennett already had hit his full upside. But the team thinks third-year pros
Da'Quan Bowers
and
Adrian Clayborn
are ready to blossom to heights that Bennett never approached.
That's a leap of faith, because Clayborn is coming off a knee injury and Bowers wasn't a full-time player in his first two seasons. However, if the Bucs are right about Bowers and Clayborn, the pass defense is going to rank a lot better than No. 32 in the league.
3. The tight ends have to come through.
The Bucs have done a nice job of surrounding Freeman with plenty of talent at running back, receiver and offensive line. But at tight end, the cupboard looks close to bare. The team didn't re-sign last year's starter,
Dallas Clark
.
Luke Stocker
, who seemed to have the inside track to the starting job, has missed a lot of camp with a calf injury.
But the Bucs are quietly optimistic about
Tom Crabtree
, whom they brought in from Green Bay. The Bucs aren't going to throw to their tight ends as much as Atlanta and New Orleans do, but they need Stocker or Crabtree to be a threat in the passing game to take some coverage away from the wide receivers.
REASON FOR OPTIMISM
[+] Enlarge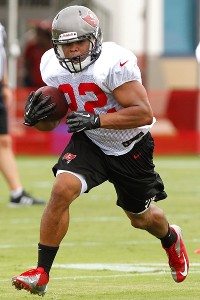 Kim Klement/USA TODAY SportsThe Bucs have done well stockpiling young talent such as running back Doug Martin.
The team has a surprising amount of individual talent. Revis, Goldson, guard
Carl Nicks
, guard
Davin Joseph
, defensive tackle
Gerald McCoy
, running back
Doug Martin
and receiver
Vincent Jackson
have been to the Pro Bowl. Plus, the Bucs have plenty of other young talent -- guys like Freeman, Barron, linebackers
Lavonte David
and
Mason Foster
, and receiver
Mike Williams
.
Tampa Bay has been rebuilding ever since coach Jon Gruden was fired following the 2008 season. There's no such thing as a finished product, because you're always looking to upgrade your roster. But the Bucs no longer are in rebuilding mode.
They have enough talent to get to the playoffs.
REASON FOR PESSIMISM
Schiano still is somewhat new to the NFL and to his players. His hard-edged approach drew all sorts of attention last year, and he has said he's relaxing things a bit now that he has changed the culture of the locker room.
But this team isn't completely past the culture shock that came with Schiano. That's why it's critical for the Bucs to get off to a fast start. If they do, the players will fully embrace Schiano's ways.
If the Bucs start poorly, players won't buy into Schiano and things could fall apart in a hurry.
OBSERVATION DECK
The Bucs are ecstatic with what they've seen from McCoy this offseason. He earned a Pro Bowl trip last year, and that seems to have taken his motivation to another level. He worked out harder than ever and came to camp about 10 pounds lighter than last season. He's emerging as a leader of the defense, and the Bucs think he can become one of the league's most dominant interior linemen.

When the Bucs brought in Gabe Carimi, some fans thought he might end up starting ahead of Demar Dotson at right tackle. That's not going to happen. Carimi is being looked at as an insurance policy behind Dotson and Penn at left tackle. Dotson is having one of the best camps of any Tampa Bay player, and the Bucs believe he's only starting to scratch the surface of his potential.

Martin had a phenomenal rookie season, but I'm expecting him to be even better this year. Martin rushed for 1,454 yards with Joseph missing the entire season and Nicks missing half of it. With the two guards back, Martin should be an even better runner. Martin also caught 49 passes as a rookie, and I can see that number going up because the Bucs have been throwing to him a lot in camp.

The Bucs brought in veteran Peyton Hillis as insurance behind Martin. But Hillis, who hasn't done much the past two seasons, isn't a lock to make the roster. Veteran Brian Leonard looked good in the preseason opener, and the Bucs believe sixth-round draft pick Mike James has the potential to be an all-around back.

Strongside linebacker was expected to be one of the more competitive spots in camp. But veteran Dekoda Watson has taken the mystery out of that battle. He started off ahead of free-agent pickup Jonathan Casillas and has widened the gap with a strong performance in camp.

Kevin Ogletree appears to have the lead over Tiquan Underwood and Chris Owusu in the competition for the third receiver spot. But Underwood and Owusu have had strong showings that could earn them some playing time. Without a lot of certainty at tight end, the Bucs could resort to some four-receiver sets.

The addition of veteran Spencer Larsen made me wonder if fullback Erik Lorig's job was in jeopardy. But that's not the case. Lorig is safe as the starter. The Bucs were very impressed with Larsen's workout and view him as a quality backup and special-teams player.
August, 24, 2012
8/24/12
10:56
PM ET
TAMPA -- Rapid reaction from the
Patriots' 30-28 loss to the Buccaneers
in preseason action:


Ugly night for Patriots
. This was somewhat similar to last season's third preseason game at Detroit in which the Patriots were pushed around and quarterback
Tom Brady
took too many hits. The Buccaneers were aggressive on defense and had success disrupting the rhythm of the passing game by getting to Brady early and building a 20-7 halftime lead. The overall pass protection -- from the line, to tight end, to running backs -- was shaky. Some might also say Brady didn't always help his cause by holding on to the ball too long on some plays. The Patriots got behind early -- the defense was shredded on the opening drive -- and were playing catch-up the rest of the night. Bill Belichick will likely say that the team has a lot to work on after this one. He'd be speaking the truth.
Brady plays into late third quarter
. Brady's final play came with 54 seconds remaining in the third quarter and was a 16-yard touchdown pass to tight end
Rob Gronkowski
. This highlighted Bill Belichick's approach of playing Brady and the top guns into the second half in this "dress rehearsal" for the regular season. It was hot and humid here in Tampa, so while the results weren't necessarily desired, one positive was that the Patriots' conditioning was tested.
Three injuries of note -- Vereen, Larsen, Arrington
. Second-year running back
Shane Vereen
and fifth-year fullback
Spencer Larsen
limped off in the first half and did not return. That left the offensive backfield a bit thin. Vereen had been making a charge for some more playing time, and in his absence,
Stevan Ridley
was one of the bright spots for the Patriots and looks like he's positioned to be the opening-day starter and lead option. Meanwhile, cornerback
Kyle Arrington
was replaced by
Ras-I Dowling
for the final two series of the second quarter and was having his back examined by the athletic training staff on the sideline. All three players did not return.
Writing on the wall for Stallworth?
With
Wes Welker
not dressing for the game, the Patriots didn't turn to
Donte' Stallworth
-- who played extensively on Monday night -- until late in the fourth quarter (he had a few late catches).
Julian Edelman
received a lot of playing time at receiver but had a quiet night on the stat sheet (no catches). That could be bad news for Stallworth in his hopes for a roster spot.
Defense -- up and down night
. Outside of a 19-yard
Doug Martin
run, the Patriots played solid run defense. That was one of the positive aspects of the defensive performance, as it's live work they can't often get in practice. The secondary had some early struggles, but with rookie safeties
Tavon Wilson
and
Nate Ebner
seeing significant playing time, there weren't major issues on the back end outside of the first drive. Some valuable experience gained there.
Demps -- up and down debut
. Olympic silver medalist
Jeff Demps
didn't play until midway through the third quarter and had an up-and-down debut, with two kickoff returns that didn't produce big results and a penalty for simulating the snap count. But his explosiveness was on display late in the fourth quarter with a 29-yard run that showcased his blazing speed. He's one of those players: When the ball is in his hands, you don't want to miss it. Exciting.
Reminder -- it's just the preseason.
It wasn't an inspiring performance from the Patriots, but as we've seen before, beware of reading too much into preseason results. The Buccaneers took it to the Patriots, just as the Lions did last year in the third preseason game. The Patriots' 2011 season turned out to be pretty successful.
March, 12, 2012
3/12/12
10:30
AM ET
NFL free agency begins Tuesday at 4 p.m. ET. Here is the complete list of unrestricted free agents for each team in the division:
Denver Broncos:
S
Brian Dawkins
, DT
Brodrick Bunkley
, LB
Mario Haggan
, TE
Daniel Fells
, DE
Derrick Harvey
, OL
Russ Hochstein
, DE
Jason Hunter
, FB
Spencer Larsen
, LB
Joe Mays
, DT
Ryan McBean
, QB
Brady Quinn
, WR
Eddie Royal
, DT
Marcus Thomas
, TE
Dante Rosario
, CB
Jonathan Wilhite
, WR
Matthew Willis
, LB
Wesley Woodyard
, G
Manny Ramirez
.
Kansas City Chiefs:
RB
Jackie Battle
, LB
Jovan Belcher
, CB
Brandon Carr
, S
Jon McGraw
, QB
Kyle Orton
, DB
Travis Daniels
, DE
Wallace Gilberry
, DL
Amon Gordon
, NT
Kelly Gregg
, S
Reshard Langford
, FB Le'Ron McClain, TE
Anthony Becht
, RB
Thomas Jones
, OT Ryan O'Callaghan, TE Jake O'Connell, QB
Tyler Palko
, S
Sabby Piscitelli
, TE
Leonard Pope
, OT
Barry Richardson
, WR
Jerheme Urban
, C
Casey Wiegmann
.
Oakland Raiders:
DL
Desmond Bryant
, RB
Michael Bush
, LB
Quentin Groves
, OT
Stephon Heyer
, QB
Jason Campbell
, DB
Bryan McCann
, DE
Jarvis Moss
, C
Samson Satele
, WR
Chaz Schilens
, DL
Trevor Scott
.
San Diego Chargers:
WR
Vincent Jackson
, G
Nick Hardwick
, OT
Jared Gaither
, RB
Mike Tolbert
, RB
Jacob Hester
, NG
Antonio Garay
, SS
Steve Gregory
, DL
Tommie Harris
, ILB
Na'il Diggs
, OLB
Everette Brown
, SS
Bob Sanders
, SS
Paul Oliver
, WR
Patrick Crayton
, OG
Tony Moll
TE
Randy McMichael
, ILB
Stephen Cooper
.
March, 7, 2012
3/07/12
12:00
PM ET
»
AFC Free-Agency Primer
:
East
|
West
|
North
|
South
»
NFC
:
East
|
West
|
North
|
South
Free agency begins Tuesday at 4 p.m. ET
Denver Broncos

Key free agents:
K
Matt Prater
(franchised), DT
Brodrick Bunkley
, S
Brian Dawkins
, TE
Daniel Fells
, FB
Spencer Larsen
, WR
Eddie Royal
, QB
Brady Quinn
, DT
Marcus Thomas
, LB
Wesley Woodyard
, P
Britton Colquitt
(restricted).
Where they stand:
The Broncos will have plenty of salary-cap room. For a team that went from 4-12 with the No. 2 overall pick in the draft to winning the AFC West and a playoff game in John Fox's first season as coach, the Broncos are in position to improve through free agency. With Prater franchised, the team's only priority unrestricted free agent is Bunkley.
What to expect:
Don't expect a huge spending spree. The Broncos are cash conscious and I think the franchise is still recovering from some undisciplined spending during the Mike Shanahan era that ended in 2008. We will see the Broncos try to add several pieces at lower prices. Denver could address needs at safety, running back, receiver, tight end, linebacker and quarterback. Keep an eye on players such as Washington safety
LaRon Landry
, Seattle tight end
John Carlson
, quarterbacks
Chad Henne
(Miami),
Dennis Dixon
(Pittsburgh) or
Josh Johnson
(Tampa), running backs
Michael Bush
(Oakland) and
Mike Tolbert
(San Diego), and defensive lineman
Jonathan Fanene
Cincinnati.
Kansas City Chiefs

Key free agents:
WR
Dwayne Bowe
(franchised), CB
Brandon Carr
, QB
Kyle Orton
, RB
Jackie Battle
, LB
Jovan Belcher
, S
Jon McGraw
, C
Casey Wiegmann
, RB
Thomas Jones
, DE
Wallace Gilberry
, DT
Kelly Gregg
Where they stand:
The Chiefs are in great shape on cap space even after signing cornerback
Stanford Routt
and franchising Bowe. They have already done a nice job in free agency with these two moves and have a good, young roster. Kansas City can become a serious playoff contender with the right moves. It is likely Carr will leave in free agency, but the Chiefs should be able to re-sign most of their other free agents if they wish.
What to expect:
I'm not sure we will see the Chiefs break the bank for any of the super-hot free agents, but I expect them to do some significant shopping. I think we could see Kansas City look for help at nose tackle, linebacker, safety, tackle, running back and quarterback. Of course, the intrigue could start if the team gets in on the
Peyton Manning
sweepstakes. But they could also look at several other quarterbacks, including Orton, Henne,
Jason Campbell
(Oakland) or even Quinn. They could also be in the mix for Miami nose tackle
Paul Soliai
, Saints guard
Carl Nicks
and running backs
BenJarvus Green-Ellis
(New England), Bush and Tolbert.
Oakland Raiders

Key free agents:
S
Tyvon Branch
(franchised), RB Michael Bush, QB Jason Campbell, LB
Quentin Groves
, C
Samson Satele
, WR
Chaz Schilens
, DE
Trevor Scott
, FB
Marcel Reece
(restricted).
Where they stand:
The Raiders are one of the few teams that must get under the salary cap. Oakland coach Dennis Allen recently acknowledged the team has work to do. The Raiders have some contracts that can be easily restructured, but they also may have to cut some players, particularly on defense. Linebacker
Kamerion Wimbley
and defensive tackle
John Henderson
are among the top candidates.
What to expect:
The Raiders likely face some limitations once they get under the cap, but they can add two or three starting-quality players under the right circumstances. Their primary needs are on defense, starting at cornerback and linebacker. The offensive line could be upgraded as well. I think they can be in on the second wave of cornerbacks. A player to watch is New Orleans cornerback
Tracy Porter
, who previously played for Allen. There are some solid second-tier cornerbacks Oakland could be interested in other than Porter. There will be some good players available on both sides of the ball after the initial wave of free agency for short-term deals. Expect the Raiders to do some bargain picking during that time. I think Oakland will be interested in signing several of its free agents, but I expect Bush and Campbell will leave.
San Diego Chargers

Key free agents:
WR
Vincent Jackson
, C
Nick Hardwick
, RB Tolbert, DT
Antonio Garay
, OT
Jared Gaither
, FB
Jacob Hester
.
Where they stand:
The Chargers will be in decent shape and they are getting even better after cutting
Luis Castillo
, the retirement of guard
Kris Dielman
and the expected release of tackle
Marcus McNeill
. But San Diego still has a lot of work to do. They have the most priority free agents of any team in the division. Signing Jackson, Hardwick, Gaither, Tolbert and Garay will be a challenge.
What to expect:
The Chargers will likely stick to their usual plan and concentrate first on their own free agents. But they also have other needs and they will likely spend more in free agency than they have done before under general manager A.J. Smith. I get the sense from some agents that the Chargers may spend wildy in an attempt to win back the fan base's trust after the unpopular contract extensions for Smith and coach Norv Turner. The pair were brought back even after missing the playoffs for a second consecutive season. I also get the sense from inside the organization, however, that the Chargers will not act out of desperation. Look for the team to consider pass-rushers, nose tackles, safeties and offensive linemen if Hardwick and Gaither aren't brought back. A receiver will also become a major need if Jackson goes. The Colts'
Reggie Wayne
could be an option in that case. A running back such as
Cadillac Williams
(St. Louis) reportedly will be in the mix if Tolbert walks. Soliai could interest the team as well. Chicago special teams ace
Corey Graham
may also be a target. If the Chargers want to make a huge splash, they could try to get in on Houston pass-rusher
Mario Williams
, who is widely considered the best player on the market.
January, 6, 2012
1/06/12
3:10
PM ET
As expected, Denver safety
Brian Dawkins
will be out for Sunday's wild-card game against Pittsburgh with a persistent neck injury.


Dawkins missed practice all week because of the injury. It has been bothering him for several weeks. There has been concern in Denver that there could be long-term affects of the injury for Dawkins, 38. There is a chance his career might be affected by the injury.
Denver fullback
Spencer Larsen
is listed as doubtful with a knee injury. He has missed the entire week of practice. Denver receiver/returner
Eddie Royal
practiced fully Friday for the first time and is listed as probable.
Pittsburgh standout center
Maurkice Pouncey
is questionable, but he is not expected to play because of a setback to an ankle injury. Pittsburgh quarterback
Ben Roethlisberger
has practiced fully the past two days and is listed as probable to play.
January, 1, 2012
1/01/12
5:48
PM ET
Tim Tebow
's penchant for the turnover has continued.
The Denver quarterback fumbled at the Kansas City 11-yard line midway through the second quarter on Sunday. Tebow has committed six turnovers since Week 15. He has lost a fumble in five straight games.
Tebow's ability not to turn the ball over earlier in the season was a catalyst to a Denver winning streak. Tebow was trying to run for a first down when Kansas City safety
Kendrick Lewis
stripped the ball.
Kansas City leads
7-0
. Thus, Tebow's fumble was critical. Meanwhile, Denver fullback
Spencer Larsen
left the game with a knee injury and he will not return.
November, 14, 2010
11/14/10
6:22
PM ET
DENVER --
Tim Tebow
has another
chapter for his memoir.
The legend of Tebow grew Sunday when his first NFL pass went for a touchdown.
Denver took a 42-10 lead over Kansas City early in the third quarter when Tebow entered the game and tossed a 3-yard touchdown pass to fullback
Spencer Larsen
. Tebow took a snap from the shotgun and stutter stepped like he was going to run, but then moved left and unleashed his much dissected left-handed delivery in the NFL for the first time. The ball effortlessly hit Larsen's hands and he crossed the goal line.
The stadium erupted as Tebow was mobbed by his teammates. Tebow scored on a 1-yard run earlier in the game. He has three NFL rushing touchdowns. He has been on the field for two plays Sunday. Both went for scores.
This game will be remembered for much more than an unexpected Denver rout as Tebow marked his first pass in style.
February, 18, 2009
2/18/09
3:37
PM ET
Posted by ESPN.com's Bill Williamson
The fact that Denver has cut five defensive starters in the past couple of days may appear more drastic than it really is.
| | |
| --- | --- |
| | |
| | Dilip Vishwanat/Getty Images |
| | Less than a year after acquiring Dewayne Robertson from the Jets, the Broncos discarded the former first-round draft pick. |
Yes, replacing at least five starters is no easy task. But the truth is the new Denver regime can't wait to do it. The team needs a huge facelift on defense.
It began this week when the team waved goodbye to starters Dre' Bly (cornerback), Dewayne Robertson (defensive tackle), Jamie Winborn (linebacker), Marquand Manuel (safety) and John Engelberger (defensive end). Only Bly and Robertson could have conceivably been part of the makeover, but both were high-priced and neither made much of an impact last season.
So they're out.
There is more change to come. Outside linebacker Boss Bailey, who is injured, could be a candidate to be cut. Starters Ebenezer Ekuban (defensive end), Nate Webster (linebacker) and Marlon McCree (safety) are free agents and are not expected to return.
But again, many of these players were starters in 2008 because the team had no other choice.
Under new defensive coordinator Mike Nolan -- the former San Francisco head coach and longtime assistant -- the Broncos are moving toward becoming a 3-4 defense. Few of the above-mentioned players fit in the new scheme.
The Broncos have two cornerstones on defense: cornerback Champ Bailey and linebacker D.J. Williams. Other than that, it's an open audition.
Pass-rush specialist Elvis Dumervil should have a place on the defense and could be moved to linebacker from defensive end. Young defensive linemen Marcus Thomas and Jarvis Moss (the team's first-round pick in 2007) will likely get a chance to play in the new scheme.
Thomas has been fairly productive the past two years and has a chance to be a good player. Moss has been a major disappointment, but he has natural pass-rush skills so there's hope he could flourish in the new system.
Young linebackers Wesley Woodyard and Spencer Larsen may get a chance to fit in the 3-4 attack. Woodyard, an undrafted free agent signed last season, is a natural playmaker and was a tackling machine last year. Larsen, a sixth-round pick last season, is a hard-nosed, versatile player. Still, there will be new competition for both.
Other than Bailey, the Broncos will likely be looking for help in the secondary.
Expect Denver to try to get at least two defensive linemen, at least one linebacker and three new defensive backs through free agency, trades and the draft. While big names such as defensive end Julius Peppers and defensive tackle Albert Haynesworth will be tempting, the Broncos may opt to target several more reasonably priced free agents than one big-ticket item because of their numerous needs on defense.
Whatever happens, the change is going to be drastic. The release of five starters this week only begins the sea change on Denver's defense.
November, 19, 2008
11/19/08
6:19
PM ET
Posted by ESPN.com's Bill Williamson
Spencer Larsen knew the secret all of last week.
| | |
| --- | --- |
| | |
| | AP Photo/John Bazemore |
| | Spencer Larsen, shown here attempting to tackle Atlanta's Michael Turner, had seven tackles against the Falcons last Sunday. |
He didn't think it was a big deal. And even more amazing, he wasn't that nervous about it, whether he was making history or not. However, in retrospect, the sixth-round pick of the Denver Broncos is blown away in the aftermath of his accomplishment Sunday in Denver's 24-20 win.
Larsen became the first player in the NFL in five years to start on both offense and defense. Baltimore's Orlando Brown stated on both the offensive and defensive lines in 2003. The Arizona product started at both fullback and at middle linebacker. Larsen, who has been a special teams ace as a rookie, also played on kickoff coverage.
Yes, No. 46 was busy Sunday. He was on the field for 60-plus plays.
Still, the enormity of his feat didn't hit Larsen until this week.
"I really didn't think it was going to be a big deal," Larsen said Wednesday as first place Denver prepares for visiting Oakland on Sunday.
"I wasn't nervous. I was just preparing for the game and making sure I knew everything I had to do. It really wasn't that big of a deal until after the game. It has gotten a lot of attention and it's been fun. But to me, I was just a rookie trying to help my team."
Yet, Larsen's double duty made national news. After all, this isn't high school. Two-way play just doesn't happen much in the NFL. Larsen has conducted several national interviews and has received phone calls from many people he hadn't talked to in years.
"It's been crazy, everyone is really in to it," Larsen said. "It's been fun."
Larsen didn't play much at fullback but he did have seven tackles at middle linebacker in the win over Atlanta. He was told by Denver coaches of his extra workload early last week. No one in the organization publicly told anyone until it was disclosed shortly before kickoff in Atlanta.
Larsen, who starred at linebacker at Arizona, hasn't practiced at linebacker since training camp. He got a crash course last week because of an injury to starter Nate Webster. Expect Larsen to continue playing while Webster recovers in the next couple of weeks.
Larsen has been playing fullback most of the season even though he hadn't played there since high school. With fullback Peyton Hillis now playing tailback, Larsen is playing more in the backfield.
So will he start both ways again on Sunday against the Raiders? The new celebrity is being coy, which is the rule of the land in Mike Shanahan's tight-lipped world.
"I don't know," Larsen said. "It all depends on matchups and schemes and injuries ... I don't know if we'll see it again."
If Larsen does play both ways, he'll be more prepared for the uproar this time.
"Definitely," he said. "I know I wasn't last week."
November, 16, 2008
11/16/08
1:52
PM ET
Posted by ESPN.com's Bill Williamson

Denver rookie Spencer Larsen is making history today.


Larsen
He started the game in Atlanta on both offense and defense, which is nearly an unheard of accomplishment in today's NFL. The sixth-round pick from Arizona started at both fullback and middle linebacker. He's also playing on kickoff coverage units
Larsen is playing because of injuries. With Denver fullback Peyton Hillis playing tailback because of several injuries at the position, Larsen slid over to the fullback position. With middle linebacker Nate Webster out, Larsen is now playing there. The Broncos have bounced Larsen from fullback and middle linebacker since before training camp but Sunday's development is extremely noteworthy.
He is the first Denver player ever to start both ways in the game and the first NFL player since Baltimore's Orlando Brown started both ways five years ago.
Posted by ESPN .com's Bill Williamson
Around the AFC West:
Denver
The rookies played well in Denver's loss to Miami.
My take: The Broncos have a very strong rookie class. They aren't the ones making mistakes. First-round pick Ryan Clady (left tackle), second-round pick Eddie Royal (wide receiver/returner), fourth-round pick Jack Williams (cornerback), sixth-pound pick Spencer Larsen (special teams/fullback), seventh-round pick Peyton Hillis (fullback) and undrafted players Wesley Woodyard (linebacker) Brett Kern (punter) have all made fine contributions. Clady, Royal and Hillis were particularly good against Miami. It's a very promising group.
Kansas City
Tyler Thigpen played well again Sunday.
My take: Maybe this guy has a chance. Maybe. He's a playmaker, he's tough and confident. Thigpen has made great strides in the past two games and if he can continue steady improvement, the Chiefs may have something on their hands. I know this is a bold statement but Thigpen reminds me of somebody: Drew Brees. He just makes plays.
Oakland
One Bay Area columnist says the current Raiders are the worst team in franchise history.
My take: Come on, settle down. Yes, the Raiders are bad. And they are getting worse as the season progresses. But what did you expect? This team has been lousy for the past five years. Since the start of the 2003 season, the Raiders have won a league-low 21 games. They've been horrible. The only difference is there were high expectations in Oakland for his team because Al Davis spent so much money. But holes in key areas remain unfilled. Are the Raiders really bad? Yes, they are. Is it any worse than 2006 when the team was 2-14 under Art Shell? Probably not.
San Diego
Ron Rivera has quite the background.
My take: The Chargers are handing their defense over to a legitimate football man. In fact, for an interim coaching change, I don't think San Diego could have down better. Rivera has a great background as a player as a defensive coordinator. He has won in both roles. He's a quality coach and he deserves this opportunity to turn around the Chargers' defense.
July, 9, 2008
7/09/08
7:48
PM ET
Posted by ESPN.com's Bill Williamson
Ryan Torain will not have to wait to start his push for playing time in Denver's backfield. The fifth-round pick from Arizona State was one of three players the Broncos signed today.
Denver also signed fifth-round pick Carlton Powell, a defensive tackle from Virginia Tech, and linebacker Spencer Larsen from Arizona. The Broncos have considered using Larsen at fullback but they were pleased with the play of seventh-round pick Peyton Hillis of Arkansas during minicamp and may keep Larsen at linebacker.
Denver has five of its nine draft picks to sign, led by No. 12 overall pick Ryan Clady, who will be the starting left tackle. Denver has started talks with Clady and the team remains confident it will sign him by the time training camp starts July 25.