May, 1, 2012
5/01/12
1:41
PM ET
Somehow, and I'm still trying to figure exactly how, the
New Orleans Saints
have been dragged into yet another controversy.
Baltimore coach John Harbaugh was doing an
interview with a local radio station
Tuesday morning. Harbaugh was asked a question about the Saints' bounty program and the general concept of cheating throughout the NFL.

Harbaugh
Harbaugh didn't say a thing about the Saints. Instead, he turned his answer toward the
New England Patriots
, who had their own controversy with Spygate several years ago.
"In the end, everything is brought before the light of day, when it's all said and done," Harbaugh said in the interview. "What happens, even the thing in New England, no matter whether those things had any impact on whether they won their championships or not, they got asterisks now. It's been stained."
That set off a firestorm in New England, and the Ravens quickly moved into damage-control mode. The Ravens just sent out a statement from Harbaugh. Although the Saints didn't get mentioned in his on-air words, they do get mentioned in Harabaugh's latest statement.
"While on the 98 Rock show this morning to talk about the run to honor O.J. Brigance and raise funds for ALS research, I answered a question about playing within the rules and referred to the perception that the Super Bowl championships won by the Patriots and Saints have a stain,'' Harbaugh said. "My reference was to the perception out there that came as the result of the league's actions. I could have been more clear that I was referring to those viewpoints. I totally believe that the Patriot and Saint coaches and players earned those championships. Bill (Belichick) and Sean (Payton) both know that. There has been some distortion about what I said.
"The original tweet indicated I pointed the finger at Bill Belichick and mentioned Bill's name. I did not. I have so much respect for Coach Belichick and the job he does and has accomplished in his Hall of Fame career. I called him to remind him of my respect for him. I also reached out to Tedy Bruschi, who rightfully defended those Patriot players and coaches on ESPN, to tell him that I agree with him that the Patriots earned every victory."
April, 23, 2012
4/23/12
5:42
PM ET
Former NFL executive Bill Polian said he doesn't understand how New Orleans general manager Mickey Loomis got any
competitive advantage
from allegedly having the ability to
listen to opposing coaches
communicate during games.

"There's something missing here,'' said Polian, who is now an ESPN analyst. "I don't know what kind of competitive advantage you can get. Mickey would have to know the verbiage of every other opposing team in order to translate it, and then he would have to do it instantly and find some way to communicate with his coaching staff and get it down to the field in time for it to be useful. That would be very difficult to do in my opinion.''
That all makes a lot of sense. It would have been difficult, if not impossible, for Loomis to tip off his coaching staff to what opposing coaching staffs were saying seconds before the snap. It also would have been pretty much impossible for those coaches to let players know quickly enough what play was coming.
It also is extremely important to note that Loomis had the alleged ability to listen to other coaches only from a span from 2002 through 2004. That's when Jim Haslett was coaching the team. Hurricane Katrina hit before the 2005 season, and the Saints had to play their home games in other locations that season. The report says the listening device was destroyed by the hurricane, and there are no indications it was put back into place. Haslett was fired after the 2005 season, and if Loomis was listening to play calls by opposing coaches, Haslett's record doesn't suggest it provided much of advantage.
Sean Payton was hired to replace Haslett in 2006. So you can't tie Payton to this issue. But I still don't see how this can mean anything positive for the Saints.
The NFL already has suspended Payton for a full season for a bounty program the league says lasted three years. Loomis also will be suspended for the first eight games of the 2012 season for not stopping the bounty program.
The NFL reportedly was not aware of Loomis allegedly having had a listening device until the report came Monday afternoon. Loomis might not have gained any competitive advantage from allegedly having a listening device, and the allegations are from long ago when a different coaching staff was in place.
But these allegations sound a lot like Spygate, which also was something that happened in the past. The NFL -- particularly commissioner Roger Goodell -- didn't take that situation lightly, and fined the
New England Patriots
$750,000. If this had come out a few years back, the Saints might be in line for a punishment similar to New England's, if the NFL had found them guilty of the allegations.
But that was just one situation. This is different. This is coming on top of the whole bounty program.
Competitive advantage or not, this could convince Goodell to throw the book at the Saints -- even more than he already has.
April, 23, 2012
4/23/12
4:09
PM ET
In an offseason that has been filled with controversy for the
New Orleans Saints
, we now have even more.
This one doesn't relate to the bounty program, but it could have major implications.
[+] Enlarge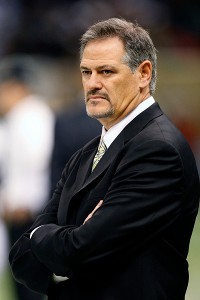 AP Photo/Bill HaberSaints' GM Mickey Loomis, already suspended for eight games next season, could be facing more punishment from the league.
ESPN's "Outside The Lines" just reported that New Orleans general manager Mickey Loomis
allegedly had an electronic device in his Superdome suite
that had been secretly re-wired to enable him to eavesdrop on visiting coaching staffs for nearly three seasons, from 2002-04. That allegedly took place before coach Sean Payton and quarterback
Drew Brees
arrived in 2006. Sources told "Outside The Lines" that the listening system was disabled when Hurricane Katrina hit New Orleans in 2005 and not restored. (Greg Bensel, Saints vice president of communications, said Monday on behalf of the Saints and Loomis: "This is 1,000 percent false. This is 1,000 percent inaccurate.")
This is significant on several levels. First, the report suggests that state and federal law might have been violated, and the situation has been reported to the U.S. Attorney in New Orleans. There is no indication yet if any charges will be filed. We'll wait for law enforcement and the lawyers to figure that out. I won't even speculate about what civil liabilities Loomis and the Saints could be exposed to.
But there are huge potential implications elsewhere. Loomis is suspended without pay for the first eight games of the 2012 season for his role in not stopping the Saints' bounty program. This latest news isn't going to persuade commissioner Roger Goodell to shorten Loomis' suspension.
In fact, this has the potential to lead to a longer suspension, or even more punishment for Loomis and the Saints. Although this incident allegedly took place quite a long time ago, it won't sit well with Goodell. He fined the
New England Patriots
$750,000 and forced them to forfeit a first-round draft pick for Spygate. You can make a case that listening to opposing coaches during a game is worse than videotaping signals on the sidelines and using that information.
Throw in the whole situation surrounding the bounty system, and I don't see how this can lead to anything positive for Loomis or the Saints.
Saints owner Tom Benson has stood by Loomis and Payton, who is suspended for the entire 2012 season. But you must wonder if news of more alleged wrongdoing by Loomis might prompt Benson to fire his general manager.
I know Benson has other things going on. He recently purchased the NBA's New Orleans Hornets. Brees hasn't been able to work out a long-term contract with the Saints, and that's not a positive for Brees, Benson or the Saints. The team is waiting to see if players will be suspended for their roles in the bounty program. Benson also reportedly has put his granddaughter, Rita Benson LeBlanc, on
unofficial administrative leave
. LeBlanc had been viewed as the heir apparent to Benson, but it doesn't sound as if the owner is anywhere near ready to step aside.
That might be a good thing, because the Saints have all sorts of turmoil to deal with. Someone must clean up this mess. It's Benson's team, so we'll wait and see where he goes from here.
This offseason just keeps getting worse for the Saints.
March, 21, 2012
3/21/12
5:19
PM ET
The New Orleans Saints' loss of a second-round draft pick this year and again in 2013 is harsh, but isn't totally unprecedented.
Let's turn to ESPN Stats & Information for a look at draft picks that have been forfeited for various reasons since 1980,
2011 Lions forfeit 7th-round pick for tampering with Chiefs players
2008 49ers forfeit 5th-round pick for tampering with Bears linebacker Lance Briggs
2008 Patriots forfeit 1st-round pick for Spygate scandal
2002-05 Broncos forfeit 2005 3rd-round pick, 2002 3rd-round pick for circumventing salary cap between 1996-98
2001-02 49ers forfeit 2002 3rd-round pick, 2001 5th-round pick for salary cap violations
2001 Steelers forfeit 3rd-round pick for exceeding 1998 salary cap
1986 Patriots forfeit 3rd-round pick for illegal use of injured reserve list
1981 Broncos forfeit 3rd-round pick for contract violations involving Bill Thompson
1981 Raiders forfeit 5th-round pick for illegally sequestering 2 players in 1978
1980 Eagles forfeit 3rd-round pick for holding illegal tryout
1980 Raiders forfeit 4th-round pick for evasion of player limit
March, 5, 2012
3/05/12
4:21
PM ET
Sean Payton is one of the three or five best head coaches in the NFL. He's won a Super Bowl and helped a city and a region recover from Hurricane Katrina.
He's the most brilliant offensive mind of our time and he's had winning seasons every year since 2008.
[+] Enlarge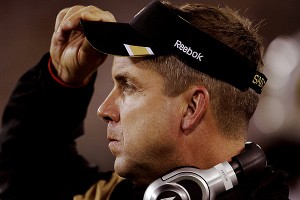 Jonathan Daniel/Getty ImagesSean Payton should also face repercussions for the bounty program that took place with his Saints.
So why are people suddenly calling for the coach of the
New Orleans Saints
to be fired?
It's not about football. It's about a lot more.
Check out
this column
from colleague Ashley Fox, who writes that Payton and general manager Mickey Loomis should be fired for their role in what the NFL says was a "bounty program'' in which New Orleans coaches and players pooled money to reward defenders when they injured opponents. We're not talking about $500 for an interception. We're talking that much or more for intentionally injuring an opponent.
I've thought long and hard about what punishments Loomis and Payton should face since the news broke on Friday. I've come to the conclusion that I agree totally with Fox.
Payton and Loomis have to go. It's harsh, but it's warranted, probably even necessary.
I know former defensive coordinator Gregg Williams is being portrayed as the main culprit in all this. Williams is gone and now is the coordinator in St. Louis. The league is looking into allegations that he did similar programs at other stops in his career. It seems pretty likely that Williams, who has admitted to and apologized for running the program in New Orleans, will end up being suspended or maybe even banned from coaching.
But punishing Williams doesn't punish the Saints and they've more than earned that. They used the bounties for three years.
To simply say Williams was the bad guy and Payton and Loomis shouldn't suffer any consequences is ridiculous. They're more guilty than Williams because they held higher positions.
Anyone who knows anything about the Saints knows that Payton runs every aspect of the organization and knows everything that goes on in the building. The league's report said Payton knew about the program and did nothing to stop it.
Hmm, I can think of several big-name college coaches who went down through the years because they didn't do enough when scandals enveloped their programs and a lot of people felt they should be held to a higher standard because they were head coaches.
We're not talking about the NCAA here. We're talking the NFL and allegations of anything that was designed to intentionally injure players couldn't come at a worse time in history. Commissioner Roger Goodell has been making all sorts of noise about player safety. The lockout and labor negotiations last year were largely about player safety and we've seen new rules put in to cut down on offseason workouts and heard lots of other talk about the importance of player safety. How many stories have we seen about concussions in recent years?
Payton, in essence, thumbed his nose at player safety the last three years. Should he be fired because of it? Cast your vote in the accompanying SportsNation poll. I say he has to go.
Same for any assistant coach still on staff that knew anything about the bounty program. Yeah, it's tough to fire a coach in March. But the Saints need to be proactive on this. If they keep the current staff in place for the 2012 season, I'm telling you right now every game will resemble a boxing match. Opposing teams would go after the Saints because the Saints went after them. I don't think the league wants boxing matches these days.
The Saints have defensive coordinator Steve Spagnuolo on staff. He wasn't around when this stuff was going on. He's been a head coach in St. Louis and has a clean reputation around the league.
What about Loomis? I think he's got to go as well. Although Payton definitely played the dominant role in this coach-general manager relationship, Loomis has carried the title of general manager. In theory, that means managing an organization overall and maintaining the integrity of a franchise would seem to be part of the job description.
The NFL report says Loomis was told by owner Tom Benson to stop the bounty program. The NFL also said Loomis failed to follow through on that.
I know a lot of other general managers that would immediately do what they were told by an owner. Loomis didn't do that and therefore failed in his duty to uphold the integrity of the franchise and the league. Heck, once the
New England Patriots
were hit with Spygate, all talk of them filming other teams ceased — perhaps not coincidentally, they've won just one playoff game since then.
Loomis and Payton have done many great things for the Saints and New Orleans. But they failed their team, their city and the NFL by allowing this disgraceful practice to go on for three years. Somebody has to pay the price on this one.
March, 5, 2012
3/05/12
12:16
PM ET
SportsNation has six polls up on what has suddenly become the hottest topic in sports -- the New Orleans Saints and the "bounty program'' the NFL says they ran the past three seasons.
I urge you to
go over there
and vote and voice your opinions in the comments section below.
I just hit the polls and will reveal my vote (and logic) on each question to start the conversation off.
In the top question about how the Saints should be punished, I voted for "all of the above." In other words, I'm saying they should be fined, players, coaches and perhaps even general manager Mickey Loomis should be suspended and the team should have to forfeit draft picks. My logic on this is simple. This is some really bad stuff
Don't tell me "football's a physical game'' and this sort of thing "happens everywhere." There might be some truth in that. But we're not debating whether football's a physical game. We're talking about a bounty system former New Orleans defensive coordinator Gregg Williams already has admitted to. The league is saying Loomis was told to put a stop to the program, but didn't. The league also says coach Sean Payton knew of the program and did nothing to stop it. Heck, I want to hear more details, but there's a part of me that thinks suspensions for Payton and Loomis might not be harsh enough. If what the league says is true, I'm thinking the role of Loomis and Payton in all this perhaps should cost them their jobs.
The second question is about whether using bounties in the NFL is fair or foul. I voted for foul. Again, we are talking about a physical game. But we're talking about what the NFL clearly says was an organized system that rewarded defenders for injuring other players. That's against NFL rules. It might even be against some other rules.
The third question made me think a little harder than the first two. It asks if it's fair or foul to have a bounty system for defensive plays that don't induce injury, but do result in touchdowns, sacks, interceptions, etc. While that may violate the NFL's salary cap, I don't have a big problem with that. If a guy gets a sack or returns an interception for a touchdown and his teammates throw him $500 or $1,000, I don't think it's a big deal. Sort of reminds me when I was playing high school baseball. The sportswriter for our hometown paper used to give us a quarter (this was a long time ago and inflation probably has raised the going rate to 50 cents) for each RBI. I'll admit, I was guilty of accepting a few quarters.
The fourth question is about how widespread bounty systems are in the NFL. The choices are that all teams have them, most teams have them or some teams have them. I went with some teams. I don't think the Saints are alone in this, but I don't think all or most teams do it and I doubt any program was as structured as what was going on in New Orleans.
The fifth question is whether bounty programs help with team chemistry. I voted yes. Not saying bounty programs are right by any means, but I don't think having a common goal hurts team chemistry in the least bit.
The final question is about whether the Saints deserve a harsher penalty than the Patriots got (the loss of a first-round draft pick and a fine) for Spygate. I said the Saints deserve a harsher penalty. In Spygate, there were a lot of allegations, but most of them weren't proven to be true as the case played out. In the case of the Saints, it sounds like the league already has confirmed a bunch of serious allegations and it's simply a matter of time until commissioner Roger Goodell, who is big on player-safety issues, hands out his ruling on discipline. I expect it to be harsh. The Patriots may have broken some rules. The Saints, by intentionally attempting to hurt opponents, clearly broke NFL rules and maybe more than that.
January, 14, 2012
1/14/12
1:30
PM ET
For the record, the
New England Patriots
did not break any rules by hiring assistant coach Josh McDaniels this week.

The move was announced shortly after McDaniels' former team -- the
Denver Broncos
-- advanced to face New England in the divisional round. That gave the impression the Patriots were trying to get the upper hand on an upcoming opponent.
That has forced the NFL to look into the matter.
ESPN is reporting
the Patriots may prompt a rule change for hiring coaches in the postseason.
This is simply a case where the Patriots' not-so-great reputation with rules -- "Spygate," anyone? -- preceded them. (It's also the
10th anniversary of the "Tuck Rule" game
, where the rule worked to New England's advantage.) Would it be a big to-do for the NFL if McDaniels were hired this week by the
Houston Texans
or
New Orleans Saints
?
The truth is the Patriots were going to hire McDaniels whether they faced the Broncos, Texans or
Pittsburgh Steelers
on Saturday. New England brought in McDaniels to replace current offensive coordinator Bill O'Brien, who is leaving for Penn State after the playoffs. Everyone quickly lost sight of that when Denver and quarterback
Tim Tebow
-- a McDaniels protégé -- became the opponent.
So, once again, it's all about Tim Tebow. (just kidding)
July, 13, 2011
7/13/11
2:10
PM ET
Pittsburgh Steelers
Pro Bowl linebacker
James Harrison
provided plenty of material Wednesday. So as we continue to dissect his
bashing of various targets
, here are some additional thoughts:
Steelers safety Ryan Clark on Wednesday mostly deflected Harrison's comments via Twitter by saying, "Locker room stuff gets handle in the locker room not twitter." Clark also said the Steelers' players know Harrison speaks his mind, no matter the topic.
NFC North colleague Kevin Seifert astutely pointed out that Harrison had just one tackle in Pittsburgh's Super Bowl XLV loss to the Green Bay Packers. Harrison wasn't a factor in the game, but criticized both running back Rashard Mendenhall and quarterback Ben Roethlisberger. Vote here if you think that's justified or out of bounds.
Harrison's comments that the New England Patriots were stealing the Steelers' signals in a 2004 playoff game are interesting. It's well-documented that New England, and particularly quarterback Tom Brady, have been dominant against the Steelers post-Spygate. That most recently includes a 39-26 thrashing of the Steelers last season at Heinz Field. With Brady under center, the Patriots are 3-0 against the Steelers since the playoff game in 2004.
November, 4, 2010
11/04/10
1:01
PM ET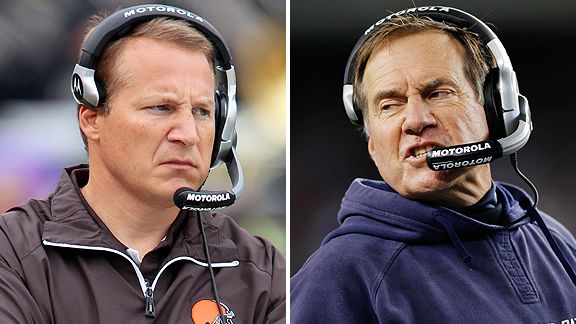 US PresswireFormer colleagues Eric Mangini and Bill Belichick had an ugly falling out that lasts until this day.
BEREA, Ohio --
Cleveland Browns
head coach Eric Mangini recently embraced the idea of mending fences with former friend and mentor Bill Belichick.
But based on the response this week from the
New England Patriots
' coach, Mangini shouldn't hold his breath.
There is still a frosty divide that separates the teacher and former pupil. The two coaches will meet for the eighth time Sunday when Belichick and the Patriots (6-1) travel to face Mangini's Browns (2-5). Including the postseason, Belichick is 5-2 against Mangini dating to Mangini's days as head coach of the
New York Jets
.
And New York is where Mangini's relationship with Belichick took a turn for the worse. In September 2007, the Mangini-led Jets filed a complaint with the NFL against Belichick stating that a Patriots cameraman was taping New York's defensive signals. That prompted a lengthy investigation by the NFL -- famously known as "Spygate" -- that resulted in a $500,000 fine for Belichick, a $250,000 fine for the Patriots and a loss of their 2008 first-round pick.
The investigation also found that Belichick had been taping signals since 2000. It was a major hit to Belichick's reputation, and the blow was dealt by a team coached by Mangini, whom Belichick had taken under his wing as a former ball boy in Cleveland and gradually developed into an NFL head coach.
Mangini and Belichick haven't been on speaking terms for several years.
"I'd say never say never," Mangini said of a possible reconciliation. "Obviously, he was very important to me and I respect him, very important to my family and all those things. But we'll see. Time will tell."
At this week's conference call, not for one second did the Patriots' coach care to entertain the thought of making up with Mangini.
Belichick was asked to describe the relationship with his former pupil.
"We're both coaching teams that are going to play on Sunday," said Belichick, ignoring the topic.
If Mangini reached out, would Belichick be receptive to it?
"Right now I'm really receptive to working on the Browns and trying to get our team ready to play," Belichick responded.
Where did the two coaches go wrong?
"I'm just trying to get our team ready to play this week, just like I do every single week," Belichick said.
Ouch!
It's pretty clear where both parties stand: Mangini remains optimistic that time will heal this wound, and Belichick isn't interested in being friendly.
But why now for Mangini? After letting things fester for several years, why has Mangini gone public in trying to patch things up?
The most prevalent theory in NFL circles is that Mangini realizes he's on the hot seat. After "Spygate," his firing in New York, and an unceremonious breakup last year with another friend in former Browns general manager George Kokinis, Mangini doesn't have the best reputation around the league.
If Mangini doesn't win enough games this year -- the Browns are on pace to win only four or five -- Cleveland president Mike Holmgren could go in another direction. And for Mangini to get another shot as a head coach or coordinator in the NFL, an image makeover may be necessary. Mangini also has been noticeably more personable with the media this season.
Belichick's tree looms large in the NFL forest, as Mangini knows.
"I am really happy that I had that chance [to work under Belichick], because I think he's arguably one of the best, if not the best, coaches in the league," Mangini said.
[+] Enlarge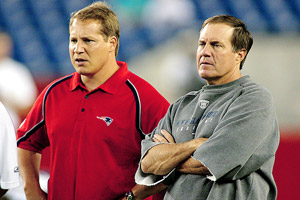 Stew Milne/US PresswireEric Mangini was an assistant coach under Belichick for nine seasons with the Jets and Patriots.
On the field, Mangini was able to have some degree of success against Belichick, because Mangini had more veteran talent in New York. For example, two of Mangini's wins against New England came with
Chad Pennington
and
Brett Favre
at quarterback.
This week the Browns have the tough task of trying to beat the Patriots with rookie quarterback
Colt McCoy
. The third-round pick is expected to get his third straight start as veteran quarterbacks
Seneca Wallace
and
Jake Delhomme
recover from ankle injuries.
McCoy has shown accuracy and potential in splitting games against the
Pittsburgh Steelers
and
New Orleans Saints
. Belichick was more open to discussing McCoy than he was Mangini.
"He looks like he's an athletic kid and a good competitor," Belichick said. "He's been on the road in two tough places to play, and it looks like he's hung in there pretty well."
Will Mangini and Belichick ever be what they once were pre-Spygate? Probably not.
But if Belichick is willing, Mangini has offered an olive branch. He's open to repairing this broken friendship.
"I think everything takes care of itself over time," Mangini explained. "He's had a lot to focus on. I've had a lot to focus on. So it's just one of those things right now."
NFL SCOREBOARD
Sunday, 2/2
WEEKLY LEADERS