NFL Nation:

Stanford Keglar
September, 5, 2010
9/05/10
5:25
PM ET
Roster and practice-squad news so far Sunday:
Indianapolis Colts
Signed quarterback
Tom Brandstater
, defensive end
John Chick
, receiver
Brandon James
, defensive back
Mike Newton
and receiver
Blair White
to the practice squad.
Jacksonville Jaguars
Were awarded defensive tackle
Landon Cohen
off waivers from the
Detroit Lions
. Released offensive lineman
Paul McQuistan
.
Signed offensive tackle
Daniel Baldridge
, tight end
Mike Caussin
, receiver
John Matthews
, and defensive tackle Kommonyan Quaye to the practice squad.
Tennessee Titans
Were awarded linebacker
Tim Shaw
from the
Chicago Bears
and linebacker
Patrick Bailey
from the
Pittsburgh Steelers
off waivers. Released linebackers
Stanford Keglar
and running back
LeGarrette Blount
.
Signed defensive lineman
Hall Davis
, receiver
Dominique Edison
, cornerback Pete Ittersagen, center
Kevin Matthews
, safety
Myron Rolle
and linebacker
Patrick Trahan
to the practice squad.
September, 4, 2010
9/04/10
7:08
PM ET
Check
here
for a full list of Tennessee's roster moves.

Biggest surprises:
Running back
Samkon Gado
ran ahead of
LeGarrette Blount
since he was added, but Gado lost out to the unproven rookie. Tight end
Sean Ryan
seemed like he'd stick as insurance for
Craig Stevens
, whose role is now quite important and who's had concussion issues in the past. But the Titans parted ways with Ryan. Veteran cornerback
Tye Hill
was surprised he was let go, according to The Tennessean. Jeff Fisher says teams need at least four corners. If you count nickelback
Vincent Fuller
, a safety, in the equation the numbers are OK. But otherwise unproven
Ryan Mouton
is fourth.
No-brainers:
Chris Simms
often looked confused and flustered in preseason action, and it became clear that the Titans would stick with
Kerry Collins
as the veteran backup to
Vince Young
while looking to develop rookie
Rusty Smith
for down the road. Collins can run the scout team at practice and step in with no practice work if and when he's needed, and Smith's got a lot of good qualities, including a nice arm and swagger.
What's next:
The Titans will probably look for help at linebacker, where Gerald McRath's four-game suspension is underway, and the primary alternative, Collin Allred, has not been durable lately. Could they pursue Oakland's
Thomas Howard
in a trade? The depth right now beyond
Stephen Tulloch
,
Will Witherspoon
and Allred is
Jamie Winborn
,
Stanford Keglar
and long snapper
Ken Amato
. With receiver
Paul Williams
finally gone, Keglar can be the guy fans wonder about still being around.
December, 22, 2009
12/22/09
11:00
AM ET
»
NFC Stock Watch
:
East
|
West
|
North
|
South
»
AFC
:
East
|
West
|
North
|
South
Falling
1. Reggie Nelson, Jaguars FS:
Featured here before, he hurt the Jaguars' chances at being the team to beat Indianapolis on Thursday with his misplay on
Reggie Wayne
's 65-yard touchdown catch that put Indy ahead. Nelson was pretty good as a rookie after he was the 21st pick in 2007. But his second and third years have been a disappointment. Perhaps addressing his spot in the offseason will wind up ranking on the priority list.
2. Texans run game:
It's the blocking, it's the backs, it's the play calling, it's everything.
Arian Foster
, the newest guy to get a chance, fumbled an early catch and saw minimal time. In the second consecutive game against a bad NFC West team, the Texans could not seize control by running with any consistency. A week after AFC South rival Tennessee averaged 5.3 yards a carry in a thrashing of the Rams, Houston managed a 2.2 average.
3. Titans veteran linebackers:
The Titans lost both of their outside linebackers for the season. The durable
Keith Bulluck
tore the ACL in his left knee and will see a starting streak of 127 games end.
David Thornton
, who's been dealing with a shoulder injury, was also shelved and will have surgery.
Rookie
Gerald McRath
can play. But the other spot and a pairing of inexperienced outside backers McRath and
Colin Allred
or
Stanford Keglar
or newly signed veteran
Jamie Winborn
could be a big issue.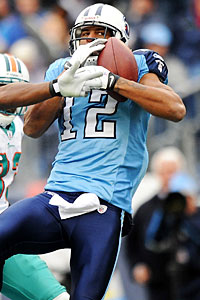 Jim Brown/US PresswireBoth of Justin Gage's receptions Sunday were for touchdowns.
Rising
1. Daniel Muir, Colts DT:
The position was considered a big weakness in 2008, but the top three interior defensive linemen right now were on the team last year. Second-round draft pick
Fili Moala
was supposed to add size and impact, but Muir has filled that role.
The 312-pounder is averaging over seven tackles a game in his last six, including 10 at Jacksonville. Offenses are averaging 3.9 yards a carry in that span, an improved number for Indy.
2. Justin Gage, Titans WR:
Gage's big leaping catch in San Francisco in Week 9 ended with a crash that broke bones in his lower back. He missed four games and is now playing as the third receiver. He hardly got wide open for his two touchdown catches against the Dolphins, but when Vince Young put up perfect passes for him, he pulled them both in. If Gage plays like that, and
Nate Washington
holds on to the ball, those two and impressive rookie
Kenny Britt
could be the team's best receiving trio in some time.
3. Gerald Alexander, Jaguars SS:
Helping offset Nelson's poor play is a summer trade acquisition. The Jaguars got Alexander from Detroit in exchange for receiver
Dennis Northcutt
on June 30. In his past three games, he has an interception, two forced fumbles and one fumble recovery. He's looking like a guy who could be part of a long-term answer.
August, 15, 2009
8/15/09
4:05
PM ET
Posted by ESPN.com's Paul Kuharsky
NASHVILLE, Tenn. -- Three things I'll be looking at, beyond the inevitable Vince Young/ Patrick Ramsey analysis, while the Titans take on the Buccaneers Saturday night in Nashville:


1. Tempo and rhythm: Kerry Collins had a lot of slow starts in 2008 and we know he and the first team offense aren't going to play very long. Tennessee's offense looks to have significantly better personnel than Tampa Bay's defense. Can the Titans first-team offense find a good flow?
2. A corner to stand out. Has one of the four candidates to be the chief corner backup stepped forward yet? I've not been with the Titans for a while, but haven't heard any great buzz yet either about Cary Williams, DeMarcus Faggins, Ryan Mouton or Jason McCourty.
3. Young linebacker play. Ryan Fowler will start in the middle with Stephen Tulloch (knee) out. Josh Stamer probably works with the twos in David Thornton's spot on the left with Stanford Keglar taking over for Keith Bulluck on the right. Rookie Gerald McRath should see significant time outside as well. Keglar or McRath could have a big opportunity in a year if Bulluck's not re-signed. Do either show signs?
August, 2, 2009
8/02/09
8:33
PM ET
Posted by ESPN.com's Paul Kuharsky

NASHVILLE, Tenn. -- I took a great interest in a drill Sunday that pitted linebackers against running backs in a pass protection scenario.
I thought Stephen Tulloch was especially impressive going against the Titans running backs in the team's first practice in shoulder pads.
Here's a mini-breakdown of some of the matchups:
After practice, I was considering my notes/scorecard and sought clarification from running back coach Earnest Byner on what amounted to a win on a snap of the drill.
"If a guy gets good contact, shows the ability to get on a guy and then tries to run him by, that's pretty good," he said. "In that drill, the defense is supposed to win. That's really a defensive drill. If a guy can get any contact and maintain the contact for like two seconds, that's a win."
A couple important notes for context:
If they weren't on the line of scrimmage, the backs lined up very close to it. In game situations they wouldn't be so close to the defender they need to block at the snap. At a practice the backs are without one major tool -- the cut block that would take a linebacker's legs out and put him on the ground. Ganther said ideally a back will push the rusher outside, buying a quarterback who is stepping up in the pocket additional time.
"It's much easier in a game," Byner said. "You have the ability to cut block, you have the ability to use your line a little more. If you can block in that drill, the game is easy. I thought the guys did well. They sit tight, hard to the defender. I wanted that. I didn't want them to sit and be cautious and not do anything. I wanted the aggression, and I was pleased with that. We can learn from that."
Some other practice observations:
Cornerback Tanard Davis, who finished last year on the practice squad, had a strong afternoon and has been good so far, though working against lesser players. He muscled his way in front of Chris Davis to intercept a short Vince Young pass in one-on-ones. Later, in a team period he moved in front of Paul Williams to grab another pass from Young.
Rob Bironas, who was due back from his mystery injury, did not return. Fisher continued to decline to say what the injury was, on a day when Kenny Britt talked openly about the right hamstring that landed him on PUP. If Bironas' injury is so insignificant, than why wouldn't it be shared? It gives us all reason to believe something odd is up.
Britt is still dealing with a right hamstring issue, so he starts out on the PUP list. Fisher didn't quite rule Britt out of the Hall of Fame Game against Buffalo, but said it's "probably unlikely." Britt sounded pretty upbeat. Fisher made it sound as if a week would be the most Britt misses.
Jared Cook went to the ground to scoop a Young pass. He has made a lot of catches on the run or going up to get the ball, and I took note that he also looked comfortable going to the ground.
During a two minute drill period, a sliding Nate Washington caught a Kerry Collins pass on the right with Chris Hope and Nick Harper closing. It was too close to call as to whether Washington had his right knee down in bounds before his left leg crossed the sideline. Both sides pleaded with Fisher, who got a shout out from Hope when he came to a quick verdict and the sides "split the difference" on the gain. The drive produced an Alge Crumpler touchdown catch.
Paul Williams made a very nice, spinning, leaping sideline catch.
Jovan Haye stepped up and crushed Henry on a carry the back tried to take up the middle.
Ringer looks a lot better in pads, and a lot better than he did in OTAs.
March, 20, 2009
3/20/09
2:35
PM ET
Posted by ESPN.com's Paul Kuharsky
Often times mock drafters or fans (or mock drafter fans) who aren't fully aware of a team's depth chart will connect the easiest dots.
The Titans, for example, lost Albert Haynesworth, therefore a lot of people presume they automatically need a replacement defensive tackle and put them down for one at No. 30.
| | |
| --- | --- |
| | |
| | Mitchell Layton/Getty Images |
| | Just because the Titans lost Albert Haynesworth through free agency doesn't mean they are dead-set on a replacement in the first round. |
Except that the Titans drafted Jason Jones in the second round last year and he was impressive as a rookie, with five sacks in 13 games. They signed free agent Jovan Haye, a favorite of defensive line coach Jim Washburn. They like starter Tony Brown very much, and they like Kevin Vickerson as their biggest body -- enough so that he got a contract extension during the 2008 season.
The Titans may well be in best-player-available mode and if Evander Hood is there at their spot and they see him as a great value they could take him.
But it's hardly a foregone conclusion.
Similarly, I believe it's a mistake to cross left tackle off the list of potential picks for Jacksonville just because they signed free agent Tra Thomas. They still need a long-term solution, and if the best tackle at No. 8 is a better value to them than what's left at receiver, defensive tackle or cornerback -- or if they aren't taking a quarterback or trading the pick to someone who wants one -- they may well take a potential offensive line anchor.
The Scouts Inc. needs board looks pretty good to me, so I'd keep an eye on that. It gets adjusted based on any new developments.
Meanwhile, here's an up-to-date rundown of the primary needs, in my view, for the teams of the AFC South:

HOUSTON TEXANS

Defensive tackle: Amobi Okoye needs some help inside to be the player the Texans envisioned, and an effective tackle who demands attention will help the continued push to upgrade the line and produce more consistent pass pressure.
Defensive back: There is evidence that Jacques Reeves wasn't as bad as portrayed last year as the corner opposite Dunta Robinson once Robinson returned from injury. But competition for the second and third spots would be good to add with Reeves and Fred Bennett. And none of the top three safeties are overwhelming -- Eugene Wilson at free and Dominique Barber at strong are the starters, with Nick Ferguson as depth. The Texans should add the best overall defensive back they can find, maybe a couple.
Outside linebacker: The Texans can use a bigger, more rugged outside 'backer who can rush the quarterback and drop into coverage.
Running back: Steve Slaton was a godsend in the third round last year. Now the Texans need to find a bigger guy to take some of the carries and serve as a heavier changeup.

INDIANAPOLIS COLTS
Defensive tackle: The Colts lost the big bodies in the middle of their line, space-eating run-stuffers Quinn Pitcock and Ed Johnson, right at the start of last season and they need to spend to get quality replacements.
Receiver: Anthony Gonzalez can become a full-time guy with Marvin Harrison gone, and he or Reggie Wayne can kick into the slot in the often featured three-wide sets. Still, a third quality wideout is a necessity, and it won't be a surprise if Bill Polian uses No. 27 to address the position.
Outside linebackers: This group needs to be replenished as two guys who've seen significant time in the last two seasons, Freddy Keiaho and Tyjuan Hagler, appear out of the picture. But the Colts restock their linebackers often through the draft and with undrafted rookies.
Running back: Was Joseph Addai banged up and suffering behind an injured line, or is he not going to be able to carry the load? The Colts like Mike Hart, who's coming off a bad injury. But they haven't re-signed Dominic Rhodes and need more.

JACKSONVILLE JAGUARS
Receiver: A perpetual need. They are down Reggie Williams, a free agent they have no interest in, and Matt Jones, who was cut after a new round of trouble. To get a true read on David Garrard, he needs real weapons on the outside.
Defensive tackle: GM Gene Smith has talked a lot about building from the inside-out and the Jaguars thrived when John Henderson and Marcus Stroud gave th
em an identity. Their plans to replace Stroud after a trade failed, and they need a better partner for Henderson that will help toughen them and could be a good influence on him.
Cornerback: Brian Williams can play opposite Rashean Mathis or he can play safety. Free-agent safety addition Sean Considine is an X factor here. But even if he's in the lineup and the Jaguars have their two starting corners, they need nickel candidates and depth badly.
Left tackle: As mentioned above, the addition of Thomas does not mean the Jaguars are done addressing this spot. Garrard needs not only better weapons but better protection and the offense is built around running back Maurice Jones-Drew, who needs consistent long-term blocking.

TENNESSEE TITANS

Receiver: They hope for big things from free-agent addition Nate Washington, but considering how long they've lacked a dynamic weapon outside, they can't have enough candidates for the role. A legitimate big-play threat can help create things for Chris Johnson, the running back who's the centerpiece of the offense.
Cornerback: Beyond starters Cortland Finnegan and Nick Harper and nickel Vincent Fuller, the Titans have only unproven Cary Williams. The expectation is the Titans will draft a corner who would be in line to replace Harper in 2010 and they need the depth now after losing Eric King and Chris Carr in free agency.
Outside linebacker: Stalwart Keith Bulluck is heading into a contract year and should the Titans have trouble holding on to him or decide not to, they could use an heir in place and it's unclear if Stanford Keglar can be that guy. Better depth and a player who could be a big special-teamer will be nice to have in 2009.
Offensive tackle: Daniel Loper was a versatile swing guy who backed up both Michael Roos and David Stewart and could move inside to play guard. He went to Detroit as a free agent. Maybe Mike Otto is the new third tackle, but a versatile lineman is a need for depth.
August, 12, 2008
8/12/08
9:31
AM ET
Posted by ESPN.com's Paul Kuharsky
Greetings from Jacksonville. In order to join the Jaguars Tuesday morning, this edition of Reading the coverage is of the quick-hitting variety...
Houston Texans
Indianapolis Colts
Jacksonville Jaguars
Tennessee Titans

NFL SCOREBOARD
Thursday, 9/18
Sunday, 9/21
Monday, 9/22