NFL Nation:

Stanley Arnoux
September, 9, 2010
9/09/10
7:20
PM ET
September, 4, 2010
9/04/10
8:10
PM ET
Check
here
for a full list of New Orleans' roster moves.

Biggest surprise:
Right up until the final preseason game, it looked as if
Jonathan Casillas
was set to be the starter at weak-side linebacker. That's the position the Saints opened up when they let veteran
Scott Fujita
walk in free agency and it seemed like good news at the time. But the Saints just announced Casillas has been placed on the injured-reserve list and will miss the season with a foot injury. They also placed
Clint Ingram
, who was brought in to compete for that spot, on the physically-unable-to-perform list. That leaves them more than thin at linebacker.
Scott Shanle
will start on the strong side and
Jonathan Vilma
in the middle.
Stanley Arnoux
,
Marvin Mitchell
,
Jo-Lonn Dunbar
and
Anthony Waters
are the other linebackers on the roster and none of them are sure-fire starters. Dunbar got some first-team work on the weak side in the early part of camp, but is viewed more as a backup middle linebacker and special-teams player. Arnoux, who missed his rookie season with an injury, has the tools to play the weak side, but lacks experience. This looks like a situation in which the Saints will have to look for help from the outside. What's available on the waiver wire might not be enough. They might have to pursue a trade for a linebacker with realistic ability to start right away.
No-brainer:
Although he was an instant fan favorite, and a huge reason why New Orleans won the first Super Bowl in franchise history, the Saints have known for a long time -- barring a huge miracle -- that free safety
Darren Sharper
wouldn't be on the opening-day roster. He's 34 and the Saints didn't even re-sign him until Sharper checked the free-agent market and found he had very little value. He's also coming off knee surgery and couldn't get on the practice field the entire preseason. The Saints placed him on the physically-unable-to-perform list and there's hope he might be able to come back and provide some help in the second half of the season. But that might be nothing more than wishful thinking. The Saints called in last year's first-round pick
Malcolm Jenkins
, who spent his rookie season at cornerback, soon after the Super Bowl and told him he'd be moving to free safety. He's worked with the first team the entire offseason and he's not going to be coming out of the lineup unless he struggles mightily.
What's next:
It's kind of difficult to improve on the roster of a Super Bowl champion. But general manager Mickey Loomis and his staff will watch the waiver wire closely for more than outside linebackers. You still could see a move at defensive tackle, where depth is a slight issue. With only two quarterbacks on the 53-man roster, it's imperative the Saints carry one on the practice squad. The odds-on favorite for that is Sean Canfield, who was a seventh-round draft pick and went through the preseason with the Saints.
July, 31, 2010
7/31/10
12:27
PM ET
ESPN.com NFL Power Ranking
(pre-camp): 2
METAIRIE, La. -- As the
New Orleans Saints
finished their first camp practice Friday morning, defensive coordinator Gregg Williams, a man known for holding back nothing on or off the field, unloaded. He wanted to get something off his chest. Heck, out of his body, out of his mouth and out into the open.
Without ever really being asked anything that would prompt the issue, Williams started talking about why the Saints can repeat as Super Bowl champions. He's tired of hearing the reasons they can't and the repeated reminders that the follow-up season hasn't been good to many Super Bowl teams in recent history.
"I keep on hearing you guys talk about this Super Bowl hangover and it's starting to chafe me a little bit,'' Williams said. "It really is and I'm being real honest. The reason being is, if you could see behind the scenes of our offseason program from April 19 and to see every single practice we've had, I don't have any qualms about the way our defense is because all they did was show up with more hunger, more fire, wanted me to be a bigger jerk and get on their (butt) more. They begged for me to get on their (butt) more. So far, I've seen nothing that would indicate that we can't make another run at this.''
Williams may be one of the organization's more vocal figures, but you quickly get the feeling he's not alone on this idea. Sure, the Saints spent a good portion of the offseason celebrating the first Super Bowl title in franchise history. Sure, recent history is stacked against them. No team has repeated since the 2004 Patriots.
Confidence -- some even have suggested arrogance -- was a big part of the reason the Saints won the Super Bowl last season. That hasn't changed. Unlike a lot of recent Super Bowl teams, the Saints really didn't lose much in free agency and they didn't have their coaching staff picked apart. There really hasn't been much turnover of faces or attitude.
"There was a really good locker room here before I got here,'' Williams said. "There's a better locker room now. The guys that we brought in this year, they fit into that locker room because Jon Vilma and
Drew Brees
aren't going to let the wrong kind of people be in that locker room. They're just not going to do that.''
THREE HOT ISSUES
[+] Enlarge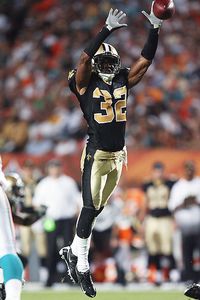 Doug Benc/Getty ImagesA healthy Jabari Greer could help the defense be more consistent.
1. Can a defense that was opportunistic but far from dominant become more consistent?
Sure, there is some bravado that comes with Williams. That's part of his nature and it's part of what makes him a good coach. But what he's saying isn't just bluster.
The Saints really should be much better on defense this season. All they really lost was linebacker
Scott Fujita
and defensive end
Charles Grant
. They showed Grant the door and probably upgraded the position by signing veterans
Alex Brown
and
Jimmy Wilkerson
. They'll line up on the other side from
Will Smith
. Brown and Wilkerson aren't dominant pass-rushers, but they're consistent in that area and play the run very well. Fujita was a key contributor, but the Saints believe they have a group of promising linebackers (
Troy Evans
,
Jo-Lonn Dunbar
and
Stanley Arnoux
) and believe one of them will rise up.
Plug in a healthy
Sedrick Ellis
in the middle of the defensive line and the Saints should have a solid front seven. But the defensive backfield is where the Saints really could be outstanding. They've assembled one of the best collections of secondary talent in the league.
Jabari Greer
and
Tracy Porter
might be the best cornerbacks no one outside of New Orleans has heard of. When healthy, they both can be shut-down guys. Both were banged up last season, and that's one of the reasons the Saints drafted cornerback
Patrick Robinson
. That move also has allowed them to move last year's first-round pick,
Malcolm Jenkins
, to free safety, where he might get the chance to beat out
Darren Sharper
. If you can put Sharper, a possible future Hall of Famer on the bench, that's a pretty big statement. People talk about New Orleans' offense being explosive, but the defense has a chance to be every bit as dynamic.
2. Can the offense live up to last year's standards?
Brees remains the quarterback and, as long as that's the case, this offense is going to be great. Brees clearly is in his prime and his pairing with head coach/offensive genius Sean Payton makes magic possible on every play.
This is an offense that can hit you from every angle -- Brees throwing short or long,
Pierre Thomas
running inside and
Reggie Bush
outside and an offensive line filled with Pro Bowlers. Keep in mind that the Saints had some injuries at the skill positions last year, but they still were phenomenal on offense. If they can keep Bush, Thomas,
Marques Colston
,
Heath Evans
and
Jeremy Shockey
healthy, last year's production could be eclipsed.
[+] Enlarge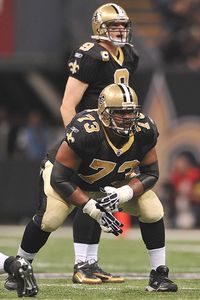 Larry French/Getty ImagesJahri Evans is part of a dominant offensive line that makes up for any weakness at left tackle.
3. Is left tackle really that important?
The Saints used to have a Pro Bowl left tackle. His name was
Jammal Brown
and they traded him to Washington in the offseason. That happened after Brown missed all last season with an injury and the Saints got by with
Jermon Bushrod
quite nicely.
The Saints aren't touting Bushrod as a franchise left tackle, although he's the favorite to be the starter. They also drafted
Charles Brown
, and
Zach Strief
, who filled in when Bushrod slumped a bit last season, also is in the mix. The Saints gave Bushrod plenty of help last season and they're prepared to do it again for him -- or for Brown or Streif. But the lesson that came out of last year is, in this offense, it's not a necessity to have a dominant left tackle.
But that's partly because the Saints have the league's best guard tandem (
Jahri Evans
and
Carl Nicks
), a Pro Bowl right tackle (
Jonathan Stinchcomb
) and an excellent center (
Jonathan Goodwin
). Throw anyone out there at left tackle and the rest of the line and Brees will make him look good.
BIGGEST SURPRISE
Jimmy Graham.
The Saints took what seemed like a bit of a leap when they drafted the tight end in the third round. He played basketball at the University of Miami before deciding to switch to football in his final year. The conventional wisdom was that Graham would be a bit of a project and would take a year or two to really have an impact. But there already is a buzz among the coaching staff and other offensive players about Graham. Everyone knew he had great athletic ability coming in, but he's picked up things faster than anyone expected and he got some first-team work with Brees in June workouts. He might play a bigger role faster than anyone expected.
BIGGEST DISAPPOINTMENT
Clint Ingram.
When the Saints signed Ingram, a lot of fans instantly thought he would be the automatic replacement for Fujita. Ingram had been a starter in Jacksonville, so the logic was solid. But Ingram was injured when the Saints signed him and he still hasn't been on the practice field, except while riding a stationary bike. That has allowed Troy Evans, Dunbar and Arnoux time to make a good impression. Unless Ingram gets healthy very soon and makes a huge impression on the field, he might not even get a roster spot.
OBSERVATION DECK
James Lang/US PresswireDarren Sharper wore down toward the end of last season and had offseason microfracture surgery.

I know this might sound like blasphemy to Saints fans because Sharper is very popular and had a huge impact last year. But the fact is he's 34 and coming off micro-fracture knee surgery. I've suggested before I think there's a good chance Jenkins takes his place in the starting lineup. But I'll take it one step further here and say -- I'm not promising this will happen -- I can see a scenario where Sharper doesn't even stay on the active roster. The Saints are high on Jenkins. They also like Usama Young and are hopeful about Chip Vaughn, who missed his rookie year with an injury. Ideally, the Saints would like to keep Sharper around for his leadership. But if his knee doesn't come along, he could spend part of the season on the physically-unable-to-perform list, the injured-reserve list or maybe even be released or retired. Even with all his credentials, Sharper can't contribute if his knee isn't right. The Saints have a lot of other safeties with young legs.

The Saints used a three-headed backfield with Bush, Thomas and Mike Bell last season. Bell is gone, but the playing time division should be pretty similar this year. Just plug Lynell Hamilton into Bell's place. The Saints wouldn't have let Bell go if they didn't think Hamilton was ready. I don't want to tease you and say this is the year Bush shows he can run between the tackles. But remember how well he ran in the playoffs and how he was more physical than at any time in his career? That was because he was completely healthy. That seems to still be the case, so don't be surprised if you see Bush's numbers go up a bit. This guy can do a little bit of everything.

Shockey's always been an easy target and there's no doubt he's brought some of that on himself. But he appears to be in very good physical shape. Shockey hasn't really been a distraction in New Orleans like many thought he was when he was with the Giants. He's just been banged up for much of his time with the Saints. Maybe –- and I'm just saying maybe -- Shockey might have matured and might be taking better care of himself in an effort to stay on the field.

It really didn't get much attention, but the best move the Saints made in the offseason might have been signing Patrick Ramsey to serve as Brees' backup. Veteran Mark Brunell was a good fit in that role for a couple of years, but the Saints needed to get a little younger. The Saints hope and pray nothing ever happens to Brees. But, if he were to miss some time, the New Orleans offense might not suddenly fall apart. Ramsey's a guy who has bounced around the league. He got messed up by Steve Spurrier early in his career in Washington, but he still has some talent. This is a quarterback-friendly offense with all sorts of weapons and Ramsey could win games for the Saints -- if that ever becomes necessary.

For a couple years, special teams were a bit of a question. That has changed. Kicker Garrett Hartley and punter Thomas Morstead were heroes in the Super Bowl. They're still young and should only continue to get better.

It's very early in camp, but one player who has intrigued the coaching staff is defensive end Junior Galette. He's an undrafted rookie and very undersized at 258 pounds. But this guy is showing great speed and there's a chance he could land a job as a pass-rush specialist. Yeah, Bobby McCray also is supposed to fit that description. But McCray had 1.5 sacks last season and actually was cut because of a high salary before he basically begged his way back (at a reduced salary). If the Saints cut McCray once, there's no reason why they couldn't do it again.
May, 11, 2010
5/11/10
3:09
PM ET
We've spent a lot of time talking about the 2010 draft picks in recent weeks.
But those guys aren't going to be the only "rookies'' in the NFC South this season. As I watched Atlanta's minicamp over the weekend and saw
Peria Jerry
and
William Moore
doing some work on the side, it reminded me of a trend that spread through the NFC South last year. A lot of 2009 draft picks missed all or most of last season because of injuries.
[+] Enlarge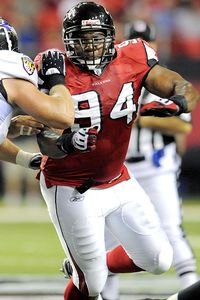 Dale Zanine/US PresswireThe Falcons are counting on 2009 first-rounder Peria Jerry to bolster their pass rush.
Look through the division and you can almost make a case that Atlanta and New Orleans and, to a lesser degree, Tampa Bay, each will have something of an extra draft class this year. Let's start with the Falcons because Jerry and Moore were their first two picks last year and both were injured before really getting a chance to do much.
Jerry instantly claimed a spot as a starter at defensive tackle before suffering an early-season knee injury. Judging by how folks in Atlanta were talking, Jerry still faces a long recovery. But he'll be back in the starting lineup as soon as he's ready. Moore's almost ready and the Falcons are hoping he can win a starting safety job.
New Orleans had only four draft picks in 2009 and cornerback
Malcolm Jenkins
and punter
Thomas Morstead
were the only ones to make an impact as rookies. Linebacker
Stanley Arnoux
and safety
Chip Vaughn
were hurt before the season even started. Both are expected to be healthy this year. I don't see either one stepping into a starting role, but the Saints are looking for Arnoux and Vaughn to be key players on special teams.
Tampa Bay saw some promise out of cornerback
E.J. Biggers
before the seventh-round draft pick got hurt. He's not going to solve the search as an heir apparent to veteran
Ronde Barber
, but Biggers has a chance at a roster spot and some duty on special teams. You can almost throw defensive end
Kyle Moore
, a fourth-round pick last year, into this category. Moore appeared in eight games, but didn't do much. He was set back by some knee problems. The Bucs believe Moore has matured mentally and physically and could be a factor this year.
March, 12, 2010
3/12/10
3:54
PM ET
New Orleans general manager Mickey Loomis met with the local media Friday morning for a "season wrap-up'' session. Yes, it came about two months later than the rest of the wrap-ups around the division.
But we'll give Loomis a pass on this one. The man has been very business because the Super Bowl win kept the Saints playing a month longer than the rest of the teams in the division. Loomis also had to quickly get ready for the combine and free agency.
But he made time to summarize the season and look ahead and the Saints PR department passed along the transcript of his interview. Loomis covered more ground than we can include here, so we'll touch on the highlights.
The contract talks with free-agent safety Darren Sharper:
"I have all of the love in the world for Darren Sharper. I just don't have all the money in the world for Darren Sharper. We'd like to have Darren back. We really would and again, no different than any player, if it fits under the salary structure and the resources that we have, then we'll definitely want to have him back. If it doesn't and he has an opportunity somewhere else, we understand that."
The loss of free-agent linebacker Scott Fujita to Cleveland:
"Scott just got an offer that was too good to turn down. He wanted to return to New Orleans. We wanted him to return to New Orleans, but we understand what free agency is. We're going to miss Scott and [wife] Jaclyn. They were the first to commit to the
New Orleans Saints
after Hurricane Katrina, after the 2005 season and Scott really exemplified the type of player we want in New Orleans, intelligent, tough, high-character and a great leader for our team. We wish them all the best."
Who will fill Fujita's position:
"That remains to be seen. We have some guys in our program right now in
Jonathan Casillas
and
Stanley Arnoux
, young players. We have some other candidates,
Anthony Waters
,
Troy Evans
, but that will be determined in training camp."
On free agents who are visiting:
"We're going to have Jake [Delhomme] visit later today. We have
James Hall
in here today. We had a visit scheduled with
Leonard Little
and an emergency came up and he's had to postpone that, so we'll see what happens."
On if running back Reggie Bush will remain with the Saints:
"Yes. He'll be back and he'll be back at his current salary."
March, 7, 2010
3/07/10
5:18
PM ET
The
New Orleans Saints
have just been hit with their first key loss from their Super Bowl team. The
Cleveland Browns
announced they have signed free-agent linebacker
Scott Fujita
.
I don't know contract details yet, but it's safe to say the Browns paid more than the Saints were willing to for Fujita. There seemed to be mutual interest in Fujita returning to the Saints, but only at a reasonable price.
Fujita will turn 31 in April and he dealt with some injury problems last season. Although there is no automatic replacement in place, the Saints have some options in young linebackers
Marvin Mitchell
,
Jonathan Casillas
and
Troy Evans
. All got a fair amount of playing time last season.
The Saints also drafted
Stanley Arnoux
last year, but he was injured in minicamp and missed the entire season. Arnoux is expected to return this year and could be a factor.
But it remains very possible the Saints could use one of their early draft picks to find a potential replacement for Fujita.
December, 4, 2009
12/04/09
1:09
PM ET
At a draft-day party in Raymond James Stadium, fans booed when the Bucs selected quarterback
Josh Freeman
. A day later, there weren't any large gatherings as the draft wound down, but you still could hear some groans in the streets of New Orleans as the Saints traded up to get a punter.
Funny, but no one's complaining now about the two most controversial draft picks in the NFC South. Four starts into his career, Freeman's shown enough promise to bring hope to a franchise that spent the first half of the season without any. In New Orleans,
Thomas Morstead
has gone from being the punter nobody aside from Mickey Loomis and Sean Payton wanted to one of the best picks in the entire draft.
We're only 11 games into the season and you never can fully judge a draft until two or three years out. But this year's draft class is forming an early identity and it's time for a look at the Class of 2009.
TAMPA BAY BUCCANEERS.
For all that's gone wrong with the Bucs this year, it's important to remember that one thing has gone right. Tampa Bay appears to have found the franchise quarterback it's been looking for since Doug Williams left. Don't undersell the importance of that. If Freeman really is that franchise quarterback, this rebuilding process is no longer so daunting.
[+] Enlarge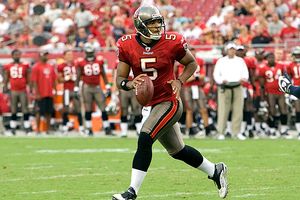 J. Meric/Getty Images Rookie Josh Freeman is giving the Bucs a reason to believe they have found their franchise quarterback.
Want some more hope for the Buccaneers? Consider these numbers. In Freeman's four starts, he has thrown more touchdown passes (seven) than
Matt Ryan
,
Joe Flacco
,
Matthew Stafford
or
Mark Sanchez
did in their first four starts. Freeman also has a 77.0 passer rating, which is significantly better than what the quartet just mentioned did in their first four starts.
He also is 1-3 as a starter, but easily could be 3-1 if the Bucs had just played a little bit of defense. Not bad for a kid who came out of Kansas State with questions about his ability to make decisions. It's looking more and more like the Bucs made the right call in locking in on Freeman, who coach Raheem Morris knew from his one-year stint as an assistant at Kansas State, even if they telegraphed their intentions so strongly that they had to trade up a spot to No. 18 to make sure they got their quarterback.
The next step is to surround Freeman with talent. You can bet that's going to be the focus of the 2010 draft as the Bucs quietly stockpiled 10 picks. But the Bucs already have landed a key piece for Freeman. That's wide receiver
Sammie Stroughter
, who came in the seventh round. Stroughter had some personal issues in college, but the Bucs did their homework and thought he was worth a gamble late in the draft.
Stroughter has turned out better than anyone could have expected. He's already a solid slot receiver, which is almost like a starter in the modern NFL. The Bucs also got another soon-to-be starter in the third round with defensive tackle
Roy Miller
. He's played in a rotation with
Chris Hovan
and
Ryan Sims
this season, but it's not much of a stretch to say Miller is the only member of that trio that will be around next year.
NEW ORLEANS SAINTS.
Pound for pound, the Saints probably have gotten the most out of their draft class so far. They only had four rookies to begin with and defensive back
Chip Vaughn
and
Stanley Arnoux
both went down with injuries in the preseason.
That leaves only Morstead and first-round pick
Malcolm Jenkins
, but that's a pretty strong combination. Morstead, who also handles kickoffs, has helped solidify a kicking game that struggled last season. With Jenkins, the Saints had a rare luxury. They were able to bring the rookie along slowly because starting cornerbacks
Jabari Greer
and
Tracy Porter
were playing so well.
That allowed Jenkins to go through the learning process on the practice field and the sideline. Injuries have piled up the last couple of weeks and Jenkins has been pushed into a starting role. He's shown he's ready for it.
CAROLINA PANTHERS.
Much like the Saints with Morstead and the Bucs with Freeman, the Panthers raised some eyebrows when they moved up in the second round (by trading away their 2010 first-round pick) to get defensive end
Everette Brown
. Unlike the moves by the Bucs and Saints, there remains room to question this one.
The Panthers drafted Brown at a time when there still was uncertainty about the future of defensive end
Julius Peppers
. But Peppers wound up staying as the franchise player and Brown hasn't really been a contributor. He has 1.5 sacks and, no doubt, has plenty of potential.
But Brown is a project. At the moment, he's undersized and nothing more than a situational pass rusher. But at least the Panthers are getting some production out of this draft.
They definitely hit on seventh-round pick
Captain Munnerlyn
, who's been a contributor as a defensive back and on special teams. They also seem to have found a starter in safety
Sherrod Martin
, the second of their two second-round picks.
ATLANTA FALCONS.
A year ago, everyone was talking about how general manager Thomas Dimitroff had put together such a brilliant draft class. That's not happening this year because the Falcons have gotten very little from their rookie class.
It should be noted it's a lot easier to get impact players when you're drafting in the top five in every round instead of in the 20s. It's also important to note that it wouldn't be fair to label Dimitroff's second class as anything close to a bust right now.
You could see right away the Falcons had a player in first-round pick
Peria Jerry
. But the defensive tackle went out for the season in Week Two. Pretty much the same story for second-round pick
William Moore
. Third-round pick Christopher Owens and fourth-round pick
Lawrence Sidbury
haven't been big factors.
Maybe there's a lesson in this draft for the Falcons. Maybe Atlanta fans shouldn't expect every Dimitroff pick to be Matt Ryan or
Curtis Lofton
and produce huge and immediate results. Maybe they should look at this year's draft class and remember the story of
Thomas DeCoud
. He's probably the only member of the spectacular 2008 class that didn't really produce as a rookie.
In his second season, DeCoud is starting at safety and playing well. Sometimes, it takes a little time.
August, 10, 2009
8/10/09
1:06
PM ET
| | |
| --- | --- |
| | |
| | AP Photo/Bill Haber |
| | Jonathan Vilma is excited about playing for new coordinator Gregg Williams. |
Posted by ESPN.com's Pat Yasinskas
METAIRIE, La. -- By all accounts, Jonathan Vilma resurrected his career with the New Orleans Saints last season. After clashing with coach Eric Mangini with the Jets and enduring an injury, Vilma found a home in the middle of New Orleans' 4-3 defense.
He got back to playing middle linebacker the way he was used to playing it and instantly became the leader of the defense. By Vilma's account, that wasn't nearly good enough.
Personal satisfaction has a way of getting watered down when you're playing on a defense that's not very good. Vilma might have been a bright spot, but the rest of the defense was a dark hole. Nine different times the Saints allowed opponents to score at least 27 points and they lost seven of those games.
In the process, the defense helped squander a brilliant season by quarterback Drew Brees and the offense. Brees threw for more than 5,000 yards, but it didn't mean much because the defense didn't stop anyone and the Saints finished out of the playoffs for the second straight year.
It's critical the streak doesn't reach three seasons because that would put coach Sean Payton very much on the hot seat. That's why Payton brought in coordinator Gregg Williams to run the defense and encouraged general manager Mickey Loomis to reshuffle the defensive personnel.
Williams' impact has been felt from the first moment he entered the building and it's been obvious out on the practice field.
"The X's and O's are pretty much the same," Vilma said. "But it's a different mindset. It's about letting us play. Coach Williams lets us know it's all right to go out there and make mistakes. It's all right to go out there and be wrong. As long as you're doing it 100 miles per hour, as long as you're hitting somebody, it's all right. We'll go into the meetings and make our corrections there."
Fantasy Football: 32 Questions

ESPN.com fantasy expert Eric Karabell thinks Saints running back Pierre Thomas is "about to become a star." Story

Basically, what the Saints are doing is trading a cautious defensive approach for an aggressive one.
"Everybody's playing with swagger," defensive end Bobby McCray said. "We've got 160-pound cornerbacks looking to knock your head off."
That should be a welcome sight in New Orleans, where there wasn't a lot of hitting last season, and cornerbacks (and safeties) spent most of their time chasing receivers who already had caught the ball. The roles will be different this season.
"It's a lot more man-on-man," said veteran safety Darren Sharper, who was brought in as a free agent to help stabilize the secondary. "You're doing some zone. You're blitzing guys from different directions. That shouldn't be a problem for us. We have no excuses as far as getting to the quarterback. It's a state of mind. You attack the ball. You have 11 guys being aggressive and you make aggressive calls. We're going to be an aggressive, attacking defense."
It's been said that even an average defense might be good enough to get the Saints to the playoffs. But the Saints aren't looking for an average defense. They want more.
"We can be as good as we want to be," Vilma said. "We have the talent. We had the talent last year, but we just didn't make plays. This year, we're focusing on making those plays. The talent is there. It's just a matter of going out and doing it."
Key Questions

Even with all of the defensive changes, isn't the expected loss of starting defensive ends Charles Grant and Will Smith to suspensions for the first four games going to be very difficult to overcome?
It's never good to be without your starting defensive ends. But the Saints have had the entire offseason to prepare for this situation.
They brought in veterans Paul Spicer and Anthony Hargrove, and they still have McCray, who might have outplayed the underachieving Grant and Smith last season. The Saints would like to use McCray as a pass-rush specialist once Grant and Smith return, but they believe he can fill a starting role in the short term. They're also very fired up about Hargrove, who appears very focused after having some problems that interrupted his career.
There's even hope that Grant and Smith might be better off in the long run because of the suspensions. Both are very talented, but haven't played up to their ability the past couple of years. The Saints are hoping they'll come back from the suspensions with more motivation than ever.
Can the No. 1 offense be as good as last year?
| | |
| --- | --- |
| | |
| | Al Messerschmidt/Getty Images |
| | Quarterback Drew Brees threw for more than 5,000 yards for the Saints last season. |
Heck, it could be even better. Brees' season was remarkable under any circumstances. But a lot of people tend to forget he did all of that with the top three offensive weapons banged up for most of the year. Brees threw for more than 5,000 yards, but didn't have a 1,000-yard receiver or any consistency in the running game.
The 1,000-yard receiver shouldn't be an issue this year. Marques Colston is back at full health and looking absolutely spectacular in training camp. He's the kind of big receiver who should be good for somewhere around 1,200 yards and 10 touchdowns. Throw in tight end Jeremy Shockey, who never was at full strength last year, but is healthy now.
Shockey and Brees look to be developing a strong chemistry in camp. When healthy, Shockey can be one of the league's best tight ends. He didn't catch a touchdown pass last year. He's painfully aware of that and wants to prove he still can find the end zone.
Then there's Reggie Bush. He was off to a very good start as a multi-purpose running back last year, but he got sidetracked by injuries and missed six games.
Can Bush ever live up to the hype he carried coming out of college?
If he stays healthy, yes. Bush will never be the kind of back who runs between the tackles 25 times a game. But that's not what the Saints are looking for. They'll let Pierre Thomas handle most of the carries between the tackles. Bush is a threat to score any time he touches the ball and the Saints will look to get him the ball in space as a runner, receiver and a return man.
Market watch
The Saints really were hoping that Dan Morgan or Stanley Arnoux could take over as the starter at weakside linebacker. But Morgan retired in June and Arnoux tore his Achilles tendon in offseason workouts and will miss the season. That means the Saints appear destined to stick with veteran Scott Shanle in a linebacking corps with Vilma and Scott Fujita. Shanle's experienced, but he doesn't make any big plays and lacks great speed. The Saints have been very impressed with young linebackers Anthony Waters and Jonathan Casillas so far in camp. They're raw, but Williams wants aggressiveness and he may take a chance on one of these guys.
Receiver Devery Henderson, who struggled with drops through much of his career, suddenly started catching the ball last season. But the drops have resurfaced during camp and that's not a good sign. With Colston healthy and third-year pro Robert Meachem showing some signs he might live up to his status as a first-round pick in 2007, Henderson could end up as the fourth receiver.
Former Pro Bowl defensive tackle Rod Coleman ended a one-year retirement to make a comeback with the Saints. Coleman hasn't stood out in camp so far, but the Saints will use the preseason games to determine if Coleman has anything left. They'd like to use him as a part-time player on passing downs because he used to be one of the league's top interior rushers.
Newcomer to watch
| | |
| --- | --- |
| | |
| | Crystal LoGiudice/US Presswire |
| | Rookie Malcolm Jenkins has to make up for lost time now that he has agreed to terms on a contract. |
Top draft pick Malcolm Jenkins ended his holdout late Sunday night. Jenkins is a unique talent, but the holdout could have cost him a shot at a starting cornerback spot. The Saints paid big money to Jabari Greer in free agency and he's set at one starting spot. Tracy Porter has picked up where he left off when an injury ended a promising rookie season and has the edge for the other starting role. Jenkins isn't even guaranteed to land as the nickelback because veterans Randall Gay and Jason David have been playing well in camp.
Observation deck
There still are a lot of fans calling for the Saints to bring in veteran Edgerrin James to be the short-yardage running back, but that doesn't appear likely. First off, James isn't the prototypical short-yardage runner. Second, the Saints might already have their answer. They've been letting undrafted free agents P.J. Hill and Herb Donaldson compete with Mike Bell for this role. All three are true power backs and all three have looked good at times. ... Defensive tackle Sedrick Ellis showed some promise as a rookie, but injuries kept him from being on the field all the time. Ellis is quietly having a very nice camp and the Saints believe he's ready to really become a force in the middle. ... The Saints used a fifth-round draft pick on punter Thomas Morstead, but there's no guarantee he'll win the job. He's in a battle with Glenn Pakulak and, so far, it's a dead heat. ... Williams' base defense is the 4-3, but he started installing a 3-4 package last week. Don't look for the Saints to use the 3-4 a lot. But you could see a fair amount of it early in the season when Smith and Grant are out and the Saints will deal with a shortage of quality defensive linemen.
April, 26, 2009
4/26/09
4:06
PM ET
Posted by ESPN.com's Pat Yasinskas
Linebacker Stanley Arnoux will be changing homes and positions, but he should fit in perfectly in New Orleans.
Arnoux's last name prompted an obvious question, and he provided the New Orleans media with some interesting background when he spoke on a conference call soon after he was taken in the fourth round.
"Yes, my grandfather is actually French," Arnoux said. "Both of my parents were born and raised in Haiti. So, that definitely has a lot to do with being a French colony way back in the day. So, then it's also a plus coming to a city like New Orleans where there is so much French and Creole influence with the food and everything. I was just so excited."
Arnoux said he can speak Creole French and that's not the only thing in his background that will come in handy. He played middle linebacker at Wake Forest the last two years of his college career, but the Saints are projecting him to play on the weak side.
No problem, Arnoux said, because he played on the weak side as a freshman and a sophomore and is excited about going back to that position.
April, 26, 2009
4/26/09
1:59
PM ET
Posted by ESPN.com's Pat Yasinskas
The NFC South stayed focused mostly on defense in the fourth round, the first round in which all four teams have made a pick.
Six players were selected and only two of them were offensive players. Both of those were chosen by Carolina as the Panthers took Texas A&M running back Mike Goodson and Syracuse fullback Tony Fiammetta. That makes sense because the Panthers need to replace versatile veteran Nick Goings, who was released after last season.
The Saints also had two picks and they followed the defensive path that was started when they took defensive back Malcolm Jenkins in the first round. They went into Carolina's backyard to take two Wake Forest players, linebacker Stanley Arnoux and safety Chip Vaughn. Arnoux brings some fresh legs to a veteran group of linebackers and Vaughn gives the Saints some flexibility in the secondary as they decide if Jenkins is a cornerback or safety.
Tampa Bay took Southern California defensive end Kyle Moore, who started to show some pass-rush skills last season. However, I think there's still a decent chance the Bucs will bring back veteran defensive end Kevin Carter, who remains a free agent.
But Atlanta's pick might be my favorite of the fourth round. The Falcons chose Richmond defensive end Lawrence Sidbury. Yes, this small-school guy might be a project, but I think Mike Smith can coach him into being a big contributor.
NFL SCOREBOARD
Thursday, 11/27
Sunday, 11/30
Monday, 12/1
WEEKLY LEADERS