NFL Nation:

Steelers-Browns 121009
December, 11, 2009
12/11/09
1:44
AM ET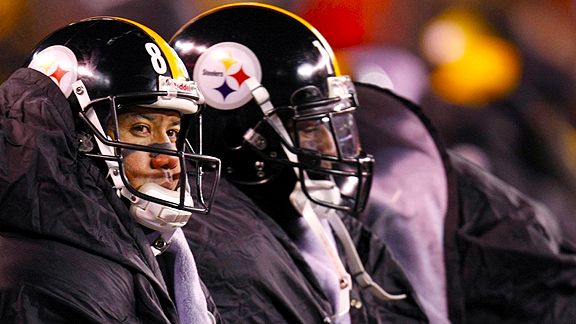 Gregory Shamus/Getty Images
Hines Ward called Thursday night's 13-6 loss to the Browns "embarrassing."
CLEVELAND --
Pittsburgh Steelers
captain
Hines Ward
pulled no punches Thursday night.
"It's embarrassing for me," Ward said after Pittsburgh's
13-6
loss to the lowly
Cleveland Browns
(2-11).
In a season when so many unexpected things happened to the Steelers, their playoff hopes, in all likelihood, ended in a place you'd least expect: Cleveland Browns Stadium.
Pittsburgh (6-7) needed a win over a team it traditionally dominates, but once again came out flat against an inferior opponent. The Browns took a 10-point lead into the second half and held on with a surprisingly stout defense to break a 12-game losing streak against their hated rival.
The game extends Pittsburgh's losing streak to a season-high five games. But its misery is something you cannot quantify.
The mood in Pittsburgh's locker room was very somber Thursday night. Players were generally confused about how a veteran team that was once 6-2 became such a downtrodden and struggling group just a month later.
"We've found different ways to not rise up in critical moments, and we're losing football games because of it," Steelers coach Mike Tomlin said bluntly. "This one tonight, it really happened in all three phases."
It was difficult to decipher which team was fighting for a playoff berth and which was arguably the worst team in the NFL Thursday night.
For the third time in four games, Pittsburgh failed to establish its dominance early against a lesser opponent. The Browns dictated the pace of the game with an aggressive defense and outstanding play on offense and special teams from Joshua Cribbs (200 total yards).
Cribbs had a 55-yard punt return to set up Cleveland's first field goal in the first quarter, and his 37-yard run set up the only touchdown of the game -- a 10-yard run by
Chris Jennings
before halftime. That was all Cleveland needed as it held Pittsburgh to just 216 total yards on offense and sacked quarterback
Ben Roethlisberger
a season-high eight times.
It was Cleveland's most impressive performance of the season, and in the process the Browns broke a seven-game losing streak.
"This is a lot more fun coming in here like this," Browns coach Eric Mangini said. "I'm just so happy for the guys."
Meanwhile, Pittsburgh is expected to miss the postseason for the first time since 2006, which was the last time the team failed at defending a Super Bowl title.
The Steelers entered the season claiming they learned from their experience three years ago, but the results have been eerily similar. Both years the Steelers suffered losing streaks and struggled to deal with injuries and adversity.
"Everybody is gunning for you," Pittsburgh linebacker
James Farrior
explained. "Each year, each team is different. And you can't say just because you had the same guys last year, it's going to be the same results. Each team has a different personality."
The Steelers' personality this year has been losing close games -- and often to bad teams. They've lost to four opponents with losing records this season, including three in the past month in Cleveland, the
Kansas City Chiefs
(3-9) and
Oakland Raiders
(4-8).
When Tomlin was asked Thursday if losing to the rival Browns for his first time as head coach was the lowest point of the season for Pittsburgh, he responded "That's a safe assessment."
At this point, the best-case scenario for the Steelers is to win their final three games and hope for a lot of help. The Steelers have three tough upcoming opponents in the
Green Bay Packers
(8-4),
Baltimore Ravens
(6-6) and
Miami Dolphins
(6-6) to end the regular season.
"With three games left, you want to see who really wants to go out here and play for their pride, for this organization and for our city, and who doesn't want to be around here," Ward said. "I know I'm going to continue to fight my tail off even though we're not in the playoffs.
"But it hurts. It hurts a lot."
December, 10, 2009
12/10/09
11:25
PM ET


CLEVELAND—In all likelihood, the Lombardi trophy will have a new home in 2010.
The current owner, the
Pittsburgh Steelers
, saw their playoff hopes take a devastating blow with another surprising loss to an inferior opponent. This time the lowly
Cleveland Browns
(2-11) earned a 13-6 victory over the defending Super Bowl champions. The game extended Pittsburgh's losing streak to a season-high five games. It was the first time Cleveland beat the Steelers in six years.
On Thursday Pittsburgh (6-7) had the same lack of urgency it showed in the past month in losses to equally bad teams like the
Oakland Raiders
(4-8) and
Kansas City Chiefs
(3-9). In a must-win game, the Steelers fell behind 13-3 at intermission before trying to rally. But the offense couldn't muster enough points on a frigid and windy night.
This 2009 season for the Steelers will go down as one of the most disappointing in recent memory if they remain on the outside looking in come playoff time. Inconsistent play and injuries leave the reigning champs with a lot of unanswered questions moving forward.
There are now five teams in the AFC wild-card race with better records than Pittsburgh. So the best the Steelers can do at this point is try to win their final three games and hope for the best.
December, 10, 2009
12/10/09
10:37
PM ET
CLEVELAND—The
Pittsburgh Steelers
have made it a one-score game thanks to
Jeff Reed
. The Steelers' kicker connected on a 42-yard field goal that cut the Browns' lead to 13-6 after three quarters.
Pittsburgh drove 49 yards on seven plays for the score. The team has struggled to string together drives all night against a scrappy Cleveland (1-11) defense, which has seven sacks.
The Steelers (6-6) need this game to remain in the playoff hunt. The Browns have played efficient football so far and are giving Pittsburgh a huge scare.
December, 10, 2009
12/10/09
9:57
PM ET


CLEVELAND—The Browns lead the
Pittsburgh Steelers
, 13-3, at intermission.
Here are some halftime observations:
Once again the Steelers are very sluggish in the first half. This is the third time in four weeks the defending champs failed to establish their dominance early against an inferior opponent. Pittsburgh is 0-for-6 on third-down conversions. The Steelers constantly lost the field-position battle in the first half, which led to Cleveland's early points.
Cleveland's pass rush has been very impressive. The Browns sacked Ben Roethlisberger an astounding five times in the first half and are making him scramble. The weather is helping, as Cleveland can blitz extra defenders more often, while the heavy winds are making even routine throws more difficult.
If I'm the Steelers, I stop kicking to Joshua Cribbs immediately. Cribbs has spent his entire career with the Browns and really plays well against the Steelers. He's the only weapon Cleveland has that can single-handedly beat Pittsburgh. His 55-yard punt return set up Cleveland's first field goal in the opening quarter. Another 37-yard quarterback run by Cribbs from the Wildcat set up the Browns' touchdown before halftime.
This is it for Pittsburgh. If the Steelers don't make a second-half comeback against Cleveland, their postseason hopes are over. It's a crowded wild-card field in the AFC with a lot of teams bunched together, and the Steelers can't afford to fall below .500 to 6-7 this late in the season.
December, 10, 2009
12/10/09
8:57
PM ET
CLEVELAND -- At this point, the
Pittsburgh Steelers
should know not to kick to Browns return specialist Joshua Cribbs.
The Steelers were burned by Cribbs again. He returned a punt 55 yards in the first quarter to set up Cleveland's first score of the game.
Phil Dawson
kicked a 29-yard field goal to give the Browns a 3-0 lead in what is a crucial contest for Pittsburgh (6-6).
Cribbs has had some of his biggest performances against Cleveland's biggest rival. The most memorable was in 2007, when Cribbs returned two kicks for a touchdown in a Pittsburgh victory.
December, 10, 2009
12/10/09
8:44
PM ET
CLEVELAND—Pittsburgh Steelers coach Mike Tomlin said he would look at roster changes, particularly on defense, for Thursday's game against the Browns.
It turns out it didn't happen until the second series.
Everything was status quo for Pittsburgh's 11 defensive starters on the first series. But cornerback
William Gay
was replaced by rookie
Joe Burnett
in the second series and will probably be rotated throughout the game.
Burnett received playing time towards the end of last week's loss to the
Oakland Raiders
when Gay suffered a concussion.
December, 10, 2009
12/10/09
7:10
PM ET

NFL SCOREBOARD
Sunday, 12/22
Monday, 12/23