NFL Nation:

Steelers-Ravens 112909
December, 27, 2009
12/27/09
4:22
PM ET
PITTSBURGH -- It was another close rivalry game between the Steelers and
Baltimore Ravens
. But in the end,
Pittsburgh narrowly prevailed
to keep its postseason hopes alive.


The Steelers won for the fourth time in five tries against Baltimore with a 23-20 victory at Heinz Field. Pittsburgh (8-7) bucked a season-long trend by holding the Ravens (8-7) scoreless in the fourth quarter.
Pittsburgh's win creates an extremely murky AFC wild-card picture. Both the Ravens and Steelers are in the thick of the wild-card hunt with one week remaining. It's not totally inconceivable that both Baltimore and Pittsburgh could make the playoffs, pending the outcome of key games around the league.
Next week, the Steelers will travel to play the
Miami Dolphins
, and Baltimore also will be on the road against the
Oakland Raiders
. Both will be must-win games for the Ravens and Steelers.
November, 30, 2009
11/30/09
11:54
AM ET
Pittsburgh Steelers
receiver and team captain
Hines Ward
went on ESPN's SportsCenter Monday morning to clarify statements he made about starting quarterback
Ben Roethlisberger
.
[+] Enlarge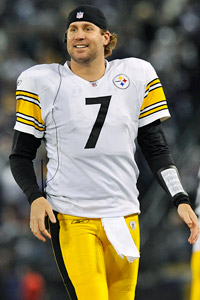 AP Photo/Gail BurtonPittsburgh lost Sunday night without quarterback Ben Roethlisberger in the lineup.
Ward vented his frustrations in a pre-game interview with NBC and also after the game to the media about Roethlisberger (concussion) being pulled from Sunday's starting lineup. The Steelers (6-5)
lost 20-17 in overtime
to the
Baltimore Ravens
(6-5) with backup
Dennis Dixon
under center.
"I'm not going to question Ben's toughness; the guy came back from a motorcycle incident [in 2006] and played that whole year," Ward said. "So me questioning his toughness, that was never the case. It wasn't me calling Ben out.
"It was just me frustrated, because I knew what type of game Baltimore was going to be not having No. 7 out there and having our backs against the wall."
The Steelers deemed Roethlisberger fit to return and he practiced all week with the first team. Roethlisberger suffered exercise-induced headaches late in the week and was pulled the day before Pittsburgh's biggest game of the season.
Ward told NBC over the weekend that the locker room was divided about the decision.
"During the week, there was no indication that he wasn't going to play in this game," Ward said Monday. "I was just frustrated not having him in there. One thing about Ben, he's a winner. And we like to surround ourselves with winners."
Ward says he will speak to Roethlisberger Monday to iron things out.
The Steelers need to get hot fast or will miss a chance to defend their title in the postseason. Pittsburgh has another big game against the
Oakland Raiders
(3-8).
"Right now we just got to worry about Oakland and try to get better," Ward said. "But the whole situation I think kind of got blown out of proportion. It was just all frustration."
November, 30, 2009
11/30/09
2:08
AM ET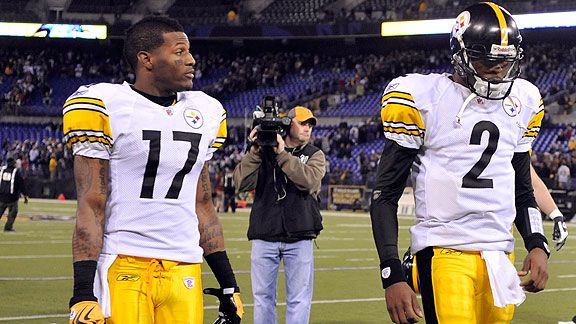 AP Photo/Gail BurtonSteelers quarterback Dennis Dixon (2) had his moments in his first career start, but he threw a costly interception in overtime. If the season ended today, the Steelers would miss the playoffs.
BALTIMORE -- Clearly peeved,
Pittsburgh Steelers
coach Mike Tomlin promised to "unleash hell" on the rest of the NFL in December.
It's the only option the reigning champs have left after dropping their third straight game in November,
a 20-17 overtime loss
to the rival
Baltimore Ravens
on Sunday night.
This season isn't as bad as 2006, when the Steelers finished 8-8 a year after winning Super Bowl XL, but the ending may very well be the same for Pittsburgh (6-5). Several weeks from now, the Steelers could find themselves sitting at home instead of defending their title when the playoffs get under way.
If the season ended today, the
Denver Broncos
(7-4) and
Jacksonville Jaguars
(6-5) would hold the two wild cards in the AFC. The mere thought of that made for an angry Steelers locker room and head coach Sunday night.
"Anybody that sees us coming, they better bring their best, because that's what we're bringing to the table," Steelers offensive tackle
Willie Colon
said. "And I back Coach [Tomlin] on that 100 percent. I work too hard in the offseason, and we worked our tails off to come out and defend our throne.
"Obviously, things haven't turned out like we planned. The next thing is to start knocking over people's houses until we get what we want."
Based on these comments, it's clear Pittsburgh's season is officially on the brink.
Interesting subplots are also starting to develop within the locker room as frustrations mount.
For instance, veteran receiver
Hines Ward
, the heart and soul of the Steelers, did not hide the fact that he was very disappointed starting quarterback
Ben Roethlisberger
(concussion) didn't play Sunday night. Roethlisberger practiced all week but a decision was made not to play at the last minute, putting the Steelers in a tough spot with former third-stringer
Dennis Dixon
, who played well but threw a crucial interception in overtime that led to the winning score.
"This is the biggest game of the year," Ward said bluntly. "Me being a competitor, I just wished we had
all
our weapons out there."
Roethlisberger, who had exercise-induced headaches, said after the game that he wanted to play but doctors and coaches said it wouldn't be a good decision. Ward
later clarified his statements
Monday morning on ESPN's SportsCenter and said he was just frustrated.
Tomlin, in an effort to douse the fires, plans to talk to Ward and the rest of the team to clearly explain why Roethlisberger was pulled from the starting lineup a day before the game.
"I'm not worried about a problem in the locker room," Tomlin said. "Of course, in that instance maybe Hines was uninformed."
Things like this happen when teams underperform.
The term "pressure busts pipes" can even apply to a veteran team like the Steelers, especially if things continue to go south. In Pittsburgh's case, not making the playoffs would make for one of the most disappointing seasons in recent memory.
"You come off a Super Bowl year, you got the same nucleus as a team, and to lose three in a row is frustrating," Ward said. "It's frustrating as a player, a team and as an organization. We just got to get back on the right track."
Pittsburgh will be jousting with several teams, including the equally desperate Ravens (6-5), for one of the final playoffs slots in the AFC. Pittsburgh and Baltimore will meet again in Week 16, and most likely the Steelers will have to win four of their last five to continue playing deep into January. That is why Tomlin is creating the must-win mindset.
"We'll go into attack mode, because that's what's required," Tomlin said.
The reigning champs have reached a fork in the road.
The choice is up to the Steelers whether to straighten up and take the proper path to the postseason or continue their downward spiral.
"We can't let the outsiders divide us, and we can't listen to the B.S. that's starting to float around now," Colon said. "We got to fight."
November, 29, 2009
11/29/09
11:56
PM ET
BALTIMORE -- It didn't matter who the starting quarterback was.


The
Pittsburgh Steelers
and
Baltimore Ravens
staged another classic in what's fast becoming one of the NFL's best rivalries. The Ravens narrowly prevailed in a physical
20-17 overtime victory
over the Steelers in a big game for both teams.
Baltimore withstood Pittsburgh's best shot with a former third-string quarterback in
Dennis Dixon
, who played well but threw a crucial interception in overtime to set up Baltimore's game-winning field goal. Starter
Ben Roethlisberger
(concussion) and backup
Charlie Batch
(wrist) were sidelined Sunday night.
The win snaps a three-game losing streak for the Ravens in this series but currently has Baltimore (6-5) and Pittsburgh (6-5) on the outside looking in when it comes to the postseason. The
Denver Broncos
(7-4) and
Jacksonville Jaguars
(6-5) would be the two AFC wild-card teams if the season ended today.
Expect both the Ravens and Steelers to be banged up after this brutal overtime battle. It will be interesting to see if either team has enough left in the tank to make a strong playoff push in December. Pittsburgh will host the
Oakland Raiders
next week and Baltimore will travel to play the
Green Bay Packers
.
November, 29, 2009
11/29/09
11:12
PM ET
BALTIMORE --
Dennis Dixon
is showing the rest of the league what he's made of.
The second-year quarterback made the biggest play of his career with a 24-yard quarterback scramble to give the
Pittsburgh Steelers
a
17-14 lead
over the
Baltimore Ravens
. It's the first lead of the game for Pittsburgh and puts a lot of pressure on Baltimore at home. The Steelers drove 54 yards during the scoring drive.
Dixon's speed was apparent as he turned the corner and easily sprinted by defenders. He hasn't scrambled much, but when Dixon has he's been dangerous. He had a 31-yard scramble taken away in the first half.
November, 29, 2009
11/29/09
10:29
PM ET
BALTIMORE — Many expected a blowout in Baltimore with
Ben Roethlisberger
on the sidelines. But that hasn't been the case.
The
Pittsburgh Steelers
are hanging around in this rivalry game with the
Baltimore Ravens
, as a field goal from
Jeff Reed
cut Pittsburgh's deficit to 14-10 in the third quarter.
Baltimore is playing sloppy, giving up a fumble and a quarterback sack to end its first two drives of the second half. Ravens starting quarterback
Joe Flacco
was limping after getting sacked by Steelers defensive end
Travis Kirschke
but returned to the game.
The Ravens are trying to end a three-game losing streak against Pittsburgh.
November, 29, 2009
11/29/09
9:58
PM ET


BALTIMORE—The
Baltimore Ravens
lead the
Pittsburgh Steelers
, 14-7, at intermission.
Here are some halftime observations:
November, 29, 2009
11/29/09
9:17
PM ET
BALTIMORE -- The Ravens and
Pittsburgh Steelers
are currently
tied 7-7
.

Dixon
Here are some early impressions of Pittsburgh quarterback
Dennis Dixon
.
The Steelers used safe play calling with Dixon early. His first throw was a screen that was incomplete and his second and third throws were quick snap-and-fires to receivers Hines Ward and Santonio Holmes. Dixon didn't throw downfield once until he warmed up in the second quarter. He later hit Holmes for a 33-yard touchdown pass.
Dixon had a nice scramble for 31 yards in the first quarter that displayed his speed. But it was called back for holding. The play didn't count, but at least it showed what Dixon is capable of with his legs.
Dixon has been remarkably accurate so far. He completed 4 of his first 5 passes for 66 yards, and his only incompletion was a screen that was batted down. Dixon doesn't look too shaken by the situation to this point.
November, 29, 2009
11/29/09
8:37
PM ET
BALTIMORE — Ravens rookie cornerback
Lardarius Webb
played with the first-team defense Sunday night against the
Pittsburgh Steelers
.
The game marked Webb's first career start, and was a move that was expected all week. Ravens former starting cornerback
Fabian Washington
recently suffered a knee injury and is out for the season.
Webb, a third-round pick, has gradually earned more playing time during the year as a defensive back and kick returner. Expect Pittsburgh's veteran receivers
Hines Ward
and
Santonio Holmes
to test the rookie tonight.
November, 29, 2009
11/29/09
7:17
PM ET