NFL Nation:

Stefan Wisniewski
March, 16, 2011
3/16/11
2:15
PM ET
San Diego Chargers
linebacker
Kevin Burnett
delivered some of the strongest words of the lockout so far.
Burnett, a prospective free agent who has never been known for being outlandish with his comments, blasted commissioner Roger Goodell in an interview with a San Diego radio station.

Burnett
Here is a taste of what Burnett had to say:
"Goodell's full of it. He's a liar," Burnett said "You're a blatant liar. 'It's our league, it's we, we love the players, we want the league,' but what have you done for the players? What have you done, in all honesty, to improve the game, besides fine guys, besides take money away from guys, besides change a game that you've never played? … He's done nothing to improve the game."
Wow.
Burnett's words will likely not play well in the NFL's offices and perhaps even at the Chargers' headquarters. No team wants its players lambasting management. His comments could affect the Chargers' interest in bringing back Burnett.
However, I think Burnett could ultimately get a pass for his emotions. But this deal is far from over. I think the insults are just starting.
Meanwhile, in other AFC West developments this afternoon:
The Denver Post
puts Penn State guard Stefan Wisniewski on the radar of the Broncos, who may be looking for a guard in the second round. The idea of Wisniewski playing in Denver would create rancor in Oakland. He is the nephew of former Raiders great Steve Wisniewski, who is currently Oakland's assistant offensive line coach. Raiders coach Hue Jackson was complimentary of Wisniewski at last month's NFL combine. Wisniewski would be a good fit in Oakland and he could be a target of the team at No. 48 if he is available.
There is a report
out of San Diego that said if the lockout extends in the season, the Chargers have a way out of paying rent at Qualcomm Stadium.
There will not
be any playoff re-seeding in the NFL this year.
February, 24, 2011
2/24/11
4:35
PM ET
INDIANAPOLIS -- Random thoughts from Hue Jackson's media sessions at the NFL combine:
Jackson said he isn't sure if he is going to hire a defensive coordinator. He said he will look at candidates, but he also said he likes his current defensive staff. There is a chance Chuck Bresnahan could be named the coordinator.
Jackson said he is ultimately the offensive coordinator, defensive coordinator and special teams coach.
Jackson said that he is excited about his new staff and he thinks it's going to be one of the best staffs in the NFL. He is particularly excited about having former Raiders
Steve Wisniewski
,
Rod Woodson
and
Greg Biekert
on the staff.
Jackson's eyes lit up when asked about Wisniewski's nephew, Stefan Wisniewski. It is clear Jackson will consider taking the Penn State center/guard.
Jackson said he expects big things from second-year receiver
Jacoby Ford
. It's obvious Ford will be a starter. Jackson praised the Raiders' young receiving crew and he said he is not sure the team needs a veteran receiver.
Jackson was asked about pursuing Cincinnati's
Chad Ochocinco
. Jackson was careful not to break any league tampering rules and he said he couldn't address Ochocinco. Yet, he did say the two were close.
Once again, Jackson pumped up quarterback
Jason Campbell
and said he believes Campbell can lead the Raiders to the playoffs.
Jackson said the Raiders will remain a 4-3 defense, but because they have so many defenders who are good fits for the 3-4, he said multiple sets will be used.
Jackson said he will continue to move toward being a power-blocking run team; the team will still use some zone-blocking schemes.
Jackson said he has been in touch with running back
Michael Bush
since his arrest for a DUI. He said Bush is doing well.
As he has been known to do, Jackson gushed about Oakland owner Al Davis. He said he doesn't foresee any potential issues working for Davis and said he often picks Davis' brain.
February, 24, 2011
2/24/11
11:20
AM ET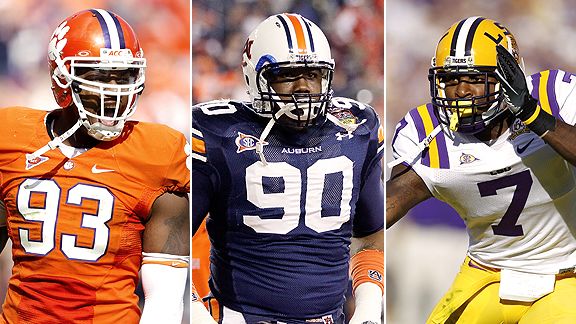 Getty ImagesDenver is looking defense and that could mean Da'Quan Bowers, Nick Fairley or Patrick Peterson.
INDIANAPOLIS -- With the NFL combine kicking off, let's take a look at several of the potential storylines involving the AFC West during the draft-preparation event:
It all starts at No. 2:
The draft epicenter of the AFC West this year is in Denver. That's the reward for going 4-12 and taking a major step backward. The Broncos will be looking for defensive help, and every move made by Clemson defensive end
Da'Quan Bowers
, Auburn defensive tackle
Nick Fairley
, LSU cornerback
Patrick Peterson
and several others will be scrutinized by the defense-hungry Broncos in the next several days.
Scouting Wisniewski II:
The Raiders don't have a first-round draft pick (New England gets the No. 17 pick from the 2009
Richard Seymour
trade). The Raiders don't pick until No. 48. One player Oakland will likely look at closely is center/guard
Stefen Wisniewski
. He is the nephew of former Raiders offensive line great and new assistant line coach
Steve Wisniewski
. That combine player-coaching staff meeting would be fun to watch. Wisniewski, who followed his famous uncle to Penn State, would fill a need in Oakland. I can see the Raiders taking a long look at him.
Pass-rushers galore:
This is a strong class for pass-rushers and that should benefit both the Chargers and Chiefs. San Diego picks No. 18 and the Chiefs pick No. 21. I could see both teams taking a pass-rusher with their top picks. The better the pass-rushers do in Indianapolis, the larger the range of prospects for the Chiefs and Chargers. That group should include Missouri's
Aldon Smith
, UCLA's
Akeem Ayers
and Cal's
Cameron Jordan
.
[+] Enlarge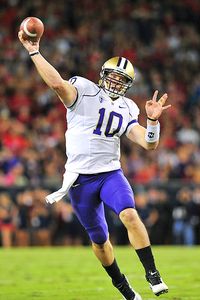 Chris Morrison/US PresswireJake Locker could be a target for the Oakland Raiders.
Oakland and the second-tier QBs:
The Raiders could look at a quarterback in the second round to groom beyond
Jason Campbell
. This might be the time to groom a young quarterback in Oakland. If Washington's
Jake Locker
and Arkansas'
Ryan Mallett
tumble and TCU's
Andy Dalton
, Nevada's
Colin Kaepernick
and Florida State's
Christian Ponder
impress, these prospects could all be possibilities in the middle of the second round. Last year, Carolina took Notre Dame's
Jimmy Clausen
at No. 47. He was the third quarterback taken.
What about Julio?
In addition to pass-rushers, I could see the Chiefs and Chargers considering a receiver early. One player who would fit both teams is Alabama's
Julio Jones
. If Jones performs well, there is likely little chance either team will be able to snare him. It will be difficult to imagine Jones falling below the Rams at No. 14 if he stays the course. So, he could require moving up to get.
Will A.J. fall in love again?
The Jones' situation brings us to San Diego general manager A.J. Smith. Last year, he moved up 16 spots to take Fresno State running back
Ryan Mathews
at No. 12. Smith admitted that he fell for Mathews early and that moving up to get him was long his plan. Will it happen again at the combine this year? If so, Smith is prepared to move up. The Chargers have extra picks in the second and third rounds. So, he is prepared for anything.
Williamson High feeding the AFC West?
If Denver takes Fairley, it will mark the second time a player from Mobile, Alabama's Williamson High School will be taken with a high pick in four years. In 2007, Oakland took Williamson product
JaMarcus Russell
with the No. 1 pick.
Does Bowers have a dash of Peppers?
Bowers will be very popular with teams. He is a top pass-rusher and he has been compared to
Julius Peppers
. I'm sure new Denver coach John Fox can't wait to spend some time with Bowers to further examine the Peppers' comparison. Fox drafted Peppers with the No. 2 overall pick in 2002. It was Fox's first year in Carolina. If Fox takes Bowers with the No. 2 overall pick in his first season in Denver, the Peppers' comparison will only heighten.
Will Newton help Denver?
If Auburn quarterback
Cam Newton
impresses the
Carolina Panthers
, he could be the No. 1 overall pick. The Broncos are hoping for Newton to wow the Panthers. If so, that means every defensive player in the draft will be on the board for Denver at No. 2. Denver is looking defense all the way after being last in the NFL in total defense and points allowed in 2010.
The Chiefs and the SEC:
Who are the Chiefs going to take? Well, I think we have to look at the SEC first. Kansas City general manager Scott Pioli
has a history of taking players from the SEC early.
Both of the players the Chiefs have taken in the first round under Pioli,
Tyson Jackson
and
Eric Berry
, are SEC alums. Overall, the Chiefs have taken SEC players in the first round in the past four years.
[+] Enlarge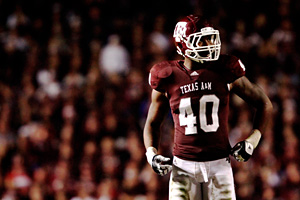 Thomas Campbell/US PRESSWIRETexas A&M's Von Miller could be a good fit in Denver, San Diego or Kansas City.
All eyes on Von Miller:
The physically impressive Miller is the type of player who could fit in Denver, San Diego and Kansas City. The question is whether or not he is a realistic target for any of those teams. If Miller has a great combine, he could move into the conversation for Denver at No. 2, but that might be a tad high. Denver could try to move down a few spots to get him, but trading down from No. 2 will be difficult. The No. 2 pick hasn't been traded in 11 years. San Diego and Kansas City could potentially try to move up for Miller. I think San Diego would be a better bet. It has more trading ammunition than the Chiefs have and the Chiefs will likely be happy to stick at No. 21 and see what falls to them.
Casey Matthews' time?
The Oregon middle linebacker could be popular. He is the younger brother of Green Bay linebacker
Clay Matthews
, who blossomed into one of the NFL's better defenders in his second season. Teams could be swayed by Mathews' potential and look at him as high as the second round. I could see Denver, San Diego and Kansas City all taking a look at him.
The Robert Quinn factor:
The former North Carolina defensive end could be an X factor. He didn't play in 2010 because he made contact with an agent. He was considered a top prospect. If he has a great combine, he could work his way into the conversation for Denver.
Oakland and the stop watch:
Whoever posts the fastest 40-yard dash at the combine has to be considered an Oakland prospect. The Raiders covet speed as much as any team in the league. Last year's fastest man at the combine was
Jacoby Ford
. Oakland grabbed him in the fourth round and he looks like a future star.
Will the Chiefs find a backup QB?
I would be surprised if the Chiefs brought back backup
Brodie Croyle
in 2011. So, the team could be interested in looking for a young backup. I could see Kansas City studying prospects in the third and fourth rounds.
The Duke works the combine:
New Denver VP of football operations John Elway will be at the combine. This is his first season as a football personnel man and he will be a big part of Denver's process at the combine.

NFL SCOREBOARD
Thursday, 9/4
Sunday, 9/7
Monday, 9/8