NFL Nation:

Stephen Davis
December, 25, 2013
12/25/13
10:00
AM ET
ASHBURN, Va. -- He was here for three magical playoff runs and two horrendous finishes. He's survived two coaching changes. He became an instant hero early in his first season here, catching two touchdown passes to win at Dallas.
He's also experienced the lowest of the lows: the death of teammate, and friend, Sean Taylor.
But this could be it for
Santana Moss
in Washington. After nine seasons, Moss will become a free agent after the season and, considering he turns 35 in June, the end is near.
[+] Enlarge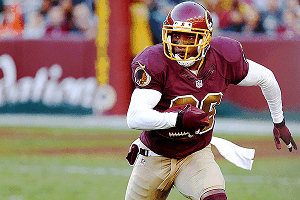 Geoff Burke/USA TODAY SportsSantana Moss ranks third in Redskins history with 569 catches, and fourth with 7,738 receiving yards.
At one point this season the Redskins viewed
Leonard Hankerson
as a future slot receiver, making Moss expendable. Hankerson's torn ACL complicates that, as does the fact that head coach Mike Shanahan might not be here in 2014. Would a new coach want to re-sign an aging wideout?
If this is the end for Moss, he'll go down as one of the best wideouts in franchise history. Moss ranks third in catches with 569 and fourth in receiving yards with 7,738. His 48 touchdowns are tied for 10
th
best with former running back Stephen Davis. Moss did this during a pass-heavy league; he also did it with constant change at quarterback and in various schemes.
But the one thing you learn with Moss: He doesn't like to reflect; he doesn't like to address the future. He only likes to talk about what's going on right now. So this might be his last game in a Redskins uniform after nine seasons?
"I don't even talk about it," he said. "It's nothing I can control. All I got to do is control what I control, and that is to go out and play ball come Sunday. Why sit back and try to be the superior on something that's going to be either given or not. I can't do nothing about it."
It's an attitude that helped Moss endure rough seasons or even games where he's not being targeted. He's always been about what he can control. He's always been consistent. In fact, and this is rare, I don't recall him ever turning down an interview or being rude with reporters. Even when seasons are going bad, as this one has, Moss still sits at his locker, listening to his music. If a reporter happens over, he'll take off his earphones and answer every question. I remember when the Redskins traded for Moss in 2005 (safe to say they liked giving up Lavaraneus Coles to get him; worked out well) and hearing that he could be up-and-down with the media. That hasn't been the case here; it's all been up.
Moss survived in part because he's smart, fast, quick and a good route runner. As his speed decreased -- he had back-to-back seasons averaging better than 17.7 yards per catch in 2004 with New York and '05 his first in Washington -- he became a clutch receiver on underneath routes.
Moss might not scare defenses anymore, but his production isn't much different than two years ago when he caught 46 passes (a 47-pass drop-off from the previous year). He has 40 now.
If Moss doesn't return to Washington, he's shown he can still help. Even last week, he returned three punts for 35 yards. He started taking better care of his body two offseasons ago, when he was in danger of being cut. Earlier in his career the knock on him was he wore down late in the season.
As his career winds down, it's natural to wonder what's next for him. Not that Moss wants to do so. He shook his head at whether or not he's weighed retirement, saying he's only thinking about Sunday's road game against the
New York Giants
.
And he did say this about his nine seasons here:
"It's been a beautiful experience. It's nothing I can ask for more. But I'm not trying to have that conversation now, about how much fun and all that. That's something we'll do down the road. I enjoy every day regardless of what day it is or what year it is. Even my four years before these nine years, I enjoyed those also. Every year it's going to be something different."
But, for the past nine years, one constant was Moss.
October, 22, 2012
10/22/12
12:17
PM ET
What happened with the
Carolina Panthers
on Monday morning is a reminder that the NFL is a cold, hard business and the win-loss record is all that really matters.
The
Panthers fired general manager Marty Hurney
. It was inevitable. Carolina came into the season with very high expectations but is off to a 1-5 start. The Panthers haven't had a winning season since 2008.
Fans are getting restless, and so is team owner Jerry Richardson, a man who spent a ton of money coming out of this past summer's lockout.
[+] Enlarge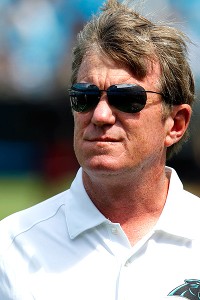 AP Photo/Bob LeveroneMarty Hurney had been the Panthers' GM since 2002.
Someone had to take the fall, and Hurney was the choice. You can question whether Hurney was the right guy to sacrifice, and some already are doing that.
"Marty wasn't the reason we are losing!" Carolina defensive end
Charles Johnson
said on his Twitter account. "That's bs! Unbelievable! Marty might be the realist GM that I know #InMyMind BS BS BS BS!"
You can wonder if maybe head coach Ron Rivera, offensive coordinator Rob Chudzinski or defensive coordinator Sean McDermott should have been ousted. At least to me, it looks as though the Panthers have a talented roster that is not being coached very well.
And you can certainly question the timing of Hurney's firing. Does it really make sense to fire the guy who runs the personnel department after Week 7?
No, it doesn't. The Panthers will bring in someone from outside or elevate director of pro scouting Mark Koncz, but either way, they're not going to right the ship in the middle of the season. Any personnel moves that can help this team will have to come in the offseason.
But this wasn't just a football move. It went much deeper than that.
To understand what I mean by that, you have to know a bit about Hurney and Richardson. They were -- and even now probably will remain -- exceptionally close. After saying he'd never have a general manager again after Bill Polian's ugly departure, Richardson hired Hurney to manage the salary cap in 1998.
The two hit it off, and Hurney quickly gained Richardson's trust. When former coach George Seifert ran the franchise into the ground in 2001, Richardson reversed course and promoted Hurney to general manager. He also essentially let Hurney hire John Fox as coach.
The Panthers reached the Super Bowl in Hurney and Fox's second season together, 2003. Two seasons later, they were back in the NFC Championship Game.
But soon after that, Richardson started to see cracks. He wanted to see back-to-back winning seasons, and he was starting to worry about growing egos.
Richardson's worries eventually turned into realities. Fox never produced consecutive winning seasons, and the level of trust between the coach and Richardson seemed to erode to a point where things became downright hostile in Fox's final season, 2010.
But the Richardson-Hurney relationship survived all that, and Richardson let Hurney hire Rivera to replace Fox. Part of the reason is Hurney is one of the nicest, most down-to-earth people you'll ever meet in football or anywhere else. He's the kind of guy who picked up the phone to offer condolences to a reporter whose father had died the moment he heard about it.
Hurney is the kind of guy who would call a reporter on draft night just to exchange thoughts on what happened around the league. He's the kind of guy who would never lie to you and always try to steer a reporter in the right direction, even if it wasn't necessarily in his best interest.
On the job, Hurney made some brilliant moves through the years -- signing
Jake Delhomme
and
Stephen Davis
as free agents, drafting the likes of
Julius Peppers
,
Jordan Gross
and
Ryan Kalil
. His drafting of quarterback
Cam Newton
looked brilliant last year, but not so much this season.
He also made some very questionable moves -- signing Delhomme to a big contract extension after the quarterback had flamed out, drafting
Armanti Edwards
,
Jimmy Clausen
,
Dwayne Jarrett
,
Terrell McClain
,
Eric Norwood
,
Everette Brown
,
Jeff Otah
and some other busts. He also committed $80 million of Richardson's money to running backs
DeAngelo Williams
,
Jonathan Stewart
and
Mike Tolbert
.
But for some reason, the coaching staff isn't making much use out of Williams, Stewart and Tolbert. Is that Hurney's fault?
I don't think so. And I don't think Richardson totally believes that, either.
Still, it really doesn't matter. Richardson needed a scapegoat, and it had to be hard for him to decide on Hurney. But keep in mind, Richardson once fired his two sons (Mark as team president and Jon as stadium president). His logic on that move was that their dysfunctional relationship was taking a toll on the other 300 people who worked in the building and on fans.
The logic on Hurney was similar. Things weren't going well, and fans were giving up on the Panthers.
When I spoke to Hurney last week, he seemed resigned to the idea that his time was running out, but it seemed he thought the move would come more toward the end of the season.
That might have been more logical. But Richardson had to send a message now to his fans that he still cares about winning and that the current product is unsatisfactory. It would be difficult to fire the entire coaching staff or fire Rivera and elevate one of his assistants in the middle of the season.
Someone had to go now, and that was Hurney. But I think it should be clear to Rivera, every assistant coach in the building and every player that if Richardson is willing to get rid of Hurney, no one is sacred.
There's going to be a lot more housecleaning in Carolina after the season. This was just the first step.
June, 13, 2012
6/13/12
10:29
AM ET
CHARLOTTE, N.C. -- There seems to be a lot of confusion among fans of the
Carolina Panthers
about what position
Mike Tolbert
will play.
The Panthers keep saying he is a fullback and then rave about his versatility. Throw in the fact that Tolbert carried the ball 121 times for San Diego last season and it's understandable where the confusion stems from.
[+] Enlarge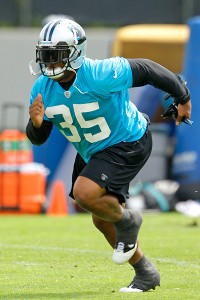 AP Photo/Chuck BurtonMike Tolbert prides himself on his versatility.
Carolina still is a relatively new franchise. For much of its existence,
Brad Hoover
lined up at fullback and blocked for a variety of runners including
Stephen Davis
,
DeShaun Foster
, Williams and
Nick Goings
. The roles were clear. The running backs ran the ball and Hoover blocked. Hoover was a fan favorite and it's a little difficult to imagine the Panthers using a fullback any way other than they used Hoover.
But the days of Hoover and former coach John Fox are long gone. This is the second year for coach Ron Rivera and offensive coordinator Rob Chudzinski, who never will be confused with former coordinators Dan Henning or Jeff Davidson. One of the first things Rivera and Chudzinski did this offseason was reach back into their past. Both previously were assistants in San Diego and they went out and lured Tolbert to Carolina.
Rivera and Chudzinski know Tolbert well and they have a clear vision of how they want to use him. He'll block for Williams and Stewart at times, but that's not all Tolbert will be asked to do.
"I think the different things 'Chud' has him incorporated in as far as running the ball and catching the ball and blocking, splitting him out and moving him around and those types of things, I think those are positives,'' Rivera said. "When you have a guy that versatile, it helps your football team.''
That still may sound a bit vague, so I asked Tolbert to describe the role he expects to play for the Panthers.
"Just a versatile player that helps in any way I can -- special teams, fullback and running back," Tolbert said. "I pride myself on being able to do it all. Letting my game evolve over the last four years in San Diego has really helped me to get to where I'm at today.''
You could make a case that Carolina's backfield already was overcrowded before Tolbert arrived. Williams and Stewart, who each have been 1,000-yard rushers in the past, had to share carries last year in an offense that suddenly turned pass happy with rookie quarterback
Cam Newton
. Stewart was on the field for 55.2 percent of the offensive plays, while Williams took part in 42.7 percent of the plays. In San Diego, Tolbert took part in 44.4 percent of the Chargers' offensive plays.
But Tolbert insists there is enough room for all three backs to get plenty of playing time and he throws out some scenarios that Carolina fans might have trouble picturing right now.
"I think we mesh well together,'' Tolbert said. "They are different types of backs. DeAngelo is more the slicer and Jonathan is more of the power guy and I kind of fit in between. It's going to be fun for all of us to get in the backfield at the same time or myself with DeAngelo or with Jonathan or just one out of there at times. It's going to be fun to put it all together and see what happens.''
All three of them in the backfield at the same time? Tolbert playing tailback in a single-back set?
Yeah, it's all possible. We'll have to wait until the fall to really see it. But you're going to see some unique things out of the Carolina backfield in 2012. Don't believe me? Think back to last year when Chudzinski first arrived. Did anybody really expect to see Newton throwing for 400 yards in each of his first two games?
Of course not. But this is a different Carolina team and as we move into the second year of Chudzinski's offense, we're going to see it evolve even more.
I'm heading out to the practice field shortly to catch another session of Carolina's minicamp. I'll be back with more this afternoon.
June, 16, 2011
6/16/11
5:27
PM ET
Beanie Wells
' comments to
The Fan AM 1060
suggest he understands the urgency he faces heading into his third NFL season.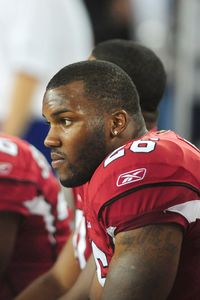 Mark J. Rebilas/US PresswireBeanie Wells was never able to get on track during the 2010 season.
Wells, generally promising as an
Arizona Cardinals
rookie in 2009, never got going after suffering a knee injury during the 2010 exhibition season. The team's decision to use a 2011 second-round choice for running back
Ryan Williams
turned up the pressure.
"This is my third year and three strikes, you're out," Wells told The Fan, "and I'm definitely not striking out this year. I'm ready to roll, I'm ready to tear it up this year."
What does Williams' addition mean for Wells? Much will depend on how the players perform during training camp and beyond. But in looking back through recent NFL drafts, it's clear the Cardinals have addressed the position more aggressively in the draft than other teams.
Wells was the 31st overall choice in his draft class. Williams was the 38th player chosen this year. Only three other teams since 2000 have used two picks among the top 40 overall selections for running backs within a four-year period. The Cardinals and
Carolina Panthers
were the only teams to do so within three years.
DeAngelo Williams
(27th overall in 2006) and
Jonathan Stewart
(13th in 2008) have formed an effective rushing combination in Carolina over recent seasons. Drafting Stewart did not spell the end for Williams. In fact, Williams broke out with a 1,500-yard season months after Carolina drafted Stewart. Both players topped 1,000 yards the following year.
Williams had only 1,218 yards in two seasons before Stewart arrived. He had played in 29 games, with two starts, to that point of his career. Wells has 1,190 yards in his first two seasons. He also has 29 games and two starts.
The situation in Carolina was different. The Panthers weren't growing impatient with Williams when they drafted Stewart. Coach John Fox was content going with
DeShaun Foster
as the starter while Williams earned an opportunity. Foster had put in his time behind
Stephen Davis
. Williams took over when his time came, with Stewart joining him.
For Arizona, adding Williams puts pressure on Wells without necessarily forcing him out.
Tim Hightower
, a fifth-round choice in 2008, also faces an uncertain future. He lost five fumbles last season while posting a career-high 4.8-yard average on 153 carries.
The chart shows teams that drafted two running backs among the top 40 overall choices within a four-year span, all since 2000.
May, 12, 2011
5/12/11
1:00
PM ET
The NFL draft is long over and all we have to look forward to now is free agency, though we don't know when or how it will come or exactly what it will look like.
But if there is a 2011 season, it will have to be preceded by some sort of free-agency period, one last window for teams to fine-tune their rosters with what they couldn't get in the draft.
We'll spare you most of the boring details of the labor negotiations, but we do have to point out that the rules for a potential free-agency period aren't set. They could be determined if a new labor agreement is reached and that probably would include some tweaks to past rules. It has long been assumed that if the lockout is lifted before an agreement that free agency rules will be the same as they were in 2010. But word has started to trickle out in the past few days that might not be the case.
At this point, we only can look at hypothetical situations -- all you can do is dream and you might as well dream big. With that in mind, let's take a look at one free-agency dream scenario for each NFC South franchise.

Atlanta Falcons
-- This is the easiest call in the division because you can see it coming like a slow-moving storm or Arthur Blank strolling to the sideline late in a game. Let's go ahead and make Atlanta's dream move signing Minnesota defensive end
Ray Edwards
.
Some of our coming moves are pie-in-the-sky scenarios that probably won't happen, but this one has serious potential. Edwards has five seasons in the league, which could make him a restricted or unrestricted free agent, depending on the rules of free agency. If at all possible, I think the Falcons will pursue a player who had eight sacks in 14 games last season and 8.5 the season before that.
Edwards is just hitting his prime and sure looks like the one missing link between the Falcons being a team that exits the playoffs early and one that can challenge for the Super Bowl. Blank and general manager Thomas Dimitroff already put most of their chips on the table when they traded up on draft night to get wide receiver
Julio Jones
. He's the explosive player they wanted on offense.
Edwards can be the explosive guy on defense. Carolina's
Charles Johnson
, a probable restricted free agent, and Green Bay's
Cullen Jenkins
could be fall-back options. But the Falcons already have shown strong signs this offseason they're not interested in falling back.

Carolina Panthers --
Let's imagine for a moment that Carolina owner Jerry Richardson opens his free-agent checkbook for the first time in several years to bring in cornerback
Johnathan Joseph
, who has been playing with Cincinnati and is another five-year player.
If Joseph is a free agent, this move would make all sorts of sense. He's a local product, from just over the border in Rock Hill, S.C. He also has nine interceptions the past two seasons. Carolina has
Richard Marshall
and
Chris Gamble
, but their futures are very uncertain.
Richardson has had some success in the past bringing local products home --
Stephen Davis
,
Kevin Donnalley
,
Ricky Proehl
-- and Carolina has invested a lot in its young defensive line and has a good group of linebackers. Joseph could solidify the secondary and new coach Ron Rivera suddenly could have a nice defense. By the way, I know there's speculation about defensive tackle
Tommie Harris
ending up with the Panthers because of his Chicago ties to Rivera. That could happen. But I don't view Harris as a dream scenario. I view him as a guy with questions about his knees, who could be a decent pickup if he can stay healthy.

New Orleans Saints
-- This one's tough because the Saints have a bunch of young and talented, but totally unproven players at outside linebacker. Plus, veteran outside linebacker
Scott Shanle
can become an unrestricted free agent. The list of players at outside linebacker who definitely will be unrestricted is pretty thin. You could take a veteran such as Detroit's
Julian Peterson
and gamble that he'll regain some of his early-career magic the way some other veterans have with the Saints in recent years. The Saints have shown willingness to gamble on injured guys in the past and Carolina's
Thomas Davis
has huge upside.
But Peterson's no long-term solution and Davis is a total unknown because he's had two major knee injuries. In a best-case scenario, the Saints will re-sign Shanle. Then, they'll go after Buffalo's
Paul Posluszny
. He's a four-year player and could end up being restricted. But hey, we can dream.
Put Posluszny with Shanle and
Jonathan Vilma
and the Saints would be better off at linebacker than they were in 2009, when Shanle and Vilma were joined by
Scott Fujita
.

Tampa Bay Buccaneers --
The Bucs spending big money in free agency? Well, they haven't done it in some time unless you count
Derrick Ward
, and that didn't work out. But there's one sure-fire move that could excite a fan base that wasn't buying tickets during a 10-6 season in 2010 and put this team over the top: sign cornerback
Nnamdi Asomugha
.
Asomugha's the one true gem we know will be in this free-agent class and his price tag is going to be astronomical. But if there is a salary cap, the Bucs will have more room under it than any team in the league. The Bucs showed a willingness to spend big money once before, offering more to defensive tackle
Albert Haynesworth
than the Redskins did before Haynesworth went to Washington. There are strong rumors Asomugha will end up in the NFC East, but Tampa Bay can use the lack of a state income tax in Florida, a great natural-grass field, the weather, a team on the rise and coach Raheem Morris (a former defensive backs coach) as selling points.
The future of
Aqib Talib
is unsure because of off-field problems. Sign Asomugha and the Bucs have a corner more talented than Talib who doesn't come with the headaches. Put him out there with veteran
Ronde Barber
, who still plays at a high level, and younger players such as
E.J. Biggers
and
Myron Lewis
. If the pass-rushers taken in the draft (
Adrian Clayborn
and
Da'Quan Bowers
) work out, Tampa Bay's corners suddenly could be dominant.
Remember, it's all hypothetical. But wouldn't the NFC South be a better and more exciting place if these dream scenarios actually came true?
June, 28, 2010
6/28/10
10:30
AM ET
Notable players:
RB
Stephen Davis
, QB
Jake Delhomme
, WR
Steve Smith
, WR
Muhsin Muhammad
, DE
Julius Peppers
, DT
Kris Jenkins
, LB
Dan Morgan
.
Analysis:
When owner Jerry Richardson talked about how the life had been drained from his franchise during a disastrous 1-15 season in 2001 under coach George Seifert, he couldn't have expected how dramatic the turnaround would be. Nobody saw the Panthers going to the Super Bowl within two years, but that's exactly what happened with first-time head coach John Fox.
[+] Enlarge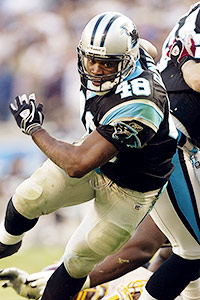 Craig Jones/Getty ImagesStephen Davis rushed for a career-high 1,444 yards in 2003.
In 2002, Fox's team showed some promise, but there was no real reason to think the Panthers were ready for an incredible run. They had the makings of a very good defensive line, but nobody really knew how much Davis had left when the Panthers brought him in and nobody had a clue what Delhomme, who had spent his career on the bench in New Orleans, might bring.
Rodney Peete
opened the season as the starting quarterback and that lasted all of two quarters before Delhomme came on to rally the Panthers and take over the job. With Davis carrying the offense and the defensive line dominating, Delhomme continued to show a knack for leading comebacks.
The Panthers caught lightning in a bottle and also rode the emotion of preseason news that linebackers coach and former team captain
Sam Mills
and starting linebacker
Mark Fields
each had cancer. Carolina finished the regular season 11-5 and won its first NFC South championship.
A playoff victory at home against Dallas wasn't a big surprise, but the Panthers stunned just about everyone by going on the road and winning at St. Louis (in double overtime) and completely dominating the Eagles on a frigid night in Philadelphia.
That put the Panthers into the Super Bowl against New England. A touchdown pass to
Ricky Proehl
with one minute, eight seconds remaining tied the score. But Carolina's chances of pulling the upset faded as
John Kasay
followed up by kicking the ball out of bounds to give New England good field position. The Patriots kicked the game-winning field goal with four seconds remaining.
Most impressive win:
It's tough to top the image of Steve Smith scoring a touchdown on the first play of the second overtime in St. Louis, but players and coaches will tell you the key moment of the season came in Week 2 at Tampa against the defending Super Bowl champions. The Bucs scored a late touchdown and needed only to kick the extra point to win the game. The Panthers blocked the kick, forced overtime and won 12-9.
Research room:
This team was known as the "Cardiac Cats." The reason was simple. The Panthers won seven games in the last two minutes or in overtime.
Honorable mention
1996
: In only the second year of the franchise's existence, coach Dom Capers, quarterback
Kerry Collins
and a great defense took the Panthers all the way to the NFC Championship Game in Green Bay. A home playoff victory against Dallas provided a truly monumental moment for an expansion team and the city of Charlotte.
2005
: Fox's 2004 team underachieved, but the 2005 team overachieved more than any in franchise history. Give the credit to Smith for carrying the Panthers all the way to the NFC Championship Game in Seattle. Injuries to the running backs kept the Panthers from running like Fox wanted to, but Smith and Delhomme had a special chemistry that year.
2008
: A 12-4 record, an NFC South crown and a first-round bye added up to absolutely nothing. In what easily is the most disappointing game in franchise history, Arizona came into Bank of America Stadium and routed the Panthers 33-13. Starting with that game, the normally reliable Delhomme began turning the ball over so frequently that he played his way out of Charlotte.
March, 19, 2010
3/19/10
1:22
PM ET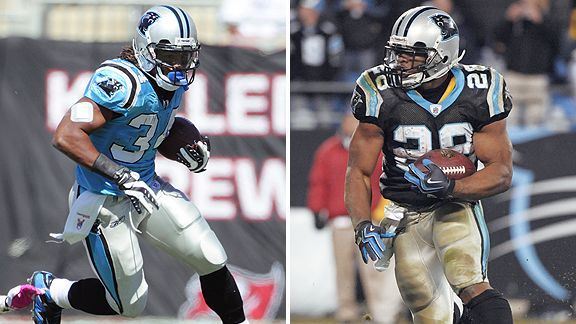 US Presswire, Getty ImagesCarolina running backs DeAngelo Williams and Jonathan Stewart split carries last season and both eclipsed 1,100 yards rushing.
This really happened and I've still got the tape to prove it.
During a winter in which everyone has been bashing coach John Fox and GM Marty Hurney, there actually is someone singing their praises. It's Carolina running back
DeAngelo Williams
.
"I think the front office and coaching staff are single-handedly prolonging my career and (
Jonathan Stewart
's) career,'' Williams said a few weeks ago when he was attending festivities at ESPN's Wide World of Sports in Lake Buena Vista, Fla.
Yes, praise for Fox and Hurney, the same two guys who have had their sanity questioned after letting
Julius Peppers
walk away as a free agent, releasing quarterback
Jake Delhomme
and parting ways with just about every player over 30 years old. Aside from kicker
John Kasay
and punter
Jason Baker
, wide receiver
Steve Smith
and defensive end
Tyler Brayton
are the only Panthers over 30.
"Thirty is like the new 50 in the NFL, especially when it comes to tailbacks,'' Williams said.
Williams is 26 and will turn 27 on April 25. He's also one of the smartest and most observant players in the NFC South. But that sometimes goes unnoticed because Williams often tries to keep a low profile with the media.
That day at Disney was different, though. Williams was letting it flow and his wisdom and philosophies are something that should be shared more often. Williams talked at length about Carolina's two-headed backfield, sometimes called "Double Trouble'' or "Smash and Dash.''
He put it into a perspective that you don't often hear, but it's the perspective Fox and Hurney hold and it's why they believe so strongly in a two-back system.
"We're each about 220 or 230 carries a year,'' Williams said. "I'd rather have that than 300-plus carries a year. That wears on your legs and you're not going to last long doing that. With me and Jonathan back there and sharing it the way we do, that's a real treat and neither one of us is going to get worn out.''
Williams is pretty accurate in his numbers. Last season he carried 216 times for 1,117 yards and seven touchdowns. Stewart carried 221 times for 1,133 yards and 10 touchdowns. Williams missed three games because of injuries, but said that didn't really have a big impact on the carry totals for him and Stewart.
"It's going to be close to a 50-50 split no matter what," Williams said. "That's what the coaching staff and the front office wants and it's also what Jonathan and I want. It's good for both of us. We're at our best when it's that way."
Funny that Williams realizes that when some running backs with more ego and some Carolina fans can't quite grasp the fact that less is more in this situation. Williams is a restricted free agent this year. He's carrying the highest tender and that means the Panthers would receive a first- and a third-round pick as compensation if another team were to sign Williams away.
With the Panthers not holding a first-round pick this year, a lot of Carolina fans started throwing out rumors or theories that the Panthers should let Williams go and pick up some more draft picks. Even if an offer sheet comes from another team, that's not going to happen. The Panthers can match any offer and they're not letting Williams go anywhere.
In fact, there have been reports that the Panthers are working to sign Williams to a long-term contract. Nothing has happened on that yet, but don't be surprised if something gets done before too long.
[+] Enlarge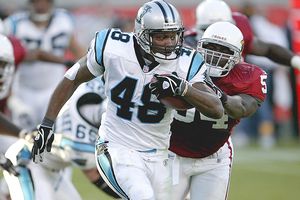 Stephen Dunn/Getty ImaStephen Davis rushed for 1,444 yards in 2003 for the Panthers, but he gained just 818 the remaining three seasons of his career.
The recent purge of veterans has left a lot of Carolina fans questioning the sanity of Fox and Hurney. But the way they use Williams and Stewart as a tandem should be Exhibit A that the coach and general manager have a long-term plan in place. They saw a running back get used too much one season and break down the next.
That was
Stephen Davis
, who carried the Panthers to the Super Bowl in the 2003 season. After that, the carries and age caught up to Davis and he never was the same again. Williams and Stewart already have dealt with some minor injuries and part of the master plan is to be very careful not to overuse them and the other part of that plan is to keep them together for the long haul.
"It's easy to say that either one of us could run for 1,500 or 1,600 yards if we were getting more than 300 carries," Williams said. "But that's not really true. We're best the way we are because we can keep doing what we're doing every year for a long time. Yeah, if you went with just one of us for one year, you might get 1,500 or 1,600 yards. But you might have a broken down car the next year and we'd both be done by the time we're 30, which is still a ways down the road for both of us. The way it is now, is perfect for both of us."
Williams and Stewart both had surgeries after the season. Williams had his right ankle cleaned up. Stewart had some work done on his foot. Both are expected to be fully healthy for training camp. And, contrary to some of the fan-generated rumors out there, both are expected to be back in Carolina.
The Panthers haven't revealed their exact plan for going on after their purge of veterans. They'll be going with a new quarterback,
Matt Moore
, and they're likely to be looking for wide receiver help in the draft or what's left of free agency.
But there's going to be one constant on the offense. Williams and Stewart are going to remain the focal points and they're going to keep doing that with a healthy split of carries.
"I don't want to be one of those tailbacks that's washed up at 30,'' Williams said. "I think, in the system we have, I can be productive for a few years past 30. I'm not there yet and we'll find out for sure in a few years. But, right now, I love what we're doing. Jonathan and I both have low mileage on our cars and that's great. We're running on supreme and the gas is cheap right now. We're going to enjoy the ride.''
January, 17, 2010
1/17/10
1:06
PM ET
I just received some more details from ESPN Stats & Information about
Reggie Bush
's dynamic performance in Saturday's playoff victory.

Bush
On five carries, Bush averaged 16.8 yards. That's a league postseason record. The previous record was 14.9 yards by
Michael Vick
in a 2004 divisional playoff game. Stephen Davis set the record one year before Vick in a divisional playoff game. Before that, the record was 12.8 by Bo Jackson in a 1990 divisional playoff.
Bush also became only the second player in history to score on a run and a punt return in the same postseason game. Charlie Trippi first did it in 1947.
Bush also became just the fifth player in history to score two touchdowns of 45 or more yards in a postseason game.
Randy Moss
(2000 season) Ricky Sanders (in Super Bowl XXII), Elmger Angsman (1947) and Wayne Millneer (1937 also did it).
Bush's 83-yard punt return also was the third longest in NFL postseason history. Jermaine Lewis (88 yards) set the record in 2001. Anthony Carter had an 84-yarder in a 1987 playoff game.
December, 8, 2008
12/08/08
9:50
PM ET
Posted by ESPN.com's Pat Yasinskas
CHARLOTTE, N.C. -- DeAngelo Williams just went over the 1,000-yard mark for the season. That makes him the first Carolina running back to rush for 1,000 yards sinceStephen Davis in 2003. Coincidence or not, that's the last season the Panthers went to the Super Bowl.
Williams went over the 1,000-yard mark on a 40-yard run in the second quarter.
December, 7, 2008
12/07/08
1:00
PM ET
| | |
| --- | --- |
| | |
| | Jonathan Daniel/Getty Images |
| | DeAngelo Williams needs only 45 yards Monday night to reach 1,000 yards rushing for the season. |
Posted by ESPN.com's Pat Yasinskas
CHARLOTTE, N.C. -- Some time Monday night, the Carolina Panthers' 2006 draft is going to make sense.
There won't be any grand ceremony as the Panthers host the Tampa Bay Buccaneers in an NFC South showdown on "Monday Night Football" (ESPN, 8:30 ET), but there might be an unofficial coming-out party.
Keep an eye on DeAngelo Williams, the little Carolina running back who critics said before the '06 draft and much of the past two seasons was too small and too soft to be much of a factor in the NFL.
Williams (5-9, 217 pounds) is on the verge of putting all that to rest. He needs only 45 yards to reach 1,000 yards rushing for the season, which would be a first for Williams. The Panthers have somehow built a reputation as a running team even though they haven't had a 1,000-yard runner since Stephen Davis in 2003.
In the minds of many, Davis, who carried the Panthers to their only Super Bowl appearance in 2003, remains the prototypical runner for a John Fox offense. But the speedy Williams will never be confused with the bruising Davis, which just goes to show Fox isn't nearly as stubborn or stuck in his ways as many believe.
It just took the coach a little while to figure out what he had in Williams, whom the Panthers took with the 27th overall pick in the 2006 draft. Williams came out of Memphis holding the NCAA record for all-purpose yards (7,573), but you wouldn't have known it if you watched Williams get lost in the shuffle behind DeShaun Foster.
There were flashes of promise here and there, but Williams got only two starts and 265 carries in his first two seasons as Foster got most of the work and produced very ordinary results.
When Foster was let go after last season and the Panthers used their first draft pick on Oregon running back Jonathan Stewart, there was a quick assumption Carolina had already judged Williams a bust. But that was never the case.
If you know anything about Fox, you know he's fiercely loyal, especially to his running backs. He stayed with Davis long after it was obvious his knees had nothing left and with Foster even though Williams had more upside.
In Fox's world, Williams had to wait his turn.
"DeAngelo, I think, has really stepped up his game from last year to this year," Fox said. "Obviously, he's gotten more opportunities. Part of our goal this offseason was to structure ourselves so we could get him more touches and also find another back, and we found Jonathan in the draft. I think DeShaun Foster did a great job here and taught DeAngelo how to be a pro. I think he's kind of taken Jonathan Stewart under his wing and taught him the ropes. They're both fine talents and fine players, and I think they're getting better every week."
Combining Williams with Stewart (584 yards and 127 carries) has turned out to be a tremendous combination for the Panthers. Williams may look like the classic speed guy and Stewart like the classic power back, but don't pigeonhole them.
Williams already has 11 rushing touchdowns this season, one off the franchise record Davis set in 2005. He also has scored at least one touchdown in the last six games to tie the franchise record set by receiver Patrick Jeffers in 1999.
Williams, who became close with Foster, said he had no regrets about playing a small role his first two seasons.
"It wasn't frustrating for me at all," Williams said. "I had the opportunity to share carries with another running back, so it prepared me going into this season."
What's happening this year is actually what the Panthers wanted to happen last year, but circumstances got in the way. When the Panthers hired Jeff Davidson to replace Dan Henning as the offensive coordinator after the 2006 season, they wanted Williams to become the dominant back in the tandem with Foster.
But Davidson's offense never really had a chance to get established in 2007 when quarterback Jake Delhomme went out with an elbow injury in the third game. While rotating quarterbacks Vinny Testaverde, David Carr and Matt Moore, the Panthers stayed conservative and stayed with Foster most of the time.
Williams may never fit the classic definition of a feature back who gets 25 carries a game. But that's not what Williams or the Panthers really want or need.
"I can't say yes and I can't say no based on the fact that the system I'm in right now is a very good position based on the fact that we're winning and we're being productive all at the same time," Williams said. "I couldn't ask for anything more."
Stewart's going to get his share of carries. But Williams is getting more, and that's working out just fine for the Panthers. With Delhomme healthy again and receiver Steve Smith making big plays, the Panthers are looking a little bit like their Super Bowl team.
The defense has played well most of the season, but more than anything, the Panthers are 9-3 and playing for first place in the NFC South because they're able to run the ball again.
"The identity of this team?" Williams said. "We like to think of ourselves as a balanced team. We pass the ball when we need to. We try to run the ball when we can. We just basically take what the defense gives us, nothing more and nothing less."
Maybe a little bit more. Maybe a balanced team with its first 1,000-yard runner in five years.
August, 1, 2008
8/01/08
7:05
PM ET
Posted by ESPN.com's Pat Yasinskas.
SPARTANBURG, S.C., -- In the aftermath of the fight between Carolina's Steve Smith and Ken Lucas this morning, I've heard the names Michael Westbrook and Stephen Davis mentioned several times.
They're the former Washington Redskins whose fight more than a decade ago set the tone for altercations in training camp. Not sure where the Smith/Lucas fight will end up ranking in history, but it probably won't get on as many highlight shows as the Westbrook/Davis clash. That fight was captured on video, which was played endlessly.
Smith and Lucas, who had a previous history of verbal sparring during practice, got into their tussle during a period of practice when the media was not allowed to shoot video. Also, it should again be noted, the fight broke out while Smith and Lucas were on the sideline with their helmets off during a special teams drill.
I did a story on Westbrook a few months ago and he said he feels his career is remembered only for his fight with Davis, which he recalled in detail. Ironically, Westbrook is now heavily involved in martial arts.

NFL SCOREBOARD
Thursday, 9/4
Sunday, 9/7
Monday, 9/8