NFL Nation:

Sterling Sharpe
July, 11, 2014
Jul 11
10:00
AM ET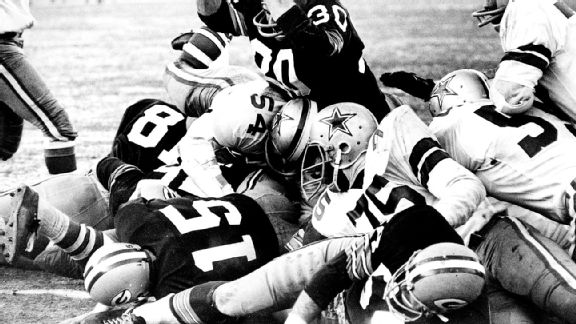 John Biever/Icon SMI
We have a winner. The voters picked Bart Starr's quarterback sneak for a touchdown to win the Ice Bowl as the Packers' most memorable play, and I applaud their selection.
Score:
Packers 21, Cowboys 17
Date:
Dec. 31, 1967
Site:
Lambeau Field
From the moment we began soliciting nominations for the
Green Bay Packers
' three most memorable plays, Bart Starr's quarterback sneak for a touchdown to win the Ice Bowl was mentioned more often than any other play.
So it should come as no surprise that it was the runaway winner in the voting.
Few NFL franchises have one defining play like that, but Starr's sneak ranks up there with
the Immaculate Reception
and
The Catch
.

When the voting closed on Thursday, Starr's play finished as a landslide winner over Brett Favre's 54-yard touchdown pass to Andre Rison in Super Bowl XXXI and
Aaron Rodgers
' third-and-10 completion to
Greg Jennings
to help clinch Super Bowl XLV.
What was most interesting in researching this project was that there was no consensus on the most memorable plays from Super Bowls XXXI and XLV. There was just as much support for Desmond Howard's 99-yard kickoff return for a touchdown that helped him win the Super Bowl XXXI MVP. Likewise in Super Bowl XLV, strong cases could be made for Nick Collins' interception return for a touchdown in the first quarter and
Clay Matthews
' forced fumble that thwarted a potential go-ahead drive by the Steelers in the fourth quarter.
Unlike Starr's sneak, no one play won Super Bowls XXXI or XVL.
And that is why Starr's play was so special.
As we wrap up this project, it's also worth noting some of the other plays that were considered, thanks in part to input from readers and other longtime observers of the team.
Among the others:
Don Hutson's first touchdown, an 83-yarder in 1935.

Dave Robinson drilling Don Meredith, leading to Tom Brown's interception to beat the Cowboys in the 1966 NFL Championship.

Herb Adderley's interception against the Lions in a 1962 regular-season game to set up the game-winning field goal in a 9-7 victory.

Chester Marcol's blocked field goal that he ran in for a touchdown to beat the Bears in 1980.

Don Majkowski to Sterling Sharpe for a 14-yard touchdown pass in 1989 against the Bears in what is known as the Instant Replay Game.

Favre to Sharpe in Detroit for a 40-yard touchdown with 55 seconds remaining in a 1994 playoff game.

Antonio Freeman's "Monday Night Miracle" catch to beat the Vikings in 2000.

B.J. Raji's interception return for a touchdown against the Bears in the NFC Championship Game in 2011.

The "Fail Mary" play against the Seahawks in 2012.
The problem with some of those plays is they were either flukes or meaningless plays in meaningless games. Oh, and there was one other play that a longtime Packers observer was convinced would be the most important play in team history if there more details about it were available. It was a punt, said to be nearly 90 yards by Verne Lewellen in a 1929 game against the
New York Giants
. That punt pinned the Giants deep in their own territory and helped secure a victory that was the difference between the teams in the standings (there were no playoffs at that time). The Packers, with a 12-0-1 record, won the championship over the Giants, whose only loss was to the Packers. It gave the Packers their first championship and, because it happened in New York, helped the Packers capture the attention of the powerful New York media. However, reports from that game do not clearly describe Lewellen's punt.
In the end, Starr's sneak is the play that has been, and likely will continue to be, the most memorable.
June, 4, 2013
6/04/13
7:08
PM ET
Patrick from Alameda, Calif.,
sees a parallel between the 2013
San Francisco 49ers
and the 1995
Green Bay Packers
. Both teams featured young, strong-armed quarterbacks. Both teams lost their leading receivers to injury.
The Packers would have to play without Sterling Sharpe, who was coming off a 94-catch, 18-touchdown season when he suffered a career-ending neck injury. The current 49ers will be without
Michael Crabtree
, who suffered a torn Achilles' tendon after setting career highs with 85 receptions for 1,105 yards and nine touchdowns last season.
The Packers went 11-5 in their first season without Sharpe, a two-game improvement. Quarterback
Brett Favre
won MVP honors. How did they do it? That was the question Patrick raised through the NFC West mailbag as he sought to chart a course for quarterback
Colin Kaepernick
and the 49ers without Crabtree.
"Can you analyze how Favre diversified who he passed to after losing his favorite target," Patrick asked, "and how that compares to what Colin Kaepernick needs to do for the 49ers this year?"
Sharpe was such a dominant player physically. Mike Holmgren called Sharpe one of the three best receivers he'd ever seen, labeling him "virtually unstoppable" over a three-year span in which Sharpe caught 314 passes.
Crabtree isn't in that category and there are other differences between the teams. However, I think the 49ers can come out OK because they have what the Packers had back then: a very capable quarterback.
Just as Favre was the key for the Packers, who got 102 receptions from
Robert Brooks
in 1995,
Kaepernick will be the key
for the 49ers.
Anquan Boldin
will fill some of the receiving void.
Vernon Davis
will probably have a greater number of receptions.
LaMichael James
could factor out of the backfield. Receivers
A.J. Jenkins
and
Mario Manningham
are wild cards.
The 1995 Packers got 131 additional receptions from running back
Dorsey Levens
(plus-47), Brooks (plus-44) and tight end
Mark Chmura
(plus-40) relative to what those players provided one season earlier. Sharpe, running back
Reggie Cobb
and tight end
Ed West
were no longer part of the offense. They had combined for 160 receptions in 1994.
As the first chart shows, the positional distribution for receptions remained pretty similar, especially at wide receiver.
Looking back on 1995, Favre did surprise himself by surpassing what he'd accomplished the year before.
"I really thought it was going to be hard to top what I did, especially without Sterling and a couple of changes with our offensive line,"
Favre said then
. "It's hard to go out and throw 38 touchdowns. You got to start from scratch on offense. We had a new flanker, a new 'X' receiver, a new tight end. That's tough."
February, 26, 2013
2/26/13
2:00
PM ET
Georgia linebacker
Jarvis Jones
is a perfect fit for the Browns' new 3-4 defense. Jones is the exact pass-rush terror the Steelers need to eventually replace
James Harrison
.
Jones
But the Browns and Steelers could both pass on the FBS leader in sacks in the first round because he's one of the biggest medical risks in the draft. Jones has stenosis, a narrowing of the spinal column.
Diagnosed with this condition at USC as a freshman, Jones transferred to Georgia when doctors wouldn't clear him to play for the Trojans. He went on to record 28.5 sacks in 26 games at Georgia.
Jones got a favorable report from neck and spine specialist Dr. Craig Brigham, who's examining players at the combine, various teams told ESPN's Chris Mortensen. But it's been reported that some teams have taken Jones off their draft board because of his medical condition.
Stenosis has cut short the careers of Sterling Sharpe and Chris Samuels. Former Chargers offensive tackle Marcus McNeill slid into the second round in 2006 because teams were worried about spinal stenosis. McNeill played six seasons, going to two Pro Bowls, before retiring prior to the 2012 season.
Jones said he has no concerns about playing with this condition in the NFL.
"Anybody who steps on that field has a chance of getting hurt," Jones said at the NFL combine. "If you think about it like that, nobody would ever play football. For me, I'm just taking advantage of the opportunity. I love this game. I'm passionate about it."
NFL teams have a couple of months to make their final decision on Jones.
January, 31, 2012
1/31/12
4:08
PM ET
INDIANAPOLIS -- For retired defensive tackle Warren Sapp, the pounding
Eli Manning
withstood at San Francisco in the NFC title game proved the
New York Giants
' quarterback had fully arrived.
But the six sacks and 12 quarterback hits Manning took did not register atop Sapp's list of all-time QB beatdowns.
"Nah, I saw Andrew Walter take nine sacks in the first half up in Seattle one night," Sapp said Monday at Super Bowl media day, recalling the
Seahawks' 16-0 victory
over his Walter-led
Oakland Raiders
in 2006.
Walter actually absorbed seven first-half sacks and nine overall in that game. Sapp had five tackles, one sack and two quarterback hits of his own in that game, but when he called his mother to discuss his performance, she wasn't able to offer much.
"She said, 'If I wanted to watch somebody get killed, I'd turn on Law & Order," Sapp said. "I knew I had to retire right there. They made my mother turn off the TV? Turn off 'Monday Night Football'? I'm getting out of here."
Sapp played one more season before retiring.
I'll pass along an additional thought from Sapp regarding Manning's performance against the 49ers. He was referring to Eli Manning in the context of being the oft-overshadowed younger brother to
Peyton Manning
:
"I'm the baby boy, too. When you are the baby, you always take a back seat to your brother. Sterling and Shannon [Sharpe] as an example. I was third in my house. I might be the third-best football player in my house when you get my brothers all together. When you look at that little brother, when you come out of that shell, you watch him just operate. You talk about calm.

"I was watching him in San Francisco and they were pounding him. I mean, lighting him up. Some of them flips to Ahmad Bradshaw, to be able to know he's there and to get it to him and to get out of the stuff he was in, I was like, 'Whoa.' I mean, there was no running game for him to bail out on and turn around and hand it off. There was none of that. It's on you, Eli. It's on you and Victor Cruz. And then they took Victor away from him."
March, 30, 2011
3/30/11
10:42
AM ET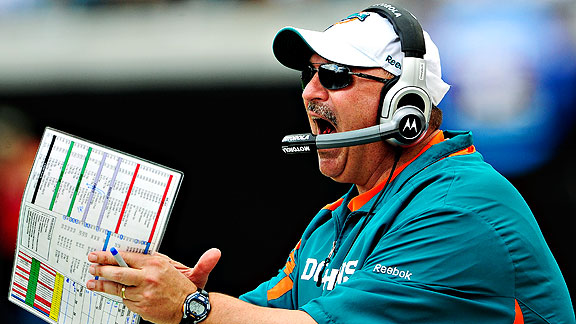 Sam Greenwood/Getty ImagesDolphins coach Tony Sparano felt it was necessary to add former players to his coaching staff.
Miami Dolphins
receiver
Brandon Marshall
scoffed in September that broadcast analyst Sterling Sharpe had no right to judge him.
Marshall claimed Sharpe didn't do enough on the field
to earn the privilege.
Imagine, then, how much disdain Marshall would harbor for criticism from those who didn't play in the NFL at all.
When you consider Marshall's logic and the sort of position coaches he has worked with, you get a sense of how unstable a situation can be.
As a rookie, he learned from former Pro Bowl receiver Steve Watson. But since 2007, Marshall's coaches have been Jeremy Bates, Jedd Fish and Adam Gase with Denver and Karl Dorrell last year with Miami. None of them played in the NFL. Neither Fisch nor Gase played in college.
Probably not the kinds of guys you'd expect to make a connection.
Dolphins head coach Tony Sparano rearranged his coaching staff after last season. He moved Dorrell into the quarterbacks vacancy and promoted Steve Bush from a quality-control role -- usually considered entry-level -- to receivers coach. Bush hasn't been an NFL position coach before. In 2008, the Dolphins hired the one-time Syracuse assistant away from West Genesee High in upstate New York.
Some help was in order, and not just for Bush.
Sparano made it a point to add former players to his coaching staff because he identified a deficiency. He needed more voices to reach his players.
Although the Dolphins parted ways with running backs coach James Saxon, they hired Ike Hilliard to assist Bush and Bryan Cox to coach pass rushing and promoted Dan Campbell from intern to tight ends coach.
"I feel good about the way we were able to put the staff together with the infusion of ex-players onto the staff," Sparano said last week at the NFL owners meeting in New Orleans.
"A little bit of that flavor and that knowledge on your coaching staff helps a lot. Sometimes, as coaches, we can get tunnel vision and forget about what the players' needs are. When you get an ex-player on your staff -- somebody that's really not far removed -- it helps you a lot."
A breakdown of AFC East coaching staffs shows there are multiple philosophies on former NFL players as assistants.
The Dolphins went into last season with two position coaches who played in the NFL: assistant head coach and secondary assistant Todd Bowles and Saxon. They now have four assistants with a combined 557 games.
Buffalo Bills
head coach Chan Gailey has one former NFL player on his staff, but none coaching a position. Former defensive back Adrian White, a veteran of seven seasons, handles quality control.
New England Patriots
defensive line coach Pepper Johnson is the lone member of Bill Belichick's crew to have experienced NFL action. Johnson played linebacker for four teams over 13 years.
Then there's Rex Ryan's staff, populated by six former NFL players with 62 seasons and 829 games. Matt Cavanaugh coaches quarterbacks, Anthony Lynn running backs, Henry Ellard receivers, Mike Devlin tight ends, Mark Carrier defensive line and Dennis Thurman defensive backs.
I reached out to three former coaches who played in the NFL -- Tom Flores, Herm Edwards and Ted Cottrell -- to get their opinions on the significance of having on-field experience on staff.
"It's always been a thing with the players," said Cottrell, an
Atlanta Falcons
linebacker and successful defensive coordinator for the Bills, Jets,
Minnesota Vikings
and
San Diego Chargers
, "where they think in the backs of their minds, 'Well, you haven't played this game. You don't know what we're going through. You haven't done this, Coach.' But if you have some playing experience on your staff, it helps offset that."
As valuable as those players-turned-coaches are, they're difficult to find. The best players don't necessarily make the best coaches because what came to them naturally can't always be conveyed through instruction.
[+] Enlarge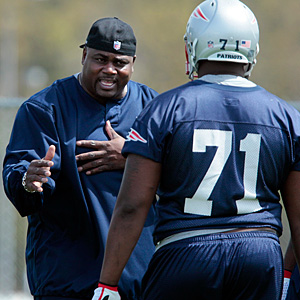 AP Photo/Elise AmendolaPatriots defensive line coach Pepper Johnson is the only member of Bill Belichick's staff with NFL playing experience.
Flores found a way to make it work. He and Mike Ditka are the only two in NFL history to win a Super Bowl ring as a player, assistant coach and head coach. Flores played quarterback for the Bills,
Oakland Raiders
and
Kansas City Chiefs
before guiding the Raiders to pair of Super Bowl titles.
"Some of the young kids coming out have no idea," Flores said. "They think they invented the game. Sometimes you have to bring them back to reality.
"But you also don't want somebody who keeps saying, 'Well, when I played ... When I played ... When I played ...' The player thinks, 'I don't give a damn when
you
played.
We're
playing now.'"
The transition from player to coach is difficult. Many players focus so much on their specific jobs when they're active that they don't become students of the overall game or learn how their roles fit into the overall puzzle. Others find it difficult to stop acting like a player when their careers are over.
Still, the ex-player element can be crucial in various instances.
"Sometimes you need a bridge with a former player," said Edwards, who played cornerback for the
Philadelphia Eagles
and was head coach for the Jets and Chiefs. "His voice is going to speak volumes, especially during the rough times because he's done it; he's been through it. He can give them, 'OK, this is what we gotta do' speech.
"He's going to respect because he played, but can he teach? That's the whole key. Players will figure that out."
Not all coaches are comfortable hiring former players, particularly those fresh off the field. Cottrell claimed there's a fear of subversion, that the former player will relate better to the locker room than the man in charge.
"Who do you think the players on the roster will gravitate towards more?" Cottrell asked. "The guy who played in the NFL and is young, or the older guy who didn't play?"
The former player, I responded.
"Damn right they would," Cottrell said. "That's why some coaches are intimidated to hire them. That's the truth. They don't want that guy around."
Added Edwards: "I've seen that happen. There's no doubt about that. That's when you're paranoid, but there are coaches like that."
Even so, Edwards conceded insurrections aren't an unfounded conspiracy theory.
"If you've got a former player in his positional meeting room, saying, 'Man, the coach doesn't know what he's talking about,' then you've got no shot as a head coach," Edwards said. "That's why you've got to be particular on who you hire."
The Patriots have a more institutional coaching staff. Their message is easy to deliver when players consider Belichick has won three Super Bowls and four conference championships in the past decade.
Rather than rely on former players, Belichick has core assistants such as offensive line coach Dante Scarnecchia (28th season with New England) and running backs coach Ivan Fears (15th season).
Belichick grooms assistants from gophers into coordinators and even head coaches. A steady stream of his acolytes -- Eric Mangini, Josh McDaniels, Brian Daboll, Bill O'Brien, Matt Patricia -- got their NFL starts under Belichick with no pro playing experience.
New England's cyclical process protects organizational doctrine from outside influences. Johnson, the lone ex-player on the staff, played 10 of his 13 seasons under Belichick.
"Belichick has a certain philosophy, and you want everybody to be on the same page," Flores said. "Sometimes, when you bring in guys that have been too many other places, they're not going to be on your page because they've been trained someplace else.
"If you bring up assistants through the ranks, then they'll be trained the way you want them to be. Everybody has to buy into the same program."
At the other end of the spectrum are the Jets.
Ryan obviously values former players. Their presence on the staff contributes to the Jets being an attractive destination for free agents, and Cottrell surmises the Dolphins have noticed.
"From a coaching standpoint, he looks at the Jets and wants to catch them in the division," Cottrell said. "He thinks, 'Rex has six guys that have played the game who are coaching. Uh oh. Rex has got an advantage on me.'
"That's got to be in the back of his mind. You've got to win your division to get into the playoffs, and when you look at your coaching staff, you see you don't matchup in that area."
Or, in the case of adding Hilliard at least, maybe it was as simple as noticing the Dolphins didn't match up with Marshall.
February, 9, 2011
2/09/11
3:05
PM ET
I caught up with former Denver tight end
Shannon Sharpe
on Wednesday to discuss his election to the Pro Football Hall of Fame on Saturday.
Here we go:
How did you celebrate Saturday night in Dallas?
Shannon Sharpe:
I went back to my room, ordered room service and went to bed. I'm not a big celebrator. I don't drink, so I'm not a big partier. Now, I'll have a get together back in my hometown some time with family and friends, but Saturday night was pretty basic. I talked to my family and best friend, but other than that, it was quiet.
What was Sunday like?
[+] Enlarge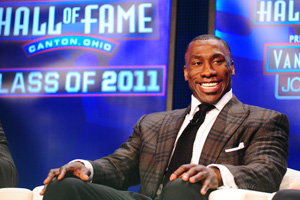 Mark J. Rebilas/US PresswireShannon Sharpe's brother -- former Packers wide receiver Sterling Sharpe -- will present Shannon at the Hall of Fame induction ceremony.
SS:
I got a lot of people congratulating me, but it was because they thought I was Sterling [Sharpe] and they were congratulating him on the Packers winning. I'd say 75 percent of the time people recognize me they call me "Sterling." I don't think he ever gets "Shannon."
Who do you think will be the next Denver player to get into the Hall of Fame?
SS:
I'd Say TD [
Terrell Davis
]. I think Randy Gradishar could get in at some point in the senior committee, but as far as the modern players, I think Terrell, and then followed closely by
Rod Smith
, should get in.
Who is going to present you into the Hall of Fame?
SS:
My brother. If I could split it up, I'd have my brother and sister, but she doesn't like talking in public. It will be my brother and there was never really any thought to it. It's him.
What does you old quarterback, John Elway, need to do to fix the Broncos?
SS:
As a former player, John will be smart about it. Even though he was a quarterback, John will know Denver needs to get as much defensive help as possible to help
Elvis Dumervil
. If they can do that, they should be able to get back on track.
December, 11, 2010
12/11/10
12:54
PM ET
A couple of former players turned analysts are suspicious about
Miami Dolphins
receiver
Brandon Marshall
's bad hamstring.
Steve Tasker
and
Qadry Ismail
told Palm Beach Post reporter Brian Biggane that
Marshall's injury seemed rather fishy to them
. Marshall left the Week 11 game against the
Chicago Bears
in the second quarter. He has missed the past two games and is questionable for Sunday's rematch with the
New York Jets
at the Meadowlands.
[+] Enlarge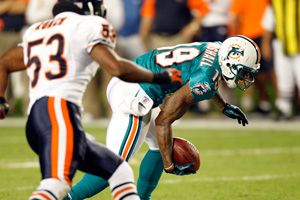 AP Photo/Paul SpinelliBrandon Marshall hasn't played since injuring his hamstring against the Bears in Week 11.
"When a guy pulls a hamstring at this point of the season, that tells me one thing and that is that he's not in shape," Tasker, a seven-time Pro Bowler and Hall of Fame semifinalist, told Biggane. "I could see it maybe very early in a game if he hadn't warmed up properly. But this happened well into [the Bears game], and he'd already been involved quite a bit. It was really a surprise to me."
This wasn't the first time a respected former player questioned Marshall's conditioning. NFL Network analysts
Sterling Sharpe
, Solomon Wilcots and Mike Mayock were
critical of Marshall's laziness in the waning moments
of a Week 3 home loss to the Jets.
Ismail suggested Marshall was quitting on the Dolphins. Ismail, a two-time 1,000-yard receiver who won a Super Bowl with the
Baltimore Ravens
, made a mental note of Marshall being worked on by trainers before the Bears game.
"It was like, 'I'm glad he's taking care of his body. It puts him in a better position to win,' " Ismail said. "But after that it caught me off guard to see him get hurt. And it's been surprising to me that it's taken him this long to come back from it. When guys do things differently, like he does, they normally come back a lot faster than that.
"I'll be curious to see how motivated he plays [Sunday against the Jets]. In other words, I'm not expecting too much."
Marshall's season has been a serious disappointment. The Dolphins made him the NFL's highest-paid receiver after acquiring him from the
Denver Broncos
for two second-round draft picks.
He has decent reception numbers but just one touchdown catch. In his past two games he has been flagged for chucking a ball into the stands and for throwing one at former Broncos teammate
Jay Cutler
on the Bears' sideline.
Marshall claimed he was keeping his lack of production in perspective.
"The great players around the league want to be put in position to help the team," Marshall said Thursday. "But sometimes, like Coach [Tony] Sparano taught me and is trying to teach me still, some days it's a shot glass and some days it's a wheel barrow.
"You got to understand that, and you just got to try to be mentally tough, and it's a struggle when you're used to catching a bunch of balls or being so involved. But we got to do what's best for the team and hopefully get a couple wins here and have some things fall into place for us and get in that postseason."
October, 3, 2010
10/03/10
12:29
AM ET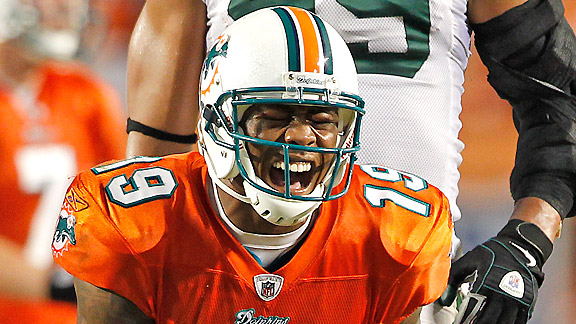 Joel Auerbach/Getty ImagesBrandon "The Beast" Marshall gets so intense before games, coordinator Dan Henning is working with him to dial it back so he conserves evergy.
Before a game,
Miami Dolphins
receiver
Brandon Marshall
becomes an animal.
Marshall loves being known as "The Beast," a persona developed over three straight seasons of 100-plus catches. He has dubbed the section that overlooks the players' tunnel in Sun Life Stadium's west end zone "Beast Alley" and expends considerable energy exhorting fans to reach full froth with him.
"He's a high-anxiety, high-energy guy," Dolphins offensive coordinator Dan Henning said. "You ought to see him before the game. He's like a caged tiger. I mean, literally like a caged tiger."
Rather than throw raw meat at Marshall, the Dolphins have been flinging tanned cowhide in his direction. At any point from opening kickoff until the game clock expires, he's hungry.
In one of the NFL's bigger offseason moves, the Dolphins acquired Marshall to unlock all sorts of new offensive possibilities.
After a relatively tame first two games, the Dolphins finally unleashed their manimal last week, and there's no reason to think he'll be subdued Monday night against the
New England Patriots
at Sun Life Stadium (ESPN, 8:30 p.m. ET).
"The guy is a monster,"
Buffalo Bills
cornerback
Terrence McGee
said before he faced Marshall on opening day. "He's one of the best receivers in the league, so you've definitely got to expect they're going to throw him the ball. That's what they brought him there for."
Marshall showed in Week 3 why the Dolphins traded a pair of second-round draft choices to the
Denver Broncos
and then signed him to a beastly four-year, $47.5 million extension.
With quarterback
Chad Henne
throwing for a career-high 363 yards, Marshall had 10 catches for 166 yards and his first Dolphins touchdown in a home loss to the
New York Jets
. The yardage tied for the second most of Marshall's career.
Marshall also ran twice for 3 yards and made his first Wildcat cameos. Dolphins running back
Ronnie Brown
tried to throw deep to him once.
"He's definitely a go-to player for them," Patriots coach Bill Belichick said of the 6-foot-4, 230-pound Marshall. "They get the ball to him in a lot of different situations.
"He's big. He's like a tight end. He's huge for a receiver. He can go up and get the ball. He's a strong runner with the ball in his hands and good after the catch. He's got good speed, good quickness, good receiving skills. He's a tough guy to match up against."
The best way to negate The Beast might be when he tuckers himself out.
One of the hot topics in South Florida the past week was Marshall's energy level against the Jets in the sweltering heat. Henning revealed Marshall was so drained in the first half Sunday night that he went to the locker room early to receive intravenous fluids.
NFL Network analysts Sterling Sharpe, Solomon Wilcots and Mike Mayock faulted Marshall's lack of effort on the final set of downs with the Dolphins desperate for a touchdown. Marshall got them to the Jets' 11-yard line with a 30-yard catch and run
but then disappeared over the next four downs
.
"He's on the field, and he's wound up really tight before the game," Henning said. "So we're working on that, to try to get him to be patient and utilize all that energy in the game and not expend it too soon."
Said Marshall: "I'm just so passionate, and I guess when we get on that football field a lot of emotions come out, and I just turn into a different person. I think that's what helps me be successful in my young career."
It might be tough to get Marshall settled down for the Patriots because their secondary likely is causing him to drool.
[+] Enlarge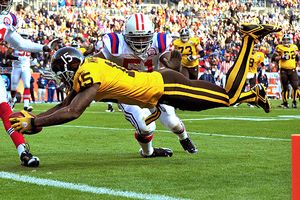 Ron Chenoy/US PresswireBrandon Marshall had eight catches, including two for touchdowns, in the Broncos' 20-17 win over the Patriots last season.
Conditions are right for Marshall and Henne to have another gigantic game.
For the Denver Broncos last year, Marshall had eight receptions for 64 yards and both touchdowns in a 20-17 overtime victory over the Patriots, whose secondary was more stable then compared to now.
The Patriots' pass defense has been lenient so far and chaotic in terms of personnel. Veteran cornerback
Leigh Bodden
and safety
Brandon McGowan
were placed on injured reserve, ending their seasons before they began. Pro Bowl safety
Brandon Meriweather
lost his starting job in Week 2. Cornerback
Darius Butler
lost his last week.
Belichick said limiting Marshall's infamous yards after the catch is "a top priority."
The Patriots' defense has allowed an NFL-high seven touchdown passes. It has surrendered at least two in each game. Quarterbacks have completed 69.4 percent of their attempts, are averaging 260.3 yards and have a 101.3 passer rating against New England.
You can expect Marshall's appetite to be voracious, whether it's Henne throwing the ball or even Brown.
"Oh, absolutely," Marshall said. "I want the ball every play. What receiver doesn't?"
September, 30, 2010
9/30/10
7:00
PM ET
To have an opinion on
Brandon Marshall
, you better be a coach or a Hall of Famer.
Nobody else is qualified, apparently.
[+] Enlarge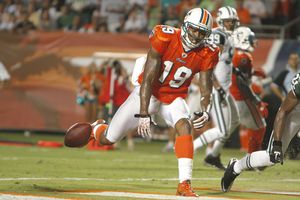 AP Photo/J Pat CarterBrandon Marshall had 10 receptions for 166 yards and a touchdown Sunday against the Jets.
On the latest edition of the NFL Network's "Playbook," analysts
Sterling Sharpe
, Mike Mayock and Solomon Wilcots
criticized Marshall for fading at the end
of Sunday night's 31-23 home loss to the
New York Jets
.
Marshall responded Thursday by essentially saying the analysts are not qualified to scrutinize him.
"Those guys are players, former players," Marshall said. "They never coached. So they need to continue to do what they do best and stop worrying about other things that they don't know anything about."
Marshall later added: "What those guys are saying, that's just them trying to sound good and sound like they know what they're talking about. ... I don't honestly think those guys were elite players, including Sterling Sharpe. I got to turn on the film and see what he was able to do. I know he's done some good things, but from my understanding he's not a Hall of Fame guy."
Marshall had 10 receptions for 166 yards and a touchdown Sunday night.
"The guy played probably 60-something plays the other night," Dolphins coach Tony Sparano said, "and if I remember correctly with about four plays left in the game caught one and ran it down. So he looked OK to me then."
Mayock used the Telestrator to point out a seeming lack of effort on the final set of downs after Marshall made a 30-yard catch and run. I
selected that play as the AFC East's decisive moment
because Jets safety
Brodney Pool
might have saved the game with his tackle at the Jets' 11-yard line.
Chad Henne
threw an incomplete pass to Marshall on first down, scrambled because of coverage on second down, dumped to
Ronnie Brown
for 5 yards on third down and ended the game with an interception.
Mayock said Marshall was jogging and didn't step up "in money time" throughout that sequence. Wilcots said "a playmaker, a true gamer has to be in great condition to be able to close out games."
"Brandon, you have to give us more," Sharpe said. "Bill Parcells has a great saying that I stole, working with him in TV: 'Don't complain. Don't explain.' You are the guy down in South Florida. If they're going to throw the ball, you are the first option. What Mike just showed us, I'm going to give you a pass on that. That was one game this year. You're getting used to the Florida heat.
"Brandon Marshall, from now on, you, my friend, are going to have to bring it."
Mayock and Wilcots are former NFL safeties. Sharpe was an All-Pro three times and a Pro Bowler five times in seven NFL seasons.
Sharpe likely would have been a Hall of Famer had a neck injury not forced him to retire at 29 amid concerns of paralysis or possibly death because of loose vertebrae. Sharpe left as the
Green Bay Packers
' all-time receiving leader.
Marshall would be fortunate to have a career that successful and blessed to retire on his terms rather than be forced to leave the game because of a serious injury.
Marshall hasn't been selected for an All-Pro team yet, but he could make a few if he stays healthy. He also could be a Hall of Famer someday -- and thereby become certified to render an opinion on another receiver.
February, 3, 2010
2/03/10
11:17
AM ET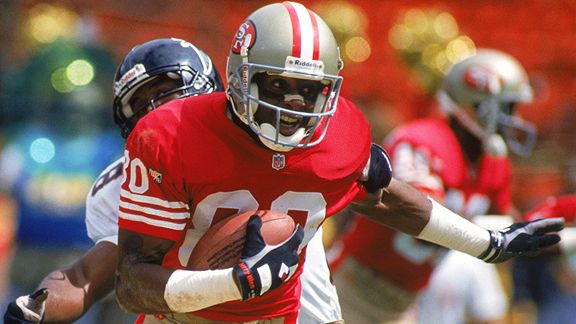 George Rose/Getty ImagesWide receiver Jerry Rice retired with his name all over the National Football League record book.
MIAMI -- Anyone advocating Jerry Rice as the greatest player in NFL history can bury the opposition in statistics.
Rice averaged 1,145 yards receiving and more than 10 total touchdowns per season -- for 20 NFL seasons.
Rice caught 69 touchdown passes -- more than the career totals for Art Monk, Michael Irvin, Charlie Joiner, John Stallworth and numerous other Hall of Fame receivers -- during a five-season span ending in 1993. Rice then caught 28 touchdown passes over the next two seasons, more than half the career total for Hall of Famer Lynn Swann.
He retired holding NFL records for:
Touchdowns (208), receiving TDs (197), receiving TDs in a season (22), consecutive games with a TD reception (13), TDs in Super Bowls (8), receiving TDs in a single Super Bowl (3) and postseason TDs (22).

Receptions (1,549), consecutive games with a reception (274), receptions in Super Bowls (33) and postseason receptions (151).

Receiving yards (22,895), receiving yards in a season (1,848), receiving yards in Super Bowls (589), receiving yards in a Super Bowl (215), postseason receiving yards (2,245) and seasons with at least 1,000 yards receiving (14).
Rice, whose selection to the Pro Football Hall of Fame is a formality Saturday, probably enjoyed the greatest NFL career. He was probably the greatest wide receiver despite some arguments for Don Hutson. But was he the greatest player, period?
"Oh, yeah," Hall of Fame defensive back Rod Woodson said almost reflexively during Super Bowl media day.
Woodson, perhaps mindful of history as a member of the NFL's 75th Anniversary team, then showed he could still backpedal a bit.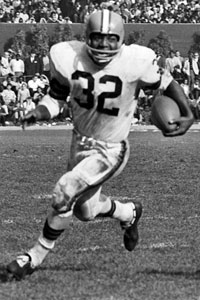 Getty ImagesWhen talking about the greatest players ever, Jim Brown needs to be in the conversation.
"I mean, he is definitely up there," he said. "I don't think one player is the greatest player ever, but he is in that water-cooler conversation. Now, if you say greatest receiver, absolutely. But the greatest player, to make him the most dominant player ever in NFL history or just say pro football history, that is a profound statement. But I can say that he will be in that argument time in and time out."
The conversation might include Otto Graham, Jim Brown, Sammy Baugh, Lawrence Taylor, Joe Montana, Johnny Unitas, Hutson, Walter Payton and Barry Sanders among players no longer active. And that list is probably shortchanging defensive greats such as Deacon Jones and Dick Butkus.
But
Ray Lewis
, arguably the greatest defensive player of the current era, didn't hesitate in singling out Rice.
"I don't know what argument you are going to make why he is not," Lewis said.
And that might be what separates Rice from the rest. There really isn't a great case against him. No one played at such a high level for as long with such grace.
"Jerry Rice doesn't
rank
in the all-time greats," said Saints safety
Darren Sharper
, a five-time Pro Bowl choice and member of the 2000s All-Decade team. "He
is
the greatest receiver and maybe the greatest football player of all time."
Maybe?
"I can't comment on eras that I didn't perform in," retired cornerback Deion Sanders said, "but the era I performed in, Jerry Rice is the best football player to play in that era."
On what grounds beyond the numbers?
"Work ethic, precision, routes, physical toughness, awareness, that hunger," Sanders said. "Jerry stayed hungry until the day he retired."
October, 15, 2009
10/15/09
12:32
PM ET

Posted by ESPN.com's Kevin Seifert
This isn't breaking news in Wisconsin, but I wonder how many people around the division are aware of the significant event that almost certainly will take place Sunday at Lambeau Field.
Green Bay receiver
Donald Driver
is one catch away from breaking the franchise's all-time record for career receptions. A seventh-round pick who slipped onto the team in 1999, Driver has averaged 77 receptions per season since 2002 and has matched Sterling Sharpe's career record of 595.
(And lest you think we're jinxing things, Driver has caught a pass in 115 consecutive games. I'm feeling pretty good about his chances Sunday against Detroit.)
"I would never have predicted it," Driver told Wisconsin reporters this week. "In a million years, if someone said, 'Well Donald, [a] seventh-round draft pick, you're going to be the all-time leading receiver for the Packers,' you would have never thought that would happen. To be this close to it, it means a lot. I think when it's all said and done and the record is broken, I'll be happy to put my name above Sterling for once in a lifetime. Not on everything, but at least I can say I got him on that one."
Driver and Sharpe are close friends and spoke last week about the impending milestone. Driver hopes to keep himself together during the game -- "You don't want on the first play of the game to be crying," he said -- but isn't downplaying the significance of the accomplishment.
"When I get home," he said, "it will probably hit me then."
Driver, 34, remains a vital part of the Packers' offense, leading the team this season in receptions (18), yards (288) and touchdowns (two). In fact, he made a
one-handed catch Sept. 27 at St. Louis
that he said might be the most memorable of his career.
"That's the one I'll probably never forget," he said. "I still don't know how I caught it."
In the chart below, you'll see the Packers' top-5 all-time receivers.
Most receptions in Packers history
Rec.
Player
Years

595

Sterling Sharpe


1988-1994

595

Donald Driver

1999-present

530

James Lofton

1978-1986

488

Don Hutson

1935-1945

448

Boyd Dowler

1959-1969

NFL SCOREBOARD
Thursday, 8/28
WEEKLY LEADERS